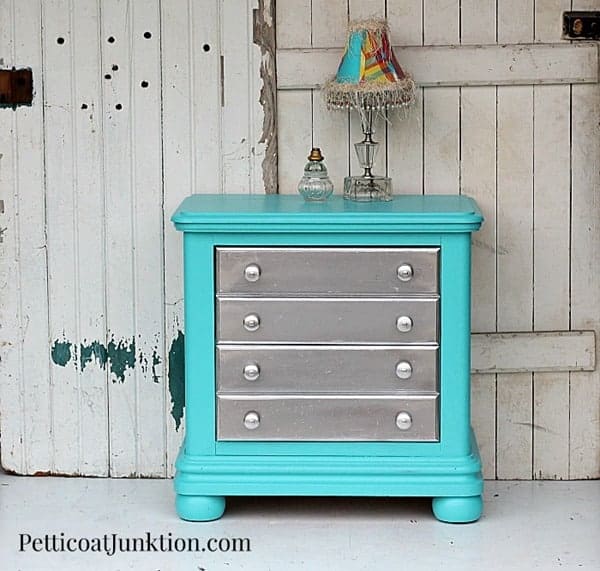 tantalizing turquoise and mesmerizing metallic
Is there anything better than getting a bargain…or getting a great bargain?
Yes…..
free stuff….
free paint to be exact.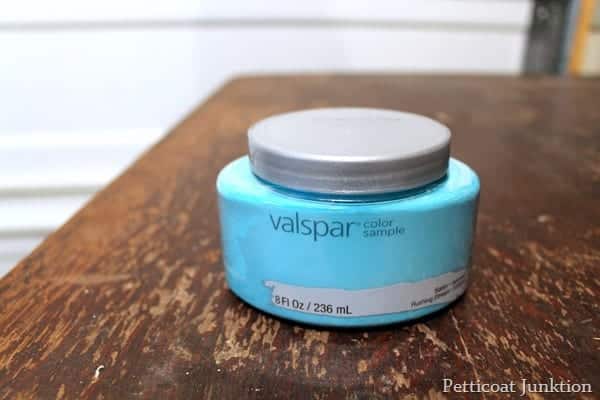 Valspar paint color Rushing Stream.
I was in Lowes this past week buying plants for my diy chair planters when I walked by the Valspar color sample display.
Bells were going off in my head…"don't I have a coupon for a free color sample"?
Yes….it was in one of my magazines and luckily I had ripped it out and stuck it in my purse.
So I grabbed the brightest and prettiest of the color samples and headed for the check out stand.
Yeah! Free Paint!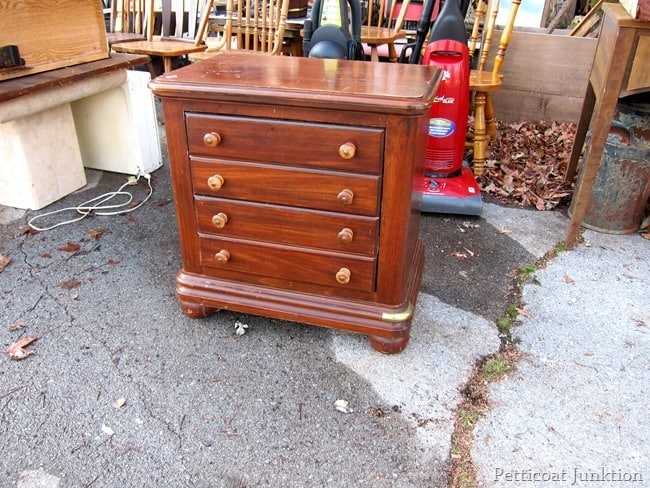 perfect project for the free paint
This nightstand has been sitting in the workshop for awhile.
It came from My Favorite Junk Shop.
I seriously don't know what I will do if that place ever closes down.
It's Heaven for a junker like me.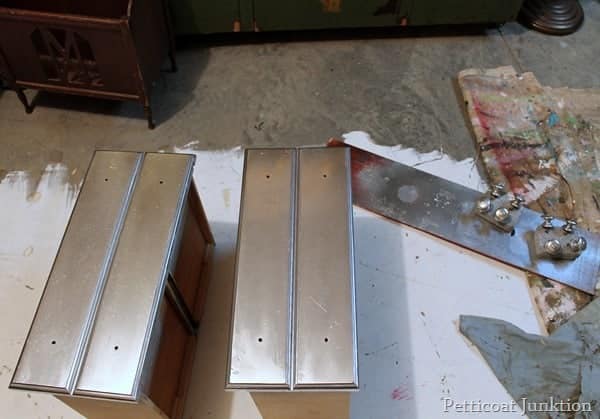 I spray painted the drawers and hardware metallic silver.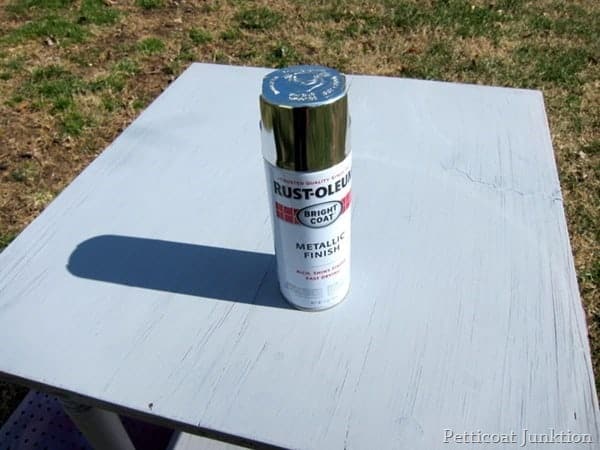 I used the same Rust-Oleum Bright Coat Metallic Finish I used on my Polka Dot Table.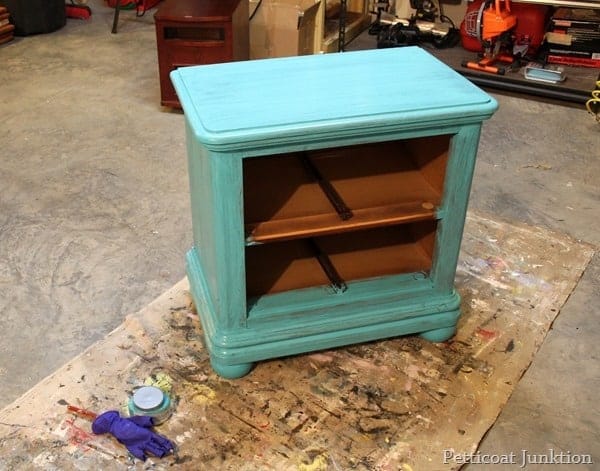 The Rushing Stream is a really pretty color.
It's a turquoise or aqua depending on your definition of those colors.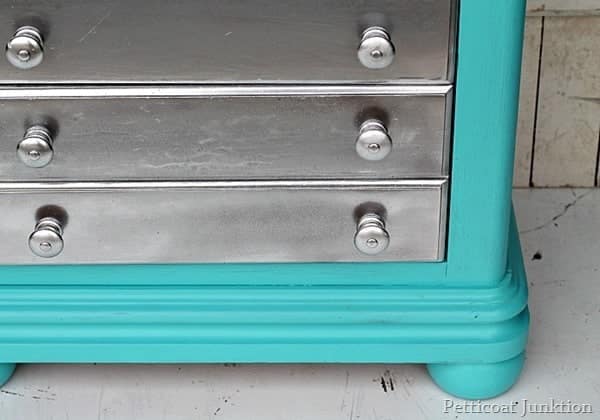 It looks great with the metallic silver.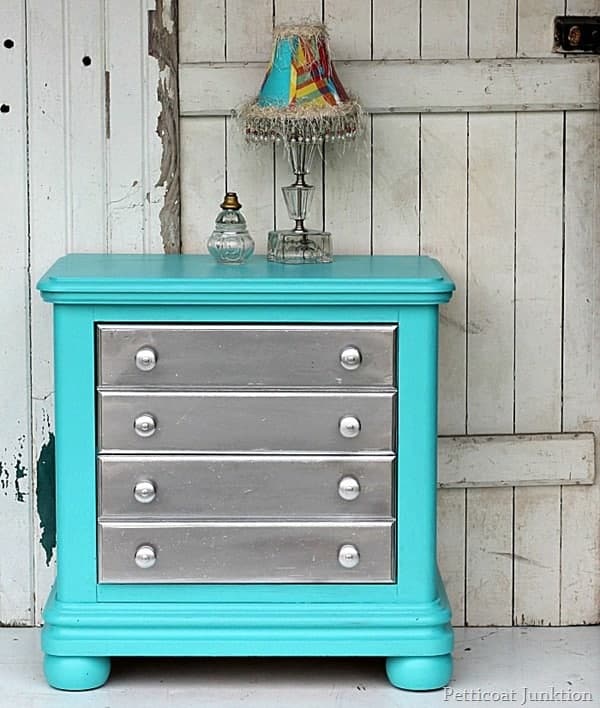 The nightstand was a little rough in places and you can really see it with the metallic paint.
The finish on the nightstand had the little dark raised flecks to make it look aged.
But the flaws add another dimension to the over all look.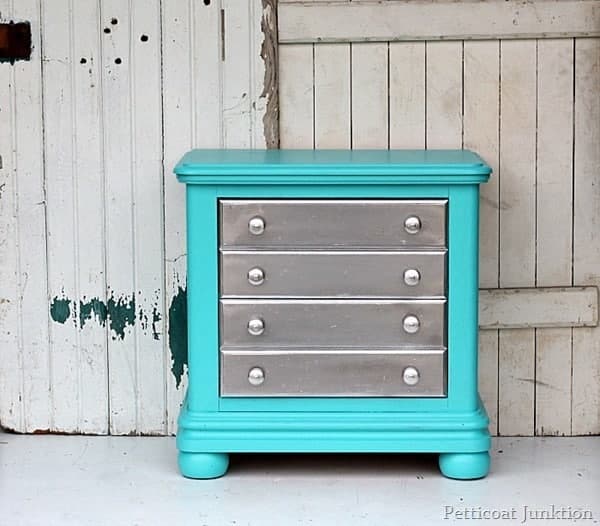 What do you guys think?
Do you take advantage of freebies?
I only used about a third of the paint sample so there will be more "Rushing Stream" projects in the future.
Leave me a little note below.
I love hearing from you.
You only have to leave your name (first name is ok) and your email address, then your comment.
Your email address will not be shown on my blog.
Thanks for stopping by and have a great week,
Petticoat Junktion Pinterest Boards
Kathy
linking to these parties….
Thrifty Décor Chick…..Funky Junk Interiors….Tip Junkie
Tatertots&Jello …Miss Mustard Seed
Get Petticoat Junktion updates in your email... it's FREE!
[social_share/] Tags:
color
,
furniture
,
metallic
,
new
,
paint
,
painted
,
rushing stream
,
silver
,
spray
,
valspar