I love white rooms….and white is nice with a touch of  tans, beige's, or grays.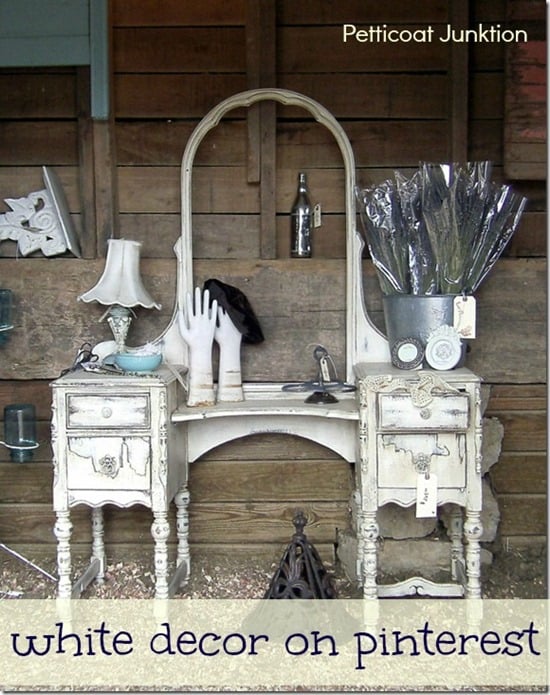 I have a pinterest board where I pin my favorite things in white.
I'm thinking maybe winter white for my Christmas décor this year.
As you're readying this I'm probably trying to decorate my mantle.
I never know what I'm going to do and I may change it up 10 different ways until I'm happy with it…..or until I just quit!
What colors do you feature in your Christmas decorating?
Starting Monday 3o diy bloggers (including me) are taking us on a tour of their homes all decorated for the holidays.
I'm hoping to get some ideas.
Come along on the tour with us next week!
 12 Days of Christmas Tour
The tour schedule……
Monday DEC 2nd
JUST PAINT IT
DIO HOME IMPROVEMENTS
Tuesday DEC 3rd
AT HOME WITH THE BARKERS
RESTORING OUR 1890 VICTORIAN
Wednesday DEC 4th
FRESH IDEA STUDIO
THE GOLDEN SYCAMORE
HOUSE ON THE WAY
Thursday DEC 5th
CURB ALERT
PETTICOAT JUNKTION
Friday DEC 6th
ARTSY CHICKS RULE
RAPPSODY IN ROOMS
Saturday DEC 7th
SIMPLY FRESH VINTAGE
COUNTRY DESIGN STYLE
Sunday DEC 8th
MRS HINES CLASS
SNAZZY LITTLE THINGS
Monday DEC 9th
FIRST HOME LOVE LIFE
THE RUSTIC PIG
JUST A GIRL AND HER BLOG
Tuesday DEC 10th
OUR SOUTHERN HOME
VIRGINIA SWEET PEA
MEEGAN MAKES
Wednesday DEC 11th
SOPHIAS DECOR
A LITTLE CLAIREIFICATION
GIRL IN THE GARAGE
Thursday DEC 12th
MOMMY IS COOCOO
LITTLE MISS CELEBRATION
INSPIRATION FOR MOMS
Friday DEC 13th
MY SOULFUL HOME
CONFESSIONS OF A SERIAL DIYer
LILACS AND LONGHORNS
You can leave me a little note below.
I love hearing from you.
You only have to leave your name (first name is ok) and your email address, then your comment.
Your email address will not be shown on my blog.
Thanks for stopping by and have a great week,
Kathy