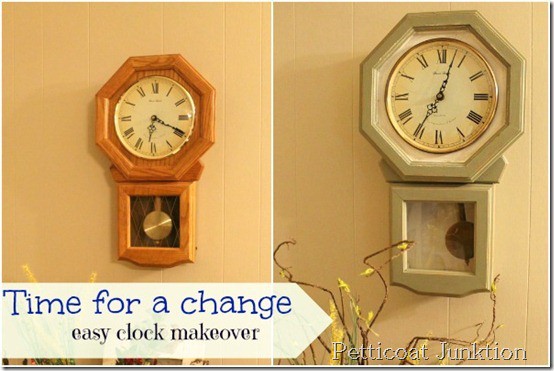 Good Morning,
It's Salvage Saturday!
Today I'm salvaging something from my home.
This clock was a Christmas present from my parents….oh….about 30 years ago.
I don't think they'll mind if I up-date it a little bit.
Couldn't do the golden oak anymore.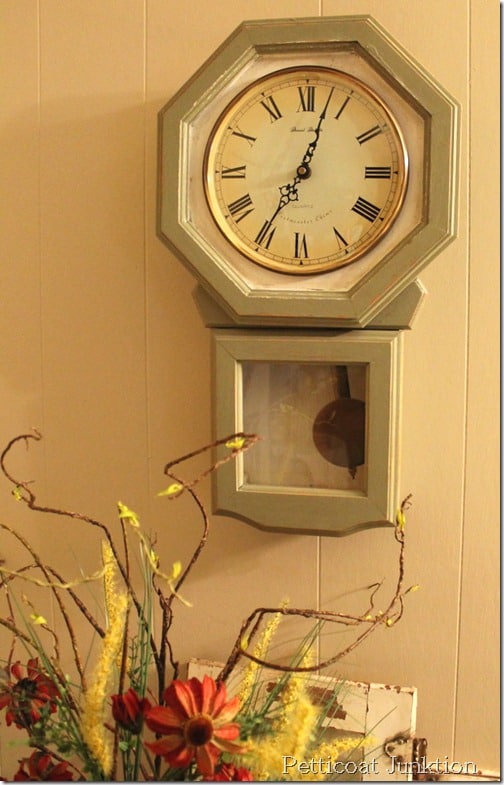 She's ready for Daylight Saving time.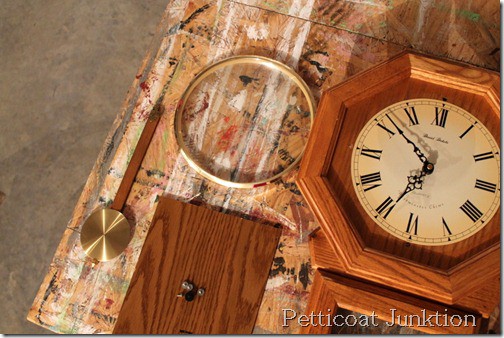 The Junktion Technical Specialist took the glass cover and the back plate off for me. The screws were easy to get to for the face and the back was stapled on so that wasn't a problem either.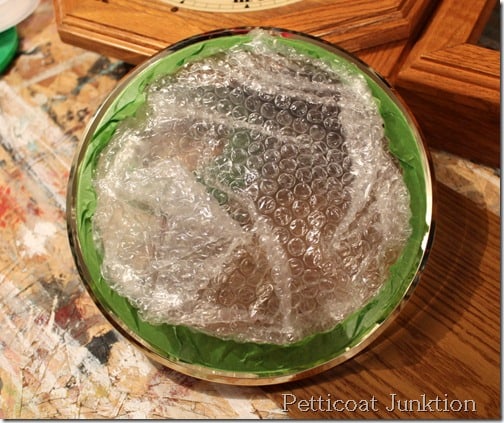 I hate trying to tape around a circle. Do any of you guys have a tip for that. I'm sure there's a really simple trick, but I don't know it. I used Frog Tape then stuffed bubble wrap under the tape. I usually use newspaper but the bubble wrap was handier.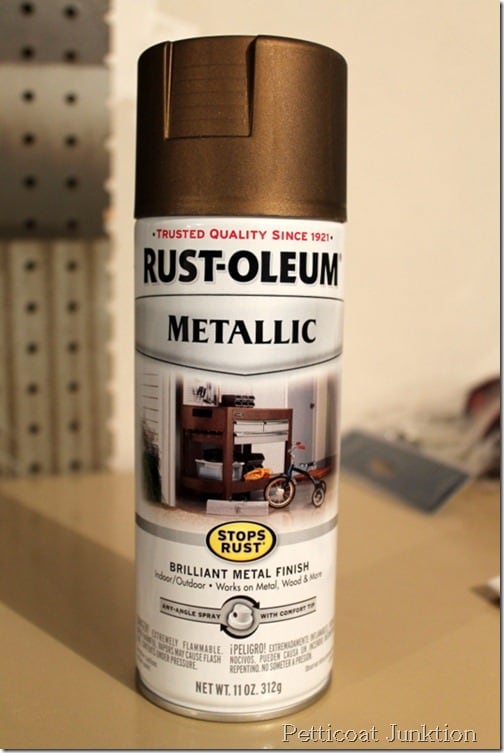 I sprayed the shiny gold circle around the glass and the clock pendulum with Rust-oleum Metallic Spray Paint in Antique Brass.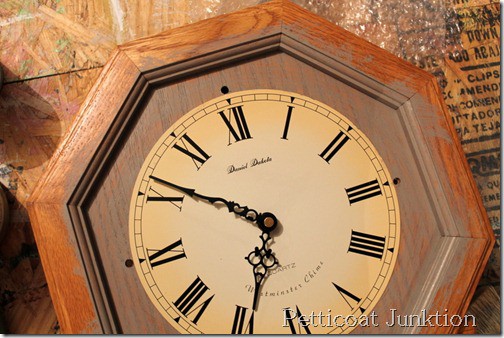 I started painting around the face with Reclaim Latte. I looked at it for a couple of days and decided I wanted to go with a lighter color.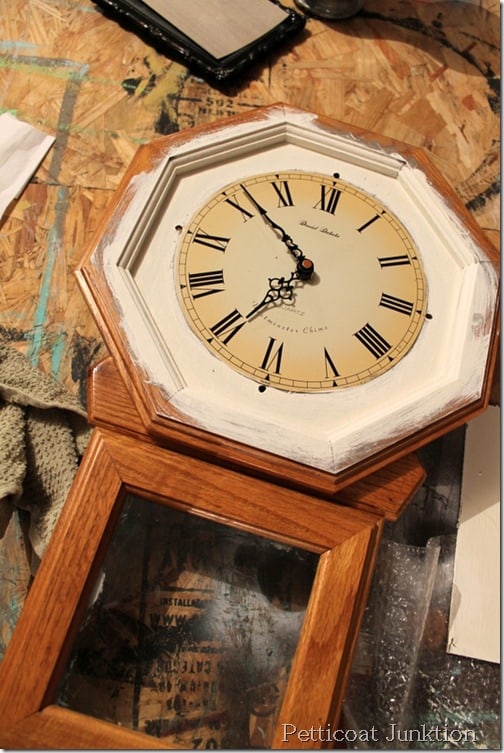 I then used CeCe Caldwell Clay/Chalk Paint in Vintage White.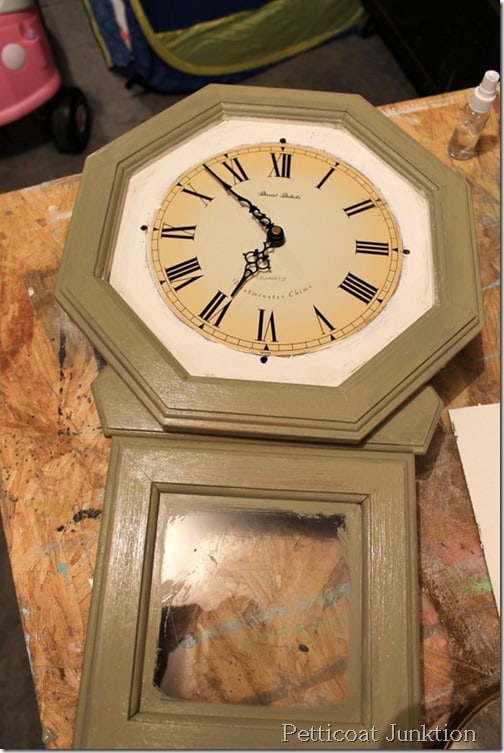 For the rest of the casing I used Reclaim in Sage green. I also took a razor blade and scratched off the gold diamond design on the glass. I wasn't sure about that but it was easy to remove.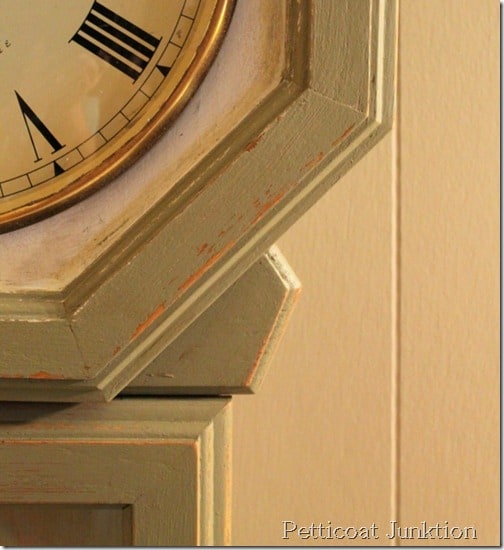 A little distressing and some dark wax for the final touches.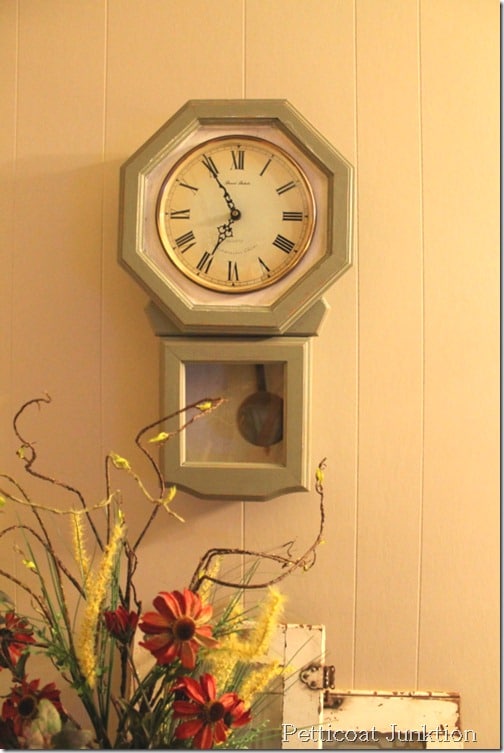 Thanks for stopping by and have a great weekend.
Sign up to receive my posts in a reader here, or email sign-up on my sidebar, and a Facebook like is always cause for a happy dance.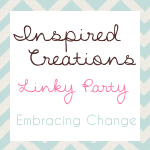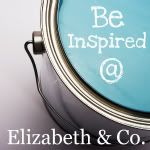 Tags:
clock
,
craft
,
decor
,
diy
,
home
,
makeover
,
paint
,
refurbish
,
spray paint
,
thrift