Miss Mustard Seed's Milk Paint
what is milk paint
Milk Paint is an ancient all-natural paint containing basic ingredients including milk protein (casein), limestone, clay and natural pigments. When absorbed into the surface, Milk Paint will never chip or peel. It is suitable for both interior and exterior applications and is naturally mold resistant. Milk paint provides a completely breathable coating and is ideal for painting wood, plaster, drywall and a variety of other surfaces.  It is environmentally friendly, non-toxic and contains no VOCs.With the Milk Paint Bonding Agent you can use Milk Paint on even more surfaces such as previously painted walls, varnished surfaces, ceramic tiles, metal, glass etc. Without the bonding agent, Milk Paint will resist some prefinished or prepainted surfaces to achieve an authentic "chippy" look.
Get your Milk Paint here…..

---
---

Milk Paint Bonding Agent
---
---

Hemp Oil
---
---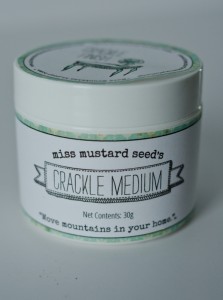 Crackle Medium
---
---

Antiquing Wax
---
---

Furniture Wax
---
---

Set of 12 sample packets, 1 of each Milk Paint
color
---
---

Inspired You by Marian Parsons, Miss Mustard Seed
---
---
Watch Miss Mustard Seed's You Tube Videos on working with Milk Paint  http://www.youtube.com/user/missmustardseed
My Milk Paint Projects…Pink Vanity,Tricycle Red Cabinet, Shutter Gray Hutch
 HOW TO USE
Mix 1 ½ parts warm water to 1 part milk paint powder (or 1 ¼ to 1 ratio with lighter colors.)  Paint may be mixed in a blender (used strictly for paint) or in a container with a stir stick.  If using a blender, pour water in first and then add the powder.  For hand mixing, measure the powder first and then add water.  Mix for 3-5 minutes until water is absorbed into the powder and the mixture is relatively smooth.  Water to powder ratio may be adjusted to achieve desired consistency.  If the full quart is needed, mix 2 ½ cups of water with entire bag of milk paint powder.With a quality brush, apply 1-2 coats of milk paint, stirring occasionally.  Allow 30-60 minutes between coats.  Finish with Miss Mustard Seed's Furniture Wax or Hemp Oil Wood Finish.
Milk Paint is such a fun product. The finish is one–of- a- kind. The unique aspect is that you never know what result you will get!  You need to take in to consideration the original finish on the furniture. I have found that highly varnished pieces will chip a lot or the paint may crackle instead of chip. A lacquered surface will chip very, very heavily so you might want to use the bonding agent. An older wood piece without any varnish or gloss may not chip at all. If the furniture piece has a coat of paint, the Milk Paint may crackle instead of chip or it may not chip at all. My advice?  Just have fun and go with it.