The Mad Mimi emailed posts are all set-up and I've suspended the Feedburner emails.
Some of you may be getting the Mad Mimi emails a day late.
I think this has to do with who you get your email from…not sure.
I didn't receive the Mad Mimi email  in my petticoatjunktion.com email account but did receive it in my personal email account.

MY LATEST VIDEOS
I went into my spam filter on my blog account and changed the setting so I could receive emails from myself!
Hope it works.
Some of you may need to change your spam filters in your email or check your spam folder.
If you are not receiving the emails please leave a comment for me and I will see what I can do.
I didn't want to just write something dull about email so I'm sharing this lovely display with you.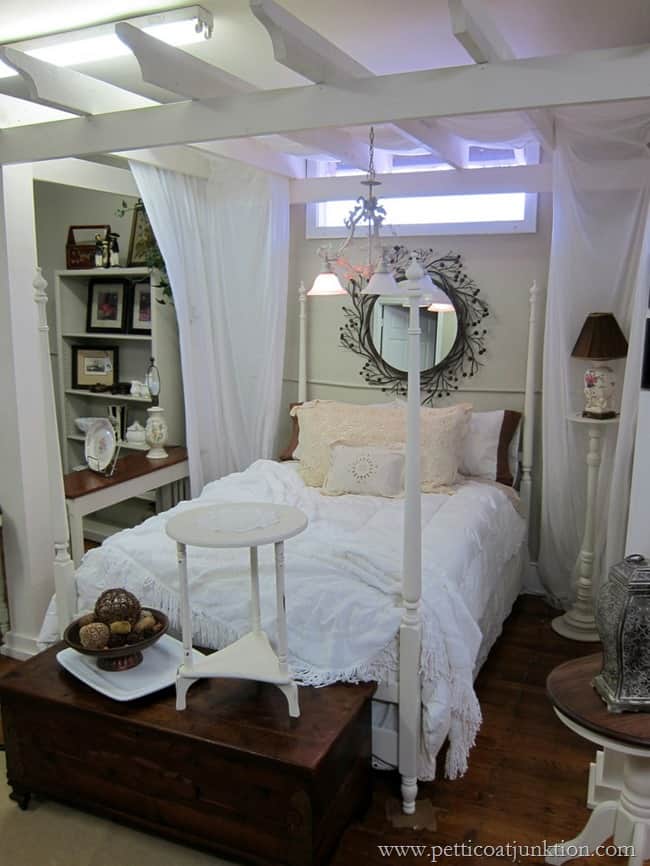 This white bedroom display is in the Treasures on Main shop in Dickson, Tennessee.
I spotted it when I went shopping with my friend Beth of Farm Fresh Vintage Finds.
It looks so fresh and inviting….makes me smile just looking at it…..thought it would bring a smile to your face too.
Happy Sunday!
Kathy