Yesterday I was posting a few project photos to Instagram and I love some of the projects so much I wanted to share them with you in case you missed them the first time.Today is about girls bedroom diy decor ideas …..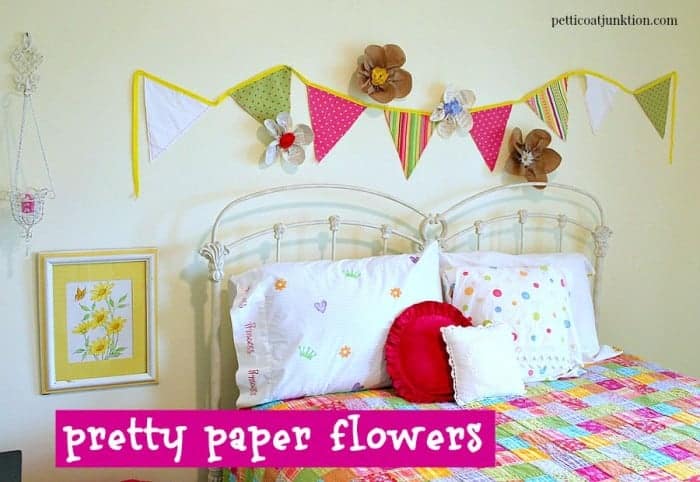 Petticoat Junktion is a participant in the Amazon Services LLC Associates Program. As an Amazon Associate I earn from qualifying purchases.
(To see diy details on any of the projects just click the photo or the "pink link".)
The paper flowers were a fun project and really inexpensive. This is the granddaughters bedroom at our home. We have two spare bedrooms since it's just me and the JTS now. One is the girls room and the other bedroom is the grand boys room. Unfortunately we don't get to see the grandsons very often because they live in Alaska. Our son-in-law is in the Coast Guard.
The banner was purchased at a local flea market. I made the "Princess" pillow case using stamps and acrylic paints on a plain white pillow case. The polka-dot and lace edged pillow case is a vintage find from my Florida days. The round turquoise pillow and the square white pillow are from the Goodwill. The bright quilt coverlet is from a department store that is now out of business. The lamp shade and daisy picture are flea market finds too. Decorating on a budget is easy!
The iron bed is a reproduction and it's a Wesley Allen. I say go "well made" on long term furniture. Of course, you should always wait and hit the sales!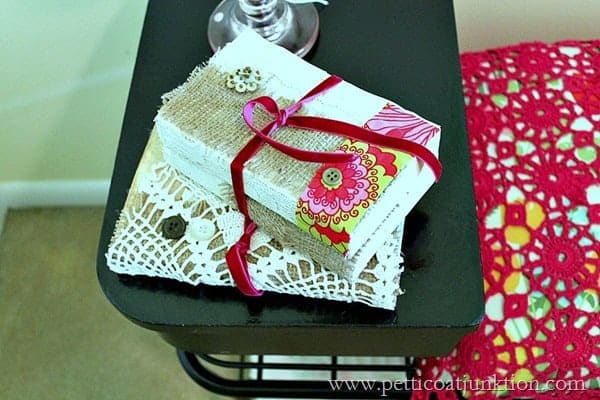 I made the froufrou books when this was a diy trend a year or so ago. All you need are old books, scrap fabrics, buttons, lace, or other doo-dahs.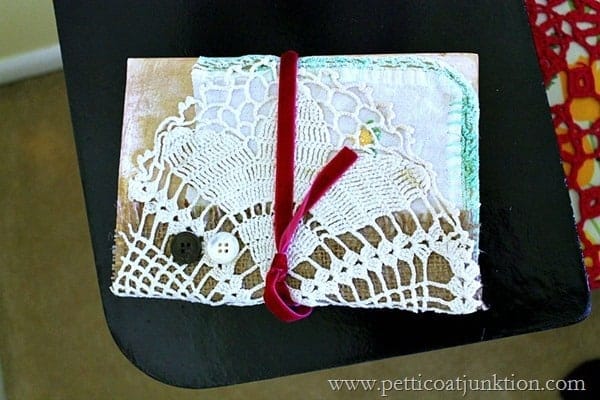 I attached all the stuff using Elmer's glue. The velvet ribbon is the perfect touch. I love using texture.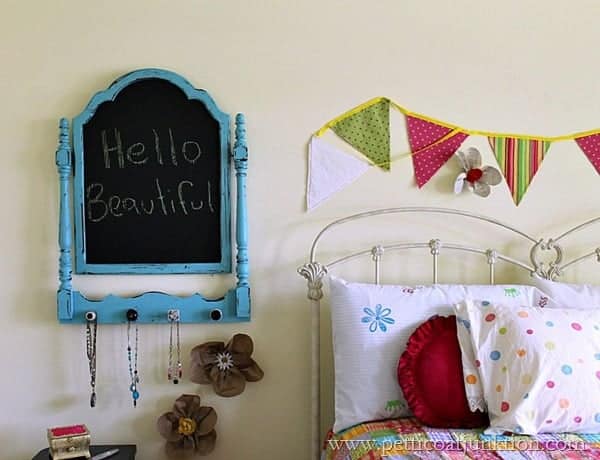 Turquoise Chalkboard/Jewelry Organizer
My daughter-in-law has always loved the turquoise chalkboard I made from a reclaimed vintage dresser mirror holder. I gave it to her around Christmas time. She uses it as a scarf holder.
That's it for me. I'm off to class. I have class everyday this semester. Keeps me busy…… and out of trouble. Have a great day
Find Products used in this room makeover:(Amazon affiliate links are for your convenience. Click here to read my full disclosure policy.)
Shop local Thrift Stores for awesome stuff!
White Pillowcases (local department store)
Chalkboard Paint
Decorative Knobs
Acrylic Paints
Girly Stamps (Hobby Lobby)
Elmers Glue
Iron Beds  (similar)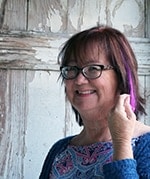 Kathy Owen is the creative guru, content creator, photographer, and worker bee behind the popular Home Décor DIY Blog Petticoat Junktion. She focuses on reinventing found treasures and decorating her home Get all the nitty gritty on Kathy here.