I bet you've been wondering when I'll have a furniture project to share? I'm wondering too. I started prep work on two pieces today but they have a ways to go.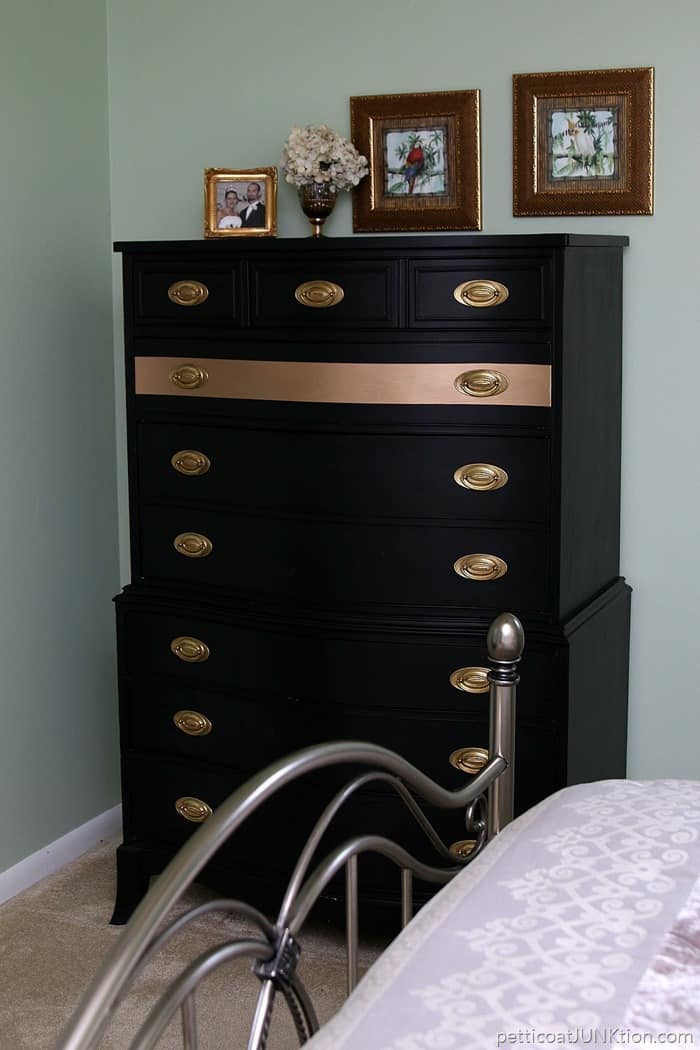 When I painted the gold stripe chest I promised to share a photo when we got it moved into the bedroom. Well, here it is. I finally took the time to decorate around it. The two bird pictures cost me $3 at a local thrift store. I fell in love with the frames.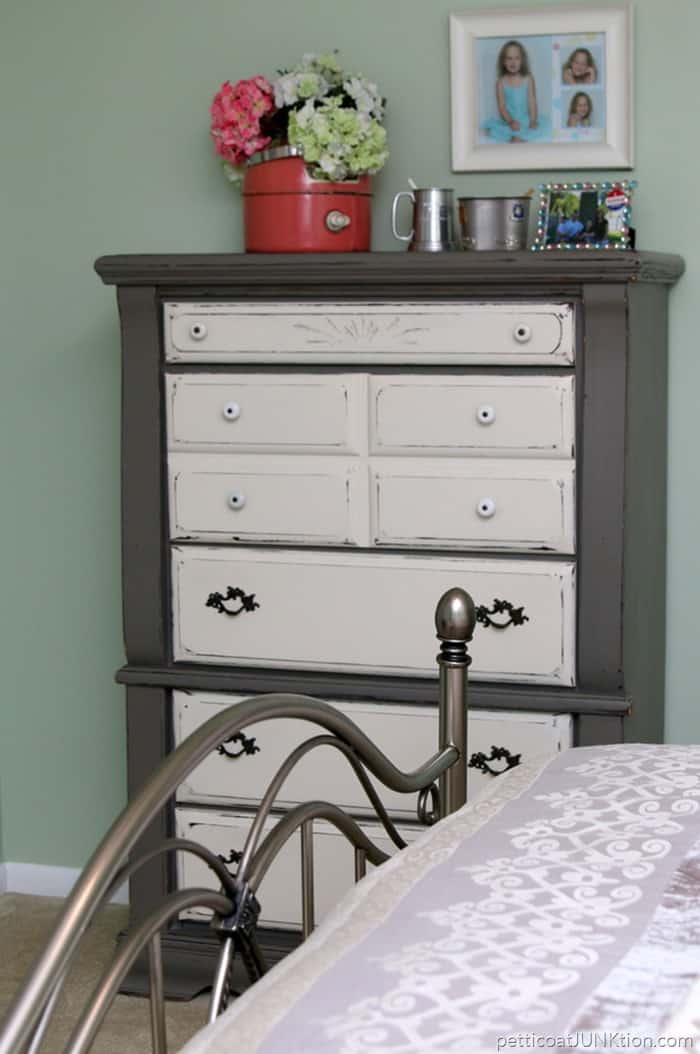 old projects
This is the chest of drawers in our bedroom before. Once I painted the black and gold chest I knew it was a keeper. I sold this chest.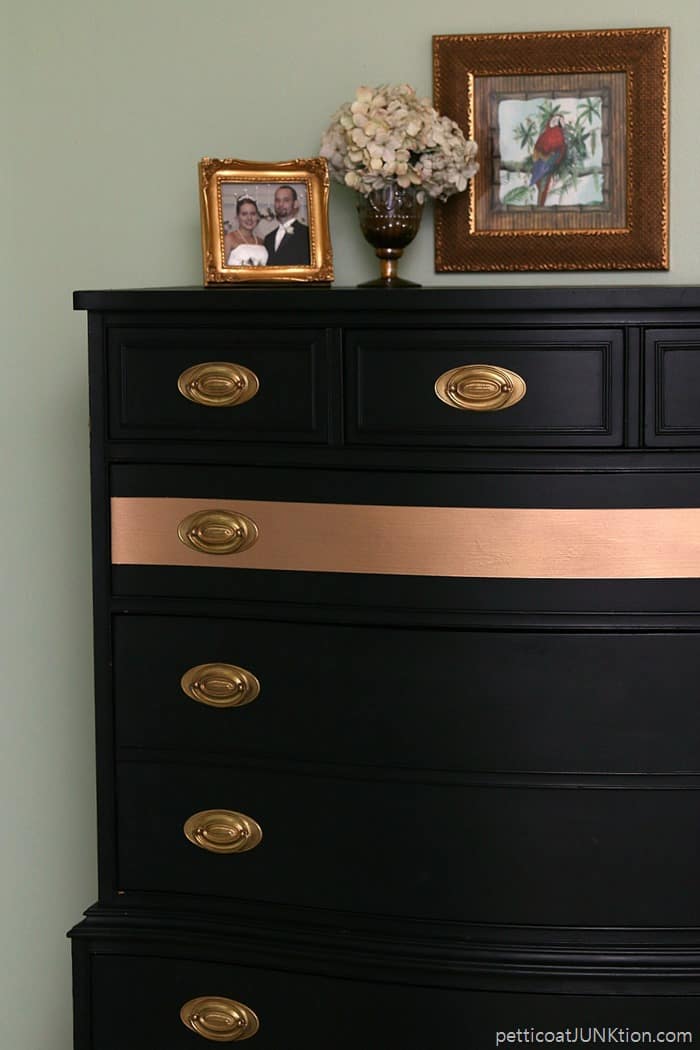 Every time I look at the black chest I say "Dang girl, you did good"! Nothing like patting yourself on the back.
I've been working on small crafts mostly because of the many trips to Arkansas the past few weeks. I think I've been home about 15 days out of the last 45. I'm not complaining. I want to spend time with my parents while I have the chance. Most of you know my Mom has Alzheimer's and we moved her to a nursing home last month. I have pictures and stories from Arkansas that I'll share in a week or two.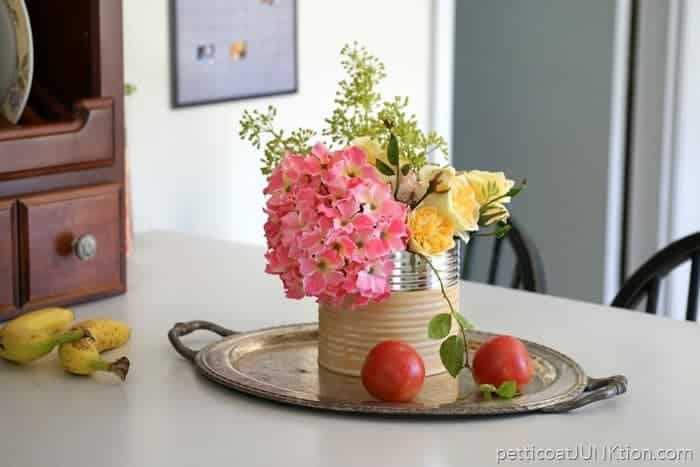 The two tomatoes are some of the first ones from Dad's garden. I had a bacon and tomato sandwich today for lunch. Yum. Do you see how the flowers in my upcycled coffee can are a mess? I used a few of them for a photo shoot yesterday and I didn't put the flowers back in place.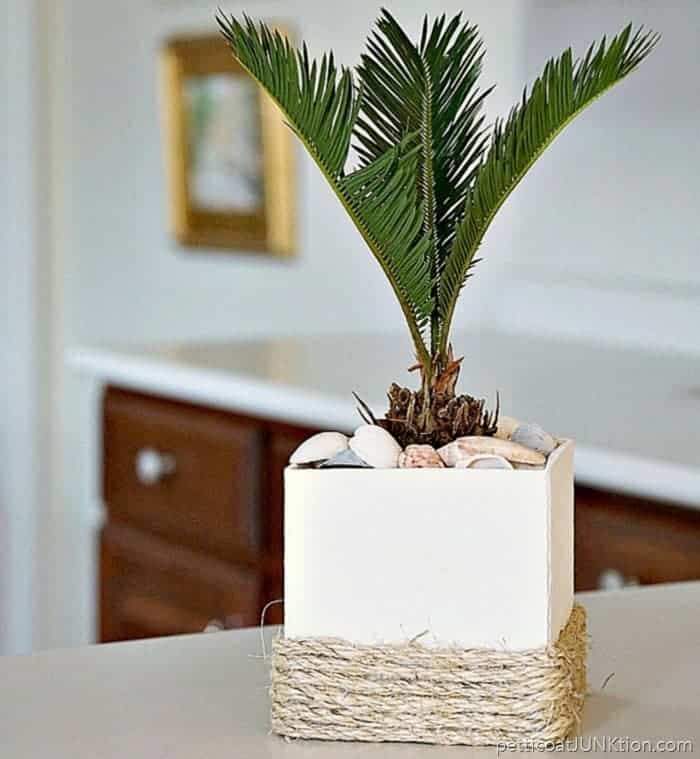 I finally repotted my Sago Palm yesterday. The poor thing isn't growing because the roots have no where to go to.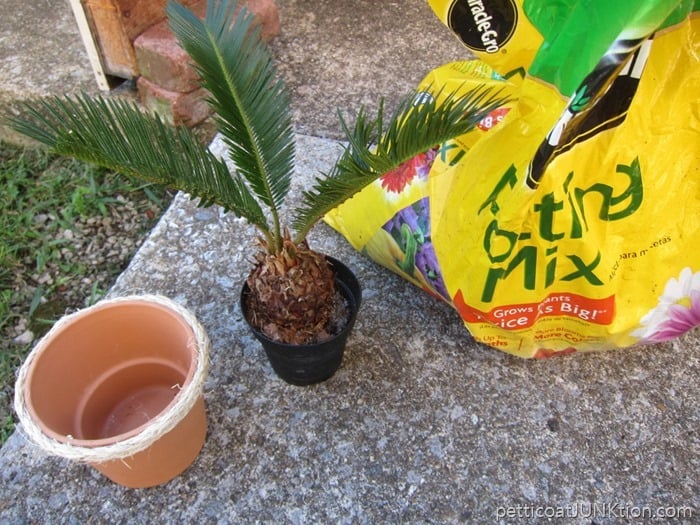 See the little tiny pot it was in.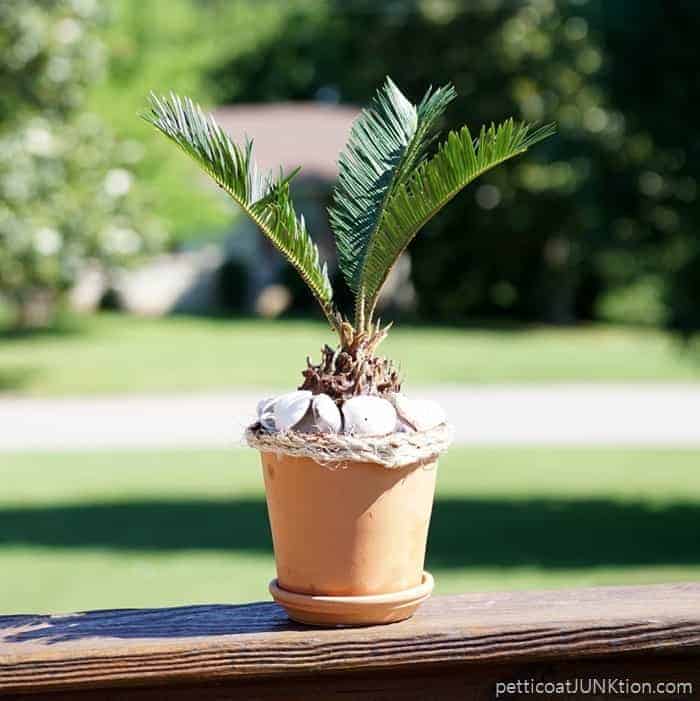 I transferred the little palm to the terra cotta pot. I decorated the pot with sisal rope last year but never posted about it. I actually did two pots and the only thing I did was to hot glue sisal rope to the top edge of the pot. This clay pot didn't have a rim. I like the style but the simple sisal rope addition really adds punch.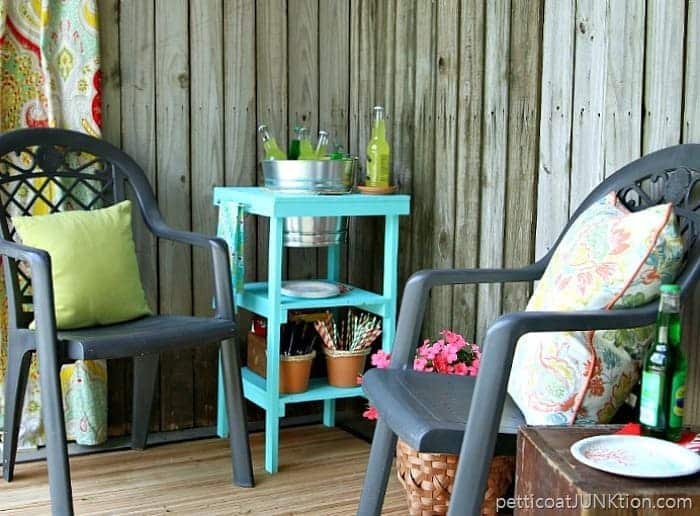 I decorated the two pots to use on the beverage cart I made last year. That cart was a winner…..you can see the detailed tutorial here.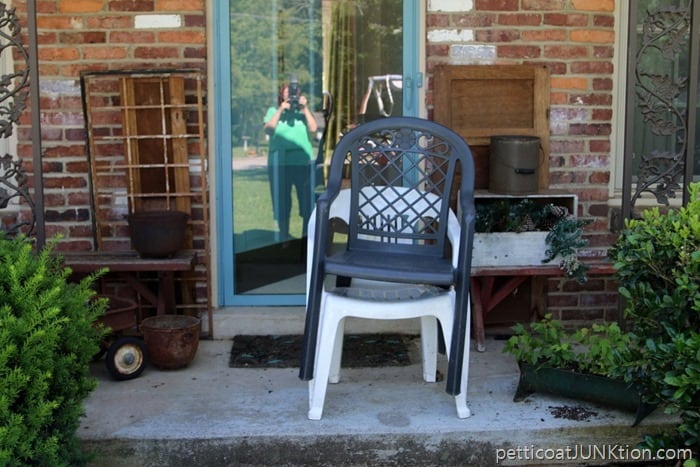 Just for fun I thought I would show you guys my porch again. I took these photos yesterday. The porch still has bits of Christmas stuff I forgot to pack up. I'm getting hopeless.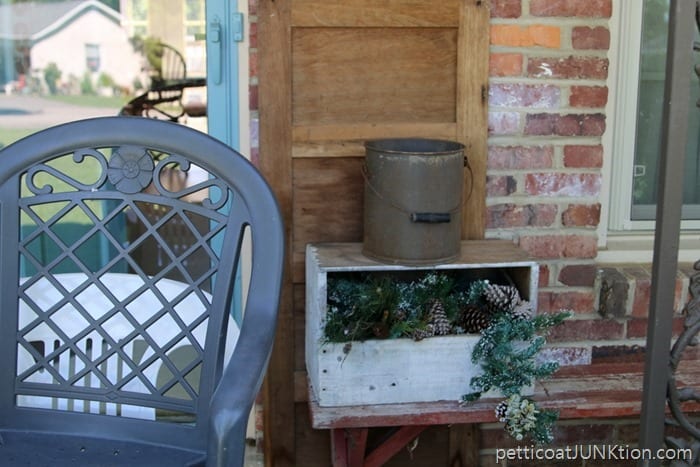 The chairs are stacked on the porch right now because the JTS mowed the lawn and that's where they go on lawn mowing day.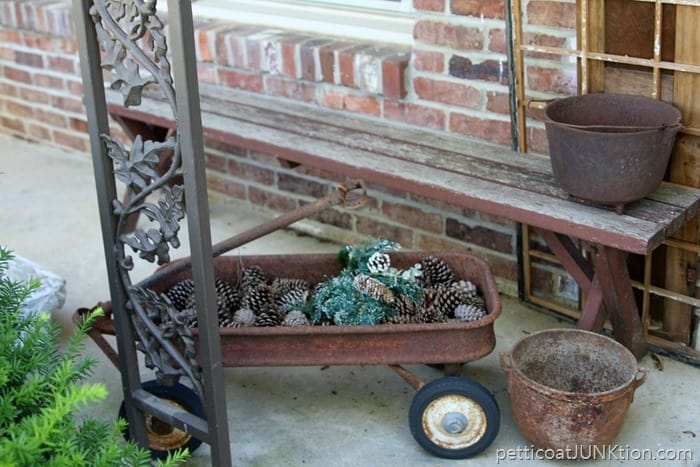 Pine cones from Mom and Dad's yard.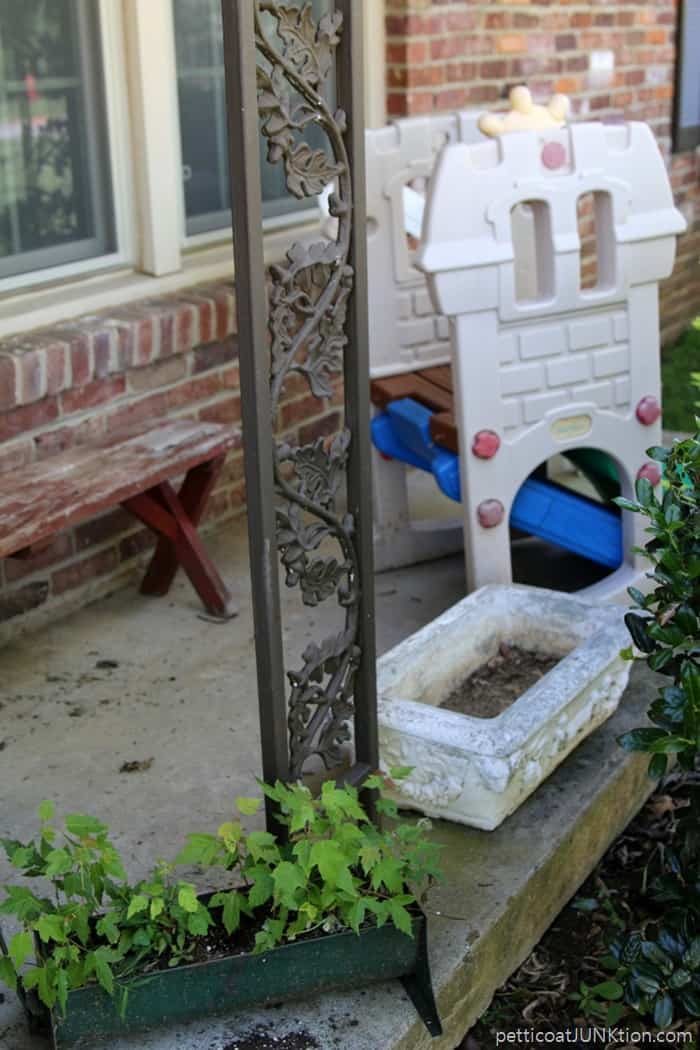 Haha. Little maple trees growing in the planter. I guess eventually I might plant new flowers and take the Christmas stuff off of the porch. I feel a porch makeover coming…..eventually.
Did you enjoy seeing bits and pieces of the real Owen home or was it boring and you want to see painted furniture and diy projects? Leave me a note. Have a great weekend!