Happy Monday Everyone!
Boy, was it a beautiful weekend around here.
I know it rained a little yesterday but it was still nice
Over the weekend I went to the Nashville Flea Market, worked on a few projects, did some homework, and squeezed in a little housecleaning(very little).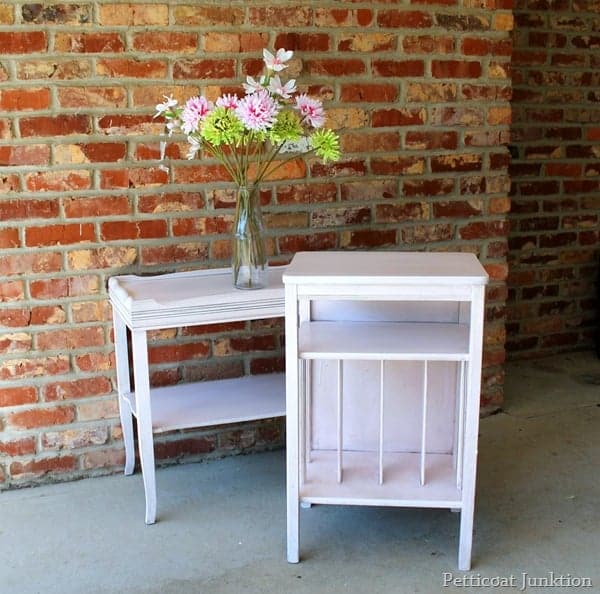 This project was wrapped up last week.
It was a custom order for Wedding Belles.
Lisa, the owner of Wedding Belles wanted the same Blush Pink Metallic Finish as the Antique Desk I painted for the shop a few weeks ago.
So far every piece of furniture Lisa has asked me to paint has been on the top of my "Furniture I Hate To Paint" list.
When she told me she just had two small tables for me to paint, no big deal. I was a little skeptical.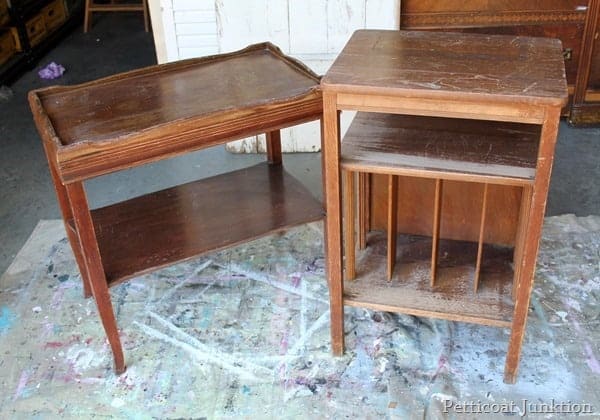 One of these tables is relatively easy to paint but the one on the right….not so much.
I wasn't looking forward to painting the table……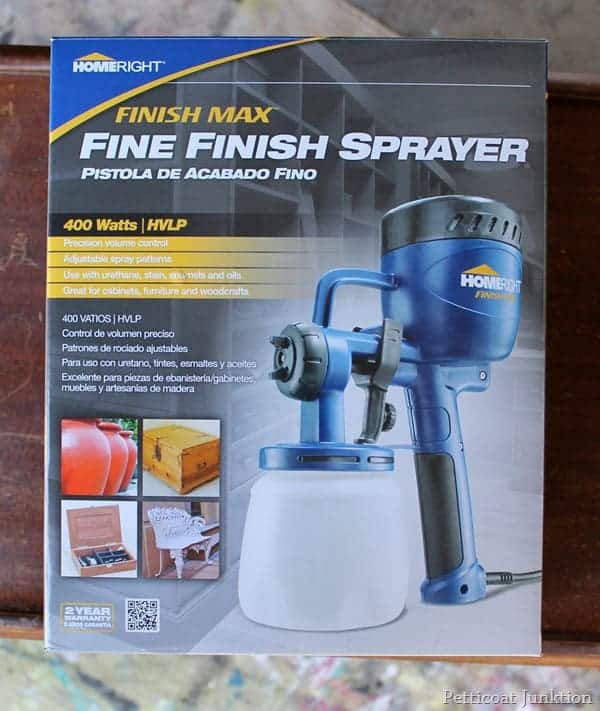 but then I received this in the mail.
My very first HomeRight Finish Max Fine Finish Sprayer.
HomeRight was a sponsor of the Haven conference and that was my first look at the Finish Max.
I was interested in trying it out on a furniture project and HomeRight sent me one to review.
Thanks HomeRight!
I do have to tell you that I use a paint sprayer occasionally.
I don't use it often because it's the kind I have to hook up to a large air compressor and the air compressor make me nervous.
  Also it takes me forever to get the paint flow adjusted just right.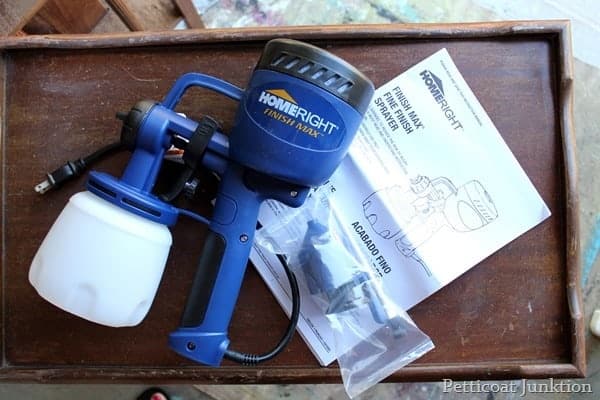 This is how the Finish Max looks straight out of the box. The motor is built in.
I didn't read the directions….just poured some paint into the container….. watered the paint down a little….set the dial….just chose one….and started painting.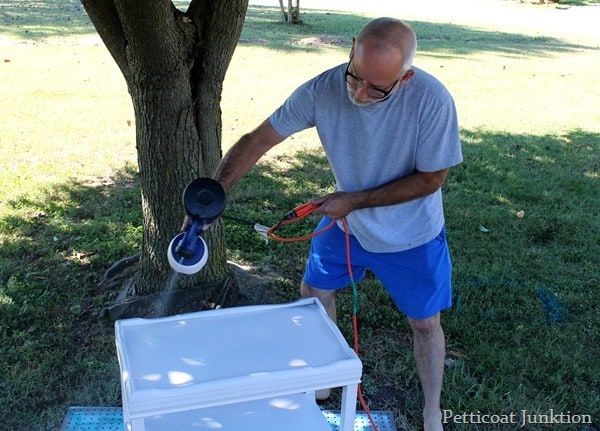 I began the spray painting then the JTS wanted to give it a go.
It was a dream to use. Really.
I was amazed. I may never pick up a paint brush again.
I never changed the setting and the paint sprayed out evenly and the whole process was effortless.
It took about 10 minutes to spray both tables.
I let the first coat dry and sprayed a second light coat of paint and I was done.
The HomeRight Finish Max Fine Finish Sprayer is my new best friend.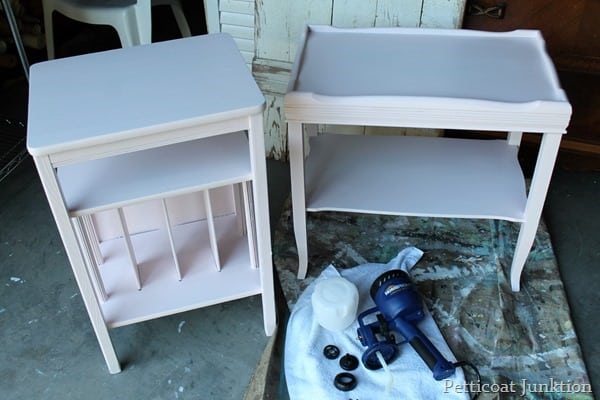 I took it apart to wash the paint container and the spray attachments. Easy.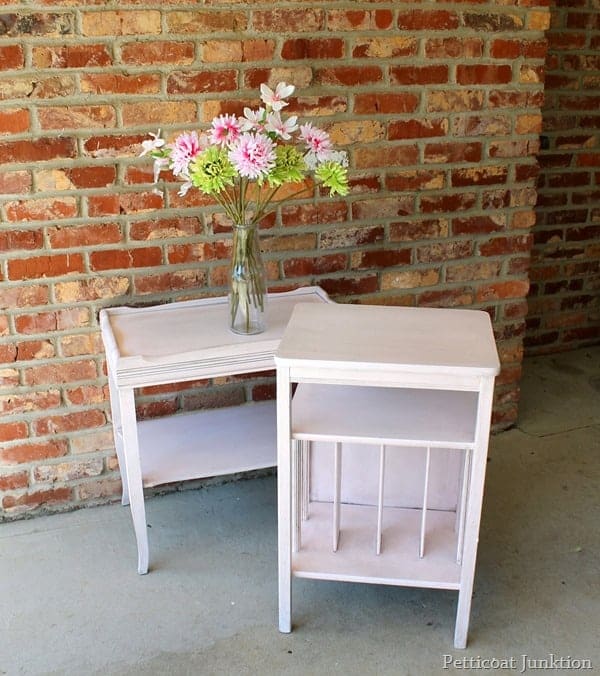 I finished the two tables with gold and silver metallic glazes.
The finish is hard to capture in a photo.
The  photo of the antique desk featured on the Metallic Silver, Gold, and Blush Pink-Special Paint Finish post shows the paint finish a little better.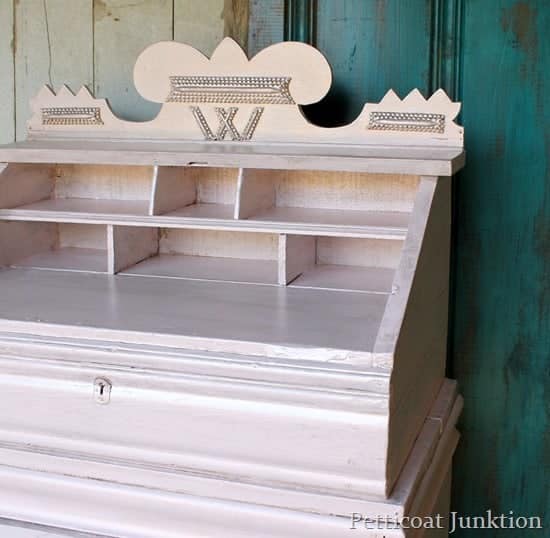 Too bad I didn't have the Finish Max when I painted the desk. Look at all those cubby holes.
I'm not the only person in love with the Finish Max. It's out of stock until mid-October.
For additional details and instructional videos click over to the HomeRight website.
Do you use a paint sprayer?
You can leave a comment below.
If you don't have a blog….that's ok…you only have to leave your name (first name is ok) and your email address, then your comment. Your email address will not be shown on my blog. It is to prevent spammers from leaving comments.
Thanks for stopping by and have a great week