disclosure: affiliate links may be used in this post.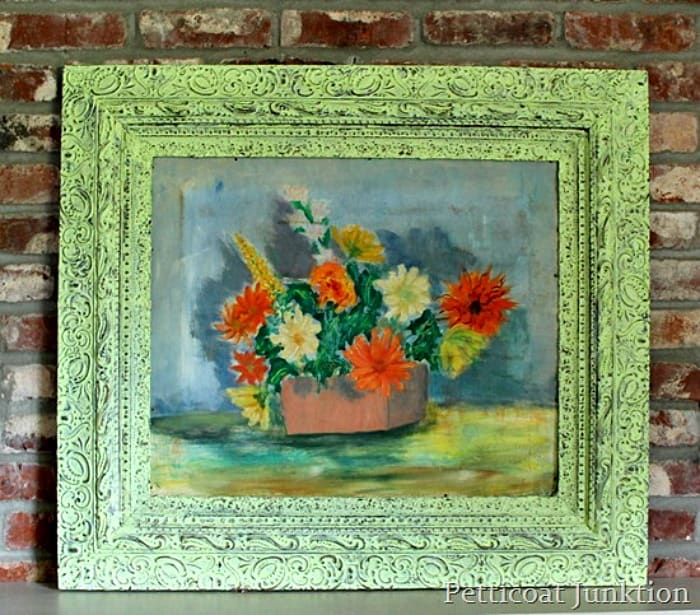 Mantel Display
Salvaged Oil Painting
I know I titled this post Mantel Display but that's really over stating it. I've never had much of a mantel display. I'm not good at that stuff. What I do have on my mantel is a framed, salvaged oil painting. Do you like the bright colors. I do. Orange, green, and yellow are some of my favorite colors……they go so well together. My living room is decorated in these colors.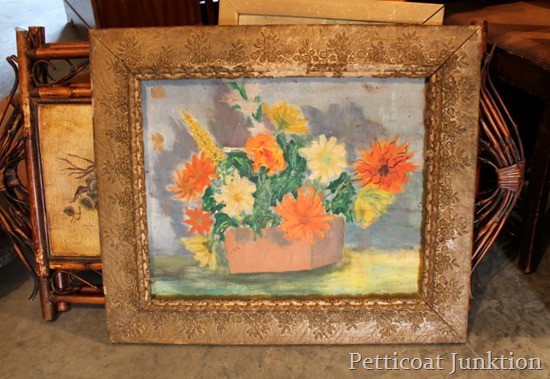 I bought this framed oil painting in Guthrie, Kentucky, at an indoor flea market. I debated about buying it although it was only $15. I wanted the frame but it was damaged, and I really liked the colors in the painting but it was scratched up and very dirty. The painting is on a board, not canvas. I think it's an oil painting, and even though it's not very professional looking…..I love it. You can see in this photo where there were dirt dauber nests on it. I bought it.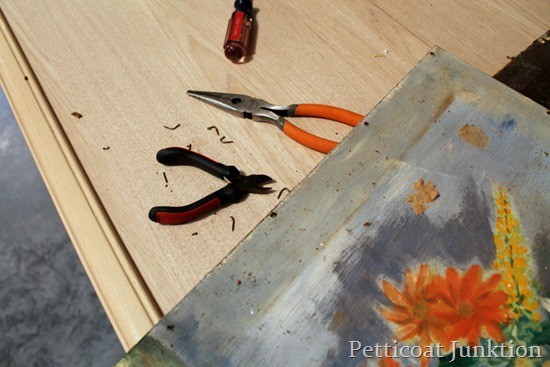 I took all the tiny nails out and removed the painting from the frame. Then I cleaned the painting with Simple Green and touched up some of the areas where the paint was chipped off. Yeah…soap, water, Simple Green….maybe my new profession can be Painting Restorer…I have all the tools! I thought what the heck, if the paint comes off….. it just does. At this point I was just thinking I would set the painting on my mantel for a few months then sell it.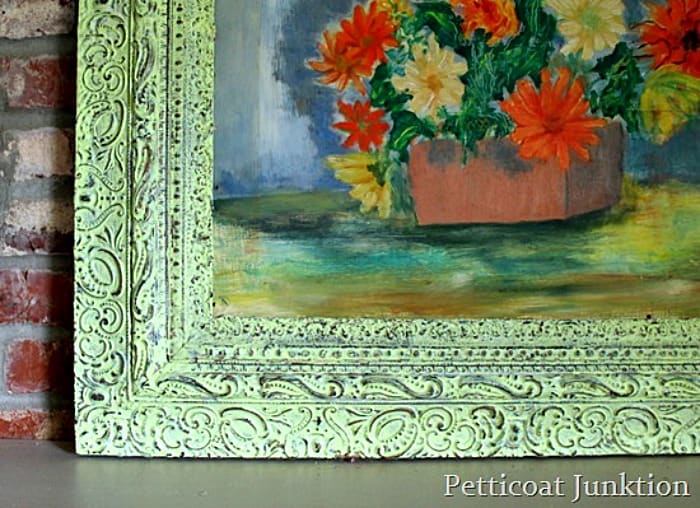 I've had this green frame and a few more frames and odds and ends on my fireplace mantel for a long time. The green frame is a highly detailed frame that I painted a bright lime green then distressed so the black would show through. The empty frame has been on my mantel for several years. I set the cleaned painting  on the mantel beside the frame and…..that's when I had a "ah-hah" moment. I think the painting and the frame are the same size….they were. I pulled out some masking tape and put the painting in the frame. Love it!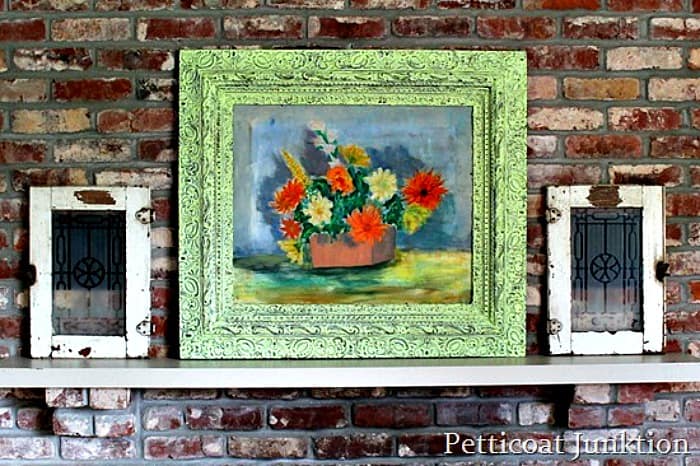 Now I need to decide what else to put on the mantel. I threw the white doors up there but that's not working for me. There are 2 ugly black vents on either side of the painting (behind the white doors) Any ideas….anyone? Do you like my flea market painting and do you like the green frame? Thanks for stopping by and have a great week,