Well it's going to be short and sweet today guys.
I'm heading to the Nashville Flea Market, whoohoo!!
I have a simple display for you today.
An outside of the box idea.
vintage ephemera displayed in an old rusty toaster 
I purchased the vintage toaster at the Nashville Flea Market about a year ago.
I had to ask the vendor what it was……I had no idea….. I just knew I liked it
I mean it was rusty right!
I took it home and it's set in various places in our living room.
This past week I started de-cluttering my house.
BIG JOB
When I'm shopping for the booth and for furniture to paint I only buy things I like.
That's kind of bad because then I want to keep everything.
So occasionally I have to go through the house and get rid of some stuff.
I was going to weed out the toaster but I don't think I'm ready to part with it yet.
I don't remember where I picked up the 1950 Ladies Birthday Almanac.
I wasn't even born then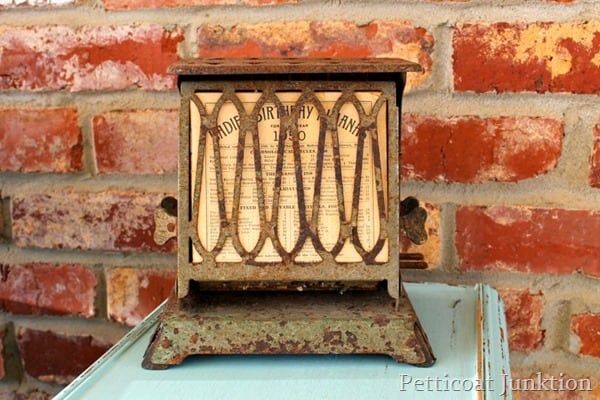 An old black and white photo would look cool in the toaster too.
I just didn't have time to hunt any down.
Boy, I think this is a clever idea.
What do you think….corny….or cute?
You can leave a comment below.
If you don't have a blog….that's ok…you only have to leave your name (first name is ok) and your email address, then your comment.  Your email address will not be shown on my blog. It is to prevent spammers from leaving comments.
Thanks for stopping by and have a great week,
Kathy
Follow….
On Facebook Petticoat Junktion
On Twitter Petticoat Junktion
linking to these parties….
.Funky Junk Interiors……Savvy Southern Style