Auction Cabinet Added To The Workshop
The JTS just finished installing the auction cabinet in the workshop. At $25 the cabinet was a steal. It's nice to get some good deals on things we can use. A lot of times we are buying things to work on and then sell.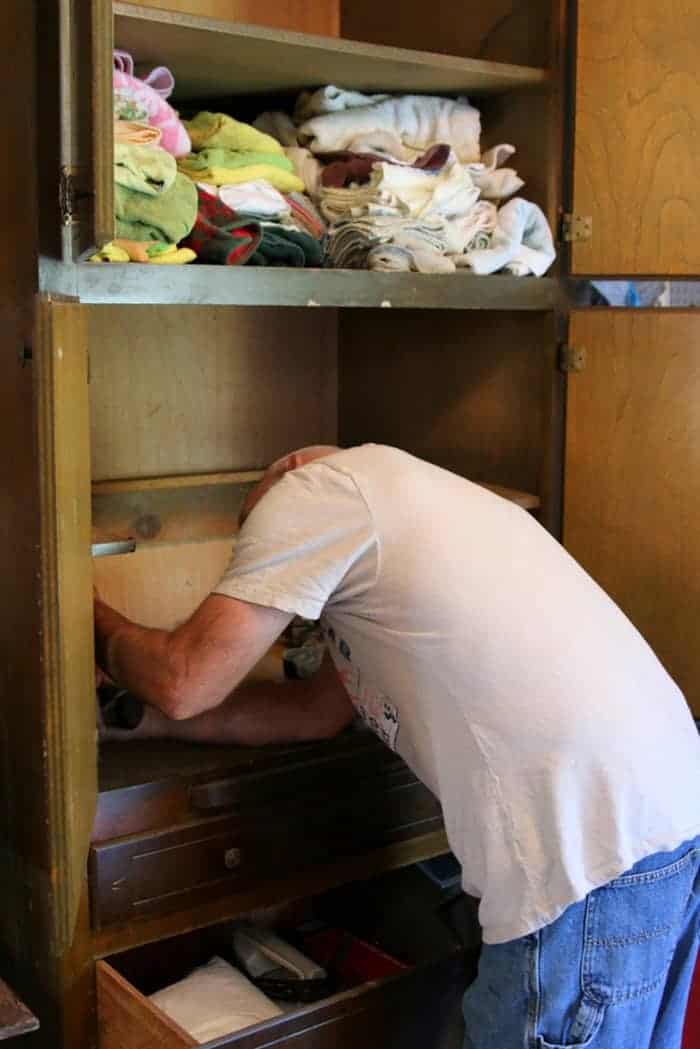 The JTS was working on installing an extra shelf in the cabinet. Then he filled the cabinet to the gills. It took the place of a large open shelf…which is now mine. More space to collect stuff. Just what I needed (insert Kathy winky face).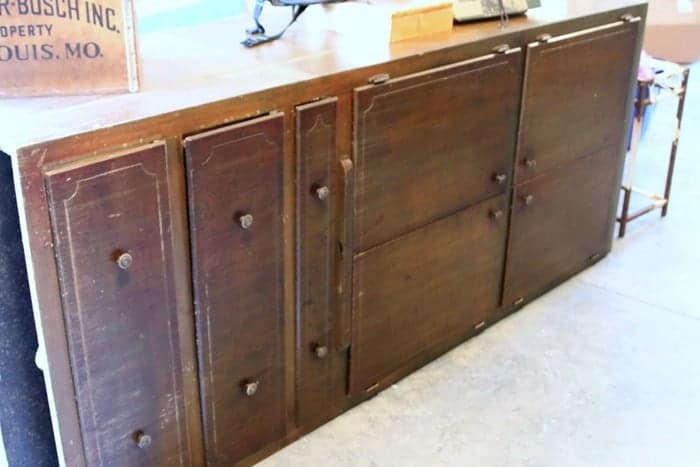 Auction Cabinet
This is how the cabinet looked just lying around on the workshop floor. I need to get a photo of it all set up. It is 7 ½ ft. tall.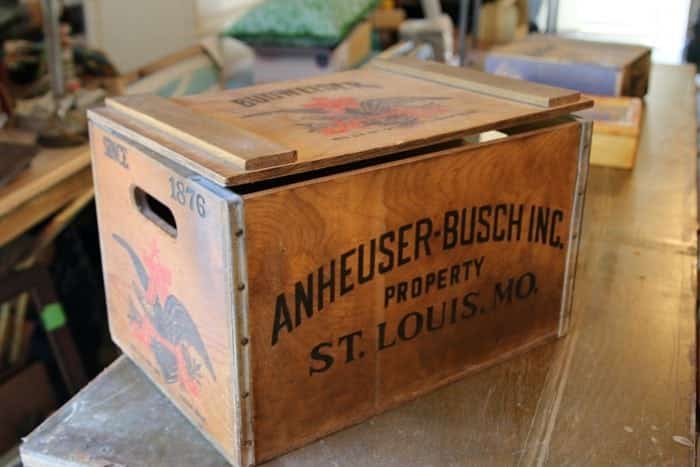 Not only did he get the cabinet but everything that was in it too. There were all kinds of things. The Advertising box was in the cabinet and is probably worth $25 itself. See, we got our money back right there. Also included in the cabinet was a new pair of boots (still in the box), collectible Budweiser memorablila, Snap on tool collectibles, and I can't remember what else. A lot of STUFF.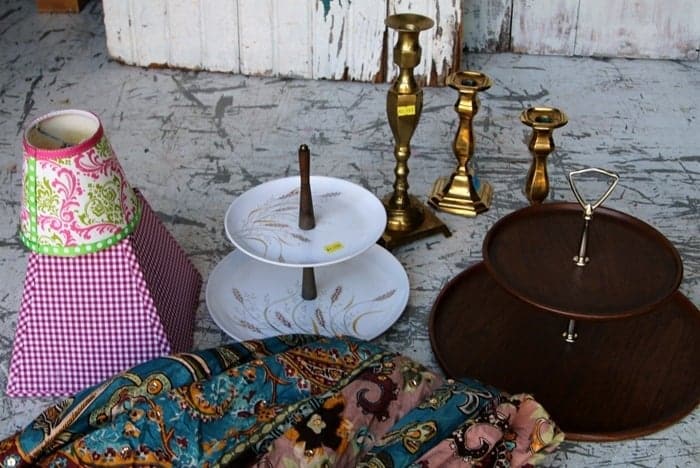 Now we're moving on to my thrift store finds. The brass candlesticks are destined to become stands for pretty plates. The tiered trays are going to be repainted, at least in part. The skirt you guys have seen in my vintage vanity stool makeover, and the lamp shades are waiting on pretty lamps.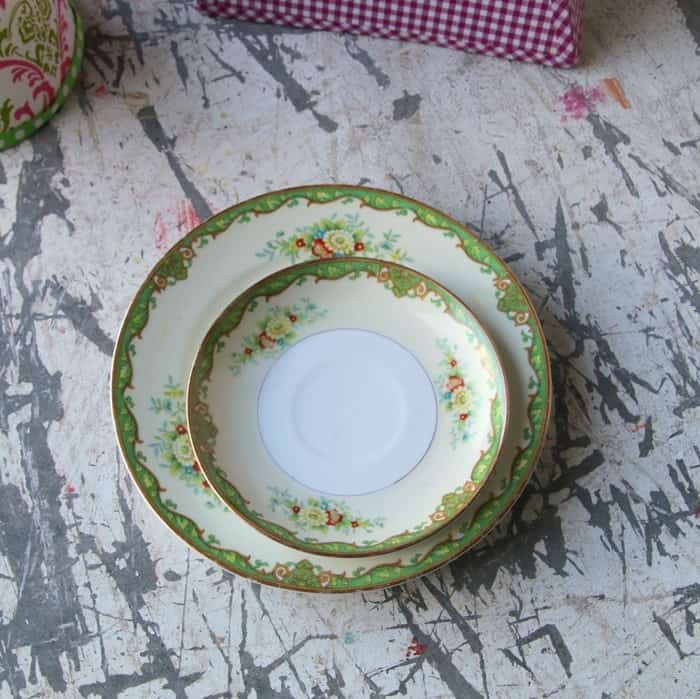 These pretty dishes are going to top those brass candlesticks to make pretty serving stands.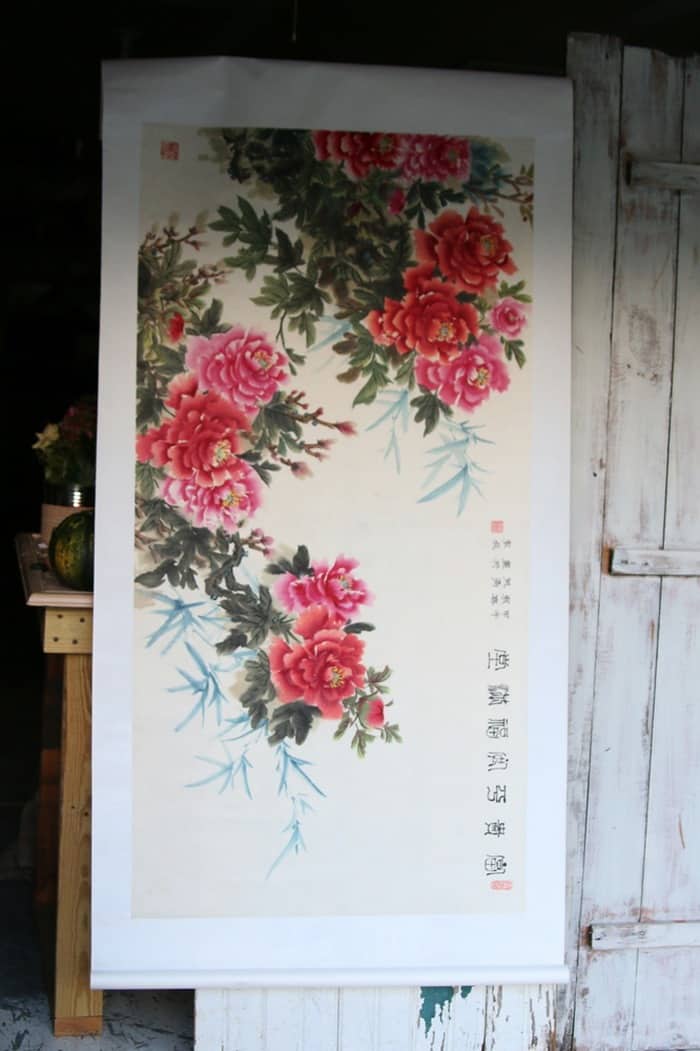 This beauty was all rolled up and I almost passed it by at Goodwill. For $1.79 I can do something with it, or part of it.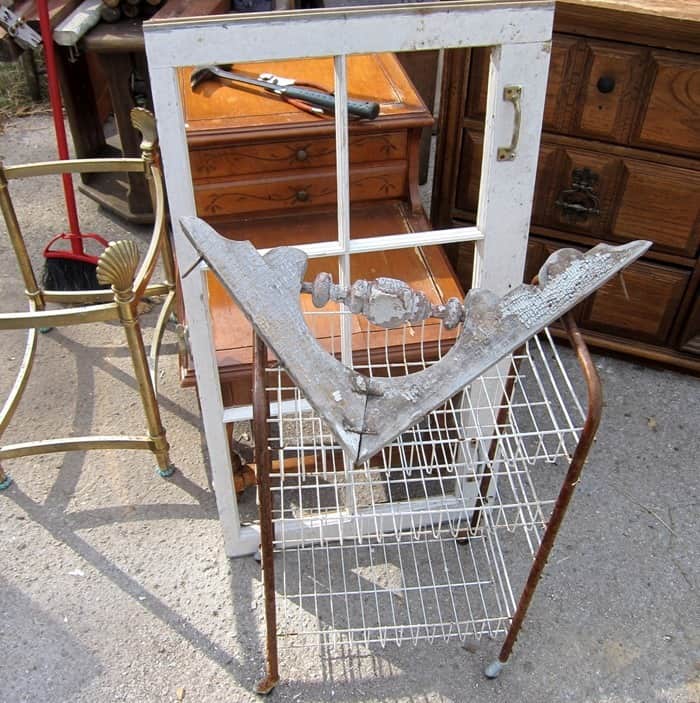 These are finds from the junk shop. The rusty and white colored cart is still sitting in the vintage wardrobe. I got a lot of comments on that cart. I really liked it as is. If you missed it you can see it here…Vintage Wardrobe, Unpainted!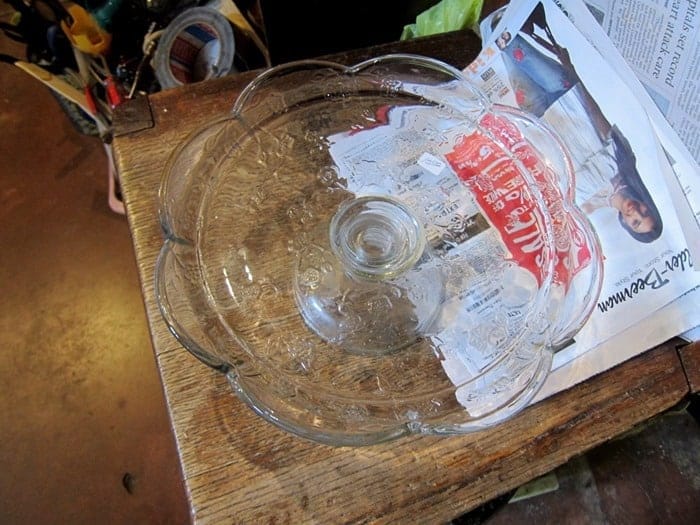 I bought this cake plate too. Someone said it might be Princess House. I never bought any Princess House stuff. Anyone know about it? I like to use the cake plates as stands in displays. They are great for adding height to a display.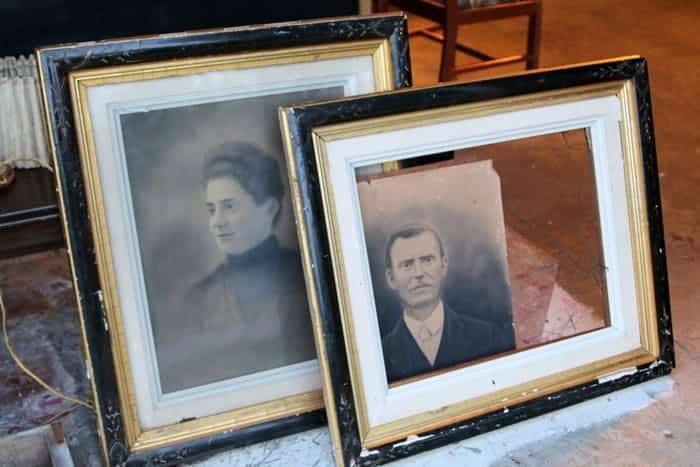 The next photos are from cool things I found at Carrie Scott's Antiques in Pine Bluff, Arkansas. I stopped in on my last trip home and picked up several things. Some I'm calling mine. The two frames above are black and gold with mother of pearl inlay. The frames are in pretty bad shape but I still love them. The frame where the photo has been removed was on display above a shelf and it caught my eye immediately.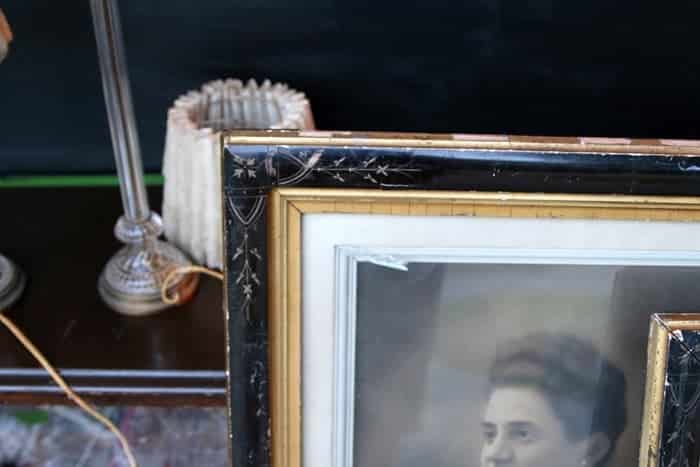 The frames are very large. I haven't measured them but I would guess about 24x30. I plan to put the frames on the mantel and decorate around them for Fall/Winter. We'll see if that works or not. The pair of frames were $60. Way over my budget….but….well.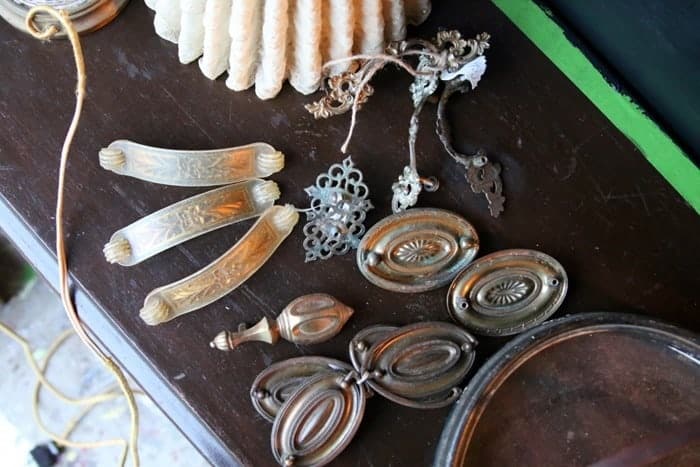 I bought some vintage hardware too.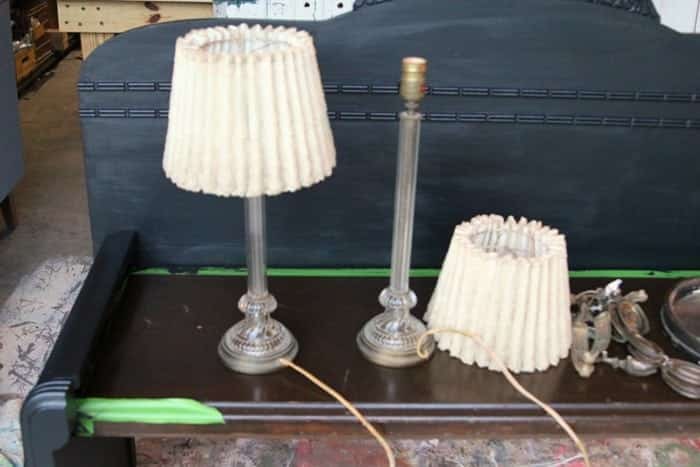 And this pair of lamps with lace covered shades. I love the lamp bases but the shades are going away. One of the lamps will be showing up Thursday on a new furniture makeover. It is sporting a black lamp shade and looks awesome.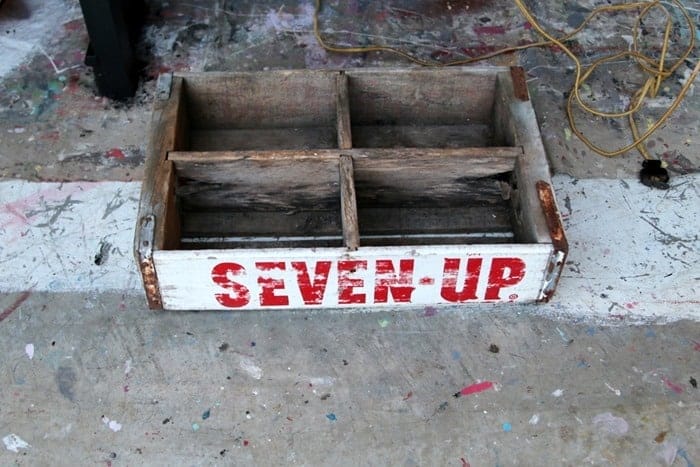 I had to have the Seven-Up case for $7. It definitely fits Farmhouse style and I can see it in a display somewhere, sometime.
The JTS and I buy quit a bit of stuff at the auctions and thrift stores (but spend very little money). Some stuff we keep but most we sell at my booths. I keep things for future projects, for decorating around the house, or for putting to use....like the cabinet.
I know some of you like shopping the flea markets and thrift stores. They're a great place for picking up crafting items and collectibles. Do you collect anything? If so, what? Please share. Right now I'm in to vintage kitchen scales and quilts.
That's it for me. You guys have a great day!