disclosure: affiliate links may be used in this post.
Hump Day Hodgepodge
Hello! This is a mishmash of my half way, never got decorated Fall porch with dying mums, junk finds for the week, and a so-so flip of a $2 table. Glad you're here. I surely don't always have it together although most of the time us bloggers want everything to look just perfect. Usually things are far from perfect.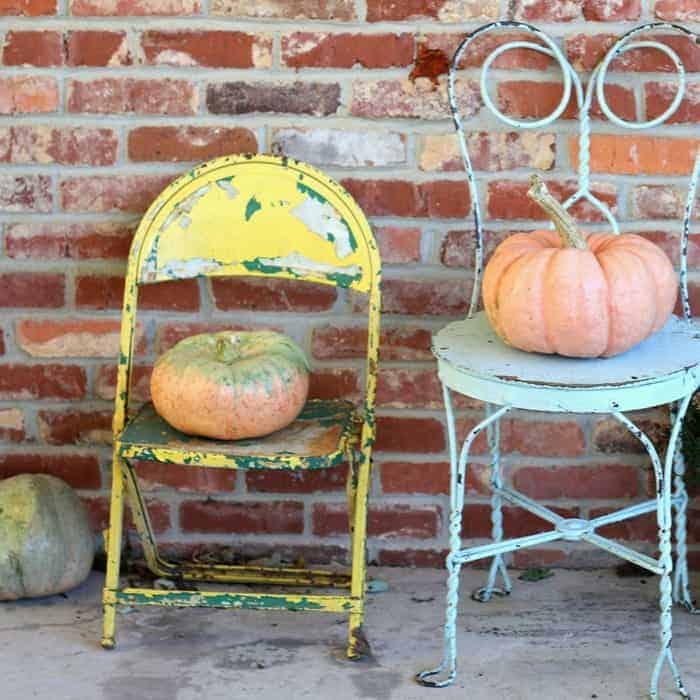 The fun junky chairs are sitting in our carport by the back door. They were a good place to drop pumpkins that haven't made it to the intended spots. More Fall décor at the bottom of the post.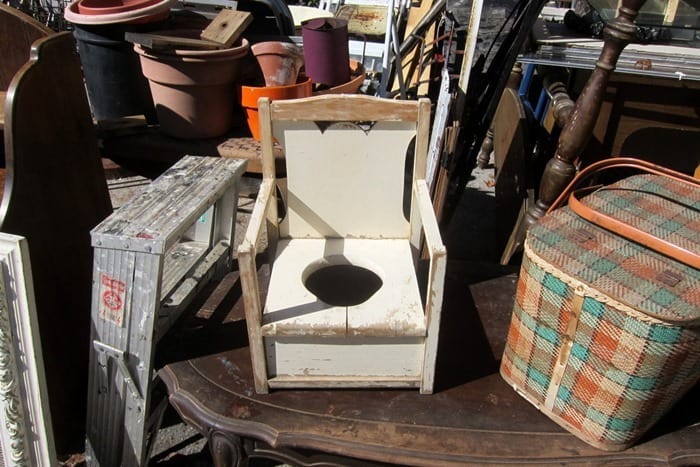 I bought the shabby chic potty chair at my favorite junk shop. Couldn't resist the white paint. How many times have you heard a potty chair referred to as "shabby chic"?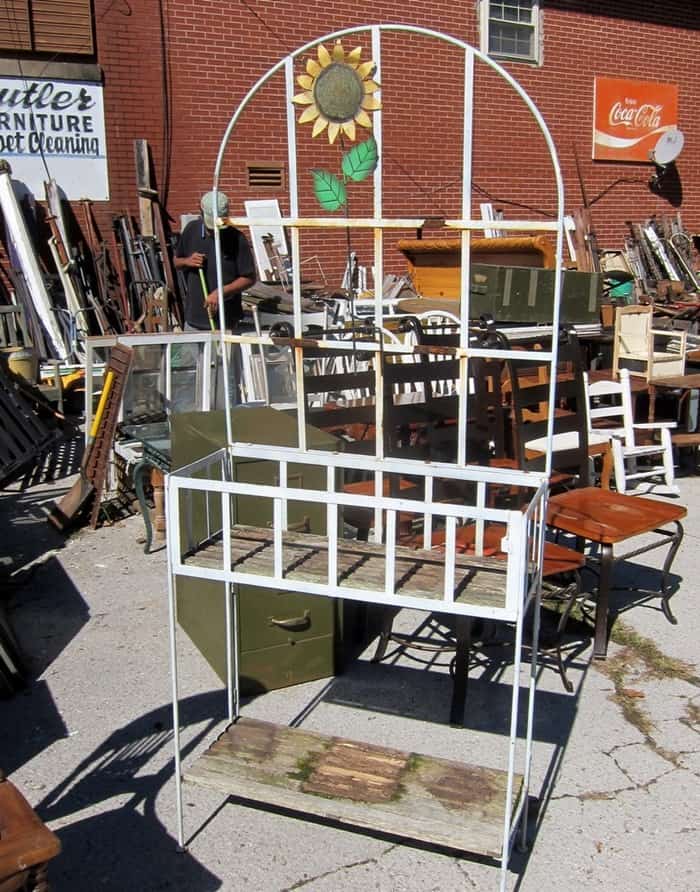 I also bought the fun outdoor plant stand. So cute! Only $15.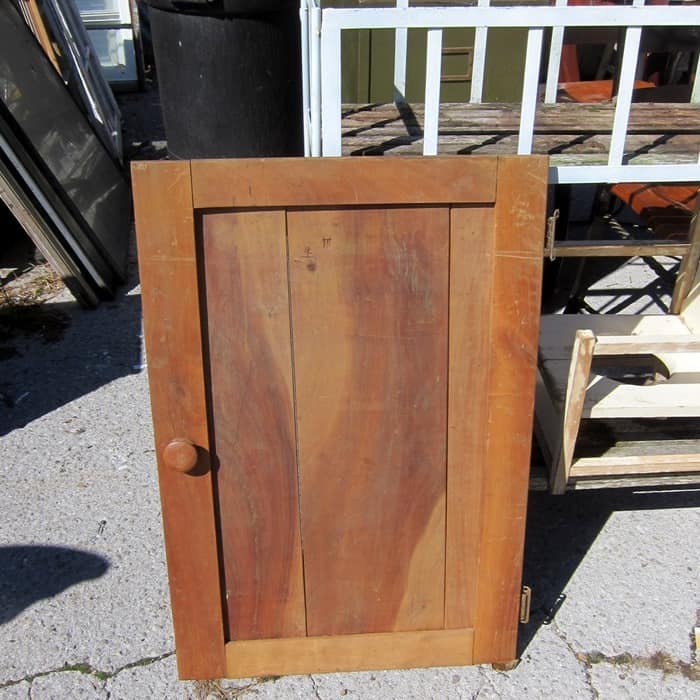 The cabinet door came home with me too. Can you see it as a sign. Maybe like the tray I did with the stenciled Bakery stuff?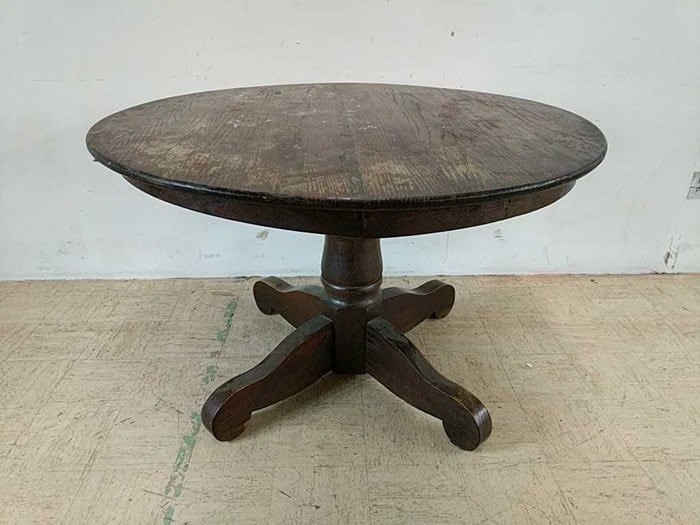 Now for the table I bought at auction for $2. No one would bid on it so I did. It had a horribly messed up top. The piece was nice and heavy though and the base was great. The table top measures 48" across so it's a good sized table.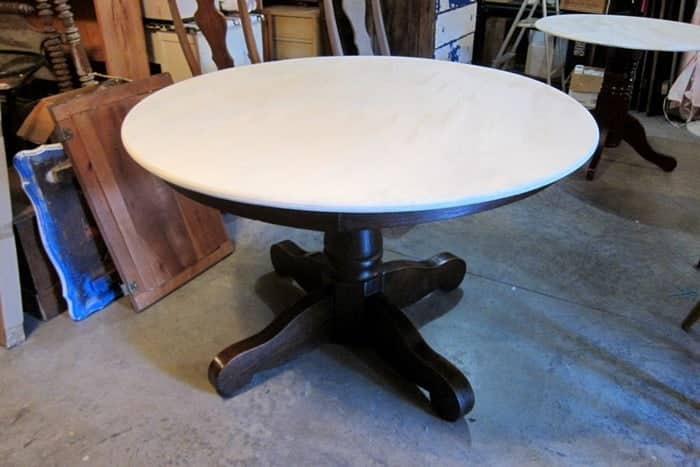 I painted the top white.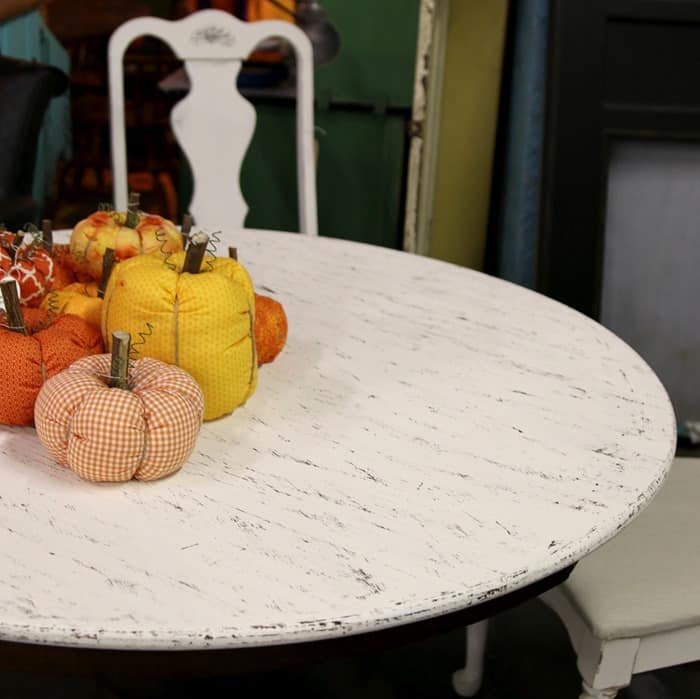 Then I used the layering block to give it some faux distressing. This photo was taken at the shop where I sell my stuff. Sara put the pumpkins on the table. I listed the price for the table at $79. I think it's already sold. I wasn't crazy about the paint finish but everyone else seemed to like it.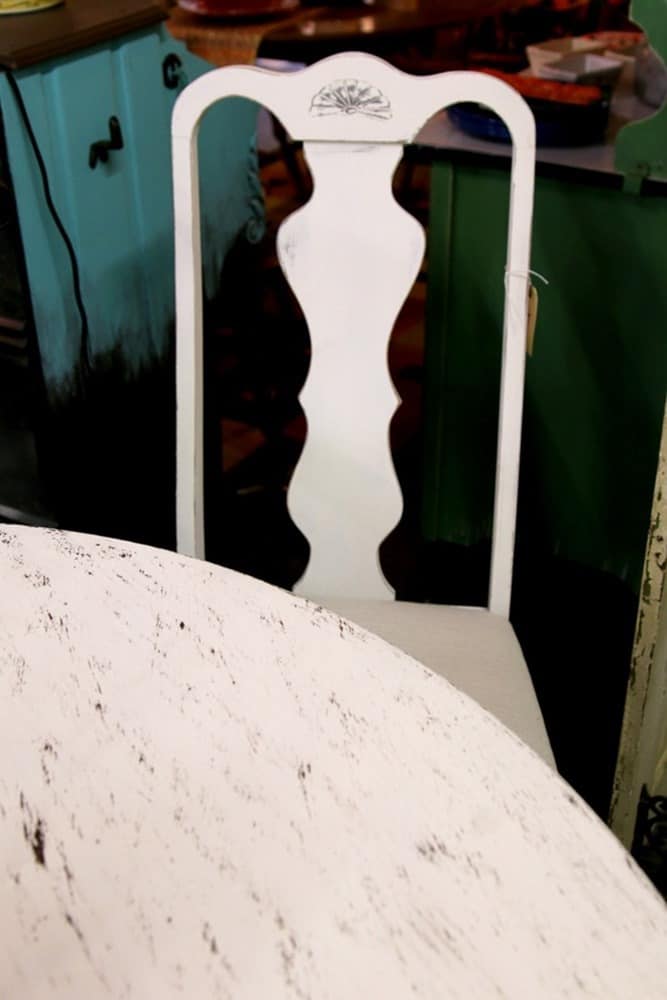 I was given two chairs. Free stuff is the best. I painted both of the chairs white and covered the seats with drop cloths. I love drop cloth seats, neutral to go anywhere.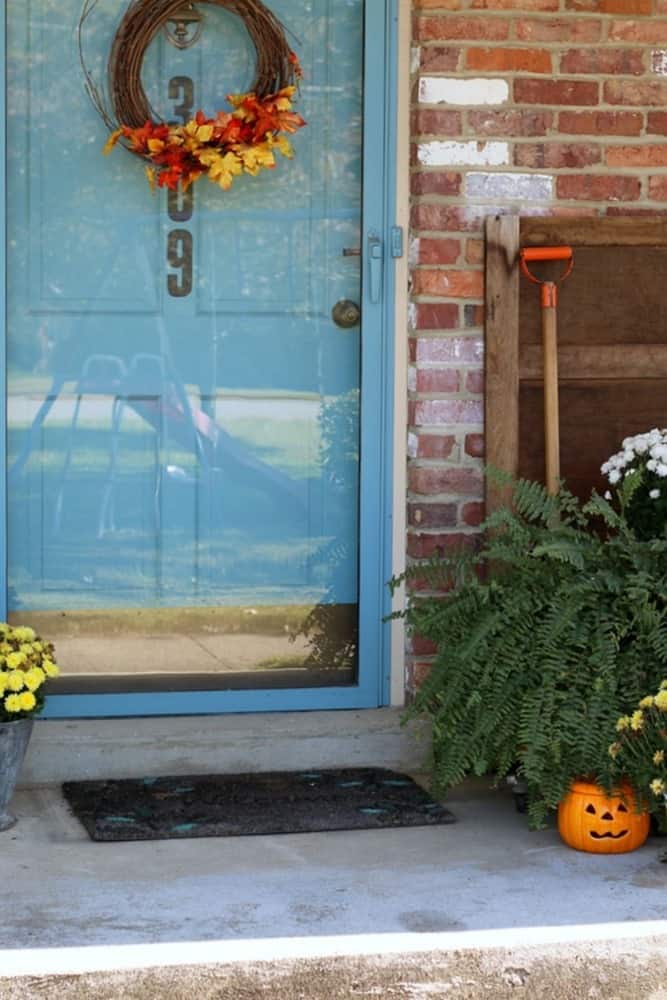 Back to my sad Fall décor. The wreath is the only good part. I had the grapevine wreath and the leaf swag and just hot glued them together. Easy peasy. I think the leaf swag came off of the awful pumpkin centerpiece I redid last year. Remember, never throw anything away.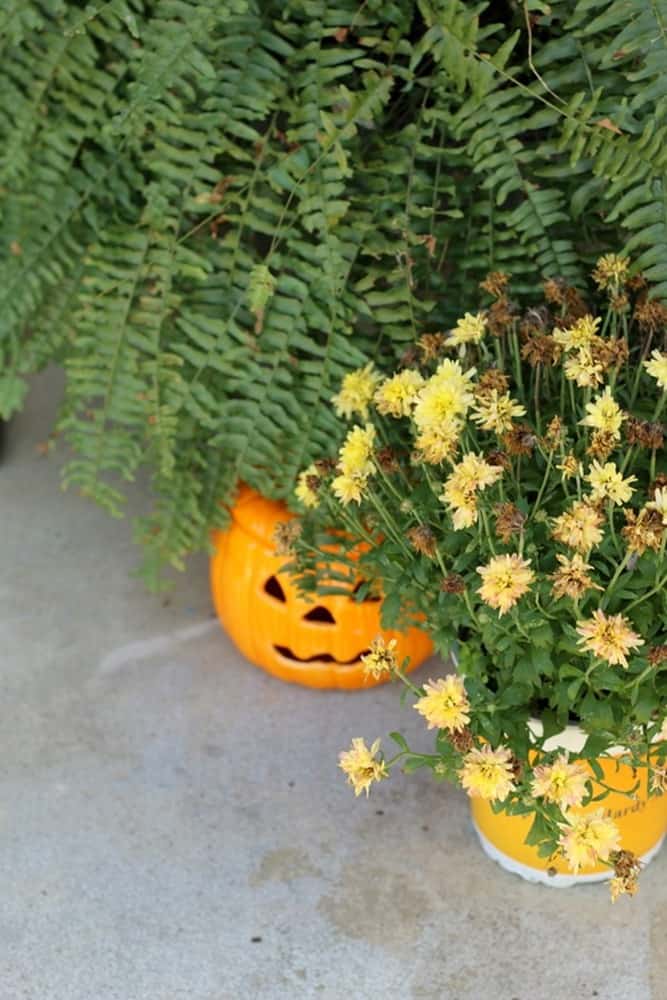 I don't know what happened to my mums but they are dying. Maybe too much water? Notice this one didn't make it into one of my cool junk pots. The fern from my Spring décor is still going strong.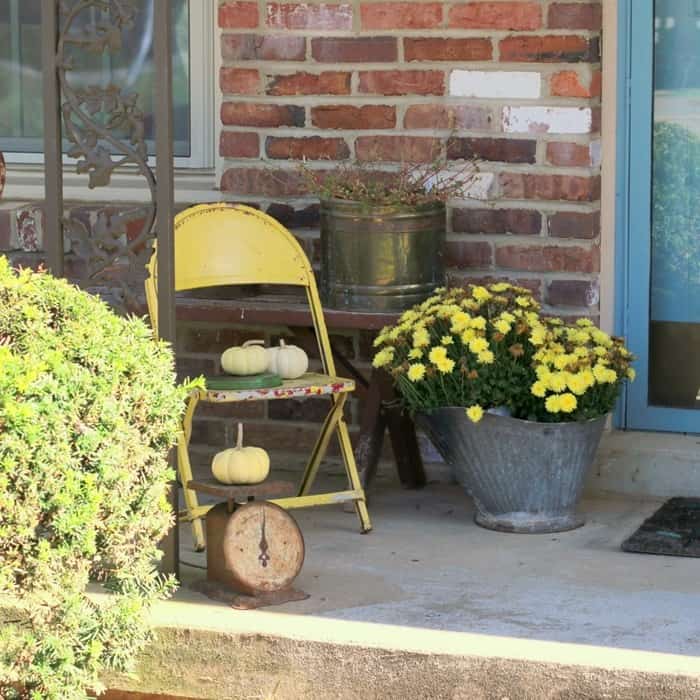 The yellow mums are looking really bad. I haven't done much to the porch as you can tell. Been gone a lot and leaving town again this weekend. My Fall porch looked really nice last year. You can see the rake wreath and birdhouse planter 2017  here.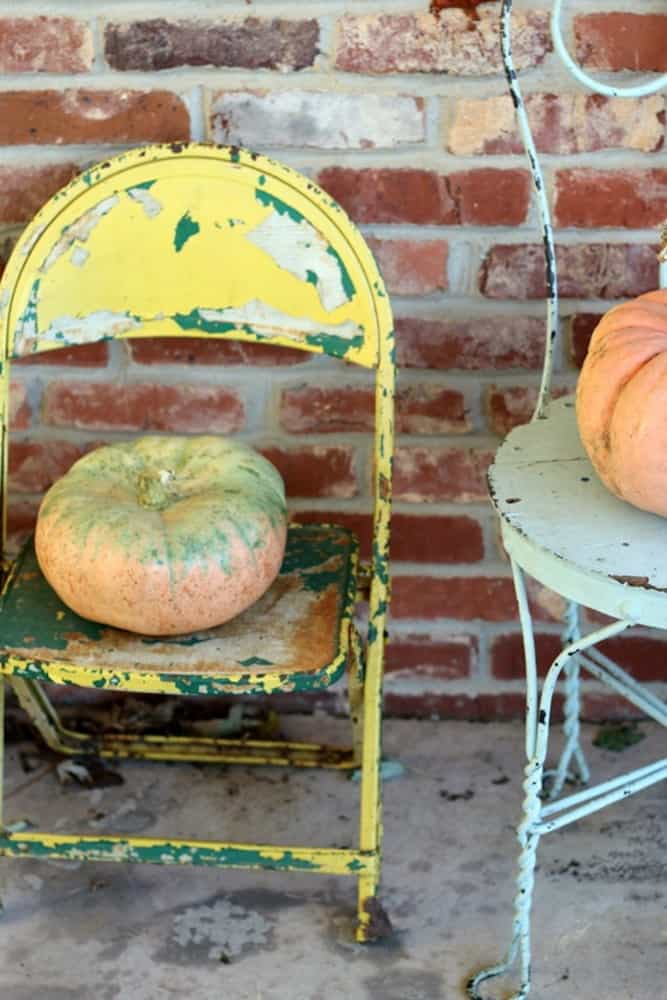 Another look at the pumpkins and shabby chairs in the carport. I love the yellow kids chairs. I found them at one of the flea market shops where I have a booth. The two chairs and a kids folding table were $20. I looked at that set for 3 weeks before I bought it. The table was white and brown and not too pretty so I'm selling it.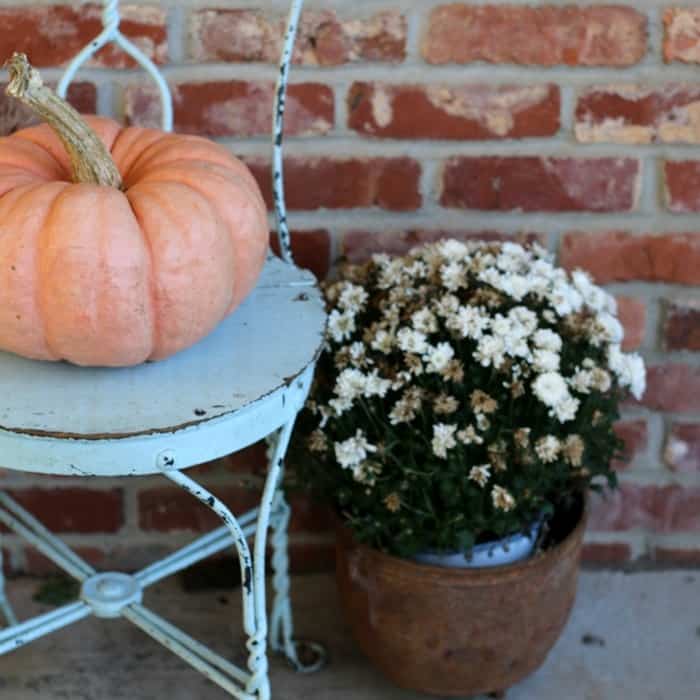 More yucky mums in the carport.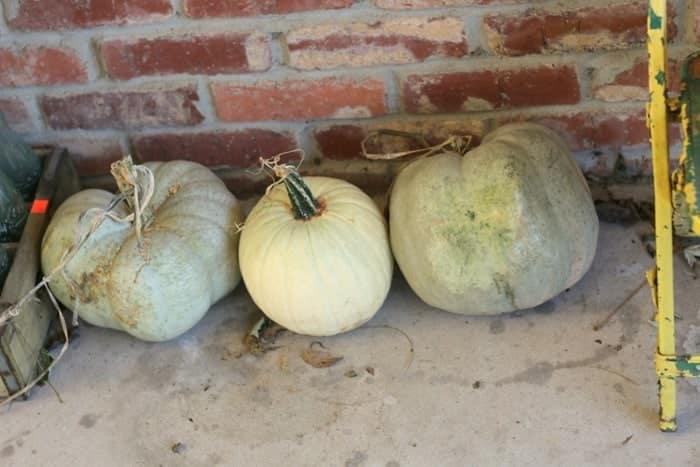 Pumpkins waiting for their spot.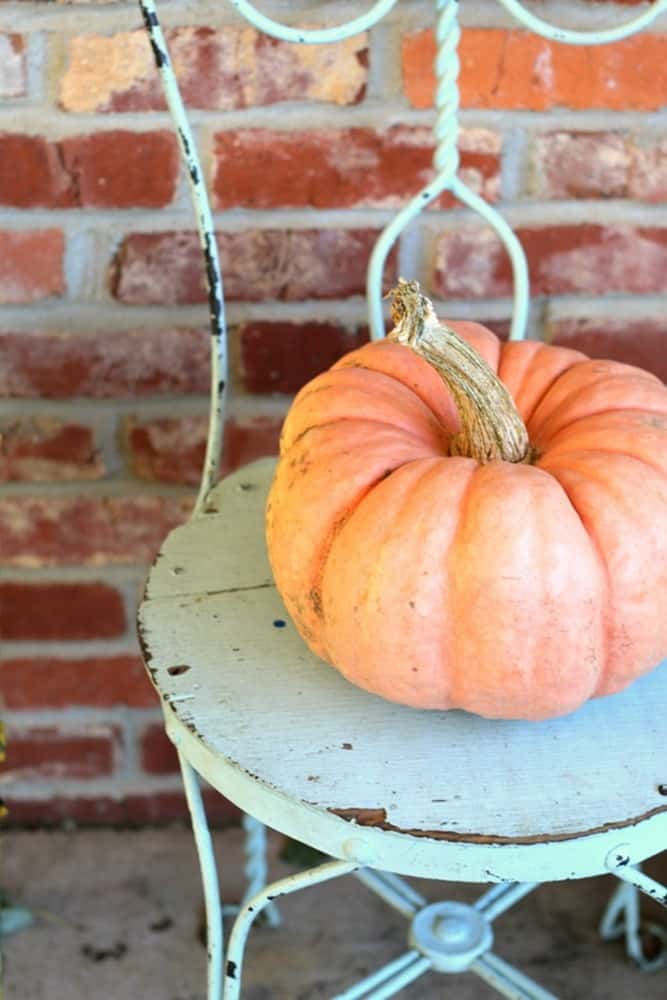 One last look. Sometimes I'm a mess. Can you guys relate? Just wanted you to know that bloggers are normal people too. Oh wait, we are a bit crazy, not normal at all.
Want to get a look at my favorite junk shop? I filmed a short video while I was shopping…..
The winner of the craft supply giveaway is Linda K. Her box of goodies has already been shipped.
Thanks for being here and have a great day, Kathy