You know, very seldom do I forget something important like a 400 Mile Yard Sale.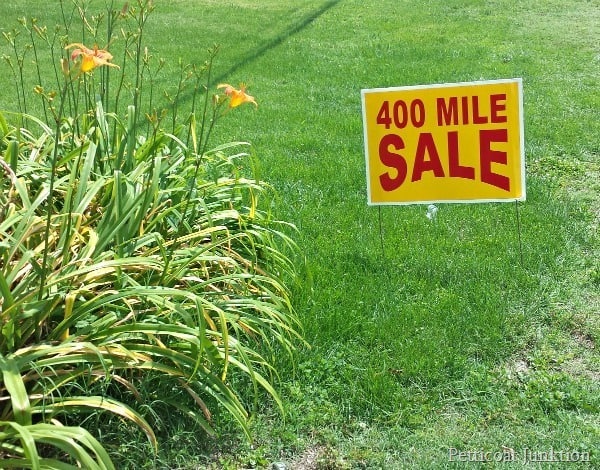 But I forgot about this one. The 400 mile yard sale is a yearly thing along highway 68/80 in Kentucky....the Queen of all yard sales!
It starts on the first Thurday in June and goes through Sunday. If the JTS wasn't a regular news watcher I would have missed it completely. I did go on Saturday.
I normally go on Thursday which is the official start day. I probably missed all kinds of junk treasures.
After many miles and many stops and many bottles of water I spent $3 on junk stuff and $8 on food and drink. The first year my friend Kendal and I went was in 2011 and we loaded up……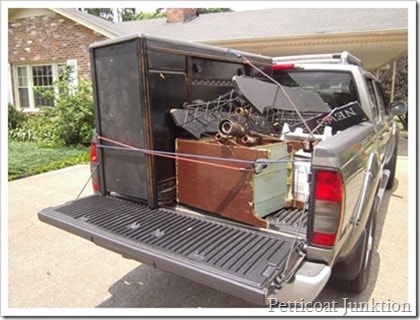 We even had things stuffed in the backseat….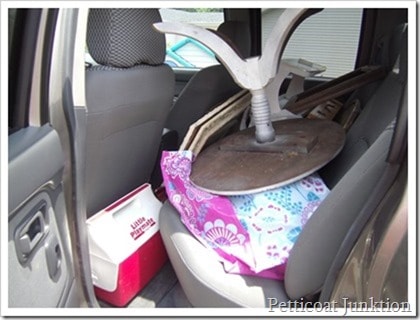 Oh well, I enjoyed the hunt this year anyway and took pics of things that caught my eye….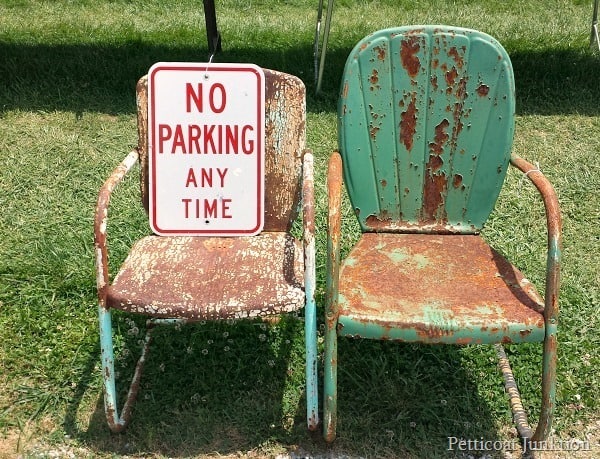 …like these perfectly chippy rusty chairs….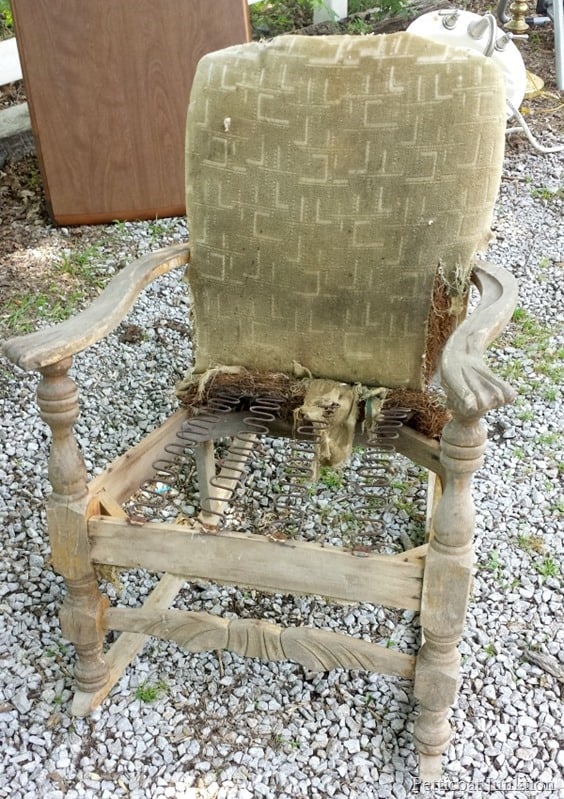 …and this falling apart chair. I know a blogging friend who could work wonders with it.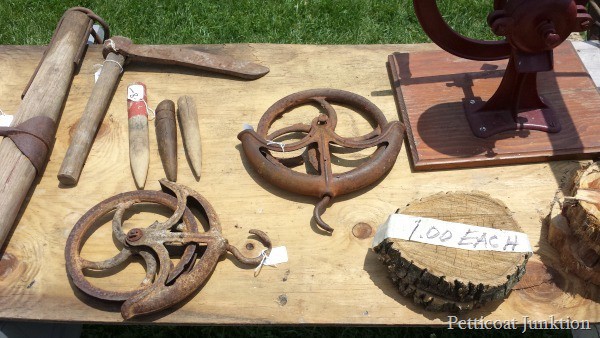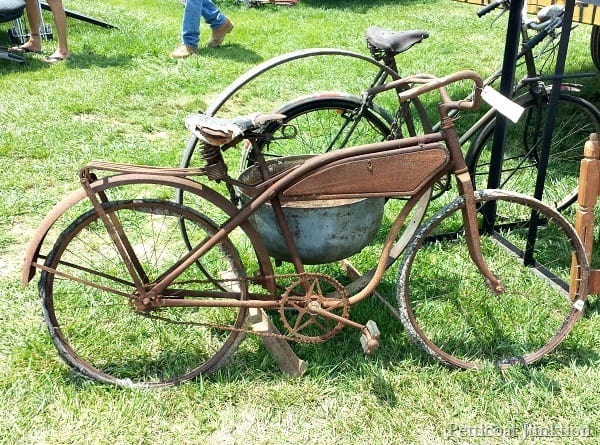 I fell in love with the rusty bike too.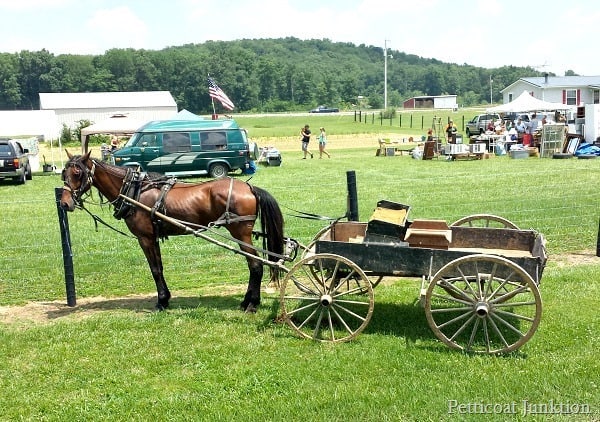 I think what I enjoy most about the 400 mile sale is the scenery. I always see several Amish families in their wagons or buggies.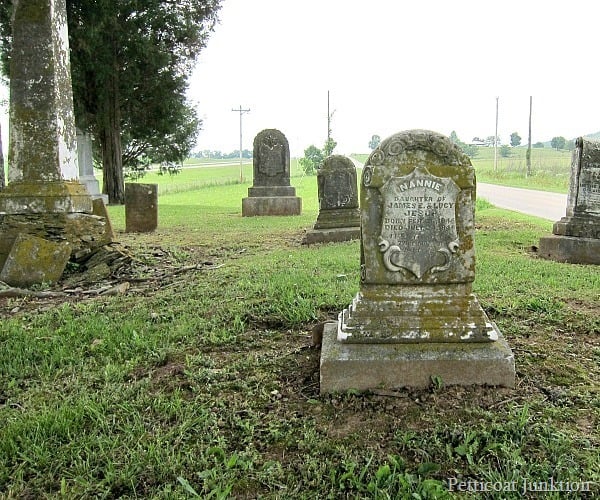 I stop at this cemetery every year and look at the gravestones. The dates on the gravestones I can read go back to the 1860's. The cemetery is right beside the road and isn't fenced.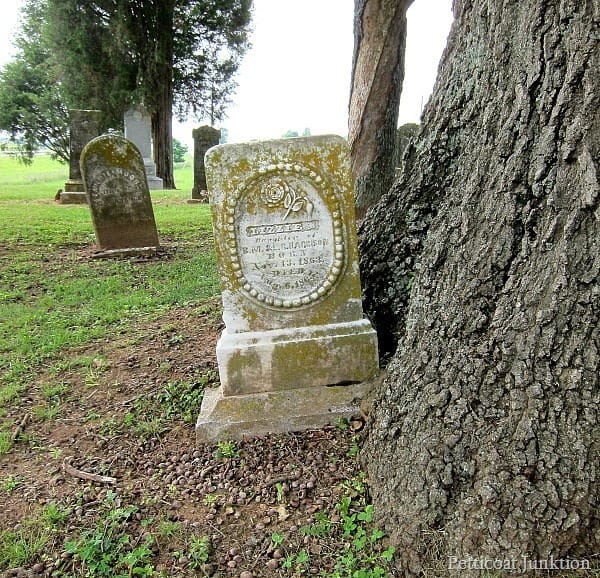 This headstone is being pushed up by the tree trunk which seems to be growing around it.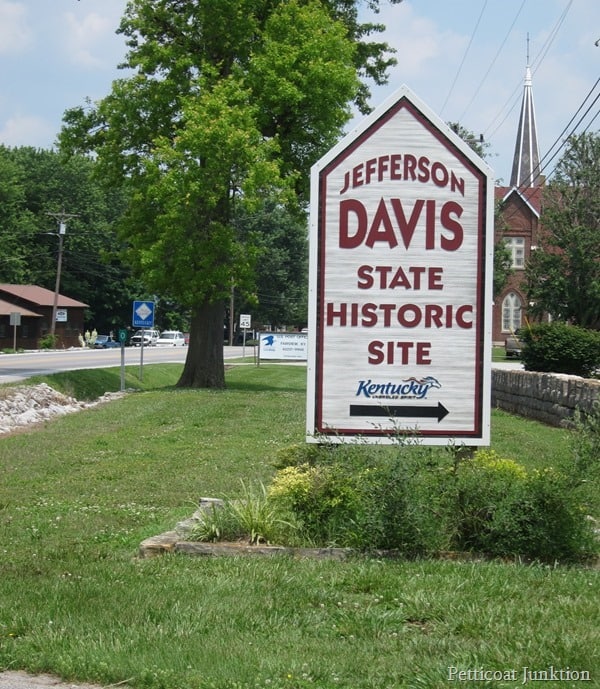 Another of my favorite places is the Jefferson Davis Monument in Fairview, Kentucky.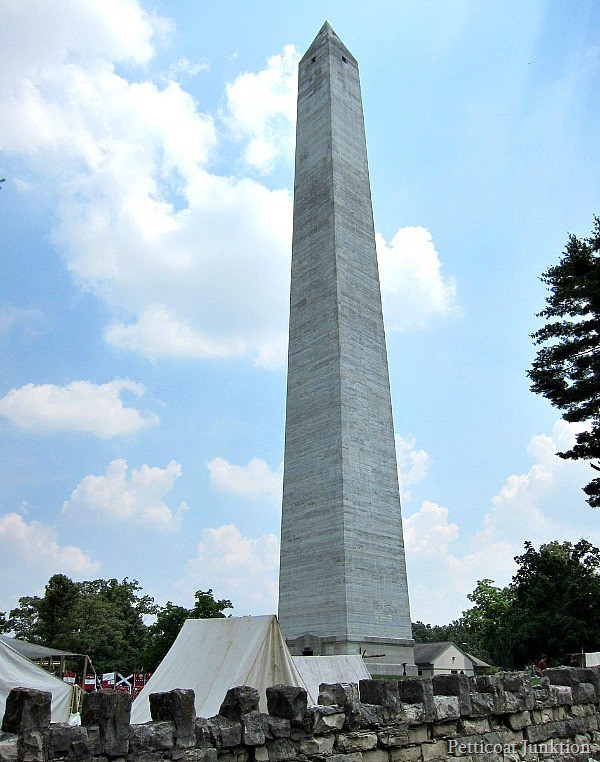 It's really a site considering it's basically in the middle of the country.....meaning not in or near a big city. Fairview's population is less than 300.
The day I was there they were having a special event. That's why the white tents are on the park grounds.
400 Mile Yard Sale Continued- 2016 Yard Sale!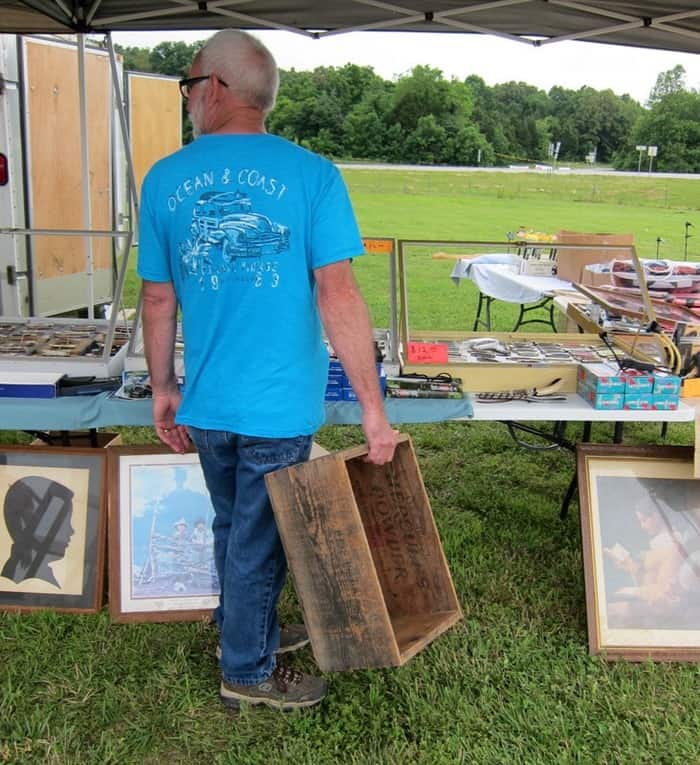 400 Mile Yard Sale Buys
The JTS is a good man. He totes my yard sale finds around and treats me like a Queen. This was one of our first stops on the 400 mile yard sale that runs through Kentucky on highway 68.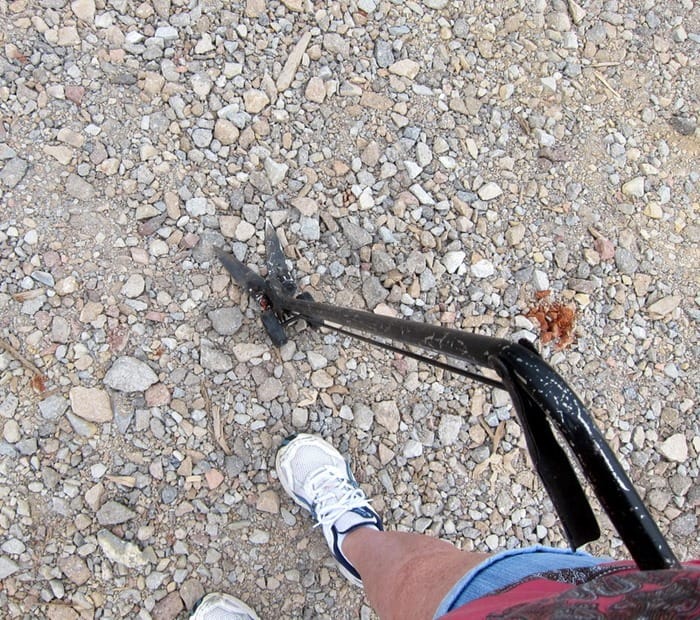 I bought the $2 weed trimmer for the JTS to use. I'm not as nice to him as he is to me. I haven't seen one of these but hubby said he has and even used a similar one in his younger days. I really just thought is was a fun piece. Don't know what I'll do with it. No weed trimming for me.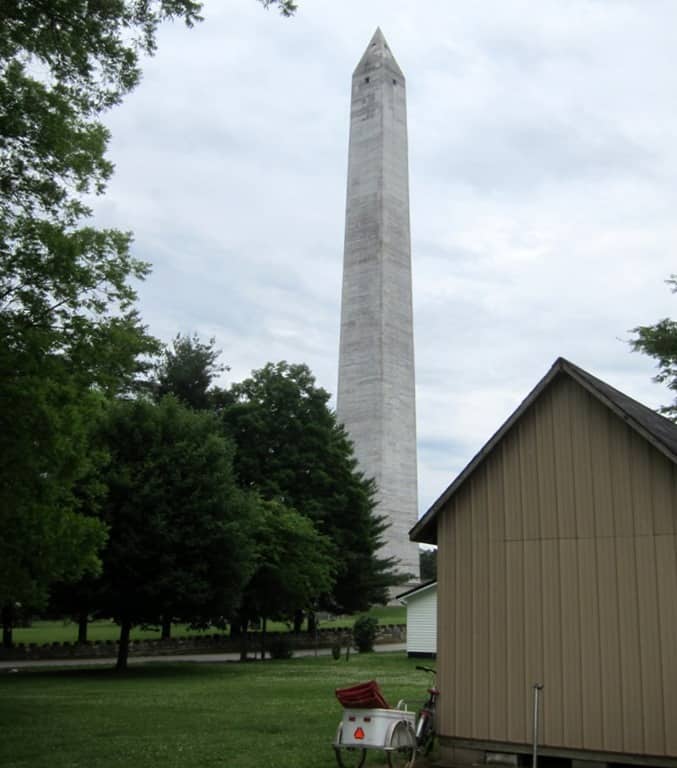 One of my favorite parts of the trip is driving by the Jefferson Davis Monument in Fairview, Kentucky. It is a strange sight in the middle of the country. Fairview has a population of 286 people.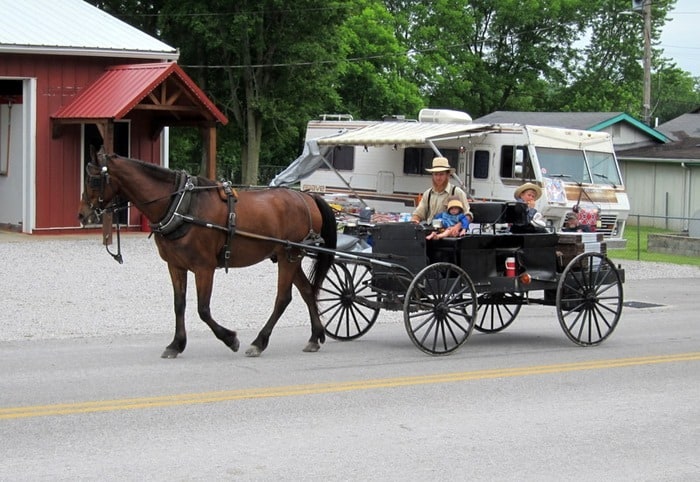 Another sight along Kentucky highways are the Amish horse and buggies.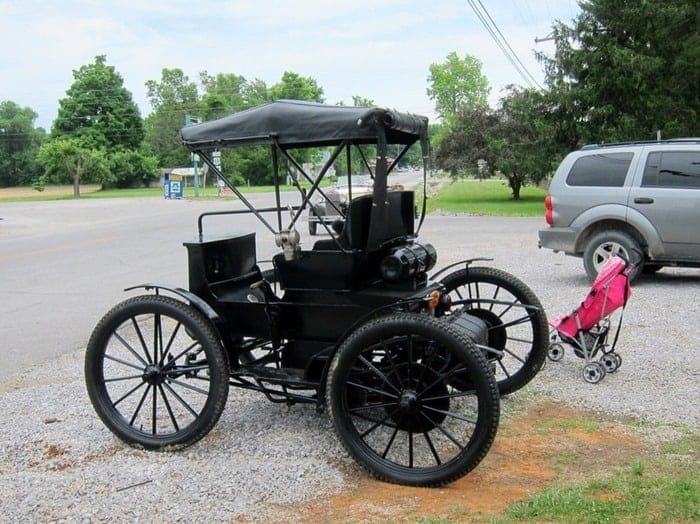 One guy was offering rides for $2 in his antique car.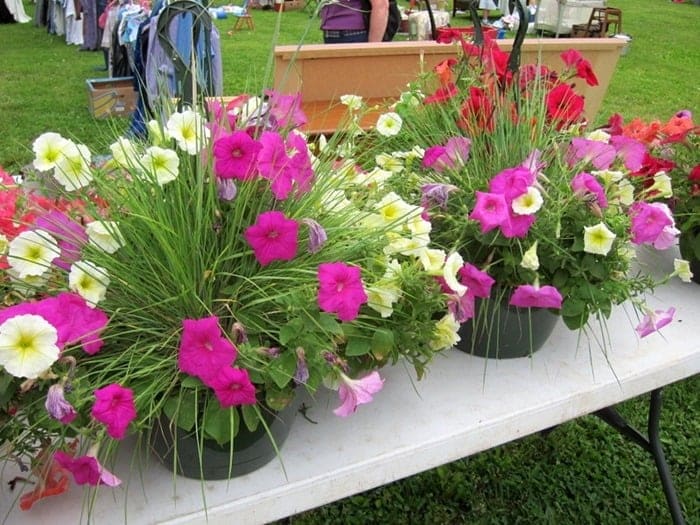 I bought the two hanging baskets for $6 each. A steal.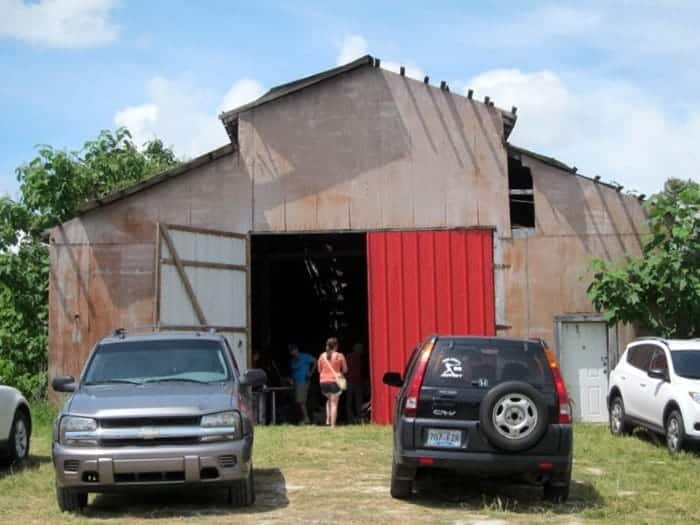 Another Yard Sale Stop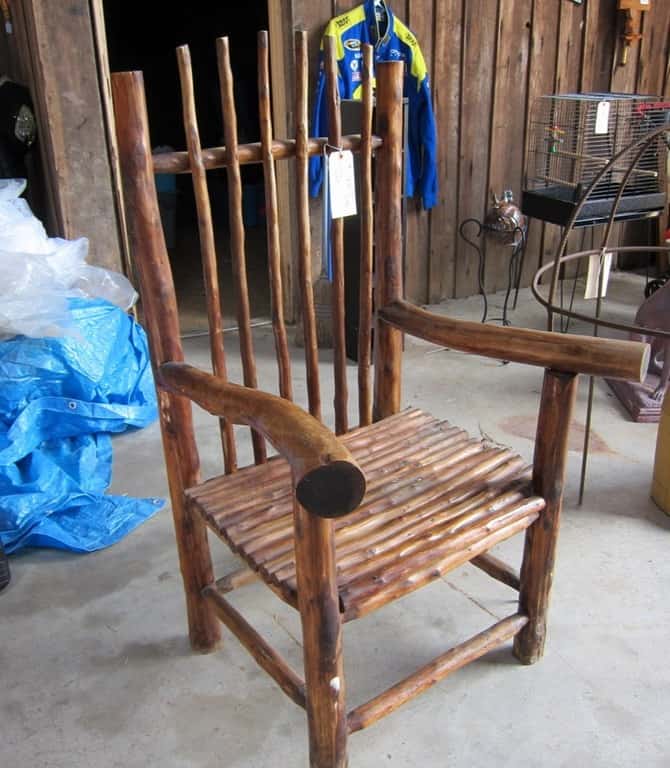 This chair was priced at $300. I'm guessing it didn't sell.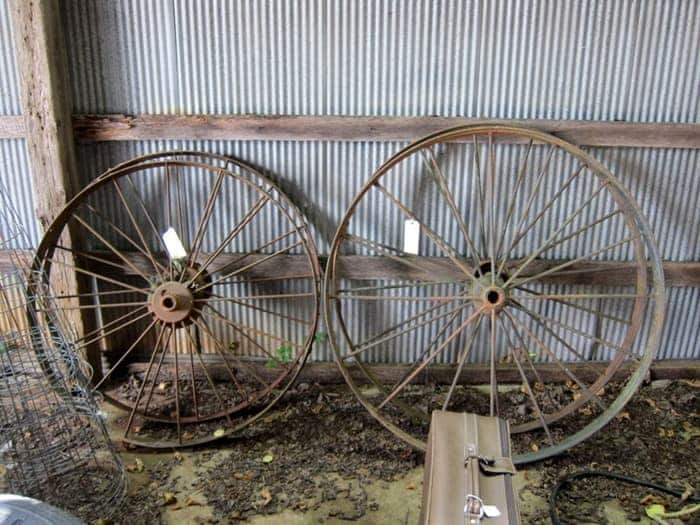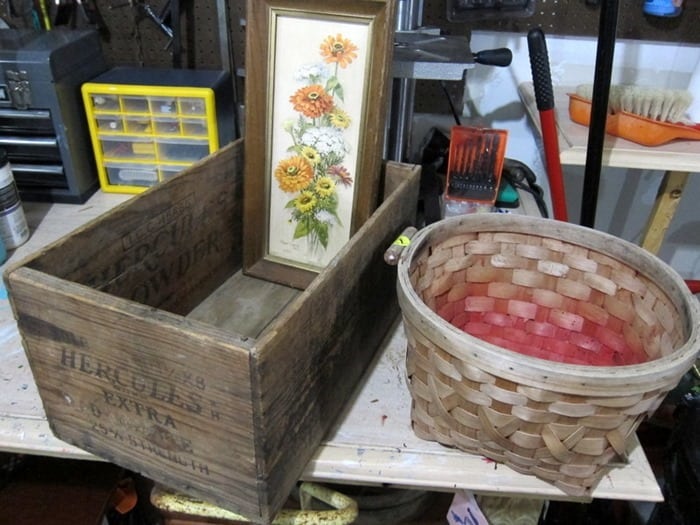 I bought the wood crate for $10, the basket for $1, and the framed print for $2. I like the colors in the print. May paint the frame to spruce it up some.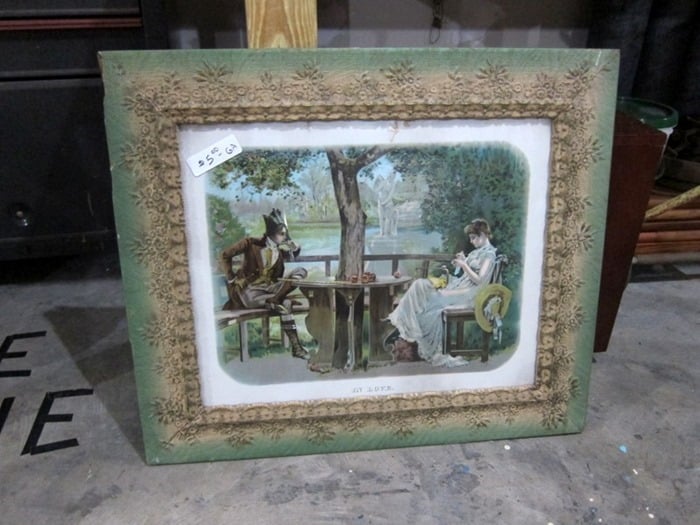 This antique frame and print was probably my best deal of the day….$5….really.
The bright colors in this unframed print/cheap art work were calling my name….50 cents.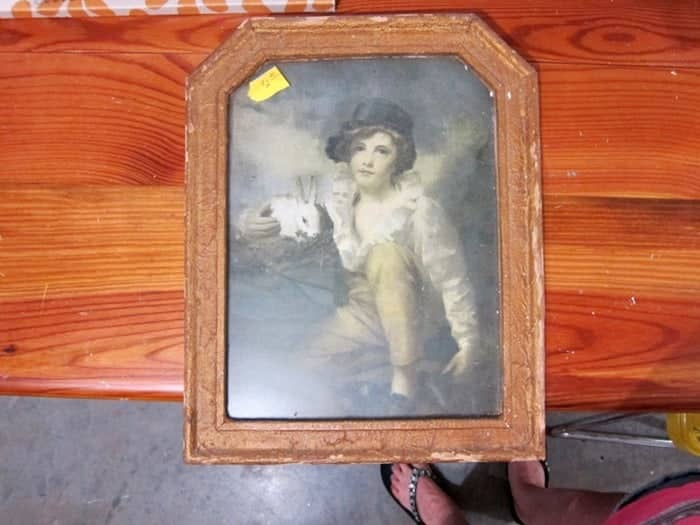 The boy and rabbit framed print was $2.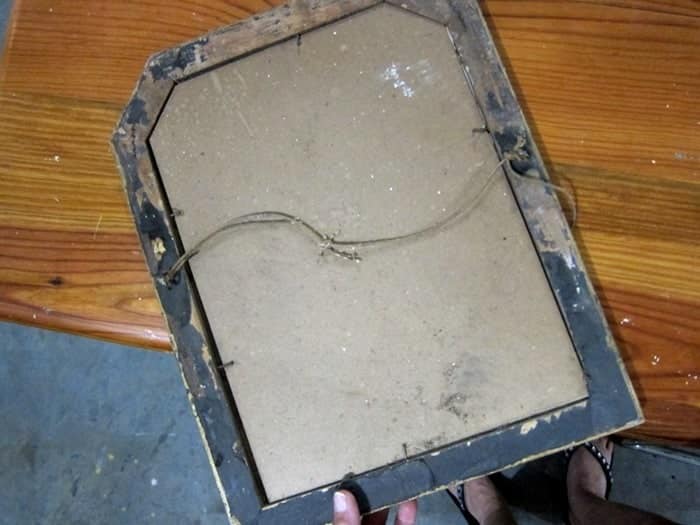 The frame is an antique.
I have to say I was disappointed in the 400 mile yard sale this year. In fact it's been going down hill the past two to three years. I did get some good buys and we only traveled about 80 miles of the 400. Maybe other areas of the yard sale are better?
Purchases from the 2014 400 Mile Yard Sale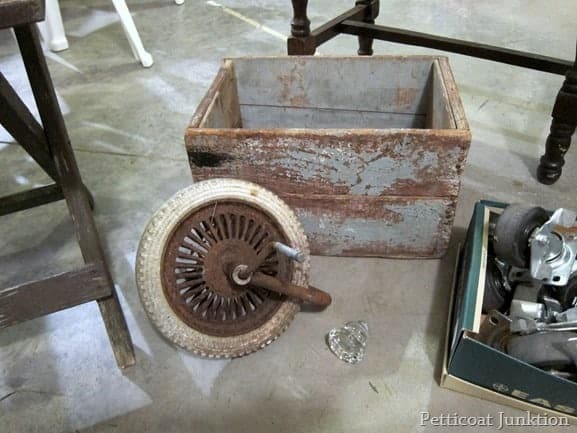 I fell in love with this box, and rusty wheel, and glass door knob. I got all three for $5…woohoo! The chippy paint on the box is a pretty pale aqua. It doesn't show very well in this photo.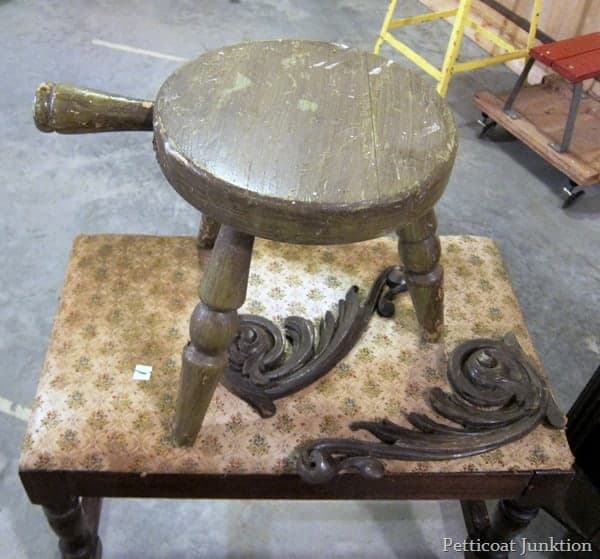 The chippy milking stool was $4. I got the history on the two beautiful wood appliques. The were removed from an antique piano. Aren't they beautiful? 2$ for the pair!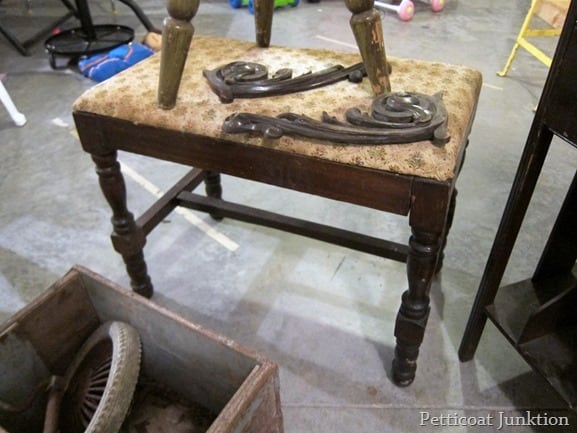 A better view of the  $5 stool they were sitting on.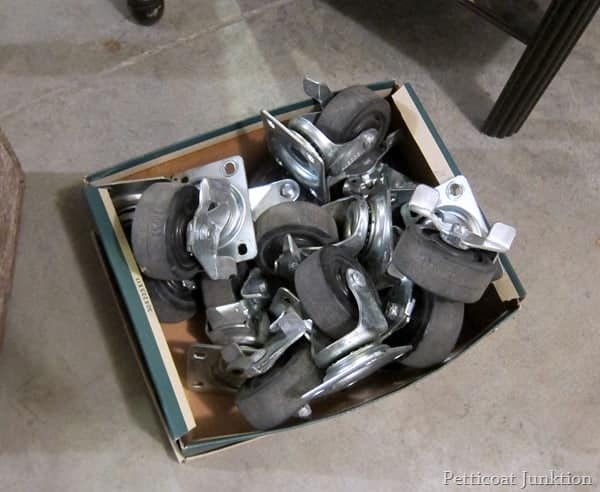 These certainly aren't vintage or antiques but I use castors occasionally and these were too good a deal to pass up. I only paid $12 for the box of 20. Do you know how much these things cost new!!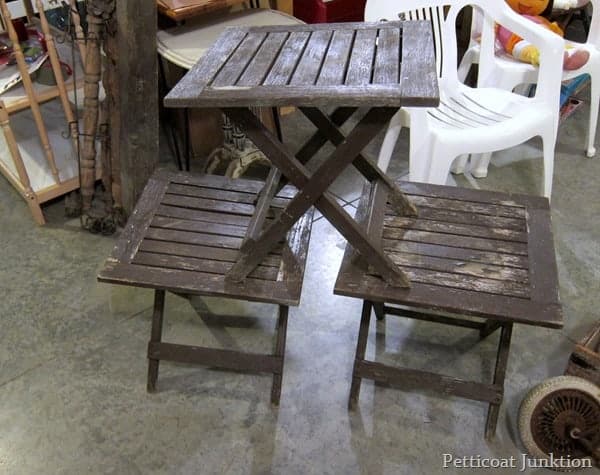 The table trio is definitely rickety. One is in great shape except for the finish, one needs a little work, and one will probably become a sign! But $5 for all three was a steal.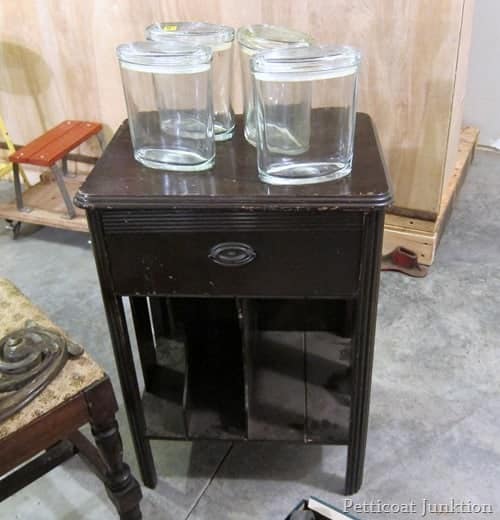 The table was $10 and the 4 glass heavy glass containers…with lids…were $2 for the lot.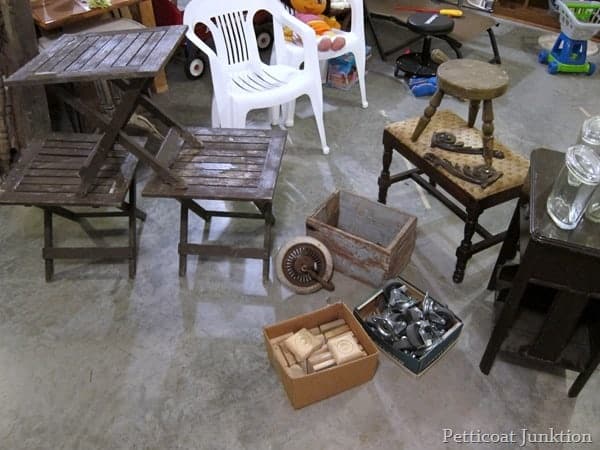 What do you think of my purchases…I got some deals didn't I. Check out the Nashville Flea Market shopping here. Have a great day, Kathy