Nashville Flea Market and One Purchase!
I have another report from the Nashville Flea Market and a video too. You don't get the full impact of the market from looking at photos. A video is definitely better for getting the feel of the market. But nothing can take the place of being there. If you live in the Nashville area you have probably been to the flea market, if not, well you don't know what you're missing.
If you don't live close enough for a day drive to the market maybe you can plan a trip to Nashville sometime in the future. There are a lot of things to do other than the flea market. Sad to say a lot of them I haven't done. Fan Fest was the past week and I've never been. I'm not much for standing in lines especially in this heat.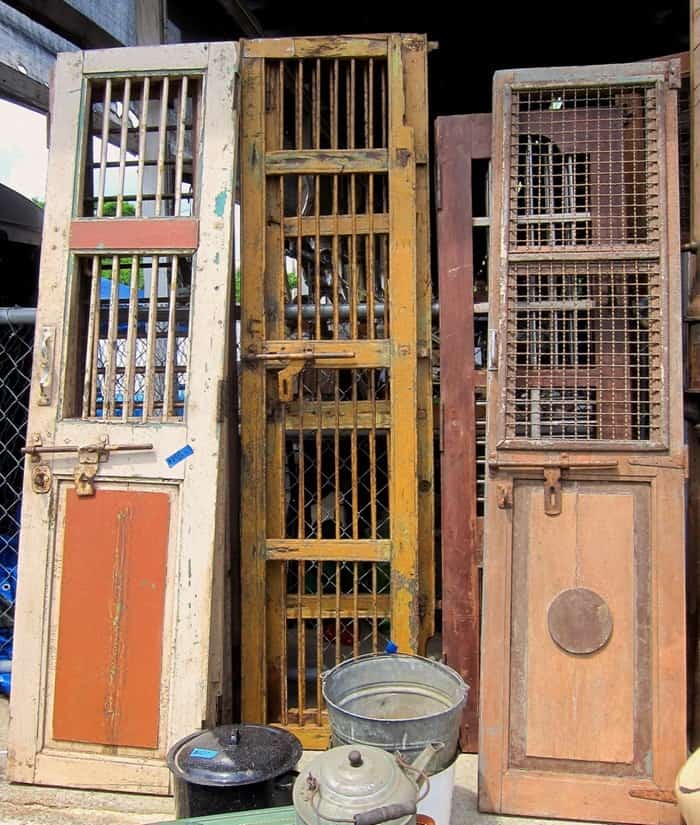 Stuff Spotted At The Nashville Flea Market
What do you think about the doors in the photo above. I love them. I can think of a bunch of ways to display them. I don't remember the price. I looked and I think they were WAY over my budget. They look like wood products I've seen that are made in Mexico.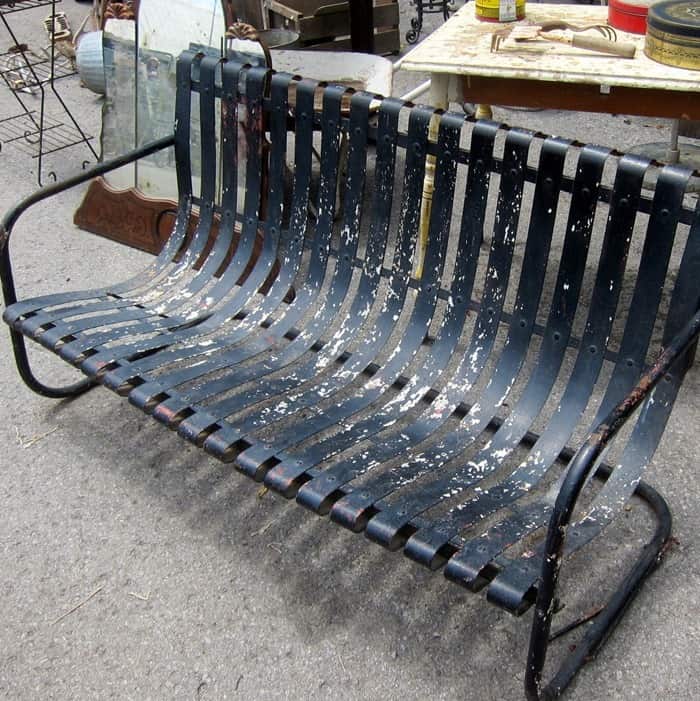 It's metal and it's rusty, what's not to love. I have a photo at the end of this post of the one thing I bought. It wasn't the bench.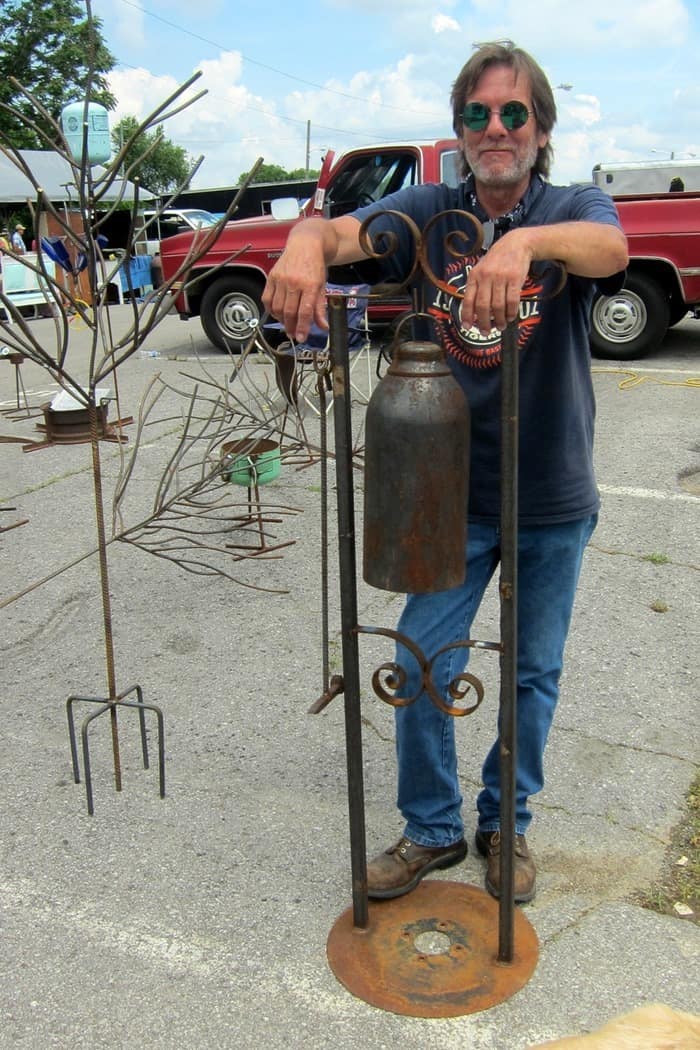 Jimbo of Bradley Metal Works is always fun to talk to. He's one of my favorite flea market vendors and he's always up for a photo op. He makes cool yard art.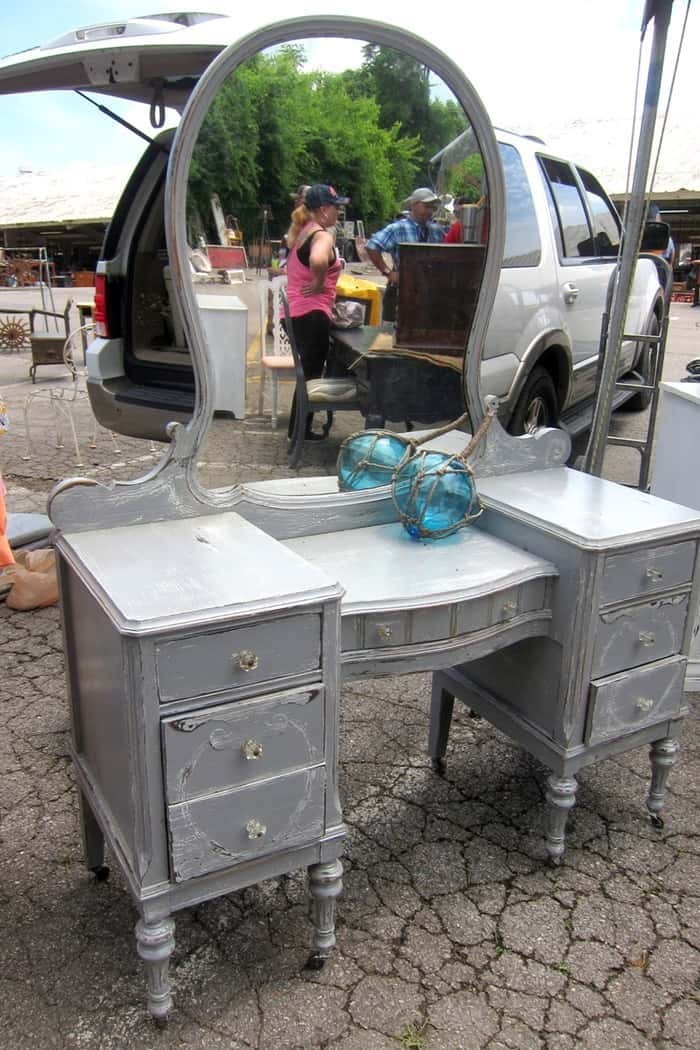 The gorgeous silver dresser was painted by Debbie of Crabtree Corner. I like her style.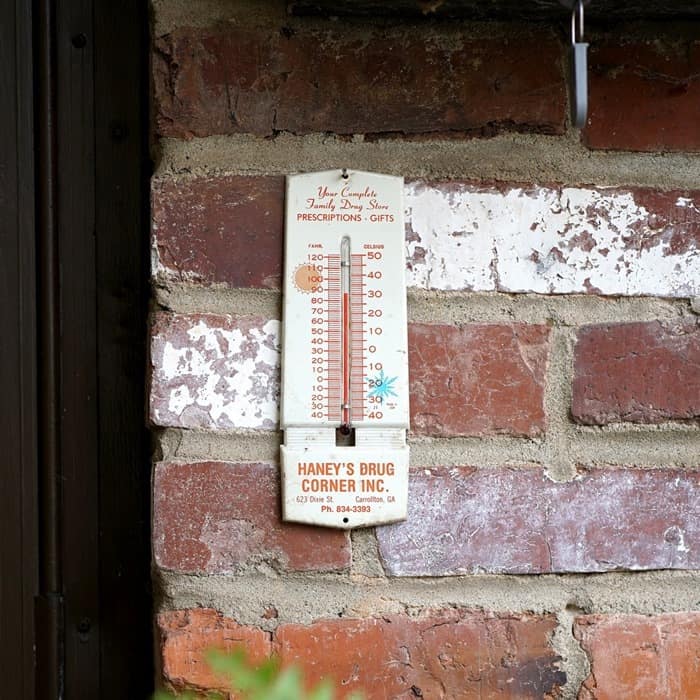 The vintage advertising thermometer was my only purchase. I think the sun design on the upper left and the snowflake on the lower right of the thermometer are cute as can be. The "Haney's Drug Corner Inc." name reminded me of Mr. Haney on Green Acres. Most of you will not know what I'm talking about. The TV show was almost before my time too.
View the video of the Nashville Flea Market below. You can get a much better idea of what it's like.

Nashville Flea Market Shopping
I've included the dates and times for the flea market for the remainder of the year below…..just in case you get a chance to go.
June 23-24, 2018
July 27-29, 2018
August 24-26, 2018
September 21-23, 2018
October 26-28, 2018
November 23-25, 2018
December 14-16, 2018
Hours of Operation
March-November
Friday 8am – 5pm
Saturday 7am – 6pm
Sunday 7am – 4pm
December-February
Friday 12 noon – 5pm
Saturday 7am – 5pm
Sunday 7am – 4pm
Address
Nashville Flea Market
500 Wedgewood Avenue
Nashville, TN 37204
615-862-5016
Parking – $5.00
Free Admission to the Market
Pets not allowed (I have seen pets at the market)
And if you make it to Nashville then travel on down the road to my favorite junk shop…..Butler's Antiques, location- 17th and Walnut Street, Hopkinsville KY 42240,  phone no. (270)885-1521
Butlers is about 40 minutes from my home in the Clarksville area. From downtown Nashville the drive is about 1½ hours Store hours are Monday- Saturday, 9-5 or 6 depending on daylight hours and how busy the shop is. Mr. Raymond Butler is the shop owner. He has several sisters (Francis, Carrie, and Suzette) who work in the shop with him on various days.
What do you think of the doors in the first photo? Are they your style and what would you do with them? Do you like the vintage thermometer? It's hanging under the carport by the back door. Leave me a short note.
Thanks for being here and have a great day, Kathy