Estate Sale and Flea Market Finds
I found a cute as can be orange folding chair at the Nashville Flea Market this past weekend but my favorite find came from an estate sale. Just wait until you see it.
I met my friend Angie, Post Cards From The Ridge, at the market on Saturday and we had a fun girls day. Angie lives in Oak Ridge and we don't get to visit very often. I'm happy she made the drive!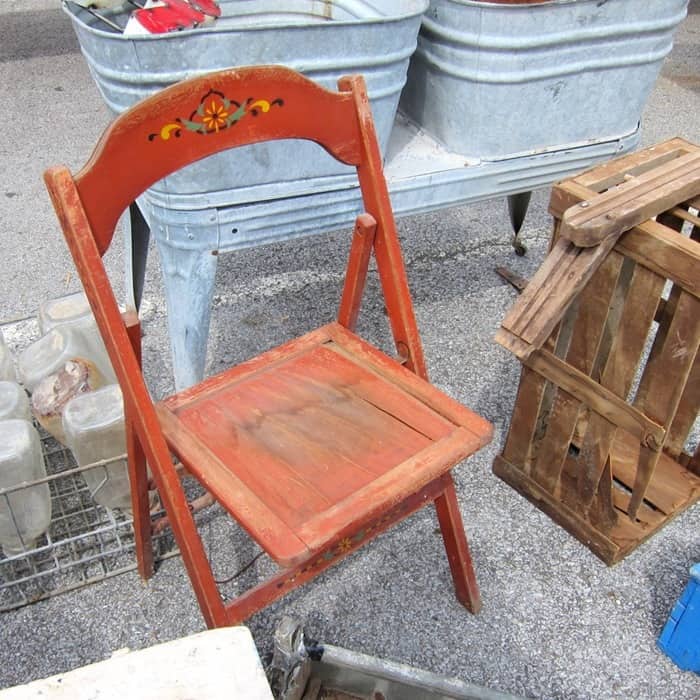 Orange Folding Chair
This is the cute little orange folding chair. I saw it and just had to have it. You guys know orange is my downfall….along with green, yellow, red….you get the drift. I think the chair will show up in my Fall porch décor. The price was $10.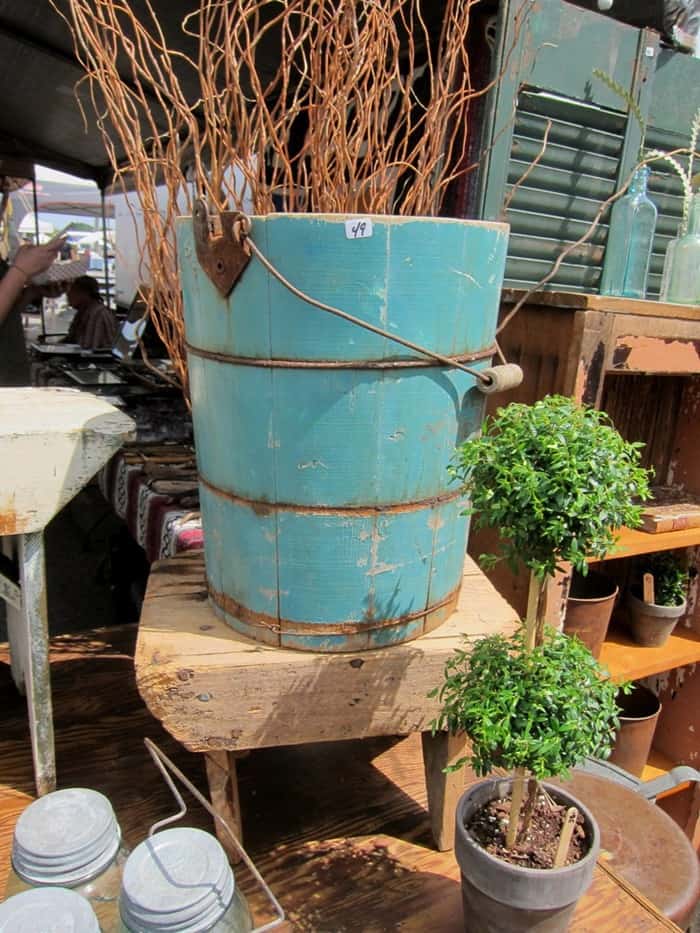 How about the turquoise ice cream bucket? At $49 it was way over my budget. The buckets make great flower containers.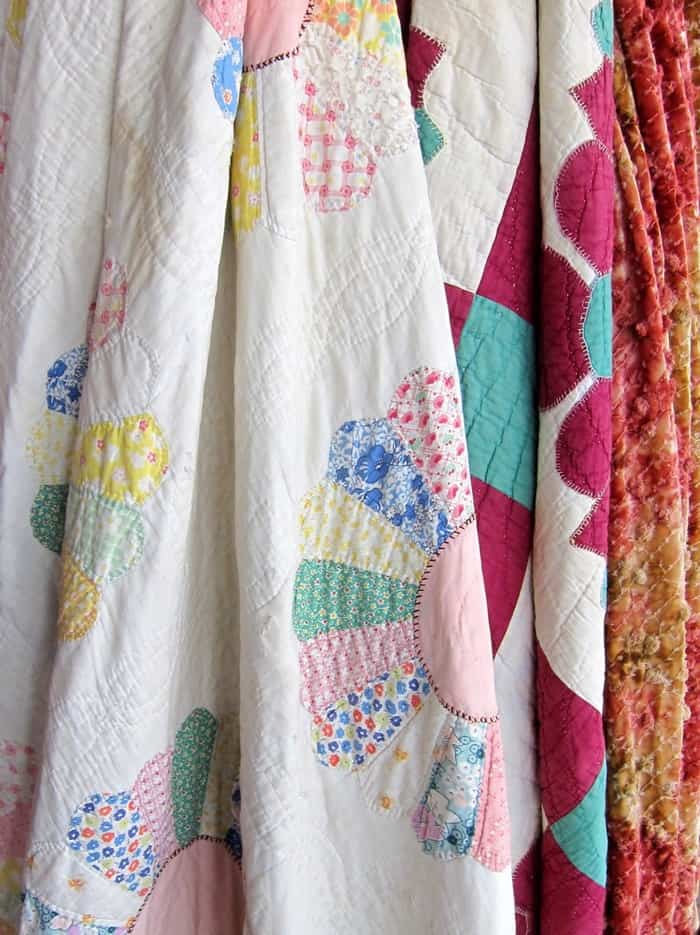 The colorful handmade quilts caught my eye too. I have a large collection of quilts but only buy when the price is right and I can't walk away.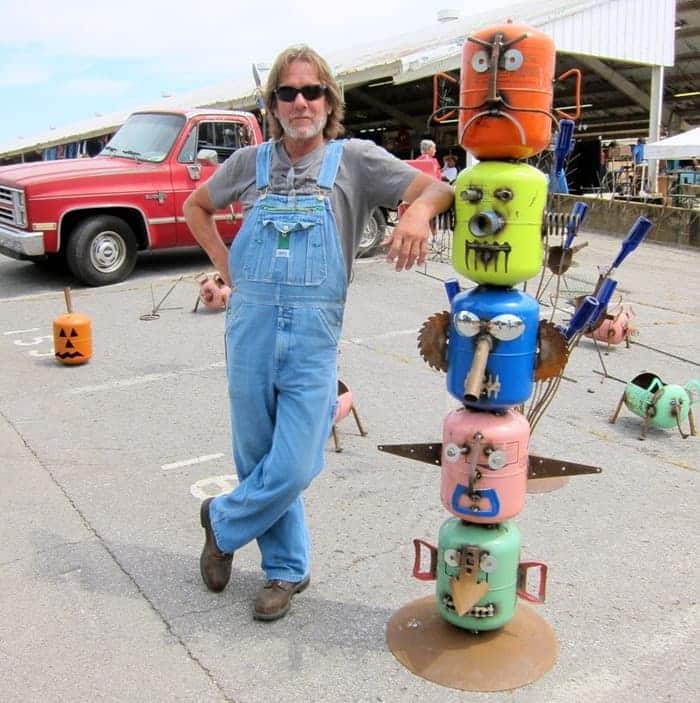 One of my favorite flea market vendors is Jimbo from Bradley Metal Works. He makes cool yard art and always has a smile on his face. He likes to pose for my photos.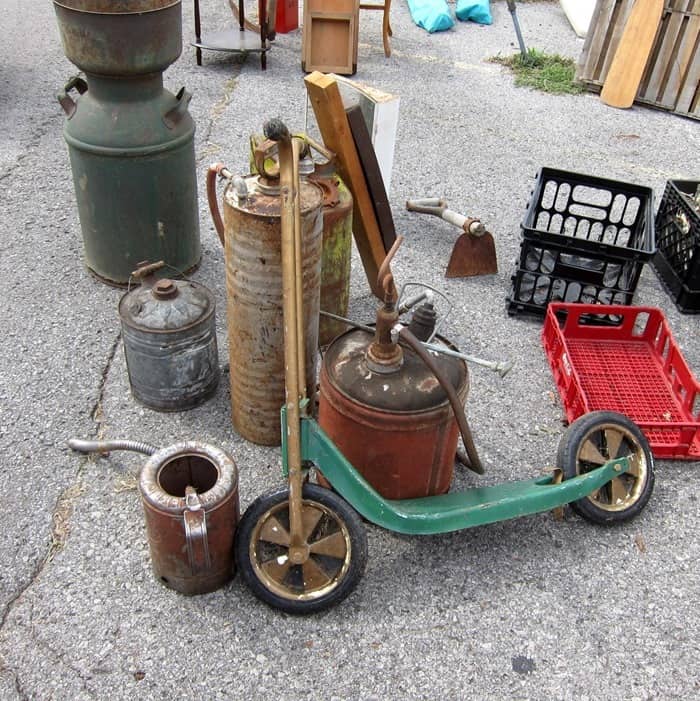 Petticoat Junktion is a participant in the Amazon Services LLC Associates Program. As an Amazon Associate I earn from qualifying purchases.
Cute scooter and other rusty stuff.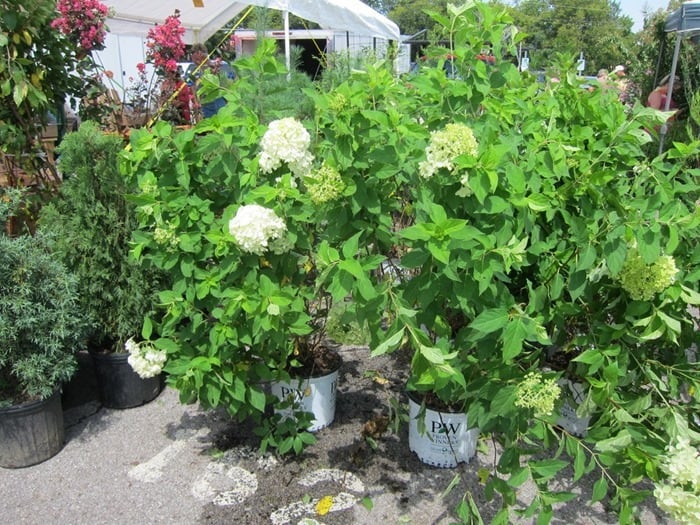 I was hoping to pick up a few pots of mums at the market but there wasn't a one in sight.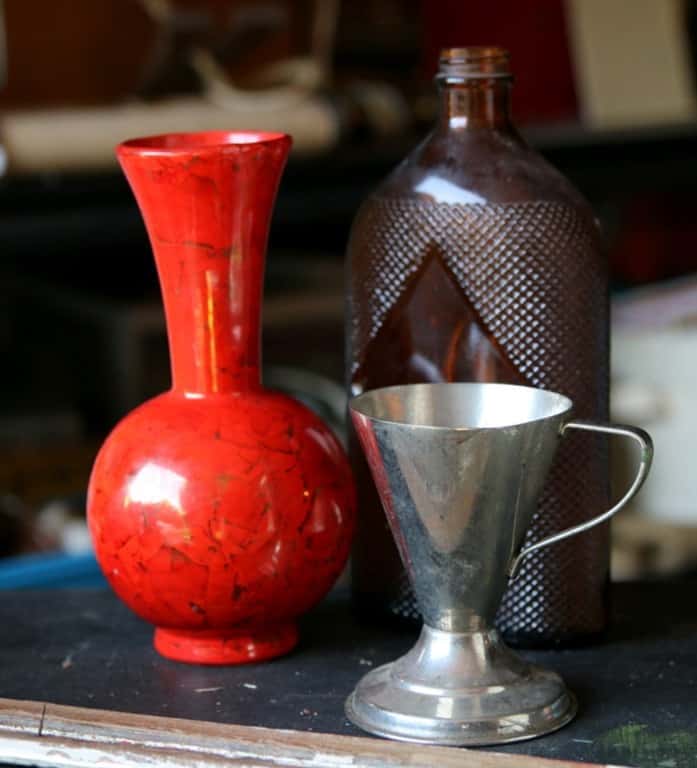 I bought the orange vase. Isn't it pretty. I don't know the age but I'm guessing it's from the '60's? Heck, it could be new. I like it. The brown bottle might get white paint and heavy distressing and the silver plated cup will get flowers or pumpkins or Christmas ornaments, or whatever.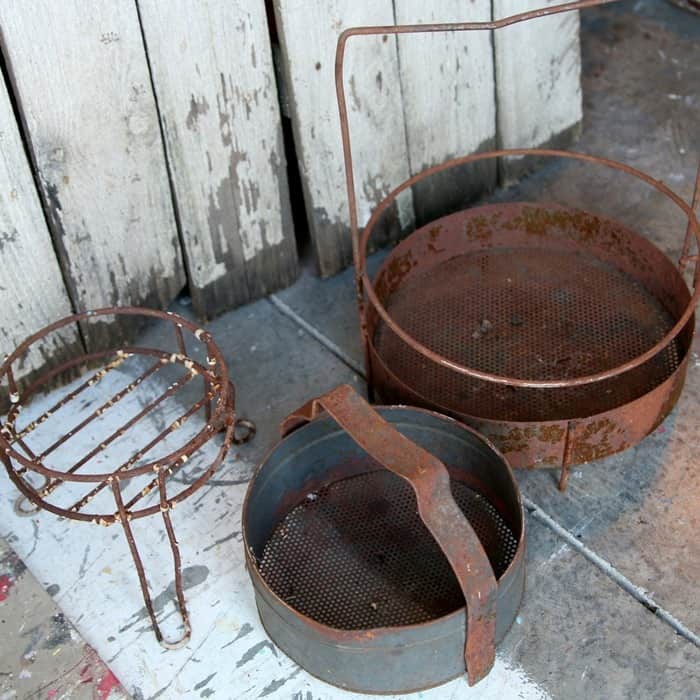 I also got the three rusty pieces. Maybe use them in my Fall décor too. Does it sound like I'm looking forward to Fall (insert Kathy smiley face)? Fall is my favorite time of year and yes I'm ready to move into Fall.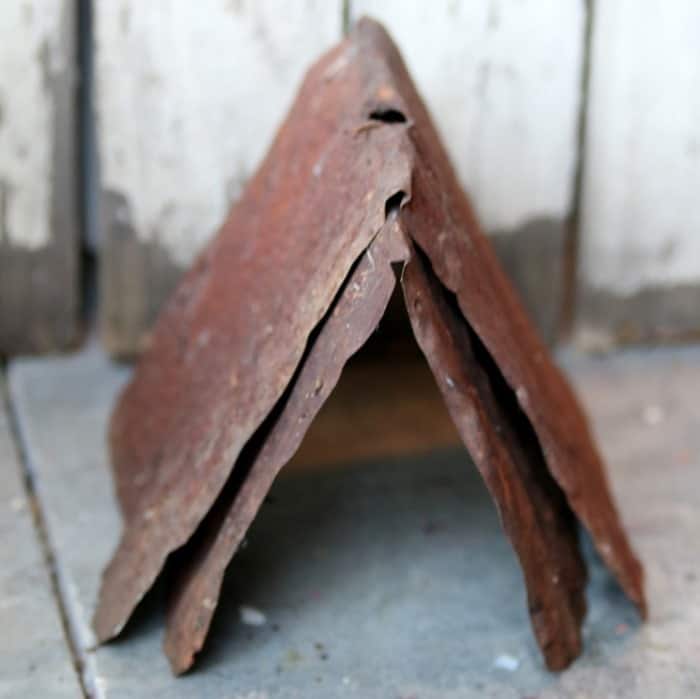 I don't usually go to estate sales because stuff is too pricey. This sale was in Nashville not too far from the flea market so I stopped in. I found the rusty tin bird house roofs for $2.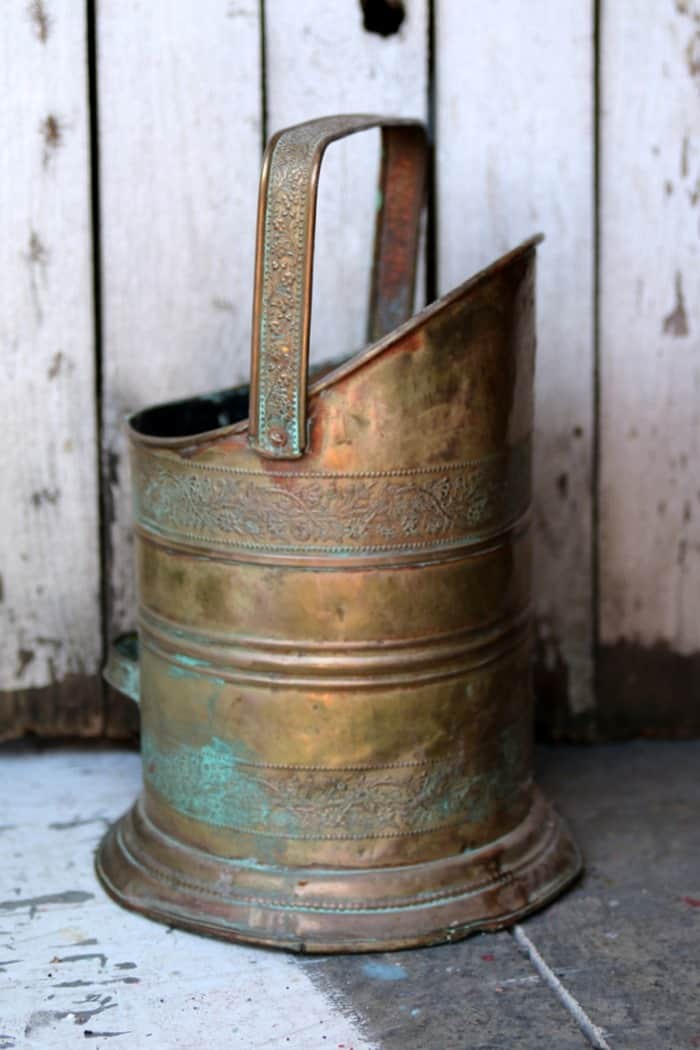 This is my favorite buy from the estate sale, a copper coal scuttle. I'm not sure if it is brass or copper. At first I thought it was brass but now not so sure. I read up on the metals and found that brass does contain copper….so I still don't know. And even though I'm calling it a coal scuttle I'm not even sure that's what it is.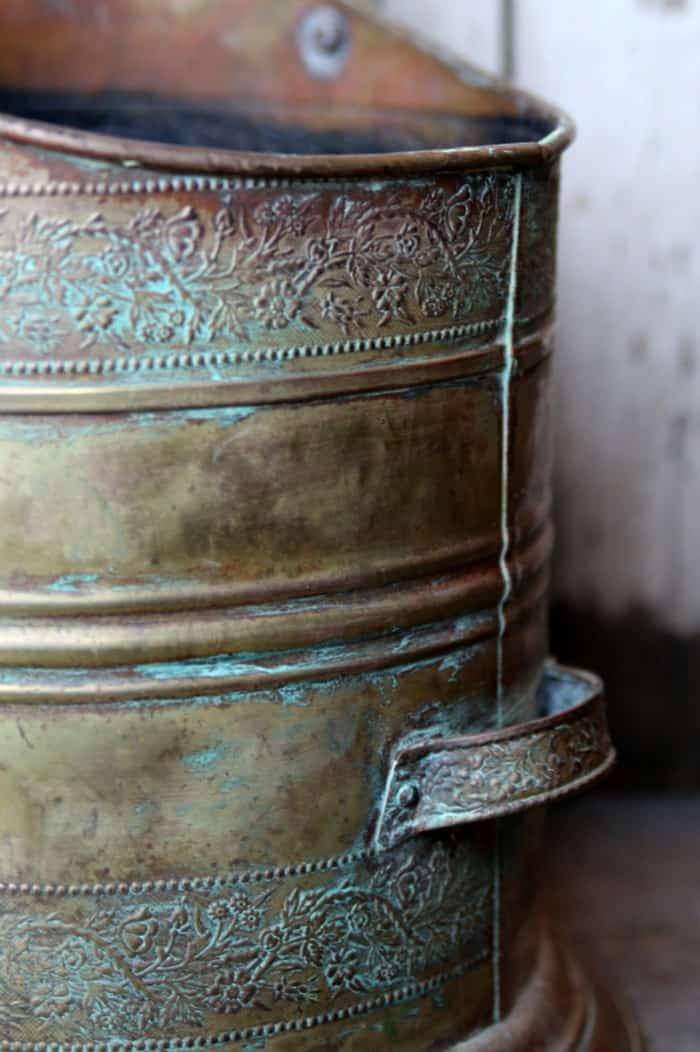 The house where the estate sale was held is about 90 years old. The "coal scuttle" has been repaired on the bottom and it has seen better days but that patina, wow. I love the punched details too.
That's it for my market finds.
My friend Angie who shopped with me at the market has opened an online home décor shop. She has the coolest stuff. I'm thinking of ordering this vintage style metal bird feeder…..
or this two tier metal tray….
I think either one would look pretty with a nice Fall display, maybe some white pumpkins and greenery?
What did you guys like best from the flea market photos? Leave me a note and be sure to be here tomorrow. Furniture reveal and it's a doozy. Have a great day!