Shabby Chic White Projects
Shabby chic white furniture fits into any decor. I have 8 shabby chic projects to share with you because, well, I was hoping to have my latest project finished up for you today. But it didn't happen. I'm having a hard time getting back into the groove after my vacation.
I'm working on an old beat up chest I got from My Favorite Junk Shop. And I'm also putting together a storage/display thingie for my stacks of magazines. Then I need to work on a themed furniture project for next week. I'll get it all done….maybe…
Since it's Summer time and I'm still feeling the love for shabby chic furniture…I rounded up 8 favorite shabby chic white table projects. Here they are…..all in one place.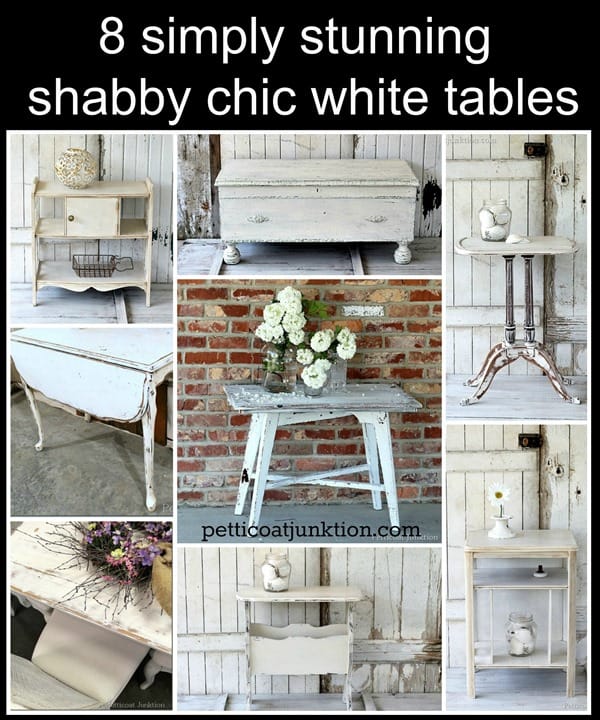 Shabby Chic White Tables
Click the "pink links" below to view the complete furniture projects
The  Vintage White Chalk Paint Drop Leaf Table and Turquoise Spray Painted Frames are a must see. The table was a complete mess when I bought it.
The  Antique White Table was sitting in our living room until just recently. I changed it out and gave it a paint job in preparation for selling it.
This is one of my favorites and I returned it to our living room after painting it. ….Table With Antiqued Effect…….and it's still here.
I painted this cedar chest and loved it……MMSMP Cedar Chest but since then I've painted it about 4 more times. Getting ready to paint it again.
I still have this table too…..Cottage Chic Magazine Table. A friend commented the other day that my living room was so brown. She expected it to have more color because I love bright colors. I mostly accessorize with bright colors but stick with neutrals for the fabric furniture.
I got in trouble from some of my readers for painting this table….. Shabby Chic Table. The original finish was really pretty but the table was missing some veneer and I knew the detailed legs and feet would look pretty painted and distressed. So I painted it. I wish I would have kept it for myself but too late now. Plus I can't keep all the furniture I paint.
The paint on this piece chipped perfectly……Have To Love ChIPPy White Paint.  The hubby and I put the table together from reclaimed parts. The base of the table is very modern.
I love everything about these chairs…..Drop Cloth Seats and White Painted Chairs. The dining room chairs are the kind with the cane back and fabric seat. Those cane backs look so good distressed and the drop cloth seats are the perfect neutral covering for the chair seats. I painted a junk store table to go with the chairs. The table of course is shabby chic white.
What did you think of the projects? Which was your favorite. Is shabby chic furniture still in style?
Keep up with the happenings…. Petticoat Junktion on Instagram …Petticoat Junktion on Facebook ……Petticoat Junktion Pinterest Boards
Thanks for being here. Have a great day, Kathy