Favorite Fuchsia Color Painted Furniture Makeover
This dresser makeover was a custom piece for a favorite client. I love bright colors so I was ecstatic when I picked up the color swatch for the paint.
Before
Ready for the makeover.
Petticoat Junktion is a participant in the Amazon Services LLC Associates Program. As an Amazon Associate I earn from qualifying purchases.
Wow, I love this color.
Work in progress.
Heavily distressed using a palm sander and 60 grit sandpaper.
This fabulous dresser is a display piece at the new children's clothing shop "Flower Lily" at 1849 Madison St. suite E.
Thanks Summer for giving me free rein and for choosing such an inspirational color.
Do you like Fuchsia?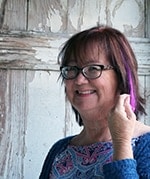 Kathy Owen is the creative guru, content creator, photographer, and worker bee behind the popular Home Décor DIY Blog Petticoat Junktion. She focuses on reinventing found treasures and decorating her home Get all the nitty gritty on Kathy here.