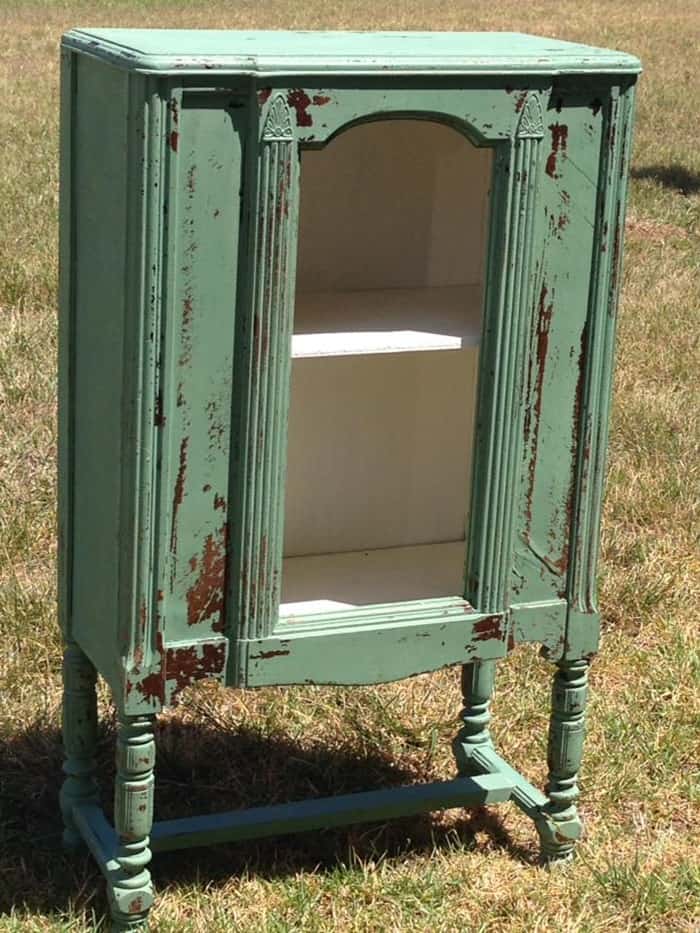 Painted Furniture Makeovers
Hey guys! Today I'm showing off furniture painted by you……photos shared in the Treasured Finds Facebook group. If you are new here or missed the post about joining the "Treasured Finds" Facebook group I have the info at the bottom of the post.
I asked each featured person to write a short paragraph about the furniture makeover and what ever else they wanted to share. Here we go.
First up is Loni and she painted the vintage radio cabinet in the first photo…..
"My name is Loni. I work in special education full-time and on weekends I redo furniture to help pay for my two college students. I found my "Treasured Find" locally online. The before pictures are from the ad. What was I thinking? I was thinking I wanted a cool radio cabinet like Kathy! It was rough. I pulled off the front piece, so the opening would be easier to put things in and out. I pulled off one side of veneer because it was peeling badly. Awesome husband build me a shelf for inside, added a back and a support between the legs. I painted the interior with a latex paint and the exterior with milk paint. I used masking tape to distress and pulled off paint where I wanted it more chippy. Finished with waxed to seal it. I love how it turned out."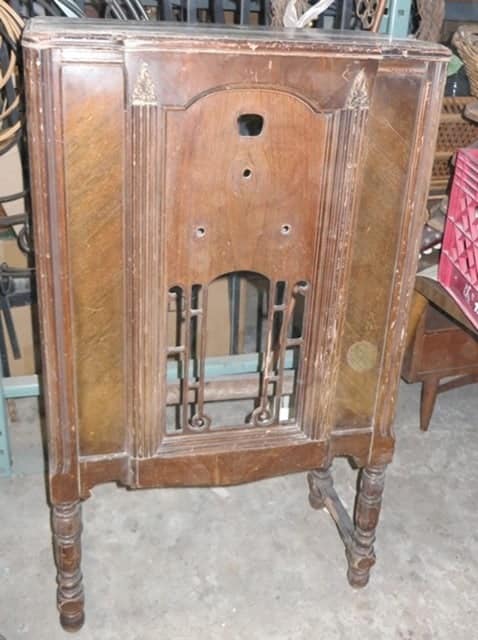 before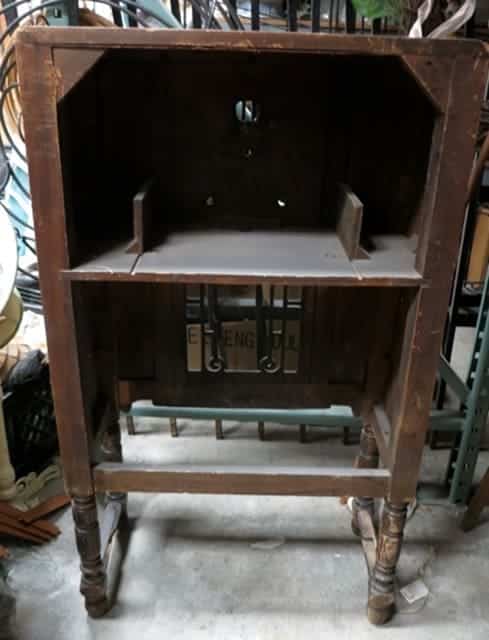 before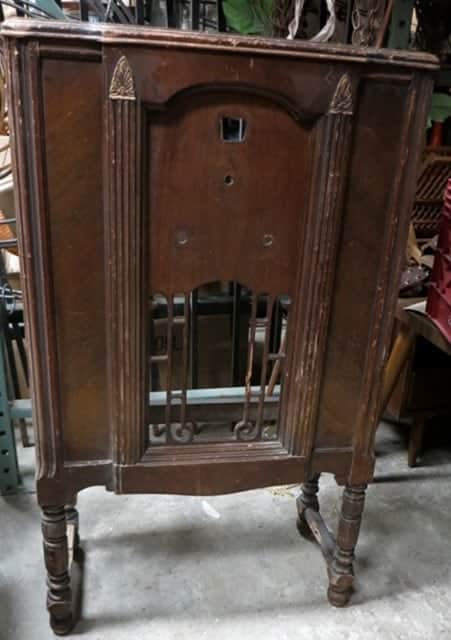 before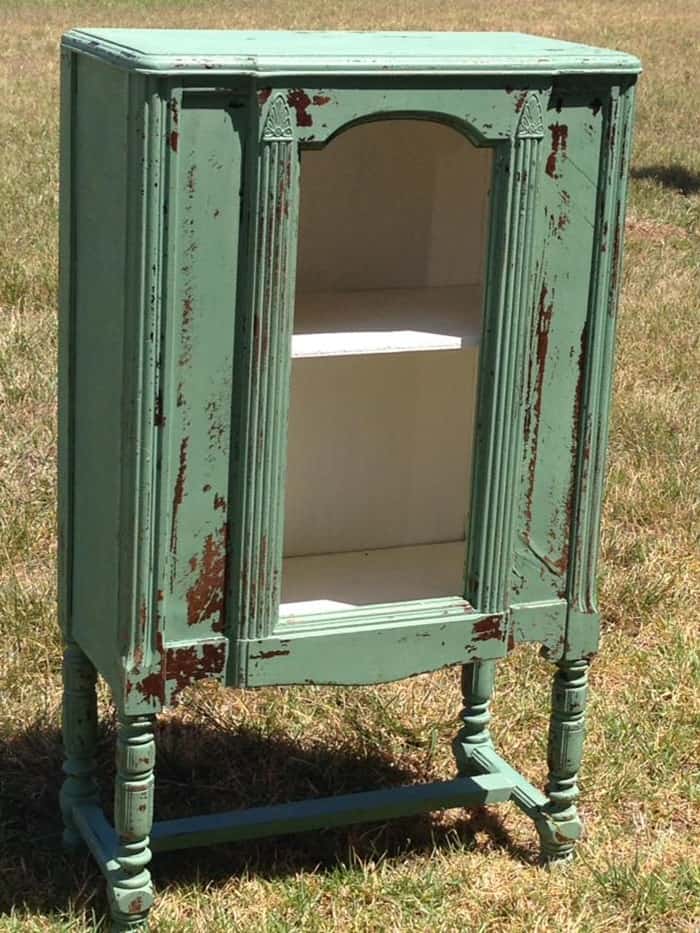 after
I've never heard of using masking tape to distress furniture have you? As you can see it worked perfectly. I learn something new every day.
The next makeover is from Maria…..
"This was s piece I've had for years that I was really tired of, I was ready to give away. Now, I wouldn't sell it for anything. And it was just as easy as Kathy said. I will do it again on another piece, too. I used a wipe on Liquid Sander/Stripper first since the piece had a very high shine. Then Modern Masters Metallic in Silver, as Martha's Metallics are no longer available…but I did have some of hers on hand in Bronze and the Silver was a bit bright, and so I mixed some into the MM-FYI, no problem mixing both brands."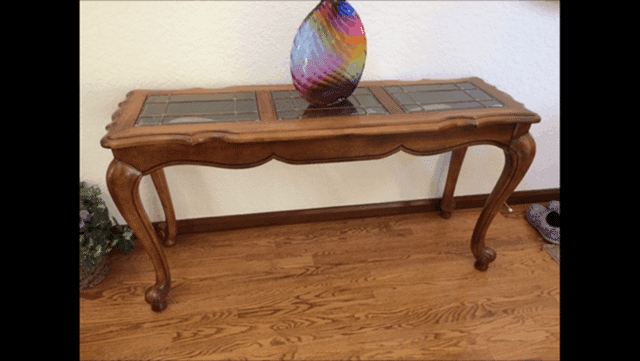 table project before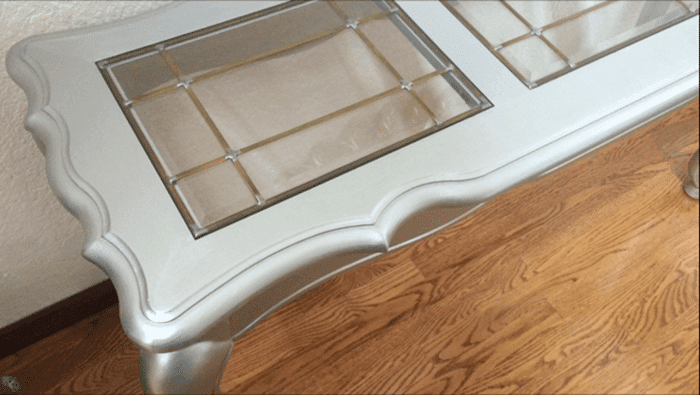 metallic paint before toner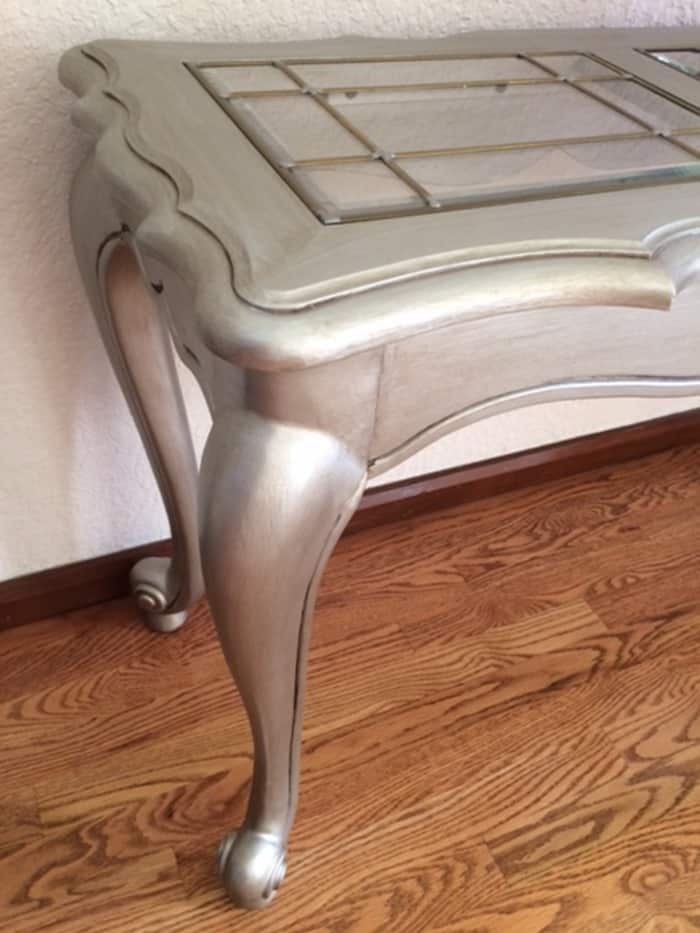 metallic paint after toner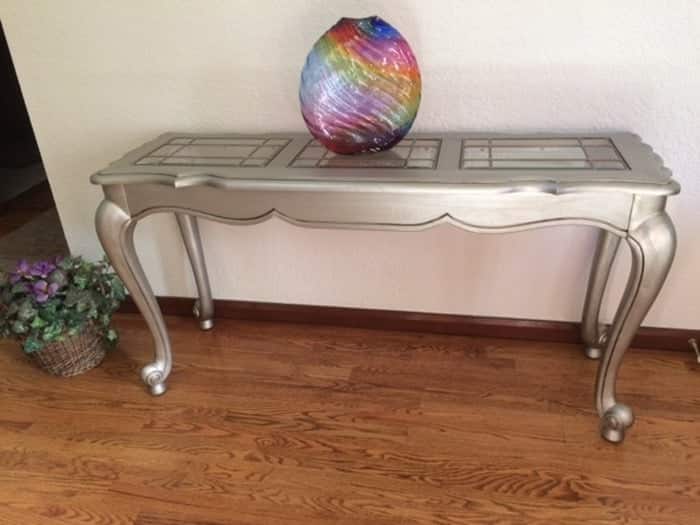 after
Maria used the Caromal Colours Toner that is one of my favorite projects for antiquing furniture or adding depth as with the metallic silver paint. The table is so pretty now…what a difference paint makes.
also from Maria…. " I love it and everyone wants to know where I bought it! The old table was in the same place for 30yrs and people don't even know it's the same table. "
Next up is Diane…..
"I cannot remember a time when I didn't pick up stuff off the side of the road. My entire house is furnished with finds from the street, yard sales, thrift stores, Craigslist and flea markets. In April 2015 I took the plunge and have a flea market booth while still working full time. It's been a blast. I bought this wardrobe from another vendor at the market's semi-annual yard sale in April. It is painted Lizard Green in Behr's Premium Plus Ultra satin finish. I did prep only on the 1960s decals on the front, knowing that I wanted a very chippy finish. One of my co-workers browbeat me into selling it to her and, while I hated to see it go, felt great that she was so passionate about the piece. You can see more of my finds on my Facebook page, Saltmarsh Design."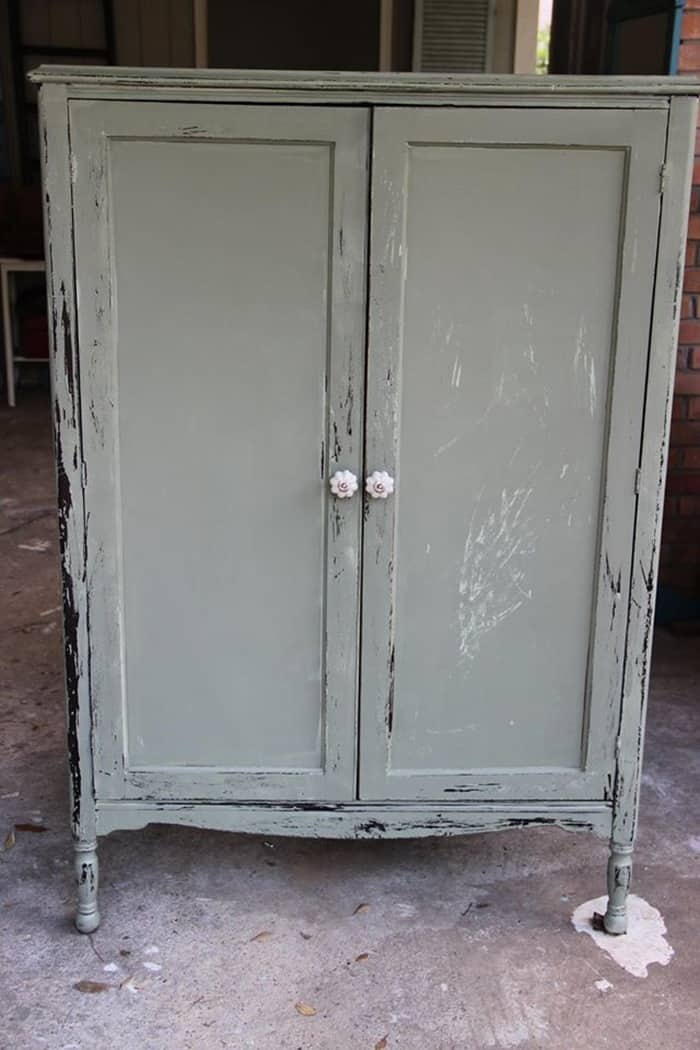 after
Well, you guys know how much I love distressed paint. The wardrobe is a beauty and those white knobs….perfect.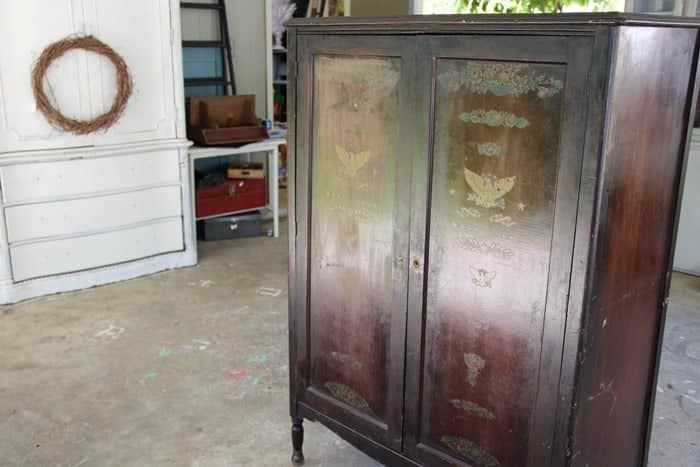 before
And the last makeover for today is from Karen…
"After reupholstering an ottoman and seeing what a dramatic change it can make, I thought I would try my hand at something a little more challenging. I had been scouring the local thrift stores for just the right "treasured find" when I came across this pair of chairs (I love pairs of chairs!) at my local Savers for 14.99 each!
I am not a big fan of bunnies and ducks, but I saw potential!
Besides reupholstering they of course needed to be painted or refinished. I chose refinishing, and darkened it up a bit. I think it turned out nicely with the aqua chenille.
The springs probably should have been replaced, but I will save that for another challenge.
It was hard to give them up, but my husband and I made a deal- no new projects til the previous one is gone. I ended up selling them for $375. Total! Now on the the next!! "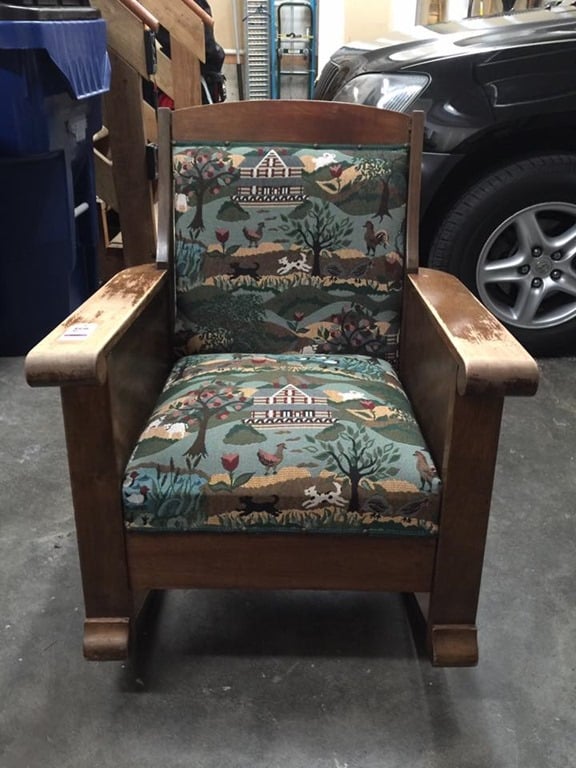 before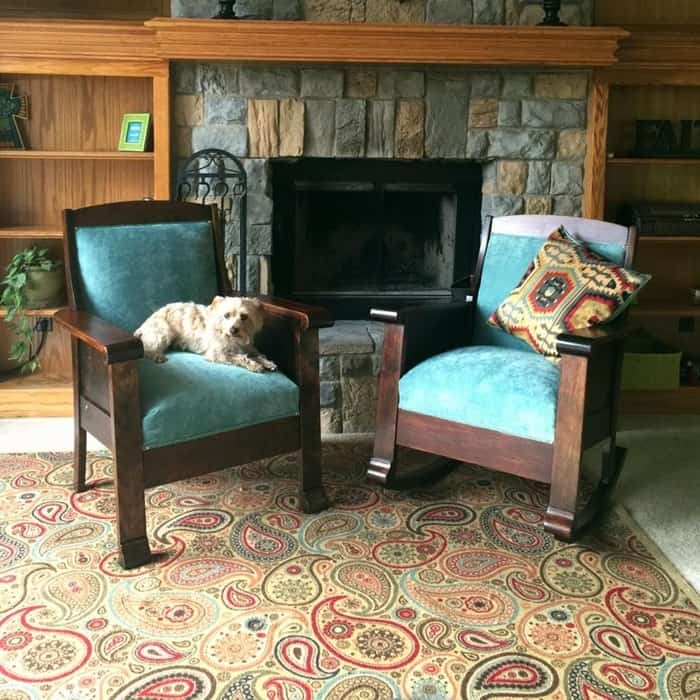 after
The chairs are amazing now. I can't believe the transformation.
I want to thank Loni, Maria, Diane, and Karen for giving me permission to share their projects. I will be sharing more in the future. What do you have to say about these ladies' awesome makeovers?
This is the info about the Treasured Finds Facebook group….The group is for sharing photos of your furniture finds and junk treasures. It's also a great place to get furniture finishing ideas and to ask questions regarding furniture makeovers. If you would like to join the group…..click here – Facebook Group Treasured Finds …and click the Join Group button on the right side of the header. I will need to approve everyone as you ask to join ( I have to do it this way to keep out spammers, really). After you are approved you can start contributing. You can share daily,  weekly, monthly, or never. You may also comment on the photos shared just be respectful in your comments.
Thanks for being here and I'll see you tomorrow.