Yellow Stenciled China Cabinet

Yellow takes me to my happy place.
gray primer
before makeover
great details, glass knobs
Stenciled inside with yellow and  gentle touches of black. The inside color is the gray primer with a coat of polyurethane.
Petticoat Junktion is a participant in the Amazon Services LLC Associates Program. As an Amazon Associate I earn from qualifying purchases.
I couldn't get a really good picture of the stenciling inside the cabinet, but this is the stencil I used. Sticky Back Vintage stencil from
Caromal Colours
. The design of the stencil works great with the decorative wood detail on the drawer.
Did you like my yellow stenciled china cabinet?I'm doin' the happy dance,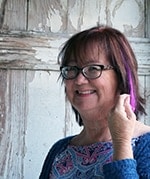 Kathy Owen is the creative guru, content creator, photographer, and worker bee behind the popular Home Décor DIY Blog Petticoat Junktion. She focuses on reinventing found treasures and decorating her home Get all the nitty gritty on Kathy here.