Happy Friday!
I'm not used to being here on Friday but since our tours are continuing today and tomorrow I wanted to be sure you got the chance to tour if you wanted to.
All the Christmas tour links are at the end of the post.
Also I had to share the package I got in the mail yesterday.
No, it's not a big deal….it's an indulgence (one of many) I enjoy every Christmas.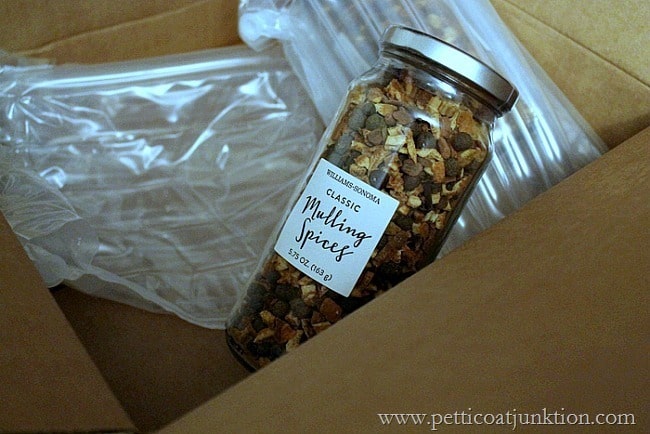 Mulling Spices for Mulled Cider
I love spiced cider.
Last year I ran out of my mulling spices and didn't find any before the season ended.
This year I ordered them on-line from Williams-Sonoma.
I used to work in Nashville and there is a Williams-Sonoma right down the road from where I worked.
I could just pop in there and pick some up.
That's the only thing I buy there….the store is a little pricy for me!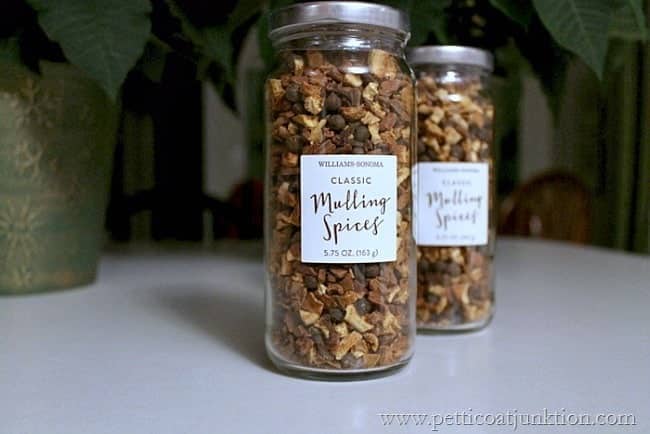 Since I have problems keeping it stocked at Christmas…..I ordered two!
The spices used to come in a green tin.
I like the jars better.
I bought apple cider from Walmart over the weekend and when I find my Christmas tea pot…..I'm simmering
Do you guys like spiced/mulled cider?
Some people mull wine….not me.

MONDAY December 1st
{Partridge in a Pear Tree}
Simply Fresh Vintage Petticoat Junktion Snazzy Little Things
{Two Turtle Doves}
Confessions of a Serial Do-it-Yourselfer Fresh Idea Studio
TUESDAY December 2nd
Country Design Style DIO Home Improvements mommy is coocoo
{Four Calling Birds}
Artsy Chicks Rule Virginia Sweet Pea
Monday
All Things Heart and Home , Restoration Redoux , Sweet Pea
Tuesday
Girl in the Garage , Setting for Four , What Meegan Makes , Cedar Hill Farmhouse ,Simply Fresh Vintage
Wednesday
Confession of a Serial DIYer , Shabby Art Boutique , Mrs. Hines' Class ,Our Southern Home
Thursday
White Lace Cottage , Artsy Chicks Rule , Fresh Idea Studio, Post Cards From the Ridge , Petticoat Junktion
Friday
Beyond the Picket Fence , House on the Way, Unskinny Boppy
Have a great weekend, Kathy