Make A Banner Garland
I made the banner garland using a cute deck of playing cards. The basic idea can be personalized using any style or type of playing cards. Win-Win. If you are a fan of spades and maybe have a weekly game with friends you could add spice to your game room using a deck of cards to make this banner. The options are endless.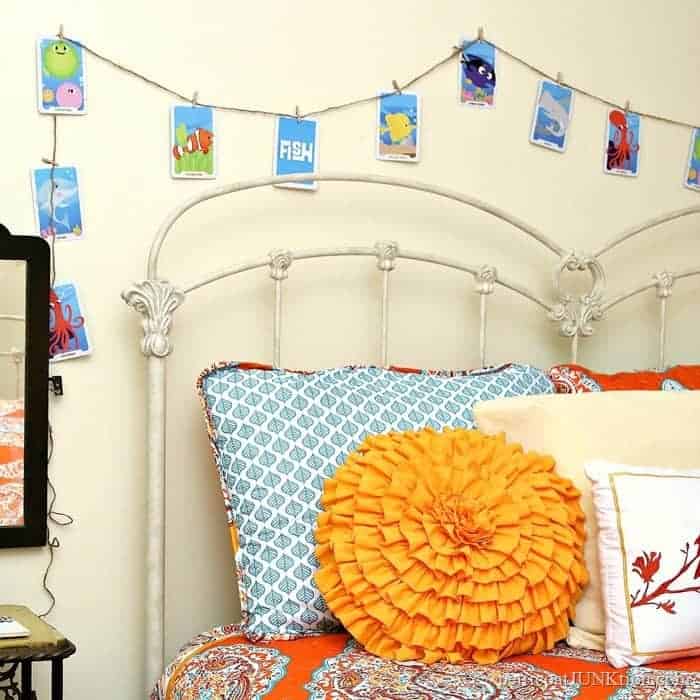 Garland Banner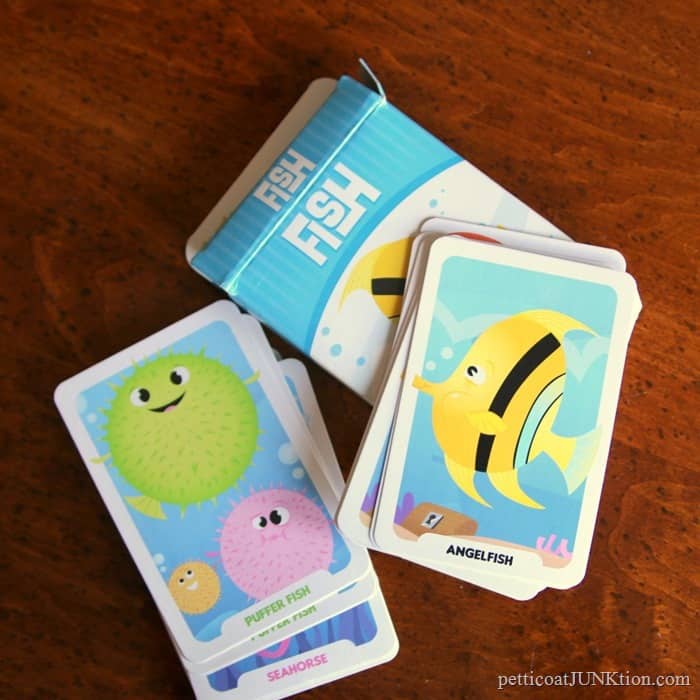 The banner garland idea came to me when I found the cute Go Fish playing cards at the thrift store. And today is Thrift Store Décor Day so I'm right on time. The links to the projects from my thrifty friends are at the end of the banner tutorial.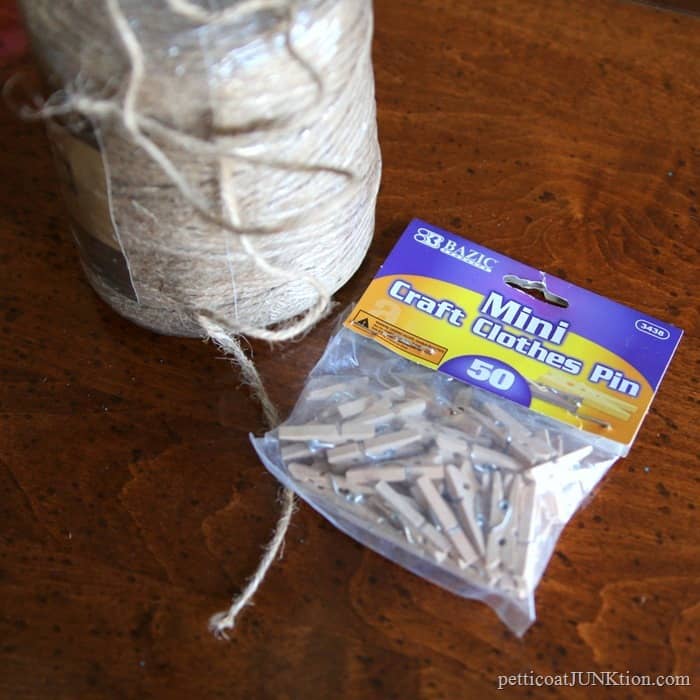 To make the banner garland I pulled a roll of jute and a bag of mini clothes pins from my craft stash.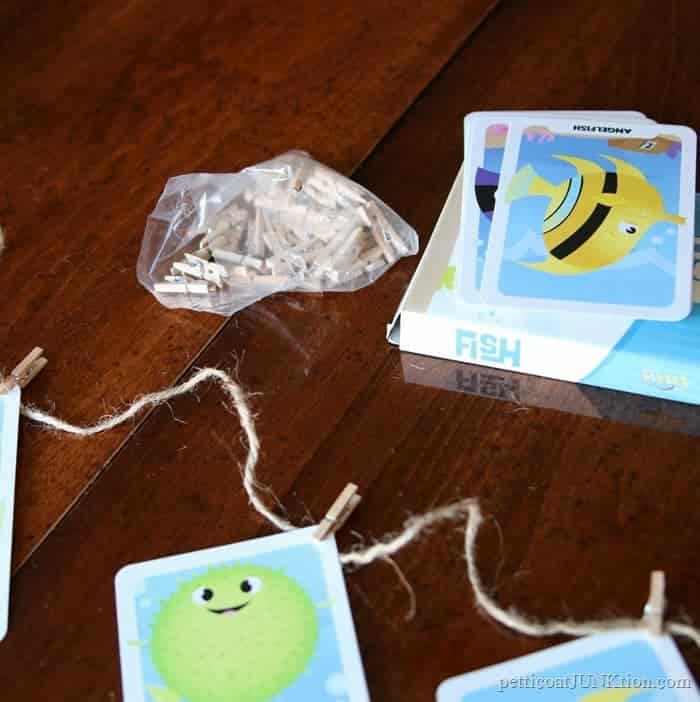 This project is so easy it's perfect for the kids or in my case the adults. The only question I had was weather to clothes pin the corners of the playing cards to the jute or the top middle of the cards. The top middle won out. I  alternated the colors and style of the cards, not putting similar cards next to each other. The "fish" side of the card got showcased too.I kept pinning cards to the jute until I thought the banner was long enough then cut the jute. You can tell this isn't rocket science. I also didn't measure the distance between cards. Just eyeballed it.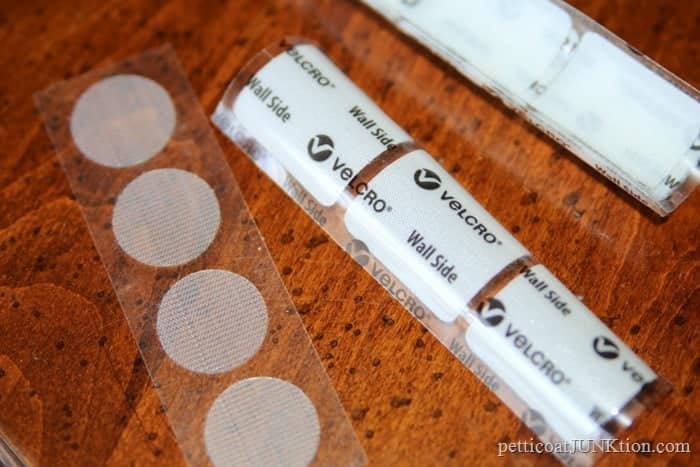 I used Velcro Wall mounts I found hanging on the pegboard in the shop to hang the banner garland on the wall. The banner weighs next to nothing.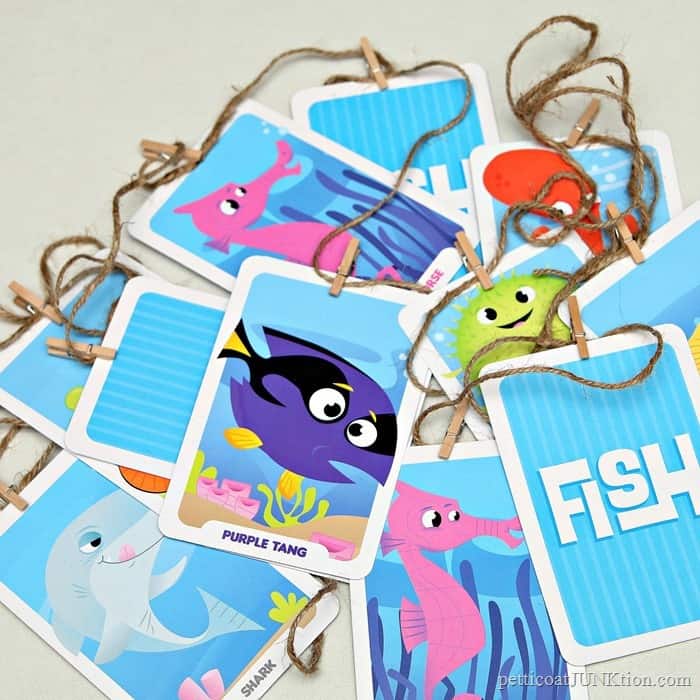 The colors in the playing cards are so vibrant. I don't believe the cards had been used at all. Love thrift store finds like these.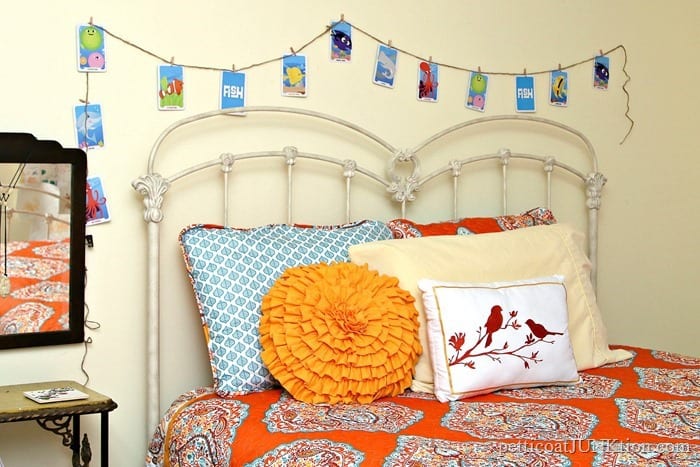 I made the banner garland for the "granddaughters bedroom". The previous cloth banner had been hanging above the bed for a few years now. Time to go. The Velcro worked perfectly. I used 4 little pieces to hang the garland. You can't even see it. (find my post about the turquoise and orange bedding here)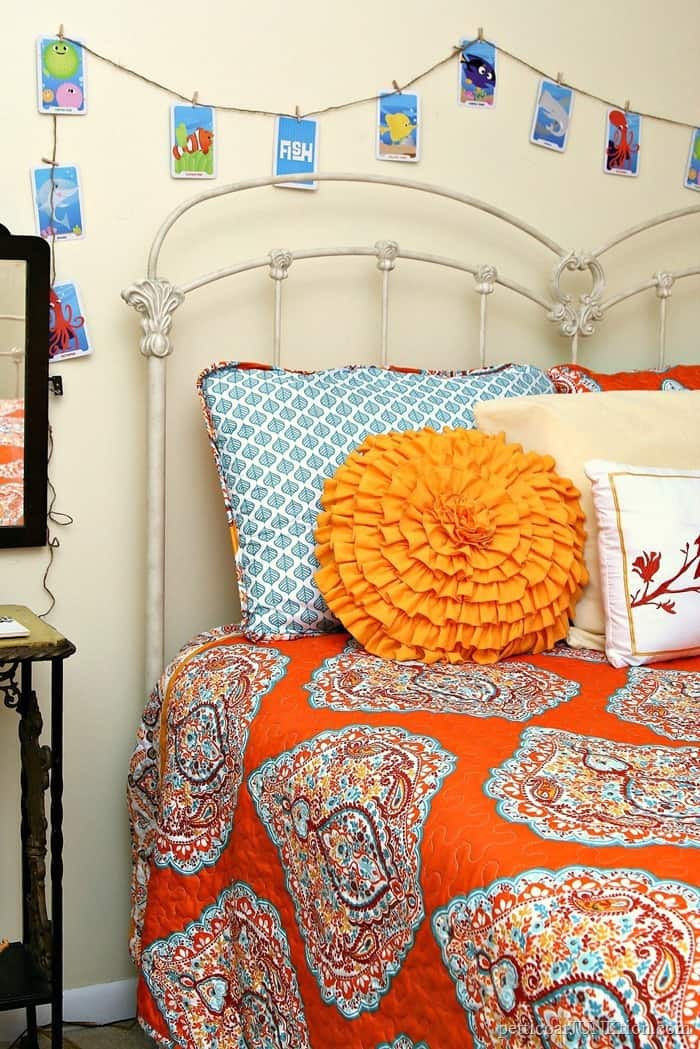 I talked about how you could take this basic idea and run with it. How cute would an Uno banner be or a Rook banner?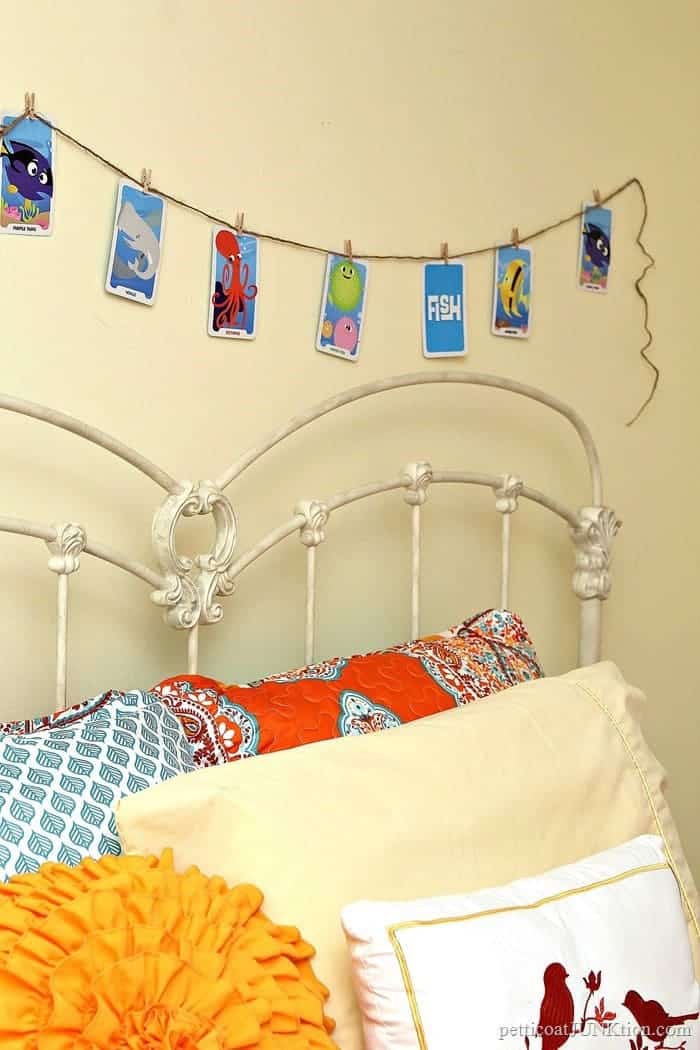 I can't wait for Miss Sofi to see her new décor. Sometimes she likes the changes and sometimes not. She likes to move things and "redecorate" her bedroom when she comes to the house.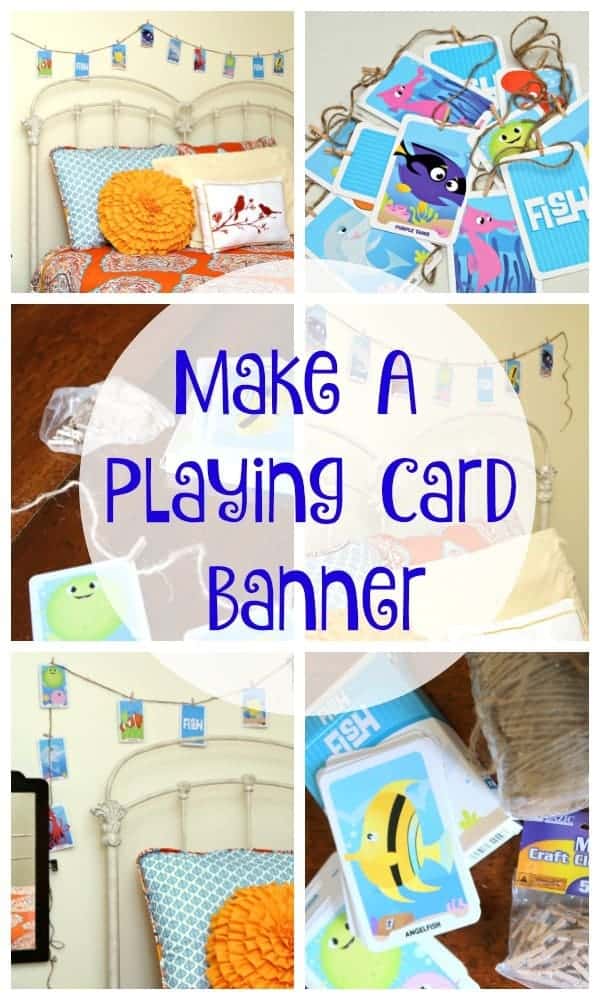 Go Fish Card Banner
What do you think of this idea? What type of playing cards would you use to make a similar banner garland?  I made a garland using vintage greeting cards of all kinds and hung it from the mantel. You can see that project here.....Vintage Greeting Card Garland.
Leave a comment and head out on the tour with me. Just click those pink links below the "before photo".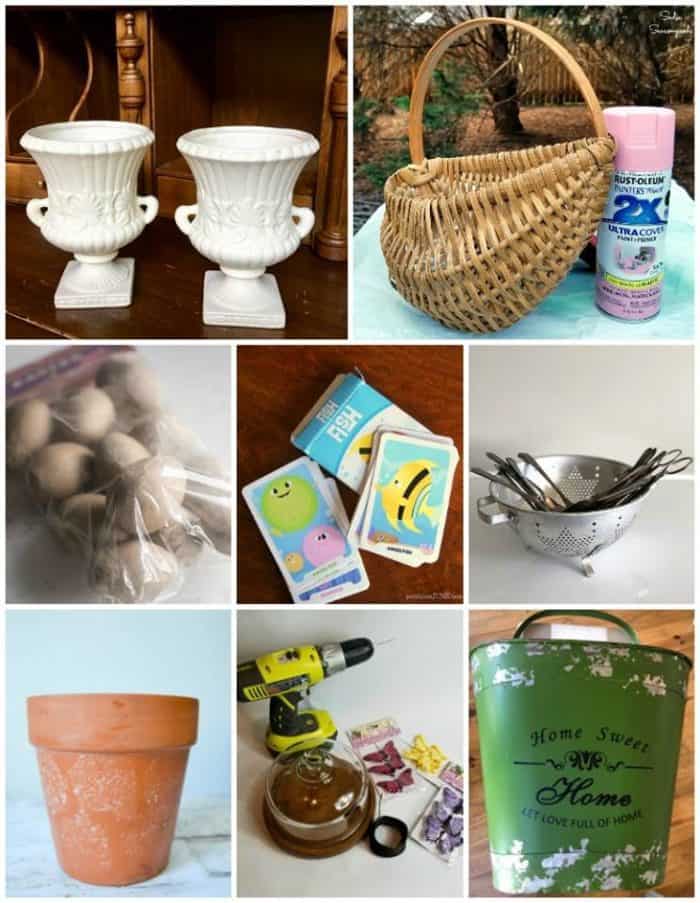 Spring Urns Our Sothern Home
Easter Basket Wreath Sadie Seasongoods
Gold Leaf Easter Eggs Domestically Speaking
Banner Garland Petticoat Junktion (you are here)
Silverware Wind Chimes House of Hawthornes
Painted Herb Pots  My Uncommon Slice of Suburbia
Cheese Cloche Butterfly Display My Repurposed Life
Tulip Bucket Door Décor Refresh Restyle
Have a great day, Kathy