How to cut up an old quilt and make upcycled Christmas tree ornaments! You can also use the ornaments to make a garland.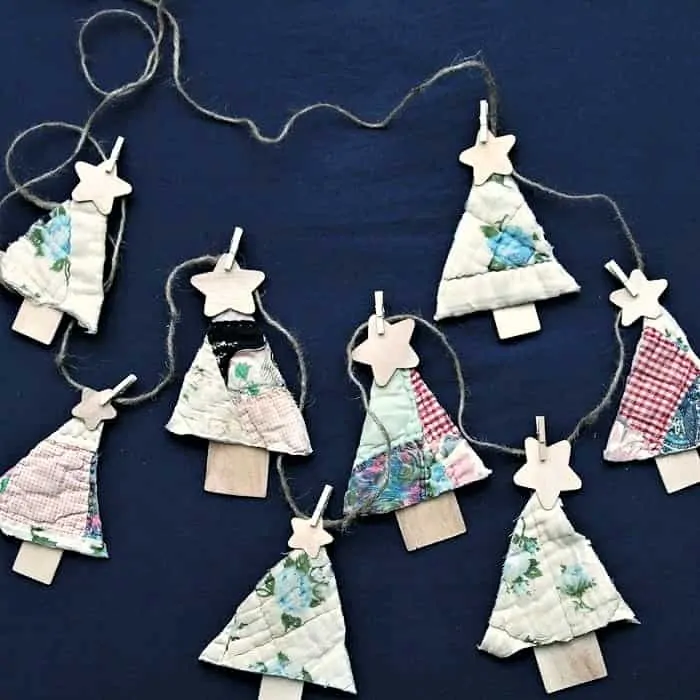 How sweet are those little trees. Nothing says warmth and comfort like a handmade quilt and the trees have the same feel.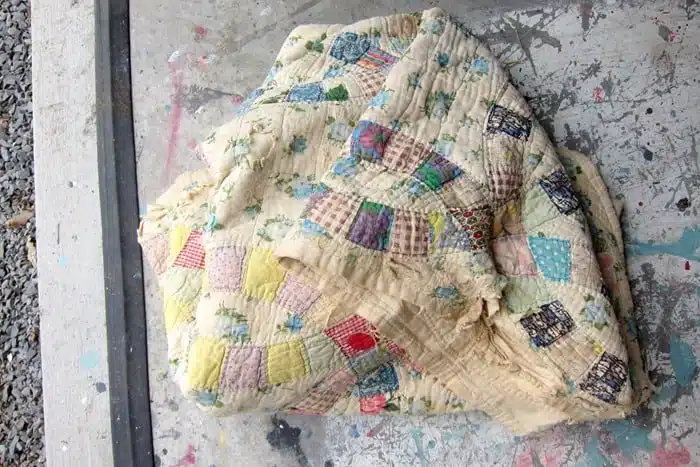 This is the quilt I started with. It's been stored along with more of my quilt collection in the famous red radio cabinet. I've been slowly selling a few quilts, mostly the cutter quilts which means they were torn and ragged. This is the last of my cutter quilts. The others are keepers.
How To Make A Recycled Quilt Christmas Tree  Garland
Supplies For Tree Banner:
Old Quilt (Flea Market or Thrift Store)
Small Square Wood Pieces
Step 1: Cut tree shapes from the quilt.
First step in the project is to cut the tree shapes. You guys know me. I don't get all exact on measurements and stuff like that, which means no measuring required for this project.I just grabbed the scissors and started cutting. I go with the saying "perfectly imperfect". You don't have to work as hard that way.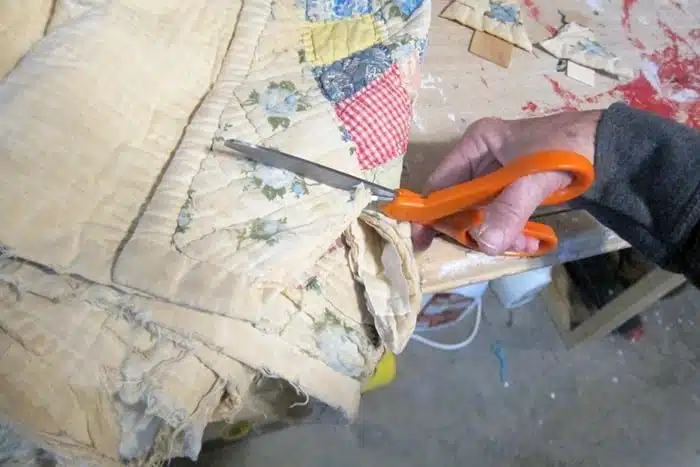 If you are nervous about this step then cut a tree template from paper. Just cut them template until you get the shape and size you like.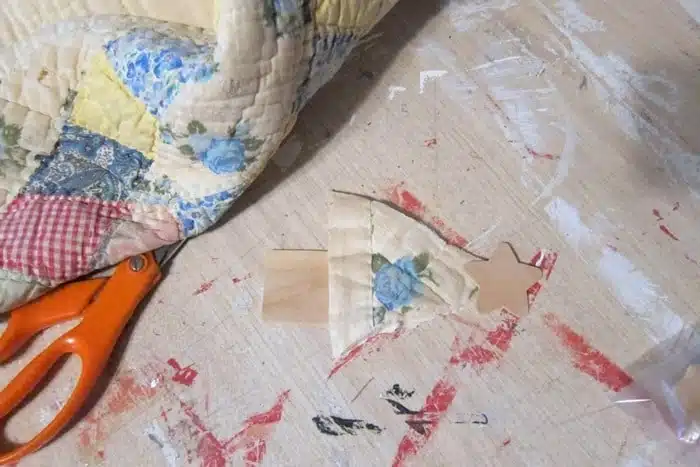 See how cute that little tree is. The wood star and trunk are not attached yet but I wanted to see if I was heading in the right direction…..and I was. Don't be afraid to veer from your original plan if you don't like the way things are going. I change plans mid stream all of the time.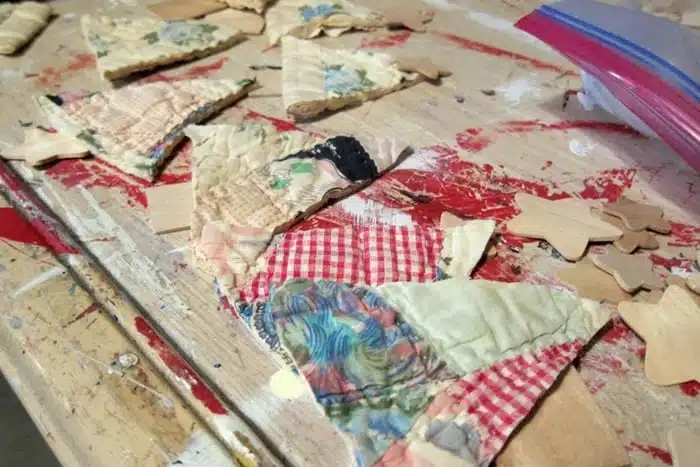 I don't know why but I decided 8 was the right number for the garland. I probably should have went with an odd number like 7 or 9. I can always make one more. Remember this project goes really really fast. You might think about making some of these banners/garlands for gifts.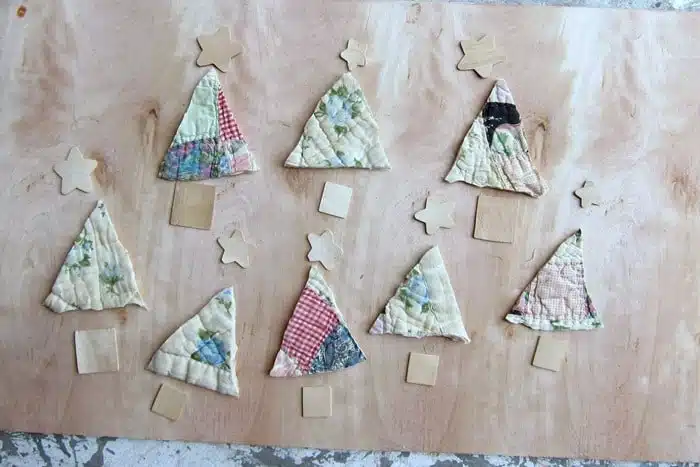 Next I laid out the tree shapes with the star toppers and the trunks.
Step 2: Glue star tree toppers and wood stands to the tree shapes.
Hot glue is my go to adhesive for just about every craft.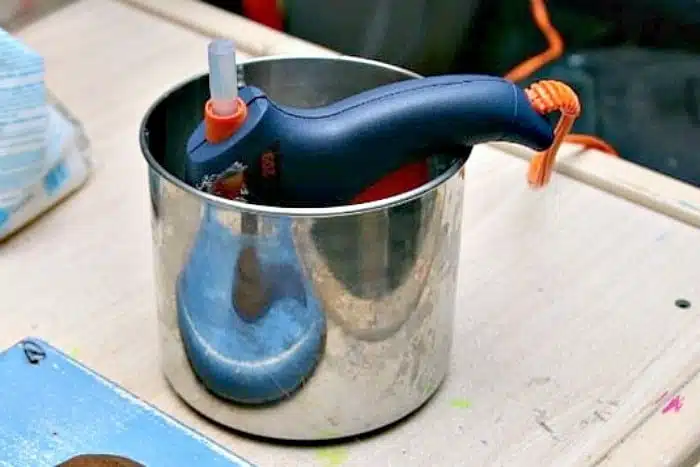 My glue gun doesn't have a stand and one day I finally corralled it in a stainless steel canister. Works great! When I have the gun plugged up I don't have to worry about the gun falling over or hot glue going everywhere.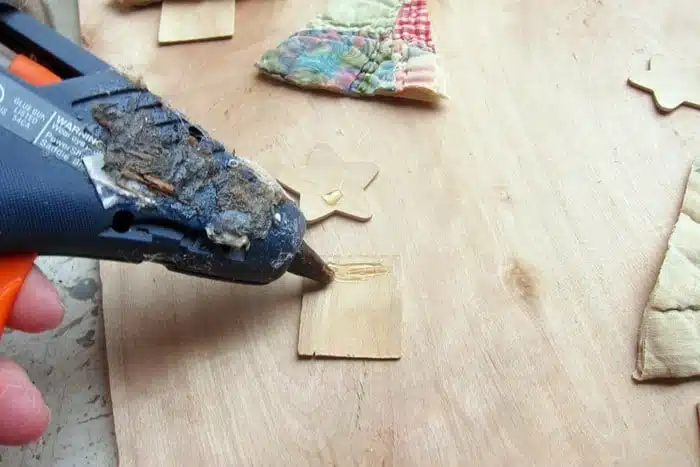 I applied glue to one side only of the stars and the trunks then glued them to the quilt tree. You can tell by looking at my messy glue gun that it's been around for a while.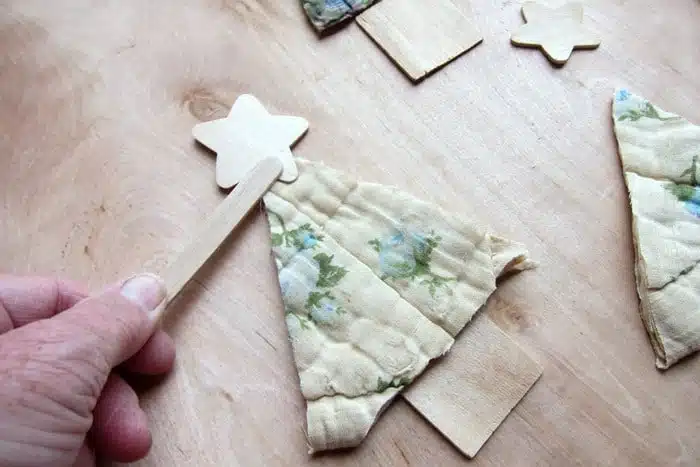 One tip I always share when using hot glue is to grab a popsicle stick, toothpick, or something similar, to apply pressure to the glued project. Saves your fingertips. That is all there was to making the ornaments. I was surprised how fast the project went.
Step 3: Attach the Christmas trees to the jute.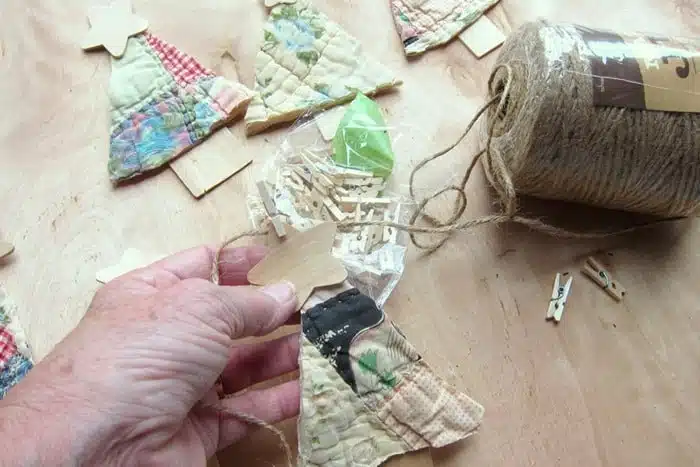 Only one step left to make the garland and it's the easiest. Attach the recycled quilt Christmas trees to the jute using mini clothespins. I had the mini pins and jute in my stash of stuff.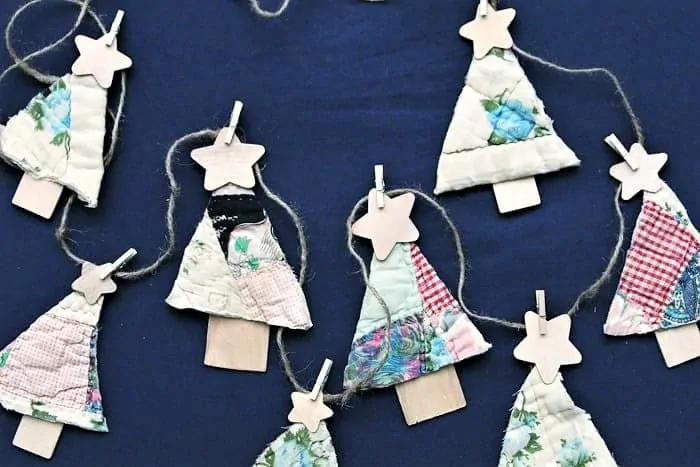 The mini pins are maybe too mini. They tend to come apart easily but that's all I had so they will work for now.
(if you're new here visit my about page here)
I plan to hang the recycled quilt Christmas tree garland from my mantel but the mantel isn't decorated for Christmas yet. I hung the garland on the footboard of the bed in the navy bedroom and it looked really nice there but didn't photograph very well so I moved it to my china cabinet…..looks good there too.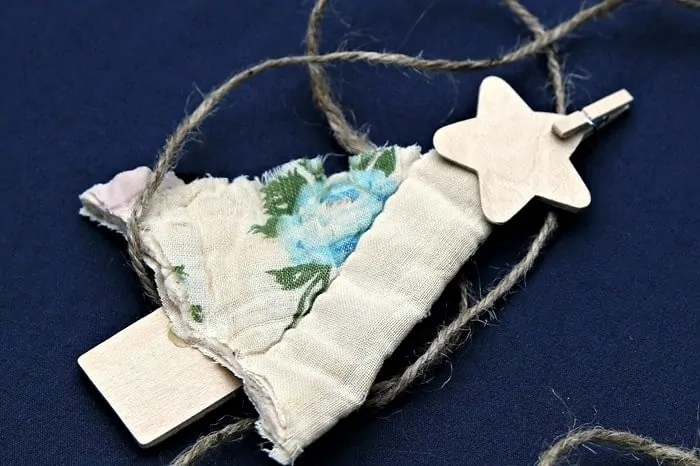 This quilt was not as colorful as some of my others but the neutral colors work in just about any room in my house. I made similar trees out of vintage Christmas cards to use as Christmas ornaments. You can find those here...DIY Vintage Christmas Card Ornaments Kids Can Make Too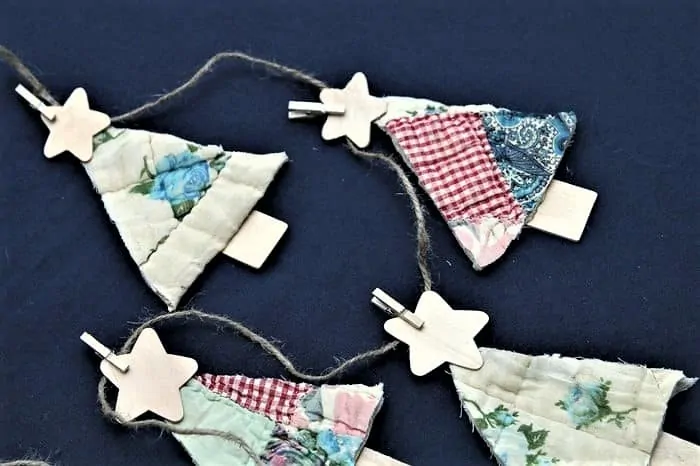 The trees are not heavy at all so the small clothespins work and the garland hangs nicely, no sagging or pulling.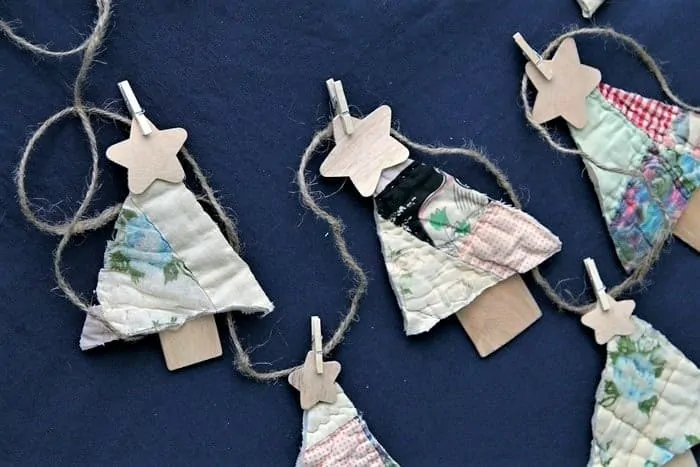 The one with a pop of red is my favorite. No surprise there.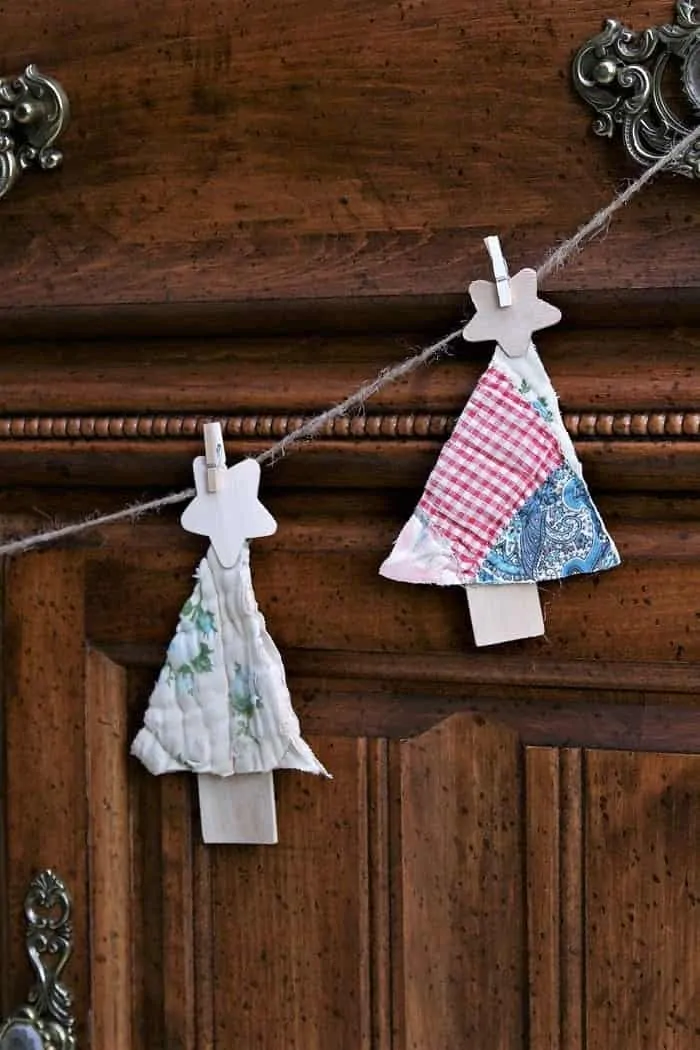 You can tell I winged it on the tree shapes. I almost cut a template. I like the trees better this way. They are all different, about the same size if not the exact same shape. I can see making really mini trees as ornaments. That might be my next crafty project. On Thursday I have a furniture project. Still working on it. Thursday is Furniture Fixer Upper day so don't forget to stop by.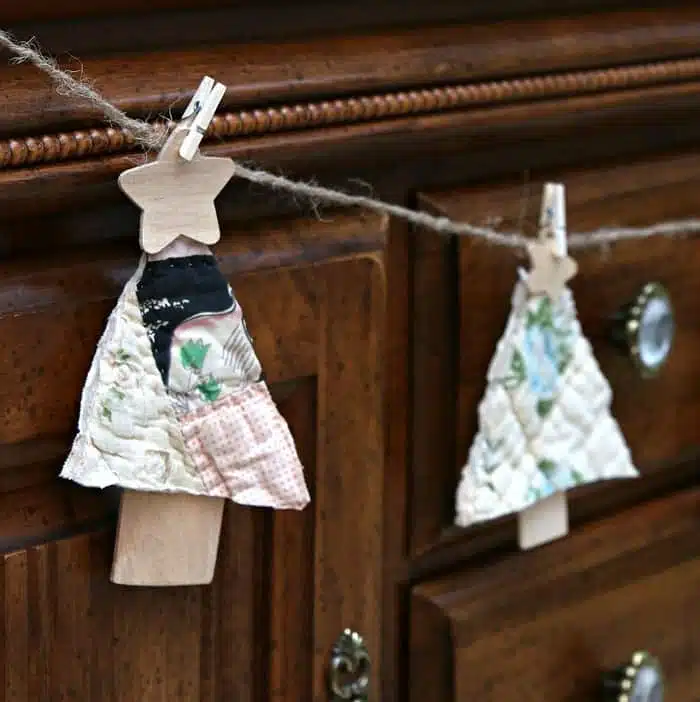 There are different weights of jute and I have three different weights hanging on my pegboard. I almost went with the heavier weight but I think the banner would have looked out of balance.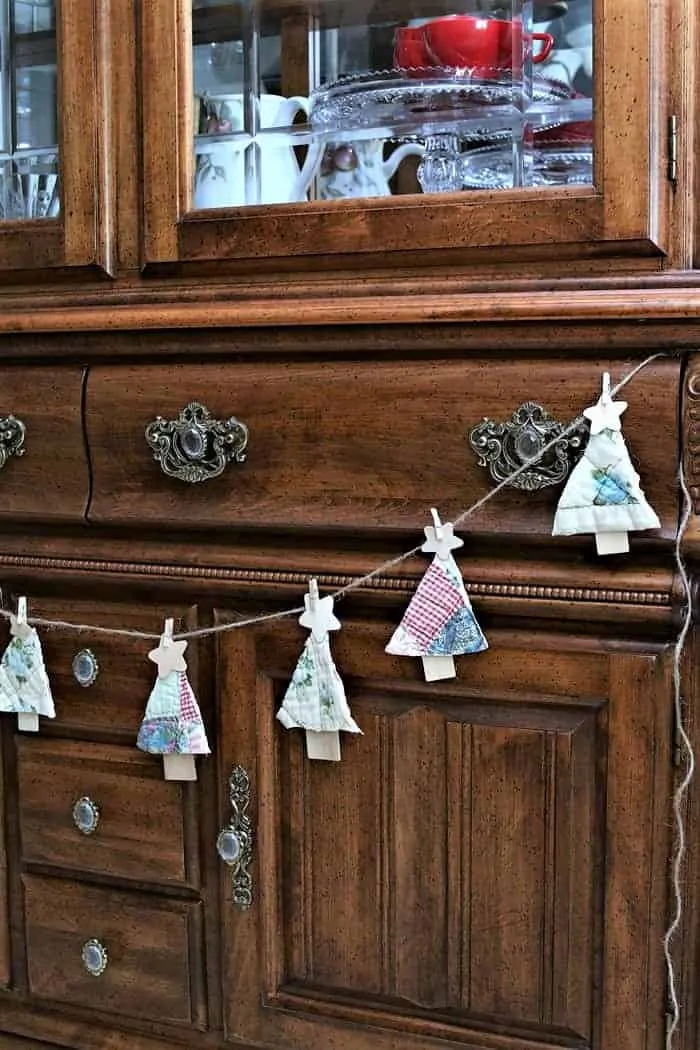 Which tree is your favorite? Do you have any old quilts you could cut up? If not you could make these trees out of any fabric. I would cut a backing out of heavy paper or cardboard because most fabric would not be sturdy enough for the trees.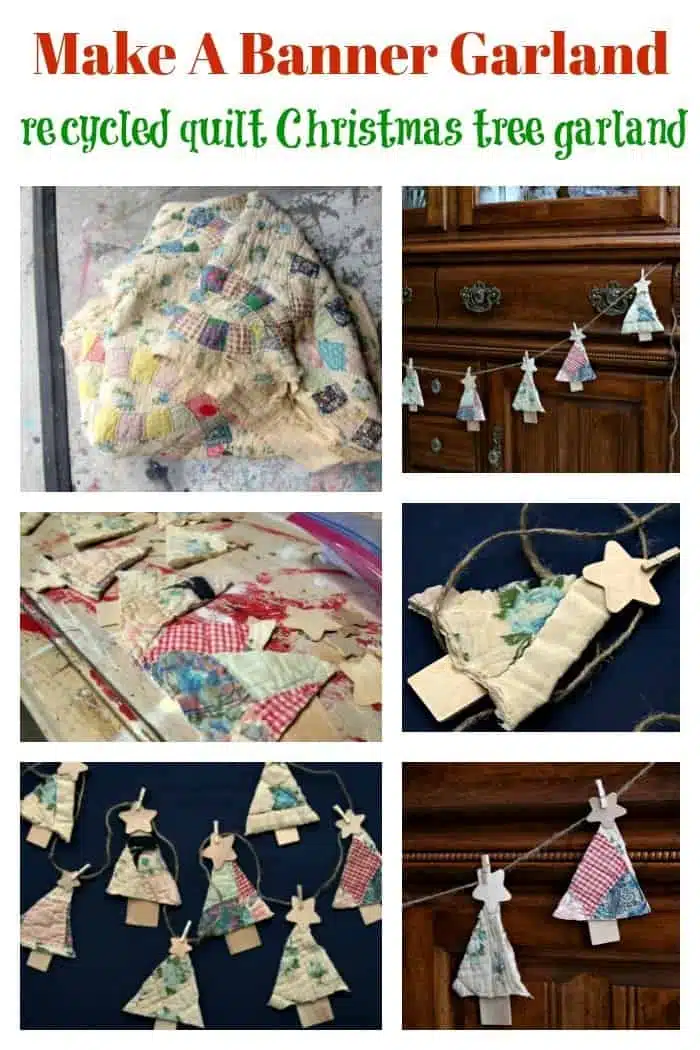 Recycled Quilt Christmas Tree Banner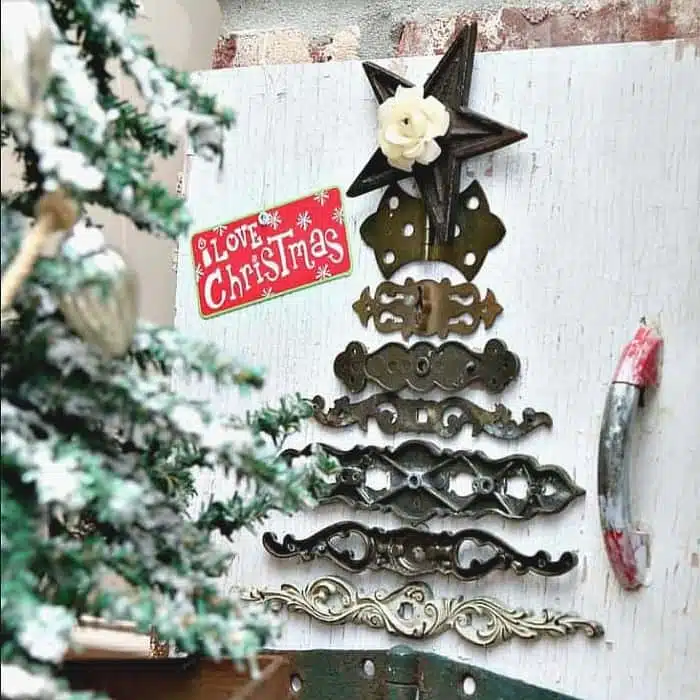 Check out the hardware Christmas tree sign I made here...DIY Reclaimed Hardware Christmas Tree
That's it for today. I might have a junk shop post tomorrow. Thanks for being here and have a great day, Kathy
Author: Kathy Owen (Petticoat Junktion)
Kathy is the founder of PetticoatJunktion.com, a home décor blog focused on repurposing and upcycling furniture, old hardware, rusty stuff, and thrifty finds into unique home décor. Kathy's projects have been featured on the Home Depot Blog, Plaid Crafts, Behr Designer Series, and in numerous magazines. Read more about Kathy here.