Create really cool DIY pumpkins using recycled wood, an old quilt, and pom pom fringe. A quilt I bought at an estate sale was my inspiration for these pumpkins. You can decorate other items with old quilts using this technique, not just seasonal items!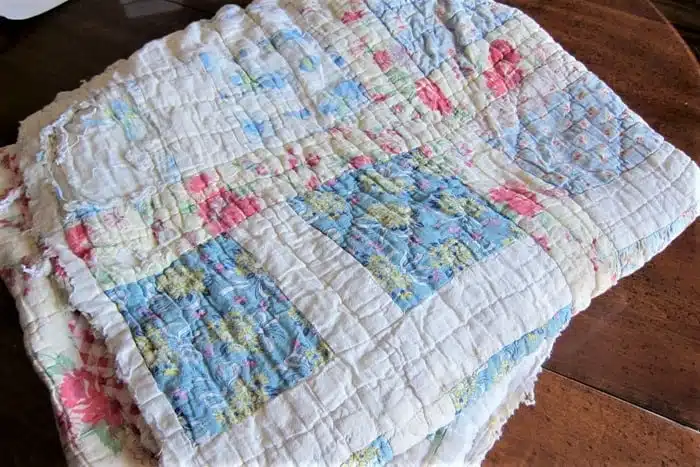 I bought the quilt at the estate sale of a lady who is going into assisted living. The price was $15, reduced from $40. It's a cutter quilt and not in great shape but perfect for craft projects. Sofi takes after her Mamaw when it comes to getting a deal and she checked out the estate sale with me. She bought an electric typewriter in a case for $20 and she's been typing ever since.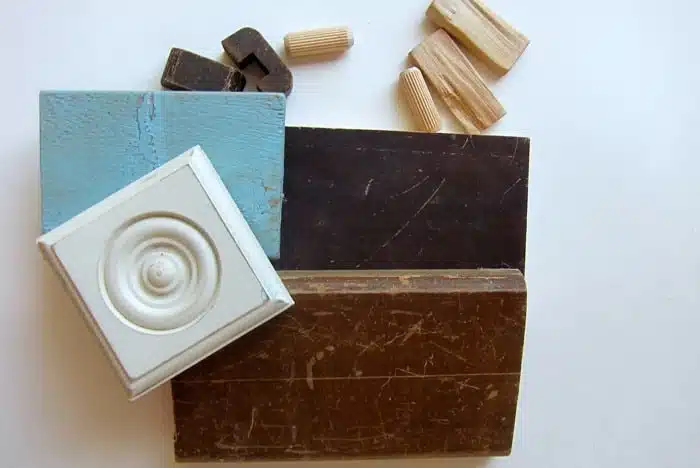 I have to say I'm in love with the quilt pumpkins and I'm going to tell you how I put them together. First I scrounged through my stash of wood looking for the right size pieces to make the pumpkins. I found several pieces in various sizes for the pumpkins and also a few small "stem" pieces.
I chose wood with a flat edge and a nice width so they would stand up on their own. I used several wood rosettes to make painted wood pumpkins last year. Find them here....How To Make Wood Rosette Pumpkins For Fall Decorating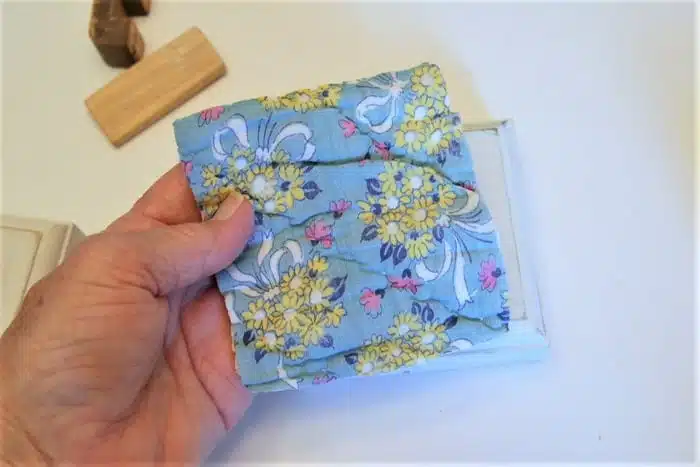 I spread the quilt open and cut 3 pieces the size of my wood blocks choosing various colors and designs that would look good together. Remember we always decorate in odd numbers, hence the three pumpkins.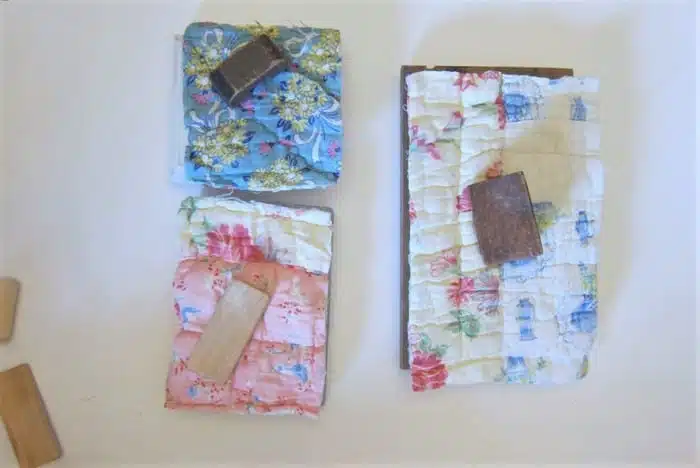 I tried to fray the cut quilt edges just slightly to give the pumpkins a perfectly imperfect look. Then I selected the "stems" for the pumpkins before gluing it all together.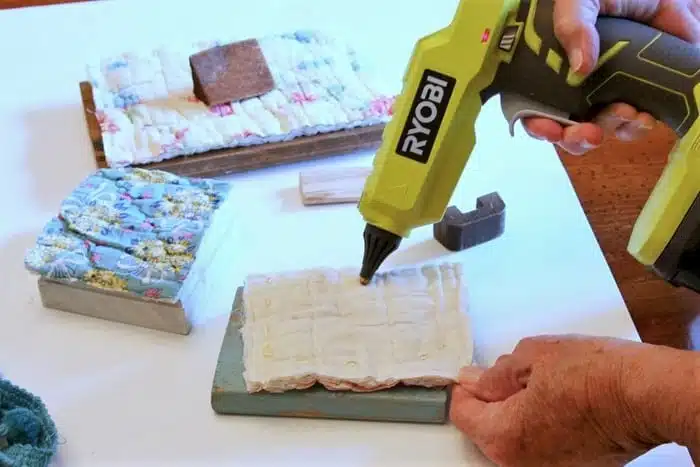 I used hot glue to adhere the quilt pieces and the stems to the wood. My Ryobi battery powered glue gun is my favorite toy. I love that there are no cords and it stands up without falling over! (glue gun on Amazon here)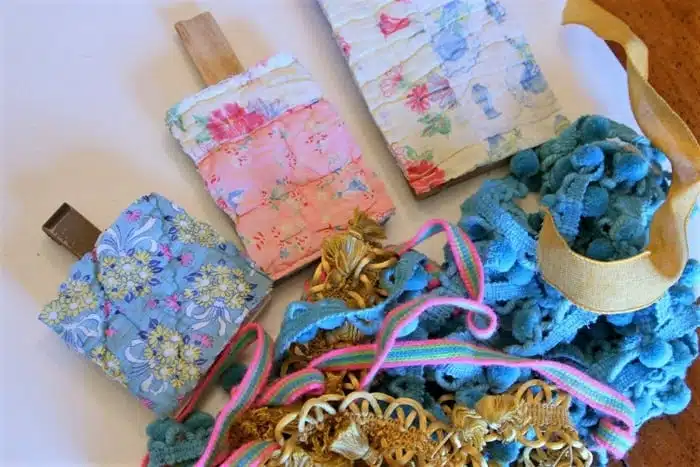 Next I had to decide on faux greenery, ribbons, twine, or something, to add a little oomph to the stems. I was super excited when I ran across that blue pom pom trim in my goodie stash. Perfect pumpkin decorations.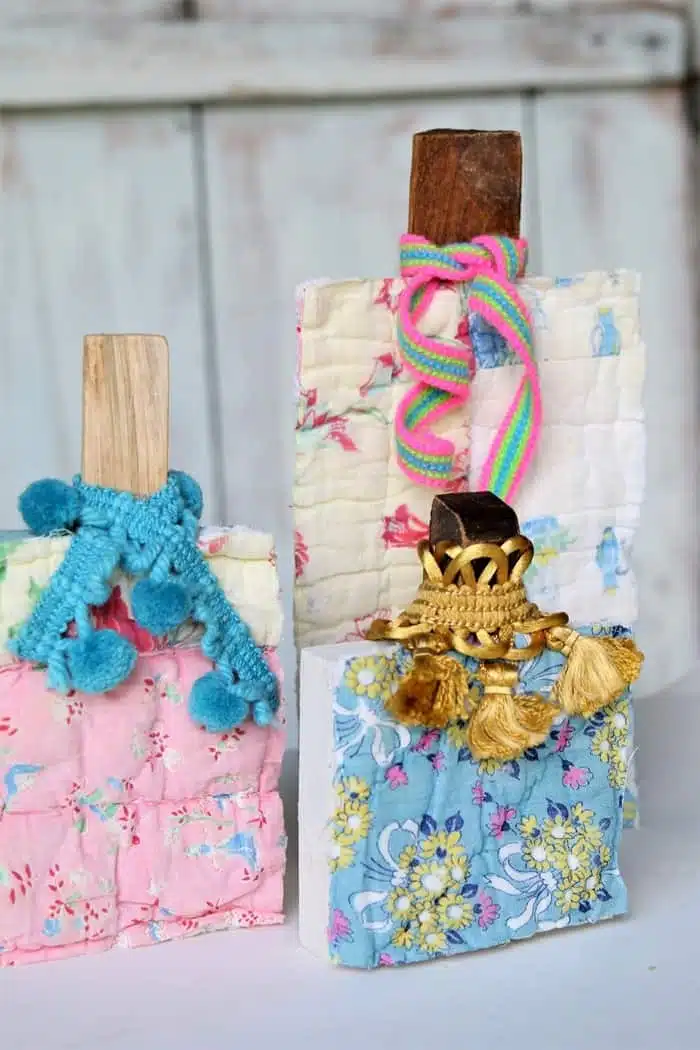 Matching ribbons and trim to the fabric wood block pumpkins was easy. I think the ribbon and pom pom trim would be interchangeable with any of the pumpkins.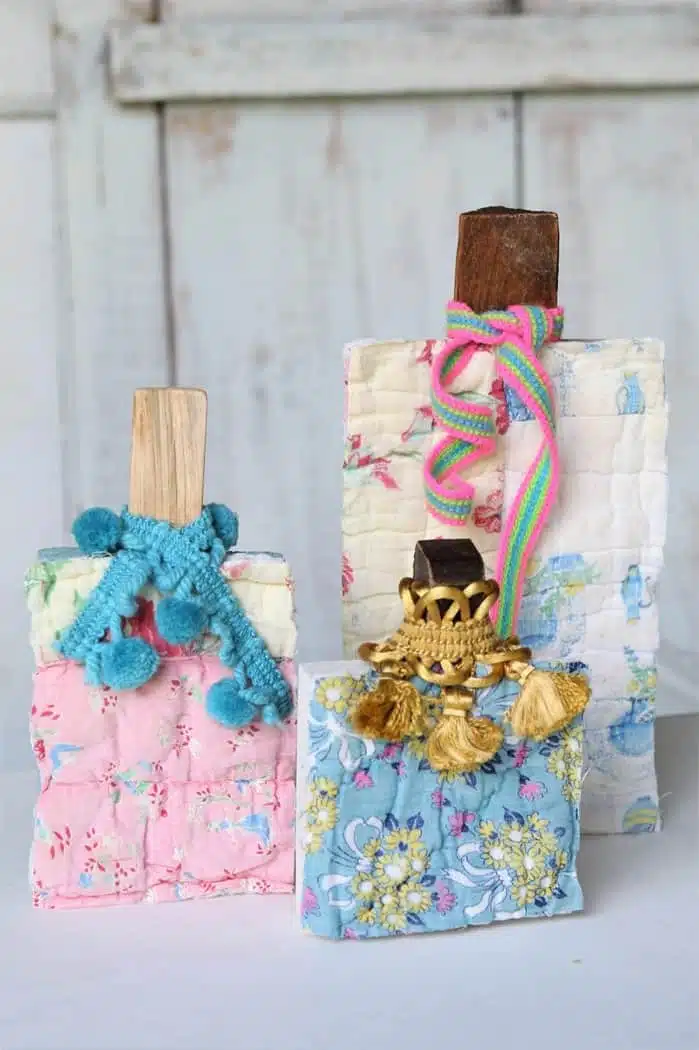 To tell you the truth I can't pick a favorite out of the three. How about you? I can see using the pretty quilt for more projects I just need some ideas.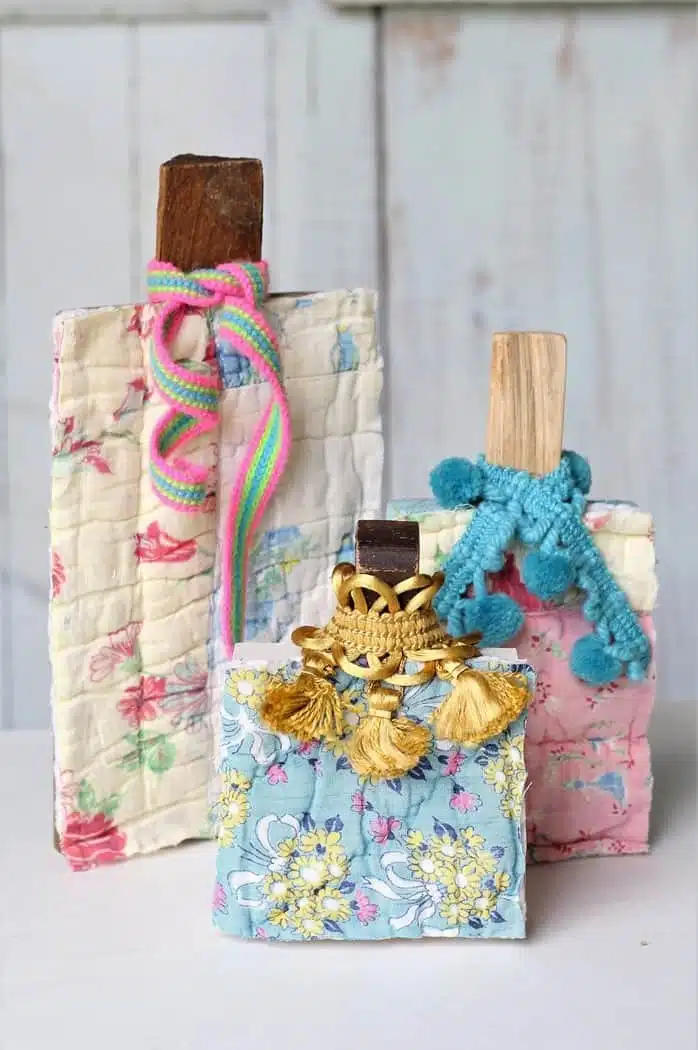 The pom pom trim is too bulky to really tie around the stems so I just cut off a few of the blue pom poms and crossed over the trim at the front of the stem instead of tying it. Because the gold trim was so wide I just wrapped it around the stem and hot glued it down in the back.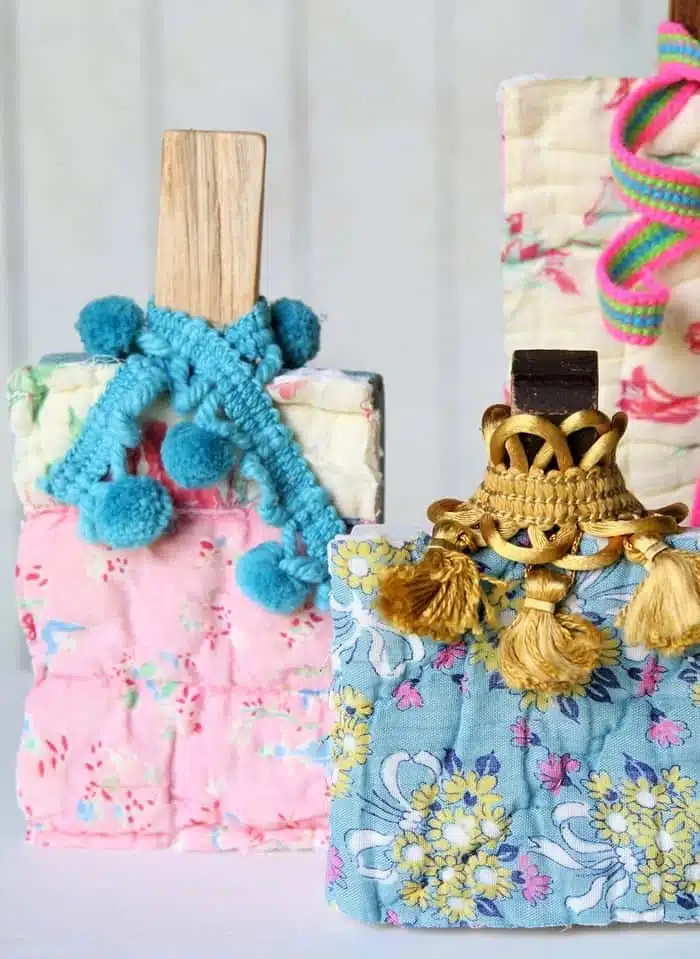 You can find my collection of quilts and some I inherited from my grandmother here......Vintage Handmade Quilts | My Collection Blog Tour
I also made sweater pumpkins a couple of weeks ago. The soft sweaters I found at the thrift store were the perfect color for pumpkins. See the sweater pumpkin tutorial here.....DIY Recycled Sweater Pumpkins With Wine Cork Stems
what do you think about these cuties? Going to try your hand at making pumpkin decor? You can email me with any comments or questions, Kathy@petticoatjunktion.com.
It's time to take the Thrift Store Decor Tour so just click those text links below the "before" makeovers photo collage.....
As always, thanks for being here, Kathy
Author: Kathy Owen (Petticoat Junktion)
Kathy is the founder of PetticoatJunktion.com, a home décor blog focused on repurposing and upcycling furniture, old hardware, rusty stuff, and thrifty finds into unique home décor. Kathy's projects have been featured on the Home Depot Blog, Plaid Crafts, Behr Designer Series, and in numerous magazines. Read more about Kathy here.