Tips for finding estate sales and auctions in your local area or close by. There are many resources for finding local sales you may not know about.
Tips For Finding Estate Sales And Auctions Near You
With diminishing newspaper circulation, we are finding local estate sales and auctions in other ways.
1. Search Estate Sales Online For Sales In Your Local Area
I found the estate sales in Florida on EstateSales.net. I use this site to search for sales near our home too. All you do is put your zip code in the box and a list of cities in your state will come up. Just click on the one nearest you and hope for good results! The estate sales are held in the home of the person downsizing or moving or whatever. Photos of some items for sale will be found under the individual listings.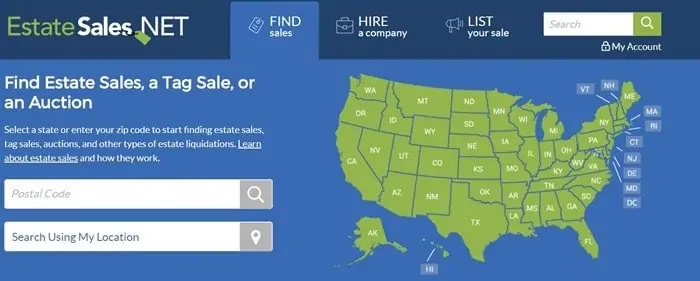 Most of the estate sales listed on this site are run by professional estate sale companies. They go into the home and price everything. Usually the first day, everything is full price, on the second day (or the third day, depending on the length of the sale), everything is 50% off. This is what I've found. It may not be true for every sale.
Craigslist is another online source for finding estate sales, auctions, yard sales, and freebies. Check your local listings for upcoming sales.
Garagesalefinder is another great online resource. Just type in your zip code and find estate sales, garage sales, etc. in your area.
I've visited enough estate sales in my area to know some estate sale companies price things reasonably, and some are a bit high. There is a learning curve to these sales. Also (sorry, I keep thinking of new stuff) if the estate sale starts at 9 a.m., there will be a line of people at the door waiting to get in at 8:45 or earlier.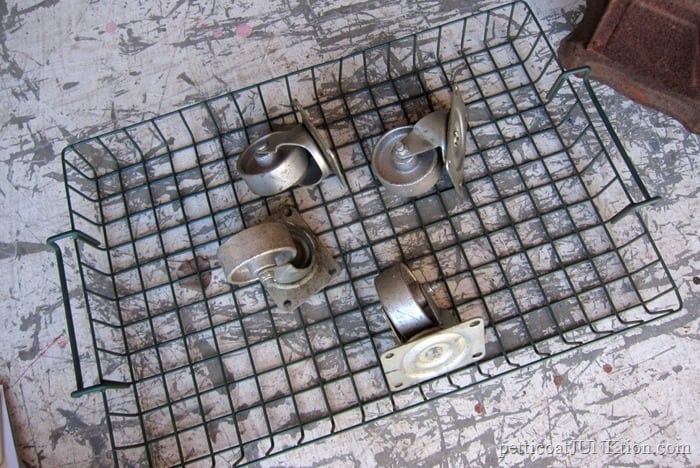 The plastic-coated wire tray and the steel casters came from an estate sale. The casters were $15 for all four and the basket was $4. A good deal on both items.
Estate Sale Listings From Facebook Search
2. Find Estate Sales And Auctions On Facebook
Another place to find estate sales is on Facebook. Just type estate sales and your city or a nearby city in the Facebook search box and see what comes up. The above screenshot shows the listings that came up when I searched for "estates sales Nashville." I like Michael Taylor Estate Sales. His prices are very reasonable.
You can also find auction houses on Facebook. My friend Greg has a weekly auction, and the Facebook page is Red River Auctions. The auctions are live and online. You can live in another state but still bid and have your items shipped straight to you.
3. Search Newspaper Ads For Estate Sales And Auctions
I bought the antique mirror at an estate sale several years ago. This estate sale was listed in the local newspaper and was being handled by the family, not a specialty company. Family-run estate sales are tricky. Usually, the reason for the sale is the death of the homeowner. The relatives handling the sale may not know about pricing, and the prices will be way too high or too low. When the prices are really low, it makes me sad. The relative didn't do their homework or either they didn't care.
4. Look For Local Advertising Circulars
We also have an advertising paper that comes out weekly and has lists of estate sales and auctions. The paper is free and can be found in stands at the drugstore, local restaurants, charity shops, etc. Maybe your area has something similar. Local antique shops and flea markets are good sources for estate or auction flyers advertising special one-time sales. They often have flyers on upcoming sales that people have dropped off.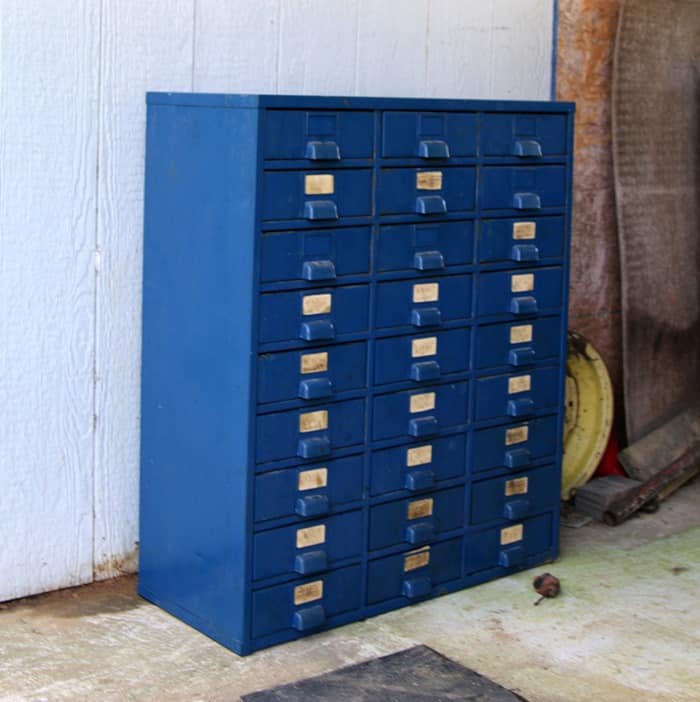 I bought the blue metal cabinet at an auction while in Arkansas several months ago. It was only $40.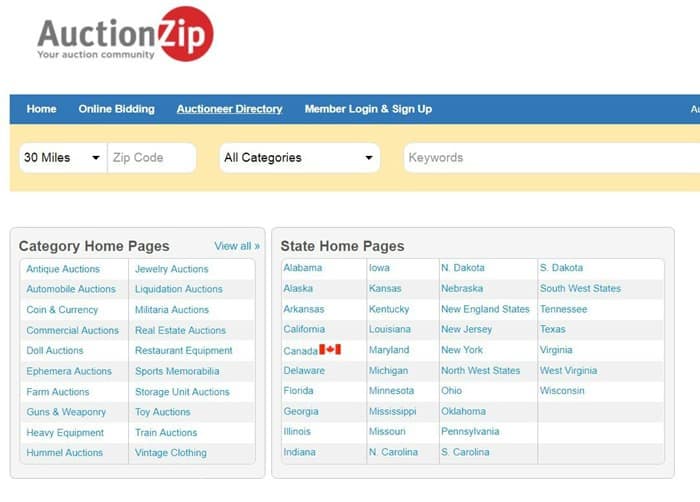 5. Search Auction Zip
AuctionZip.com is a great online site for finding auction listings in your area. Just type in your zip code and select the mile range in the search boxes and see what comes up. You can also filter by categories. This site will have a big list of online-only auctions along with local live auctions. You don't have to be present to bid on and buy items from online auctions. This is great for small items but watch what you're buying because those shipping fees can add up. Most of the listings on AuctionZip will also have photos of the items for sale.
When we lived in Florida, there was a great auction we went to several times a month. Sadly it isn't open anymore. We do go to a weekly auction here in Clarksville on Thursday night, and the JTS and a friend always go to Saturday auctions. I can't take the Saturday auctions. Spending all day at an auction is not my thing.
When I looked at the auction listings over the weekend, I found an auction house we hadn't been to before. We made the hour-long trip Monday night but didn't buy a thing.
This place had really good prices, but the items Monday night were vintage toys and things we really weren't interested in ……….or maybe interested in but sure didn't need. The site had photos of the items, so we knew what would be there. I'm just checking it out, plus we weren't doing anything else Monday night.
6. Storage Units
There are several websites with listings of storage unit sales. I found most of them to be rather useless. The CubeSmart storage auction listings, though were right on the money. They actually have the sales listed by state. When you click a state listing it takes you to the StorageTreasure website with all of the storage listings but I tried going directly to the Storage Treasure website and clicking on the state and came up with no listings. So start with the CubeSmart website first. You can find listings for online storage unit auctions and in-person live auctions too.
7. Google " How to find Estate Sales in my Area"
Let's face it: Google is awesome. If you can't find what you are looking for, try a search with terms like local estate auction or local estate sale, or even estate sales nearby.
That's all I've got. I hope this information helps you guys. Have you used any of these sources or know of sources you could share with us? If I run across new places or if I've forgotten anything, I'll update this post. Thanks for being here, Kathy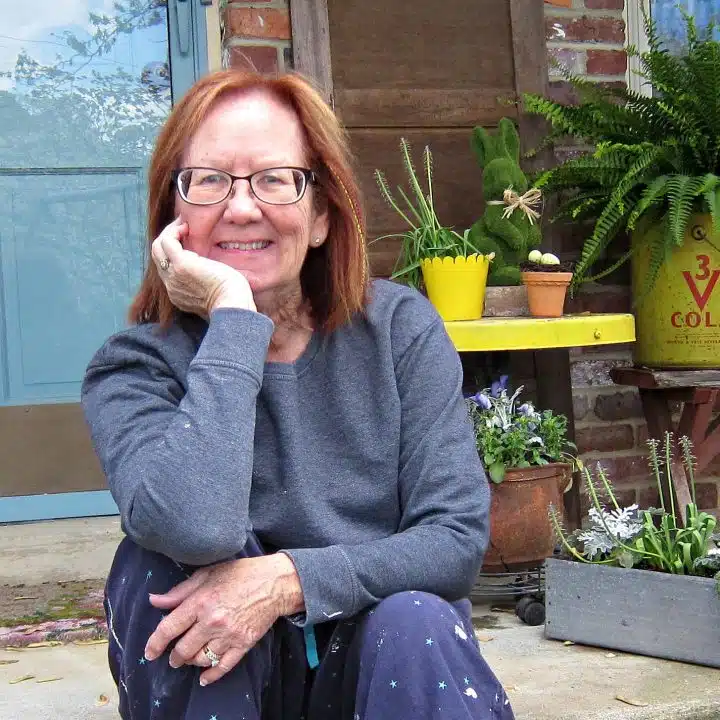 Author: Kathy Owen
Kathy Owen is the founder of the home decor blog Petticoat Junktion where she shares tutorials on painting furniture and upcycling thrifty finds into unique home décor. Her DIY projects have been featured on the Home Depot Blog, Plaid Crafts, Behr Designer Series, and in numerous magazines. Kathy's newest website is HappyHomeDIY.com