Kodiak Island, Alaska, is breathtaking. There is no other place like it in the United States. I thought the island would be terribly cold, but it has a temperate climate. I took hundreds of photos trying to capture the majestic landscape, but the photos don't come close to showcasing the beauty of the island.
Kodiak Island
Kodiak Island, at 3,670 square miles and more than 100 miles long, is Alaska's largest and second-largest island in the United States.
Kodiak Marina
Kodiak has a full range of dockage, boatyard, and marine services for commercial fishing, cargo, passenger, and recreational vessels.
Walking The Beach
The City of Kodiak is situated on the northeast corner of Kodiak Island. Kodiak Island itself is part of an archipelago that consists of 25 islands. The island is part of the state of Alaska but can only be reached by plane or boat.
Snow Capped Mountains
We drove from one end of the island to the other and up and down the mountains. As you can see from my photos, Kodiak Island has a bit of everything, including mountains, forests, and historic sites.
Buffalo On Kodiak Island
Four herds of plains bison totaling about 900 animals graze in Alaska. According to the Alaska Fish And Game Commission, Bison hunts are among Alaska's most popular drawing hunts. There are only 100 tags available each year for the bison hunt and a lottery is held to decide who gets the tags.
Tiny House
We passed this little whimsical house on one of our driving tours of the island.
Coast Guard Ship
Kodiak Island is home to the largest Coast Guard base in the United States, which includes Coast Guard Base Kodiak, Coast Guard Air Station Kodiak, Aids to Navigation Station Kodiak, and Communications Station Kodiak occupying 23,000 acres.
Mountains
Kodiak Island is very mountainous and has 85 named peaks. The highest is Mount Katmai at 6716 ft. about sea level.
Kodiak Is Green
Like much of the Kodiak Archipelago, the southwestern two-thirds of the island is part of the Kodiak National Wildlife Refuge. It is the homeland of the Alutiiq Sugpiaq peoples, located in the Gulf of Alaska, 30 miles from mainland Alaska, across the notoriously temperamental Shelikof Strait.
Scenic View
The eastern coast of Kodiak Island is heavily forested. The valleys and lower slopes are covered by sand and gravel from glaciers.
Wind Turbines
The wind farm on Pillar Mountain above the city of Kodiak has six wind turbines. The wind-hydropower-diesel system at Pillar Mountain, AK, provides the residents of Kodiak Island, the second-largest island in the U.S., with almost 100% renewable and reliable energy.
Beware Of Bears
Kodiak Island is best known for the Kodiak Brown Bear. There are approximately 3500 Kodiak bears in the Kodiak National Wildlife Refuge.
House On Kodiak
Approximately 13,500 people live on Kodiak Island. The majority of the residents live around the city of Kodiak.
Hiking
The many hiking trails on Kodiak have varying degrees of difficulty and lengths. Don't forget your Bear Spray if you are camping, hiking, fishing, or just spending time outdoors on Kodiak Island. Bear Spray is a deterrent made of red pepper oil and if used properly, it can fend off an aggressive bear.
Take A Tour of Graceland In Memphis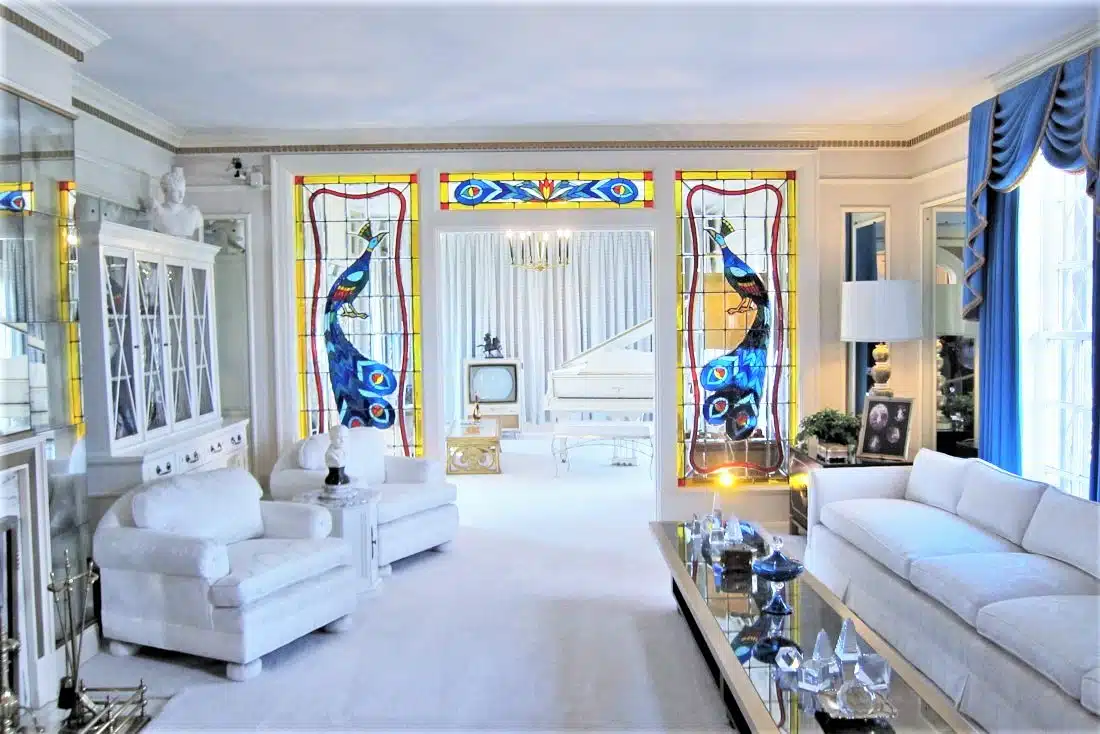 Touring Graceland in Memphis was the highlight of our Memphis vacation.
See Elvis Presley's Graceland Mansion In Memphis Through The Eyes Of A Tourist
Author: Kathy Owen (Petticoat Junktion)
Kathy is the founder of PetticoatJunktion.com, a home décor blog focused on repurposing and upcycling furniture, old hardware, rusty stuff, and thrifty finds into unique home décor. Kathy's projects have been featured on the Home Depot Blog, Plaid Crafts, Behr Designer Series, and in numerous magazines. Read more about Kathy here.