Photo tour of Bonaventure Cemetery statues, gravestones, decorative iron art, and more. If you enjoy history and visiting cemeteries, then Bonaventure Cemetery in Savannah, Georgia, is a must-see.
Bonaventure Cemetery
Bonaventure Cemetery is located on a bluff overlooking the Wilmington River. It is a public cemetery and contains 160 acres.
Large Statues and Monuments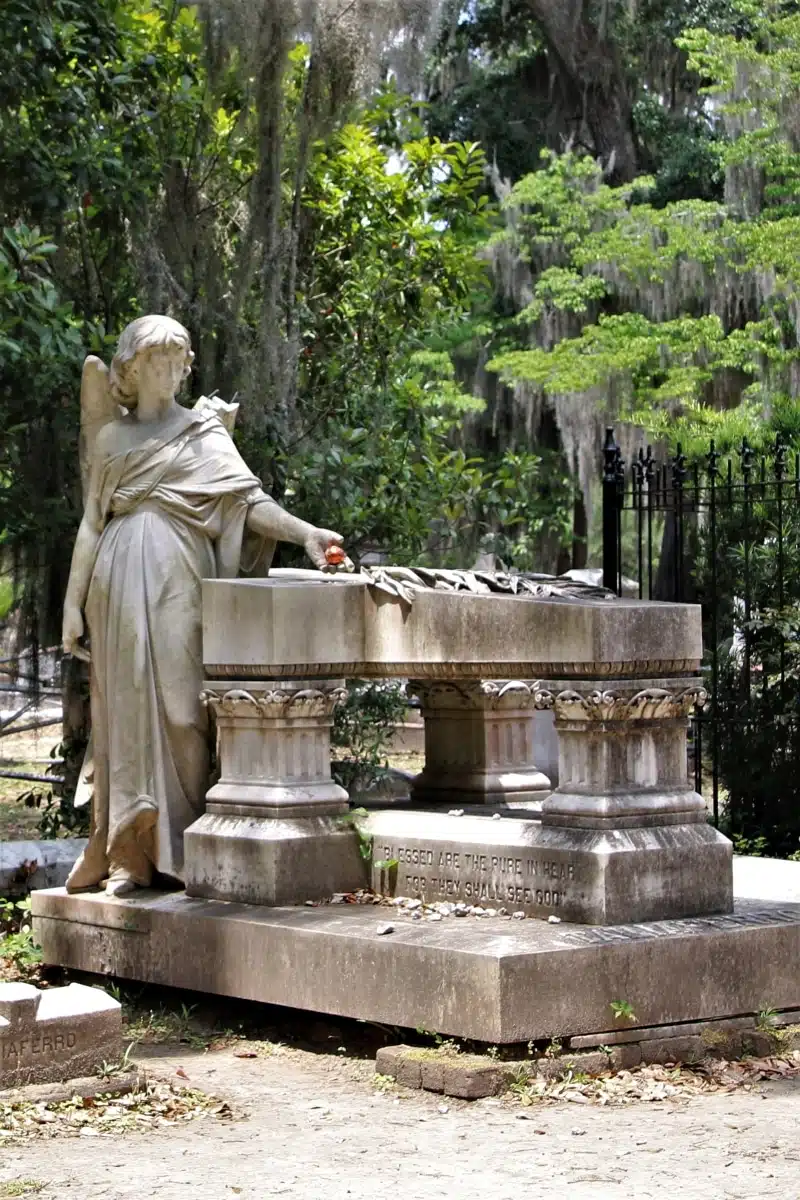 Bonaventure began as a private cemetery on a plantation owned by John Mullryne (early to mid-1800s). The first person was interred in the cemetery in 1802.
Unique Obelisk Type Monument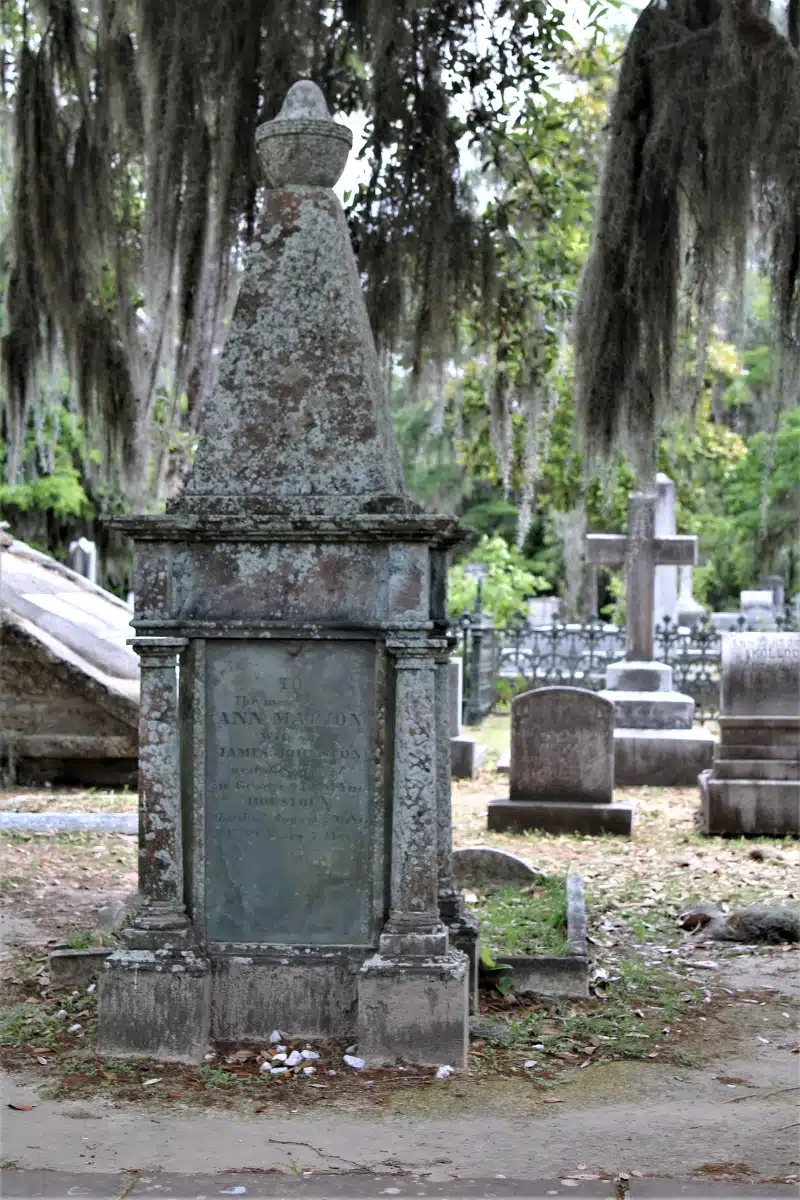 I visited Bonaventure while we were staying on Tybee Island. Hubby didn't tour the cemetery with me. He was worn out after several days of sightseeing in Charleston and Savannah.
Charles Arnold and Mary Ellen Arnold Monuments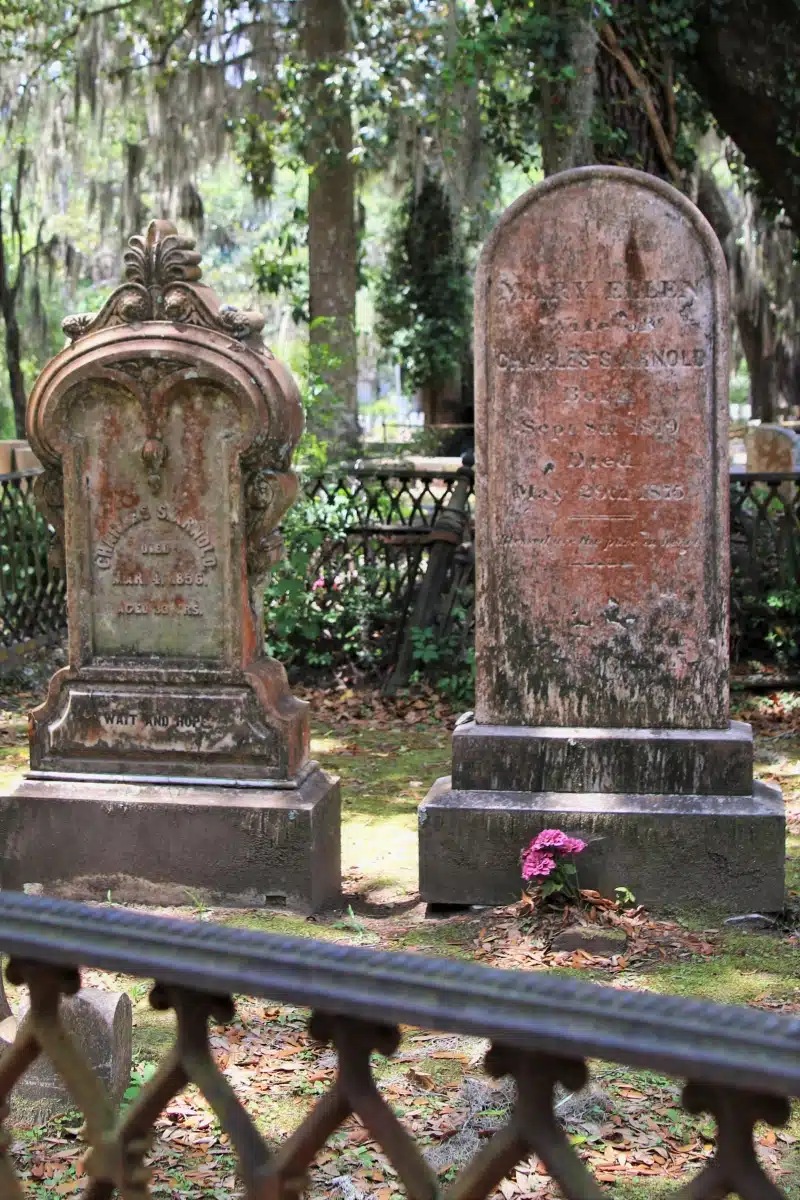 We walked and walked, toured plantations, and visited historical sites for six days, so he elected to stay at the cottage and recuperate. He was done. I loved the colors on these two stones. I don't know what the original finish looked like but the weathered patina is perfect.
White Marble Statues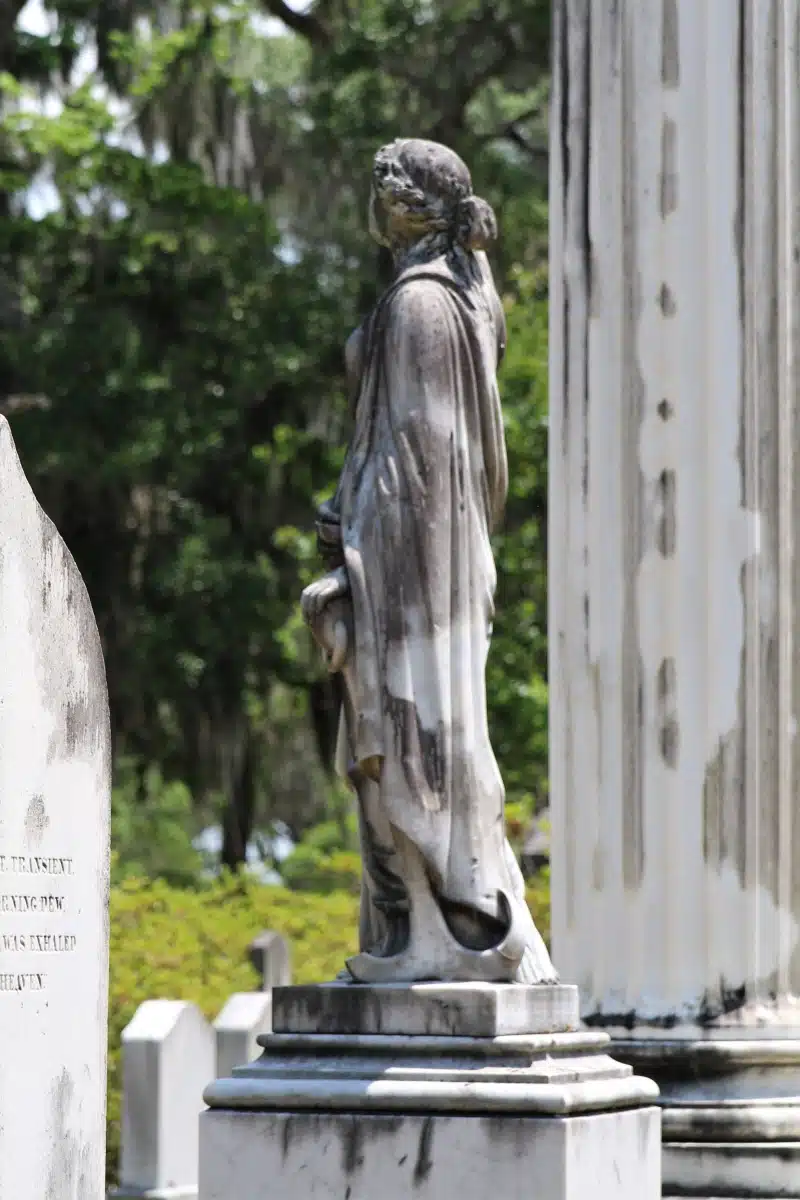 I thought this area was stunning….all of the white marble …the statue…...and the tall column (not all in the shot).
George Beckman Gravestone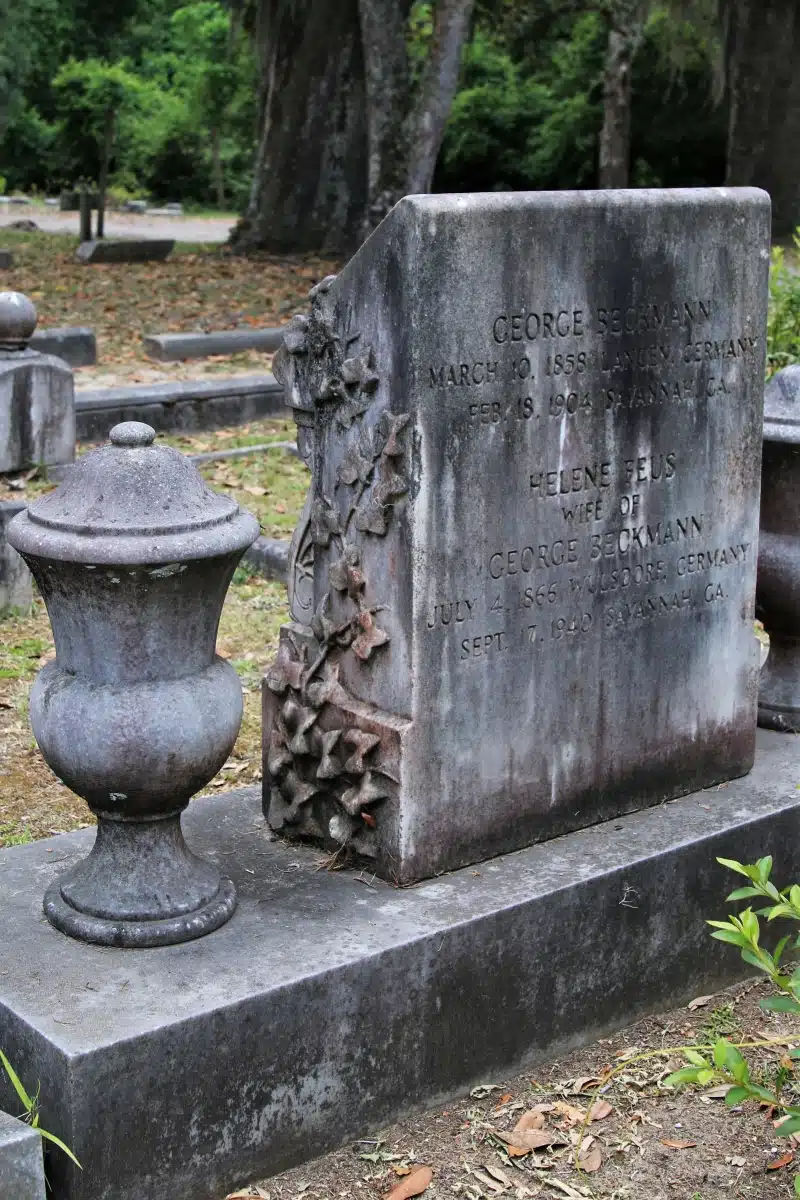 I took a ton of photos, and I'm sharing just a few of my favorites. The detail on the side of this headstone was interesting. Never did decide what it was meant to be. Maybe ivy?
Small Pebbles on Gravestones
I noticed many of the headstones had pebbles or small rocks on them. I did a little research and learned this is a Jewish custom. One of the most common Jewish cemetery customs is to leave a small stone at the grave of a loved one after saying Kaddish or visiting. Its origins are rooted in ancient times and throughout the centuries the tradition of leaving a visitation stone has become part of the act of remembrance. source
Graves of Peter and Mary Schafer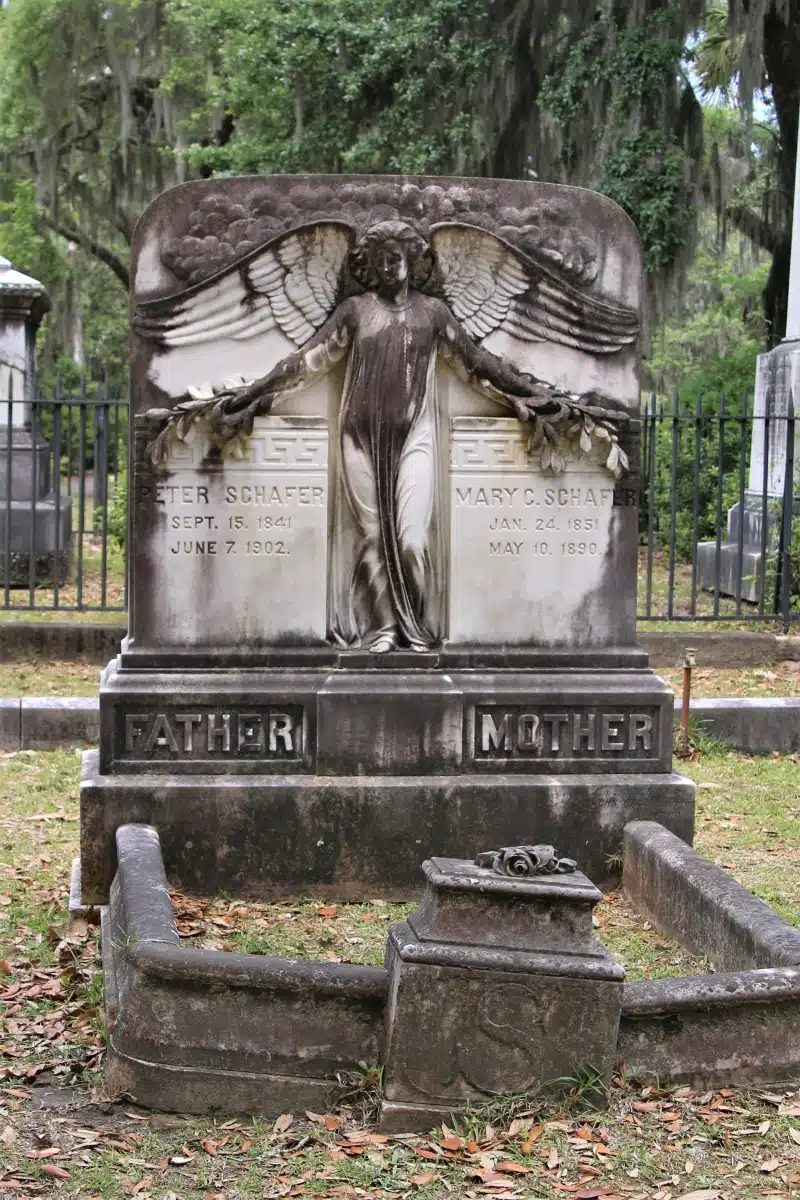 I spent 2-3 hours in the cemetery, so I only saw a small percentage of it. I went to the oldest section, which was highlighted on the brochure.
Cross Monuments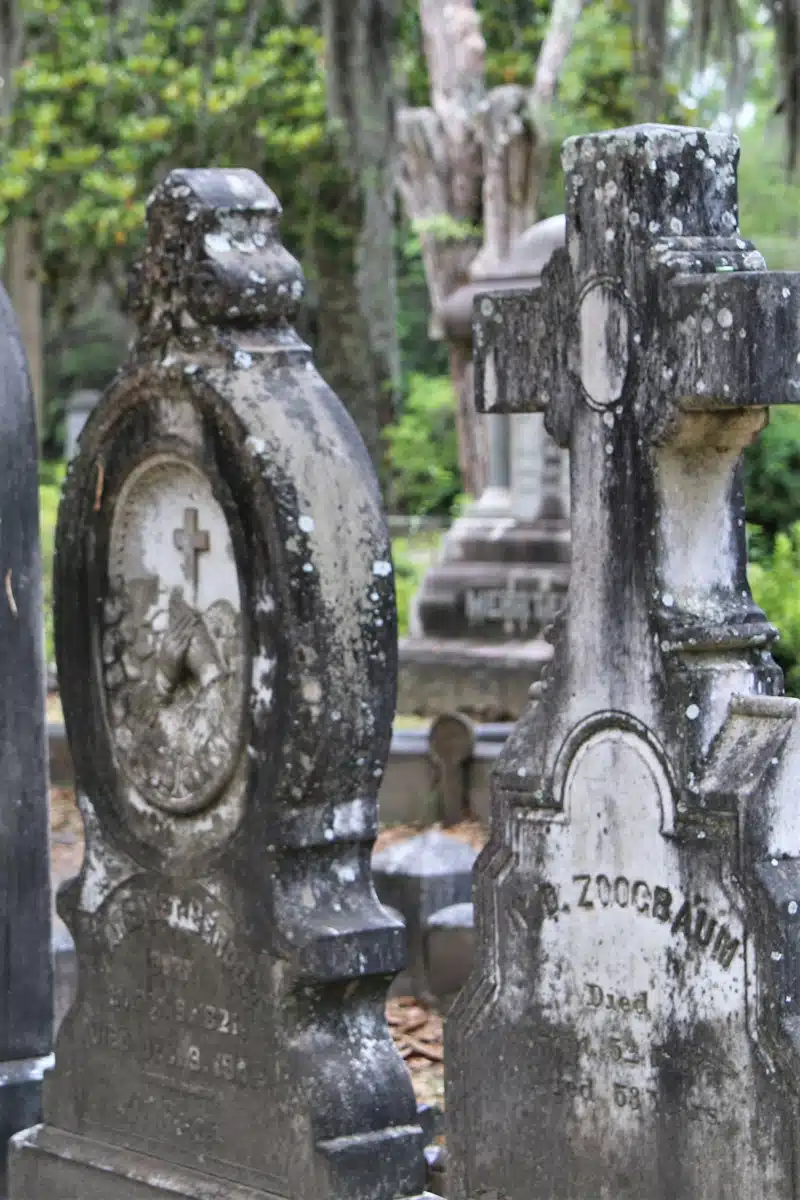 The cemetery is free to visit and is still in use for burials. The monuments in the cemetery are truly memorable.
Grave Cradles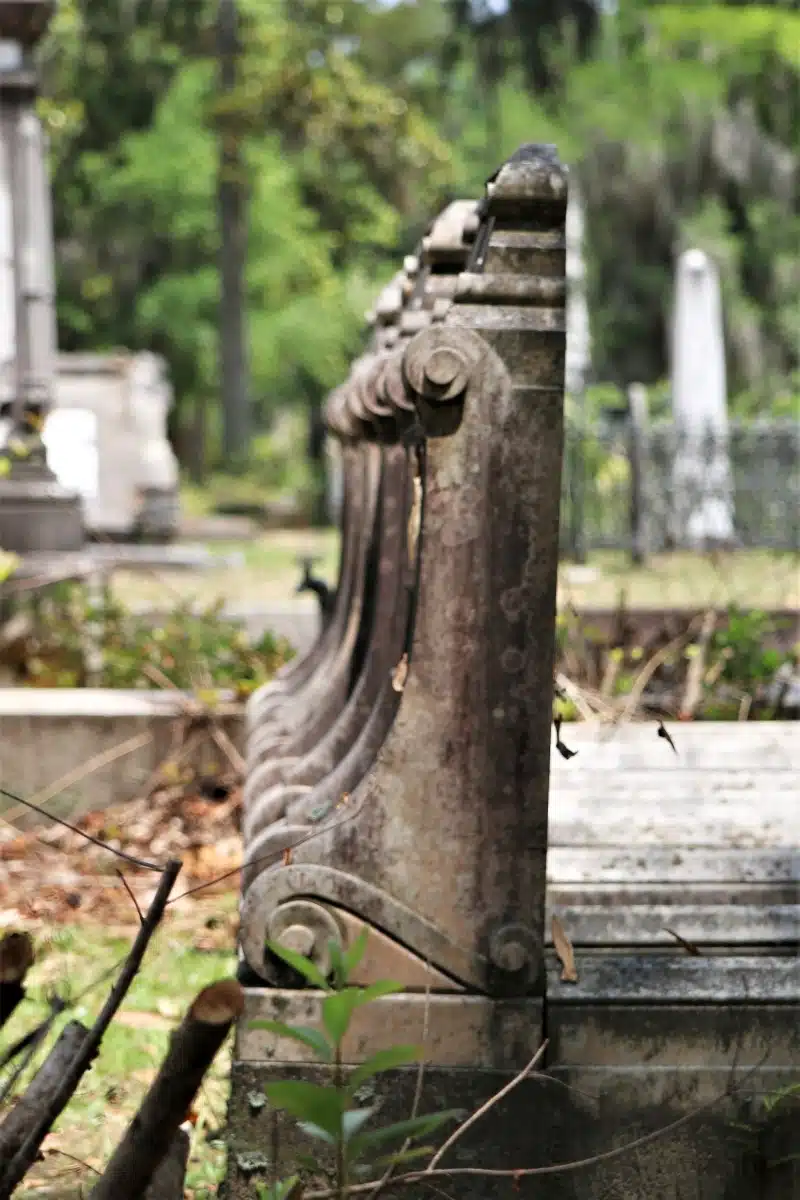 Wouldn't you like to know the history of the monuments themselves? Like who made them, how long the process took, and what the cost was.
Holcombe Family Plot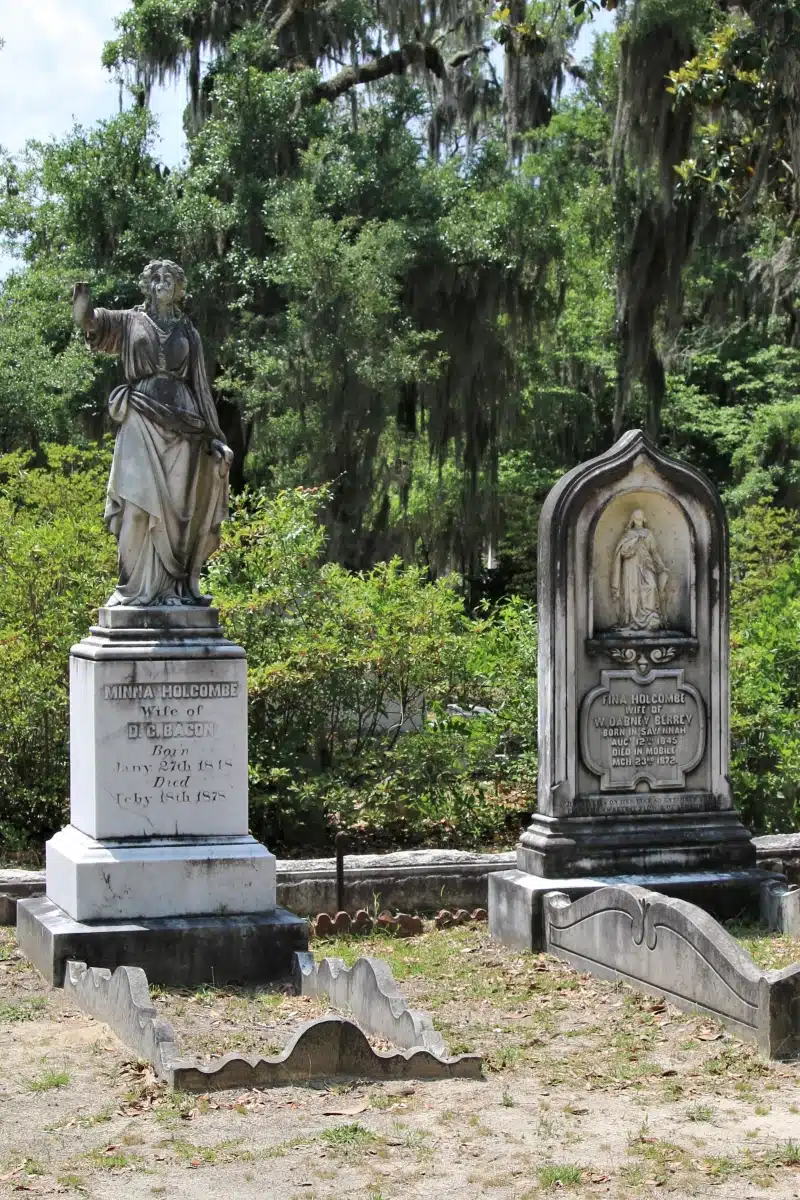 Minna Holcombe Wife of D.C. Bacon (passed away Feb 18, 1878). I'm not sure if the lady was originally holding a lantern, a cross, or something else. Sad that some of the statuary in the cemetery is damaged.
Lucy Bell Statue Monument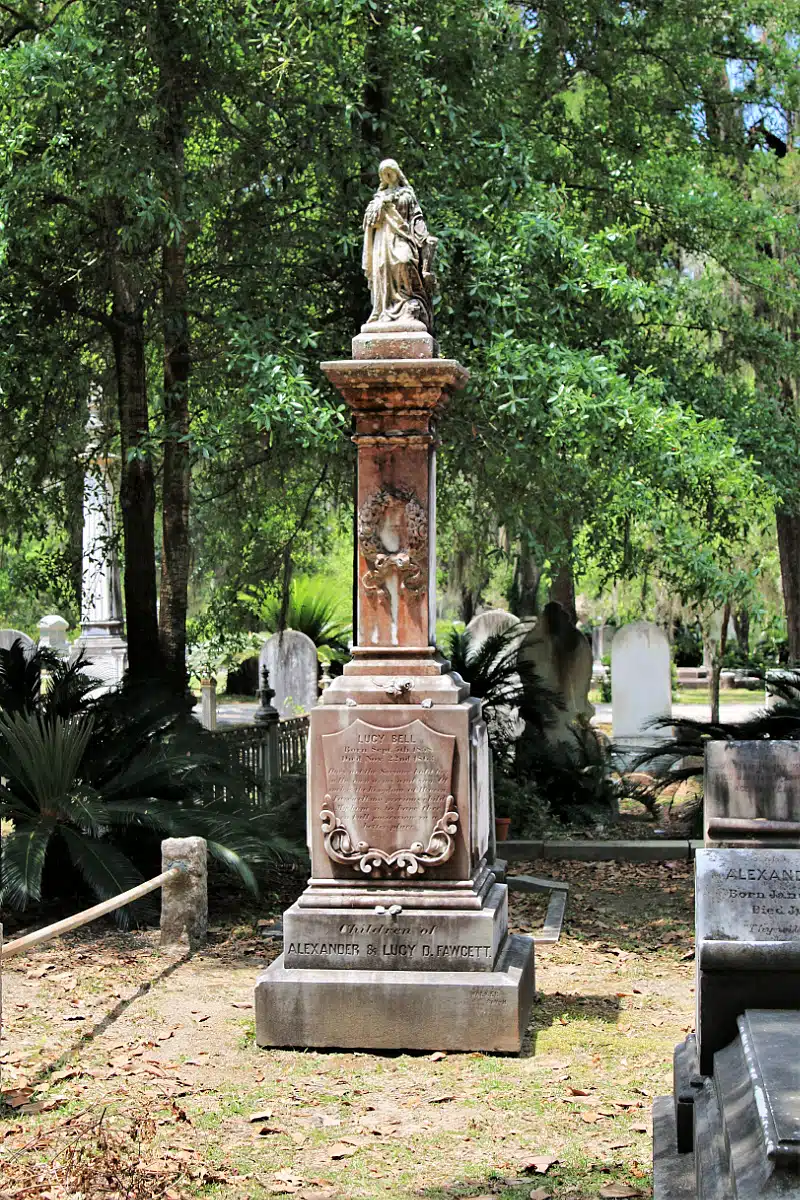 The Lucy Bell statue or monument is one of my favorites. The detail on the stone is amazing.
Herbert Hardee Monument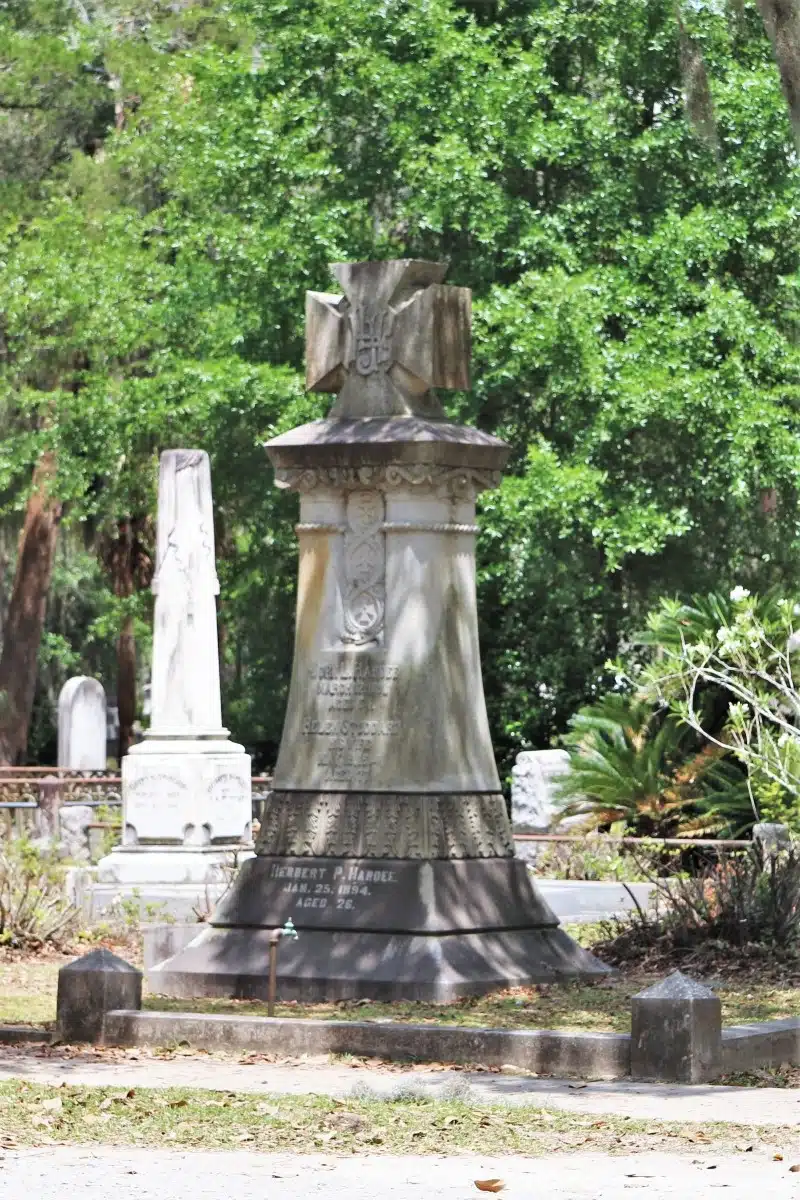 This young man died in 1894 at 25—certainly an interesting monument or gravestone.
Smith Livingston Monument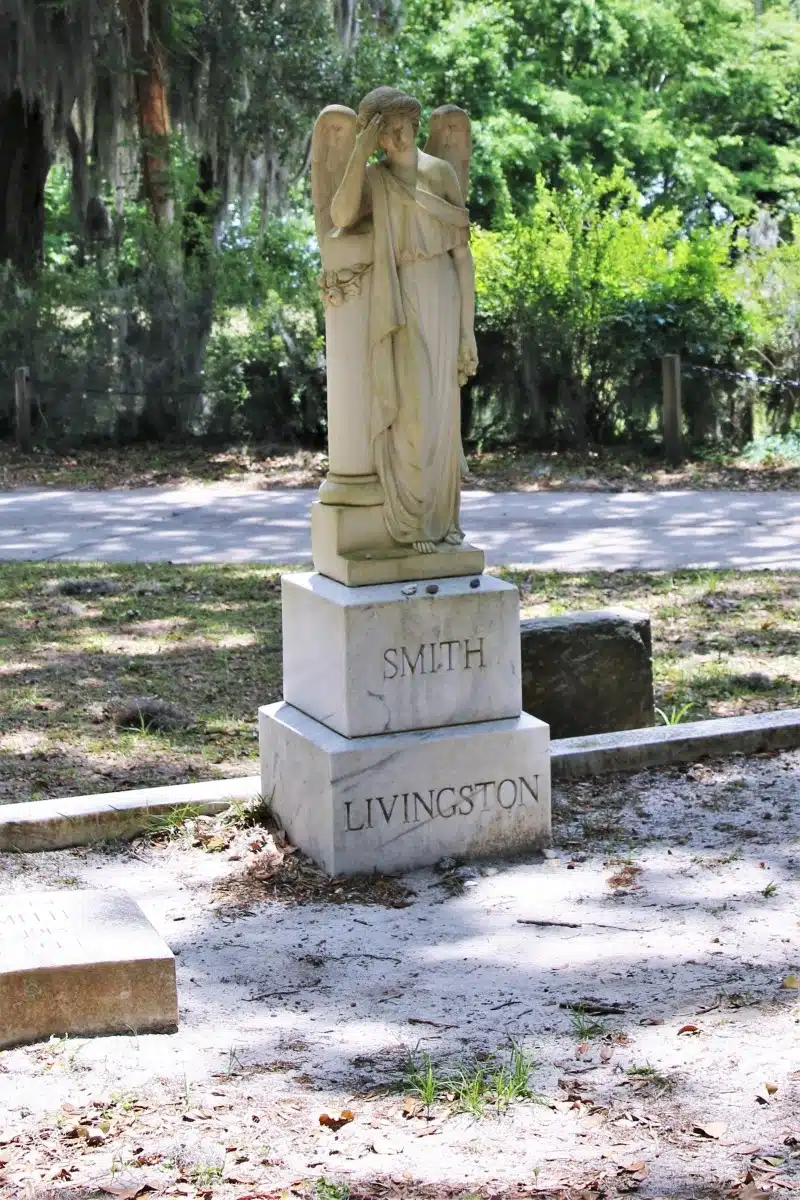 The cemetery became famous when featured in the novel Midnight in the Garden of Good and Evil —such a sad-looking angel. Just touches my heart.
Famous Upchurch Monument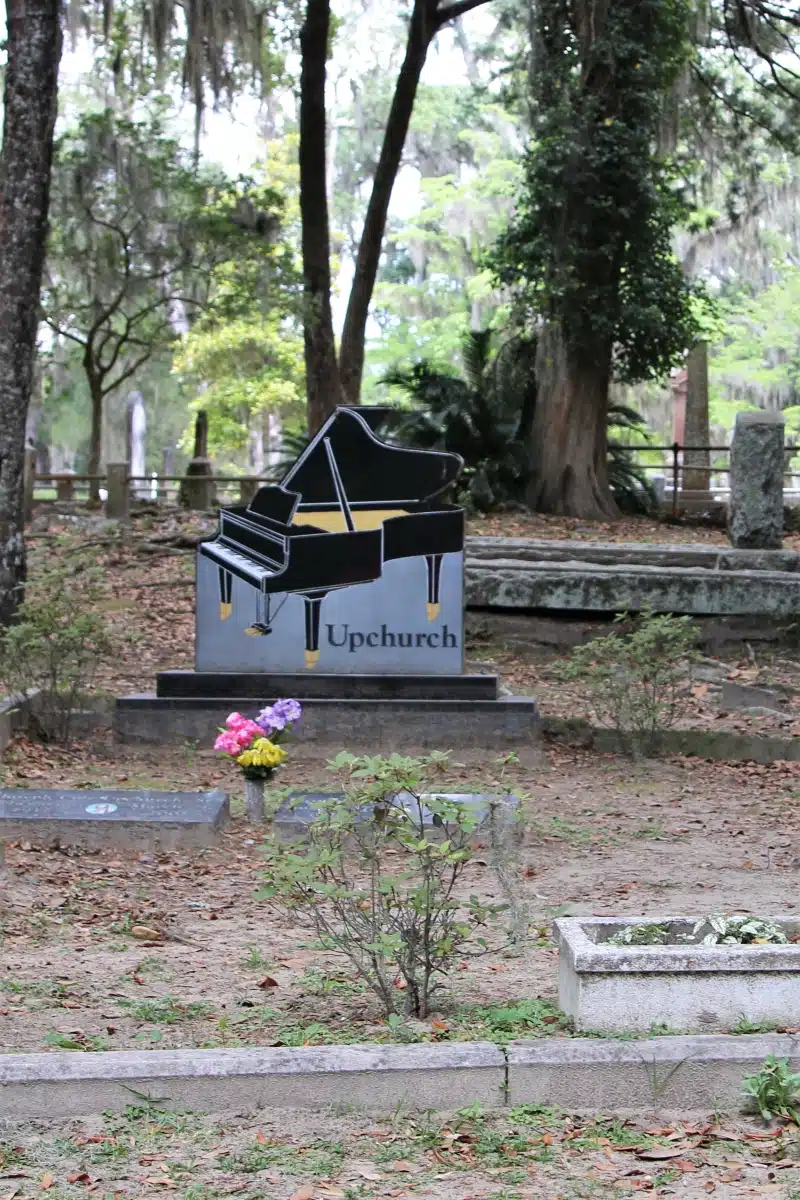 If you visit Savannah, Tybee Island, or nearby areas, I would recommend taking a tour of the cemetery. Even if you just drive through. I think you will find it worth your time.
Greenery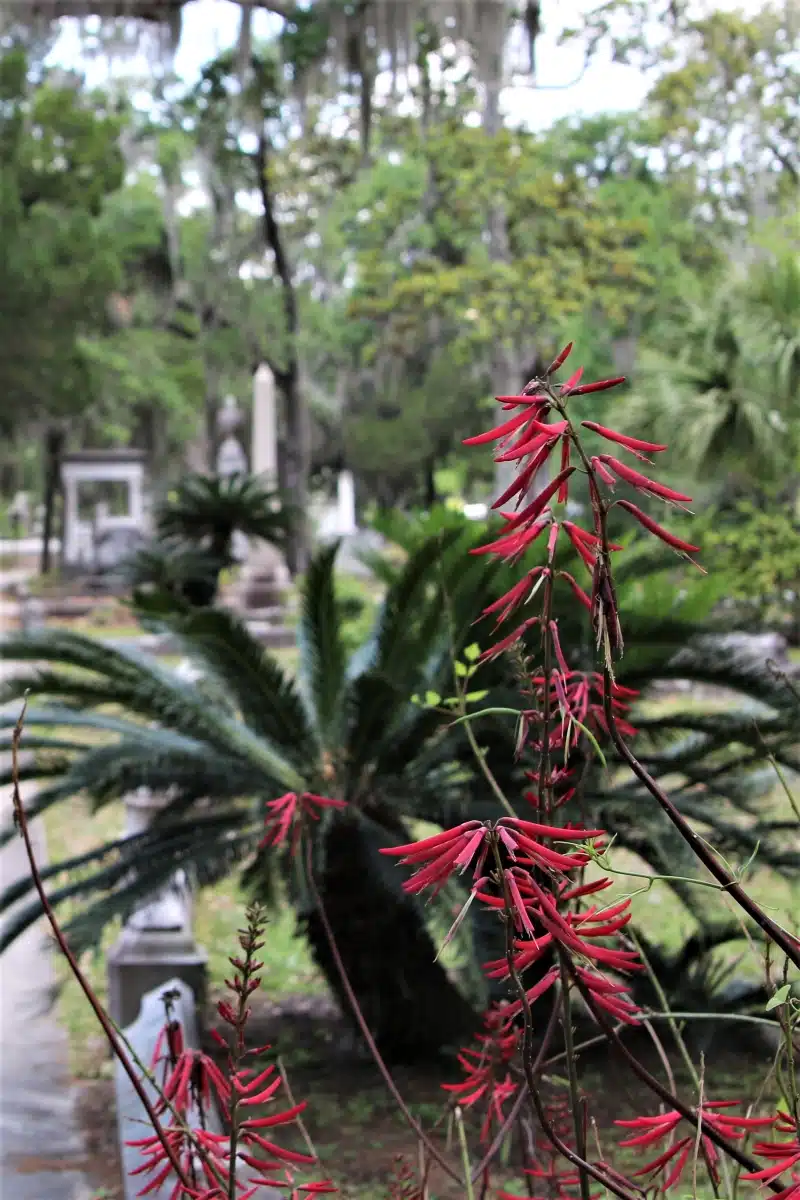 Bonaventure is on the river, and being near the ocean, there are a number of tropical plants.
Drayton Hall - Charleston
You might also like to see Drayton Hall and old plantation we visited in Charleston. Drayton Hall is one of the most remarkable houses in North America. You can see my tour here....What Natural Patina Looks Like | Drayton Hall
Another architectural wonder I would love to visit is way up North of us. Have you heard of Boldt Castle? I read about the castle (here) and it sounds like a place I would love to tour.
Thanks for being here, Kathy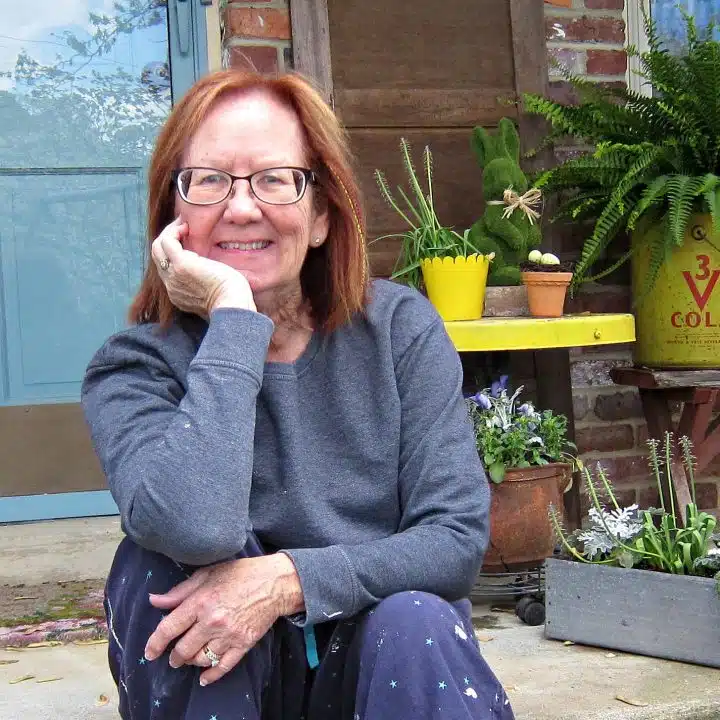 Author: Kathy Owen
Kathy Owen is the founder of the home decor blog Petticoat Junktion where she shares tutorials on painting furniture and upcycling thrifty finds into unique home décor. Her DIY projects have been featured on the Home Depot Blog, Plaid Crafts, Behr Designer Series, and in numerous magazines. Kathy's newest website is HappyHomeDIY.com