You can make these wood rosette pumpkins. They are so easy.....and so fun. I made some of the wood pumpkins back in 2014 and decided it was time to use the rest of my yard sale rosette blocks. I made 18 wood pumpkins, 3 reclaimed wood pumpkins and 15 wood rosette pumpkins. They're painted various colors and have pretty ribbon decorations.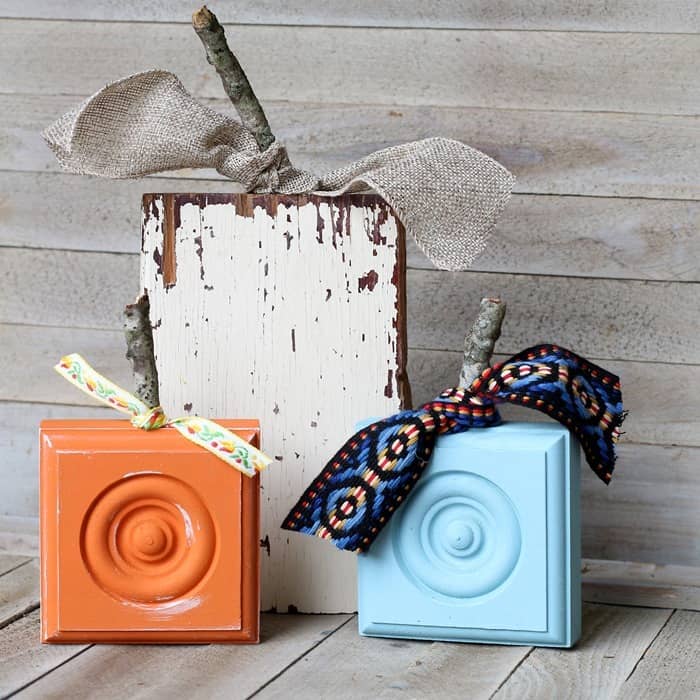 I dug through my reclaimed wood stash and found 3 old pieces of wood that made perfect pumpkins. I had to spruce up the wood a bit but that wasn't a problem.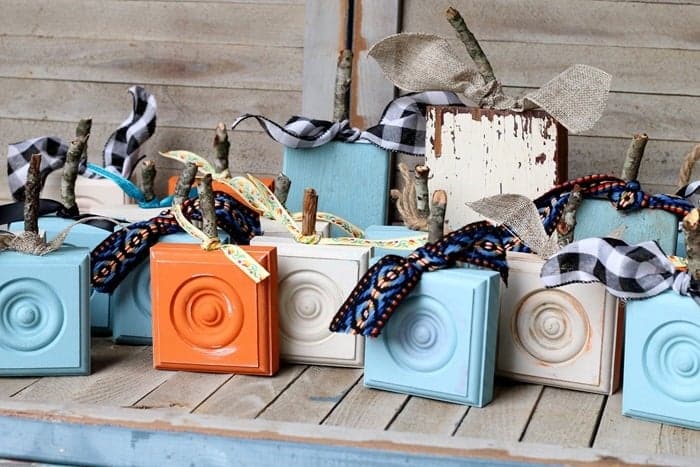 What do you think of all that pumpkin goodness? The wood squares with the rosette design in the middle are corner molding.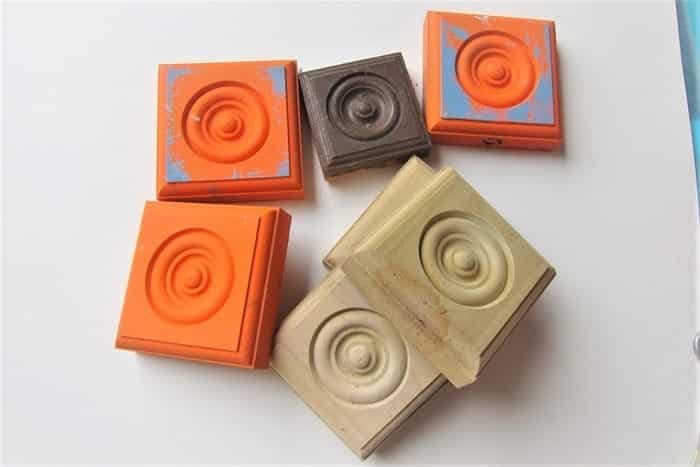 I have a box full of the blocks. This is the only repurpose idea I can come up with for the them. Maybe you guys can give me some ideas. The orange painted blocks are from my last pumpkin project. I removed the stems and ribbons after the Fall holidays last year and threw them back in the box waiting on the next project idea. So far I haven't come up with another idea. I painted over the orange blocks with a new orange color.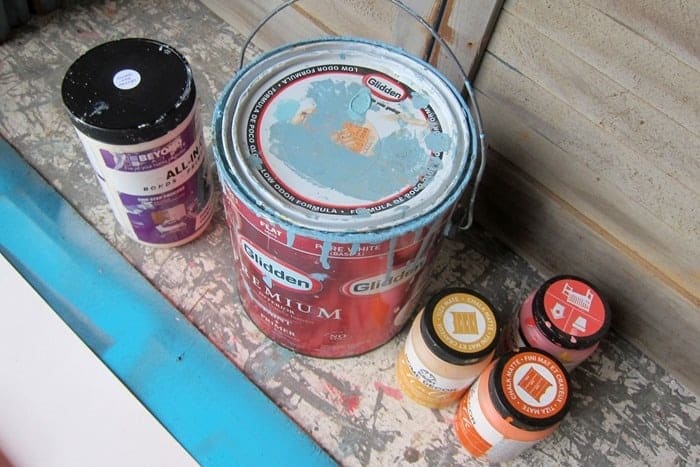 I decided on off-white, orange, and blue for the pumpkin colors. The blue is the oops paint I bought years ago and still love. I wasn't sure which orange color would work and I pulled out three colors to try. Turns out the FolkArt Outdoor paint in Monarch was the perfect shade.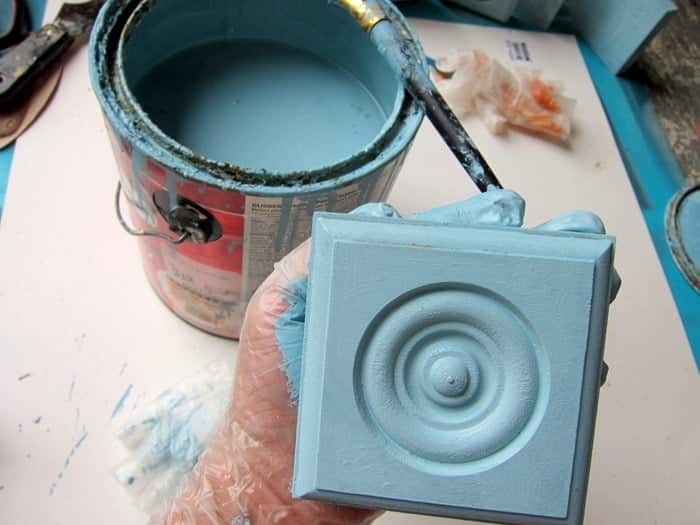 The blue oops paint is a flat sheen and I think that's why I like it so much. Plus it's a soft blue that has a nautical feel. Before I finish off the gallon of paint I need to take a sample of it to Home Depot and have some more paint mixed up.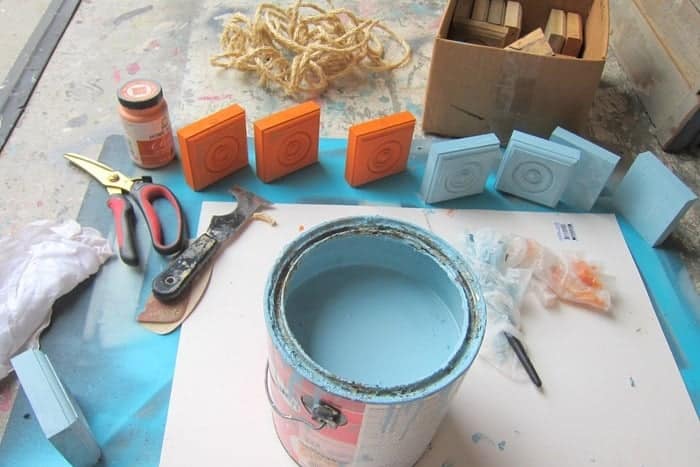 If you are going to work on a small craft like this one you might as well work in bulk.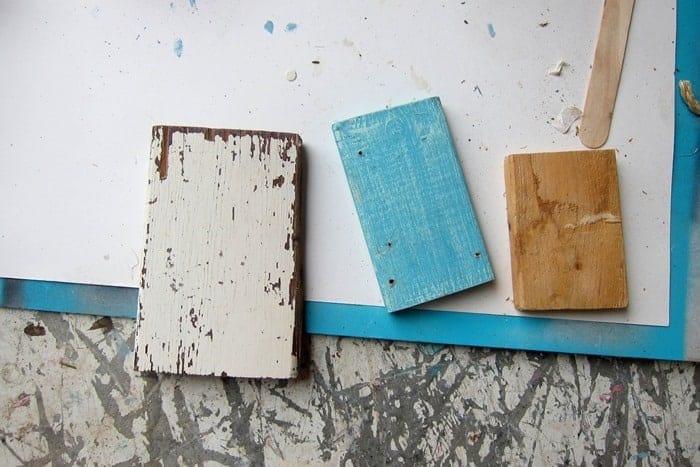 The photo above shows the three pieces of reclaimed wood I found in my stash. The large white piece is split and uneven on one side but that's okay. It will make a nice pumpkin. The chippy paint got cleaned up then aged a bit more with dark wax.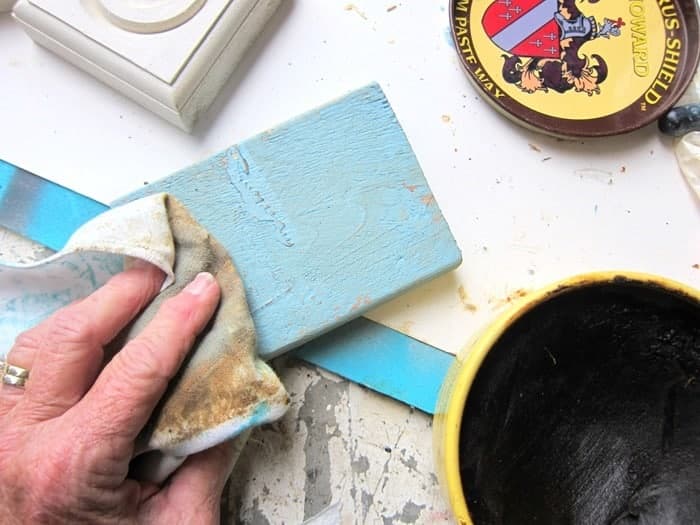 I painted the two smaller reclaimed wood pieces my favorite blue color then distressed with sandpaper and gave them an aged look with Howard's Wax, Walnut color.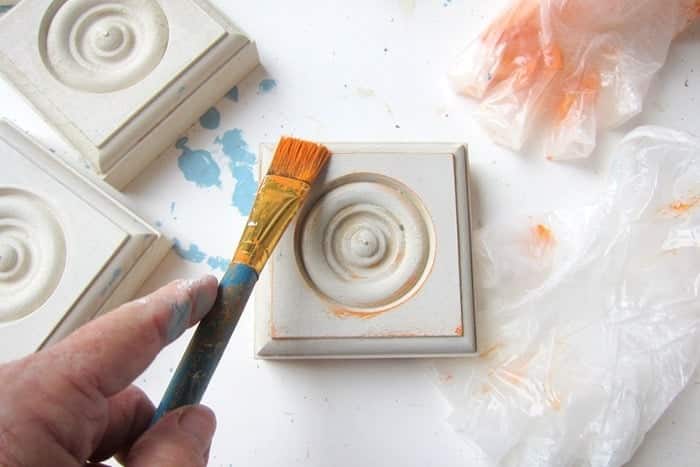 I dry-bushed a bit of orange onto a white pumpkin or two and onto a blue pumpkin then I dry-brushed a bit of white on some of the orange and blue pumpkins.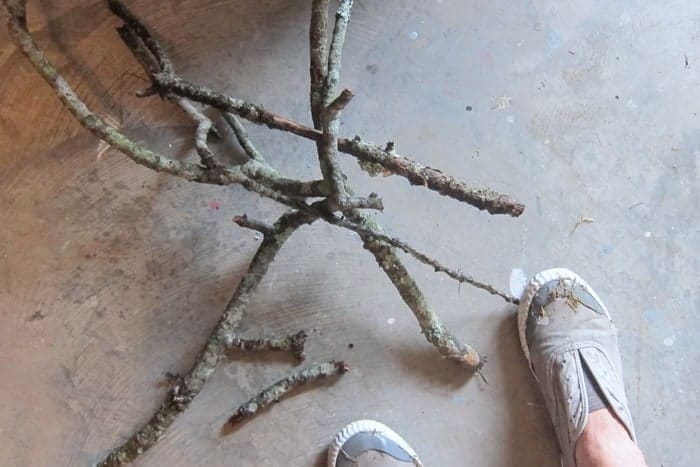 I took a walk down the street in the rain to gather a few tree branches off the street to make pumpkin stems. This would be the one time we didn't  have any branches in our yard.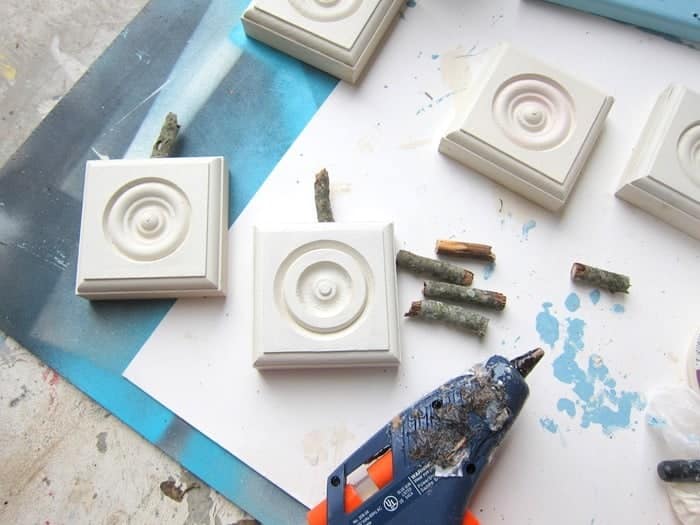 I used hot glue to adhere the "stems" to the wood blocks.
Then I gathered ribbon from my stash and hot glued the ribbon to the blocks.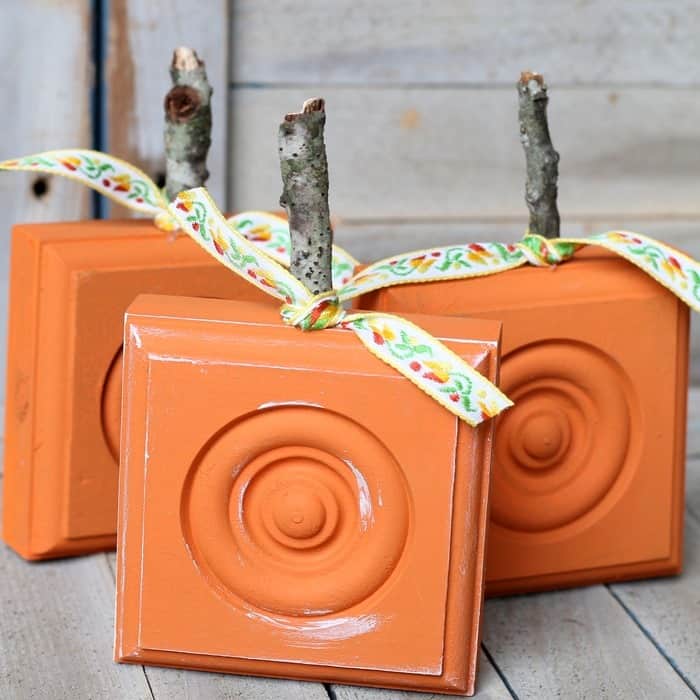 The three orange blocks got the yellow, orange, and green flower design ribbon.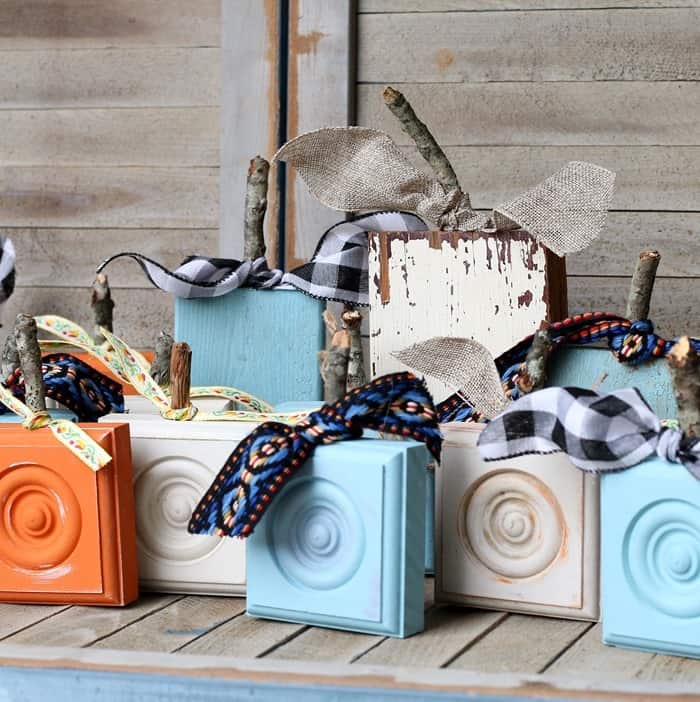 The rustic off-white wood rosette pumpkin on the right got a bit of distressing and then a little dry-brushing with orange paint.
The two multi-colored ribbons were thrift store buys. The buffalo check ribbon and the light brown neutral ribbon were purchased new.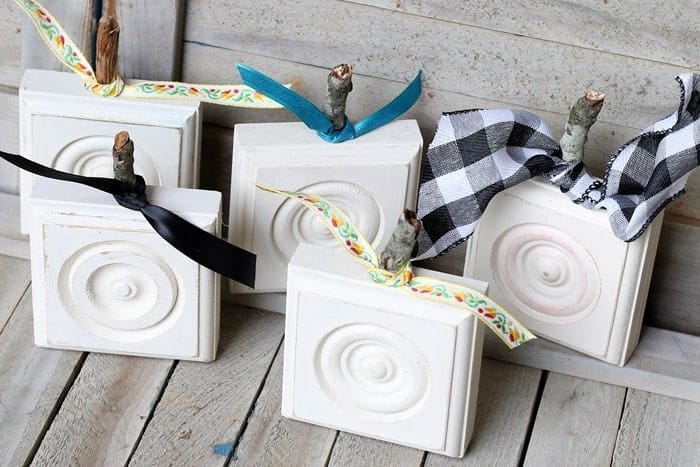 I distressed just a few of the pumpkins and I spread the ribbon love around. I don't think any of the pumpkins are identical.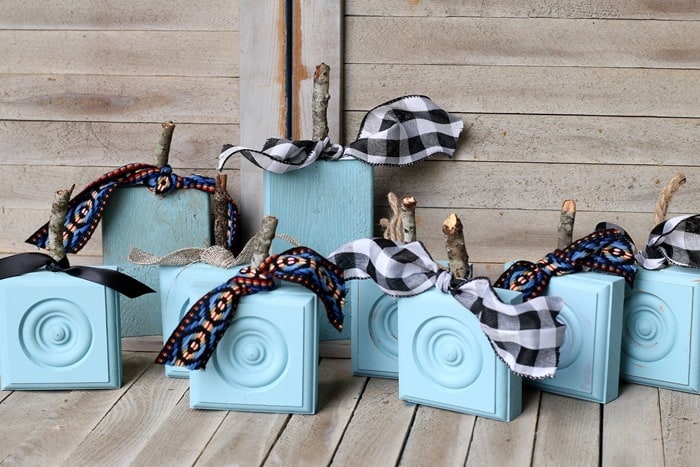 I think the blue pumpkins look the best with dark ribbon. I went crazy and used sisal rope as a stem on one of the blue pumpkins.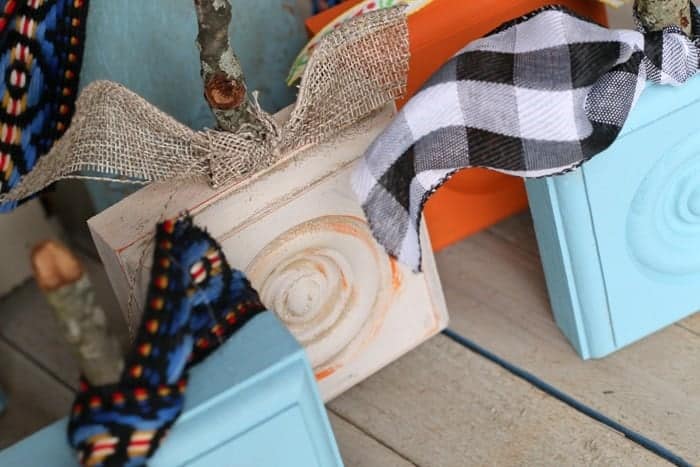 There is that rustic off-white pumpkin again. I think it may be my favorite.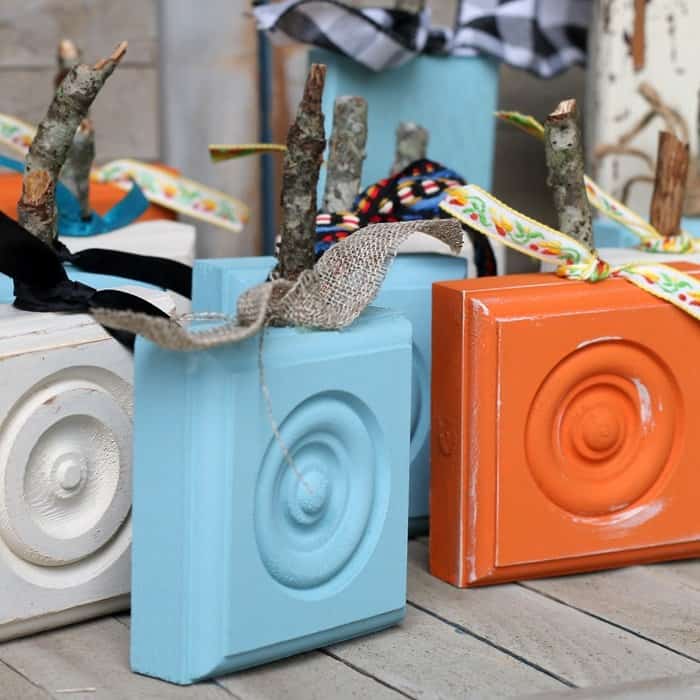 I like the blue pumpkins with the multi-color dark blue ribbon a lot and that orange pumpkin with the bits of white paint.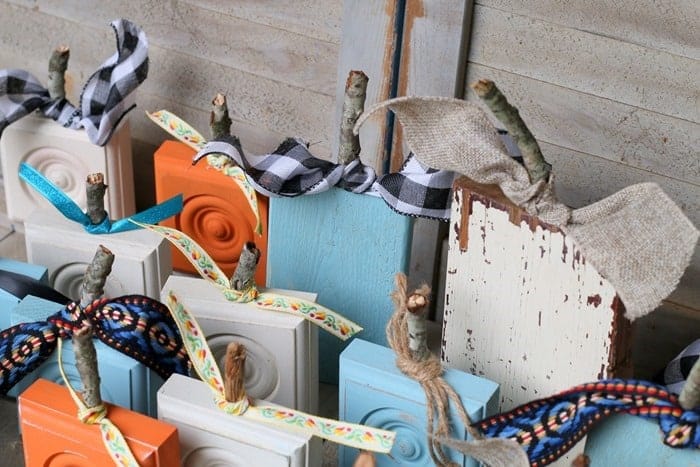 The chippy white pumpkin made out of the large block of reclaimed wood got a long stem and neutral color ribbon.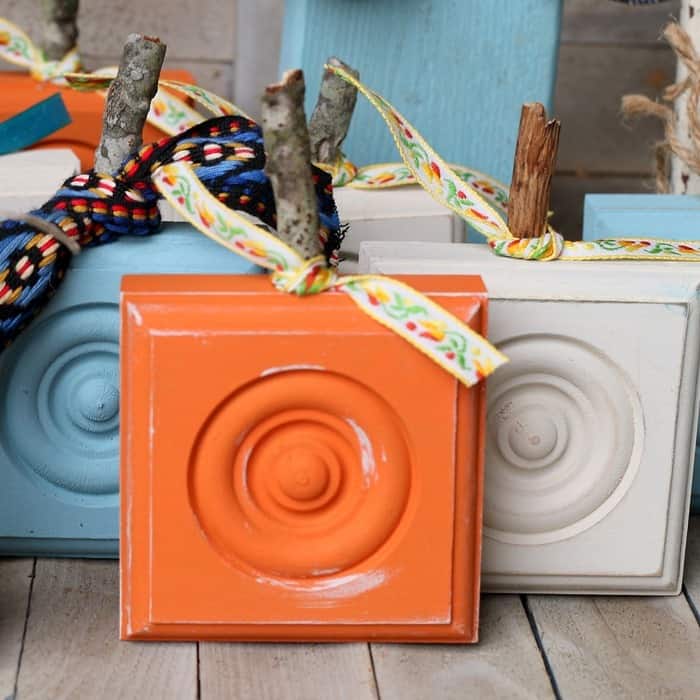 These pumpkins are just the cutest. Wish you could see them in person.
Which pumpkin is your favorite? What other color would you paint the wood rosette pumpkins? I still have blocks left.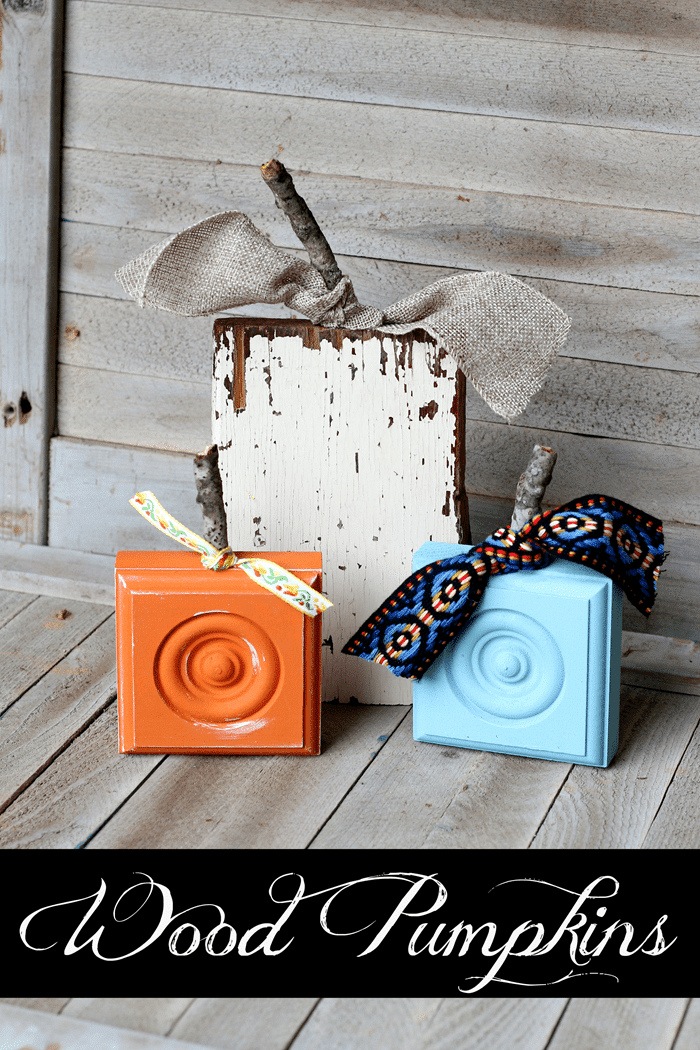 Wood Rosette Pumpkins
That's all for me today. Did you see my awesome sideboard makeover last week? If you missed it you can see it here.
How about a teacup Christmas ornament idea? See my video below...
Teacup Christmas Ornaments
As always thanks for spending part of your day with me, Kathy