You can decorate white pumpkins with things found in your junk drawer or workshop.
I mean, who uses tacks and wall protectors to decorate pumpkins? Me. I get these crazy ideas then I see if they work.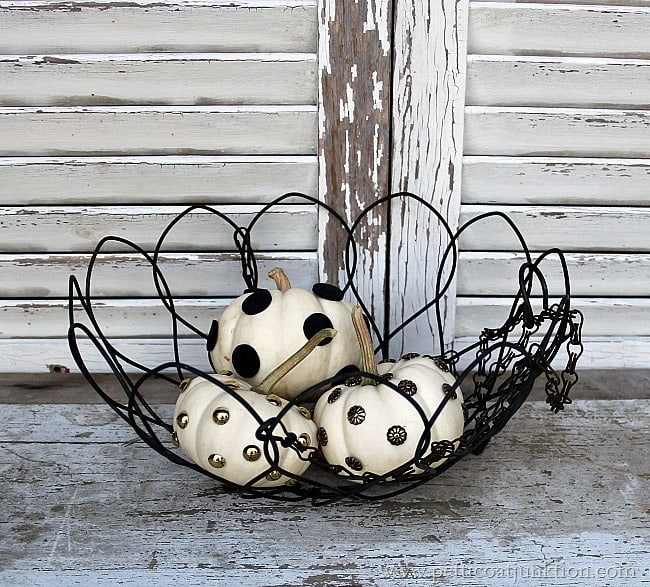 Decorating White Pumpkins
 Round sticky back black wall protectors sure look good against the white pumpkins.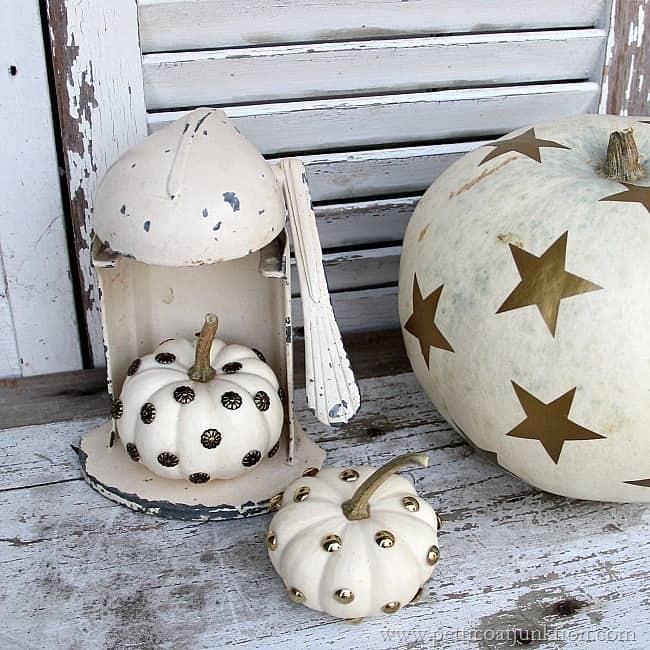 But that's just the first fun idea. I used upholstery tacks to add pizzazz to the small pumpkins. I found some gold decal stars in my junk stash and used them on a large white pumpkin. To display the pumpkins I used a few of my favorite junk treasures.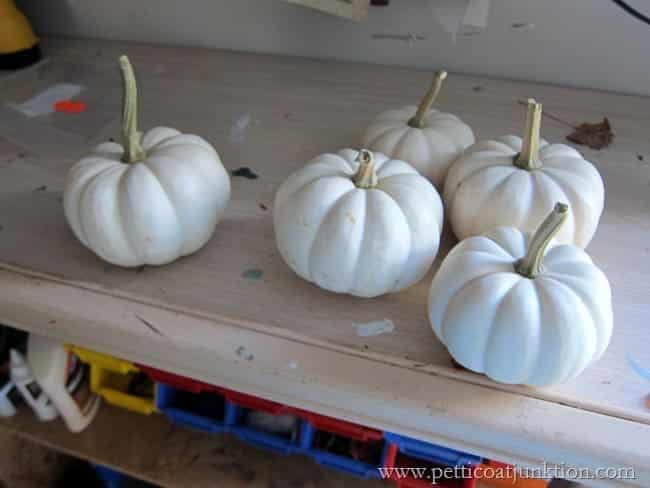 I bought this bunch of white pumpkins at a local pumpkin patch a couple of weeks ago. Buy local when you can. The price at the pumpkin patch is cheaper than the garden stores or discount stores.
Petticoat Junktion is a participant in the Amazon Services LLC Associates Program. As an Amazon Associate I earn from qualifying purchases.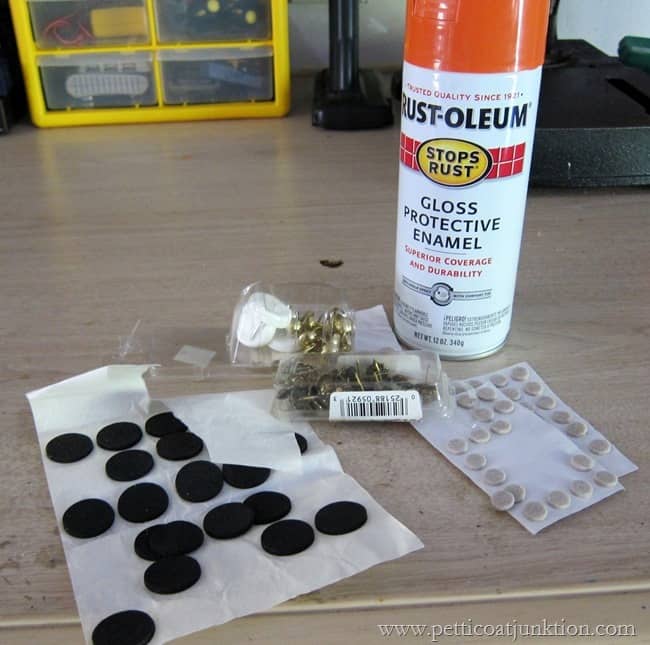 I had my granddaughter all day and after she left I decided I needed a little crafting time. I went down to the workshop. I had those white pumpkins and I needed to spice them up.
I gathered a few things from my DIY supplies to pretty up the pumpkins. At this point I was just wingin' it….seeing what I had to work with and going from there.I found some upholstery tacks in an antique brass color hanging on the peg board and a few bright gold tacks in a bag. I also had a lot of stick on wall protectors, large and small.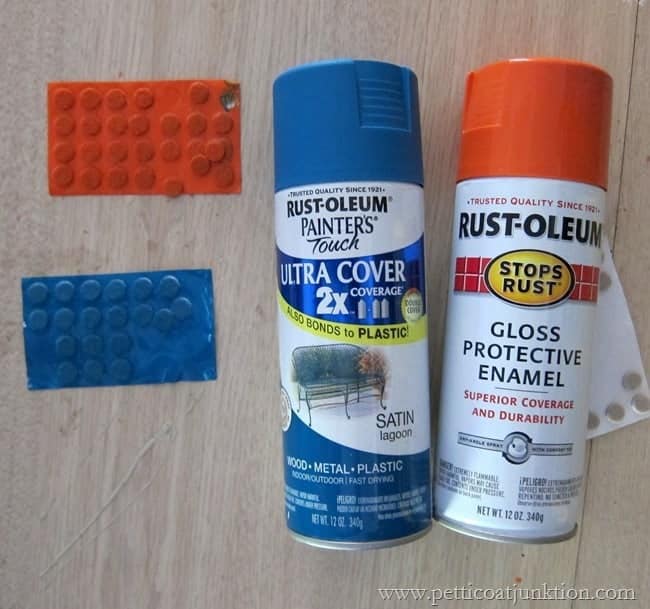 Who would ever think to spray paint the felt wall protectors…and who would think it would work. You never know until you try! I selected the blue and orange colors just because I like the color combo…think Florida Gators (insert smiley face) and I live in Tennessee. (insert another smiley face).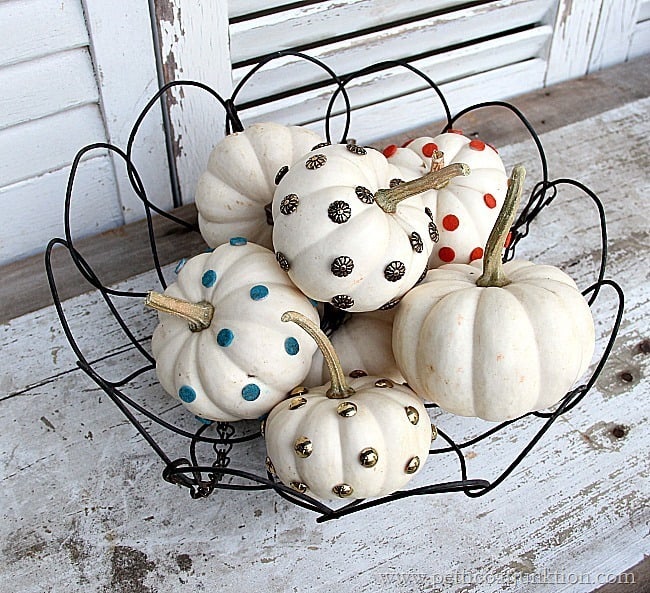 The spray paint dried in no time and I stuck the spray painted felt pieces on the pumpkins in a random fashion. One blue dotted pumpkin and one orange dotted pumpkin.
The tacks really stand out against the white pumpkins. I stuck them in willy-nilly but in a nice perfectly imperfect pattern. I like the shiny gold tacks the best.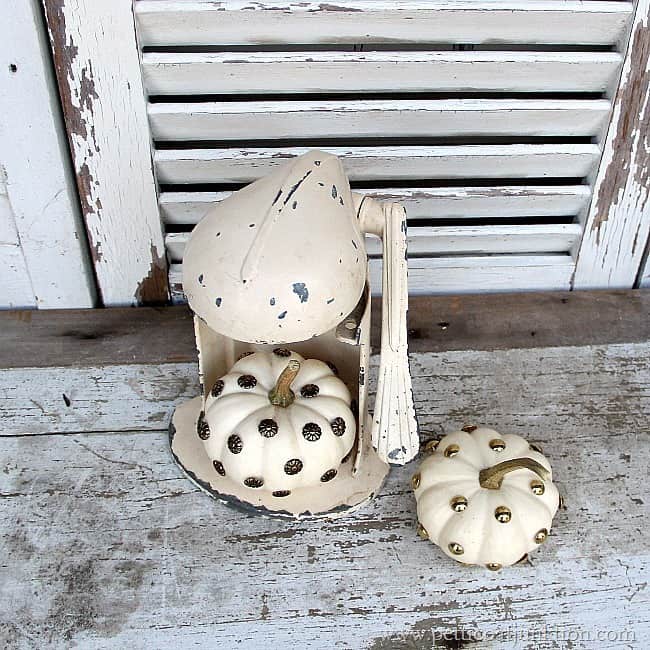 Decorate White Pumpkins 
After I got all the pumpkins decorated I searched the shelves in the workshop for cool stuff  to display the pumpkins. My shelves are full of rusty, junky stuff found at my favorite junk shop.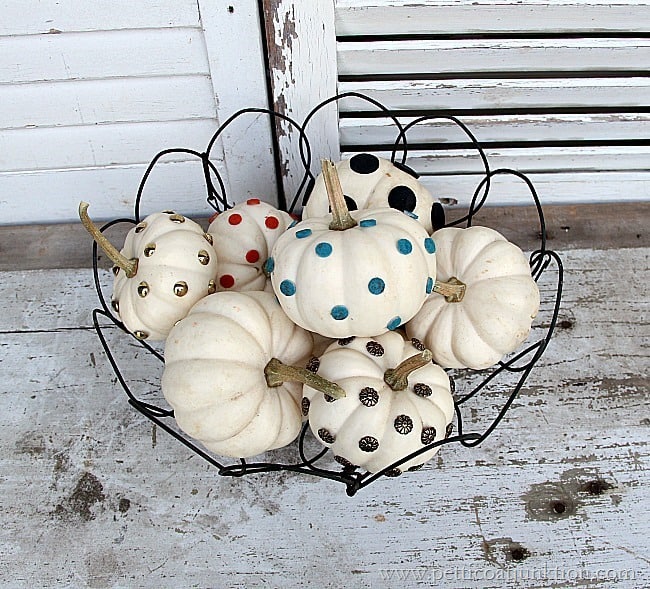 I didn't paint the black foam wall protectors…just stuck them on as they were.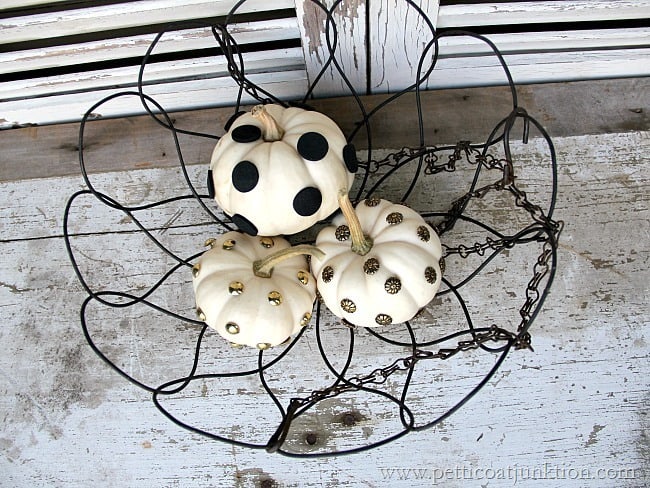 Well, you guys heard me say I headed to the workshop after having my granddaughter all day. This project took about 1 hour…..spray painting….decorating….and photographing….done.
How fun are they! Do you love them….or think they're too tacky? ….no pun intended. I could call them "tacky pumpkins"…….or "tackful pumpkins", hahaha.
If you like these pumpkins wait until you see my "Eclipse Pumpkins", click here.
Do you decorate pumpkins or go for the natural look? I usually gather several large orange pumpkins and display them on the front porch in an old rusty radio flyer wagon….throwing in a few green gourds for contrast. Leave a comment please. I read them all. Have a great day, Kathy
Supplies for this project:
Gold Stars (similar)
RustOleum Spray Paint- Orange, Blue
Upholstery Tacks- antique brass,  shiny gold
Wall Protectors (similar)