Readers email me almost daily about the best Rustoleum metallic spray paint colors for diy projects. Well, I made a list today!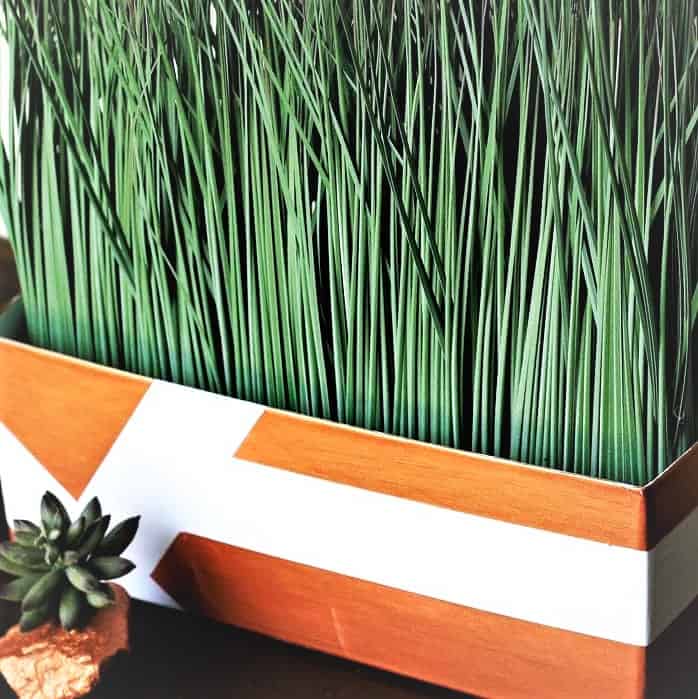 Best Rustoleum Metallic Spray Paint Colors
When I need to update a home decor accessory fast I always grab the spray paint. I was in a rush to do a couple of pieces over the weekend and I used my new favorite Rustoleum Metallic Color......Copper.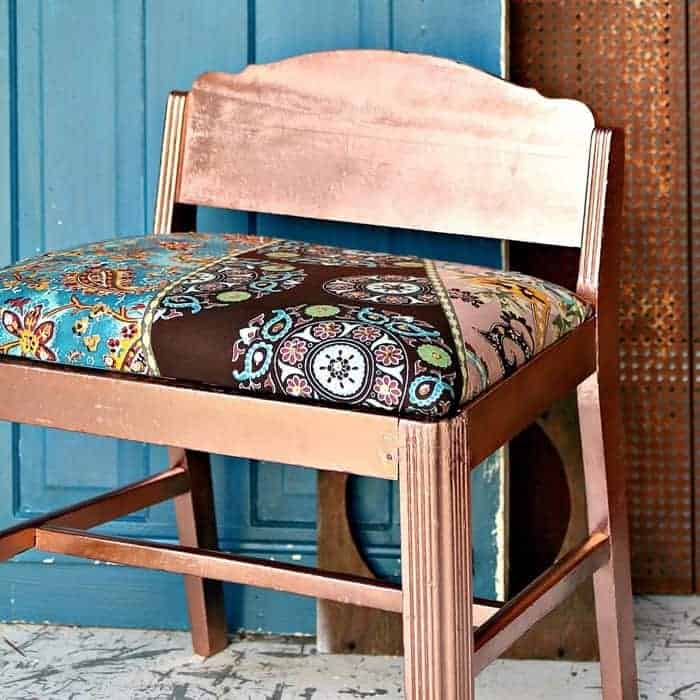 The vintage stool above was painted with the copper paint and it turned out great. The seat cover is a recycled skirt! I'm sharing two new pieces today and then I'll tell you all about my other favorite Rustoleum Metallic Spray Paint colors!

I bought the stainless steel container at Ikea in Memphis. When I go to Arkansas for a visit I stop in and shop for just a bit. The Memphis Ikea is at the halfway point (7 hour drive) between my parents' home and our home. The mirror is one I bought at an auction. I think I paid $5 for it and another mirror.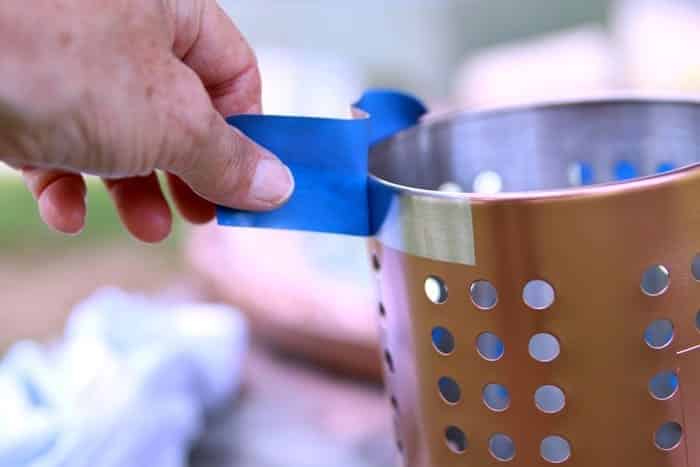 I forgot to take photos of the stainless steel container after taping it off and before painting it. That's what happens when I'm really into a project. I used painters tape to make a geometrical design on the container….just willy nilly for the design....don't overthink it. The tape is 3M painters tape. You can actually snap off pieces of this tape and the edge is straight. You just give a sharp tug and a piece of the  tape snaps off.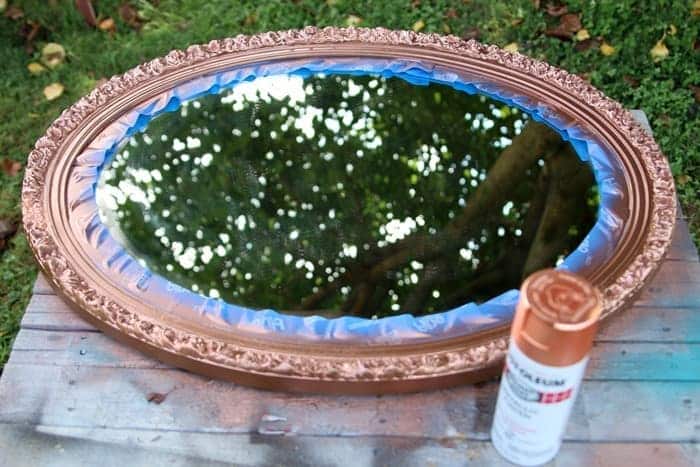 I taped around the edges of the mirror too but didn't cover the whole glass. There was just a bit of paint on the mirror when I finished and I scrapped it off with a razor blade. I missed getting a photo of the mirror before painting too. It was antique gold, and not a pretty antique gold. Copper is in now…..at least with me…..in case you couldn't tell.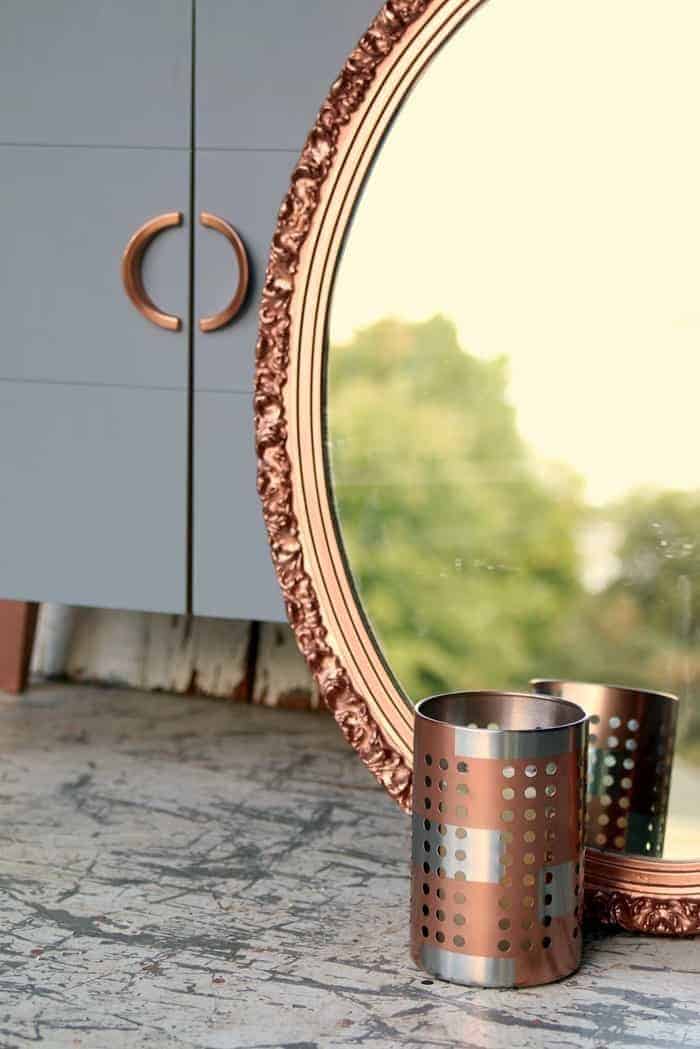 It took less than 10 minutes to spray both of these pieces. The mirror is already sold. The stainless steel container can be used as a utensil holder, candleholder, etc. Maybe you have some other ideas?
1. Rustoleum Bright Coat Metallic Copper Spray Paint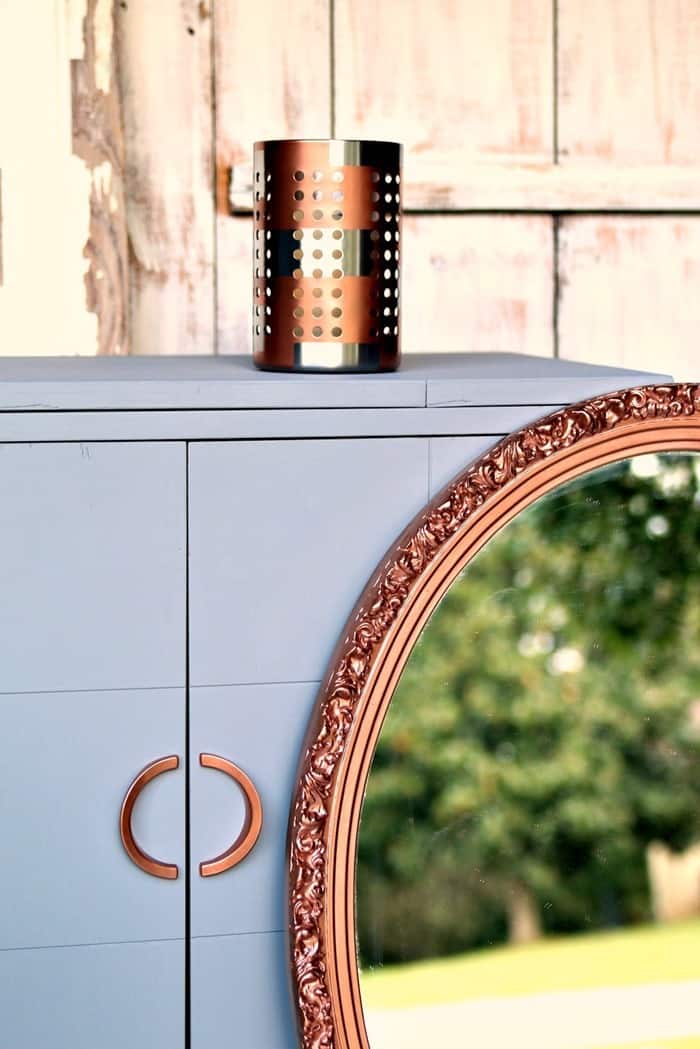 So, the copper color is my number one favorite right now. I used it on the hardware for the gray mid-century piece you see behind the mirror and also on a vintage vanity stool. Oh yeah, on a Fall/Halloween centerpiece too. Almost forgot that one. (Just click any of  the pink links or the project photos below to see the full details)
2. Rustoleum Bright Coat Metallic Silver Spray Paint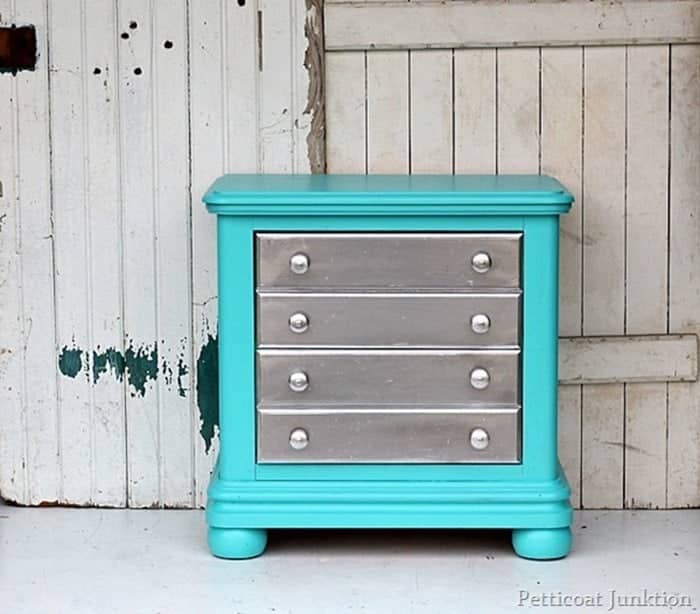 Turquoise and Metallic Silver Nightstand
At one time I wouldn't even consider painting furniture with spray paint. Then I ran across this paint. I had used the metallic silver on several small accessories in the past and noticed how smooth the finish was and how well the paint covered with just a couple of light coats. So why not try it on furniture. I started small with the drawer fronts. The silver is perfect with the turquoise.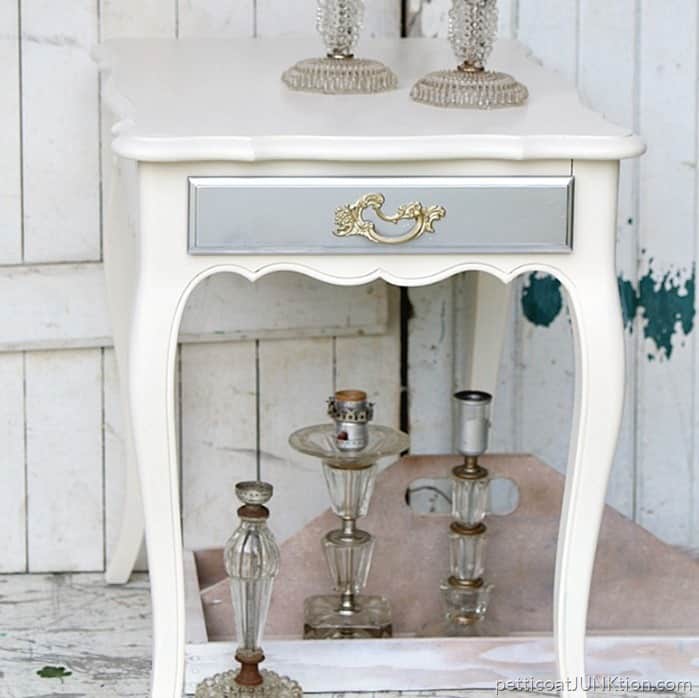 Then I spray painted the drawer on another table with the metallic silver. And I used Rustoleum Pure Gold Spray Paint on the pull.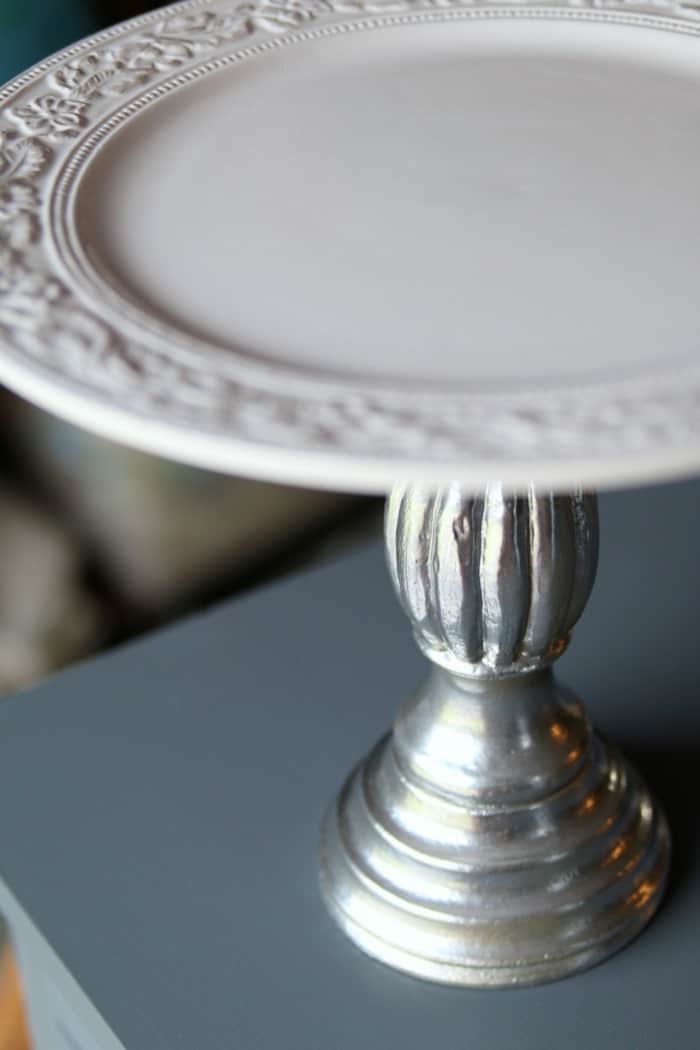 Silver and White Serving Stand
I also painted the candlestick base of the serving stand with the metallic silver.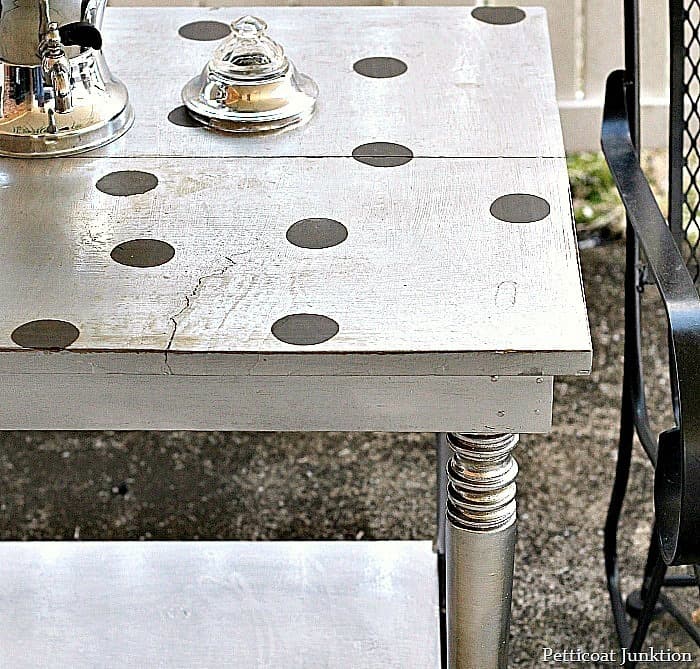 Metallic Silver Polka Dot Table
Now this project was a lot of fun. I was really into polka dots and I still like them. After the spray paint dried I aged the silver paint with Caromal Colours Toner. The toner adds depth and character to paint.
3. Rustoleum Metallic Rose Gold Spray Paint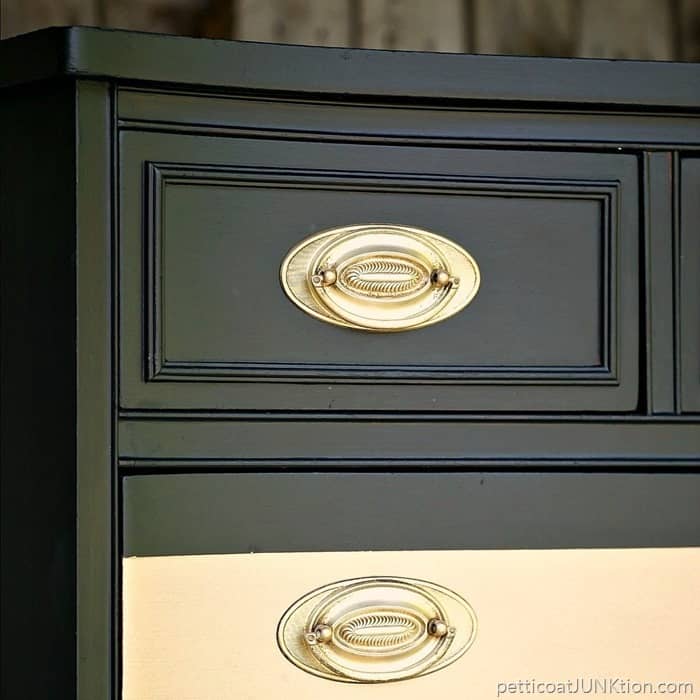 Gold Stripe Chest
I wasn't sure about adding the stripe to the black chest of drawers but I'm glad I did. The rose gold metallic color has just a hint of rose or pink. It really isn't noticeable until you have it next to metallic gold then you can see the difference. I liked the stripped chest of drawers so much I moved it into the master bedroom. Then I sold the chest of drawers it replaced.
Spray Paint Furniture Hardware
The original hardware on the coral chest needed a new look and the rose gold made the pulls better than new.
4. Rustoleum Metallic Oil Rubbed Bronze Spray Paint
I can't tell you how many times I've used the oil rubbed bronze spray paint. The neutral color works just about anywhere.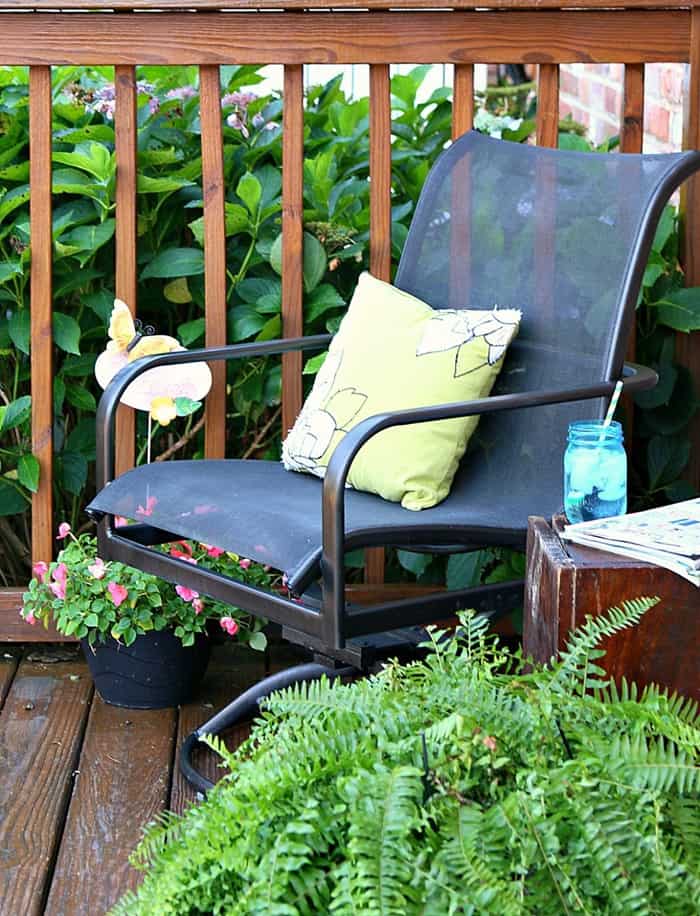 Spray Paint Outdoor Furniture
The chairs that go to our outdoor table set have been falling apart one by one. I redid the chairs a few years ago adding new fabric. Boy was that a job. The original color of the chair was blue…..an outdated blue. It definitely looks better in oil rubbed bronze.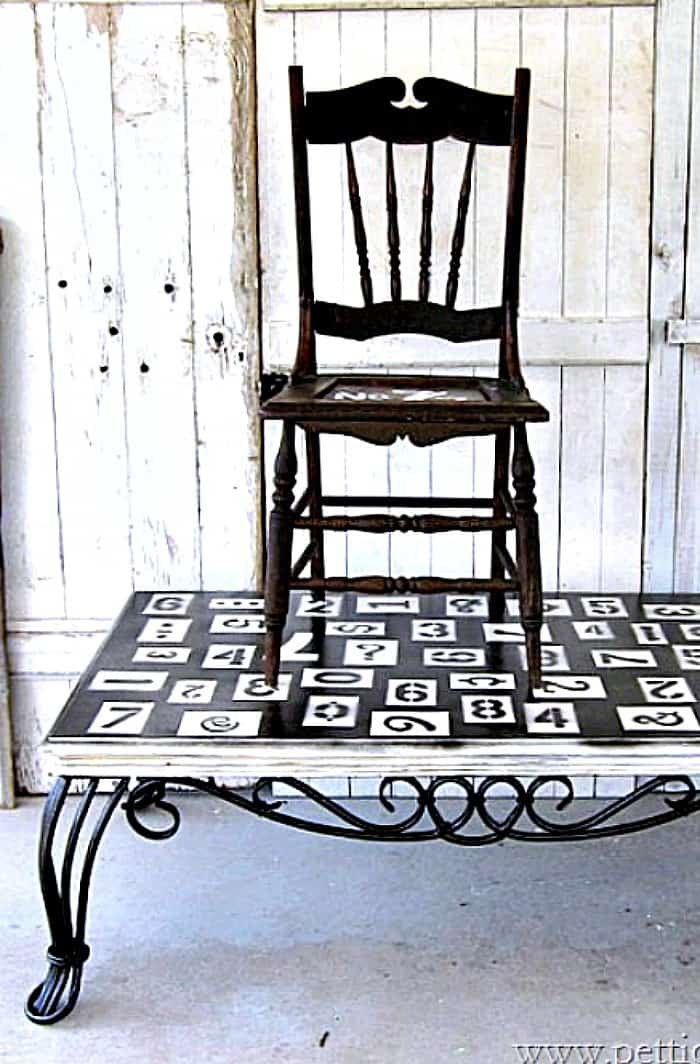 Stenciled Number Table
The stenciled table is an oldie but a goody. You need to see this project. I laid out stencils all over the table and used the oil rubbed bronze spray paint over the whole thing.
5. Rustoleum Metallic Antique Bronze Spray Paint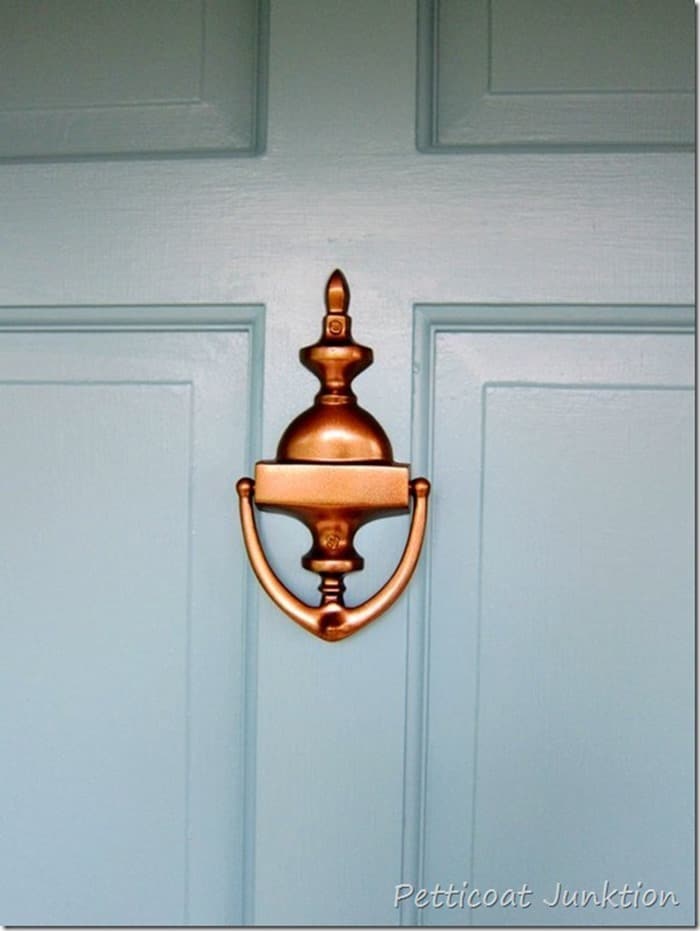 Spray Paint Door Hardware
Funny story about the door knocker…..the upside down door knocker. One of you guys had to tell me I put the door knocker on upside down and I do depend on you to keep me straight. Guess what? Five years later it's still upside down. I used metallic antique bronze on the door hardware. It was shiny brass. When I painted the front door I updated the hardware.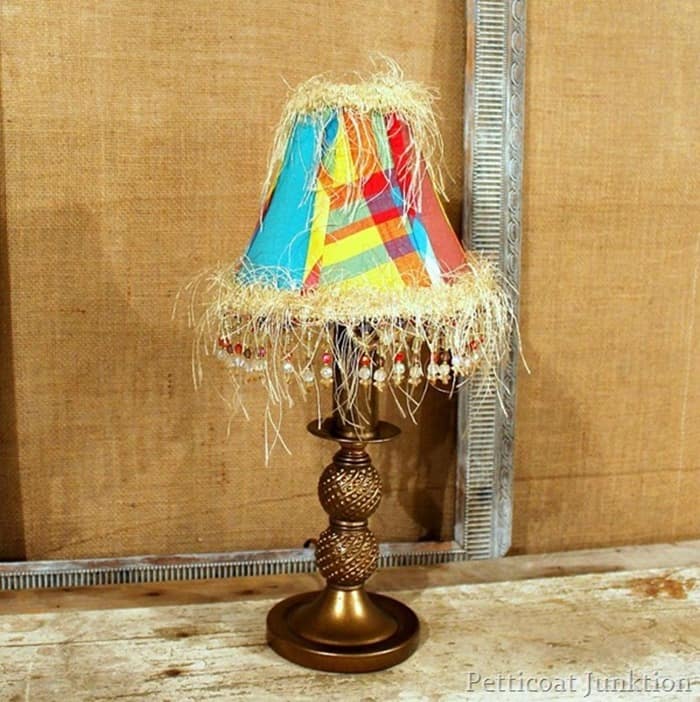 Metallic Lamp
The cute little lamp got a makeover with the metallic bronze too.
Rustoleum Metallic Antique Brass
These two projects are older than the others. I searched for the paint online but I guess they discontinued it. I think the Metallic Antique Brass is very similar in color. I'm being totally serious when I talk about how easy it is to spray paint a small……….or large project. It takes no time at all. There has been a big improvement in canned spray paint over the years.
6. Rustoleum Metallic Gold Bright and Shiny Finish
Mercury glass is one of my favorite decor items. Making my own mercury glass allows me to choose the colors for the glass.
For this mercury glass project,DIY Multi-Colored Mercury Glass With Silver, Gold, And Bronze Spray Paints I used 3 different metallic colors. See the project here....
Do you guys know what I'm talking about? Do you use spray paint? What are your favorite colors and brands?
Rustoleum Metallic paint colors:
Oil Rubbed Bronze Metallic
Bright Coat Metallic Copper
Bright Coat Metallic Silver
Metallic Rose Gold
Metallic Antique Brass
Check out my video on painting and distressing home decor....
Spray Paint Video Tutorial
As always, thanks for being here, Kathy