You can use Mod Podge on fabric, paper, wood, plastic, almost anything! I decoupage or mod podge furniture. This desk needed to be fun and a little outrageous.
I used colorful fabric to decoupage the top and white paint with a tad of distressing for the body. A chair with matching fabric seat makes the set perfect for a young lady.
Remember the $2.50 sewing machine I bought at auction? The makeover is complete. I used Mod Podge ® and bold floral fabric to cover the messed up top of the cabinet. You might think it's hard to mod podge furniture but it's not. After reading my tutorial give it a try.
I transformed the piece into a desk and added a matching chair. Pour a cup of coffee, grab a piece of chocolate, and let's go. (Oh yeah, there is info about Mod Podge Prize Packs at the end of the post!)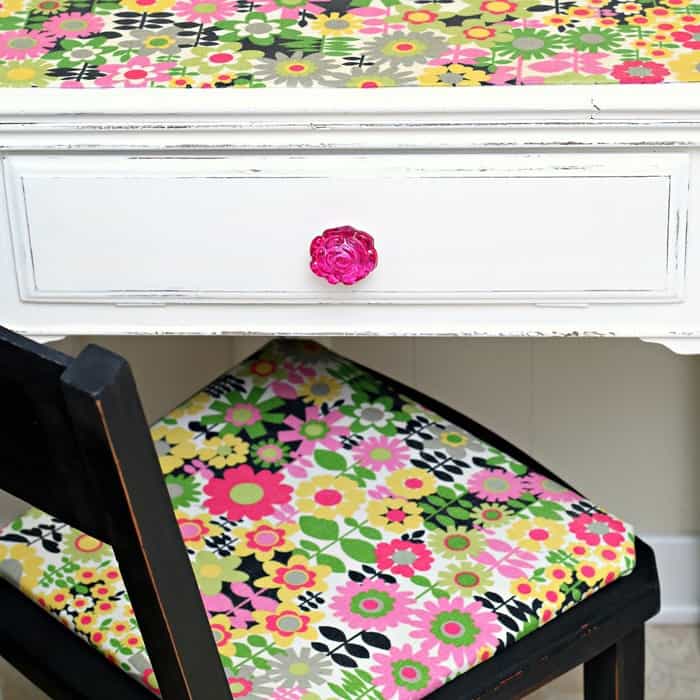 Mod Podge On Fabric And Furniture
I told you it was a good one. The makeover took a couple of twists and turns before getting on the right track. That's how I roll.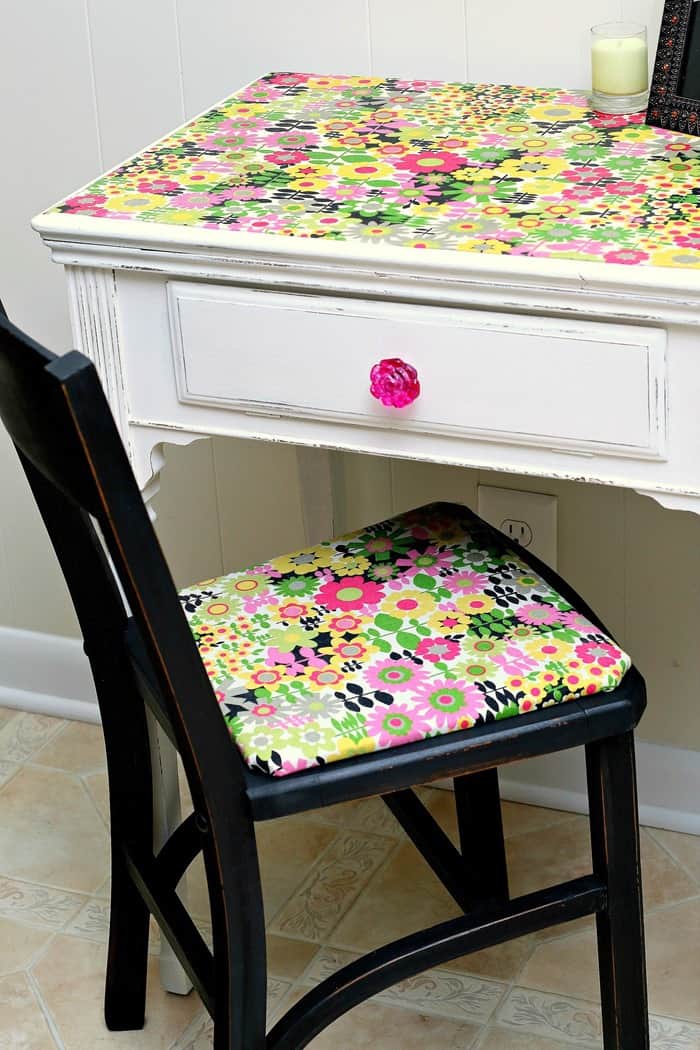 Petticoat Junktion is a participant in the Amazon Services LLC Associates Program. As an Amazon Associate I earn from qualifying purchases.
I have this pretty roll of wrapping paper I wanted to use for the project. I painted the chair and started to cut the paper to go on the top back of the chair. I immediately realized cutting the paper just right for the curved and angled chair back was going to be difficult.
My middle name is "lazy" so I moved on to fabric and covering the chair seat instead of decoupage for the chair. Don't focus on what doesn't work…move on….it might be the better option.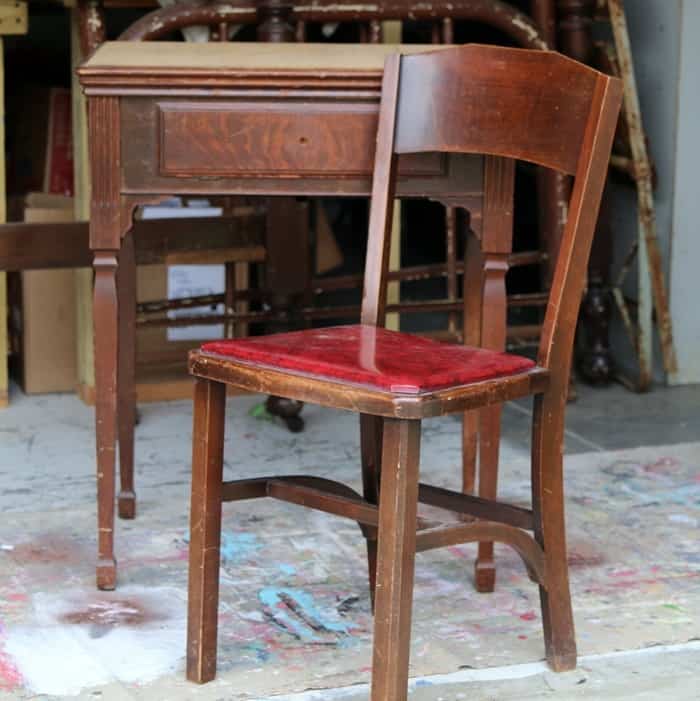 As you can see the chair and sewing table needed updating…and what an update. You have to agree the change is dramatic.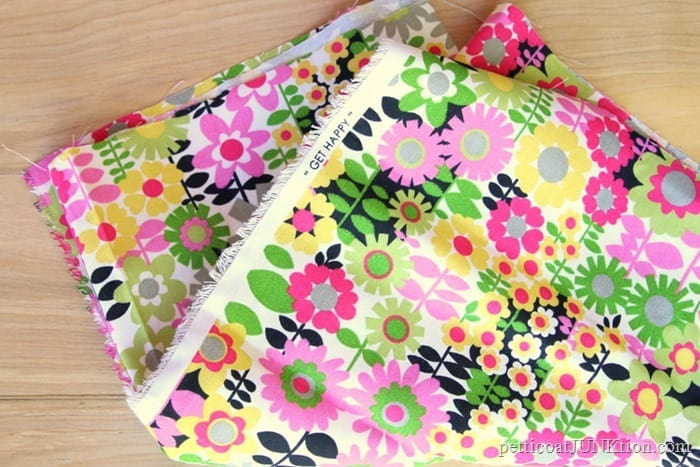 The fabric is a remnant I bought a while ago. It was $2.67. You never know when a good find will come in handy.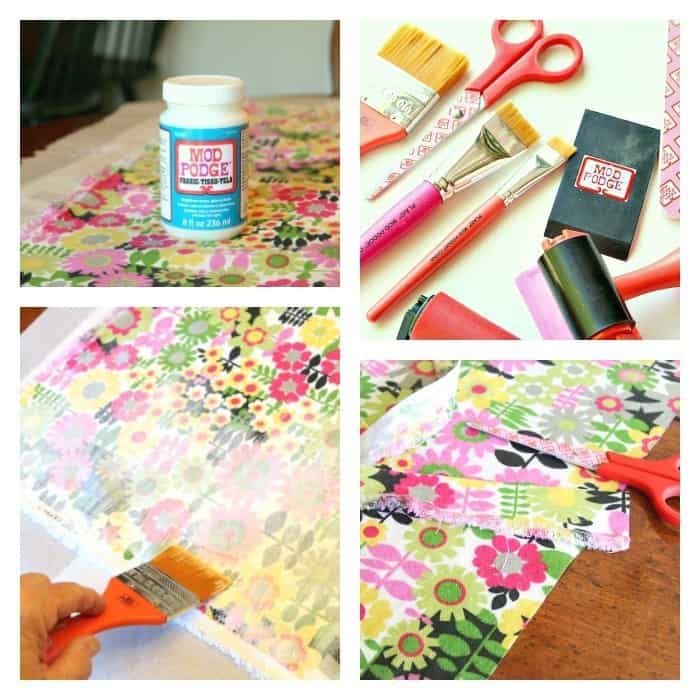 The first thing I do when using fabric in a decoupage project is to wash and dry the fabric then coat it with Fabric Mod Podge. This is the perfect answer to the problem of frayed fabric ends.
I used my Mod Podge brush to apply a heavy coat of Fabric Mod Podge to the fabric on the top side. (It probably doesn't matter what side you Mod Podge.)
I let the fabric dry thoroughly then cut it to the size of the sewing cabinet top. You can see in the top right bottom photo the clean cut edge of the fabric. No fraying.
Fabric Mod Podge is also great for fabric-to-fabric decoupage. It is permanent when cured and the items can be hand washed. Yipee! Mod Podge is the perfect all in one decoupage glue, sealer and finish.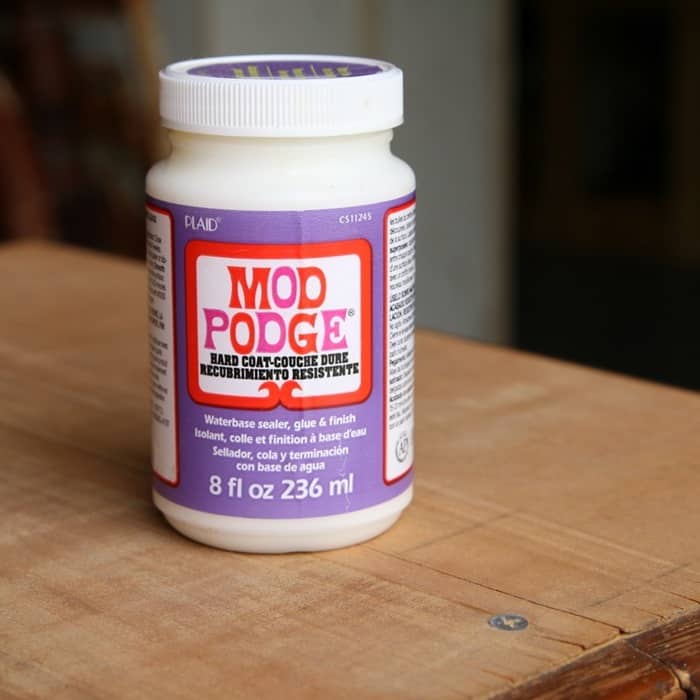 I pulled the Hard Coat Mod Podge formula from my product stash. The Hard Coat formula is great to use on surfaces that will be handled frequently or those in a high traffic areas, like book shelves and furniture.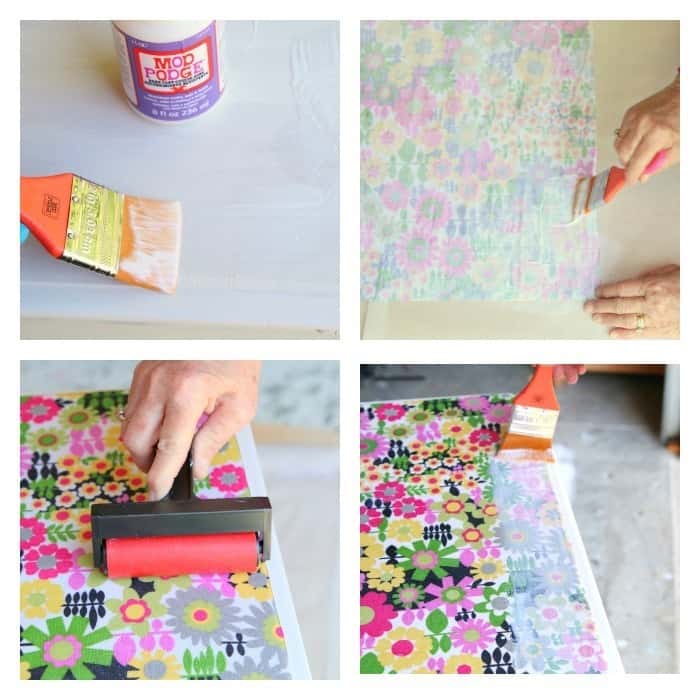 I first brushed a heavy coat of the Hard Coat on the top of the cabinet then I brushed a heavy coat on the back side of the fabric.
I find it's best to cover both surfaces with the Mod Podge before putting them together. More Mod Podge is better than too little.
I worked any bubbles out using the Brayer tool. The fabric dried to the top with no bubbles. Doing the happy dance.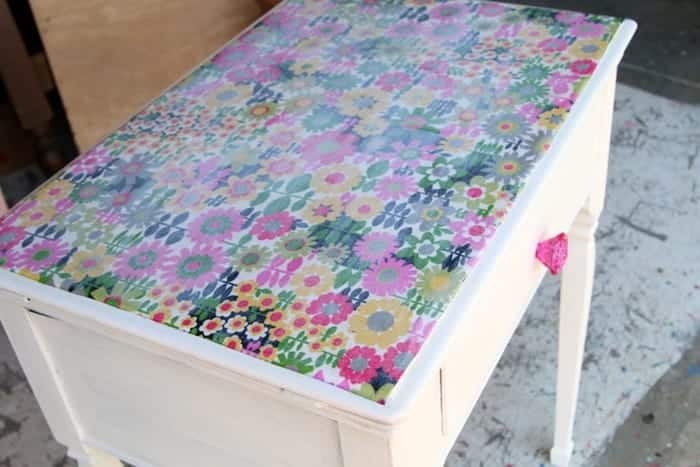 I applied three coats of Hard Coat Mod Podge over the fabric to seal and protect it from damage. The Mod Podge needs to dry thoroughly between coats. I waited over night to reapply.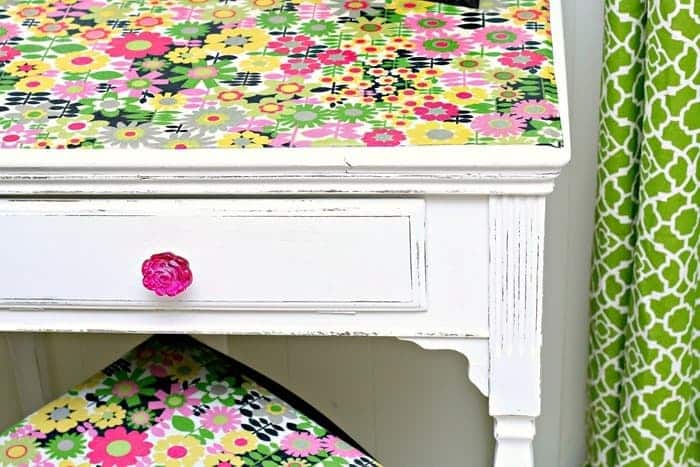 The front of the cabinet folds down to reveal a small storage area. Photos in a later post.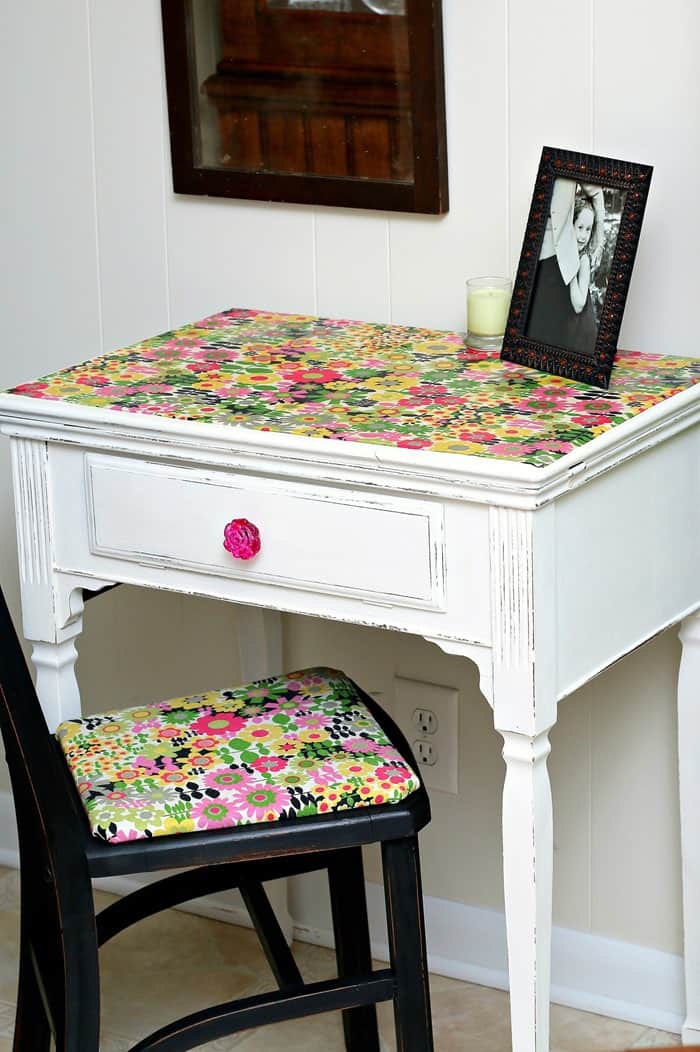 The Hard Coat cleans up easily while wet with soap and water. It can be sanded to a smooth finish but I didn't do any sanding. There is a slight texture to the finish but nothing dramatic. The fabric edges are clean and straight too thanks to Fabric Mod Podge.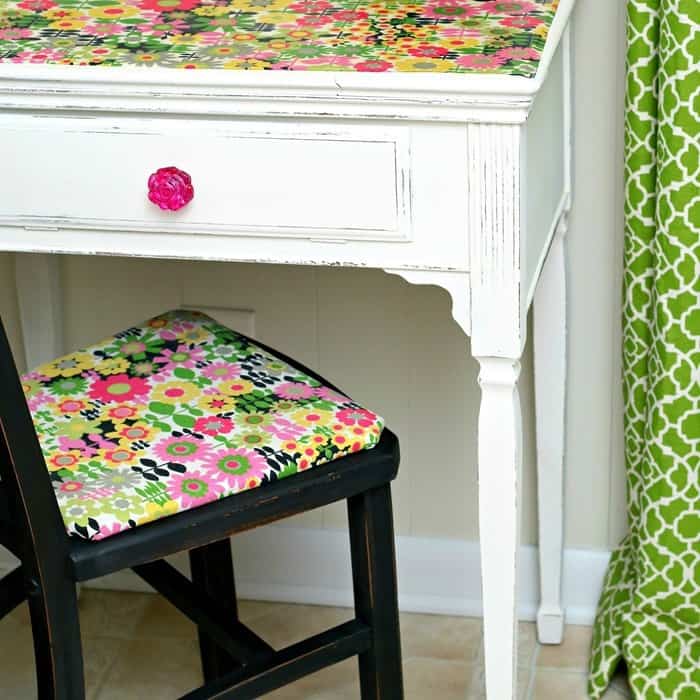 What young girl or any girl wouldn't love this desk and chair. It brings a smile to my face.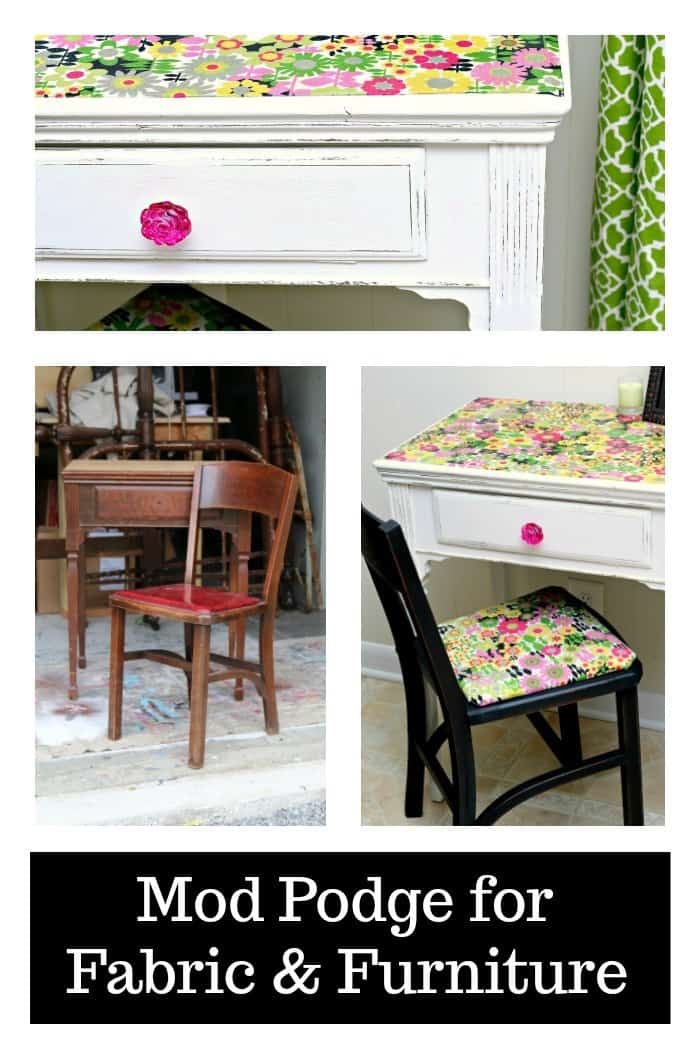 Mod Podge For Adhering Fabric To Wood
Fun, fun, project! The difference in the before and after is like night and day. I will share the paint details and how I prepared the cabinet for paint in a few days. All of the details in one post would have make for a lengthy read. I'm also going to try to hunt down the fabric online.
Maybe it hasn't been discontinued. If I find it I'll post the link.
What about the makeover? Do you guys like it? Did I inspire you to decoupage something?
The supplies for this project can be found on Amazon, click the pink links below:
Hard Coat Mod Podge
Fabric Mod Podge
Mod Podge Tool Kit
Professional Decoupage Tool Kit
Want to see another furniture and fabric project using Mod Podge? Click this one…..Changing Furniture Hardware For A Modern Look
If you're not familiar with Mod Podge, it's America's Favorite Decoupage Medium™. Over the past 50 years, Mod Podge has expanded from the original Matte and Gloss formulas and is now available in 21 unique finishes in a wide range of sizes, from 2 oz. to classroom size gallons.
Thanks for being here and have a great day, Kathy
Disclosure: This post is sponsored by Plaid Crafts as part of the Plaid Creators program. All words, project ideas, and photographs are 100% my own.