Old sewing machine cabinets are the perfect size for a side table or student desk and they look great painted! The cabinet styles have varied over the years and looking at these painted pieces you would not even realize the cabinet once contained a sewing machine.
You may have an old sewing cabinet but if not be on the lookout for them at flea markets, auctions, etc. I prefer the cabinets where the machine has already been removed. It's a lot of work to remove the machines and like anything else I hate to toss them out. I have some great makeover ideas for you. I'm sharing seven of my sewing cabinet paint makeovers and each one is unique. See if one of them speaks to you.
Sewing Machine Cabinet Makeovers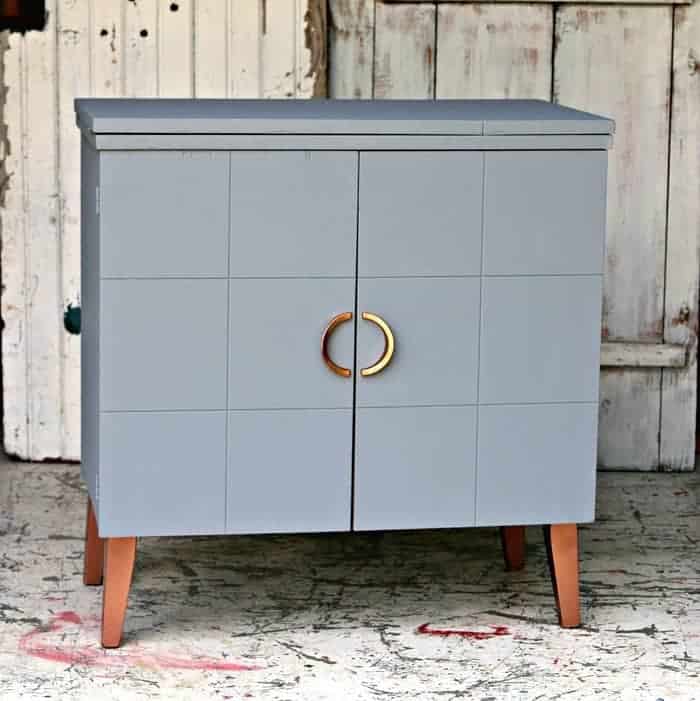 Mid Century Modern Sewing Cabinet Makeover
The first cabinet is one of my favorites. I love the mid century modern style and who would ever think the gray and metallic copper paint color combo would look so good. I bought the cabinet at the Nashville Flea Market and luckily the machine had already been removed.
But a lot of the metal supports remained and we had to remove those. Also we usually screw the tops down on the cabinets. You can find the complete makeover here......Gray And Metallic Copper Color Combination Is A Surprise
Compact Sewing Cabinet Painted Green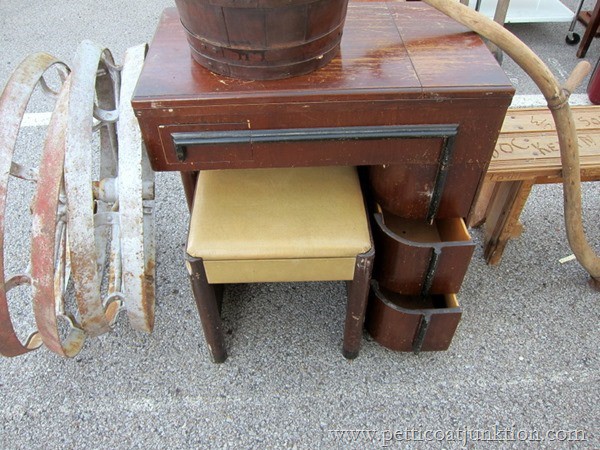 I got the cute little cabinet with the rounded drawers at the flea market too. The Nashville Flea Market used to be my favorite shopping place but things have changed at the market.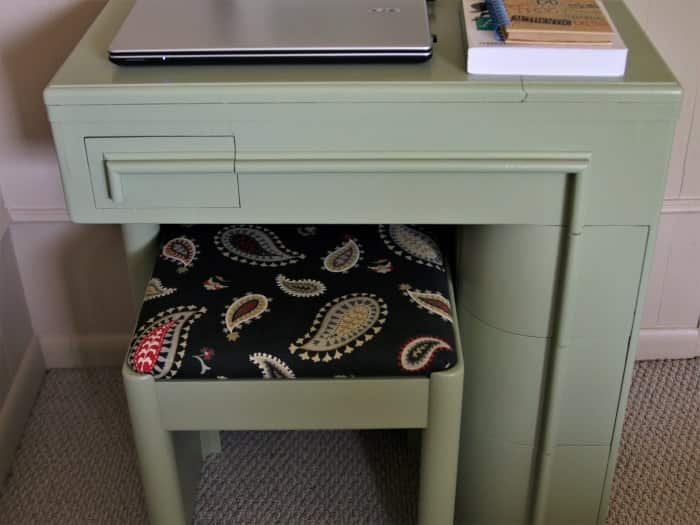 Back in 2015 I painted  this cabinet for Behr paint and it's featured on the Behr Blog, Behr Designer Series. So I don't have a post on my blog for this one.
Vaseline Distressed Sewing Cabinet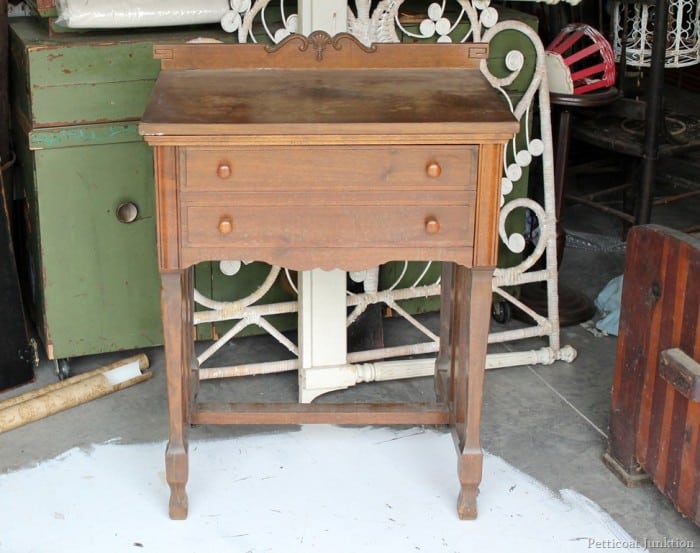 This sewing cabinet still housed the machine and the JTS removed it for me.
The paint finish is layered using Vaseline Petroleum Jelly. I really like turquoise and green together and I've painted several pieces in the past with this color combo. See the details for Vaseline distressing here....How To Use Vaseline To Distress Furniture
Black and White Painted Cabinet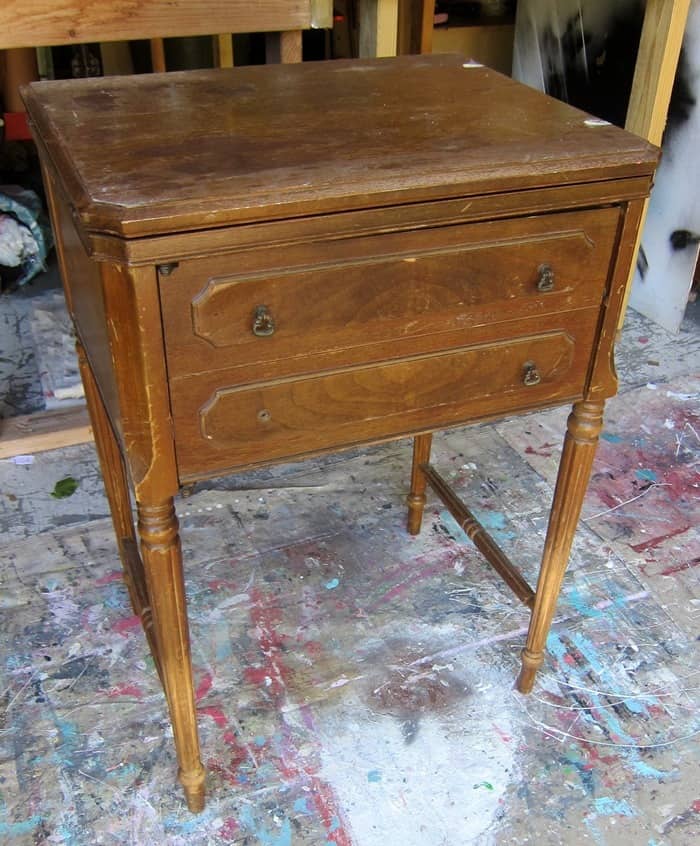 This cabinet cost $10 and the machine had been removed. A win-win. The cabinet went from being really outdated to very modern looking with black paint and white wood knobs.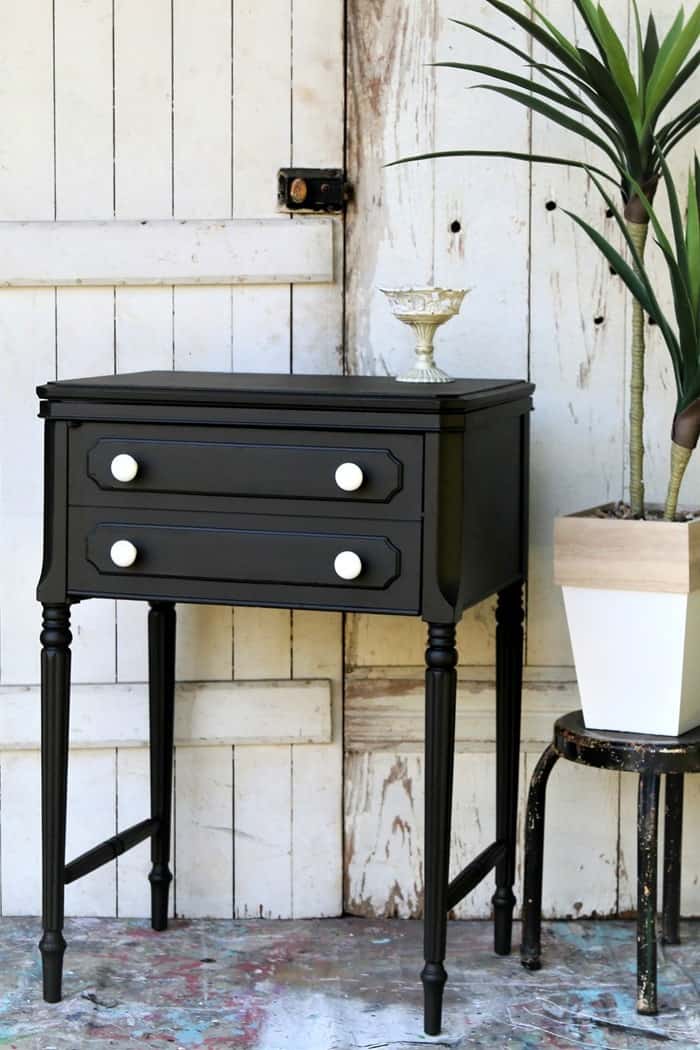 Black paint is always so classy looking but adding white knobs gave this sewing cabinet a whimsical look. See the paint finish here...Old Sewing Machine Cabinet Makeover
Sewing Machine Cabinet Painted White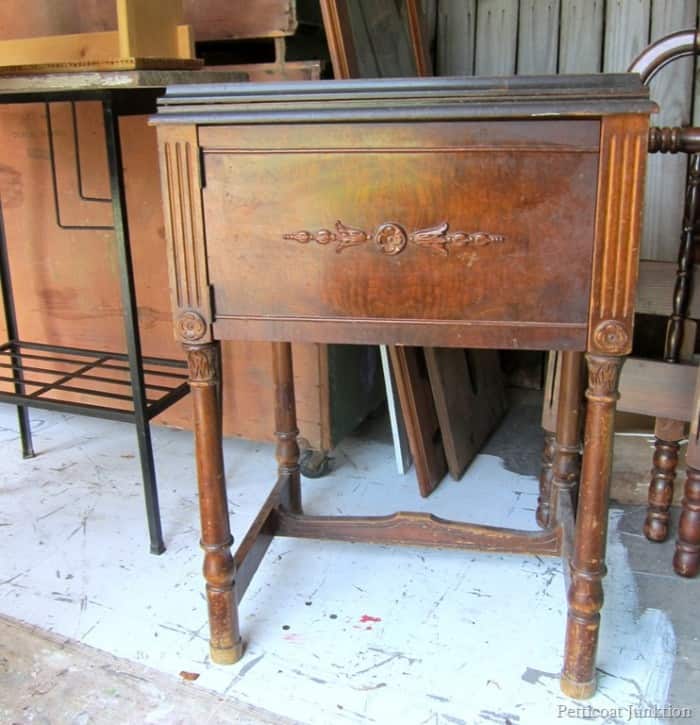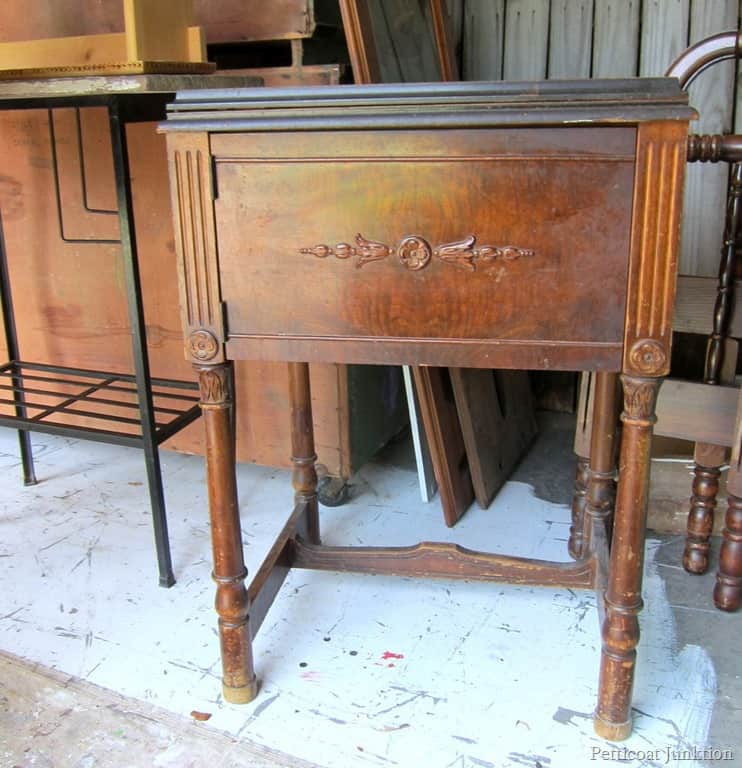 This cabinet also still had the machine inside and if you want to see how to remove the machine take a look here.....How To Repurpose Vintage Furniture
The little raised detail on the front of the cabinet and the pretty decorative circles on the legs just called for distressing. Find the paint and distressing information here......DIY Painted Distressed Furniture Project Wrap Up
Decoupaged Cabinet Turned Desk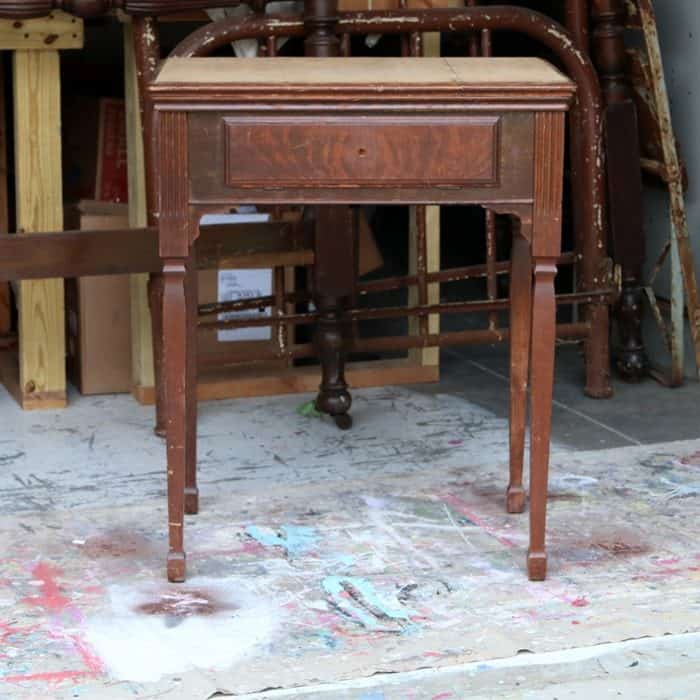 This cabinet was a mess. The veneer on the top had peeled off or been peeled off. It took a lot of sanding to smooth it out.
But I did get it smooth and then I decoupaged fabric to the top. The cabinet size was perfect for a desk and the little drawer front actually flipped out. Perfect for holding pencils. I painted the chair and used the same fabric on the chair seat. Learn how to decoupage here....How To Use Mod Podge On Fabric Tutorial
White and Gold Sewing Cabinet Makeover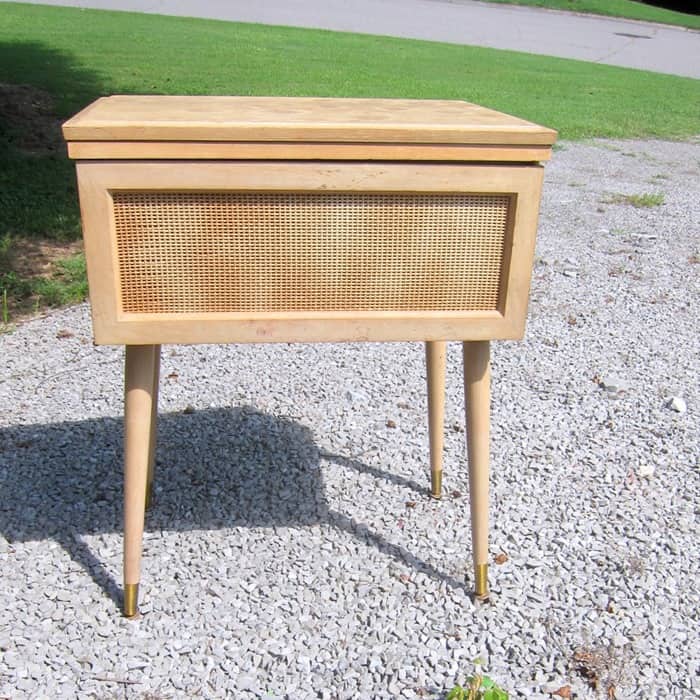 The last one is another of my favorites. This mid century modern piece definitely doesn't look like a sewing cabinet.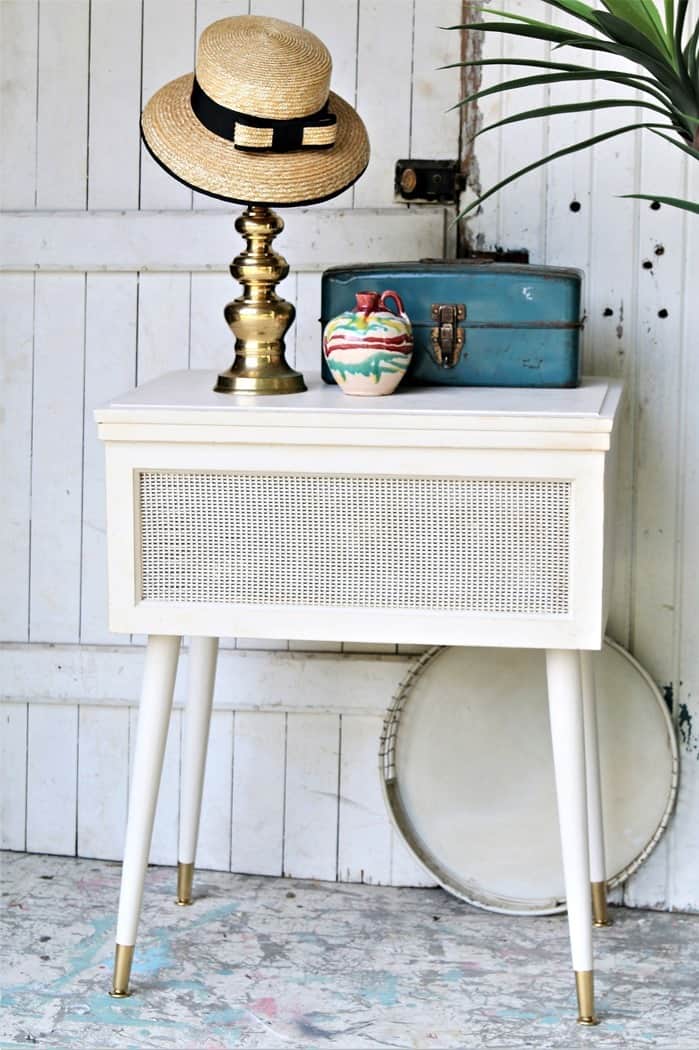 I painted it white and painted those pretty metal feet with gold spray paint. See the how-to here.....Painting Mid Century Modern Furniture White & Metallic Gold
Let me know which is your favorite and as always thanks for being here, Kathy
Find my favorite DIY supplies and home decor on my Amazon Page here.