My idea of a DIY good time is getting out the white spray paint and going to town. Throw in a little sandpaper and it's a party.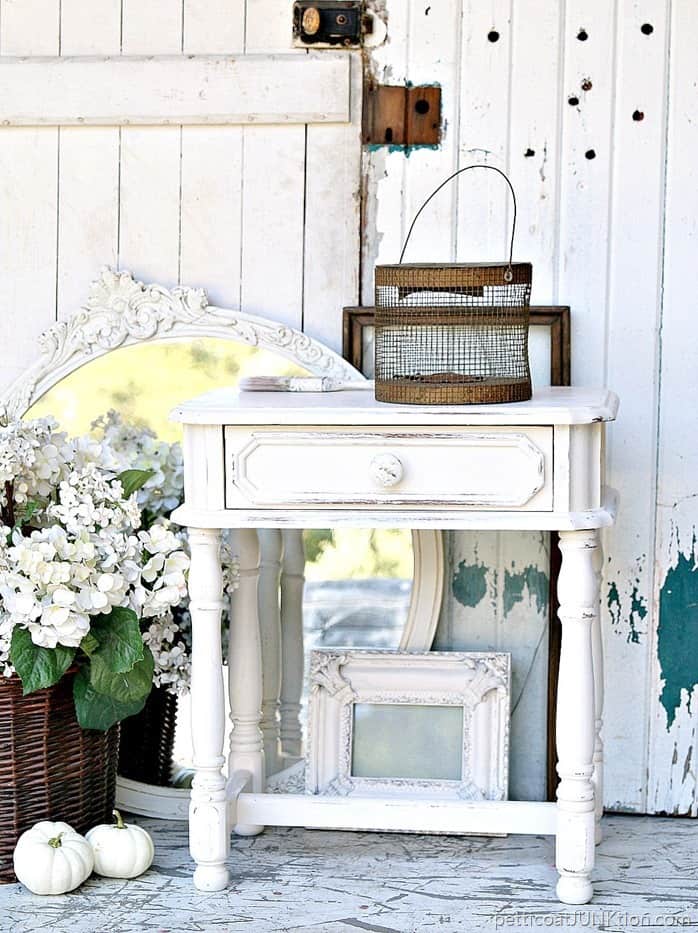 White Spray Paint Projects
White décor is so clean and fresh looking. I love it even though my home is the total opposite,  where I surround myself with color.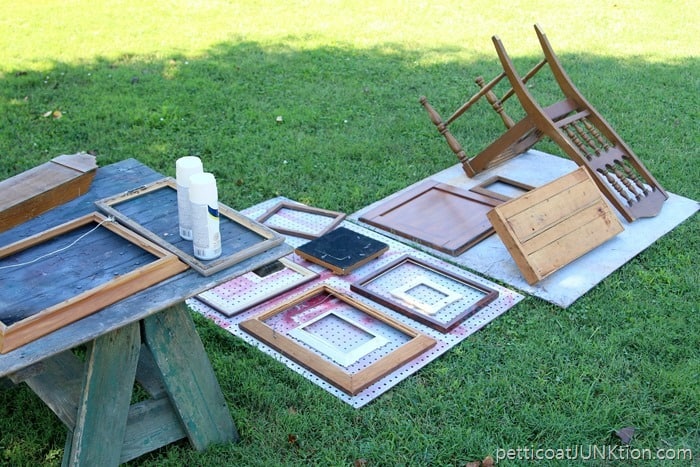 White Spray Paint And Distressing Party
In the midst of my workshop junk stash purge I gathered a bunch of items to paint, prepped them (if needed), laid them all on tables or pegboard outdoors, and grabbed the can of white spray paint.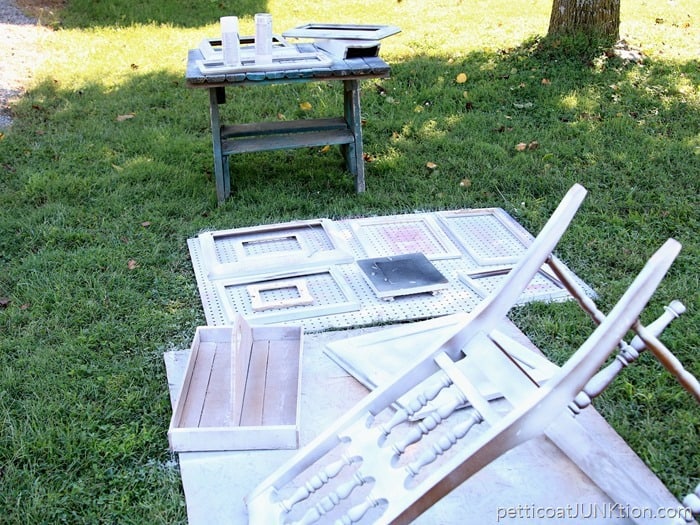 I try to work smarter, not harder, and this is one of my time savers. Spray paint projects en masse ( fancy French term for group).  I used RustOleum spray paint in Heirloom White. update: I received several questions about how much spray paint I used for the projects. What you see in the photos above took about a can and a half of spray paint. The chair just has a base coat of spray paint then I finished it with brush on paint. It's hard to get into all the nooks and crannies and the spray paint is great for those.
Well I got all those projects spray painted and a table or two brush painted with Reclaim paint. I made a short video (75 seconds) showing how to distress the white paint….
How To Distress Paint
I distressed all of these projects by hand using 3M Flexible Sandpaper ( my new fav). The process is super easy and really fast. There is no need to try and distress all parts and edges equally. The finished project is much prettier and realistic when distressed in a random fashion.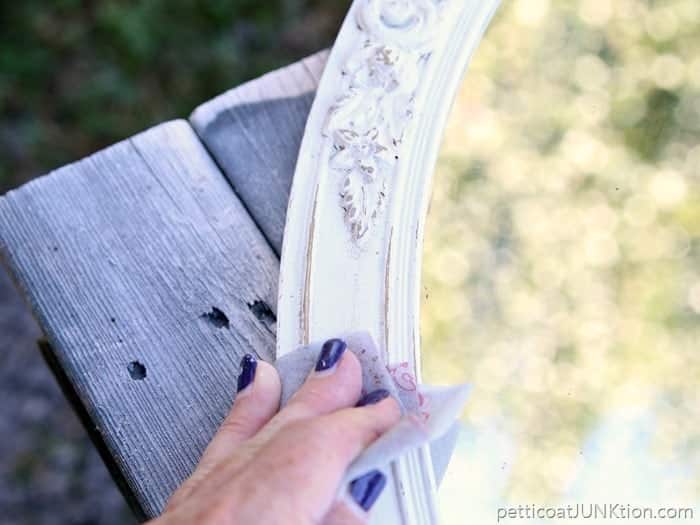 I always fold sandpaper two or three times to get a better grip on it. The regular sandpaper usually tears after just a bit of use but not the flexible kind.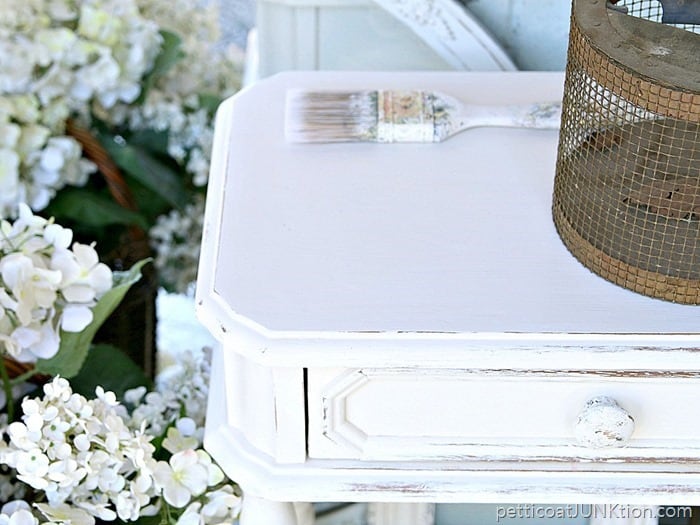 I counted over 15 pieces I painted in one afternoon. You guys don't have to do everything at one time. Maybe you want to change the décor in one room. Gather a few items and either spray paint them or brush paint them at the same time. You don't have to use white paint….go with a favorite color.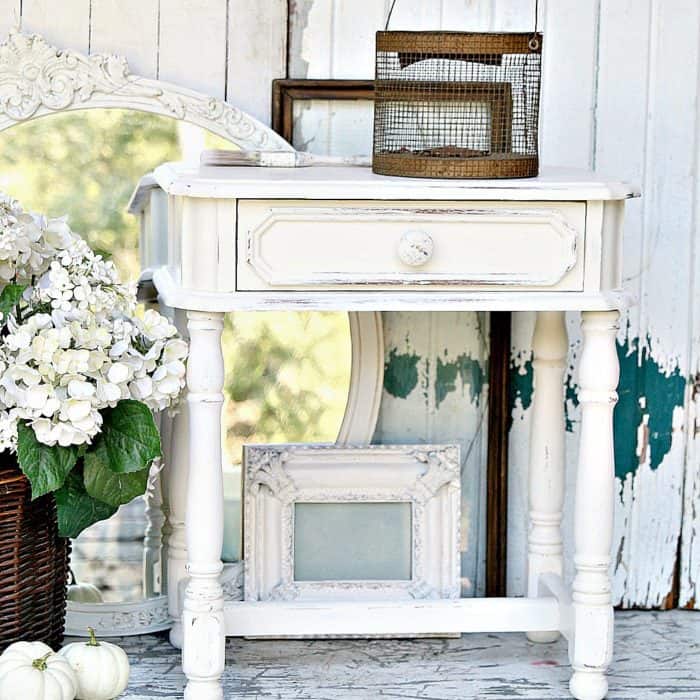 You can also distress just a few pieces at a time. I do go overboard sometimes.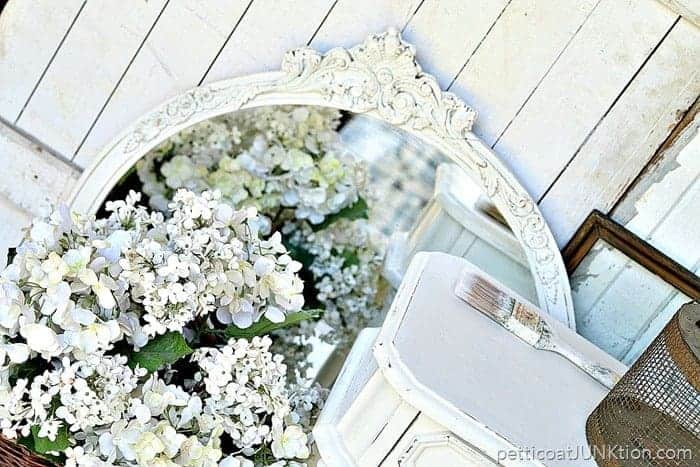 Pretty little details like those on the mirror really pop after a little distressing.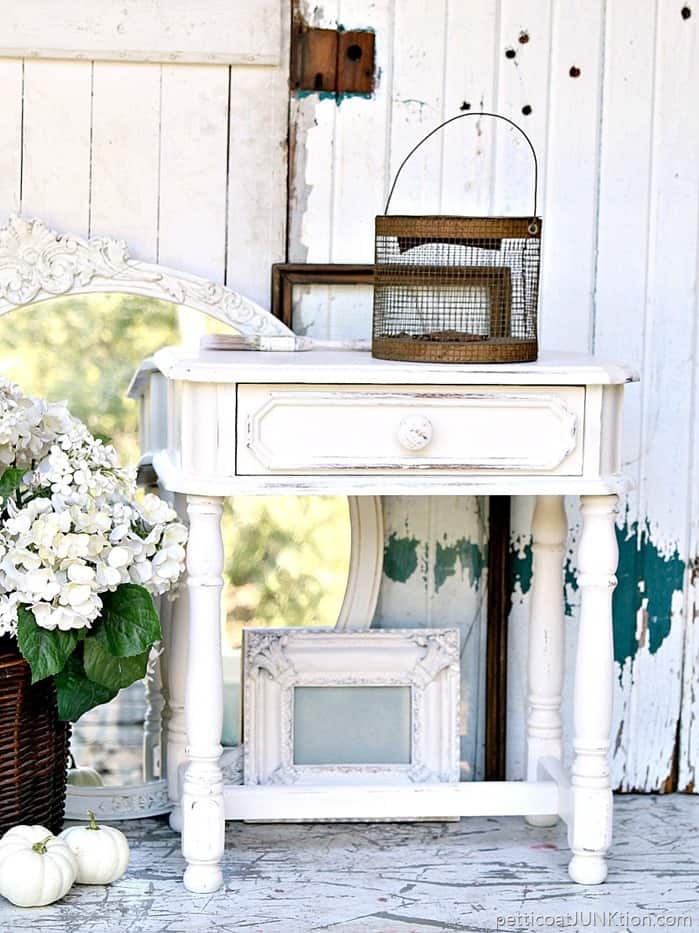 This is just a small part of the projects I painted that day. I 'll share the others in another post or two….in a week or two. (update. See the other projects here….Tips For Distressing Painted Furniture) .Let me know if you watched the video and if you have tried distressing paint. Some of my friends don't like distressed paint finishes at all. That's okay, it's not for everyone.
Products used in this project:
RustOleum Spray Paint – Heirloom White
3M 150 Grit Flexible Sandpaper
Reclaim Paint- Off White
(Amazon affiliate links for your convenience)
I'm done for now. Have a great day!