I like to spray paint home decor white because I can use the decor in any room of the house. You should gather a few of your home decor accessories and even small furniture pieces and spray paint them all at once. Work smarter......not harder.
It's easy to paint and distress several photo frames, trays, mirrors, and other home decor accessories in one afternoon. I made a video showing how to distress the paint. It's short and sweet.
My idea of a DIY good time is getting out the white spray paint and going to town. Throw in a little sandpaper and it's a party.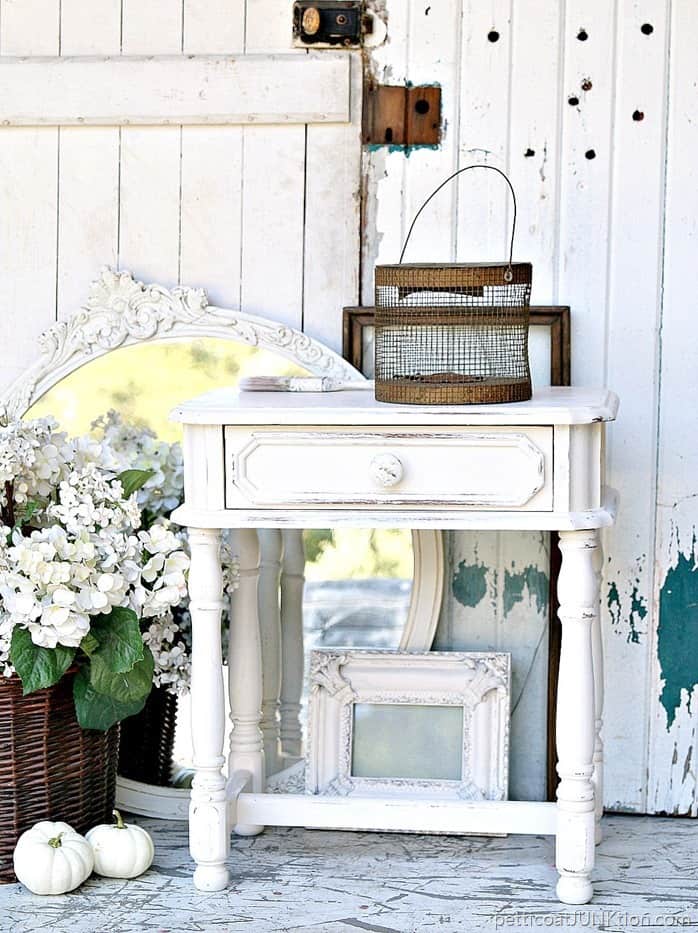 White décor is so clean and fresh looking. I love it even though my home is the total opposite where I surround myself with color.
I do have pops of white throughout the house and wanting more. I may have to rethink my decorating style.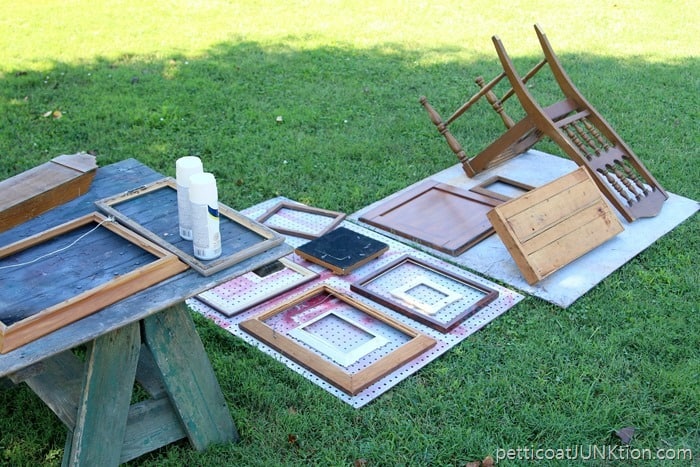 Spray Paint Home Decor White
Gather Project Pieces
In the midst of my workshop junk stash purge I gathered a bunch of items to paint, prepped them (if needed), laid them all on tables or pegboard outdoors, and grabbed the can of white spray paint.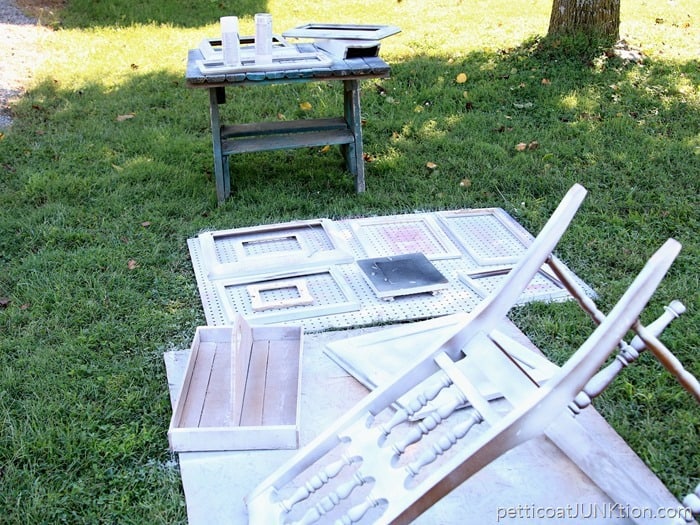 Set Up To Paint
Lay out a drop cloth or large boards of some kind to put your paint projects on. You don't want to lay them on the grass, dirt, or concrete. Protect the surrounding areas from paint.
I try to work smarter, not harder, and this is one of my time savers. Spray paint projects en masse ( fancy French term for group). I used RustOleum spray paint in Heirloom White. What you see in the photos above took about a can and a half of spray paint.
Paint The Items
I gave the chair a base coat of white spray paint then finished it by brushing on a coat of latex paint. It's hard to get into all the nooks and crannies on chairs and learned a long time ago a light coat of spray paint is a great way to take care of those areas.
Distress The Paint
Distress your painted projects by hand using 3M Flexible Sandpaper ( my new fav) or regular sandpaper. The process is super easy and really fast.
There is no need to try and distress all parts and edges equally. The finished project is much prettier and realistic when distressed in a random fashion. Perfectly imperfect is my go-to look.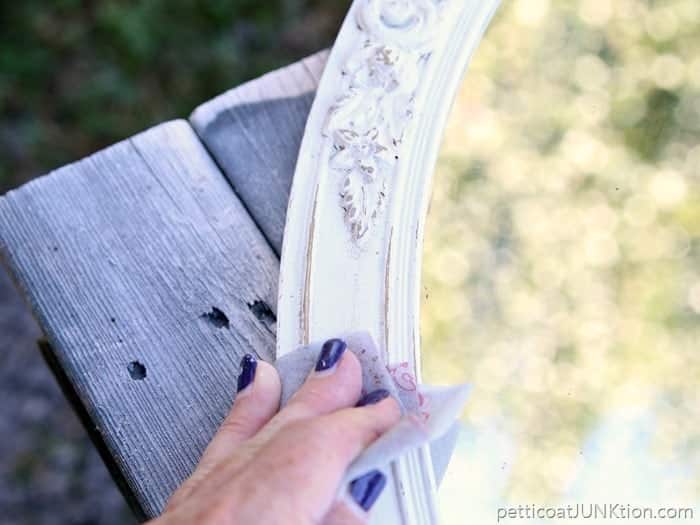 I always fold sandpaper two or three times to get a better grip on it. The regular sandpaper usually tears after just a bit of use but not the flexible kind.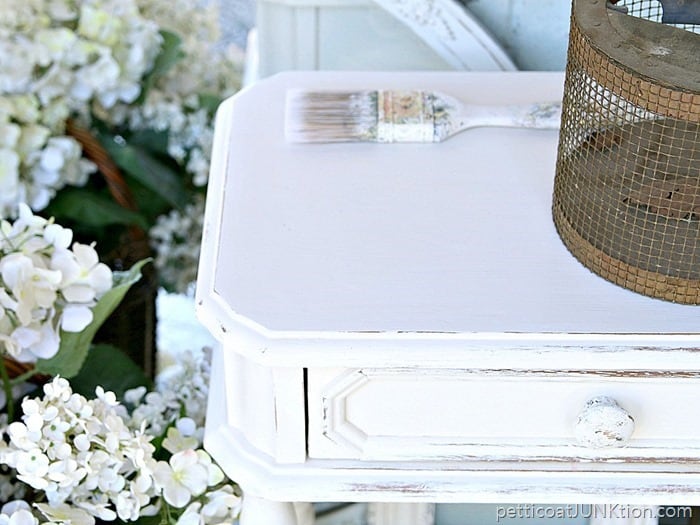 I counted over 15 pieces I painted in one afternoon. This is the perfect time of year to spray paint. The weather is cooler and usually dry so you can spray paint outside....which is what you should do. Never use spray paint indoors.
You don't have to paint 15 items like I did. Maybe you want to change the décor in one room.
Gather a few items and either spray paint them or brush paint them at the same time. You don't have to use white paint….go with a favorite color.
Examples of home decor to paint with spray paint: lamps, picture frames, countertop utensil holders, wood candlesticks, groups of thrift store wood or ceramic animals (owls, chickens, etc.), silver plate trays or wood trays, and more. Just a few ideas for you.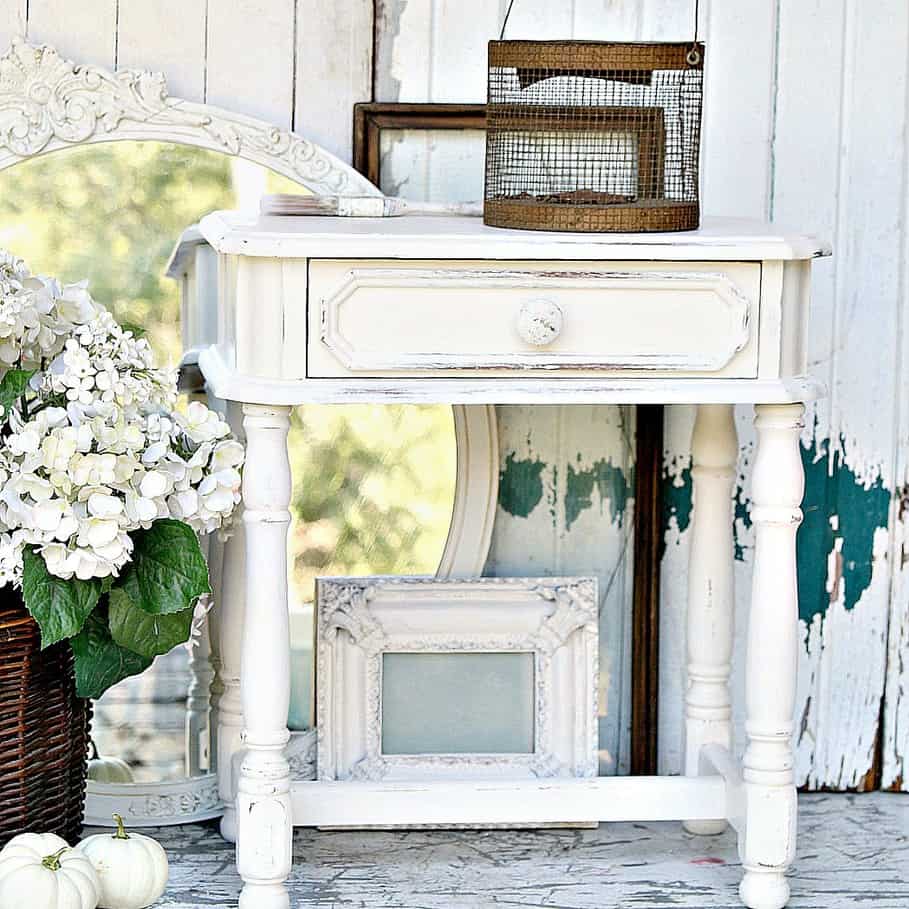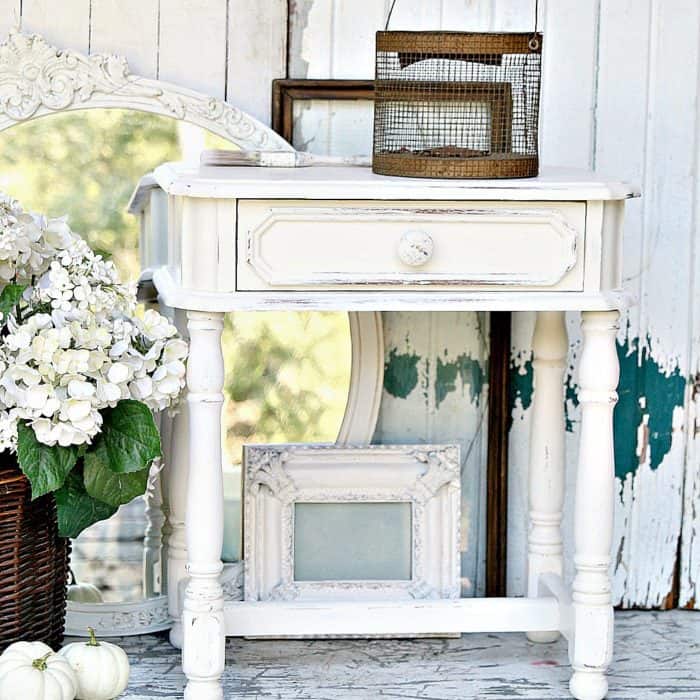 White Home Decor
You can also distress just a few pieces at a time. I do go overboard sometimes. It was a lot of fun though and I'm loving all of the white.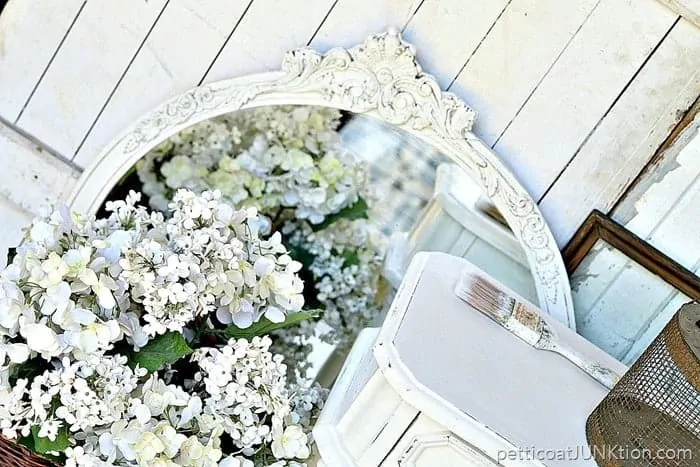 Pretty little details like those on the mirror really pop after a little distressing. Distressing paint adds depth and character to items. And you know you can distress any color of paint, not just white.
Well I got all those projects spray painted and a table or two brush painted with Reclaim paint. I made a short video (75 seconds) showing how to distress the white paint….
How To Distress White Paint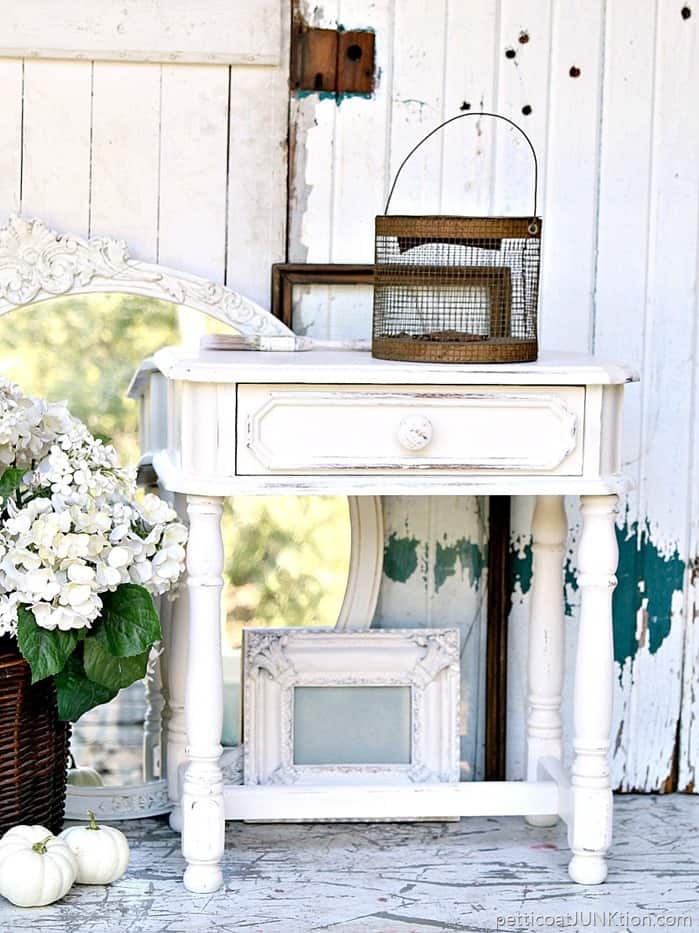 This is just a small part of the projects I painted that day. I 'll share the others in another post or two....in a week or two.
(update. See the other projects here....Tips For Distressing Painted Furniture) .
Let me know if you watched the video and if you have tried distressing paint. Some of my friends don't like distressed paint finishes at all. That's okay, it's not for everyone.
Products used in this project:
RustOleum Spray Paint - Heirloom White
3M 150 Grit Flexible Sandpaper
Reclaim Paint- Off White
I'm done for now. As always thanks for being here. Have a great day! Kathy
Author: Kathy Owen (Petticoat Junktion)
Kathy is the founder of PetticoatJunktion.com, a home décor blog focused on repurposing and upcycling furniture, old hardware, rusty stuff, and thrifty finds into unique home décor. Kathy's projects have been featured on the Home Depot Blog, Plaid Crafts, Behr Designer Series, and in numerous magazines. Read more about Kathy here.