Home decor accessories found at the thrift store and updated with spray paint. You will want to try these! Spray paint projects are fun because you get almost instantaneous results! You can spray paint a lamp or mirror in no time flat. The paint dries fast too so you can complete a project and have it sitting on your table or hanging on a wall in a couple of hours.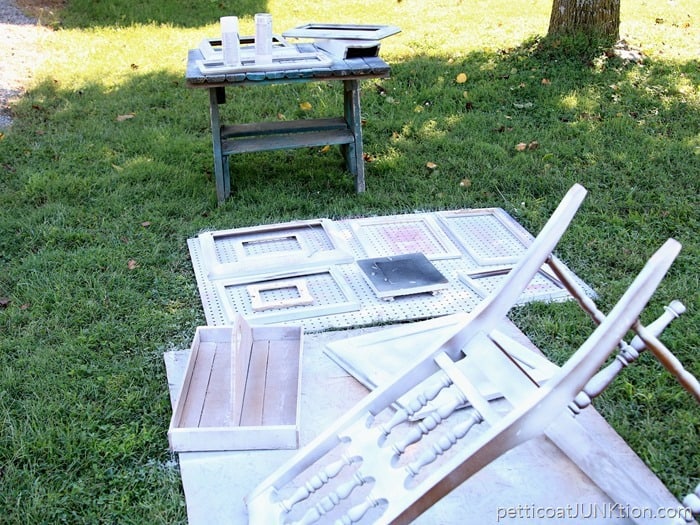 You might have a few things at home that need spray painting. If not you can find all kinds of things at your local thrift store, flea market, or junk shop that needs a quick update.
Spray Paint These Thrift Store Finds
Wall Decor
There are all kinds of decor to hang on the wall at the thrift store. Most of it has an old outdated finish and just needs to be modernized.
Mirrors
Mirrors are perfect for spray painting. A lot of the old mirrors at the thrift stores have that dark aged look to them and no one wants that. See a mirror I spray painted metallic here..Best Rustoleum Metallic Spray Paint Colors For Home Decor
Vintage Wall Plaques
I find a lot of those old Home Interior plastic or hard something at the thrift store. These plaques were gold and white and I spray painted them solid white then distressed the paint. Find them here...Spray Paint Wall Decor in 10 Minutes.
Metal and Wood Numbers
The number wall decor was a fun project. I spray painted all those numbers then attached them to the white board using Dap glue. Find the project here....Decorative Wall Art | Hammer And Nails Not Required
Picture Frames
I can't tell you the number of photo frames I've painted. It must be hundreds by now. Some of the posts I deleted but I still have the photos....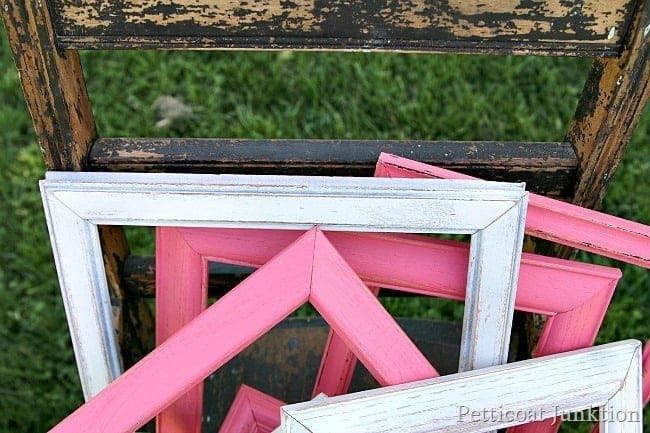 I like white frames the best but I also like to try the new spray paint colors when they come out.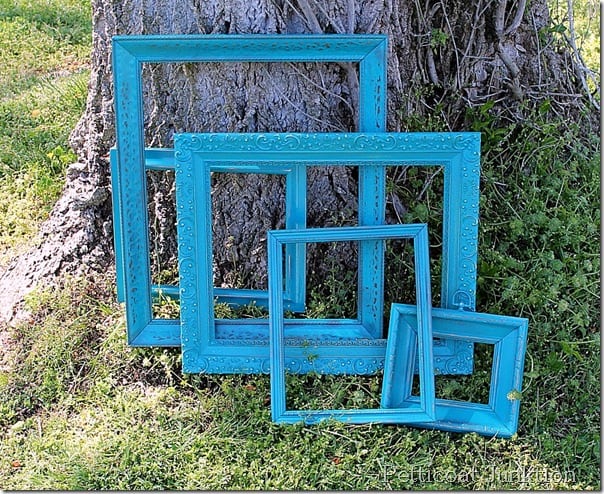 Find a painted frame post which also includes a painted lamp project here.....3 Ridiculously Easy Summertime DIY Projects With A How To Video
Lighting
You can always find lamps at the thrift store or if you are like me the lamps you have are out of date and can use a coat of paint.
Table Lamps
Hey, this brass lamp makeover is super easy! Spray paint is all you need for the base then add a thrift store lamp shade.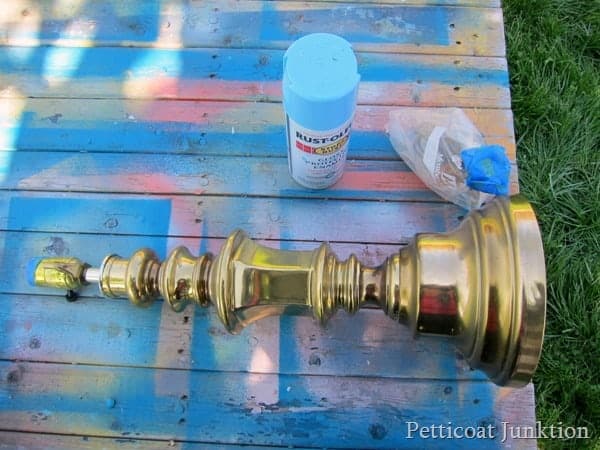 I purchased this lamp for $4.95. I decided to paint it a pretty blue and change out the lamp in the "granddaughters" bedroom. All I did to prep the lamp was cover the top of the bulb socket with painters tape and wrap the cord in a plastic bag.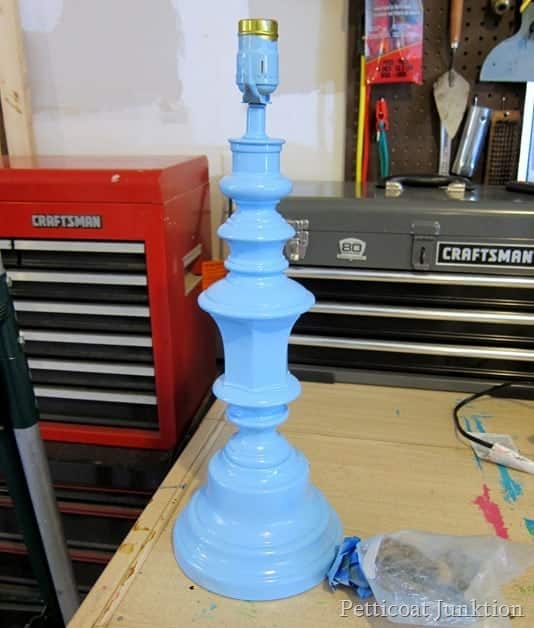 Then I sprayed on two coats of blue paint. The lamp base was painted and the paint dry in under an hour.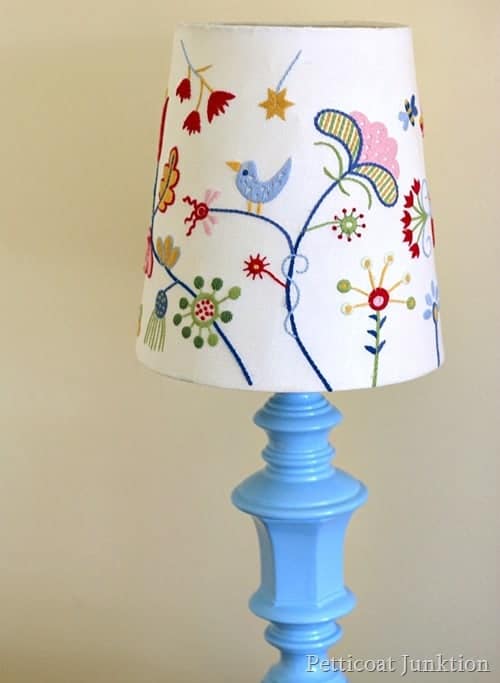 I also found the lamp shade at the thrift store for $1.95. I purchased the shade a few months ago. I bought it because of the price and I knew I would eventually use it. At first I thought it was a Pottery Barn lamp shade but after a little goggling I discovered it's from Ikea. I love the embroidery and the colors.
Night Lights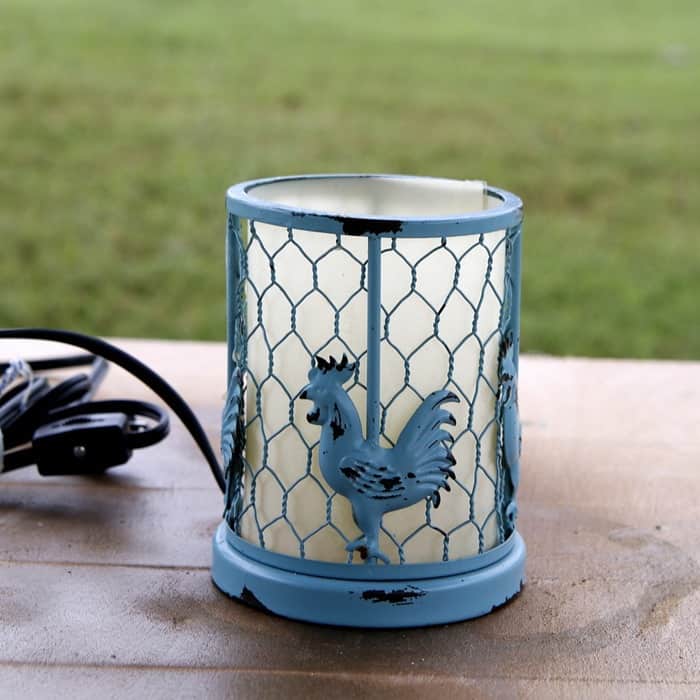 I think of the rooster light as a nightlight. The bulb is too small to put out much light. The photo above with the blue paint is how I found the light. You can find the makeover here.....4 Farmhouse Style Chicken Decor Projects | Something To Cluck About
Find my favorite spray paint on Amazon here.
Chandeliers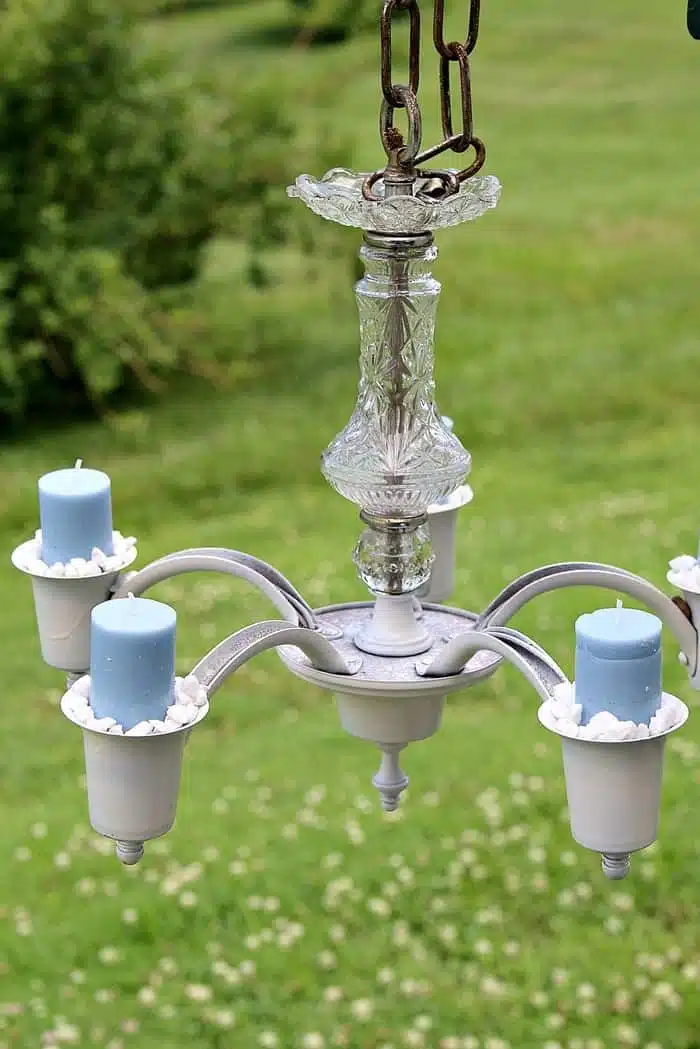 Old chandeliers whether they have hanging crystal beads, glass details, or cloth shades they look great painted. Candles or LED lights can turn the old light fixtures into garden or patio decor. Find the project here....Repurpose An Old Chandelier Into A Hanging Candle Holder
Organizers
There are many items at the thrift store that you can turn into an organizer for the bathroom counter, dresser organizer, or kitchen catchall.
Kitchen Stands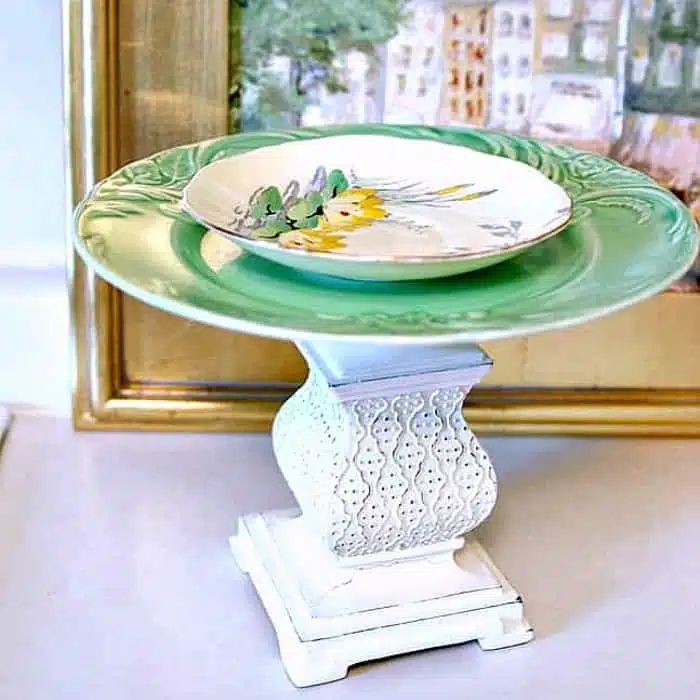 Spray paint a candleholder and glue a dish or platter to it to make a cute cookie platter. Or you can use the stand to hold fresh fruit or limes. Project here.....Make A Decorative DIY Cookie Stand | Thrift Store Decor
Jewelry Box
I spray painted an old fishing box or it might have been a tool box. It was metal and the spray paint covered it well. See it here....Repurposed Tool Box Becomes A Jewelry Box
Trays
I like using trays to organize stuff on my dresser or on the bathroom counter....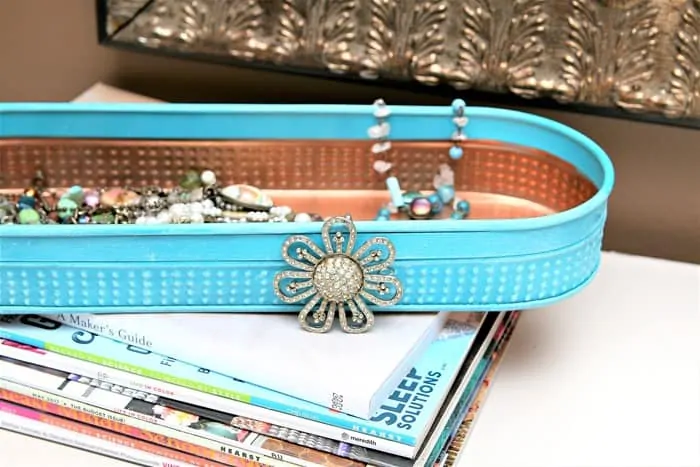 Then distress the paint lightly. For the dresser top organizer I left part of the tray the original copper color. It makes a great contrast to the turquoise paint. Project here...Spray Paint A Table Top Organizer Tray For The Bedroom
Cookbook Holder
Find a large metal or wood type container just the right size to hold cookbooks and paint it a pretty color.....Thrift Store Decor: Painted And Distressed CookBook Organizer
Chairs
Metal Chairs
I painted these metal chairs I found at the flea market and then covered the seats with furry fabric. Find them here....How To Paint A Metal Vanity Chair And Re-Cover The Seat
Wood Chairs
You might remember this metallic gold chair I just painted a couple of weeks ago to match a navy blue desk with a colorful transfer on the drawers. The metallic spray paint covered the wood so well. No complaints....Spray Paint A Chair Soft Metallic Gold
Table Decor
Centerpiece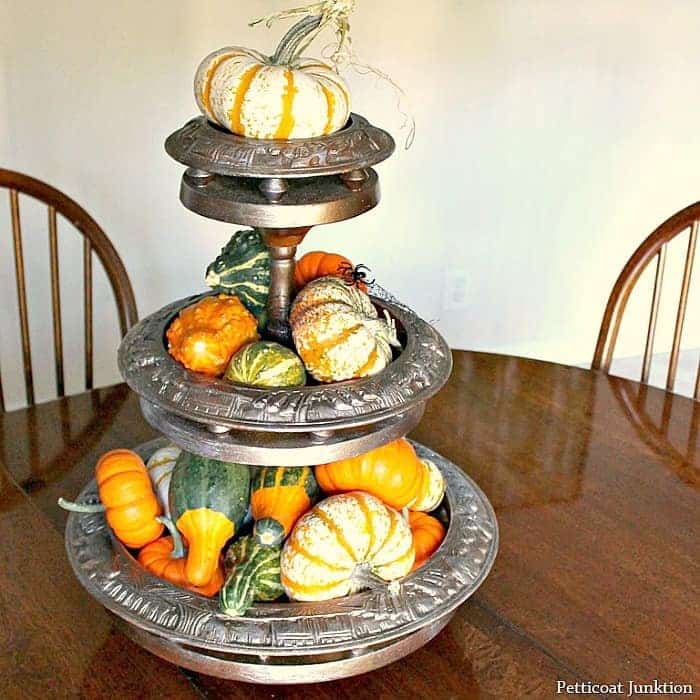 Another metallic spray paint project is the tiered centerpiece I painted a number of years ago. Table Centerpiece
Clocks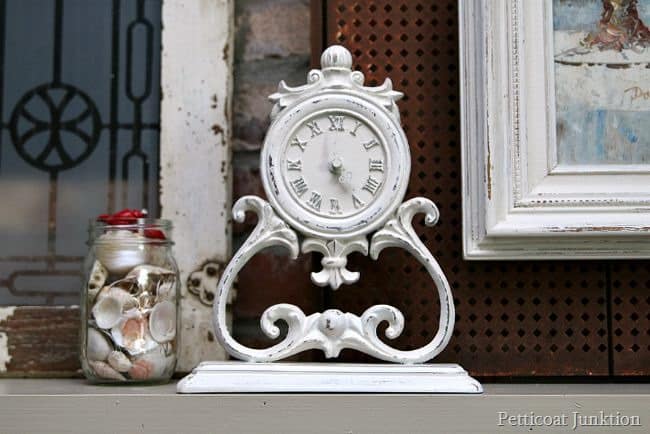 This cute decorative clock was a super easy project and the distressing is just right....Spray Paint A Clock White And Distress The Paint
Games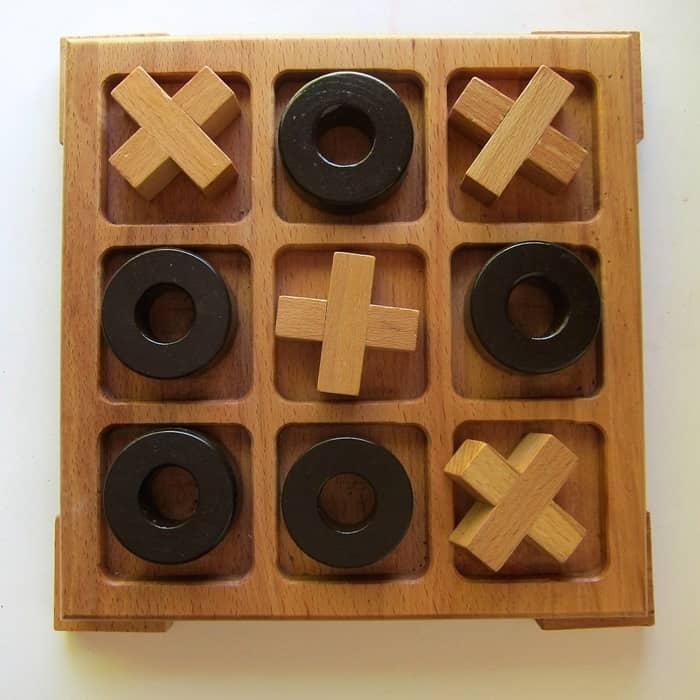 The wood tic tac toe game is a great piece but I wasn't feeling the dark wood so I painted it....Tic Tac Toe Game Makeover
Watch my video below showing how I distressed a bunch of spray painted stuff...
Figurines
Ceramic Owls
You can find all kinds of ceramic, glass, and brass figurines at the thrift store. I like to get a grouping of them and spray paint them all the same color. Makes a nice display....Paint Owl Figurines White
Brass Deer
Flower Pots
There are a lot of unique pieces you can use as a flower pot.
Metal Buckets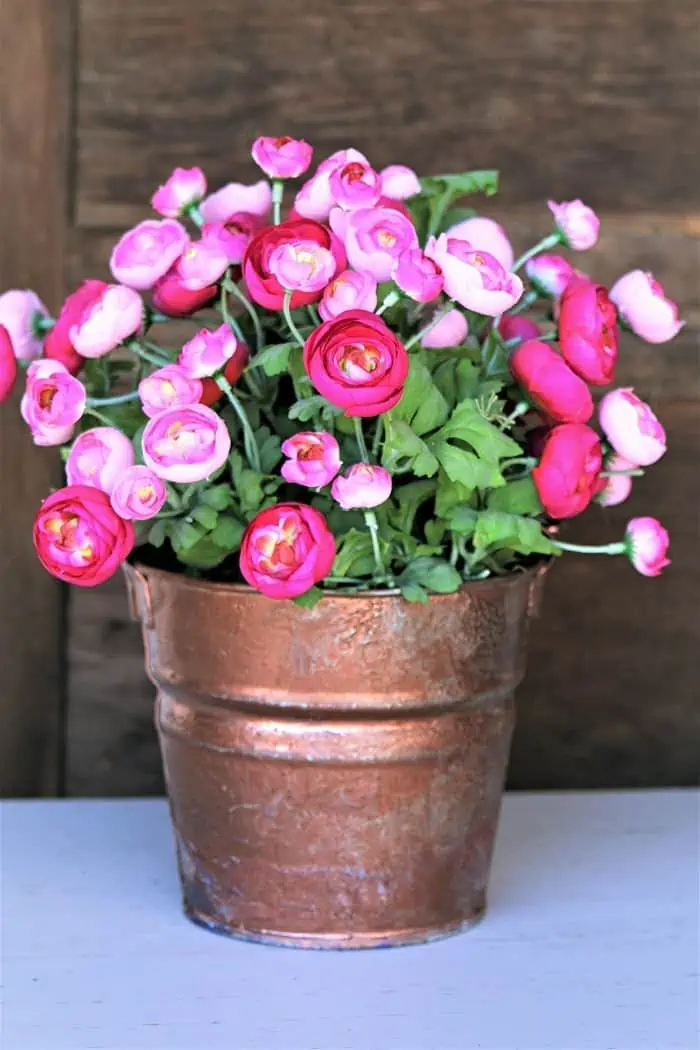 I painted  a metal bucket them distressed it to look old and aged...Why Paint Your Flower Pot With Metallic Copper Spray Paint
Baskets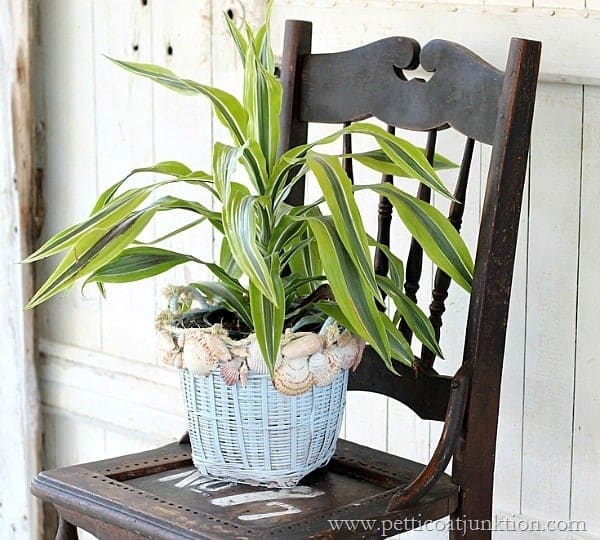 This seashell basket project is really an old one. I love decorating with seashells and after painting the basket I glued the shells on and added sisal rope to the mix.....Decorate A Basket With Seashells | Coastal Decor Idea
Miscellaneous Items
When I spray paint home decor items I do a bunch at one time. I round up stuff in the workshop and in my house I want to paint the same color and lay them all out on a board or drop cloth outside and start painting. Work smarter not harder.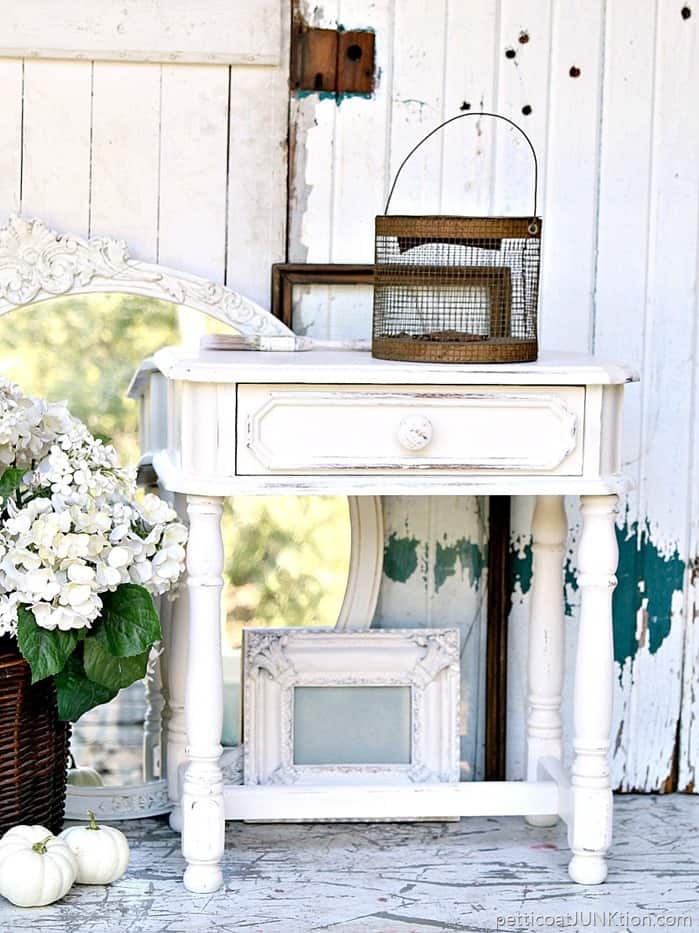 Find the post where I painted all of this stuff at once here....How To Spray Paint Home Decor White
It's super easy to spray paint thrift store finds. Or paint some of your outdated decor. What are you going to paint? Leave a note if you have a minute and thanks for being here, Kathy