Hey Guys! It's Thrift Store Decor Day and I have an easy spray paint project. It's a spray painted and distressed cookbook organizer….or holder.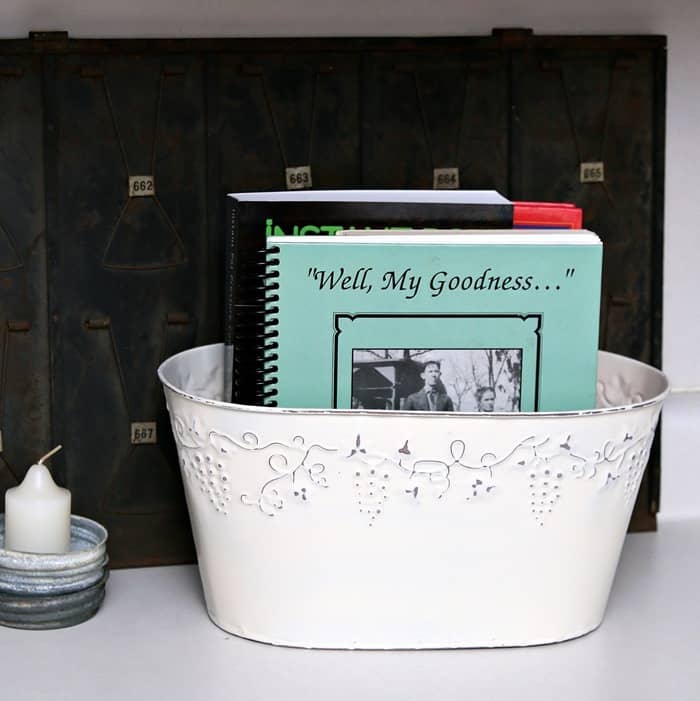 The metal container I found at Goodwill had some pretty details that distressed rather nicely. The first cookbook you see is our family cookbook. More on that later.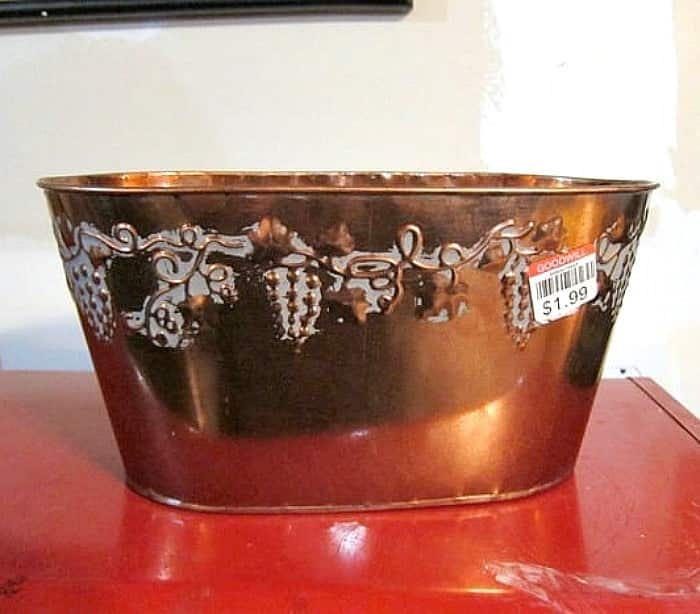 This is how the oval metal container looked when I got it. As you can see it was $1.99. Not too bad. The area with the raised design was a bit sad looking.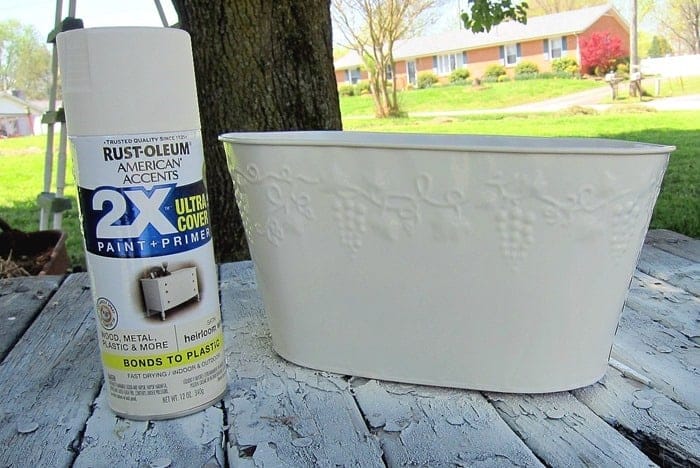 First thing it needed was a good coat of spray paint. I used my favorite Rustoleum Satin Heirloom White (find on Amazon here). It is the perfect off-white color. Spray painting the container took no more than 2 minutes.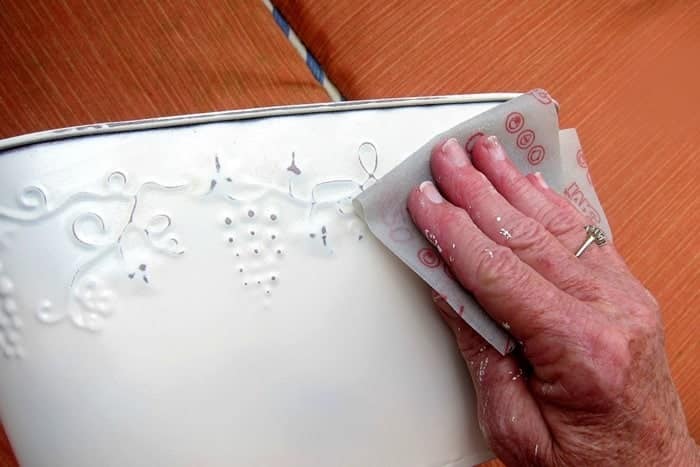 I distressed that lovely raised grape vine design using 3M 220 grit flexible sandpaper. I love this stuff. All that paint on my hands is not spray paint. The JTS and I have been painting our bedroom and the white paint on my hands is the trim paint.
I'll be sure and share the room makeover later. For now we are just painting but I my plan is for new (old but new to me) furniture and also completely new decor.
The new decor will have to wait until things get back to normal. I can't pick out curtains and bedding online. I need to see them in person and touch them. You can't tell anything about texture and quality by looking at a picture on the computer.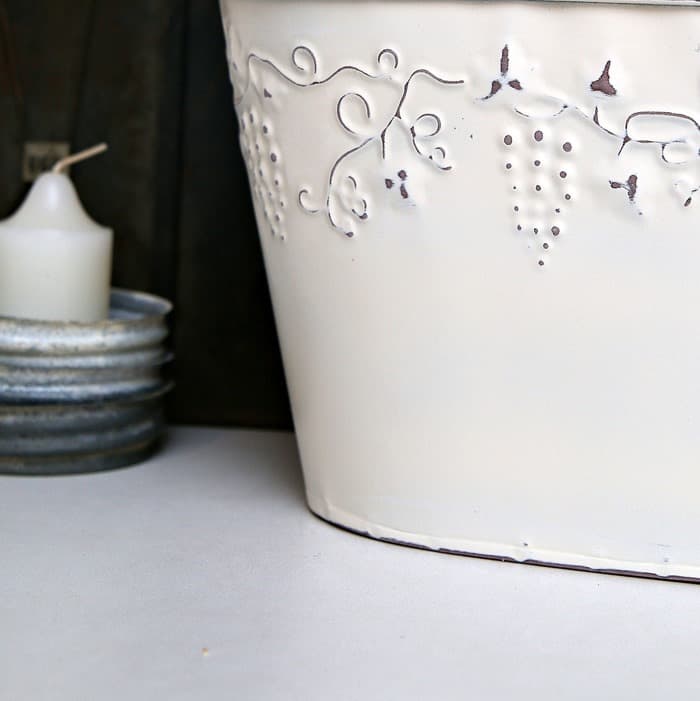 How about those distressed details? It took less time to distress the container than it did to spray paint it.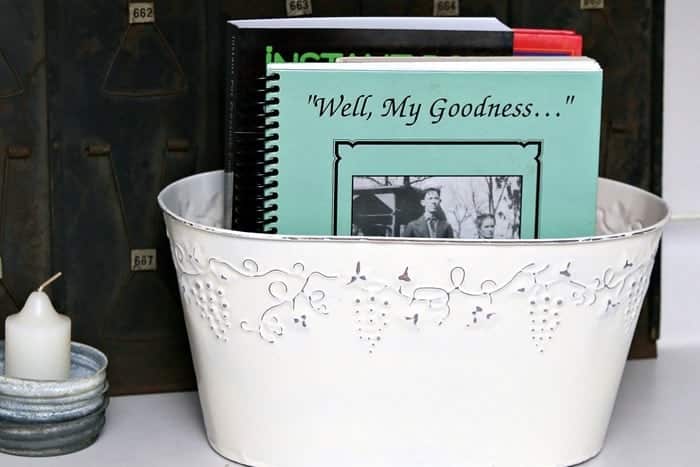 The title of the Owen family cookbook "Well, My Goodness….." is in honor of my great grandmother. She always greeted everyone that came to her door with those words and with a hug. That's a photo of my great grandparents on the cookbook cover.
The cookbook planners and recipe gatherers were my Mom, my Dad's sister, and several of Dad's cousins. Along with the recipes there are stories about my great grandparents as told by some of the grandchildren. The publishing company did a great job with the book.
My cousins and I along with extended members of the family are in the process of getting recipes together for the second Owen family cookbook. I'll let you know how it goes. You can find my Dad's favorite Banana Cake Recipe from the first cookbook here.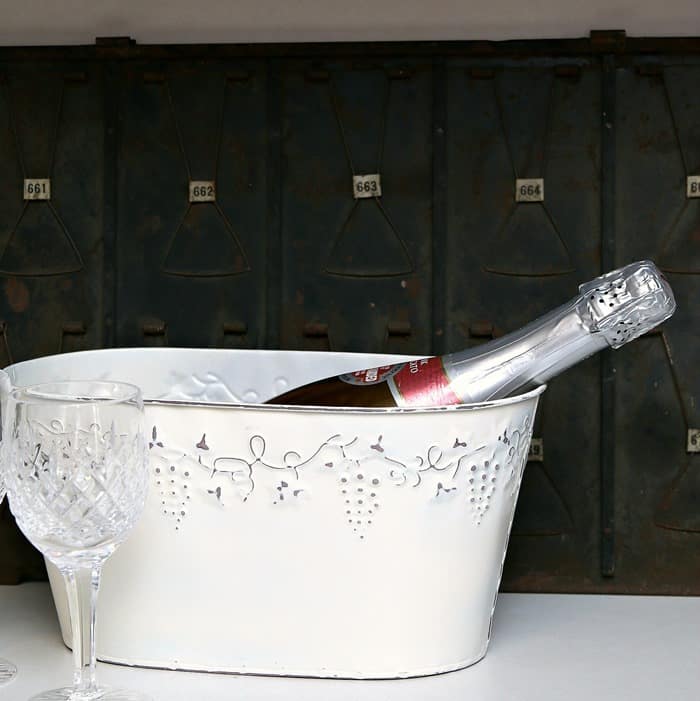 The pretty grape vine design makes me think of wine and champagne. This bottle of champagne was a gift from a neighbor and it's been in the cabinet for a while. It's getting pretty aged by now. Anyway, the pretty container would make a great ice bucket for your favorite bubbly....maybe for date night.
I have a short video that shows how easy it is to distress paint...
How To Distress Paint
That's it for me. What would you put in this painted and distressed thrift store goody? Leave a note if you have time and head out on the Thrift Store Tour. There are only 5 of of this month.
All the thrift stores are closed so that kind of affects our monthly tour. I just happen to have a big stash of thrift store goodies in the workshop and so do some of the other girls. Just click the text links below the "before makeover" photo collage….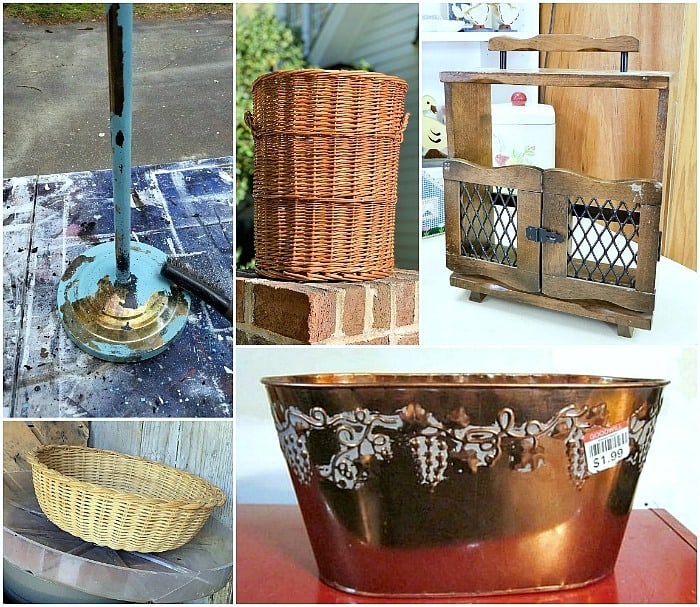 Thrift Store Decor Bird Nest DIY from House Of Hawthornes
Herb Saver from a Decanter Tantalus from Sadie Seasongoods
Floor Lamp Solar Light  from My Repurposed Life
Painted Stripe Basket Makeover from Our Southern Home
You guys stay safe. Thanks for being here, Kathy
Author: Kathy Owen (Petticoat Junktion)
Kathy is the founder of PetticoatJunktion.com, a home décor blog focused on repurposing and upcycling furniture, old hardware, rusty stuff, and thrifty finds into unique home décor. Kathy's projects have been featured on the Home Depot Blog, Plaid Crafts, Behr Designer Series, and in numerous magazines. Read more about Kathy here.