Stencil Flowers On Furniture
This project involves purple paint, but just a bit of it. I don't work with purple very much. It's definitely a girly color when it comes to furniture but a lot of people are using it on their walls. Might work as an accent wall.
The purple paint sure livened up the hardware. And it picks up the purple color in the stenciled flowers.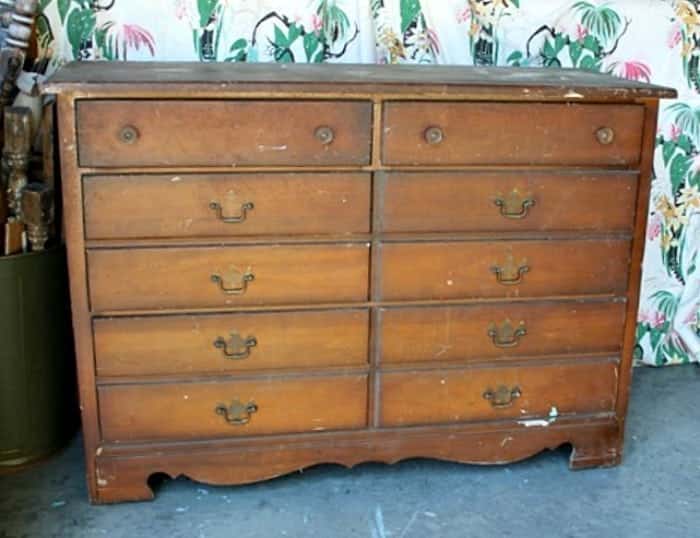 The dresser is a Nashville Flea Market purchase. If you guys are ever in the Nashville area on the fourth weekend of the month you have to visit the market. It is a shoppers paradise. You can find everything from new stuff like socks and purses, to vintage, retro, antiques, and more. I don't remember how much I paid for the dresser but probably not more than $40.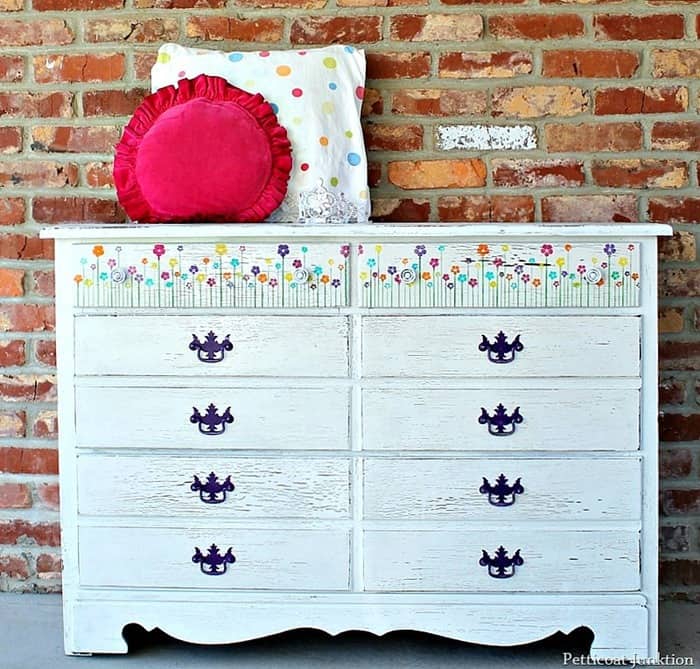 This is how it looked after the makeover. Very girly. The paint crackled…..all by itself.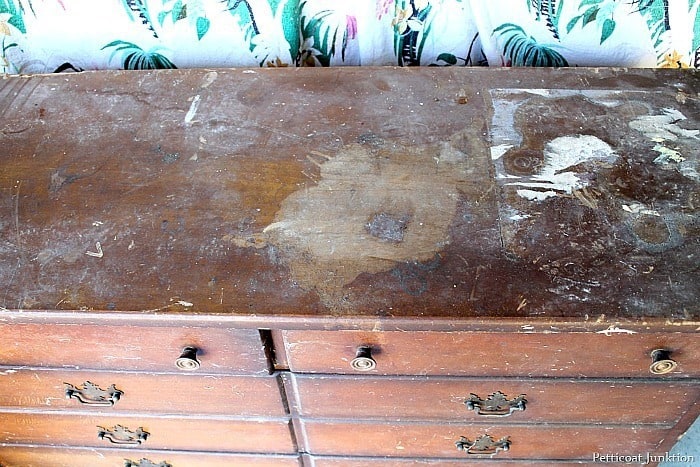 The top of the dresser was in really bad shape. I had gouges, and scratches and paper stuck to the top. I sanded the rough parts off before painting.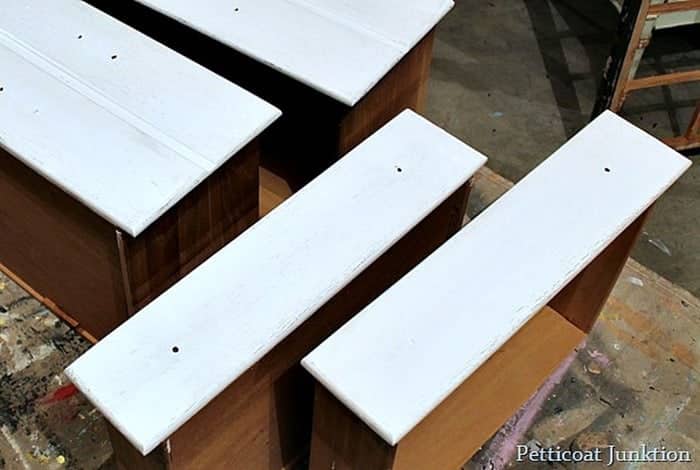 I used a white latex paint I had on hand. As I mentioned the paint crackled. I've only had this happen a couple of times. I think it has to do with the original finish.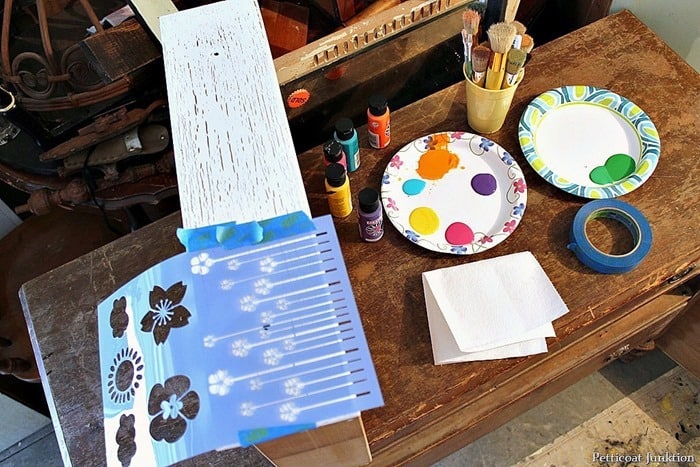 Now, I couldn't just leave the dresser white. Too plain jane. I decided on a stencil. I'm not an artist and can hardly draw a stick figure so stencils work for me. I selected several acrylic paints in bold colors for the flowers and stems. I always pour my paint onto a paper plate when stenciling. I can dip my stencil brush in the paint then wipe off most of the paint on a paper towel. Remember when stenciling a dry brush is crucial. Full stencil tutorial here…How To Stencil. Or you can watch me stencil! I have a How To Stencil video....
 How To Stencil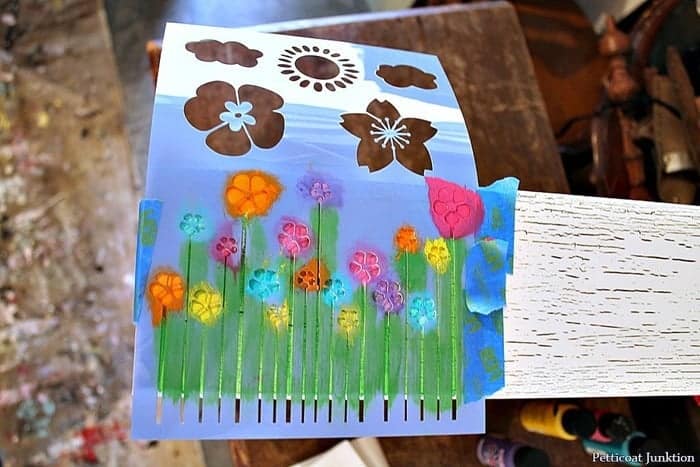 I only wanted to use the blooming flowers with their little spindly stems so I placed the stencil then taped it as best I could. It wouldn't lay completely flat and I held it down with one hand while I stenciled with the other. I didn't use the paint colors in any certain sequence on the flowers. I just painted willy nilly. Remember that perfection is over rated. It just looks store bought and not pretty.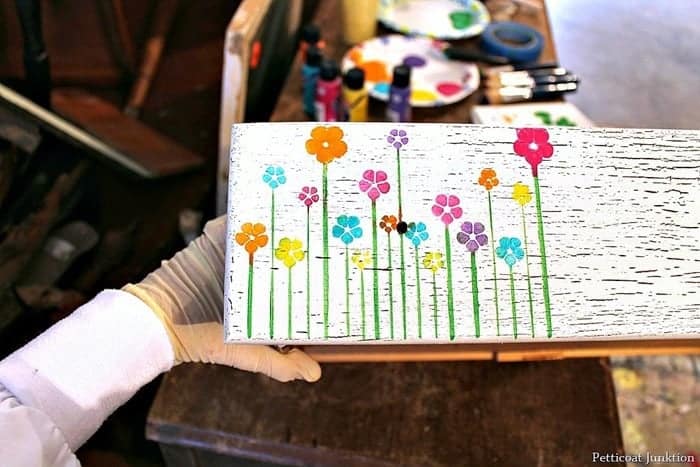 I removed the tape and stencil and once the first set of flowers were dry I moved the stencil on down the drawer. Didn't take long at all, maybe 30 minutes.
I first painted the original hardware white. I didn't love it. The Valspar purple paint was a Habitat Restore purchase for $1. It was perfect.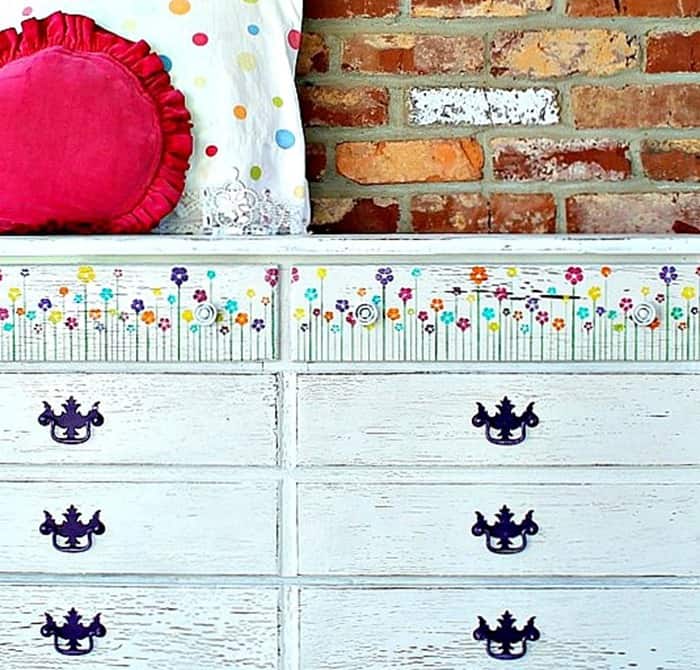 Those little flowers make me smile…..do the happy dance….and crave a piece of chocolate. How do they make you feel?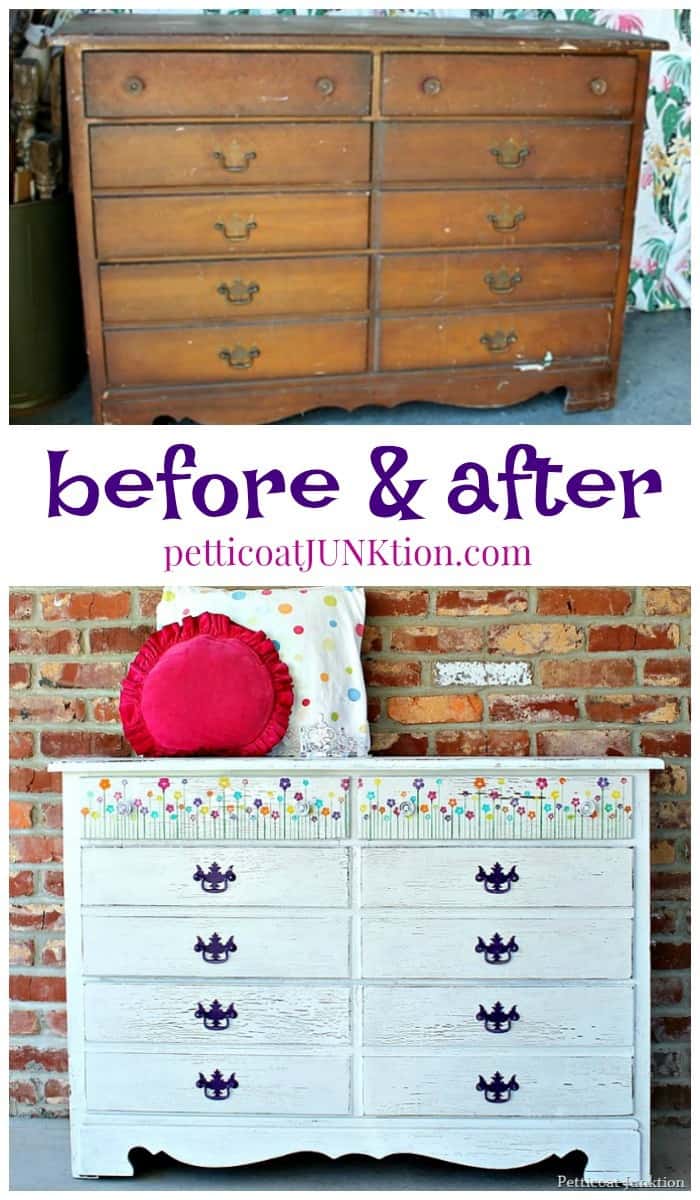 This little cutie pie was featured on the Good Housekeeping website. Color me happy.
What do you guys think of the makeover? It's definitely girly. Perfect for just about any age from babies up to mid teens. I can see it in a nursery, maybe with a changing pad on top. Lots of storage for the nursery.
disclosure: This project was completed in November 2013. It was originally documented in two posts. I've combined the information and re-edited the photos plus added additional information.
Author: Kathy Owen (Petticoat Junktion)
Kathy is the founder of PetticoatJunktion.com, a home décor blog focused on repurposing and upcycling furniture, old hardware, rusty stuff, and thrifty finds into unique home décor. Kathy's projects have been featured on the Home Depot Blog, Plaid Crafts, Behr Designer Series, and in numerous magazines. Read more about Kathy here.