Paint Furniture Using Latex Paint
Why paint furniture using latex paint? I have a list of 10 reasons why! Gone are the days where primer is always necessary. Yes, I paint furniture with latex paint and I love latex paint. Is it the only type of paint I use? No.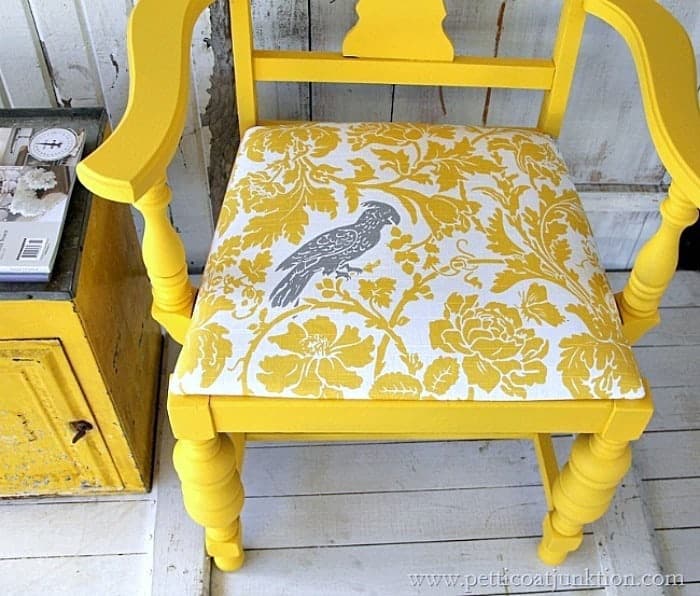 Paint Furniture Using Latex Paint
This post probably won't be a hit with the folks who sell specialty furniture paints. I used to retail specialty furniture paints…and more than one kind…but I'm getting out of that business. Furniture paints are on every street corner, in every antique mall, and can be found just about anywhere there is an empty spot on the shelf.
This post is about why I use latex paint for many of my furniture makeovers and why you should consider latex paint too.
10 Really Good Reasons To Paint Furniture With Latex Paint
1. Availability
Latex paint is readily available at hardware stores, home improvement stores, department stores, paint stores, etc. It can also be ordered on line.
2. Price
Price is probably tied with availability for the number one reason to use latex paint. Let's face it, most of the furniture paints are a little on the pricey side. Latex paint is a fraction of the cost of some specialty paints.
I'll let you in on a little secret too. Most stores that custom mix paint colors have a shelf where you can find "oops" paint at a greatly reduced price. Oops paint is a custom mix color that a home owner selected and then decided they didn't like the color.
The store will mark the paint down considerably. I have purchased quarts of oops paint for $4 where the regular price would have been $18 and gallons of oops paint for $8-$10 where the regular price would have been $38+. If you don't see any oops paint at your local hardware store ask the paint guy where you can find it.
You can also purchase latex paint at Habitat Restores. Some DIY'ers and contractors donate left over paints from home projects to Habitat Restore. There may be other stores in your area that also collect paint to resell. It would be worthwhile to check listings in your area for this type of shop.
3. Color Selection
There are endless displays of paint color chips in the stores. You can also get a paint deck from the manufacturer for a price. There are literally thousands and thousands of paint colors to choose from.
4. Sheens
Latex paint comes in a variety of sheens. The following sheens are usually available from the paint manufacturer; Matte/Flat, Eggshell, Satin, Semi-Gloss, Gloss, Hi-Gloss. At this time my favorite sheen for furniture is Flat (Matte depending on the manufacturer) and a close second is Eggshell. I also like Hi-Gloss for the retro-modern look that's trending now.
5. All In One Product
Paint & Primer combination paint is a norm now. For most projects there is no need to buy an additional primer product. Latex paint doesn't require an additional top-coat either. Win-Win!
6. Wax, Sealant, Top-Coat  Not Required
As a rule, for most projects a top-coat is not needed over latex paint. If  I were painting a dining room table I would use a sealer or top-coat over any paint type. If you do need to seal or wax over latex paint just about any product is compatible. Not so with most furniture specialty paints.
7. Quality And Durability
When buying latex paint stick with top brands and manufacturers. Paint quality and durability has been steadily getting better and better over the last few years. I have used a number of paint brands that cover in one coat! It all depends on the color you are using and what color or stained finish you are covering.
8. Custom Mixes
The best thing about latex paint is the ability to have the color of your dreams. Take in a favorite blanket, decorator pillow, rug, fabric, you name it,and the paint guy can match the color to a tee or pretty darn close.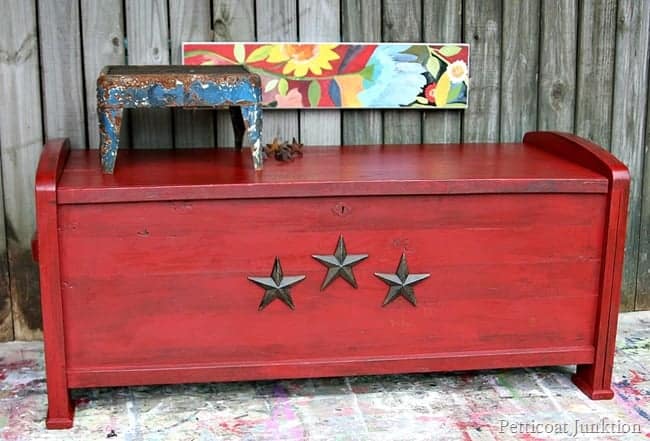 Junktion Red Cedar Chest Antiqued With Wax
I love to combine my own colors at home until I come up with the perfect color for a project. For example, I mixed a fabulous red from different latex colors in my stash. I liked it so well I brushed some on a paint stirrer and had Home Depot color match the paint for me. It's called Junktion Red!
9. Special Paint Techniques Friendly
Latex paint can be distressed, antiqued, aged, white-washed, glazed, crackled, stenciled, decoupaged over, etc. You name it, I haven't found a technique I couldn't use on latex painted furniture. Latex paint can be used in a paint sprayer. I often use it in my HomeRight Finish Max Sprayer. Foam brushes, bristle brushes, and rollers can be used to apply latex paint.
10. Ease of use
Buy the latex paint of your choice, bring it home, shake or stir, and paint. There is no mixing of powders or painting with lumpy paint.
Disclaimer: My opinions are based on my experience  using latex paints. I am not a professional contractor or paint expert.
Now you know why I paint furniture using latex paint!
The following furniture makeovers feature latex paint. To see the complete makeover with paint information and more photos just click the photo or the link below it. If you have any questions or observations on latex paint there is a comment section below.
Latex Painted Furniture…..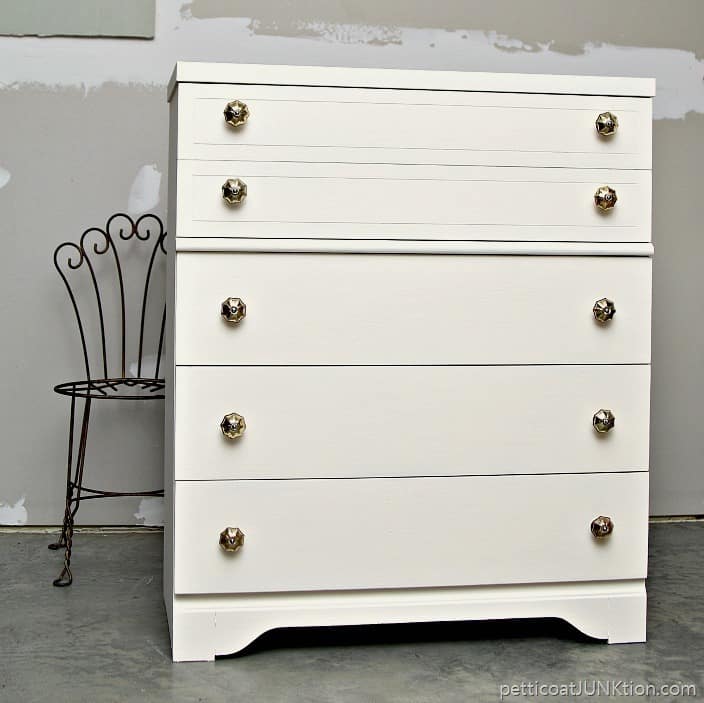 White Chest with Metallic Gold Knobs
White paint is so classy. Paint a chest of drawers for your bedroom or a stunning piece for your foyer. Did you know there is an endless number of white paint colors? Just go to your local hardware store and check it out.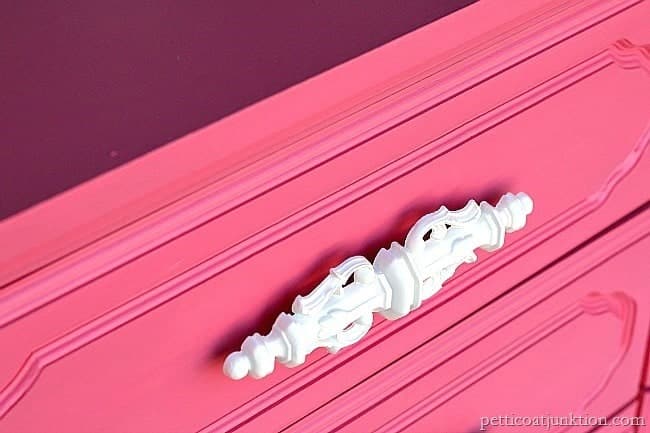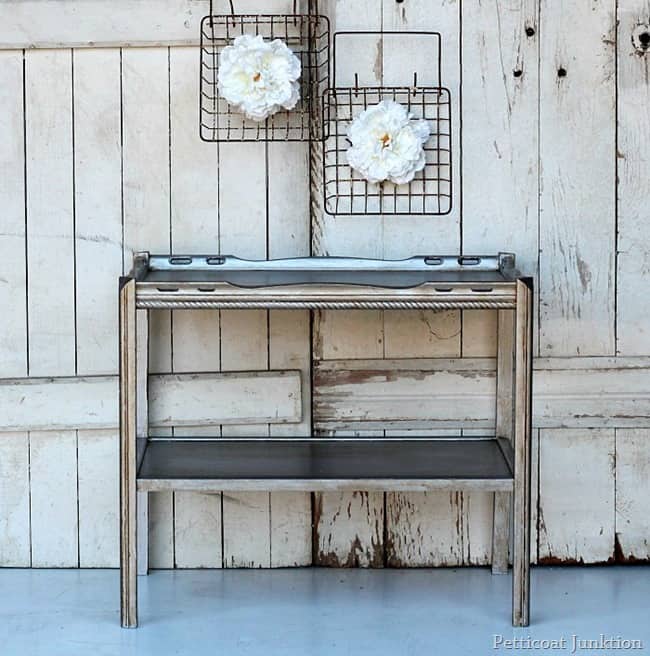 Silver Metallic Paint Aged With Toner
Metallic paint is one of my favorites. You can just let it shine or give it an aged or antiqued look by applying a toner or dark wax. The table above was dark and drab. I applied one coat of primer tinted gray (my favorite is Glidden Gripper), two coats of metallic silver paint, and toner to give the paint depth.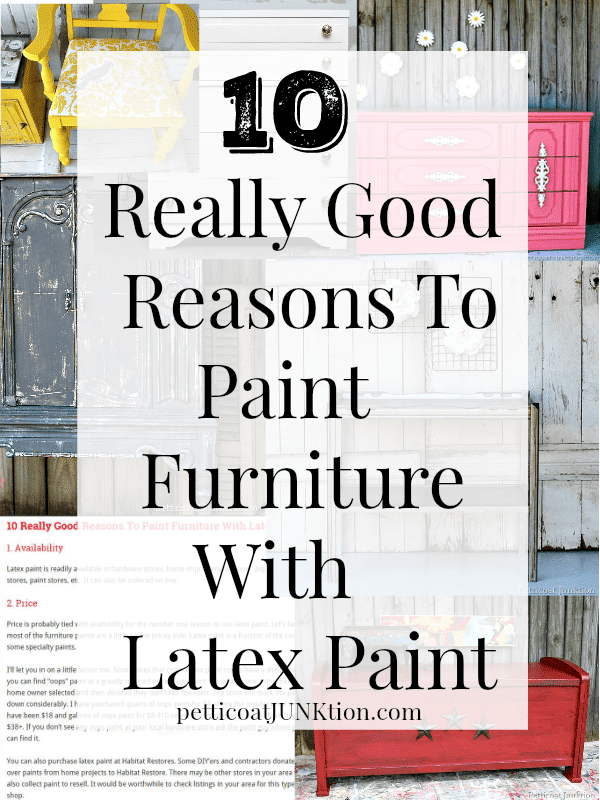 Paint Furniture Using Latex Paint
Do you have any latex paint around the house? Maybe some leftover from a house painting project. Maybe you have a piece of furniture that needs a little love. Go for it!
As always, thanks for being here and have a great day, Kathy