You should paint furniture with latex paint, also known as water-based paint. I've listed 13 reasons and great tips like where you can find great deals on latex paint, what sheen to use, how to mix a custom paint color, and more. Once you learn about painting furniture with latex paint, you can update your old furniture!
Painted furniture makeovers are super easy with latex paint. Some people will tell you differently, and that's their opinion. Paint shelves at hardware stores and online shops are overrun with specialty furniture paints. I use some of those specialty paints on occasion but I use latex paint more often than not. Disclaimer: My opinions are based on my experience using latex paints. I am not a professional contractor or paint expert.
11 Reasons Why You Should Paint Furniture With Latex Paint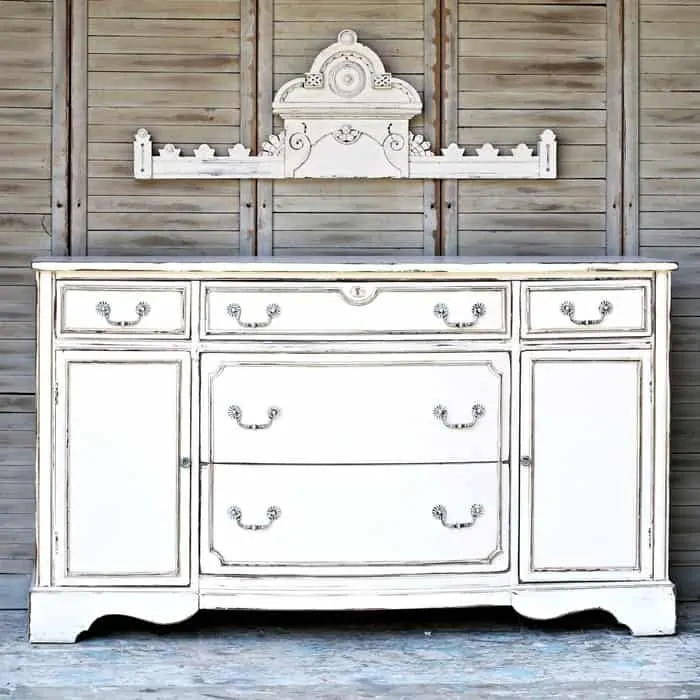 This post probably won't be a hit with the folks who sell specialty furniture paints. At one time, I sold specialty furniture paints…and more than one kind…but I got out of that business. Furniture paints are on every street corner, in every antique mall, on Amazon, and just about anywhere there is an empty spot on a store shelf.
1. Availability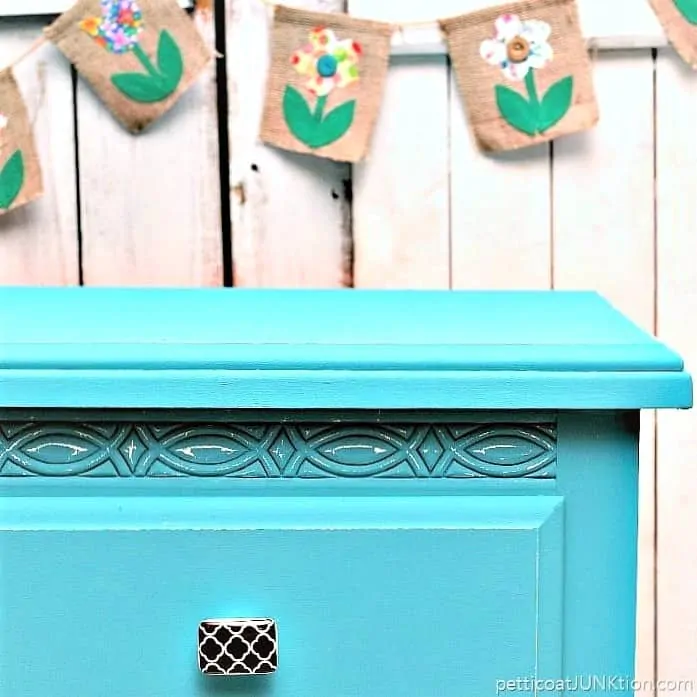 Latex paint is readily available at hardware, home improvement, department, and paint stores. You can also order latex paint online. Did you know you can even buy latex paint at Target? The paint at Target is premixed, and there isn't a broad selection.
You can also purchase latex paint at a big discount at Habitat Restores. Some DIY'ers and contractors donate leftover paints or even new cans of paint from home projects to Habitat Restore. Other stores in your area may also collect paint to resell. It would be worthwhile to check listings in your area for this type of shop.
2. Price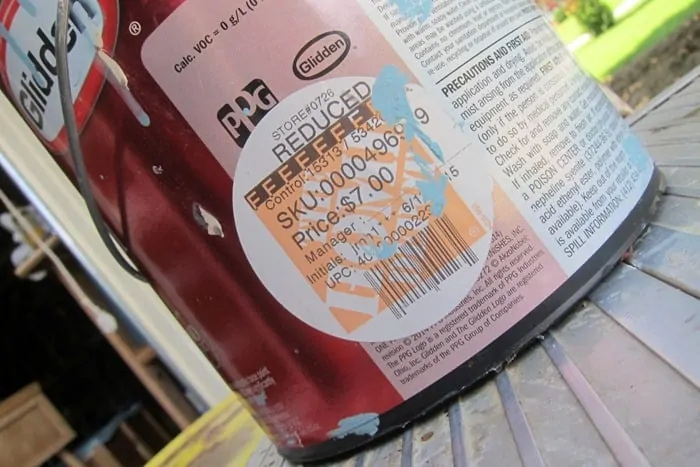 Price is probably tied with availability for the number one reason I use latex paint. Let's face it: most of the furniture paints are a little on the pricey side. Latex paint is a fraction of the cost of these paints. I'll let you in on a little secret too. Most stores that custom-mix paint colors have a shelf where you can find "oops" paint at a greatly reduced price.
Oops Paint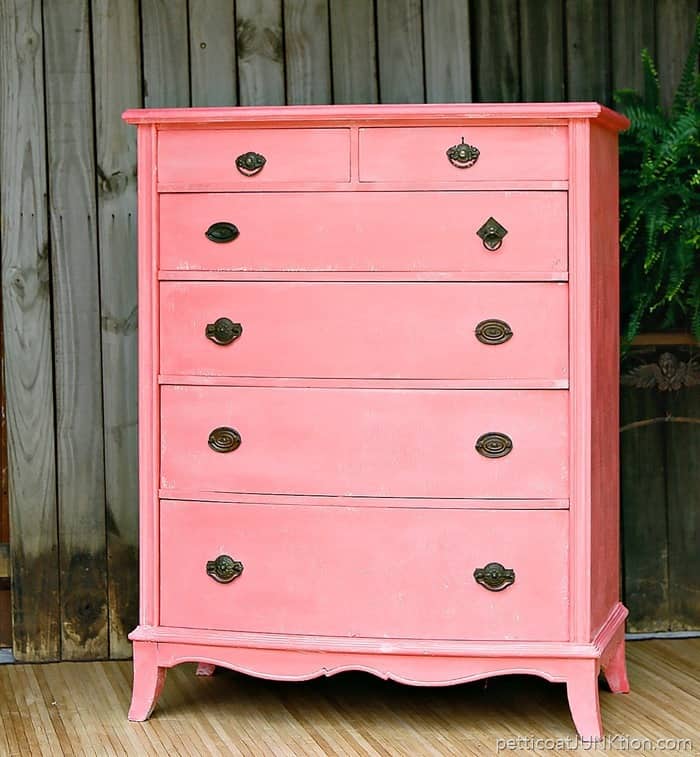 Oops paint is a custom mix color that a homeowner selected and then decided they didn't like the color. The store will mark the paint down considerably. I have purchased quarts of oops paint for $4 where the regular price would have been $18, and gallons of oops paint for $8-$10 where the regular price would have been $38+. You can often find sample jars of paint on the oops shelf, which are as low in price as 50 cents.
You would be surprised how much paint is in those samples, usually enough for a nightstand or vintage wood sewing cabinet. If you don't see any oops paint at your local hardware store, ask the paint guy where you can find it.
3. Color Selection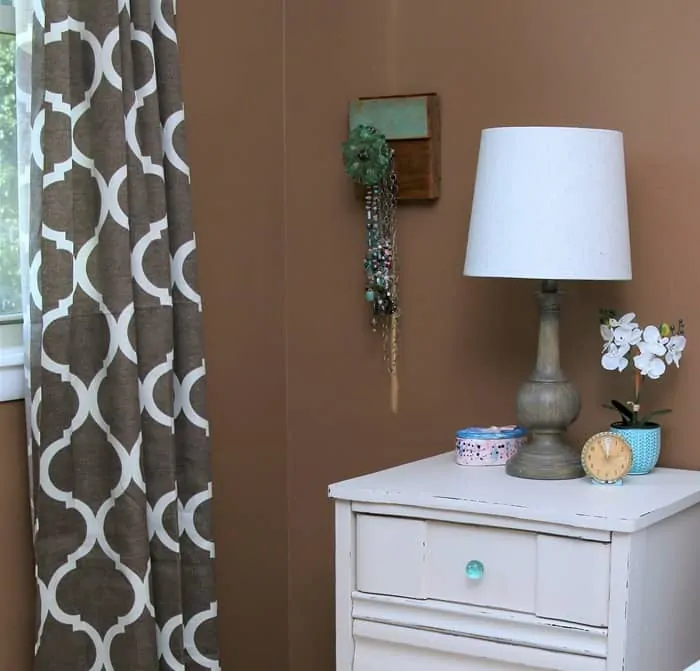 There are endless displays of paint color chips in the stores. You can get your own paint deck from the manufacturer for a price. There are thousands and thousands of paint colors to choose from. Sometimes when taking a break in the workshop, I look through my paint decks for inspiration.
Custom latex paint color for furniture and walls!
You can also have your own custom color mixed at your local home improvement store to match wallpaper, fabric, wall color, etc. I mixed a custom color for our bedroom furniture. And here is a little secret I learned from my friend Karianne, Thistlewood Farms, and I have yet to try it. It's hard to explain, so I'm going to give you an example.
Great Tip!
Say you paint your cabinets dark gray and want your kitchen island to be just a bit lighter, but the next color on the paint chip is too light. You can ask the guy at the paint store to make 50% formula or any percentage of your color to white paint. This will give you a lighter shade of that dark gray. Genius huh! Kari says they can only do this mix at a paint store like Sherwin Williams.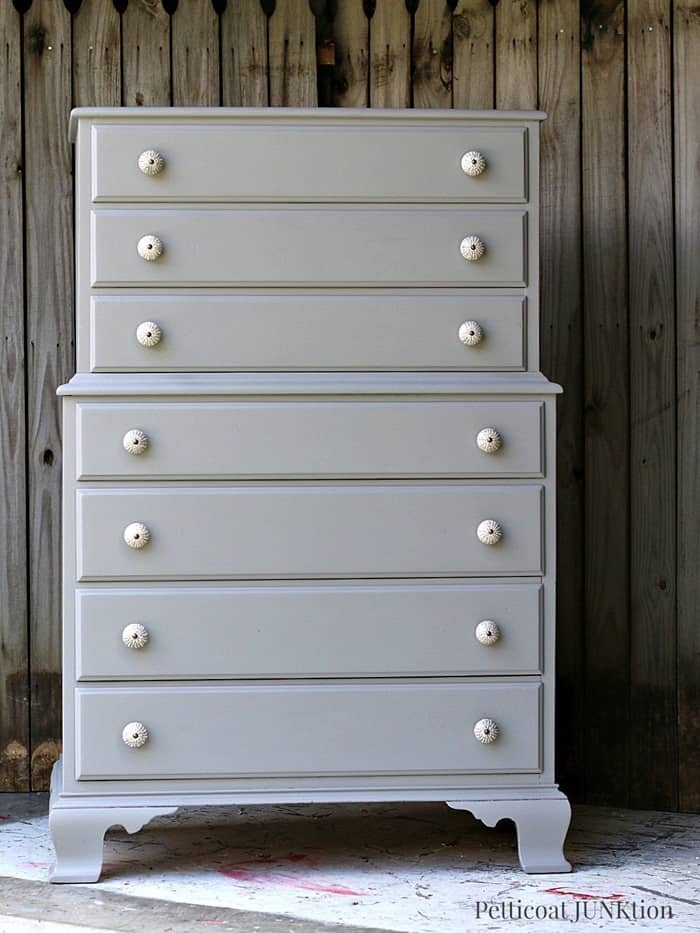 4. Sheens
Latex paint comes in a variety of sheens. The following sheens are usually available from the paint manufacturer; Matte/Flat, Eggshell, Satin, Semi-Gloss, Gloss, and Hi-Gloss. At this time, my favorite sheen for furniture is Flat (or Matte, depending on the manufacturer), and a close second is Eggshell. I like Hi-Gloss for the retro-modern look that's trending now.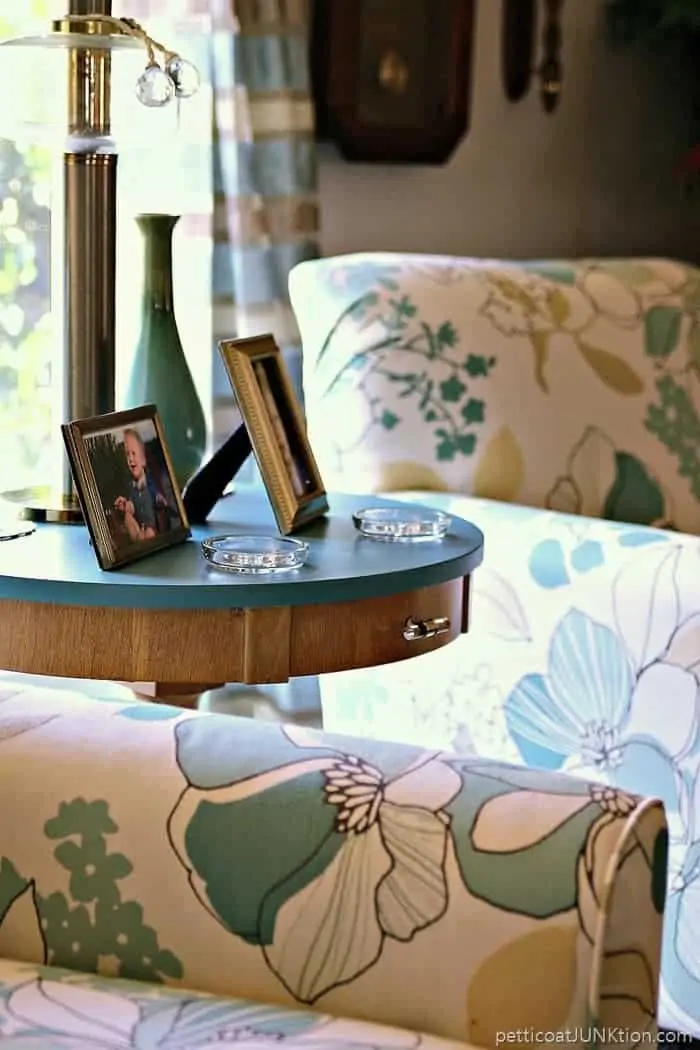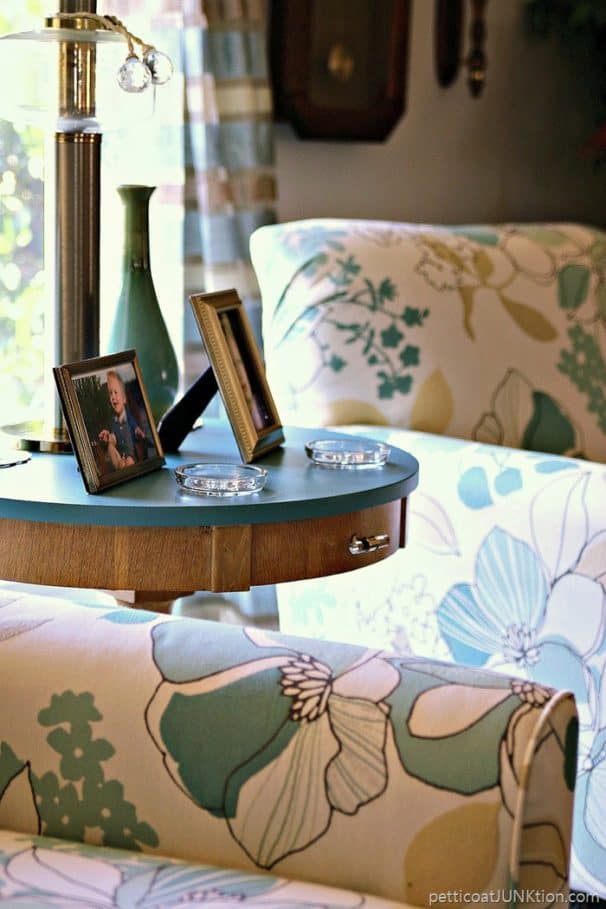 5. All In One Product
Paint & Primer and sometimes sealer (if needed) combination paint is the norm. For most projects, there is no need to buy an additional primer product. The same is true for a sealer or top coat, which is not needed. Win-Win!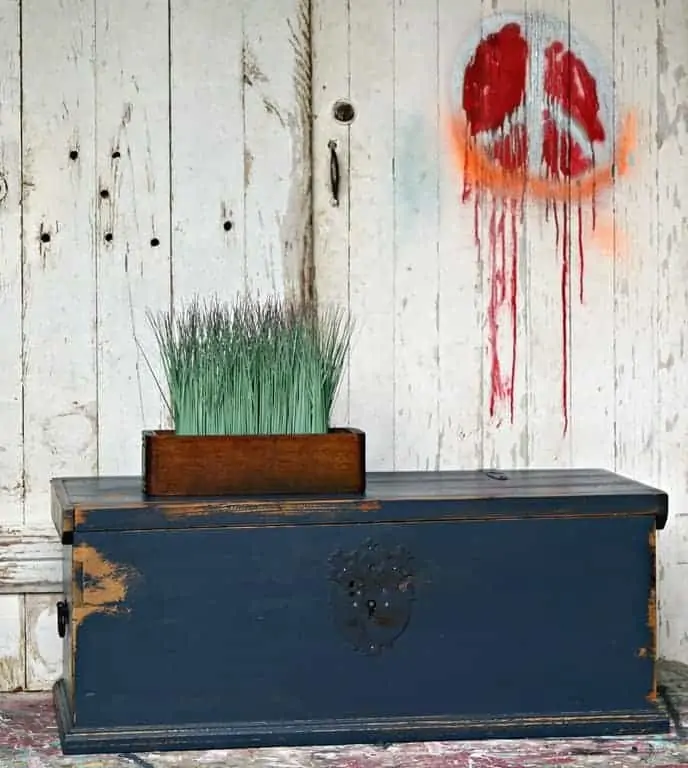 6. Wax, Sealant, Top-Coat Not Required
In most instances, a top coat on furniture is not needed for latex paint. If painting a dining room table, I would use a sealer or top-coat over any paint type. If you need to seal or wax over latex paint there are many products to choose from. Specialty furniture paints require their own special waxes and sealers, which are usually pricy.
7. Quality And Durability
When buying latex paint stick with top brands and manufacturers. Paint quality and durability have been steadily getting better and better over the last few years. I've used a number of paint brands that cover in one coat! It all depends on the color you are using and what color or stained finish you are covering. Latex paint is also resistant to fading, cracking, and peeling, which makes it a great option for furniture that will be used regularly.
8. Paint Furniture With Latex Paint: Custom Mixes
The best thing about latex paint is the ability to have the color of your dreams. Take in a favorite blanket, decorator pillow, rug, fabric, you name it,and the paint guy can match the color to a tee or pretty darn close.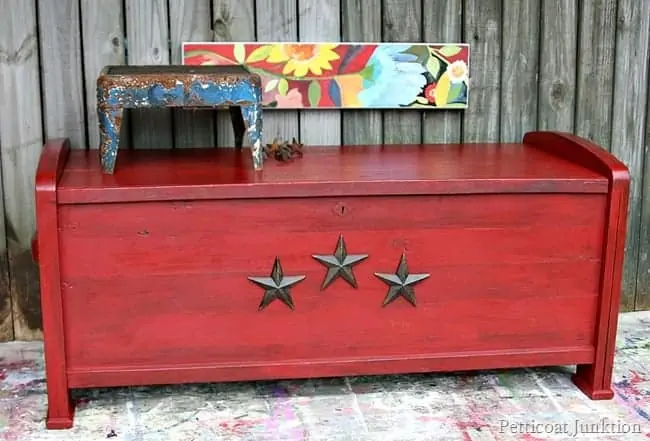 Junktion Red Cedar Chest Antiqued With Wax
I love to combine my own colors at home until I come up with the perfect color for a project. For example, I mixed a fabulous red from different latex colors in my stash. I liked it so well I brushed some on a paint stirrer and had Home Depot color match the paint for me. It's called Junktion Red!
9. Special Paint Techniques Friendly
Latex paint can be distressed, antiqued, aged, white-washed, glazed, crackled, stenciled, decoupaged over, etc. You name it, I haven't found a technique I couldn't use on latex-painted furniture.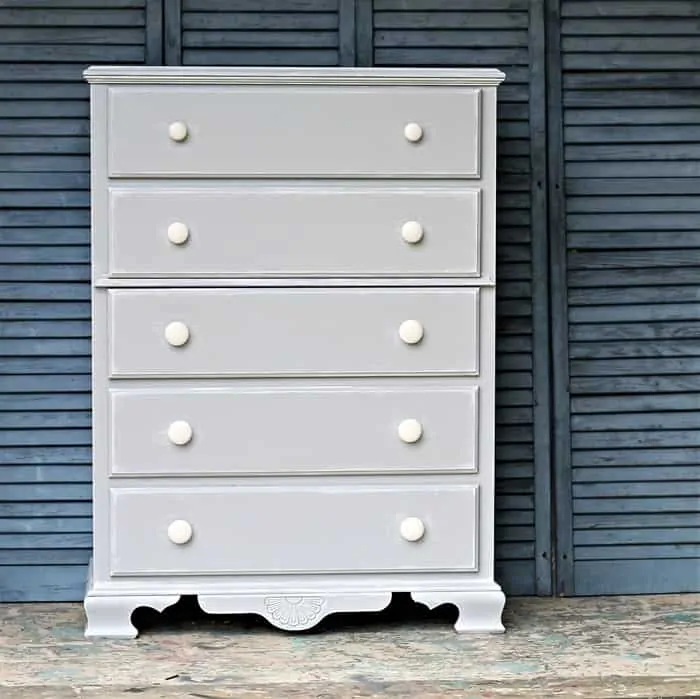 Latex paint can be used in a paint sprayer. I often use it in my HomeRight Finish Max Sprayer. Foam brushes, bristle brushes, and rollers can apply latex paint.
10. Ease of Use
Buy the latex paint of your choice, bring it home, shake or stir, and paint. There is no mixing of powders or painting with lumpy paint. Clean-up after painting the furniture is easy since latex paint is water-based.
11. Paint Samples!
I talked about the paint samples earlier but I didn't mention how useful they are. Most specialty furniture paints don't come in sample sizes. You have to pay the big price for the big jar.....and what if it isn't the color you thought you wanted. No returns. Most latex paint companies have sample sizes you can purchase for less than $6.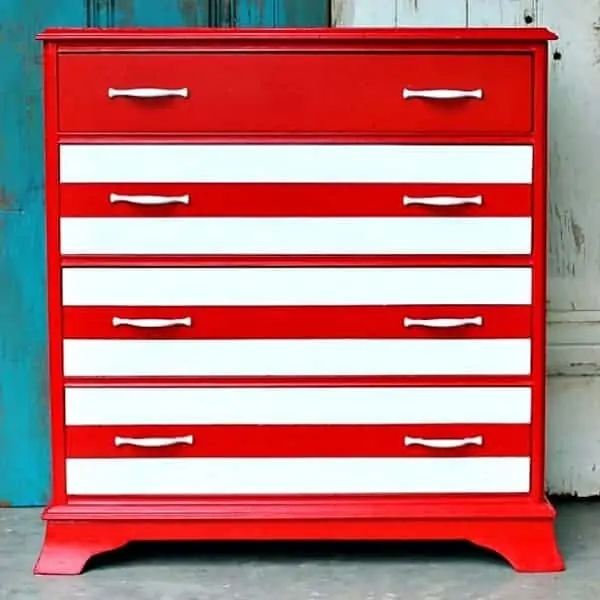 12. Use Latex Paint in a Paint Sprayer
Use a paint sprayer filled with latex paint to paint any type of furniture. It will make the job go much faster. The latex paint will need to be thinned with water when using a paint sprayer.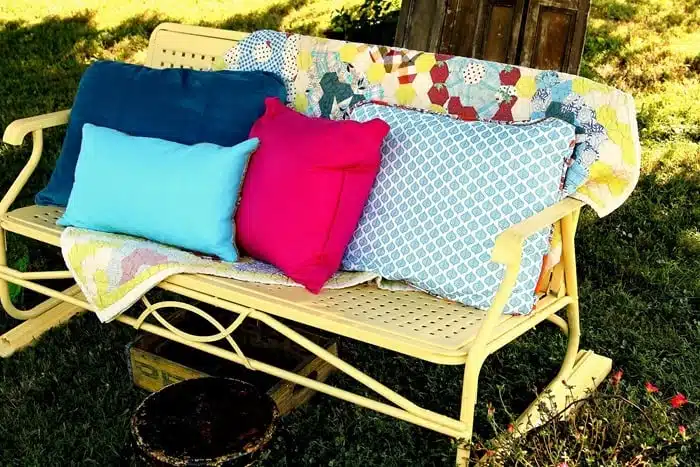 Painting a piece like this metal glider is much easier with a paint sprayer.
13. Latex Paint is Available in Specialty Finishes
Now you can get metallic paint in latex paint. At one time, metallic paints were oil-based....and messy. You can buy chalkboard latex paint and dry-erase board latex paint.
Now you know why I paint furniture using latex paint! The following furniture makeovers feature latex paint. To see the complete makeover with paint information and more photos, just click the photo or the link below it.
Painted Furniture Makeovers using Latex Paint.....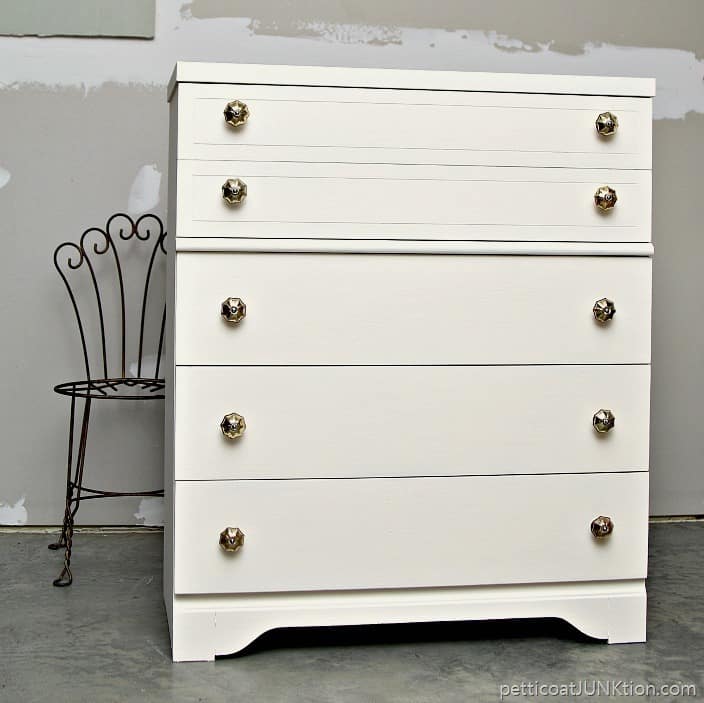 White paint is so classy. Paint a chest of drawers for your bedroom or a stunning piece for your foyer. Did you know there is an endless number of white paint colors mixable in latex or water-based paint? Just go to your local hardware store and check it out.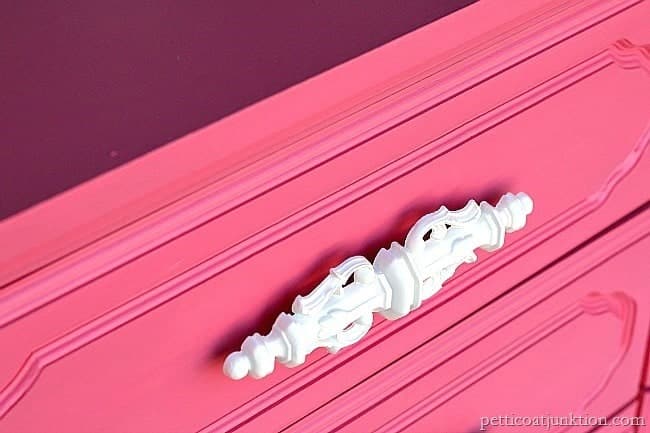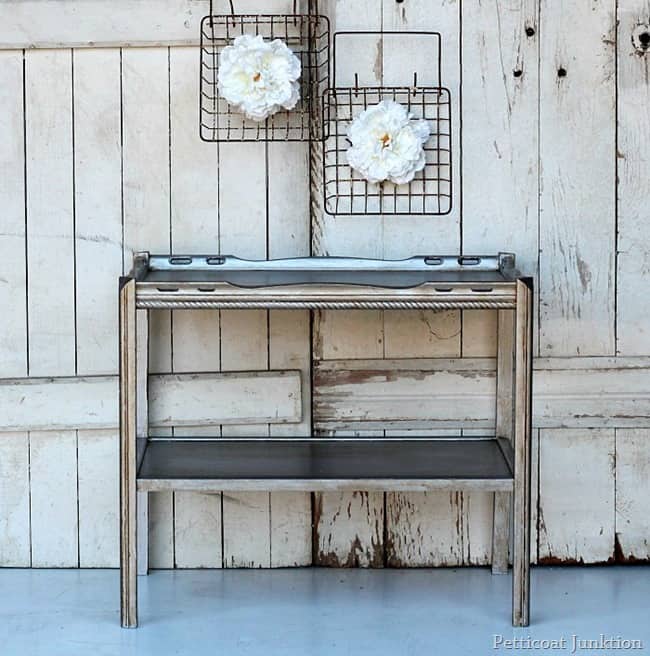 Yes, you can even get latex paint in silver metallic colors and the metallic paint can be aged using a dark wax, toner, or glaze.
Yep, this one stirred up some controversy but I was patting myself on the back. I never know what a project will look like until I'm finished. Sometimes I'm happy with the results and sometimes not.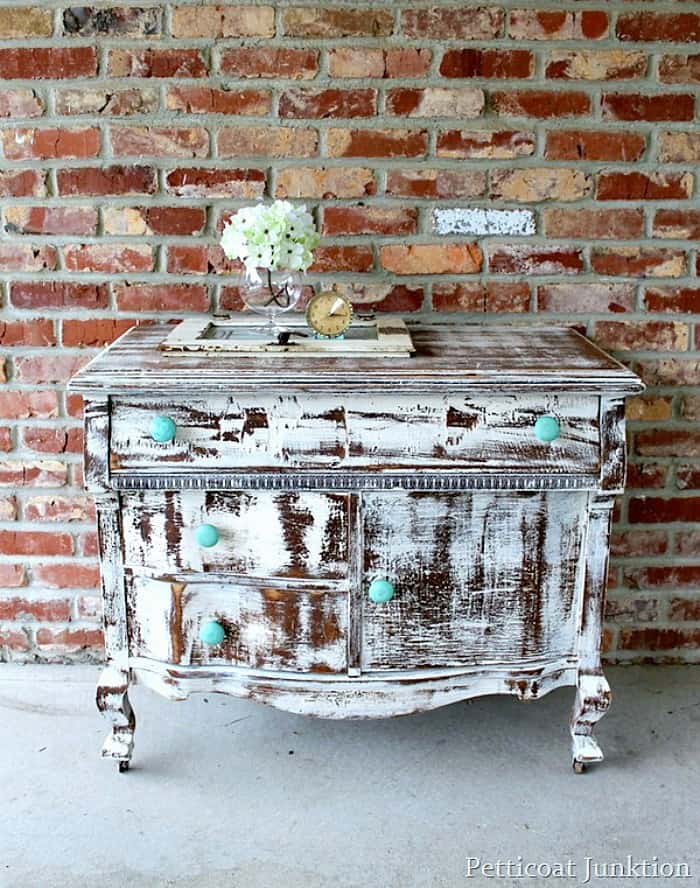 I've repainted furniture I don't know how many times because I didn't like the finished product. This one I loved but others didn't. To each his own.
I've received several comments about the VOCs in latex paint. Some latex paints are VOC-free now. You can find a list of them here at My Chemical Free House. You can also find a list of no-VOC paint here on House Beautiful. Behr Premium Plus is one of the Zero VOC paints and Behr is one of my go-to paint brands for painting furniture.
Do you have any latex paint around the house? Maybe some leftovers from a house painting project. Maybe you have a piece of furniture that needs a little love. Go for it! As always, thanks for being here and have a great day, Kathy
Author: Kathy Owen (Petticoat Junktion)
Kathy is the founder of PetticoatJunktion.com, a home décor blog focused on repurposing and upcycling furniture, old hardware, rusty stuff, and thrifty finds into unique home décor. Kathy's projects have been featured on the Home Depot Blog, Plaid Crafts, Behr Designer Series, and in numerous magazines. Read more about Kathy here.