Buy Yard Sale Furniture To Paint
Yard sale furniture is usually inexpensive and a lot of times it's in good condition. Yard sales are my number one place for finding furniture. Sad to say I haven't been going to yard sales like I did a few years ago.
When we lived in Florida I would go to the sales every week, usually Friday and Saturday both.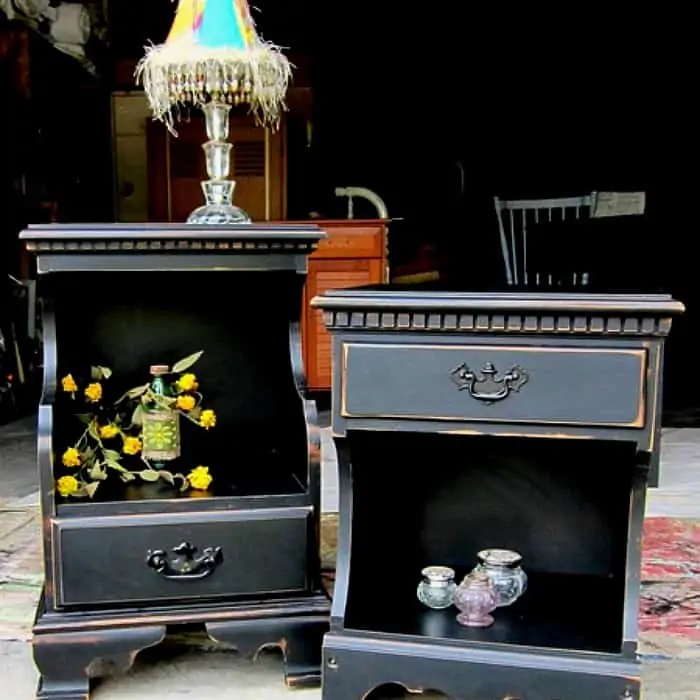 Since being back home in Tennessee  I've gotten lazy. The thing about yard sales is you can hit 12 in one day and not come home with anything or you can go to 12 another day and hit the mother lode.
Driving home from Nashville  last week I spotted a yard sale sign and said "what the heck", so I followed the arrow and drove three miles out of my way.
A lot of times that's a mistake. People leave the signs up long after the yard sale is over. This time I was lucky. I found two wood nightstands at $5.00 each so it was worth it!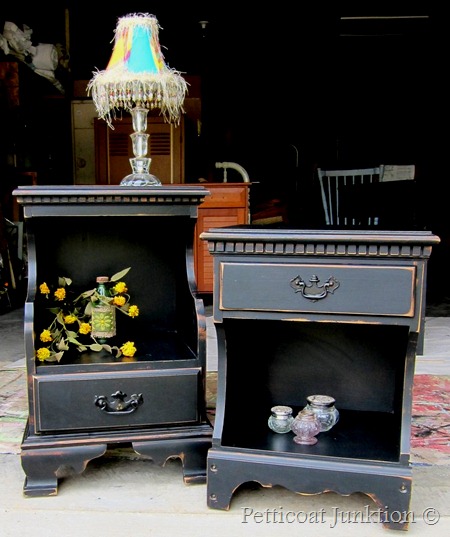 Yard Sale Furniture
How pretty is this pair of freshly painted nightstands? You can't go wrong with black paint.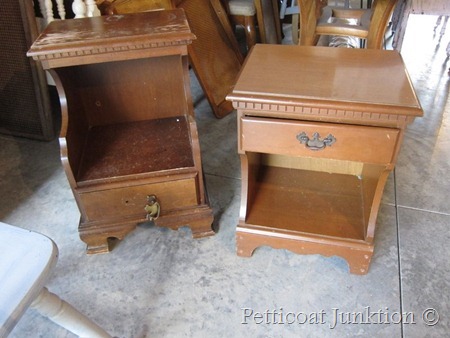 yard sale furniture
The two nightstands were in really good shape and had the original hardware. All I had to do was give them a quick cleaning.
The paint I choose for the makeovers is Beyond Paint. You already know that latex paint, FolkArt Chalk Paint, and Beyond Paint are my top two go-to's when it comes to furniture painting.
Beyond Paint can be used on cabinets, furniture, counter tops and accessories and almost any surface. It is an all-in-one bonder/primer/finisher that cures to a durable, washable surface in just one or two coats. No Stripping, No Sanding, No Priming required!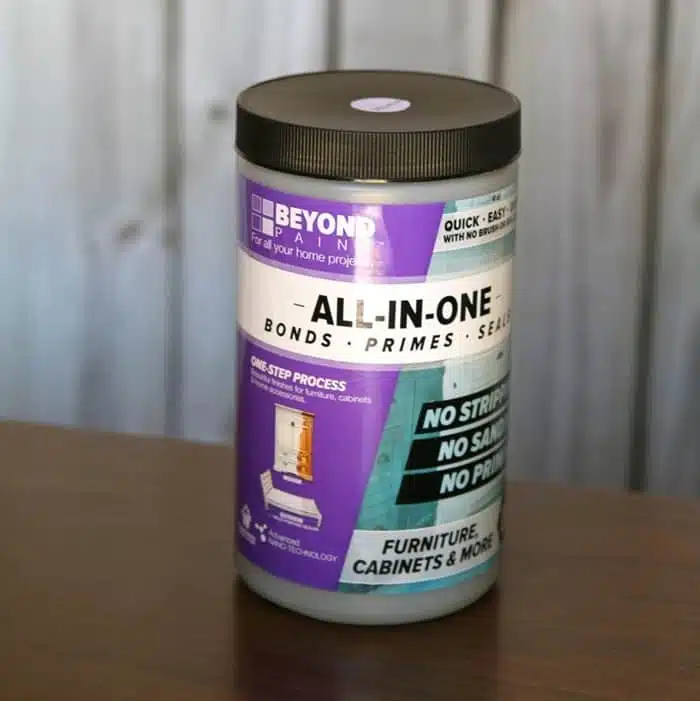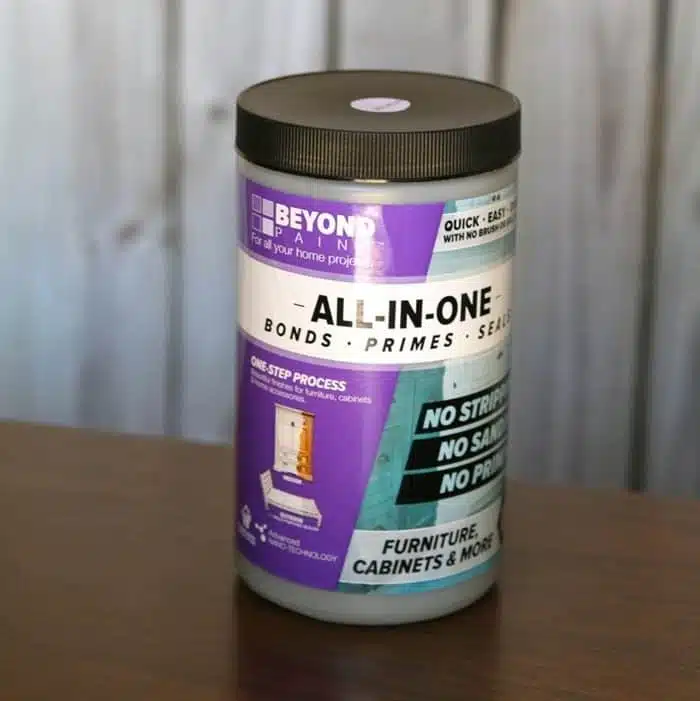 Beyond Paint details...
Specifically engineered to work indoor or outdoors
Slightly textured to eliminate brush marks, provide a finish that conceals imperfections
Has more pigment for better coverage
Contains very fine colorant to avoid fading and allow UV stability (i.e it won't fade in the sun!)
Eco Friendly- Low VOC, water based and little noticeable odor making it safe for people and pets.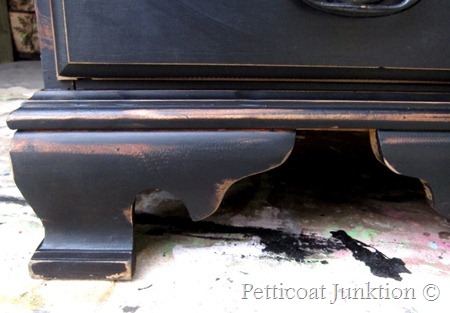 The paint distresses easily if you do the distressing right after the paint is dry. Otherwise it's hard as heck to get off. I used 80 grit sandpaper (very course) and a power sander to distress the paint on the nightstands.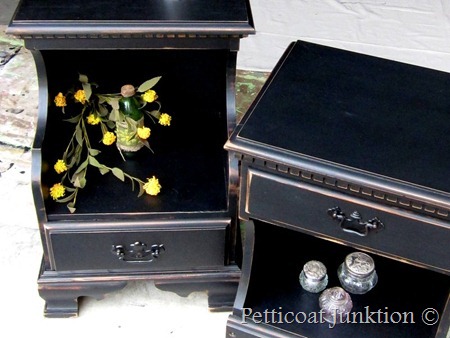 It took no time at all to paint the two nightstands. I applied two coats of paint and didn't prime before painting or seal the paint afterwards. All done.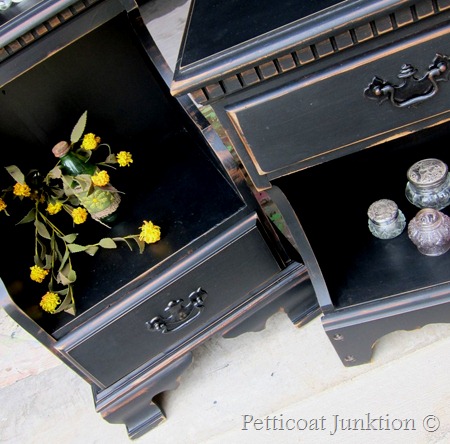 This yard sale furniture looks pretty darn good now, doesn't it. The pieces have lovely details like the dentil molding at the top front. Makes for nice distressing.
Did you know the term for the molding around the front top edge if the nightstands is called "dentil"? I guess because the small square blocks look like teeth?? Maybe not.
You can find more black furniture pieces here.....Hepplewhite Style Buffet Painted Black......21 Times Black Was The Perfect Color Choice
Wow, that's it. The sheen of the Beyond Paint is what I like best. It's between a flat and a satin or eggshell finish which means it's not overly shiny. Coverage is great and one quart goes a long way.
Usually I can paint two to three chest of drawers with a quart depending on the size of the pieces and the original finish.
You can find 15 more of my Beyond Paint Projects by clicking here.
I have a video showing how to sand painted furniture using a sander. Get a look at how to distress furniture below....
How To Distress Furniture
Anyone go to yard sales regularly? What is your experience? Do you think prices are getting higher? Leave me a note and I'll see you next time As always, thanks for being here, Kathy
Click here for the Petticoat Junktion Amazon Page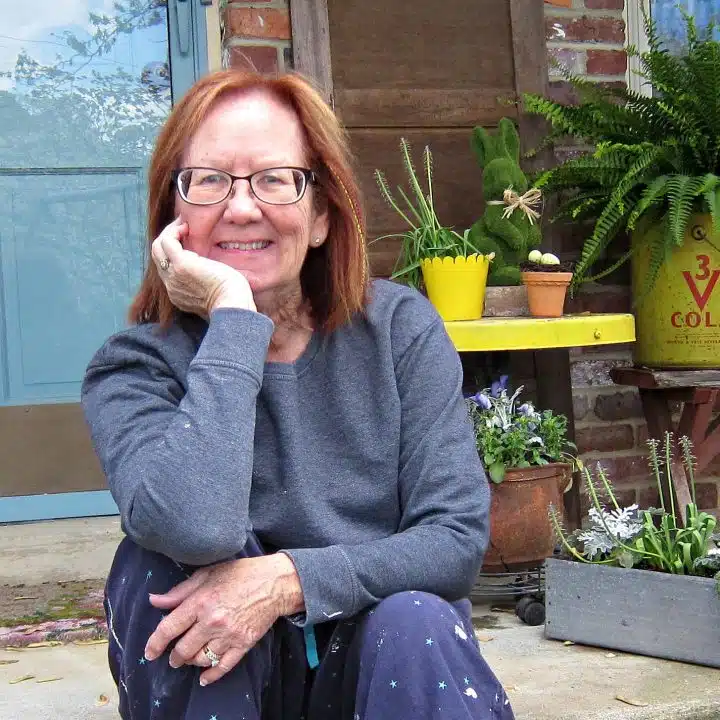 Author: Kathy Owen
Kathy Owen is the founder of the home decor blog Petticoat Junktion where she shares tutorials on painting furniture and upcycling thrifty finds into unique home décor. Her DIY projects have been featured on the Home Depot Blog, Plaid Crafts, Behr Designer Series, and in numerous magazines. Kathy's newest website is HappyHomeDIY.com