Distress furniture using baby wipes with this wet distress no mess technique. This type of distressing shows the beauty of the original finish instead of raw wood. I found this technique to be easy as pie and even more impressive......there is no mess like you get with sanding.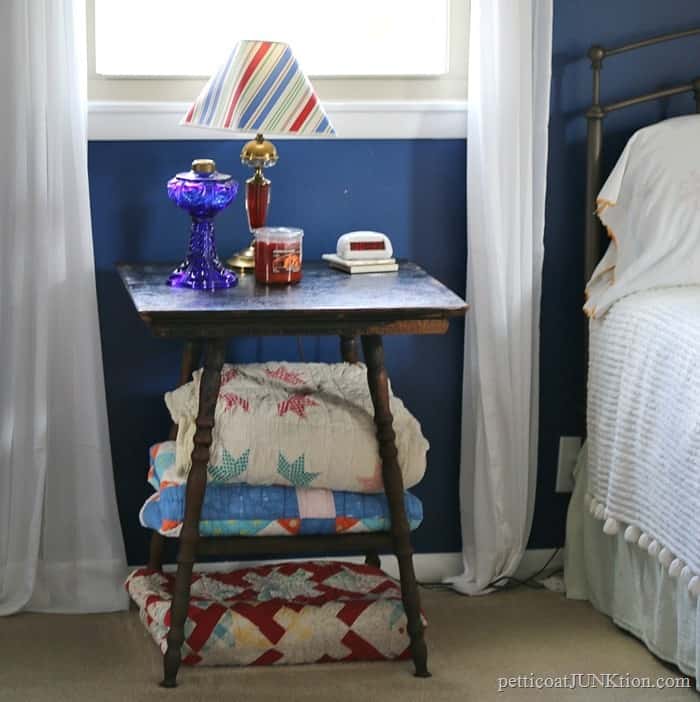 I found the table at my favorite junk shop in Kentucky. I decided the table had been dark long enough, time to lighten up. What better color than turquoise. Happy Color. And with all those details on the table top apron distressing the paint was a must.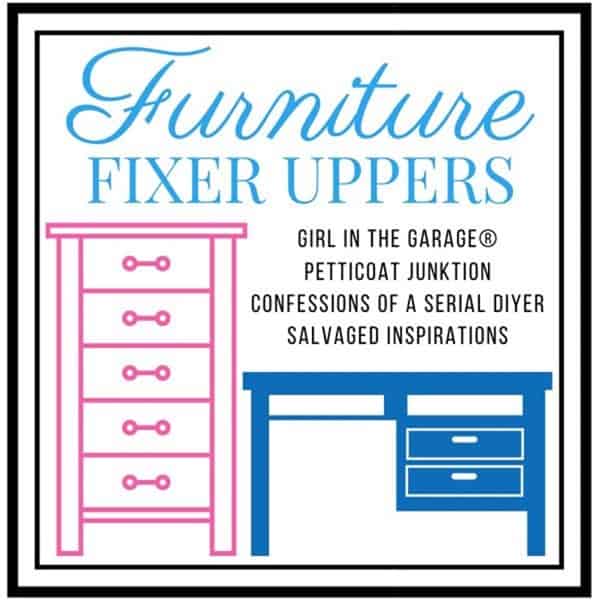 You know how the dust flies when using sandpaper. Well no worries with this technique There are many ways to distress painted furniture and depending on the furniture and the type of paint one distressing technique may be better than another.
This project is on the Furniture Fixer Upper's Tour today. My teammates are sharing some really great furniture makeovers with full tutorials. Be sure and check out the other projects after reading my tutorial.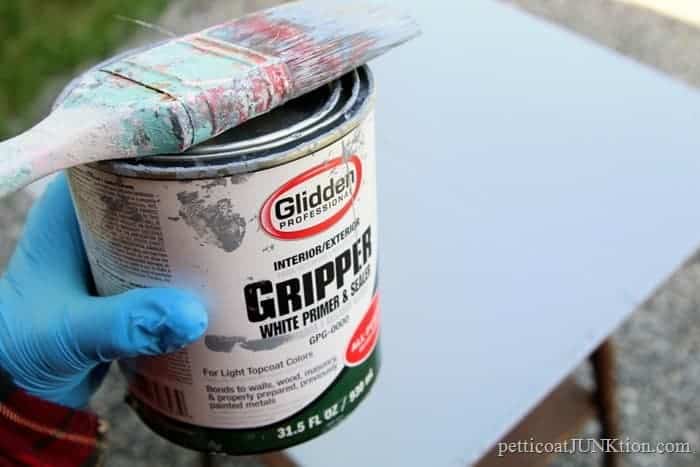 The finish on the table was not in great shape. That's one reason I decided to paint it. The top had several rough parts and splotches of white paint in areas. I sanded the top lightly then applied my favorite Glidden Gripper Primer tinted gray to the top only. This gave me a solid color base for the top coat. I like to have the primer tinted gray because gray is so much easier to cover than white primer.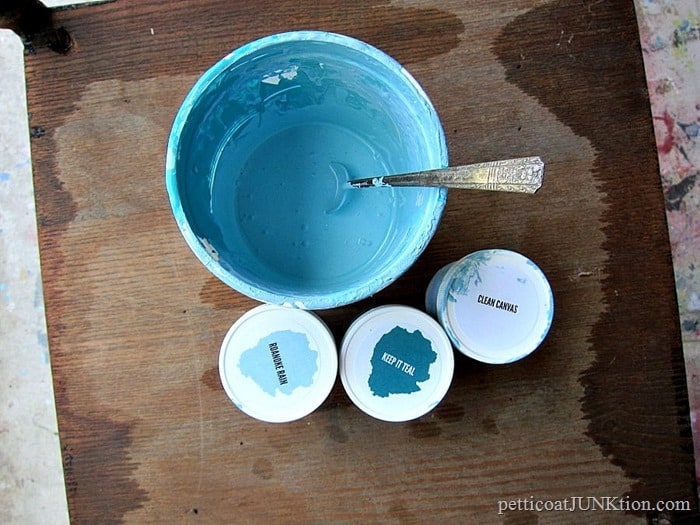 I'm still trying to use up all my leftover paint before buying more. I mixed three colors of Black Dog Salvage Furniture Paint together to make a beachy blue color.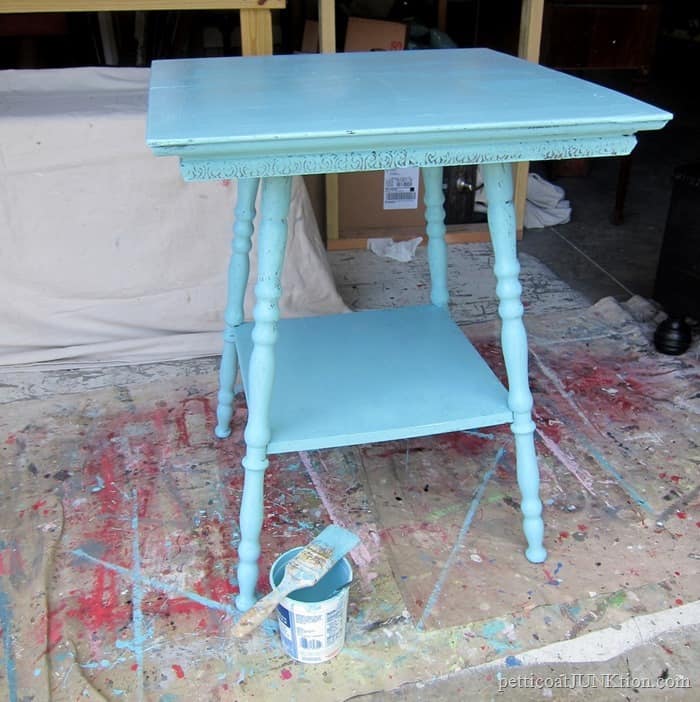 The blue was really pretty but just ho-hum. I knew there were some pretty details along the top edge so on to the distressing.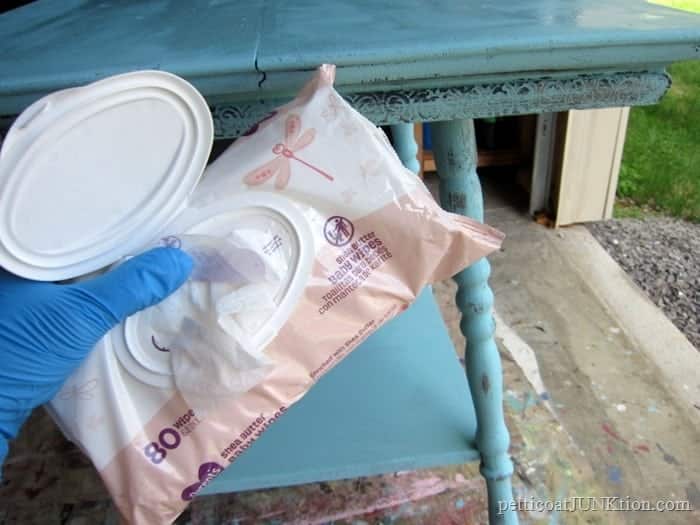 I grabbed the pack of baby wipes and started rubbing the paint off of the raised details. One thing I noticed is when I wiped the paint off and kept using the same baby wipe the blue paint that rubbed onto the baby wipe left a light layer of blue paint on the already distressed area.
I used an inexpensive brand of baby wipes from Walmart. I don't think it matters what kind of wipes you use although I haven't tested other wipes. I'm not even sure what it is about the wipes that removes the paint. I do know they work better than just using a thin towel dampened with water.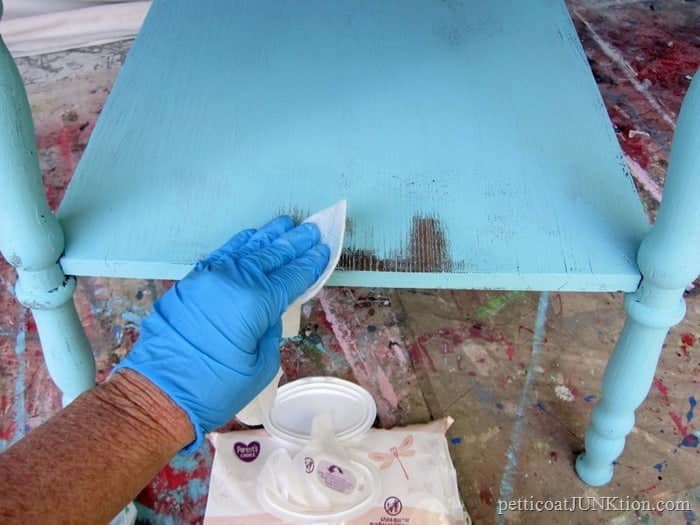 This is when I grabbed a new wipe to wipe off the light layer of paint. And I had to keep doing that. Once I had an area distressed I went over it with a fresh wipe to remove the leftover blue film. I didn't have to grab a fresh wipe every time just use an area of the baby wipe that didn't have blue paint on it.
My other concern with the baby wipes was distressing the paint before it set very long. You want the paint to be dry but JUST dry. I had Miss Sofi and her friend from across the street that afternoon and they of course needed a bit of attention. The paint dried a little longer than I would have liked. Just means I had to rub harder!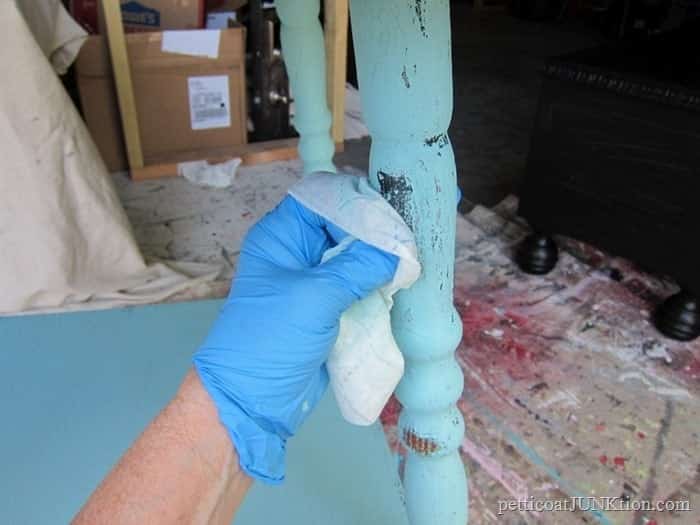 The original finish of the table was crackled in spots and those areas look soooooo good distressed. The paint sets in those areas and when distressed the paint is left in those pitted areas. Would you like to see how to layer paint using Vaseline? I've got the tutorial for you here....Vaseline Paint Layering Technique For Furniture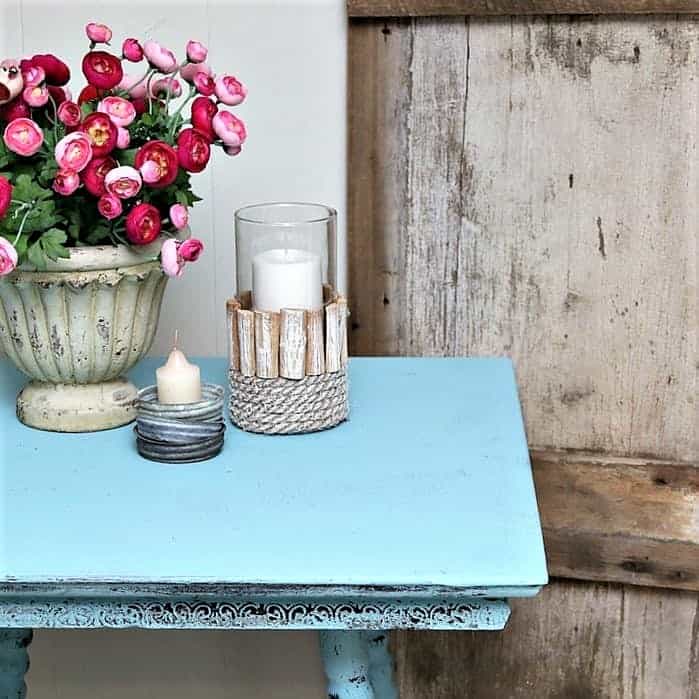 The photo above shows how the table looks after being painted and distressed with baby wipes. You can see the original dark stained finish where I used the baby wipes to remove the paint over the finish. Seems kind of weird to paint something then remove the paint but the look is very popular and it gives depth to any painted furniture.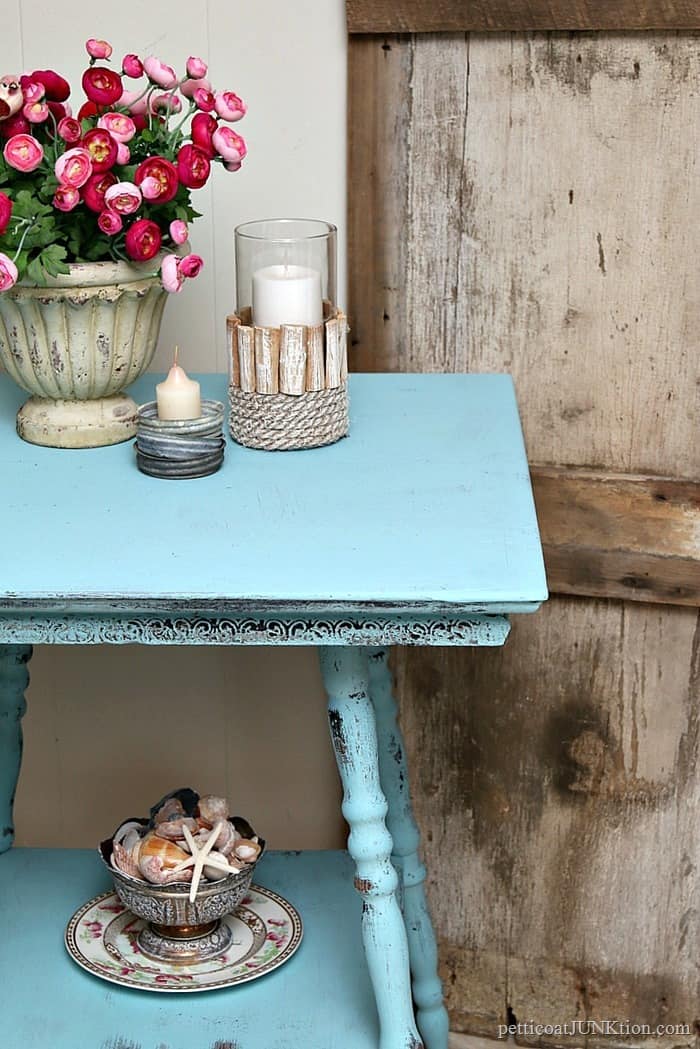 That's all it was to the process. If you want to distress painted furniture using baby wipes you could work on a practice board before starting your project. Just paint a board of any type, wait for the paint to dry, and go to work. Since the color gave off a beachy vibe I decorated the table using  seashells and nautical décor.
I guess I should mention why using baby wipes for distressing is a good thing. The original finish doesn't get sanded off. You get to see the lovely dark finish and it's a nice contrast to the turquoise blue. When you distress furniture with sandpaper you often sand down to bare wood because the sandpaper is really rough. The bare wood looks raw and unfinished. It's always nice to showcase the original stained finish using baby wipes or the wet distress technique.
Painting furniture isn't hard and it isn't time consuming. You can paint a piece of furniture and have it back in place in one day. Really. Maybe you could start on an easy project. Look around your house and pick out a piece to paint. Check out this project that I just primed and painted with no distressing. The pretty white paint and new knobs really made the chest of drawers stand out. See it here.
I have a new paint project where I used Clorox Wipes to distress the paint!! See it here...How To Distress Painted Furniture Using Clorox Wipes 
Time to take the Furniture Fixer Upper Tour. Just click the pink text links below the "before makeover" furniture photo.....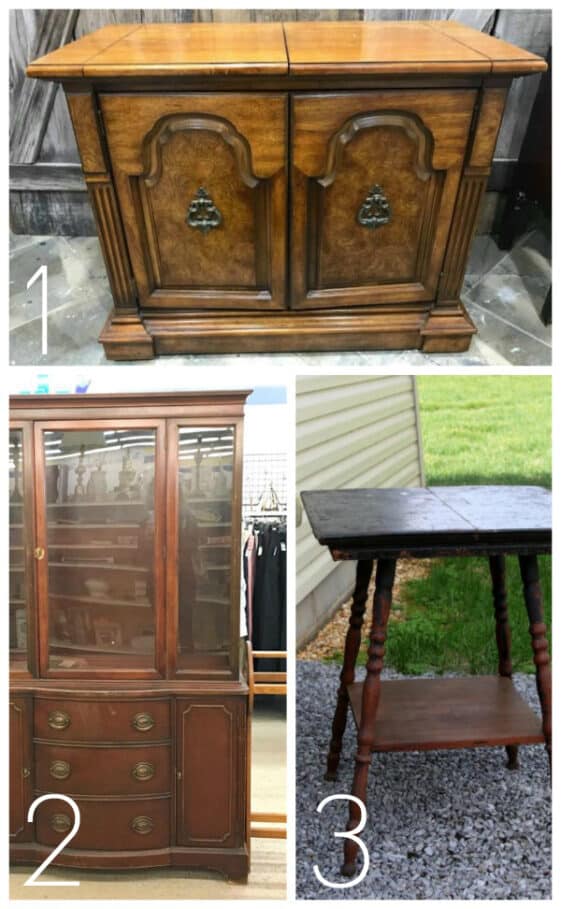 3. Petticoat JUNKtion ( you are here)
No before photo....Confessions of  A Serial DIY'er
Thanks for being here and have a great day! Kathy