Learn how to antique painted wood furniture or make furniture look antique in a few easy steps. When you antique paint it adds depth and character to any piece. The look of aged paint or old paint is very popular now and buying new furniture painted in this style is pretty expensive.
I would much rather use paint to create an antique finish on wood and give it a unique look instead of the cookie-cutter look you see everywhere. The process of antiquing painted furniture is really simple. Anyone can do this.....meaning you too. I have many tips, tricks, and photos to help you make your project the best it can be.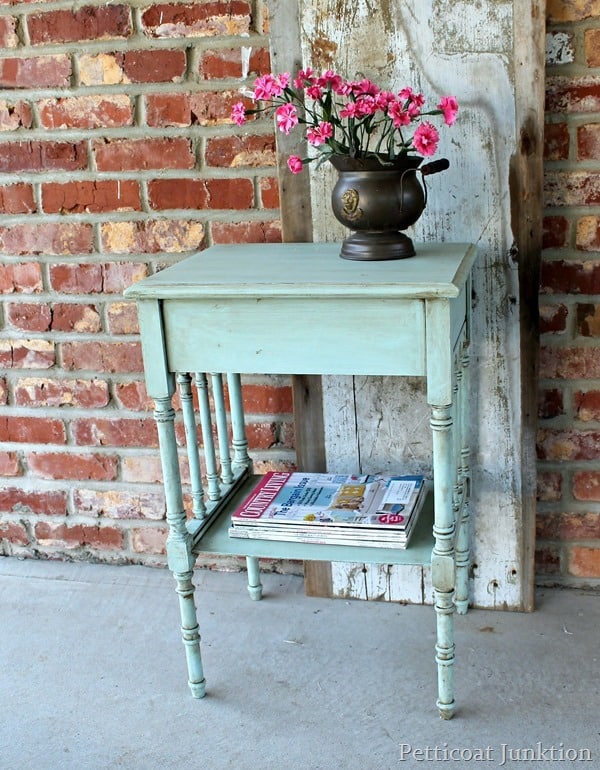 How To Antique Painted Wood Furniture
My favorite part of blogging is the interaction with my readers and the knowledge that I may actually be able to inspire someone… anyone….with my projects. The first time I received an email asking for more information on how to do a project, I was a little surprised and a lot humbled. The idea that someone would ask me for guidance was new to me.
I do my best to explain special techniques and paint finishes, and I love when readers send me photos of their projects. So far, no one has hunted me down for any questionable advice I may have given. A large number of comments and emails are about how to antique furniture or how to give painted furniture an aged finish.
I painted and antiqued this table all the while taking lots of photos to share with you guys. If you have any questions about how to antique painted furniture after you read the tutorial, shoot me an email!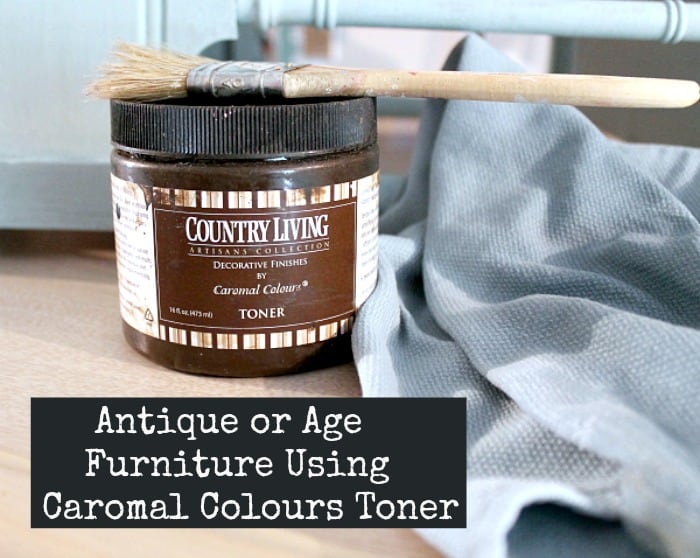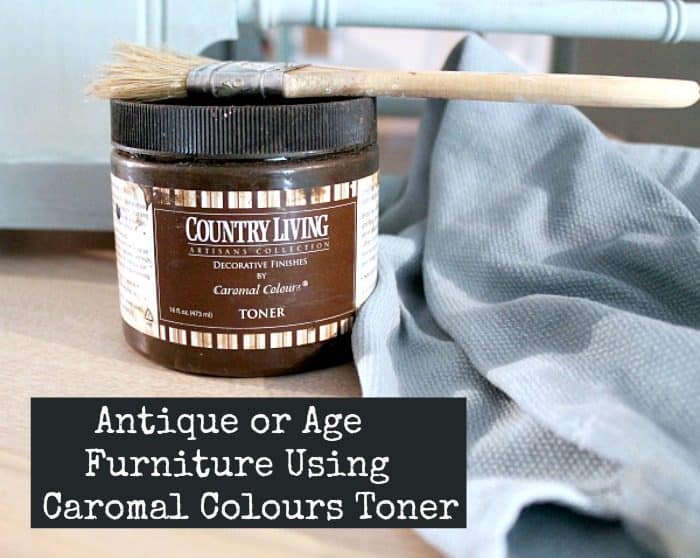 Paint The Furniture
The first step is to paint the piece of furniture. I prefer to use latex paint; the best sheen is flat, eggshell, or satin.
Apply Caromal Colours Toner
The miracle product that makes antiquing easy is ....Caromal Colours Toner. This stuff goes a long way. The size is 16 ounces and you can do several pieces of furniture with one jar unless they are humongous. At one time, I sold the Toner in my Etsy shop but found the process of taking orders, packing the product, and shipping it very time-consuming. You can order the toner here....Caromal Colours Toner...or visit the Find A Local Store Page here.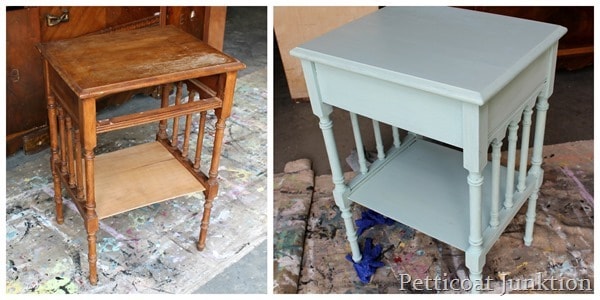 This little table was perfect for antiquing because of the turned legs. Those beautifully turned legs collect the toner in all the right places. Plus, the table was only $5 at My Favorite Junk Shop. The paint is Miss Mustard Seed's Milk Paint in Eulalie's Sky—my new favorite paint color.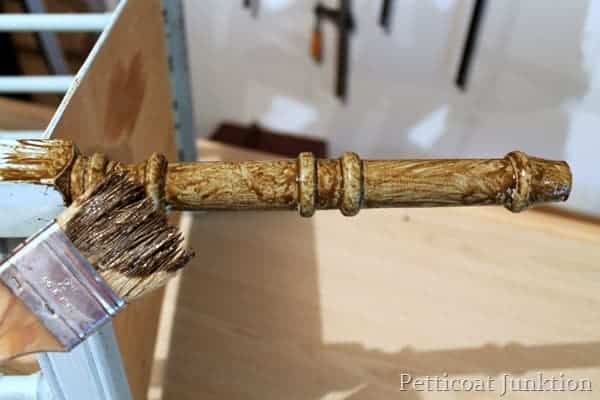 The technique is as simple as brushing on the toner using an inexpensive chip brush. Be sure and brush the toner into all the cracks and crevices because this is where the paint would normally age or darken.
Work The Toner
When you apply the toner, there is an excess which is what you want. Next, wipe the toner off to get the desired look. Use a dry rag or a slightly damp rag, depending on how much toner you would like to remove.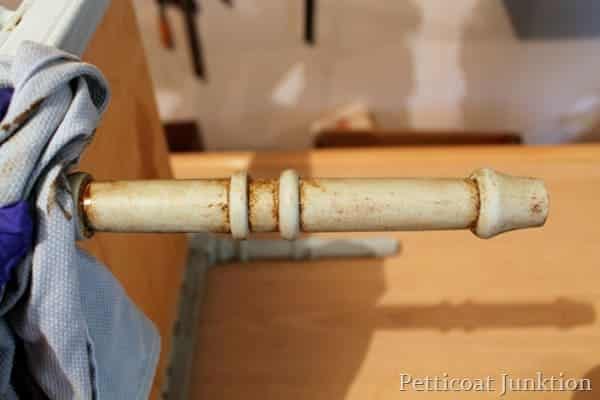 Leave a lot of toner on the paint for a really aged look or wipe most of the toner off for a slightly worn look. Using a dry rag will leave more of the toner on the furniture. A damp rag works best and one that is too wet will wipe all the toner off.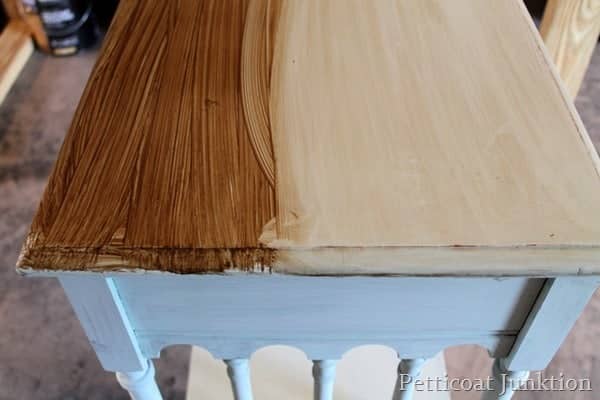 Brush the toner on.........Wipe the toner off. If you remove too much toner, apply more, then wipe down again.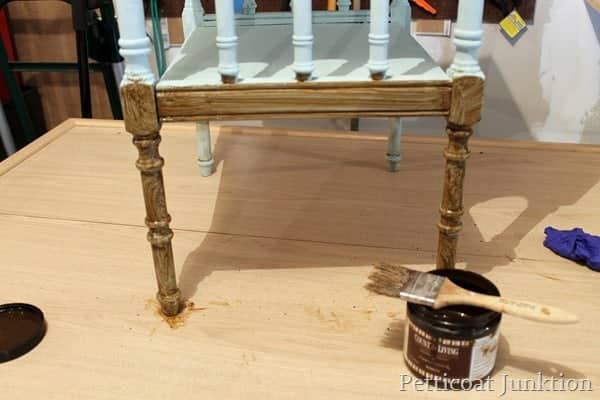 Brush the toner on.....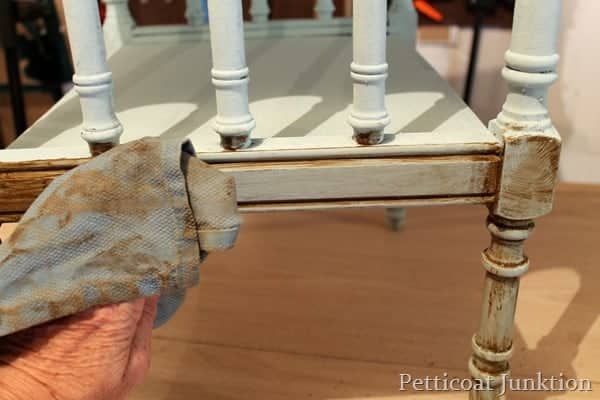 .....you get the idea!
How to antique painted wood furniture tips and tricks
The Toner Is Really Dark
Don't try to water it down because it makes the toner dry faster and then it's hard to work with. I speak from experience! Use a damp rag to wipe off a little toner, a dry rag to leave on a lot of toner, a wet rag to wipe off most of the toner.
Wipe It Back Off
Once the toner is applied, start wiping it off to get the antique paint look shown in the photos here. If you want a really dark look then let the toner set for a while before wiping it off. The toner is easy to work with and you have time to work it and get the look you want, but once it dries, it's there to stay!!
Do A Trial Run
Practice on a sample board if you are anxious about using the toner. Promise it's easy to use, and you will love the results. I suggest wearing gloves or your hands will be toned….. and not in a good way. No sealer is needed, but if you want to add a little sheen then wipe on a clear wax after the toner has cured for a few days.
The following video is a complete tutorial showing how to antique painted wood furniture using toner.......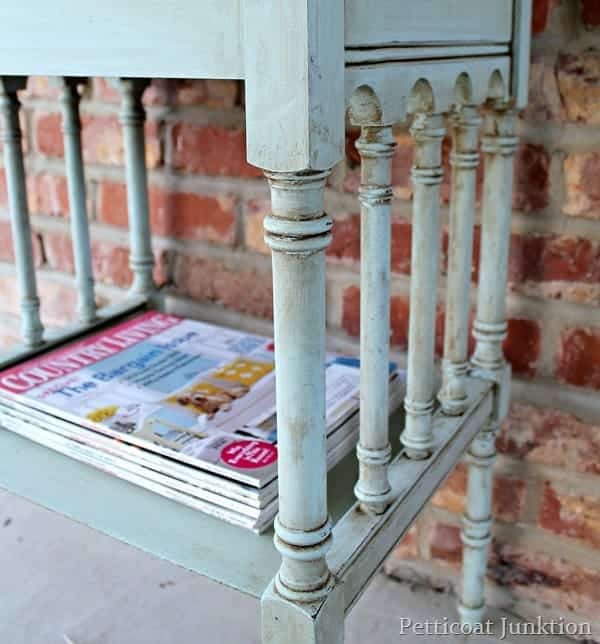 Antiquing Technique
This technique can be used on painted cabinets, painted accessories, painted anything! Also for shiny brass or other finishes to tone the brightness down. On slick finishes such as hardware, you may need to let the toner set for a few minutes before wiping off. Play around with it.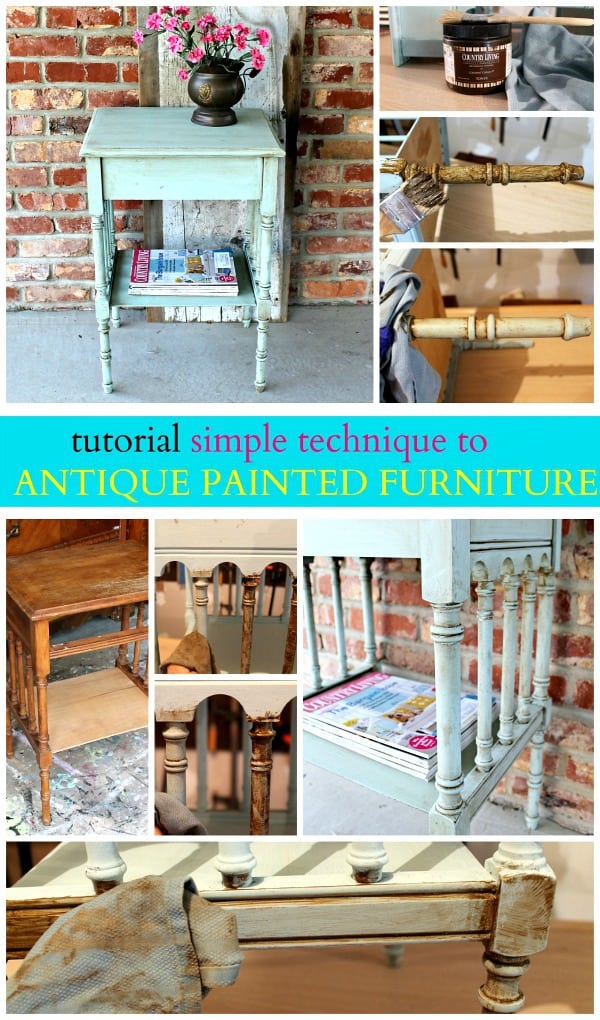 Check out the links below for other ideas about using toner on furniture and how to antique paint.
How To Make New Furniture Look Old
Vintage Dresser with a two-tone toner application.
Remember, if you have any questions email me, kathy@petticoatjunktion.com.
Author: Kathy Owen (Petticoat Junktion)
Kathy is the founder of PetticoatJunktion.com, a home décor blog focused on repurposing and upcycling furniture, old hardware, rusty stuff, and thrifty finds into unique home décor. Kathy's projects have been featured on the Home Depot Blog, Plaid Crafts, Behr Designer Series, and in numerous magazines. Read more about Kathy here.