In this metallic furniture antiquing tutorial you will learn what type of primer, metallic paint, and antiquing product to use to get the perfect aged metallic paint look.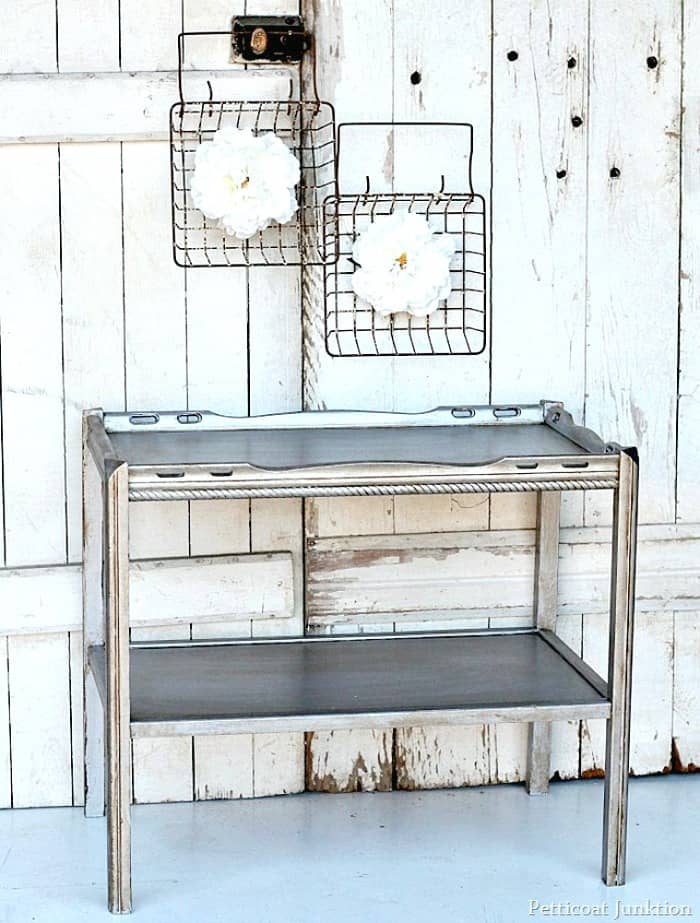 Does everyone feel refreshed and ready to start the week? I do, I do. The weather was just gorgeous here in middle Tennessee this past weekend. I got a lot accomplished. I managed to get a paint project together, spend time with my two granddaughters, study for a college exam, and go to the Nashville Flea Market!! I'll share photos from the market tomorrow.
Today I have a furniture project, and I must say I'm really proud of it. Patting myself on the back.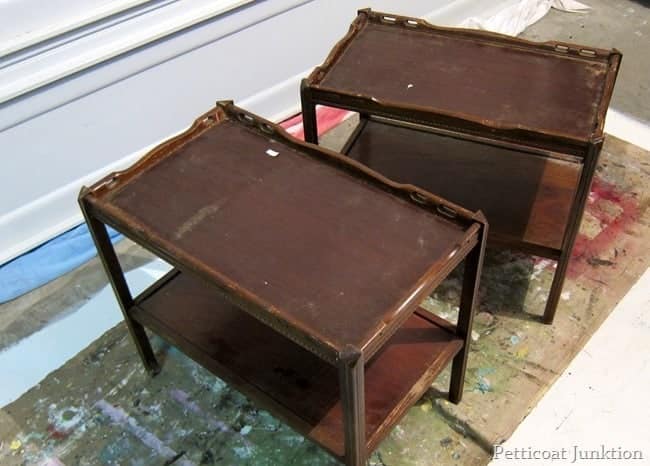 the before photo
I purchased this pair of tables at My Favorite Junk Shop for $30. Now you know why it's my favorite junk shop. It's always nice to have a matching pair of anything.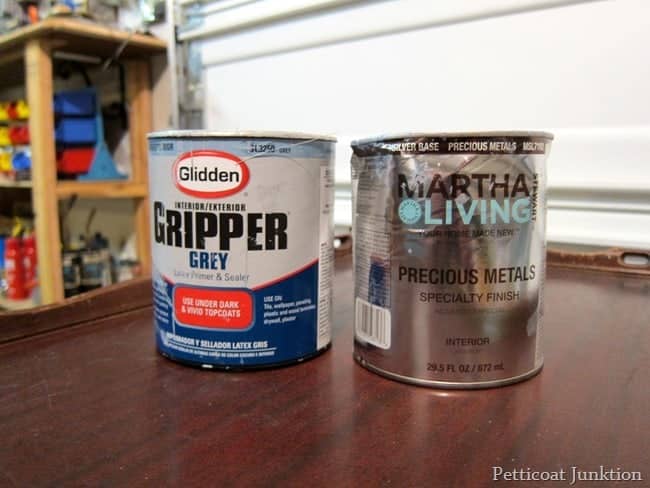 I guess metallic furniture is still popular because I receive a lot of emails about the metallic paint. So I pulled out my Martha Stewart Metallic Silver Paint and Glidden Grey Gripper and went to town. Don't know what happened to that MS paint can…..I don't remember beating it up like that! Home Depot doesn't carry the Glidden primer anymore and I need to find out if it's been discontinued.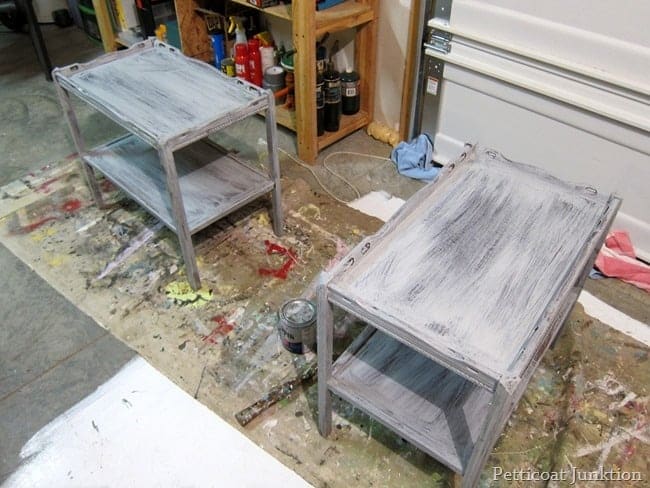 This is how the tables looked after one coat of primer. I don't worry about covering everything completely. I timed this project and it took me 30 minutes to prime both of these tables. Some people tend to think that painting furniture takes a long time, but it doesn't. The primer dried in 2 hours.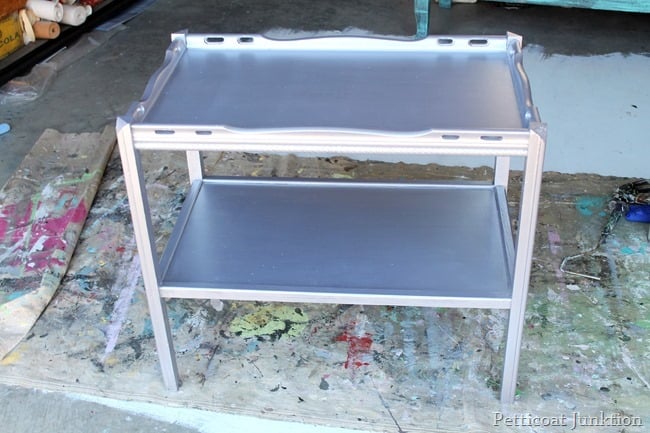 I used two coats of the MS metallic paint. The last few times I used this paint it was a little streaky. For the last coat of paint I used a small sponge roller and the paint finish looked a little better.
 I wasn't too concerned about the streaks because I was going to antique the paint and I knew the streaks wouldn't show. The first coat of paint took 45 minutes to brush on and the second took me 20 minutes. I waited two hours between coats and I let the paint dry overnight before using the toner.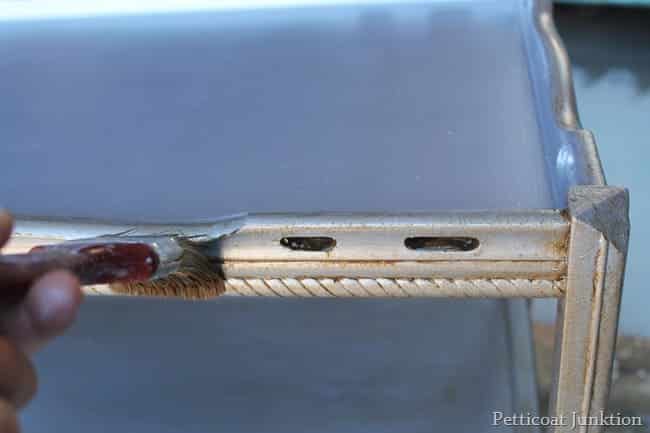 I used the Caromal Colours Toner to age the tables. I also learned a new technique. I try different things all the time. That's the beauty of paint….you can try a new technique….if it doesn't work….paint over it.
I usually brush the toner on using straight strokes…like up and down the legs and all the way across the top edge. I did that then wiped the toner off with a dry rag until I got the look I wanted…then I used the brush like above and went parallel to the original brush strokes.
This is kind-of like dry brushing. For the up and down brush technique I wiped the paint off of the bristles on a paper towel until the brush was almost dry, then dry brushed the toner onto the table.
Can you see where I made the brown up and down strokes. I thing this look is really nice….very professional. I toned both tables in 30 minutes.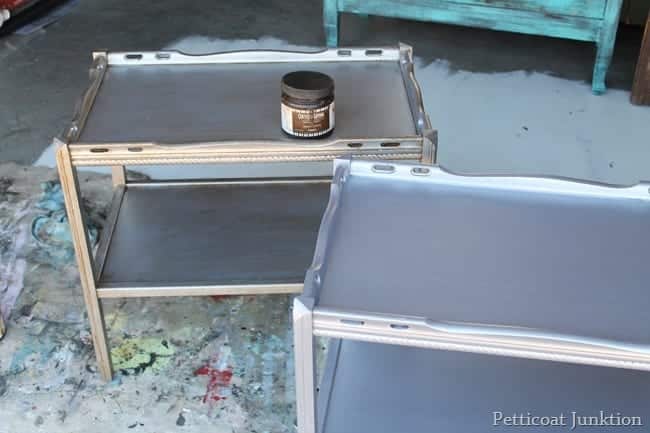 What a difference, huh? The toner cuts the shininess of the metallic paint but doesn't hide it.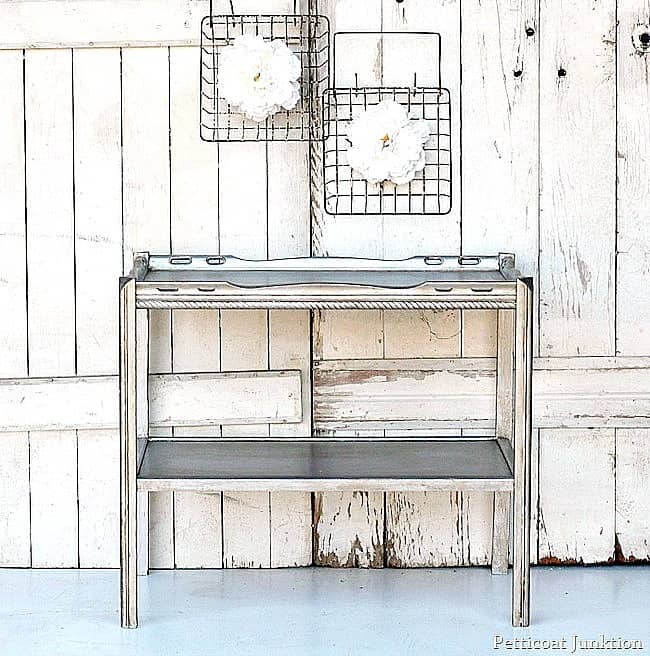 Table Pair - Furniture Antiquing Tutorial
To stage this photo I used a couple of old gate doors and the 10 minute junk projects I made last week. I really like the white flowers on the rusty baskets. The metallic paint works well with white décor. And it  looks great with bright colors too. What about the tables…like, love, don't like?
Allowing for drying time, this was a two day project. But the actual time to do the project was 3-4 hours, counting cleaning and prepping the furniture. If you don't paint everyday like I do…it may take a little longer.
I have a more in-depth toner tutorial you can check out by clicking here  and if you have any questions about the metallic furniture antiquing tutorial  just send me an email or leave a note in the comments below. I love hearing from you. Thanks for stopping by and have a great week,
See more of my metallic painted furniture with full tutorials by clicking here.
Author: Kathy Owen (Petticoat Junktion)
Kathy is the founder of PetticoatJunktion.com, a home décor blog focused on repurposing and upcycling furniture, old hardware, rusty stuff, and thrifty finds into unique home décor. Kathy's projects have been featured on the Home Depot Blog, Plaid Crafts, Behr Designer Series, and in numerous magazines. Read more about Kathy here.