How to Paint Furniture Stripes
It's easy to paint furniture stripes if you have painter's tape! All you have to do is make sure you get the tape on straight. That's the hard part for me. Anyway, I painted white stripes over hi-gloss red paint. Bold.
I don't know if I've ever mentioned how much I like red. You guys know I like bright colors, but red……it's a favorite from way back. My mom loves red too. Could be hereditary. Is that something you can inherit?
I only have a few accent pieces in red in my home. I'm thinking I need a red room. But more on that later.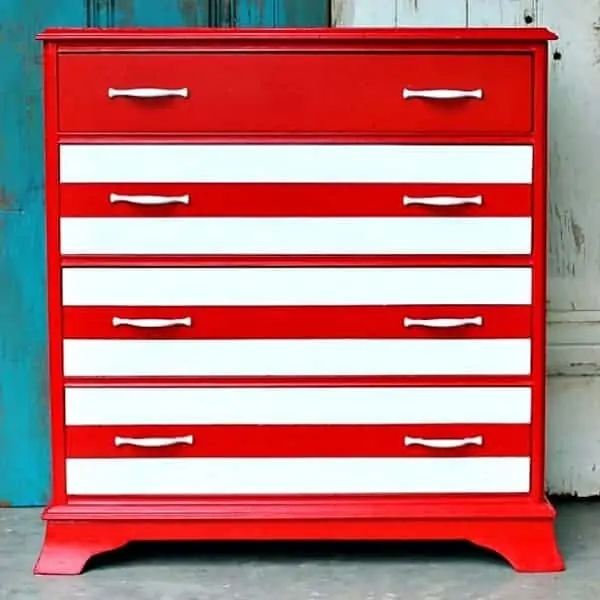 Red and white is such a pretty color combination. The straight lines of the chest and the way the drawers are inset made me think of the stripes.....something I've wanted to do for a while.....paint stripes on furniture.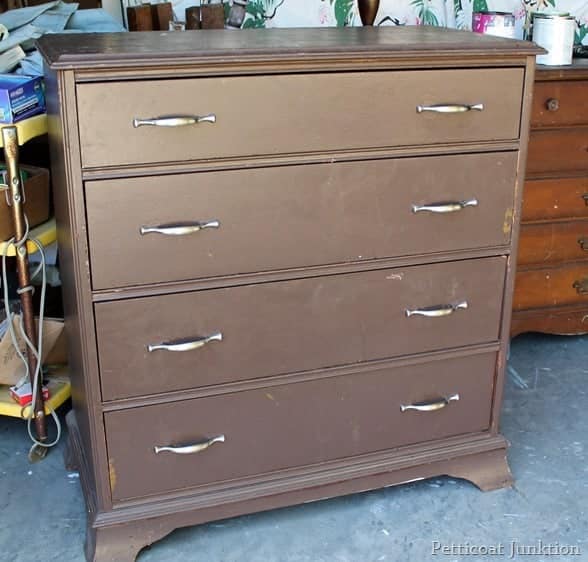 I didn't immediately think of red for this piece. I even thought about just painting it brown again but brown is so drab. Then I was leaning toward gray or black. I'm glad I decided on red!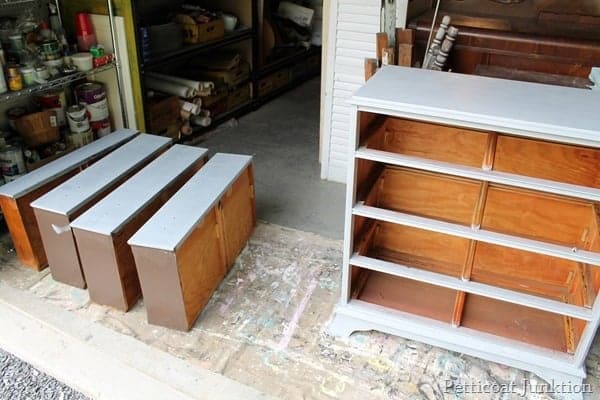 The brown paint kind-of had a tacky feel to it like it never really cured. I know the chest had to have been painted for a long time so I don't know why the paint was tacky. I decided to prime the chest using my favorite Glidden Gripper Grey Primer.
They don't make the primer in Grey anymore so I have them tint the Glidden Gripper White Primer to gray. Gray is the perfect primer color. I really don't like to use white primer unless it's going to be covered with white paint.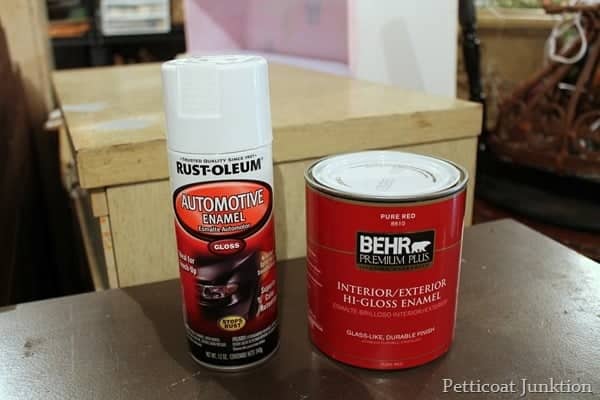 I went to Home Depot and picked out a Candy Apple Red sample thinking I would have paint mixed like I usually do. The paint guy directed me to a stock Behr Interior/Exterior Enamel in Pure Red. It was the perfect color! Me and the paint guys have a great relationship. They're almost family.
I loved the idea of hi-gloss but was a bit leery. I've found in the past that hi-gloss paint tends to show brush strokes and is the hardest paint sheen to work with. I was ready to go for it though.
I selected a gloss white spray paint by Rust-Oleum for the original hardware. Flat paint will not look good against the hi-gloss red. The straight lines of the drawer pulls will look great with the stripes. And spray painting the original hardware is a money saver.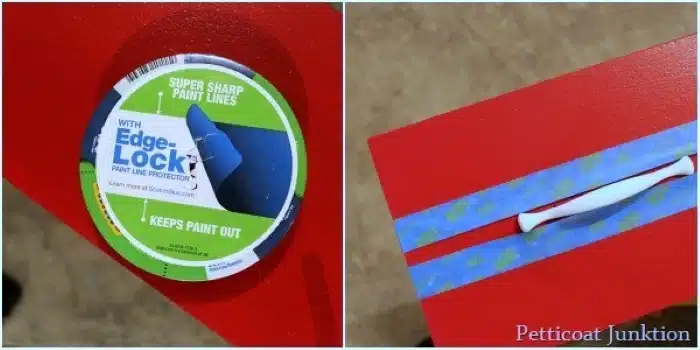 How To Paint Furniture Stripes
I used two coats of the Pure Red but honestly one coat covered great. I've found that red paint on anything usually takes several coats to get good coverage. Maybe using the gray primer really helped.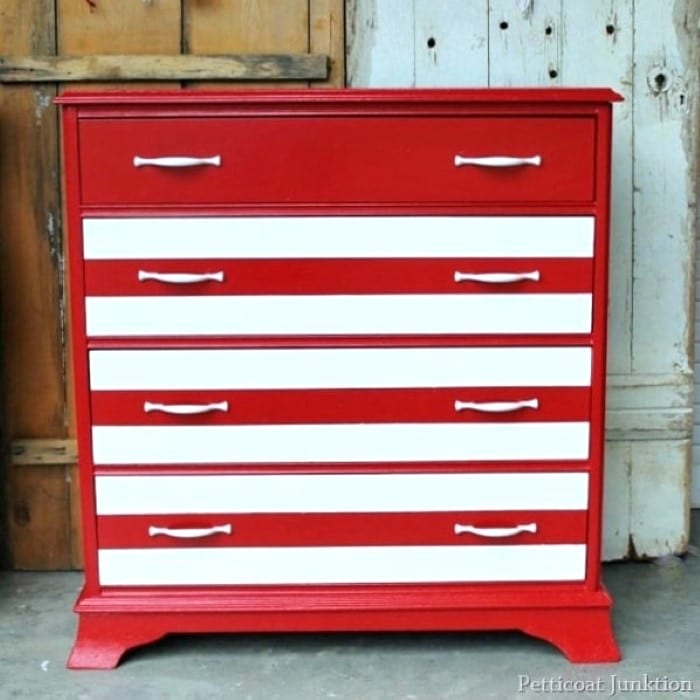 For the stripes I measured and marked with a pencil then used Scotch Blue 3M Edge-Lock tape for a nice straight line. I decided the width of the stripes just by lining the painter's tape up on either side of the drawer pulls. Worked perfectly.
Notice how nice and straight those lines are with no paint leakage. The 3m Edge-Lock painter's tape worked great. One tip to pass along is to remove the painter's tape before the paint dries. Once it dries it has a tendency to pull off with the painter's tape. I usually remove the painter's tape very soon after painting the area.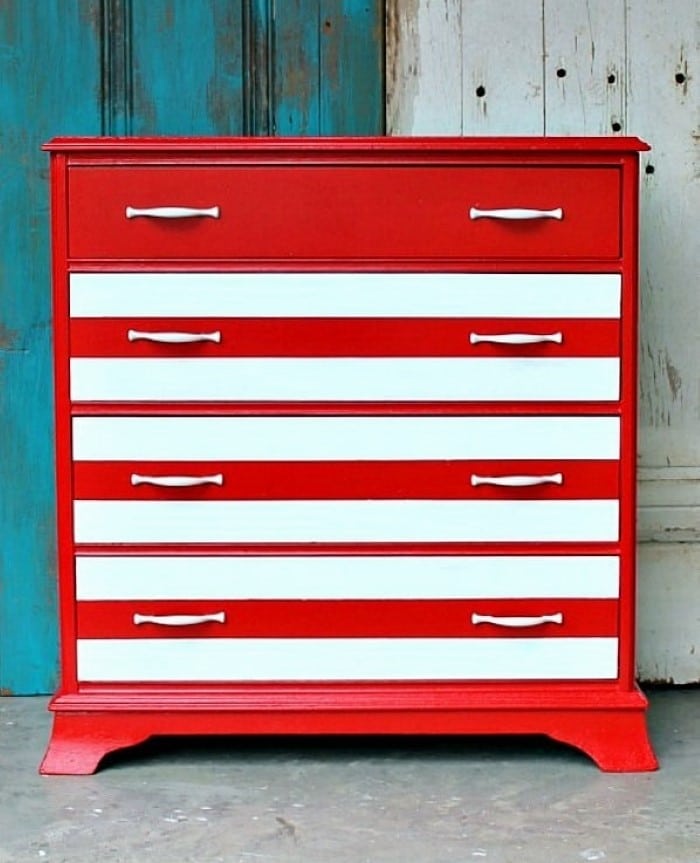 I'm very happy with the way the chest turned out. The chest was the perfect guinea pig for my first totally striped furniture project.
Bright, Bold, and Beautiful if I do say so myself. Ok, so what do you guys think about the after? Do you like the stripes? Several people have told me the chest looks like a tool chest. I guess it does a little. Leave a note!
Thanks for stopping by and have a great week, Kathy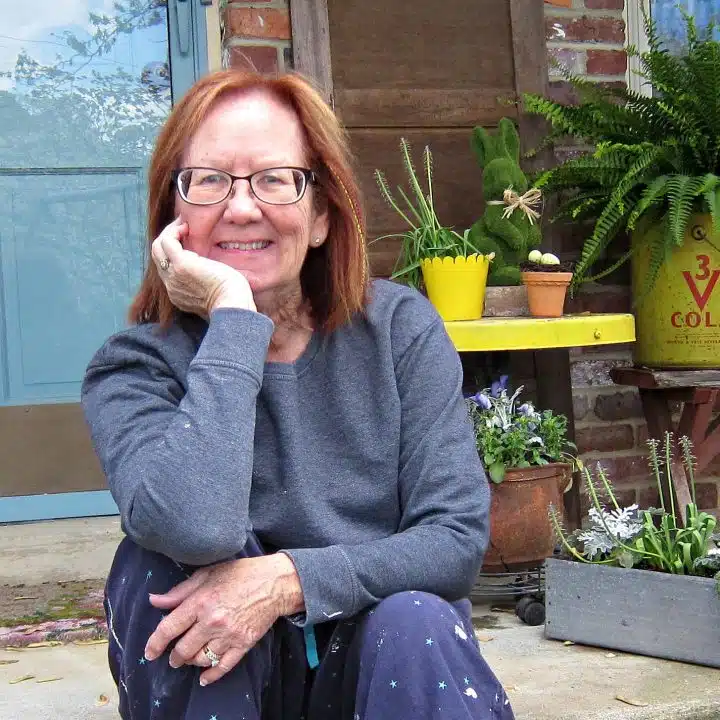 Author: Kathy Owen
Kathy Owen is the founder of the home decor blog Petticoat Junktion where she shares tutorials on painting furniture and upcycling thrifty finds into unique home décor. Her DIY projects have been featured on the Home Depot Blog, Plaid Crafts, Behr Designer Series, and in numerous magazines. Kathy's newest website is HappyHomeDIY.com