Hey guys! It's themed furniture day and today's theme is "Red, White, or Blue". I'm not sure about my red white and blue furniture makeover. I'm waiting on your opinions.

I'm not sure about my project. It could be a love or hate… undecided on my end. It's definitely not my favorite painted furniture project. I want your ideas and opinions please.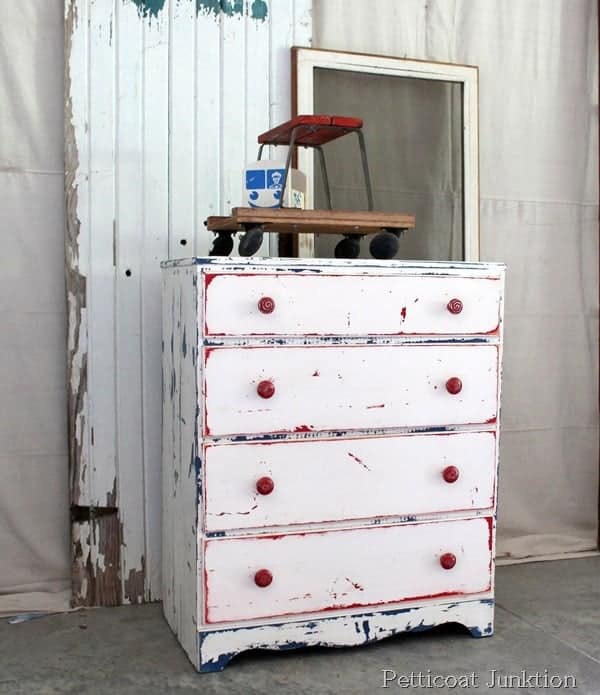 Instead of doing red, white, or blue I went for all three colors. My plan was to recreate or replicate this look. The red, white, and blue chest I bought at the Nashville Flea Market turned out beautifully.
The thing is…I didn't paint it. I worked with what was there. If you would like to see how I totally transformed the chest without repainting you can view it here…Red, White, and Blue Furniture.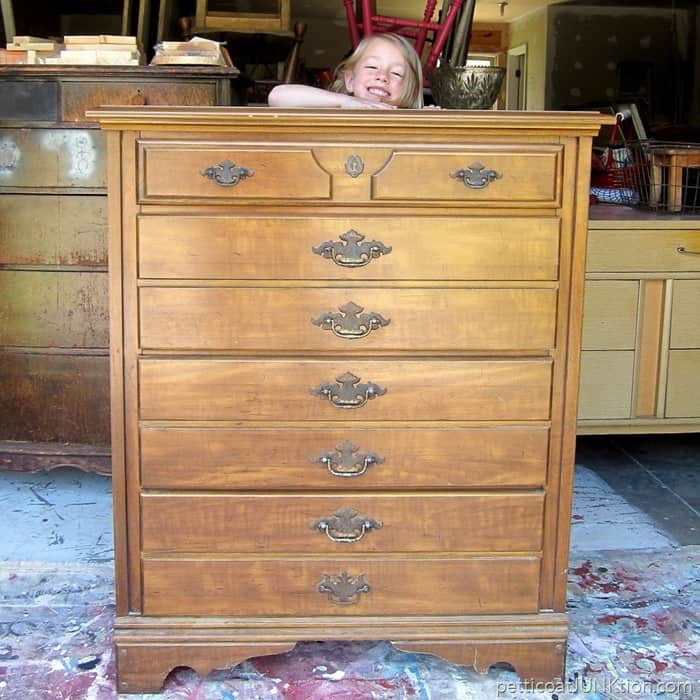 I bought the chest for today's project on my last trip to the Nashville Flea Market. Miss Sofi photo bombed me. She was a little sickly on this day and was hanging out with mamaw and papaw.
Sofi asked if she could get in the photo and of course I said yes. She dragged one of her little chairs behind the chest and stood on it to pose.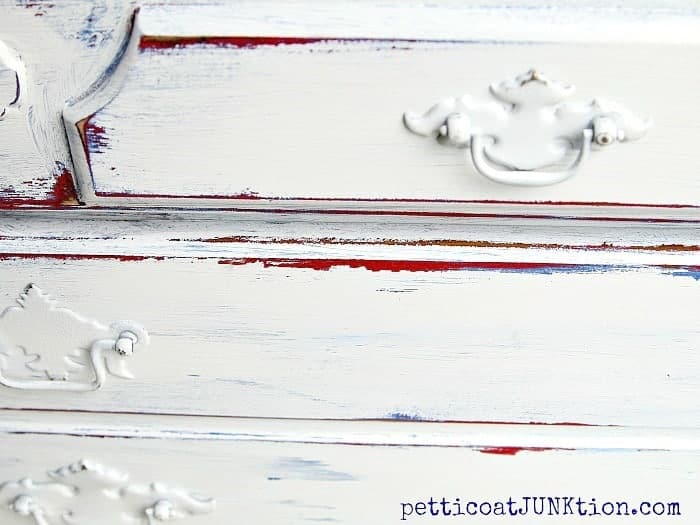 The paint finish is a little over the top….too busy. I might put another coat of white paint on the chest and then distress lightly so there is less blue and red showing through. Or maybe I will just repaint the drawer pulls in the beautiful blue color?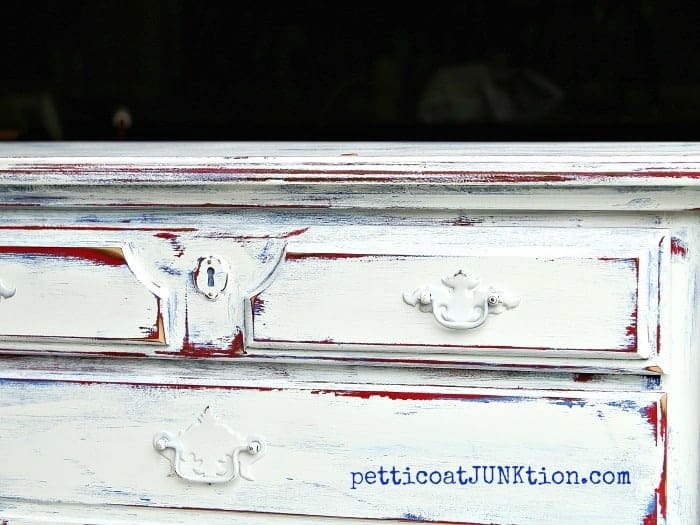 Those are a couple of ideas anyway. What do you guys think about the chest? You can be honest. I don't mind constructive criticism and I read all of your comments.
If you would like to know how I achieved this paint finish I will share it next week with the before, after, and in-between!
update: June 1, 2016 (or one week later) Well, I couldn't stand it. So I worked on the dud.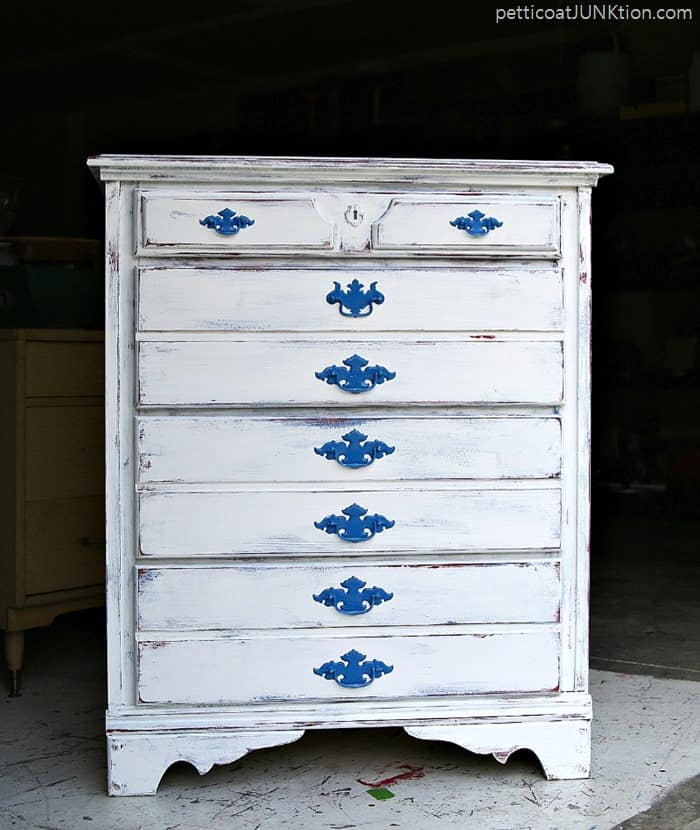 I know most of you commented favorably on the Red White Blue Furniture Makeover Is A Dud post but the more I looked at the chest of drawers the more I hated it.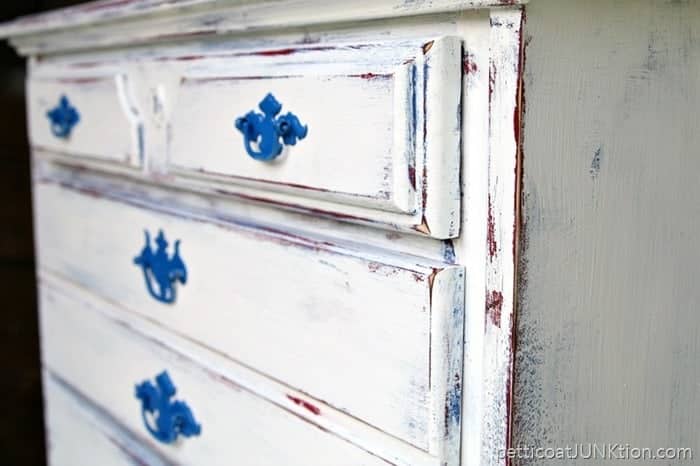 I still haven't posted the layered paint project technique but I will next week. I hate to write a tutorial if the project doesn't go well but I will on this one.
One of the problems was that the only white paint I had in my stock was a semi-gloss. I should have known better but I didn't want to go to the store and get anything else.
I'm lazy…and cheap. So the semi-gloss was super shiny and it also was a little thick. The JTS and I had to go to Home Depot for something and I grabbed a can of flat white!! I'm really loving the flat finish for furniture.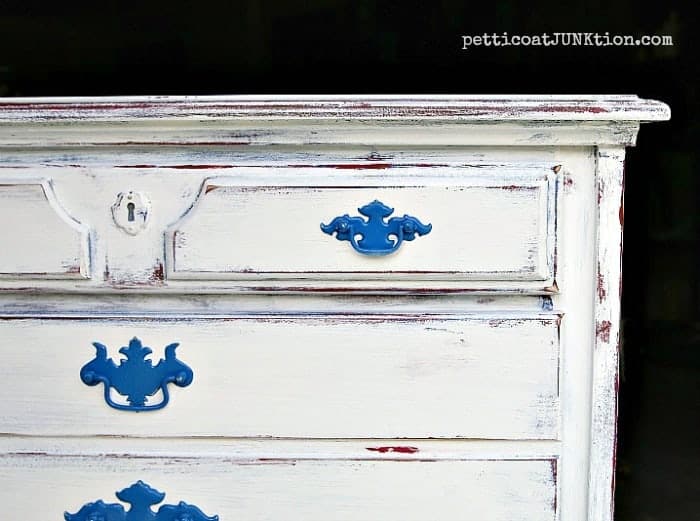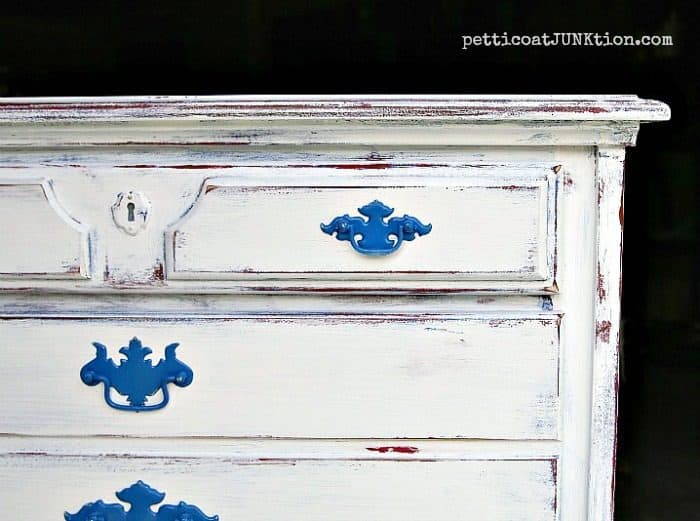 I also got a can of blue spray paint for the hardware. The blue happened to match the blue I used for the second layer of paint. How perfect is that.
like painting hardware. I don't find it tacky at all. I do like to work with the original hardware and leave the finish as is when appropriate for the furniture makeover.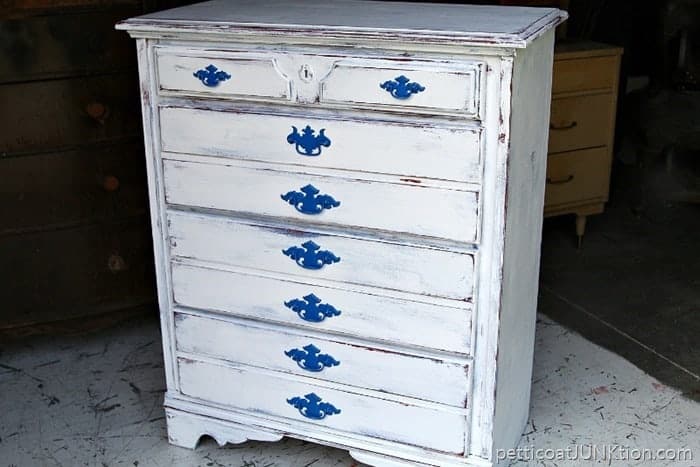 After I painted the whole thing again with flat white paint I distressed…….lightly!
How do you like it now? Better? Or did you like the first makeover? That's it for me. Have a great day!
Now it's time to see what the other girls have today. Just click the photos below to view the complete project.
Have a great day and I'll see you next week... on Tuesday. Kathy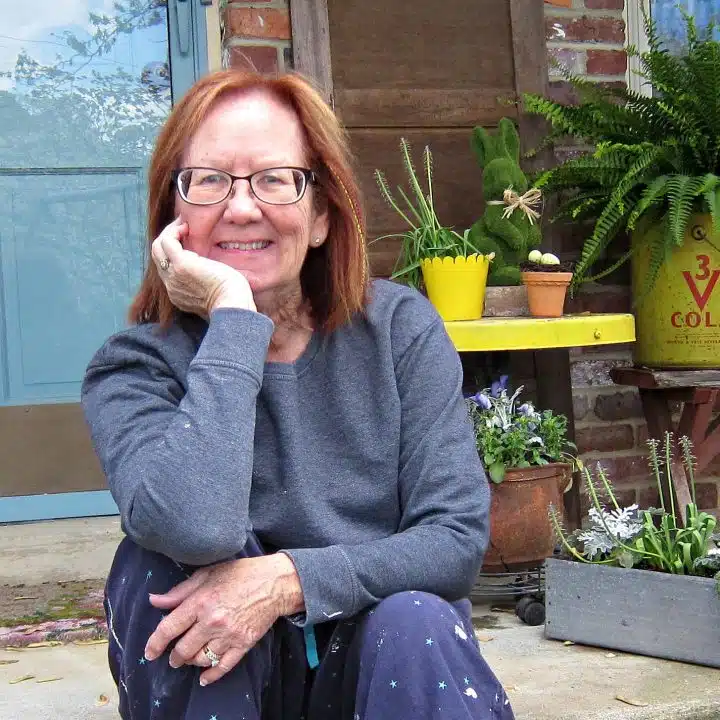 Author: Kathy Owen
Kathy Owen is the founder of the home decor blog Petticoat Junktion where she shares tutorials on painting furniture and upcycling thrifty finds into unique home décor. Her DIY projects have been featured on the Home Depot Blog, Plaid Crafts, Behr Designer Series, and in numerous magazines. Kathy's newest website is HappyHomeDIY.com