This flea market furniture flip was as easy as pie. The ugly chest of drawers was covered in layers of paint when I spied it at the Nashville Flea Market. Cleaning it up and distressing the paint gave it a whole new look. I didn't even open a can of paint for this one. The piece was already painted with three colors.....red, white, and blue. What could be more perfect.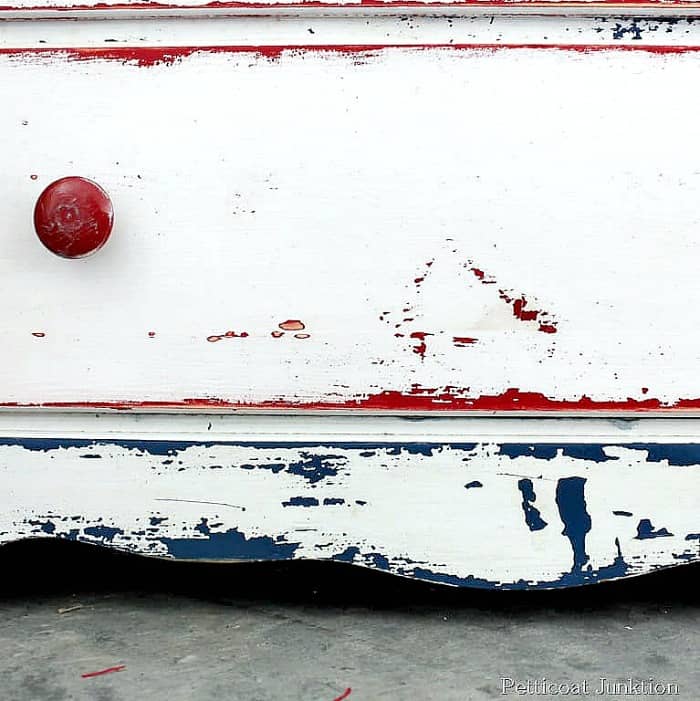 This project just goes to show that before jumping into your usual thing you should consider what you already have to work with. In my case that meant no painting required. For this project I just worked with what was there.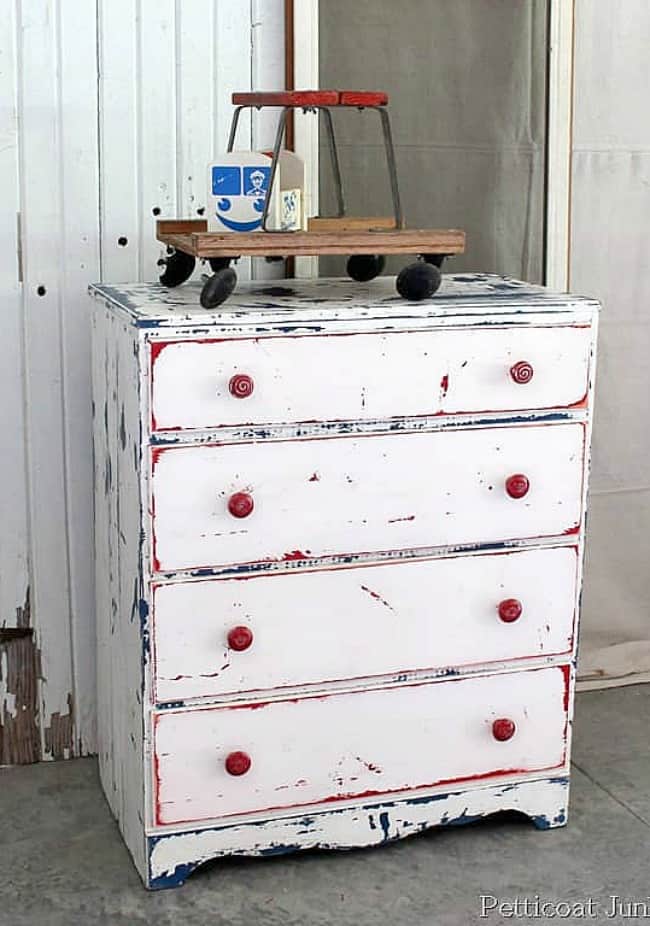 White paint with chunks of red and blue paint showing thru after the distressing. The details…..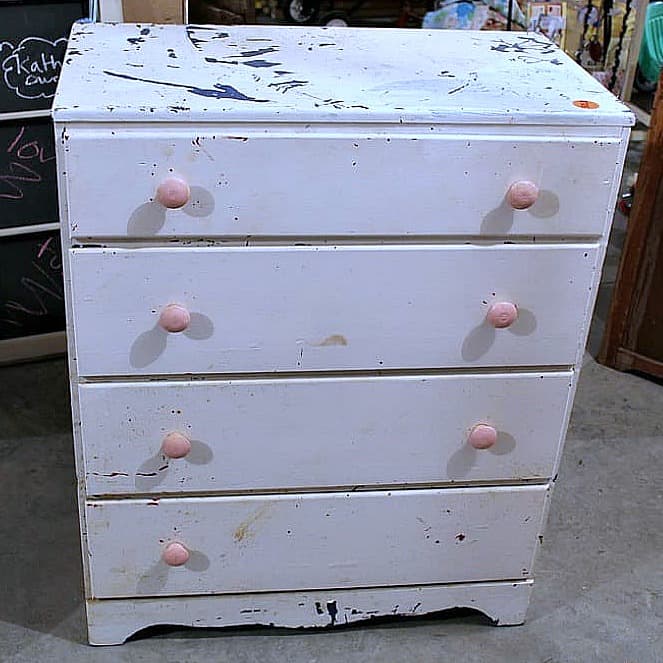 I bought the chest from the Nashville Flea Market a couple of months ago. I think I paid $30 for it. That figure is stuck in my head for some reason. Can you see where the paint is peeling off and there is blue paint underneath? It's really hard to see but on the drawer fronts there is red paint peeking through the peeling paint.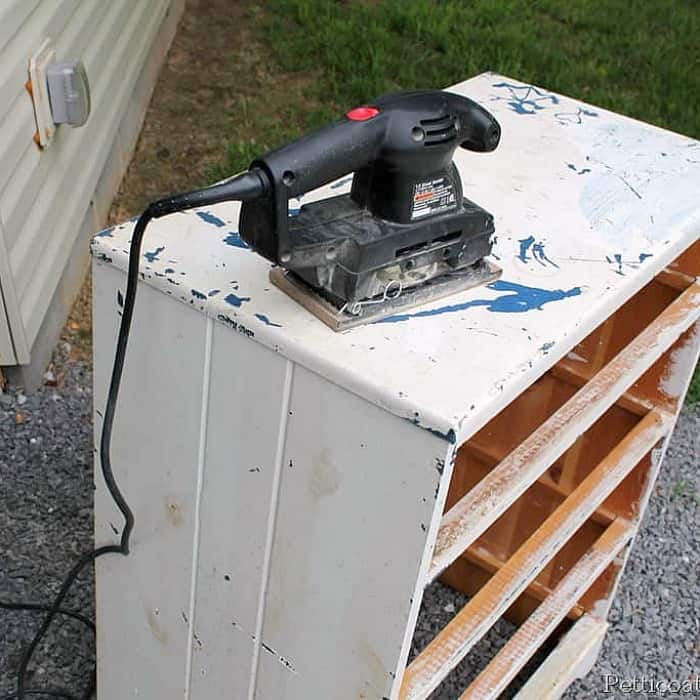 I've learned a few things in my painting journey and one of them is that everything doesn't have to be re-painted or…. painted at all. Work smarter not harder.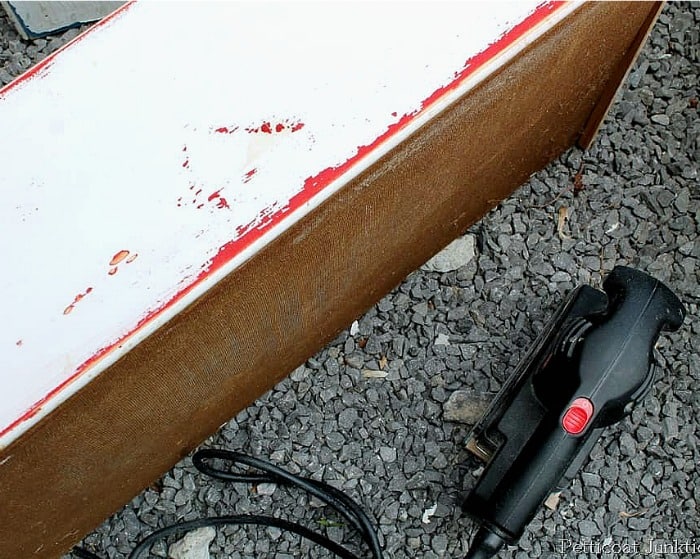 I took my electric sander and some 100 grit sandpaper and went to town on the chest. I ran the sander all over the chest and the drawers. The sanding removed the yellowed layer of white paint. I didn't really notice how the white paint had yellowed until I started distressing it.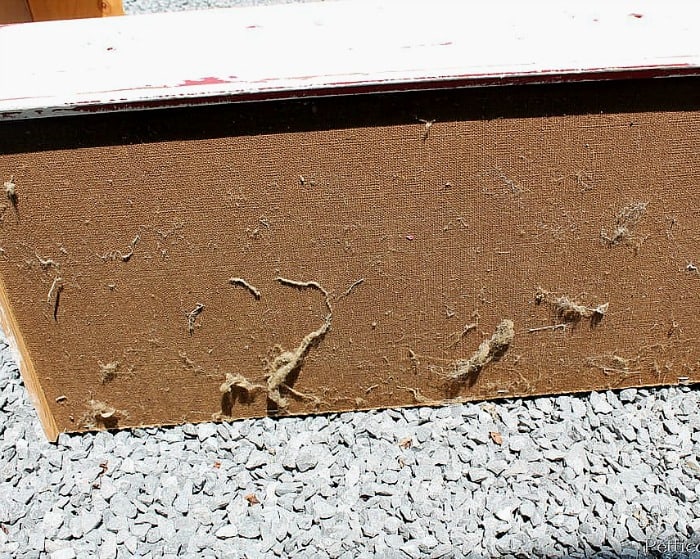 The piece was really really dirty. I used the shop vac to take off as much of the crud as I could then cleaned it all over with Simple Green.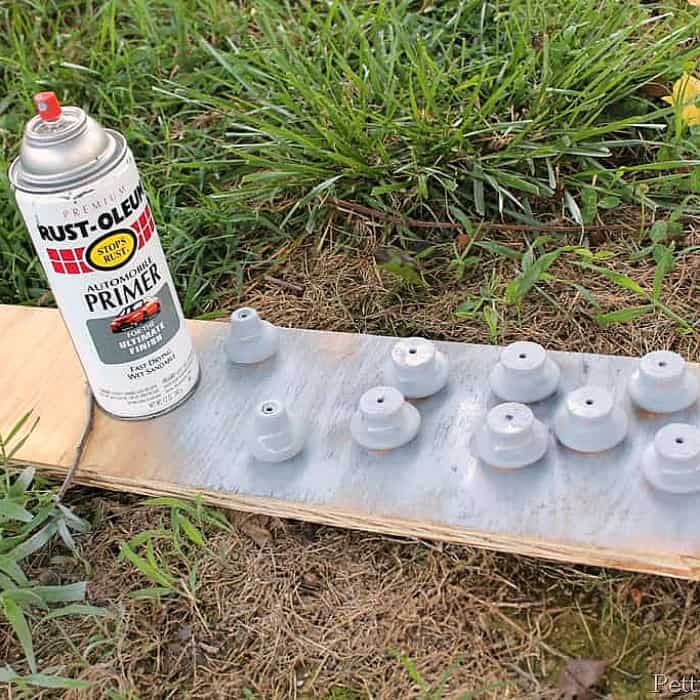 If you noticed in the before picture, the knobs were pink and there was one missing. I found two matching replacement knobs for the top drawer. The only spray primer I had on the shelf was Rust-Oleum automobile primer. I have no idea where the automobile primer came from. Anyway, I sprayed all of the knobs with the primer. Then after the primer dried I spray painted the knobs with this pretty gloss red!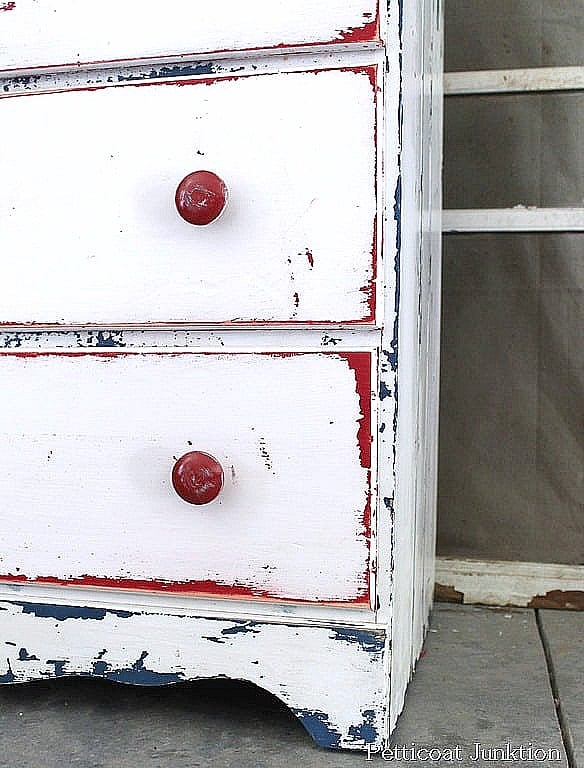 I could not have improved on this piece by adding yet another coat of paint. The red and blue colors are deep and rich. That's how I like them. For the final touch and to prevent more peeling, I applied a coat of Howard's Neutral Wax.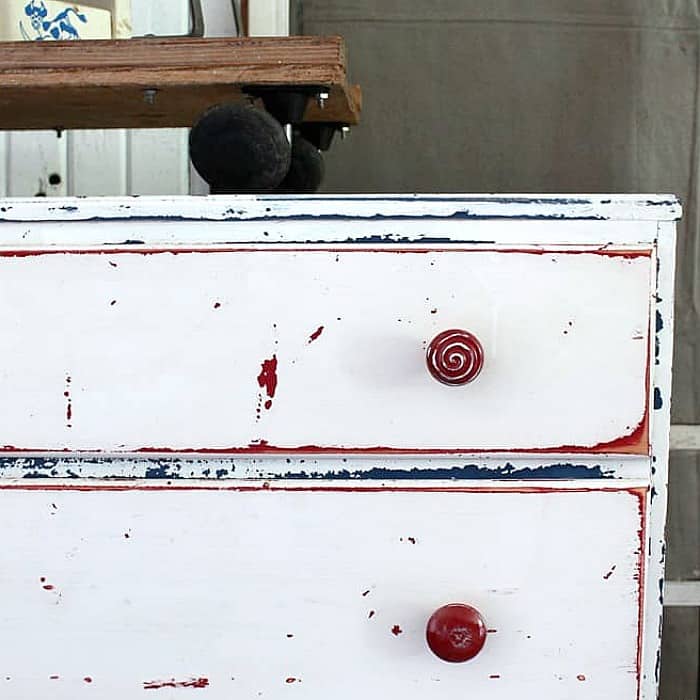 I gently distressed the painted knobs. The swirls on the replacement knobs were perfect for distressing.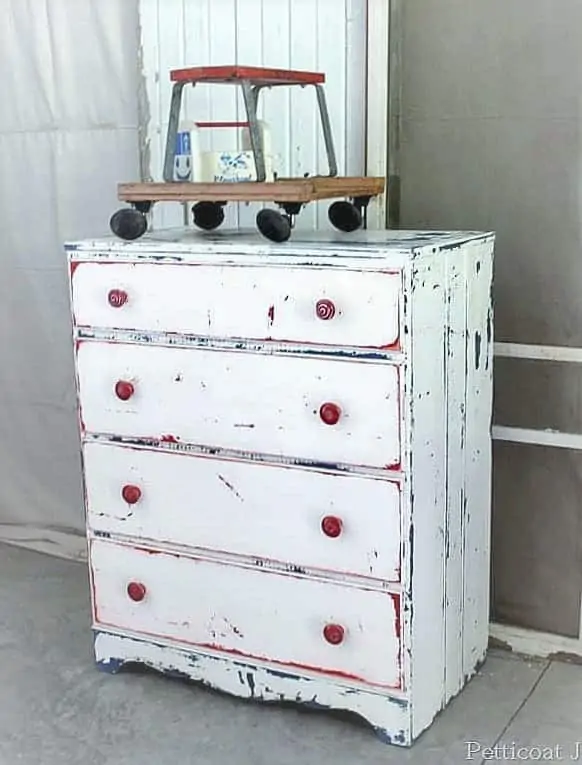 I know this look isn't for everyone. Some of you will hate the over-the-top peeling/distressed paint finish…..and some of you will love it. To me….. the red, white, and blue color combination was too good to paint over. I really liked the little chest of drawers and was in no hurry to sell it. I kept it for a number of years before changing it out for other decor.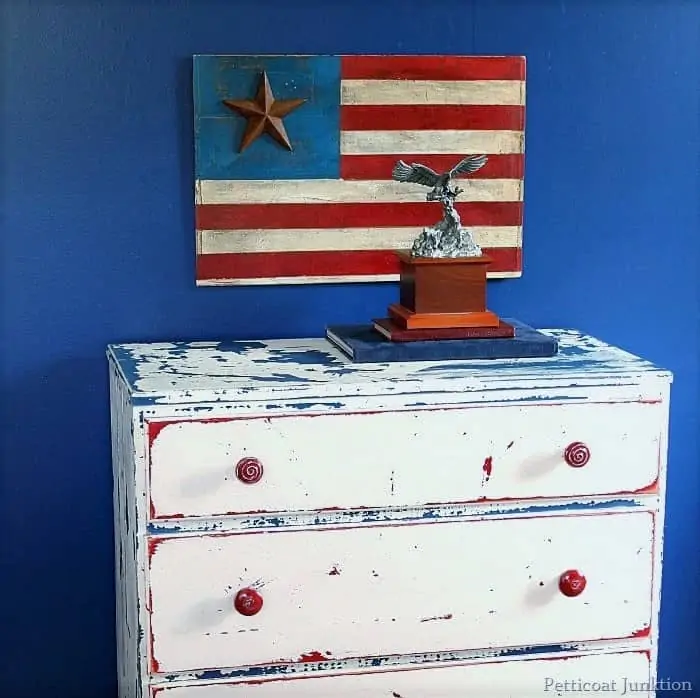 The red, white, and blue chest looks great in the blue bedroom. The perfect decor for patriotic holidays.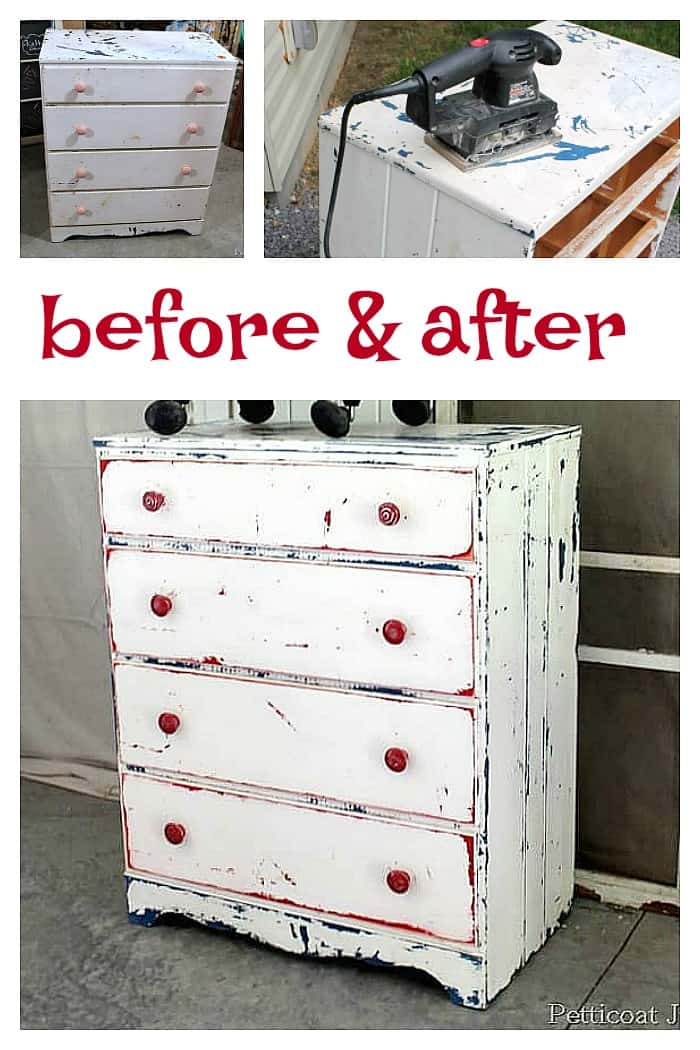 When I first started painting furniture I would make a plan and it always included painting….always. Now I've learned to look at the furniture differently and see if I can work with what is there. I found this article with a lot of helpful information.....How to Start Flipping Your Furniture.
Sooooo…..let me know what you think. Do you like the layered paint look? Thanks for being here friends, Kathy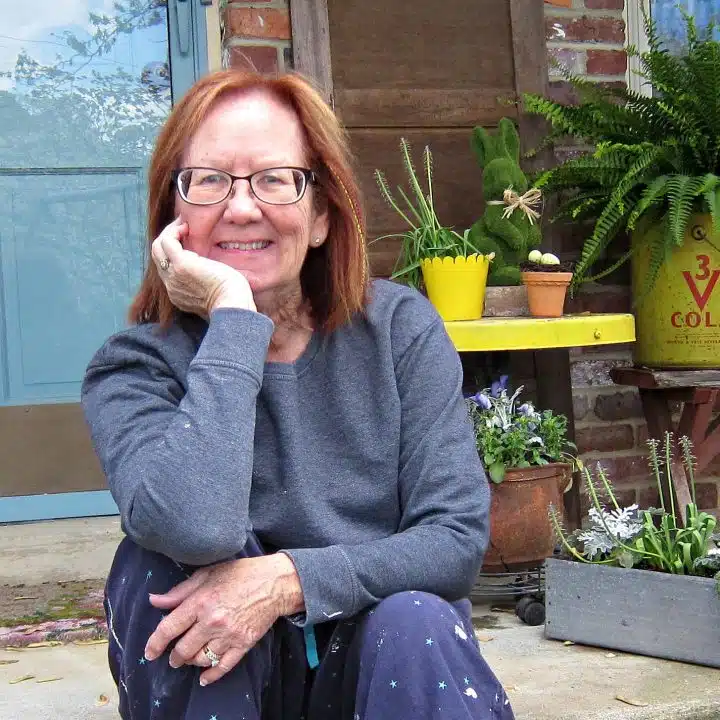 Author: Kathy Owen
Kathy Owen is the founder of the home decor blog Petticoat Junktion where she shares tutorials on painting furniture and upcycling thrifty finds into unique home décor. Her DIY projects have been featured on the Home Depot Blog, Plaid Crafts, Behr Designer Series, and in numerous magazines. Kathy's newest website is HappyHomeDIY.com