This is one of those furniture projects that has me smiling. The simple sophisticated white dresser is a showstopper. The special addition to the makeover that took it to another level is the ceramic rose knobs. I tried adding a girly swirly wood applique and that was overkill.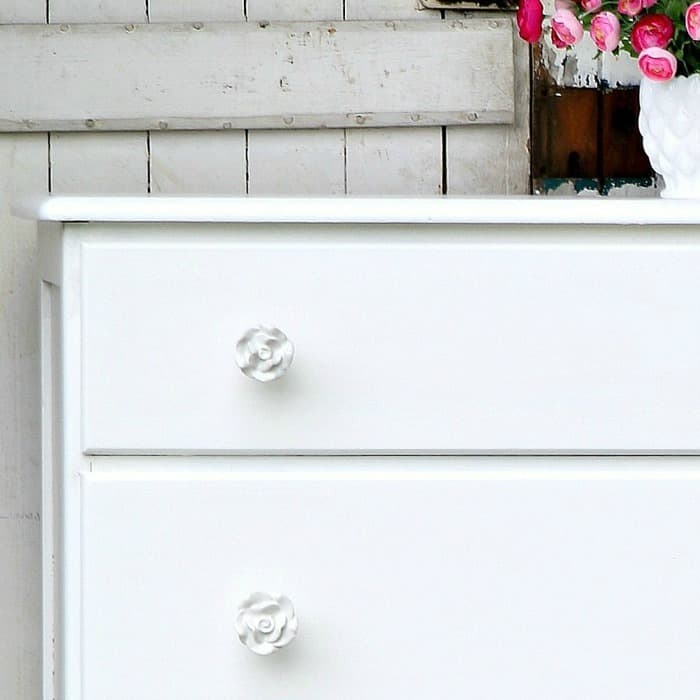 It was nice to get back to painting furniture after 6 weeks or so of downtime. If you guys read this post here you know why I took off for a while. I was overwhelmed by the response to that post and hope to write a small follow up about the comments I received. Stay tuned.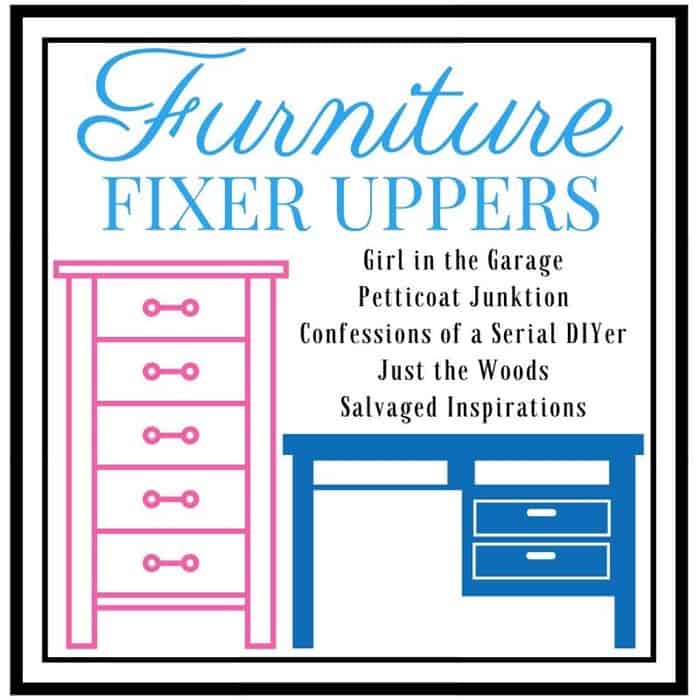 Today is the Furniture Fixer Upper Tour and as always there is a lot of furniture makeover inspiration. We are sad to see Marie of the Interior Frugalista leave the tour. She is concentrating on other things and painting less furniture. She is still blogging though so no worries.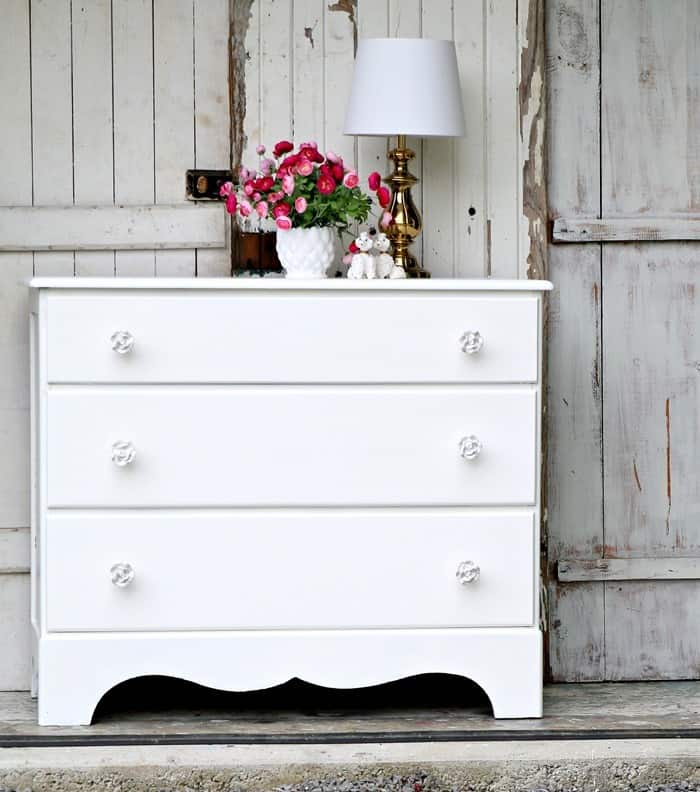 Time to take you through this simple furniture makeover.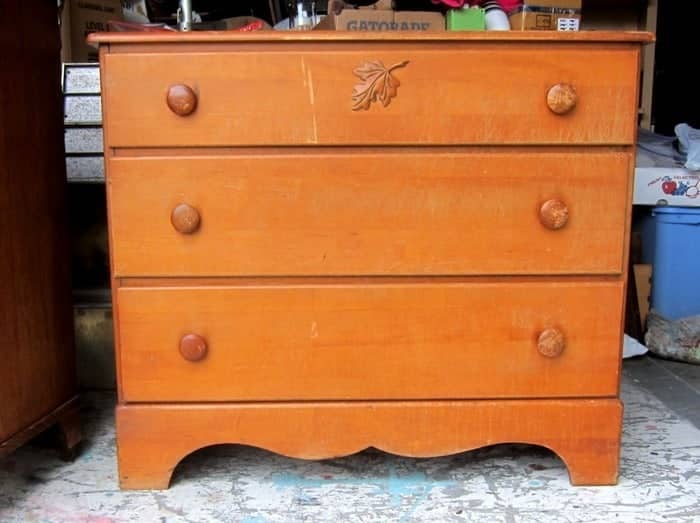 This chest of drawers was an auction buy. I was in Arkansas at the time of the auction but I was able to bid online and I was the winning bidder. Yeah! I bid on several pieces but was outbid on all but 2. I'll share the other piece later.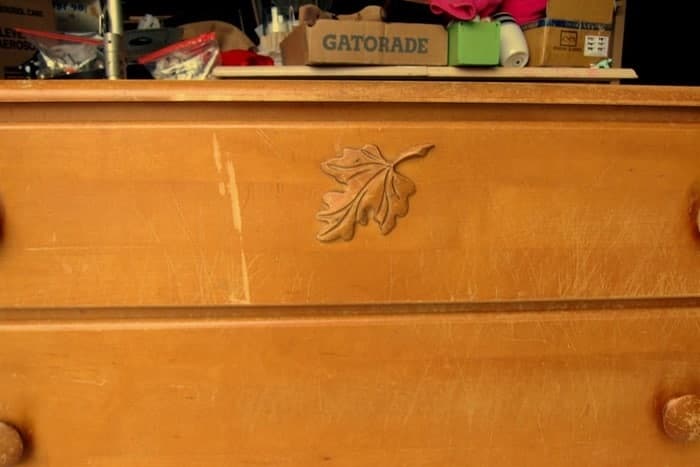 The first thing I had to do was pop off that little wood oak leaf applique. It just wasn't my style. Actually the JTS took it off for me.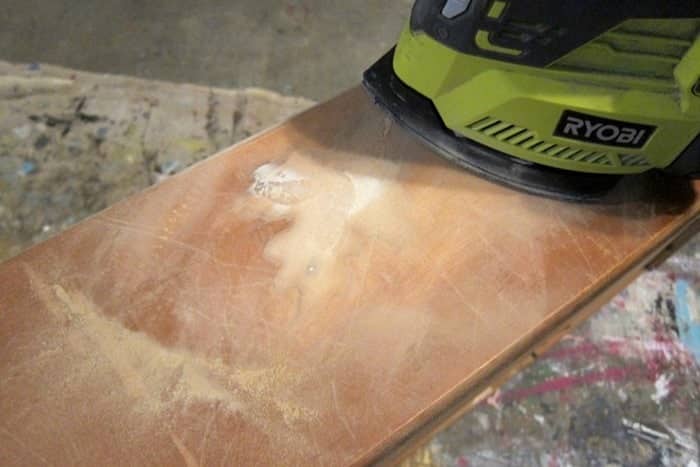 He filled the nail holes with wood putty and I sanded everything smooth once the putty dried.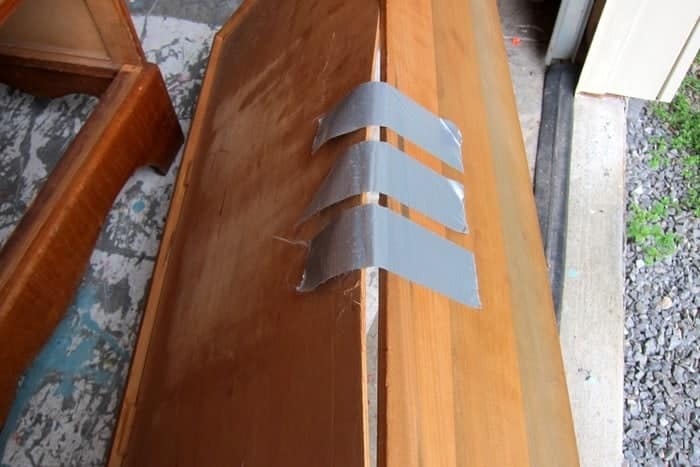 The second problem was the bottom of one of the drawers. One of the blocks that held the bottom in place was missing and the drawer bottom was sagging big time. Someone used duct tape to hold the bottom to the drawer. Didn't seem to be working too well.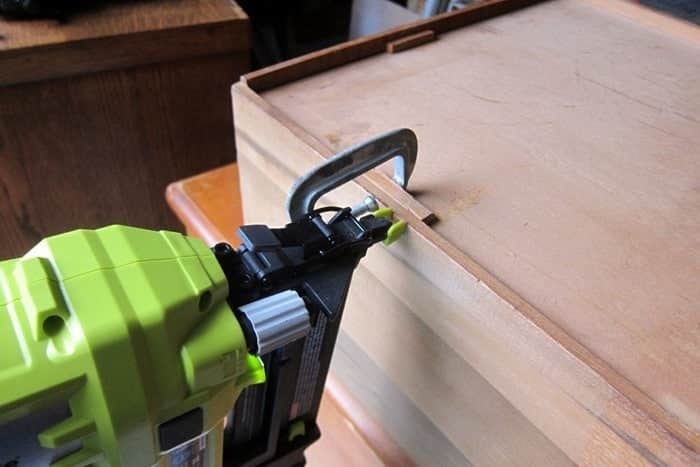 I made a small replacement wedge (or block) and used a clamp to hold it in place. Then I used my Ryobi brad nailer to shoot a few nails into it.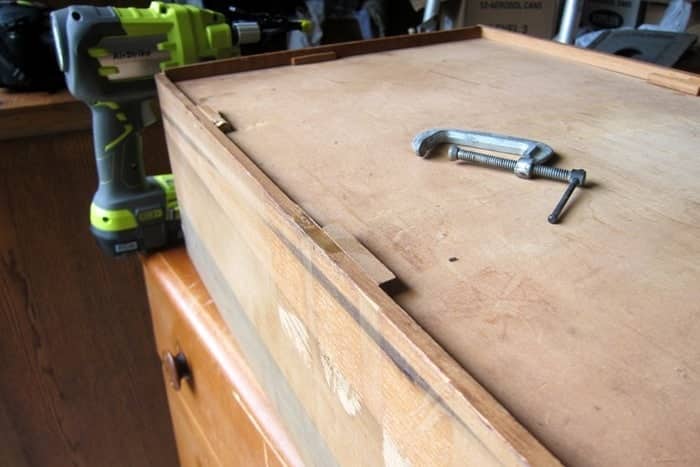 The drawer bottom was really bowed and I added an extra block to help push the bottom back into place.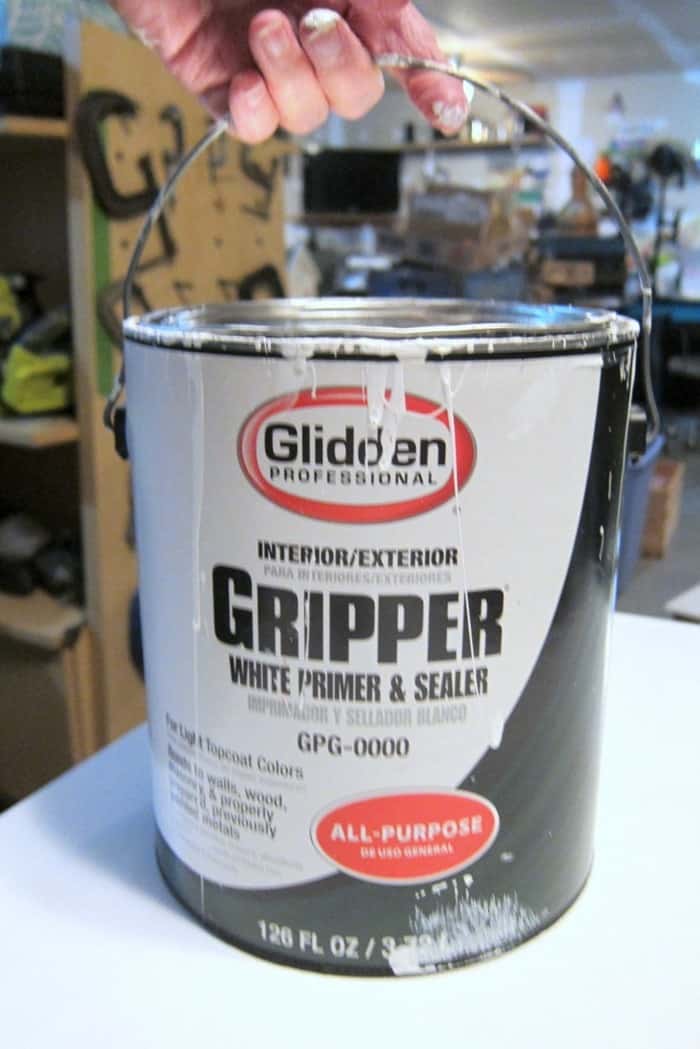 Now we can get on with the painting. I think I've mentioned a bunch of times that prep is the most difficult and time consuming part of any furniture makeover. It's True.
I applied two coats of Glidden Gripper white primer. The primer was a nice look and I thought about just using the primer as a topcoat but changed my mind.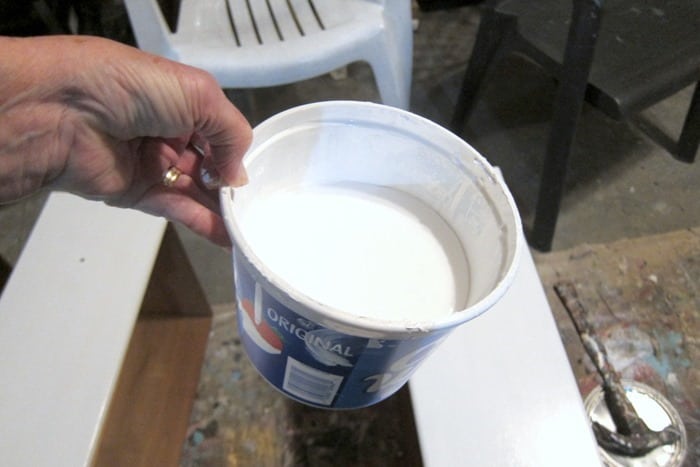 I found a container of white semi-gloss paint and applied one coat. The sheen was too glossy and had obvious brush marks.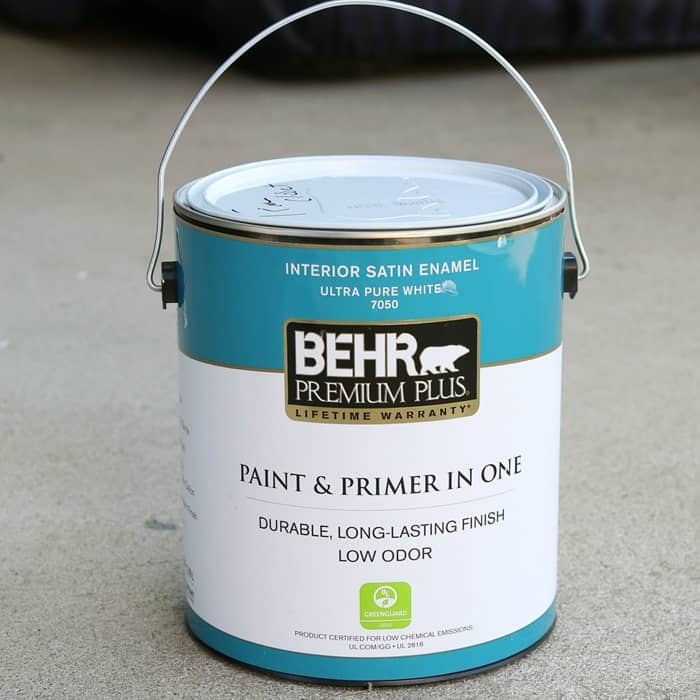 Not wanting to buy more paint I decided I could use the white satin paint we bought when we painted the trim in the bedrooms. I applied one coat of the satin paint. Now the dresser has 4 coats of paint (counting the primer).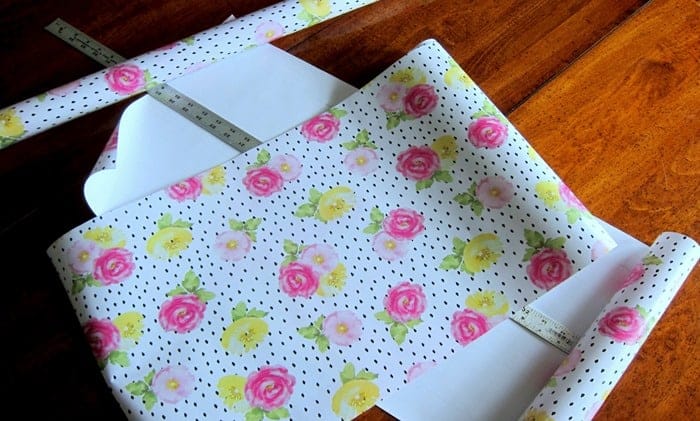 Time to pretty up the inside of the drawers. I had this colorful wrapping paper in my stash of stuff and it was perfect. I measured the drawer bottoms and cut 3 drawer liners.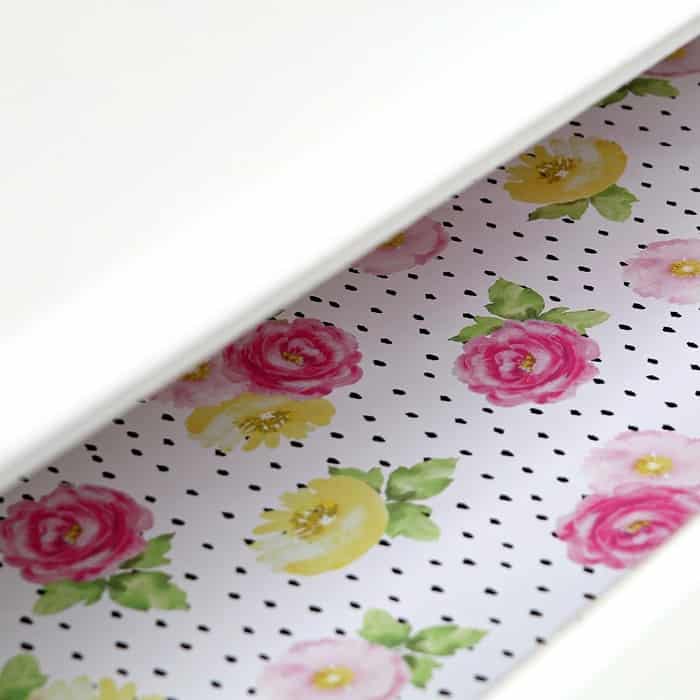 There are several ways to apply the drawer liner. You can use glue dots, a piece of tape on the sides, or do what I did and use doubled sided tape to hold it down. I don't use anything that will make the paper permanent or hard to remove.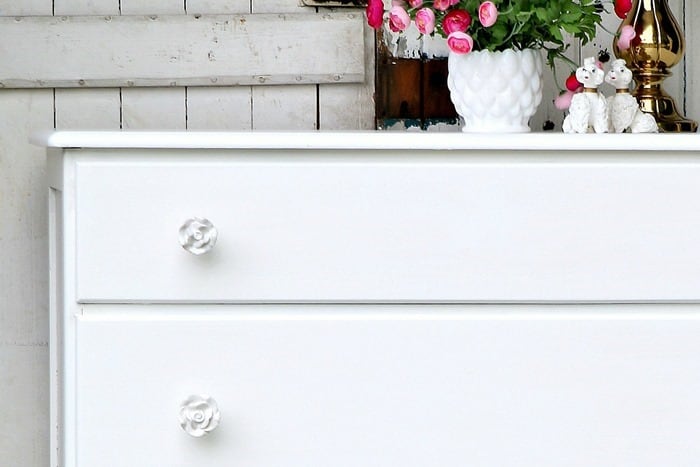 Only thing left to do is add some pretty knobs. I originally planned to spray paint the wood knobs white. Since there was no other details to the dresser and it was basically a flat no frills piece the ceramic rose knobs were the perfect addition.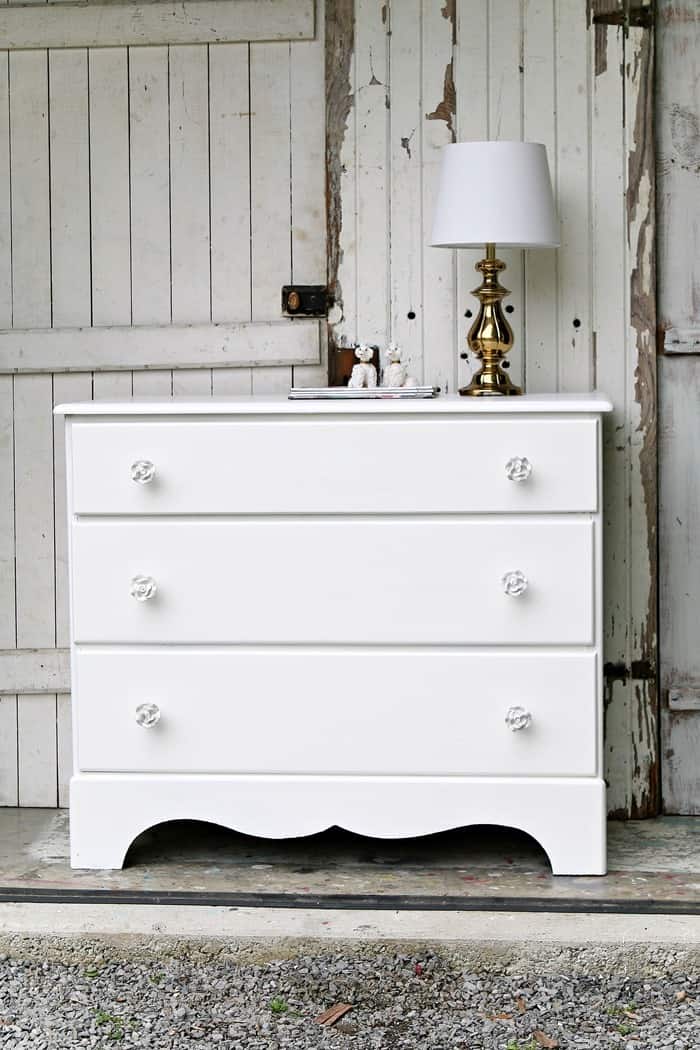 Pretty huh…..simple sophisticated white dresser. You could put this piece in any room of the house…..except maybe a guy room.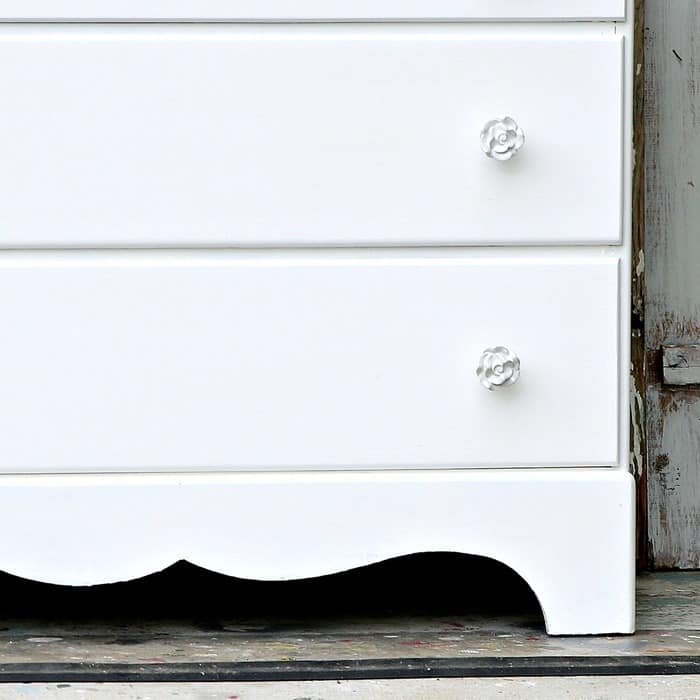 At one point I thought about taking away the curvy bottom and adding a more modern piece. Too much trouble.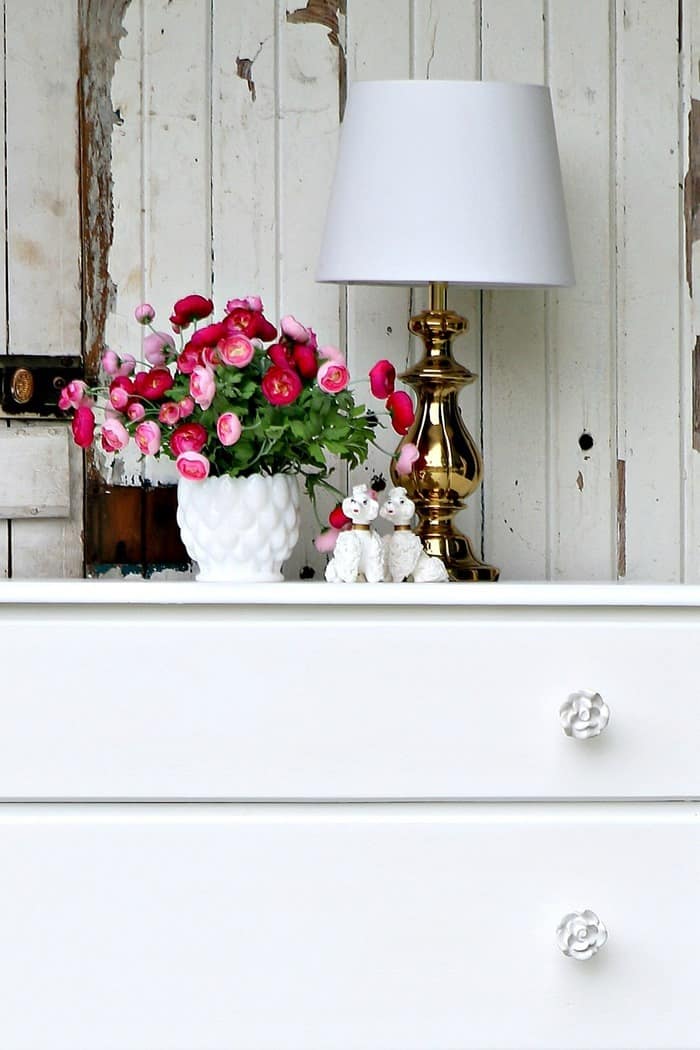 How do you like the pair of poodles? They were an auction buy too.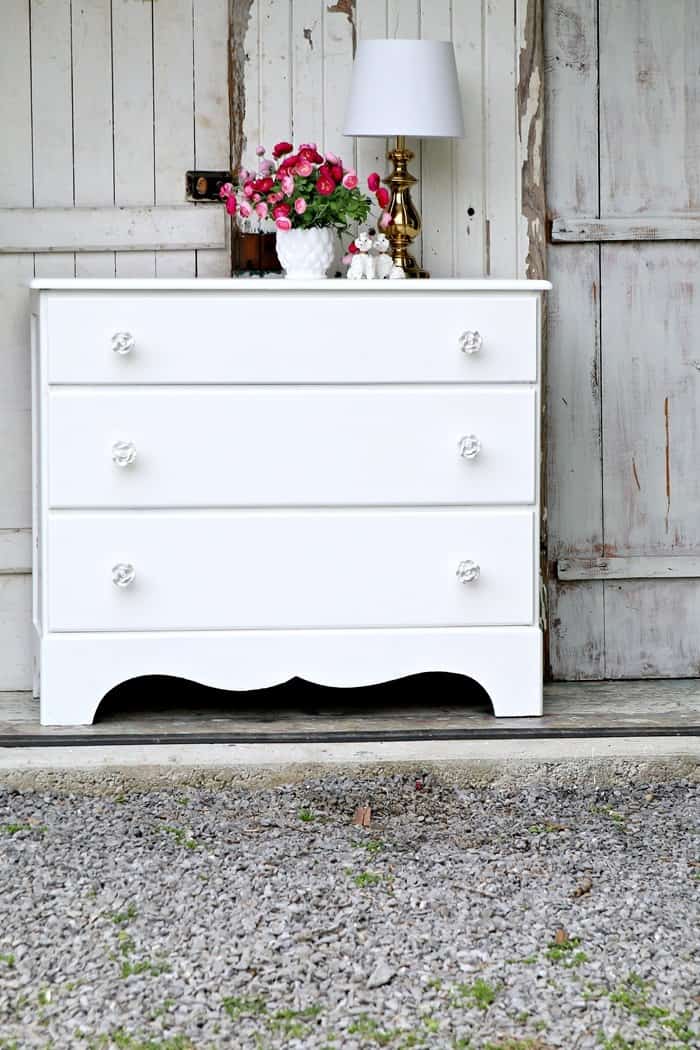 So, what do you think. Too simple, or too fru-fru, or just right. Would you have this piece in your home and if so where would you use it?
My Furniture Obsession – Simple Sophisticated White Dresser
Time to see what the other girls have for us today. Just click the text links below the "before makeovers" photo collage….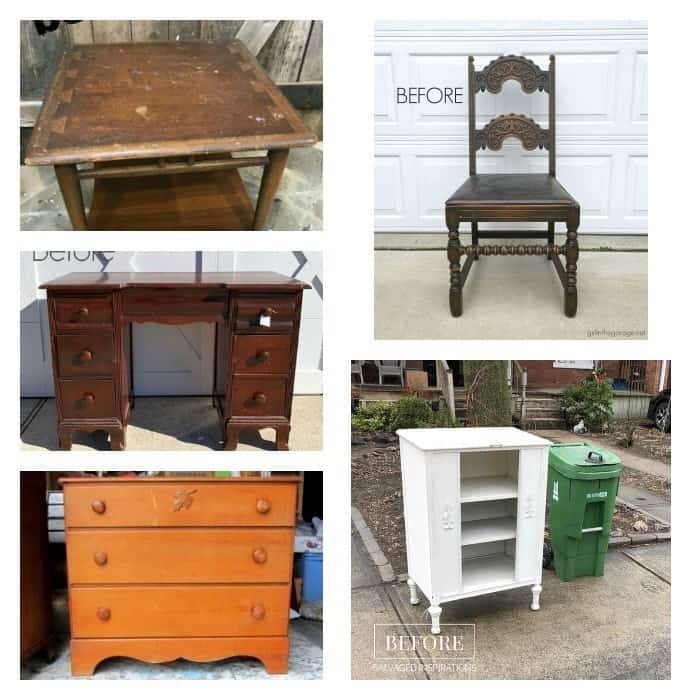 Girl in the Garage
Confessions of a Serial DIYer
Just The Woods
Salvaged Inspirations
You guys stay safe and have a great weekend, Kathy