Did you know you can apply polycrylic clear sealer using a paint sprayer? Yes! There are some projects that require a sealer for protection and I always hate brushing it on. Spraying the polycrylic so easy to do. I finally finished the pink piece I started earlier this month and I used the easy method to seal the paint.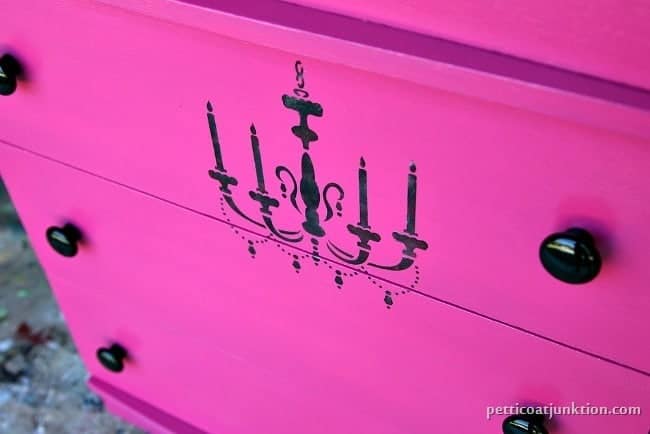 Apply Polycrylic Clear Sealer Using A Paint Sprayer
This is my pink beauty with a stenciled chandelier design. Stenciling is a great way to add pizazz to furniture. I don't do decorative painting because I don't have that skill but I'm a pro at stenciling.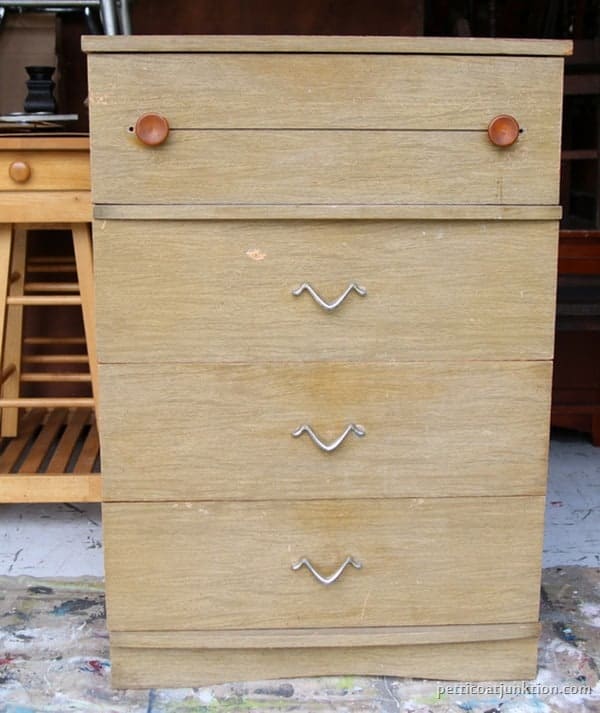 The chest started out like this. Very drab and out of date for sure. I modernized it with plain wood knobs instead of the old pulls.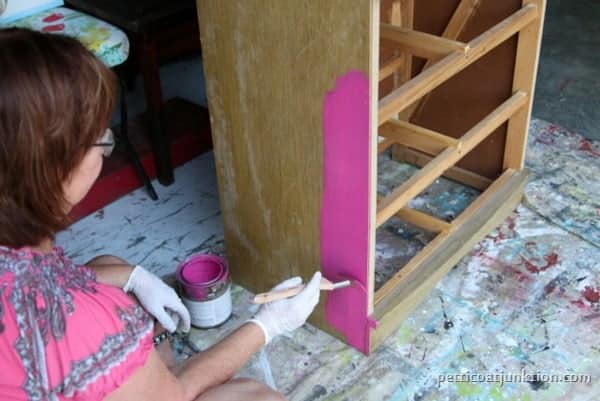 I decided to use Behr paint in Diva Glam for the makeover. The paint was left over from an earlier project. More on that to come later!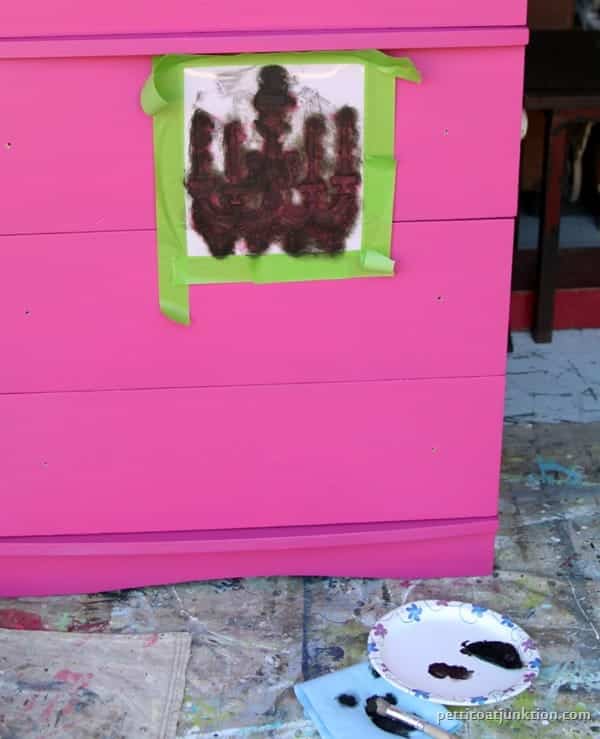 As soon as the paint was dry I taped the chandelier stencil to the chest and used black paint to stencil the design. I waited until the black paint was dry then highlighted the stencil with silver metallic paint…..very lightly. Adding the other color to the stencil design keeps the look from being flat.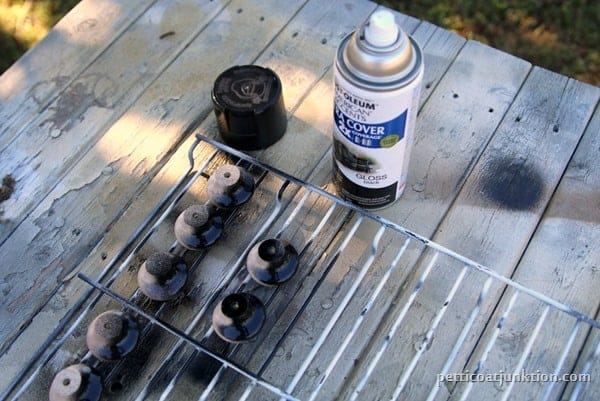 You may have noticed the hardware in the before photo. I decided to change hardware so I filled holes and drilled holes for the new hardware. I spray painted the knobs a gloss black. The bold pink/fuchsia called for a bold color contrast.
My first thought was to add white flowers to the chest and paint the hardware white. I'm glad I changed plans.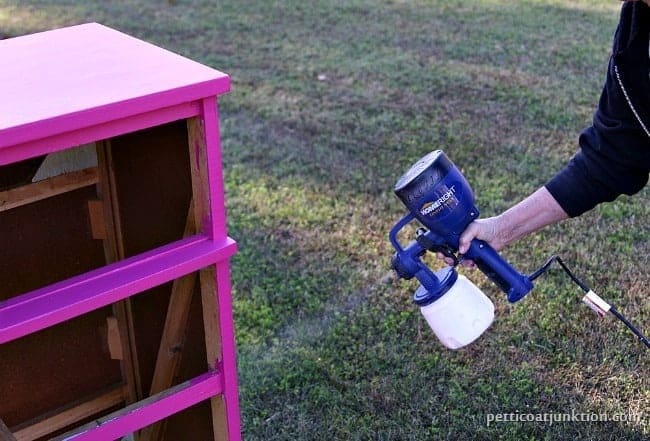 Sealer Application Using Paint Sprayer
After all the painting and stenciling was done I applied a clear sealer. The Diva Glam paint was in a flat finish and I wanted the piece to have a lot of shine. This is the first time I used my HomeRight Finish Max Paint Sprayer to  apply clear sealer. It worked like a charm. No brush strokes, no runs.
My sealer choice for this project was Minwax Polycrylic in gloss. I poured the sealer in the paint sprayer and started spraying. I applied two thin coats of sealer letting the first coat dry for an hour before applying the second coat of sealer.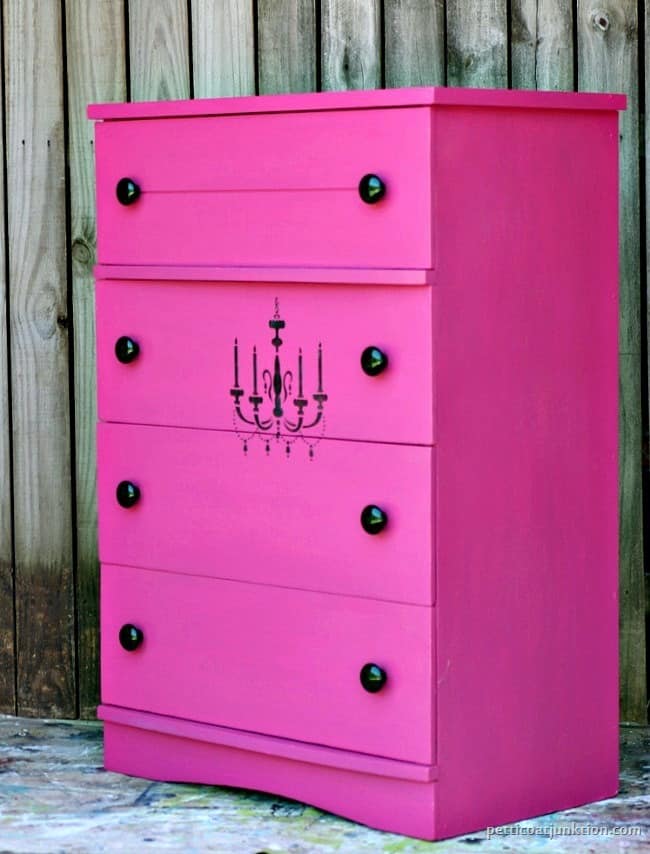 The black knobs and stenciled chandelier really pop against the bright pink. I like contrast or either no contrast. Paint the knobs the same color as the furniture or go bold. That's just my preference.
update 2019: See my latest video using a brand new and more powerful HomeRight sprayer below....
Prime And Paint Metal Using A Paint Sprayer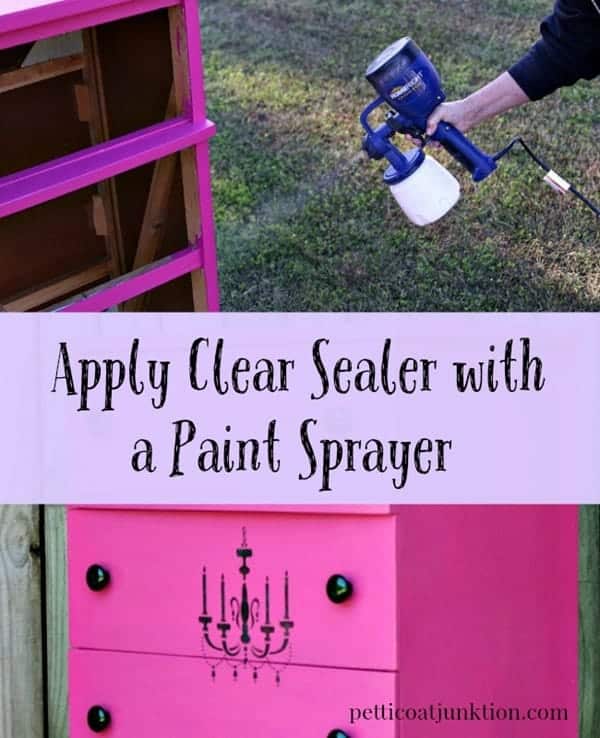 Find my stenciling tricks here..Special Stencil Technique Layering Paint Colors
Prime and paint furniture with a paint sprayer too. See the glider project here....Prime And Paint Metal Furniture Using A Paint Sprayer + Video
See ya'll tomorrow, Kathy