Today is themed furniture day and the theme is "Black".  So of course I have black furniture heavily distressed. You guys know me well.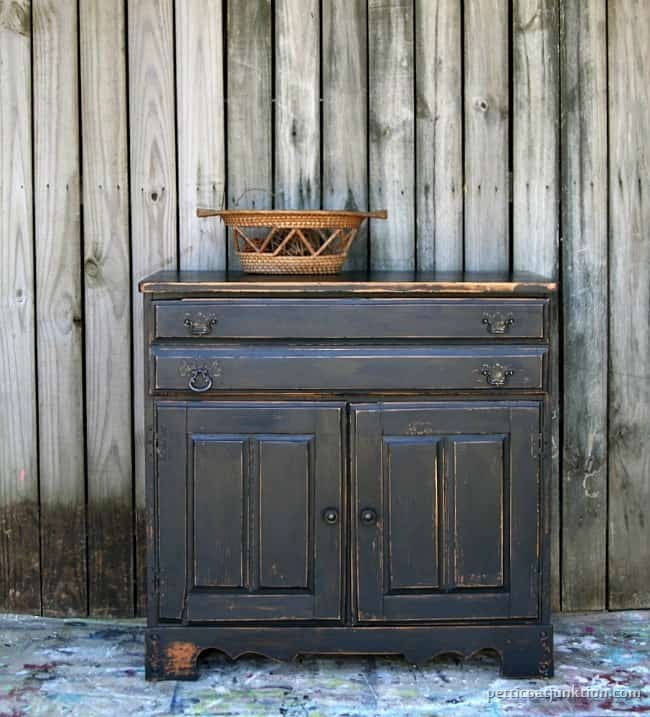 They don't call me the "Queen of Distressing" for nothing.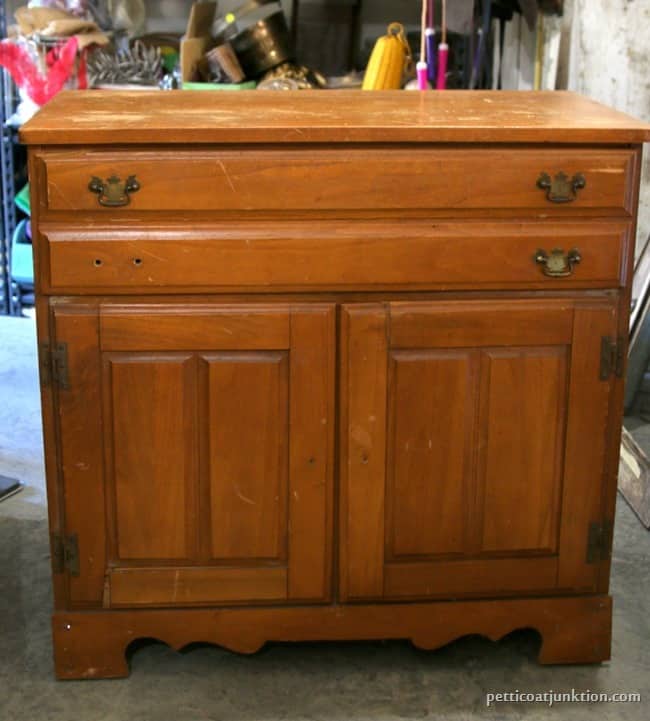 This is the before. Now you see the reason for the heavy distressing maybe. It had a few chunks of wood missing and the right door is warped among other things. I find with pieces like this that it's easier to play up the flaws.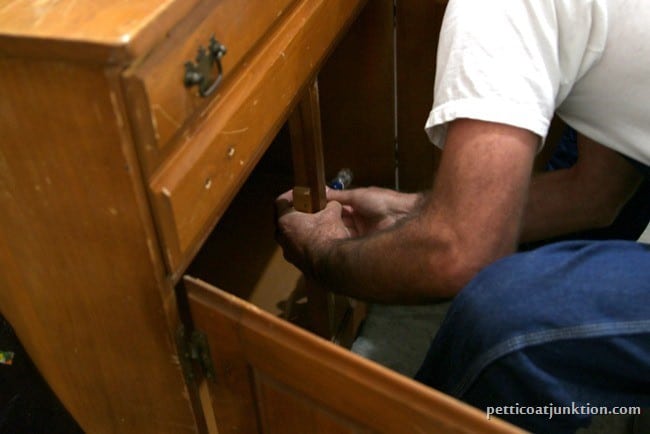 The JTS added the little magnet closures to the inside of the cabinet and the doors. The original ones were missing and the doors wouldn't stay closed. We got them at Home Depot. It was an easy fix.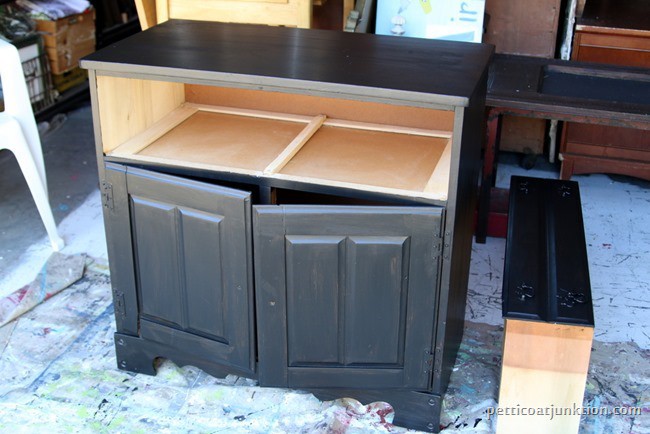 I used Reclaim Beyond Paint in Licorice for the finish. No priming and no sealing required.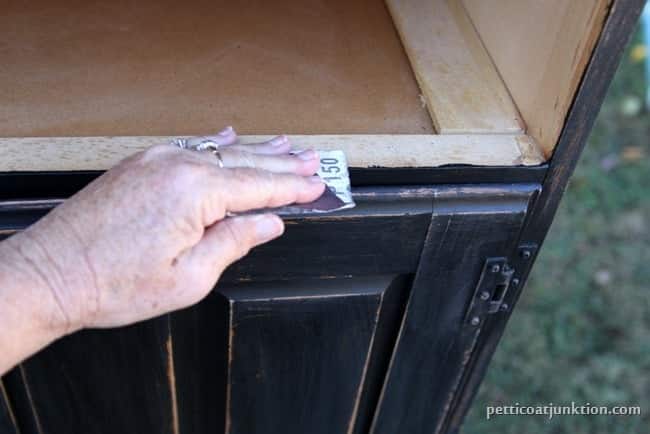 I distressed the piece by hand. It's a lot more work but I have more control over the look that way.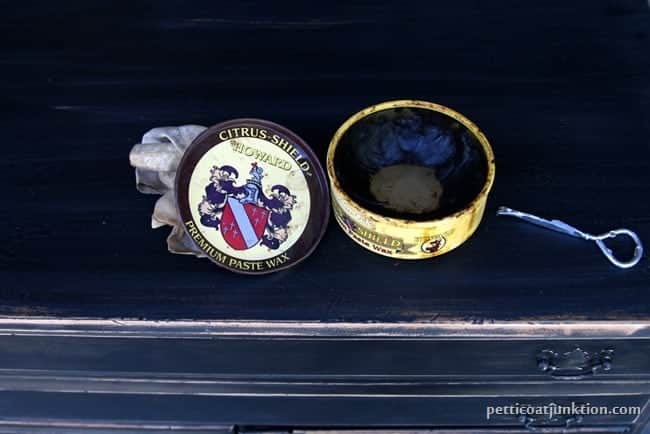 You can see how the distressing leaves the wood all raw looking and the black paint has a gray smudged look. The Howards Wax in Golden Oak takes care of all those problems.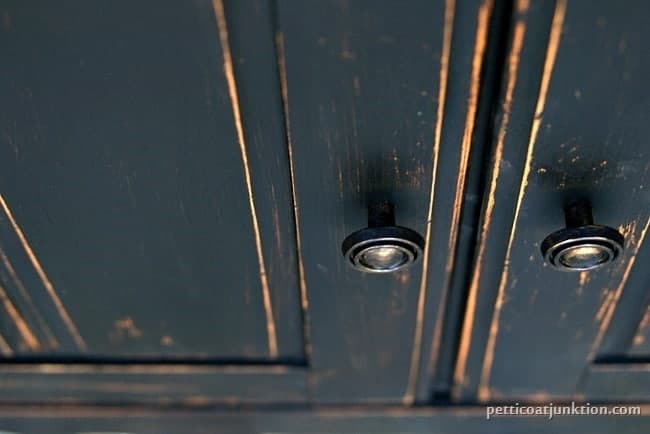 See how nice and aged the wood looks now.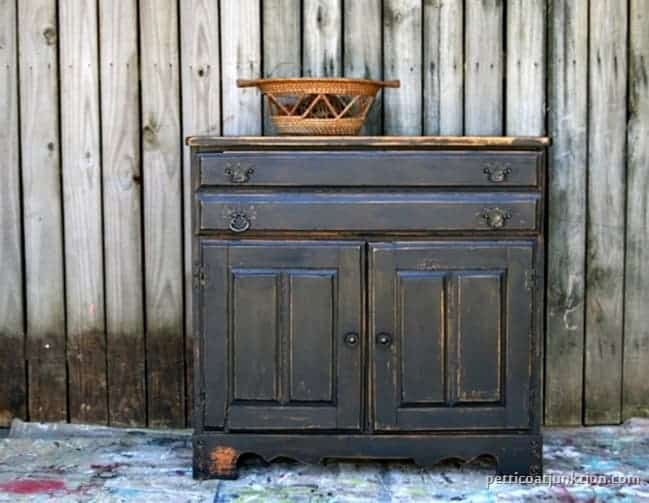 There was one drawer pull missing and I couldn't find a matching one in my hardware stash. I found one that worked and gave the piece a little quirky look to match all that distressing. I did have to drill a hole for the pull because it had only one center screw. Luckily the pull covered the two original holes….mostly. I did add wood filler to the holes before painting.
That's it folks. What do you think of the piece. I know you don't like this much distressing Regina. I know my readers pretty well. I love all you guys.
Time to take the furniture tour and see what my buddies have been up to.Silv
Have a great day, Kathy
Find Howard's Paste Wax and my favorite DIY Products here.
Click here to receive Petticoat Junktion by email for free!
linking to these parties….
Funky Junk Interiors….Tatertots & Jello
Savvy Southern Style …Friday's Furniture Fix