Distressing paint adds another dimension to the furniture. It gives it depth and character. This piece I painted and distressed is painted black! I love black furniture. Every room should have a piece of black furniture. It fits in causal settings as well as upscale rooms. I say black furniture is like the little black dress. It can be dressed up, dressed down, and goes anywhere.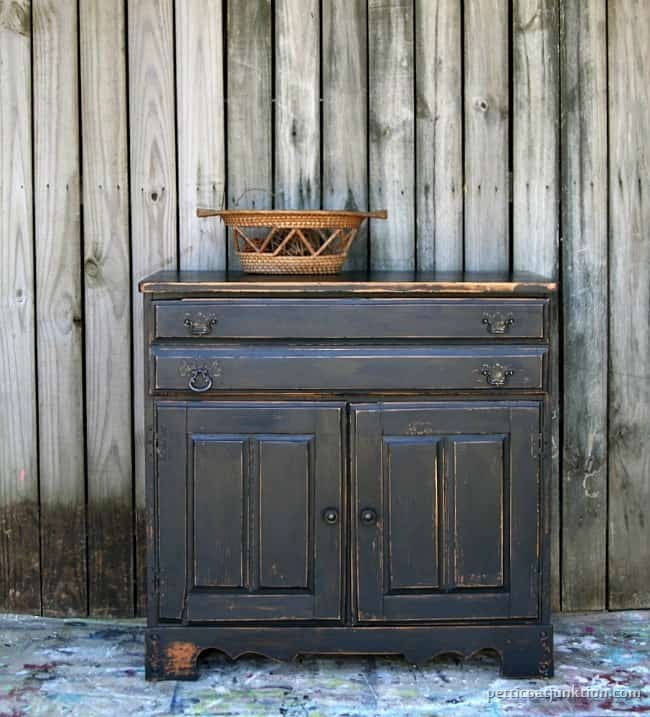 I went a little crazy with the distressing. They don't call me the "Queen of Distressing" for nothing.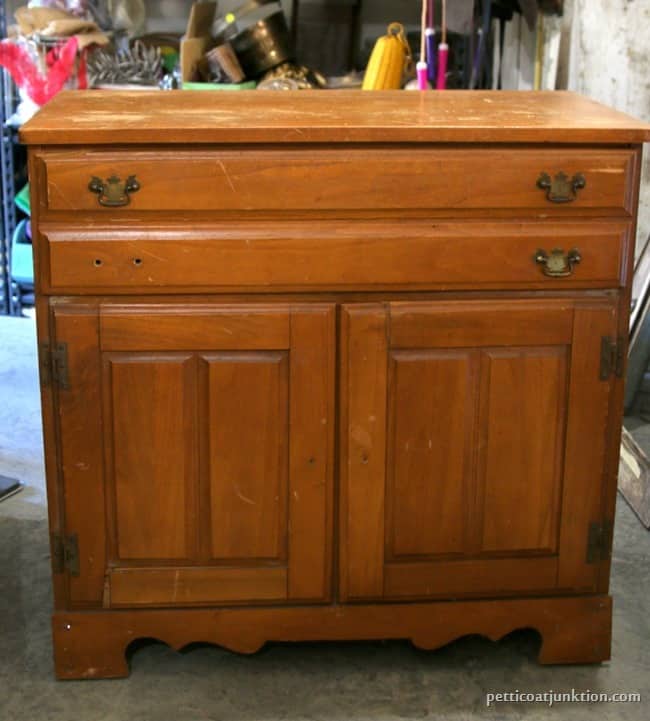 This is the before. Now maybe you see the reason for the heavy distressing. The chest/cabinet/whatever had a few chunks of wood missing and the right door is warped among other things. I find with pieces like this that it's easier to play up the flaws.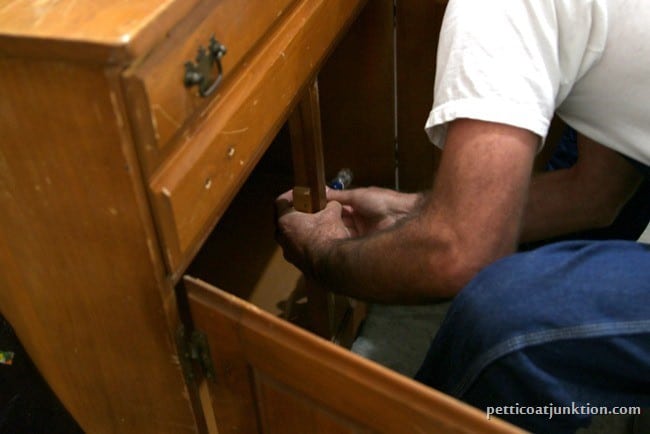 The JTS added the little magnet closures to the inside of the cabinet and the doors. The original ones were missing and the doors wouldn't stay closed. We bought the replacement pieces at The Home Depot. It was an easy fix.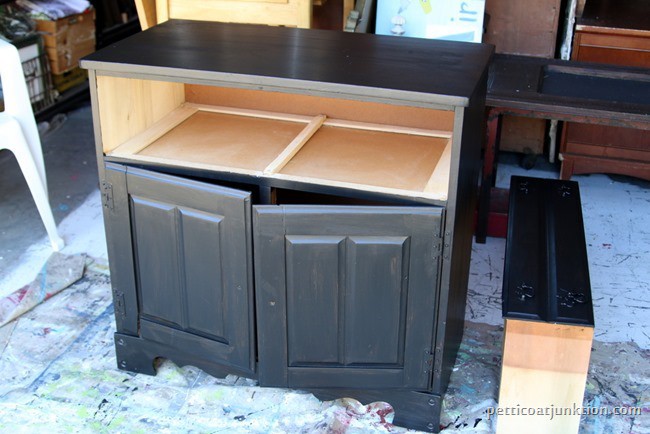 I used Beyond Paint in Licorice for the finish. The paint is an all-in-one primer, paint, and sealer. The sheen of the paint is really nice. I say it's between flat and satin.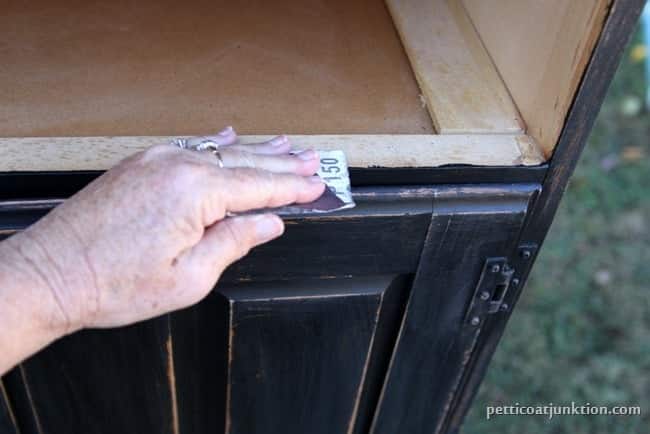 Distressing Furniture By Hand
I distressed the piece by hand using 150 grit sandpaper. Distressing paint by hand is a lot more work but I have more control over the look that way.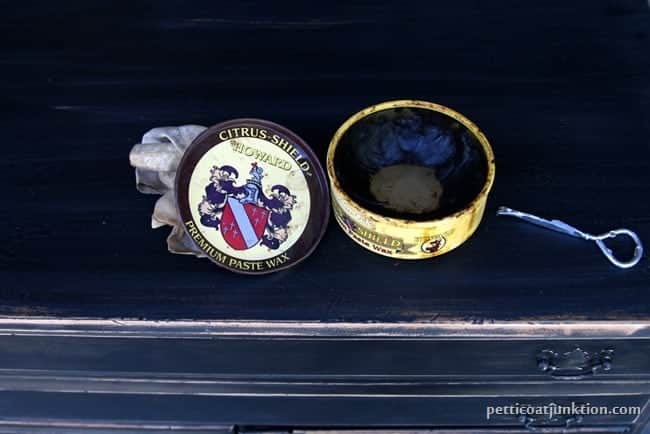 You can see how the distressing leaves the wood all raw looking and the black paint has a gray smudged look. The Howards Wax in Golden Oak takes care of all those problems. It gives the raw wood color and covers the white hazy look on the paint.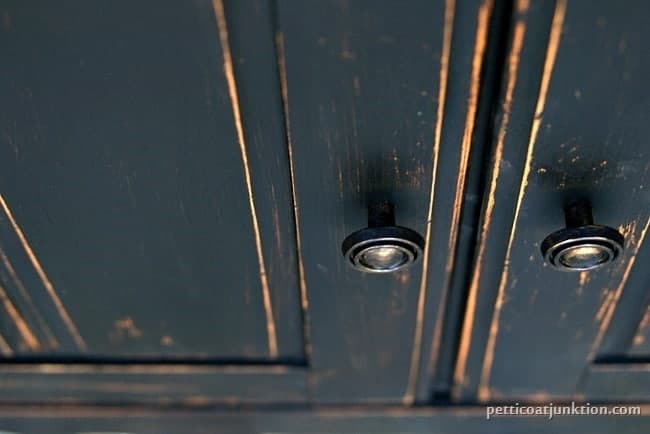 See how nice and aged the distressed wood looks now.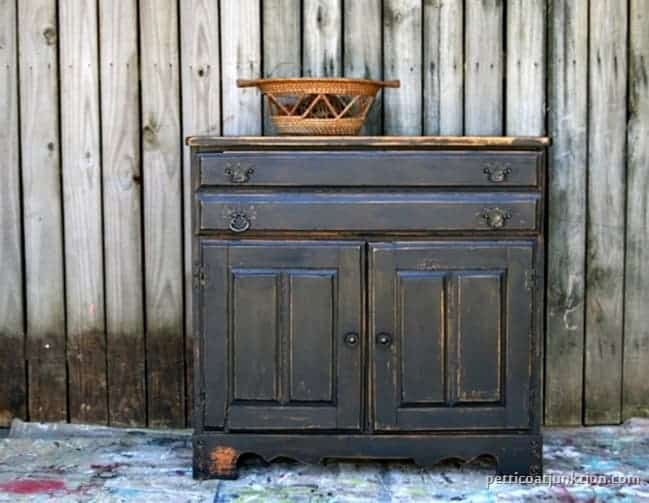 There was one drawer pull missing and I couldn't find a matching one in my hardware stash. I found one that worked and gave the piece a little quirky look. See the drawer pull on the bottom left side of the drawer?
I enjoy throwing in an unexpected touch or two. I did have to drill a hole for the pull because the replacement pull had only one center screw. Luckily the pull covered the two holes from the original drawer pull….mostly. I did add wood filler to the holes before painting.
That's it folks. What do you think of the piece? I know you don't like this much distressing Regina. I know my readers pretty well. I love all you guys. Thanks for being here.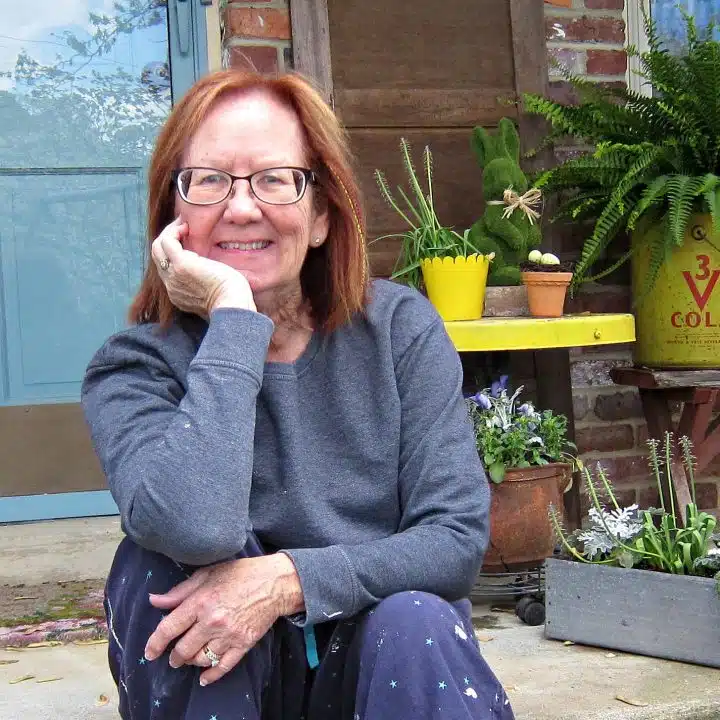 Author: Kathy Owen
Kathy Owen is the founder of the home decor blog Petticoat Junktion where she shares tutorials on painting furniture and upcycling thrifty finds into unique home décor. Her DIY projects have been featured on the Home Depot Blog, Plaid Crafts, Behr Designer Series, and in numerous magazines. Kathy's newest website is HappyHomeDIY.com