Have a hard time with furniture colors? Paint furniture this color and you can use the piece in any room of the house. Promise.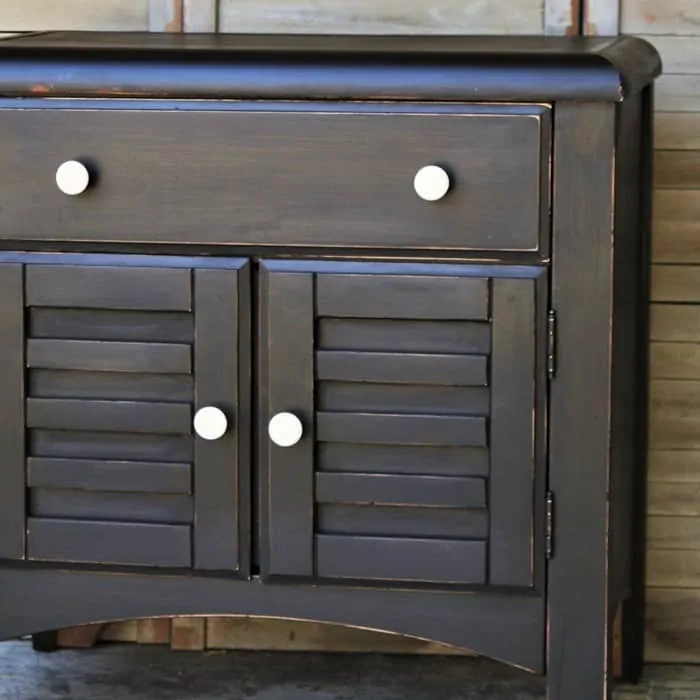 Did you already guess the color I'm talking about is black? Yes, black is a great neutral color for furniture, even better than white.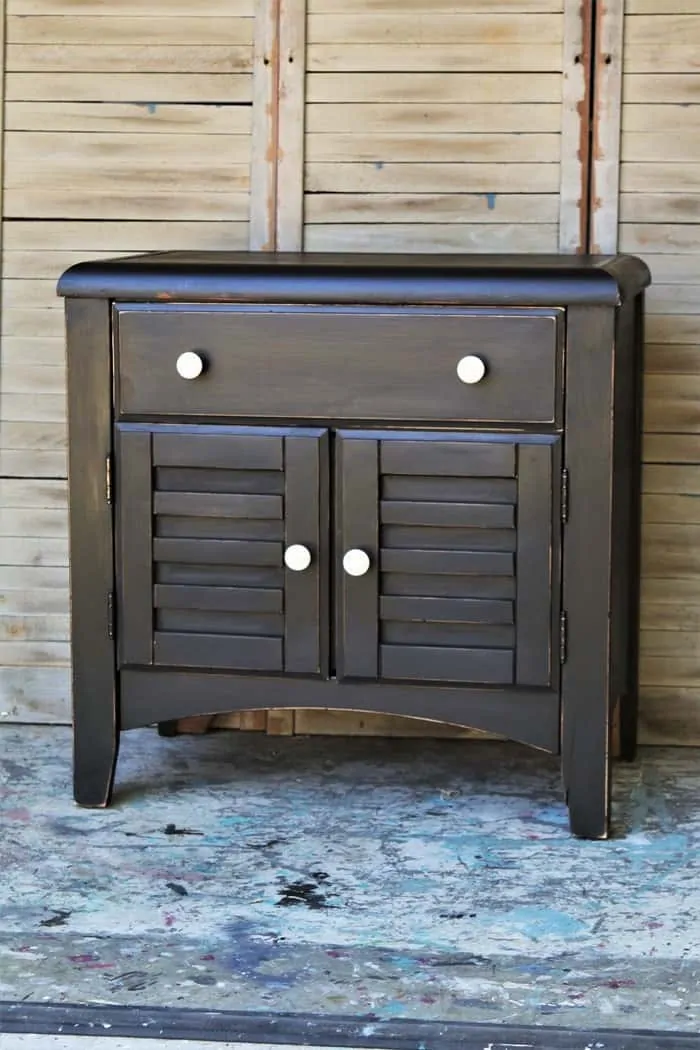 Black furniture looks great paired with ivory or beige furniture but it's just as happy sharing a room with bright or bold color furniture like lime green, really red, or royal blue.
And guess what, a good black paint covers any type stained finish or any paint color really well. If you have some furniture you've been wanting to paint, prep it and paint it black.
Take a look at what I started with here and how well it turned out…..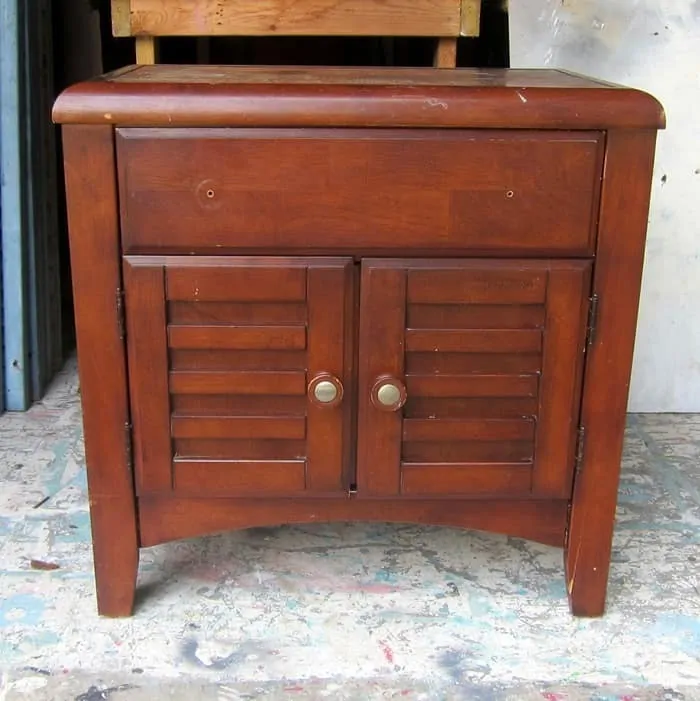 I bought this piece at my favorite junk shop for $20. I love that shop because I get such great deals and the people are the best!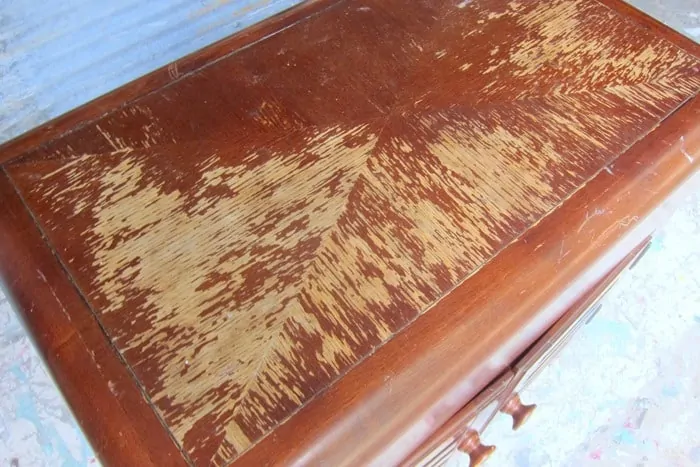 As you can see the top of the piece is a mess. Besides the stain being partially destroyed there are some uneven bubbled up areas I need to work with.
The table with a couple of doors and one drawer is a piece that can be used for all kinds of things. I would use it for a small TV, or a foyer piece, or in a bathroom for extra storage…..or you name the spot.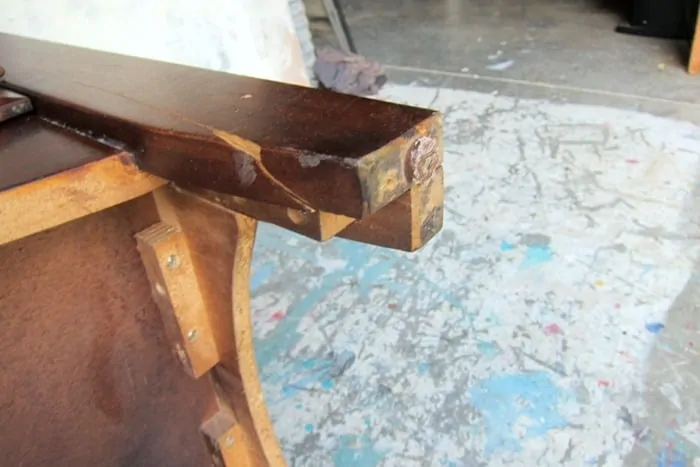 There was also a crack in one of the legs.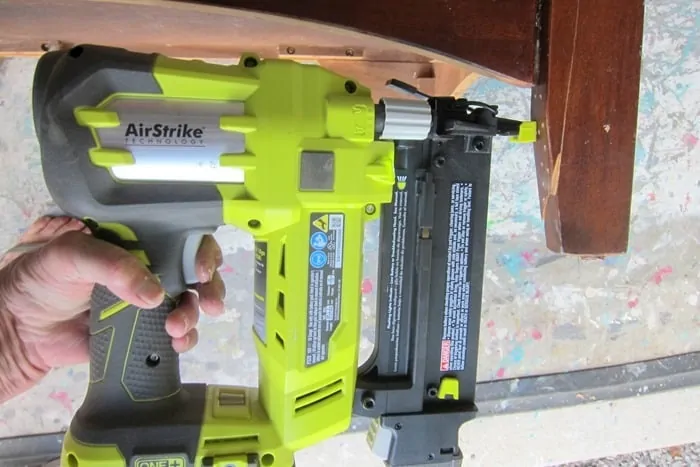 I used my handy dandy Ryobi brad nailer on the leg and at least it shouldn't break or split anymore.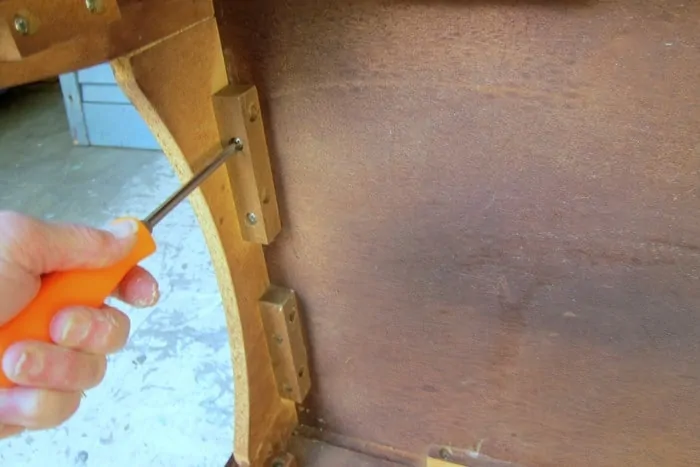 Furniture is often held together or supported by screwed on pieces. You should always check for screws and tighten them up if needed. This piece had a ton of screws.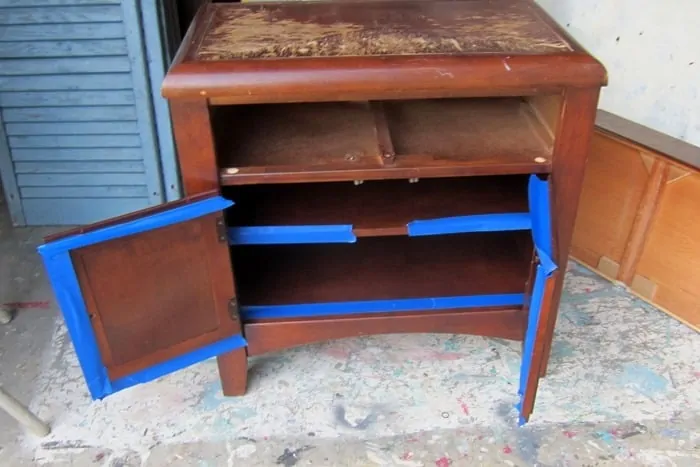 I cleaned the table with Simple Green then taped off the inside of the doors and the shelves. It's really hard to paint the inside of cabinets and it's really not necessary.
The black paint is a nice contrast to the stained wood. You just need to make sure when the cabinet doors are open that the paint line, wherever it is, is nice and straight.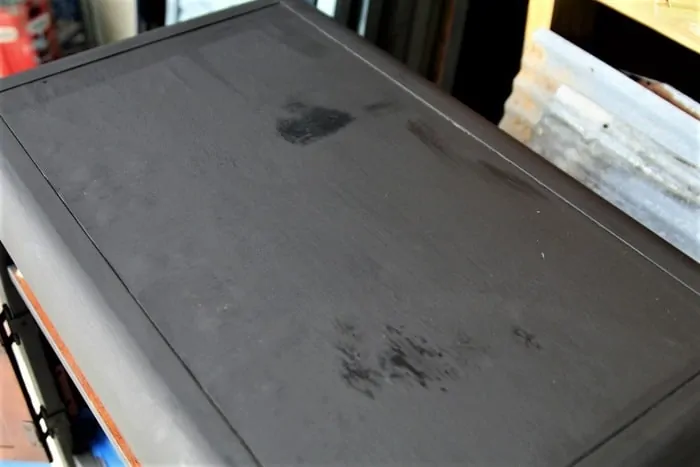 I chose to paint the table with FolkArt Home Decor Chalk Finish Paint in black. Once the piece was painted I decided the color was too blah and too flat and I didn't want to have to wax it.
Also you can see in the photo above that there are dark places on the top. There seems to be something bleeding through the paint. It could be oily spots or something else.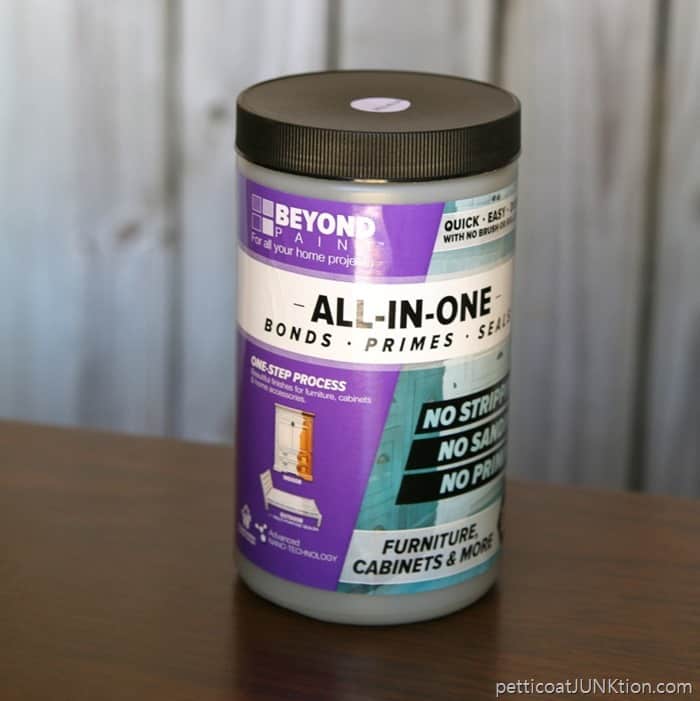 Paint Furniture This Color, Black
Next I decided to paint the table with Beyond Paint, color Licorice.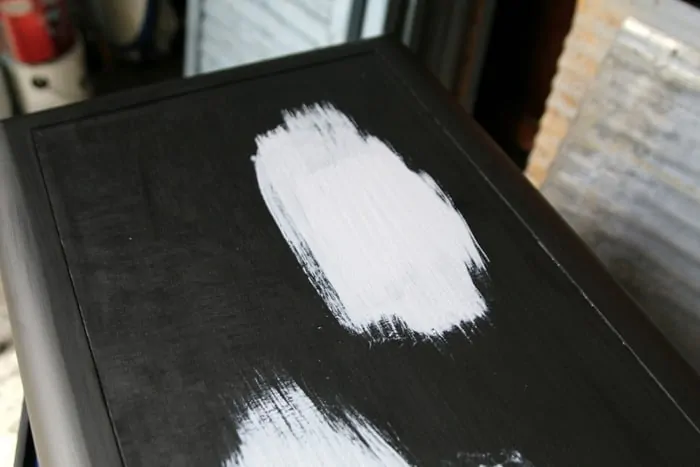 The sheen of the Beyond Paint was much better but there was still bleed through from whatever was on the table top.
I brushed Zinsser Primer tinted gray over the spots hoping that would stop the bleed through. I like gray primer because it's much easier to cover than white primer. (find gray Zinsser primer on Amazon here.)
After the primer was dry I brushed the Beyond Paint over it.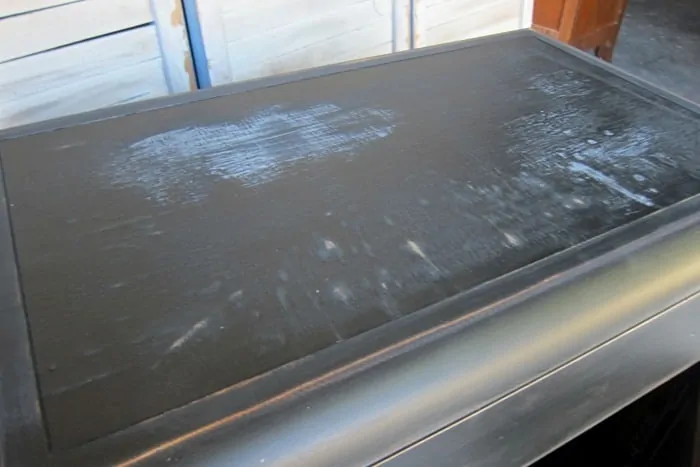 When I got ready to distress the top of the table the gray primer was what I saw after the distressing and there were so many layers of paint I couldn't sand down to the original finish very easily.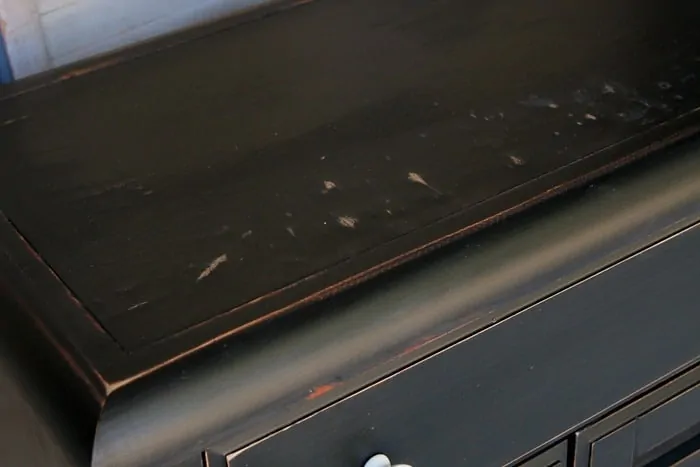 I painted over the gray and didn't distress that area. You can see the bits of distressed paint on the front top of the table. This is where the wood was bubbled up.
I don't know why the wood was bubbled because I believe it's real wood and not MDF (fake wood).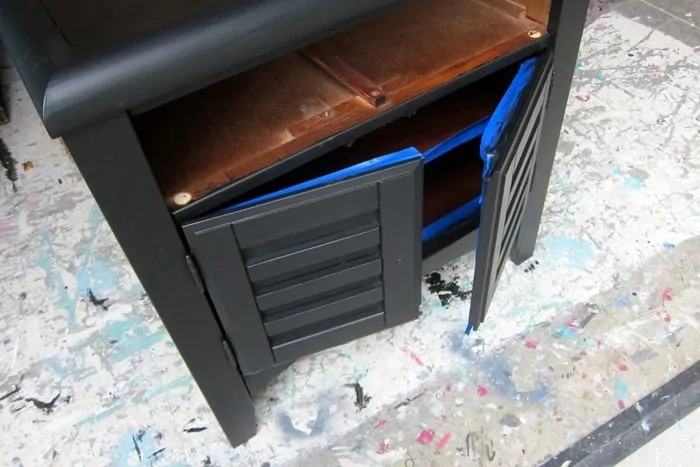 This is how the table looked before I distressed the paint. I didn't take any pictures of the distressing. I started distressing with a piece of sandpaper by hand and I was working way too hard to remove just a bit of paint.
I moved on to my power sander and distressed the table lightly on all the edges like on the shutter style doors.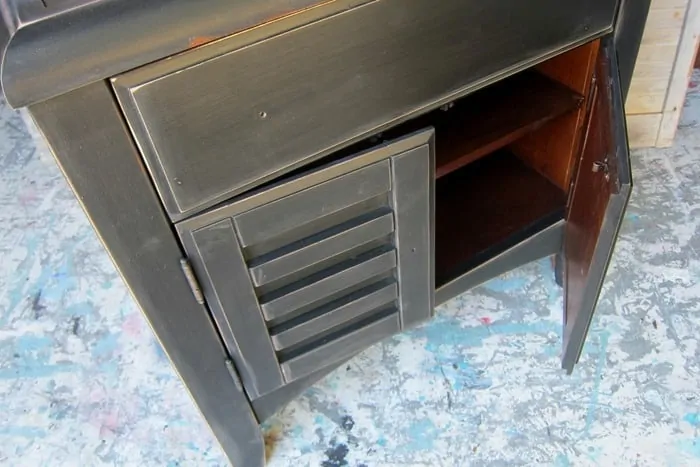 This is how the table looked after I distressed it with the power sander. I got rid of the hazy look with a coat of Howard's Wax, neutral color.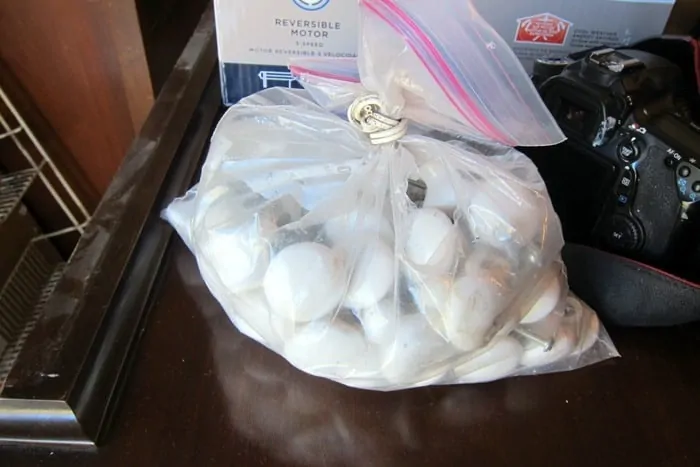 My original plan was to use black or brown knobs on the table, maybe knobs with a design. I didn't have anything that worked in my knob stash so I headed to Home Depot. I wasn't inspired by anything I saw there either.
I went back and dug through my knob stash again. The bag of glossy white knobs the JTS bought at an auction was sitting on the shelf. Ah-Ha!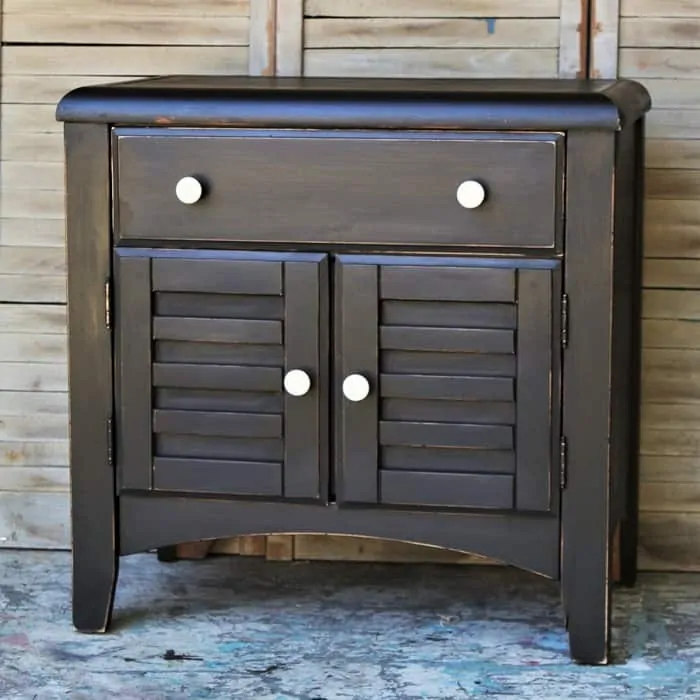 The knobs were perfect. The contrast with the black paint fits today's modern style furniture.
Would you paint furniture this color, beautiful black with a soft sheen? You have to admit it's dramatic and glamorous and makes a statement.
Different types and styles of furniture knobs can also be used to give black furniture (or any color furniture) a different vibe.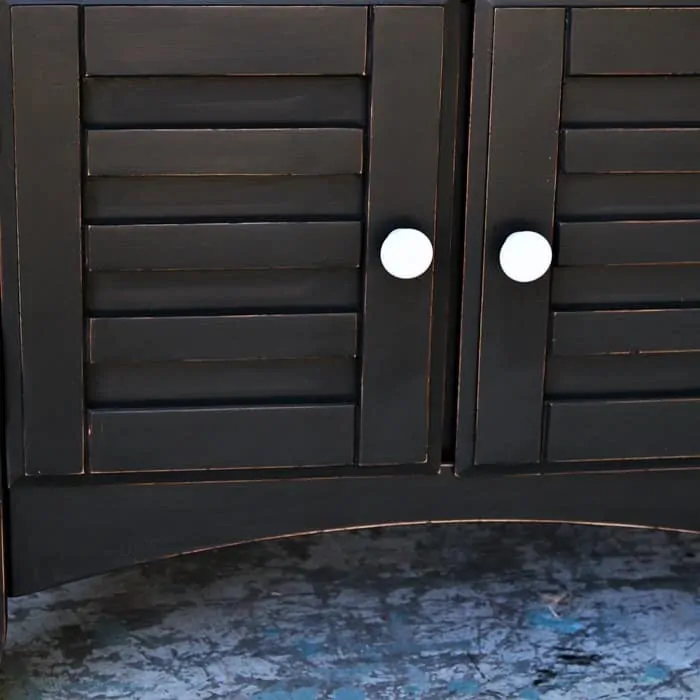 You can see the light distressing in the photo above. I distressed just enough so the black table didn't look too one note.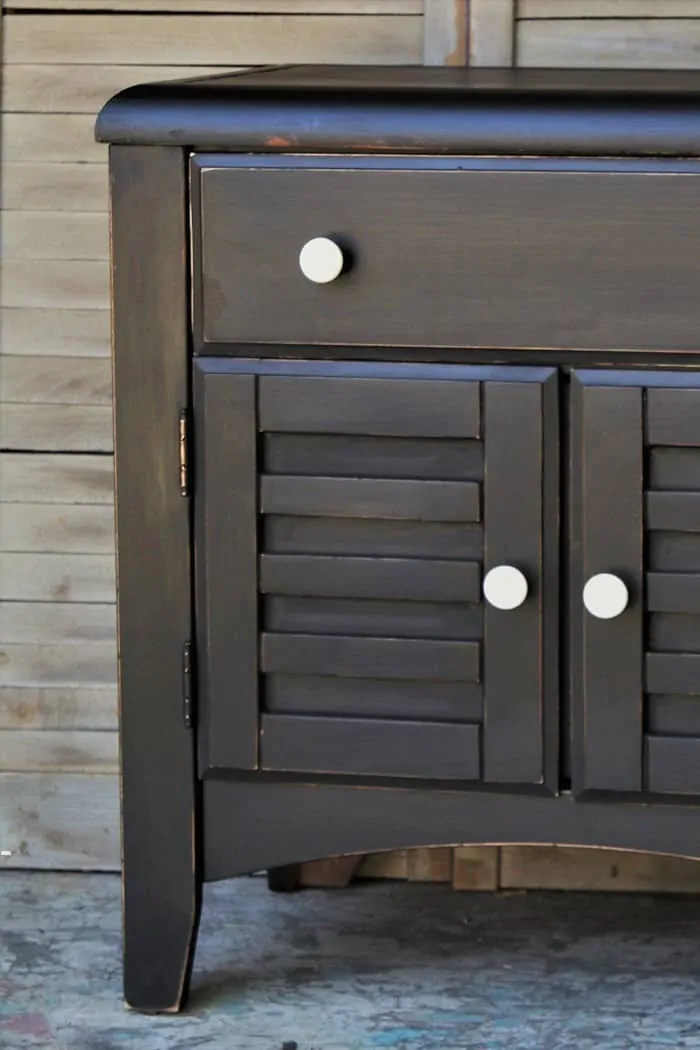 I always say distressing adds depth and character to painted furniture. And I stick by that. What do you think of the makeover and black paint for furniture?
Want to know how to paint problem furniture like fake wood furniture or bubbled up furniture? I have a video just for you.....
How To Paint Problem Furniture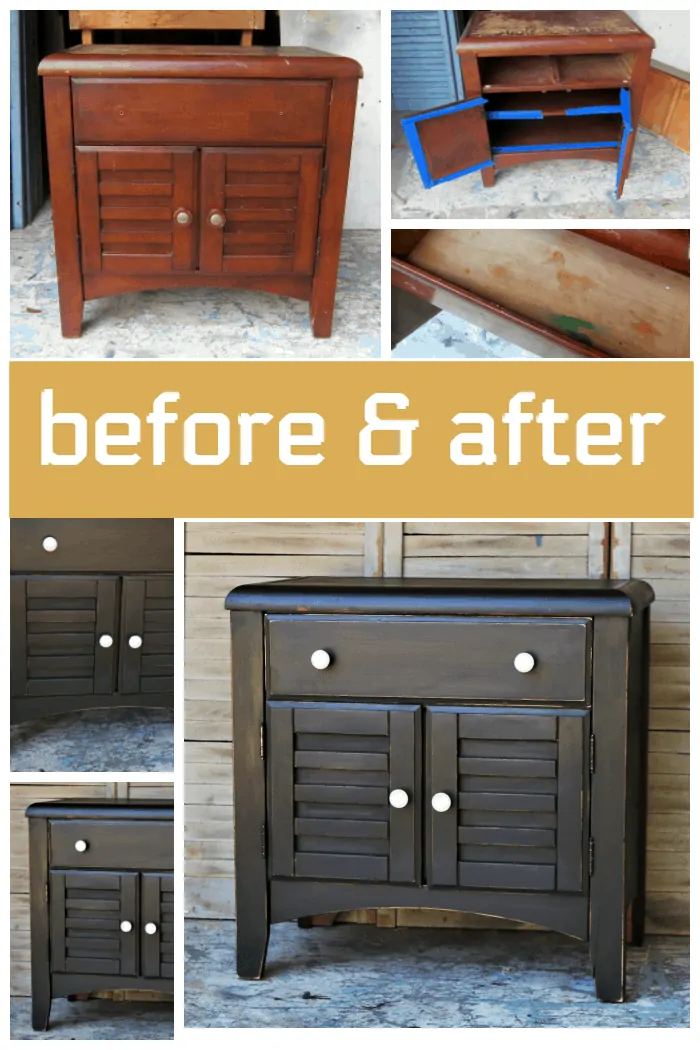 Are you ready to paint furniture and what color are you thinking? Leave a note if you have a minute. Thanks for being here, Kathy
Author: Kathy Owen (Petticoat Junktion)
Kathy is the founder of PetticoatJunktion.com, a home décor blog focused on repurposing and upcycling furniture, old hardware, rusty stuff, and thrifty finds into unique home décor. Kathy's projects have been featured on the Home Depot Blog, Plaid Crafts, Behr Designer Series, and in numerous magazines. Read more about Kathy here.