Painting a metallic gold stripe on a chest of drawers was simple and I'm going to show you how to do it. The little metallic gold stripe took this paint project from just another black chest of drawers to a dramatic statement piece.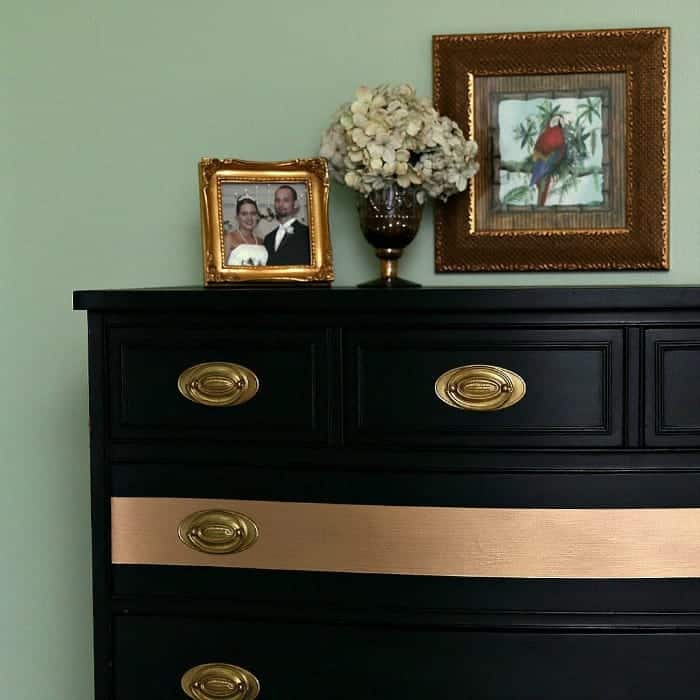 Black Chest of Drawers With Gold Stripe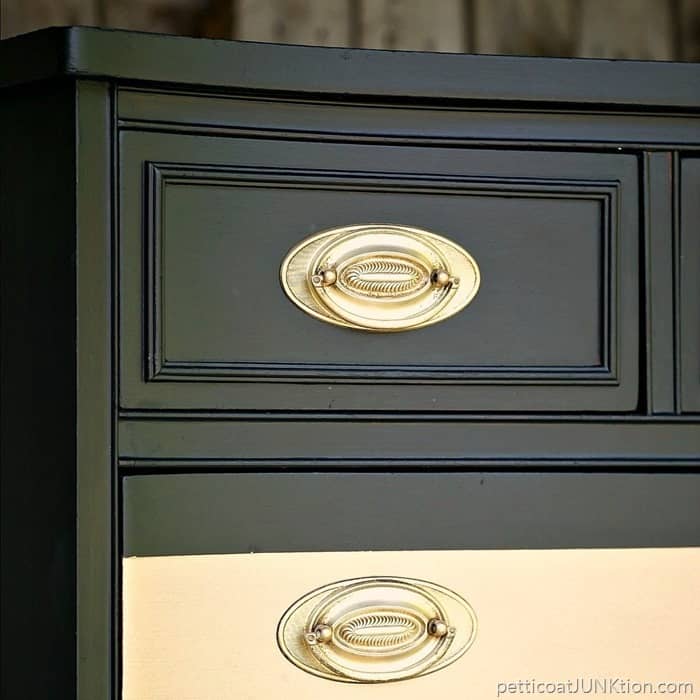 I wanted to do something different for this project and I'm very happy with the results.
You guys will remember this piece I bought at a local used furniture store. It was $85, a bit over what I normally pay. I couldn't pass on that curvy front or the legs.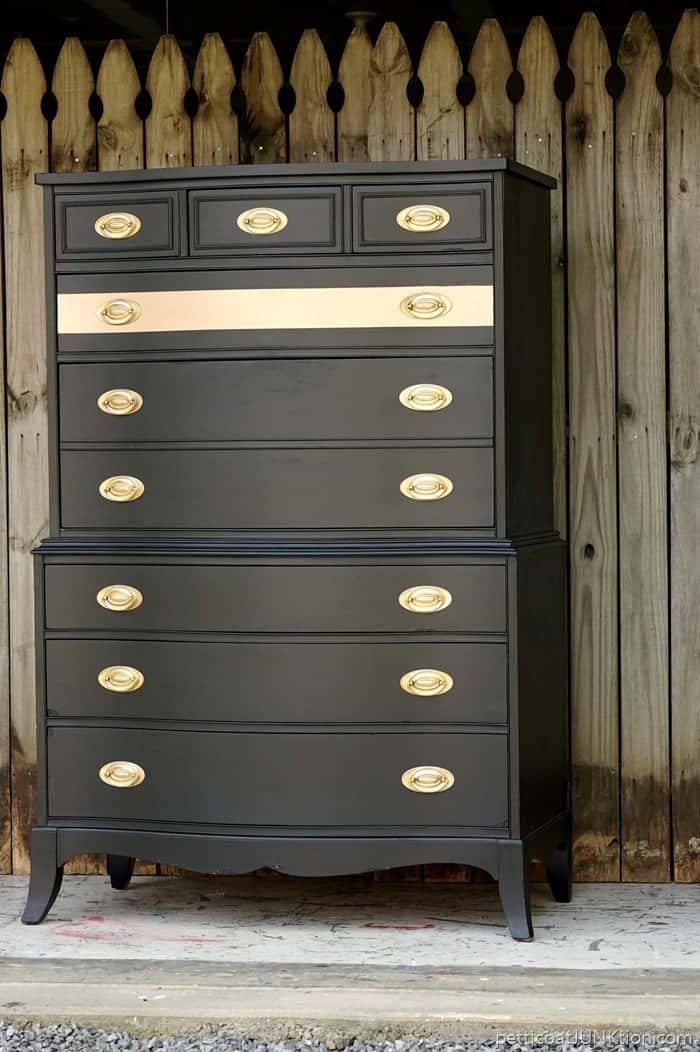 This is how it looked after a little love. Today is the Furniture Fixer Uppers tour and my friends have some beautiful projects to share. All the links are at the bottom of the post. Now for the details on my project…..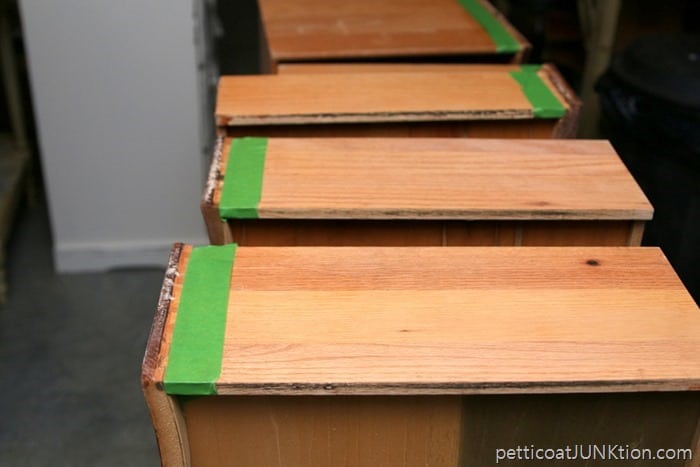 One thing I like to do before painting the drawers is to tape off the sides so I have a nice neat paint line. Looks much more professional. I also cover the hardware screw holes on the inside of the drawer with painters tape. That keeps paint from leaking into the drawer.
Products used in this project:
Beyond Paint - Licorice
RustOleum Metallic Rose Gold Spray Paint
FrogTape
Bar Keepers Friend
Products unavailable in your area may be found on Amazon. (click here to read affiliate disclosure)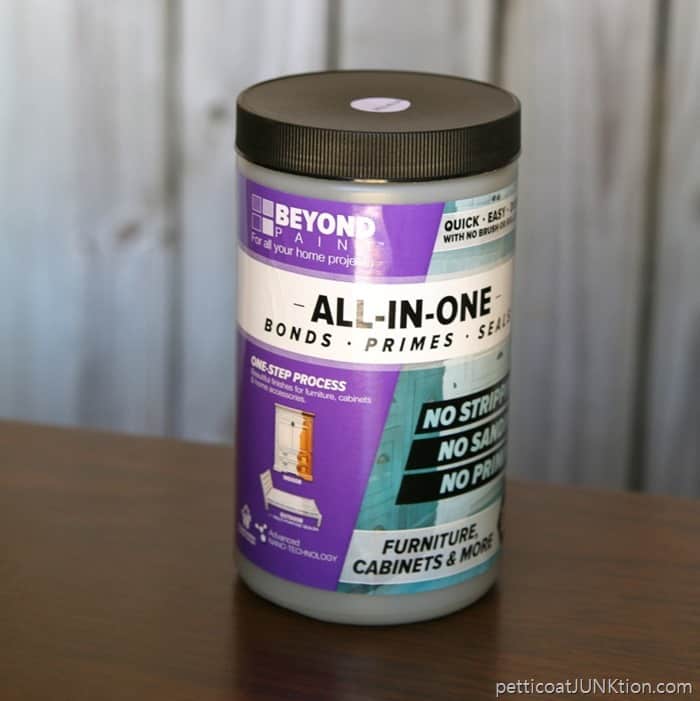 I chose Beyond Paint for this project. I love the sheen…not flat….and not shiny. The color is Licorice, a rich black.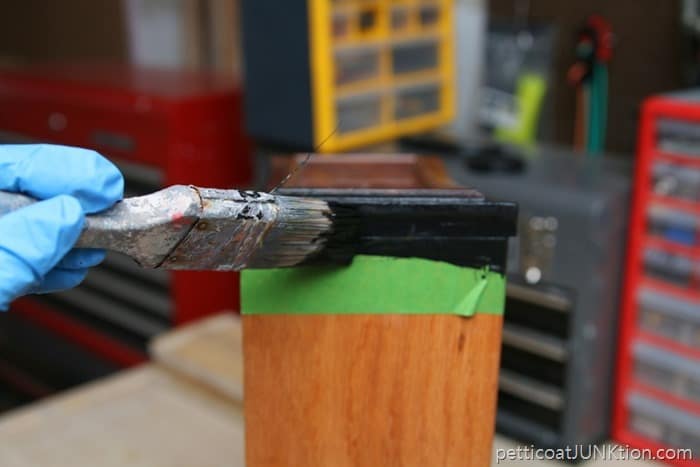 I applied two coats of paint. The first coat covered really well but I always miss spots here and there and the second coat catches those missed areas. My first plan was to leave the original hardware with the aged patina. But then I remembered everyone talking about a product that takes all that tarnish off.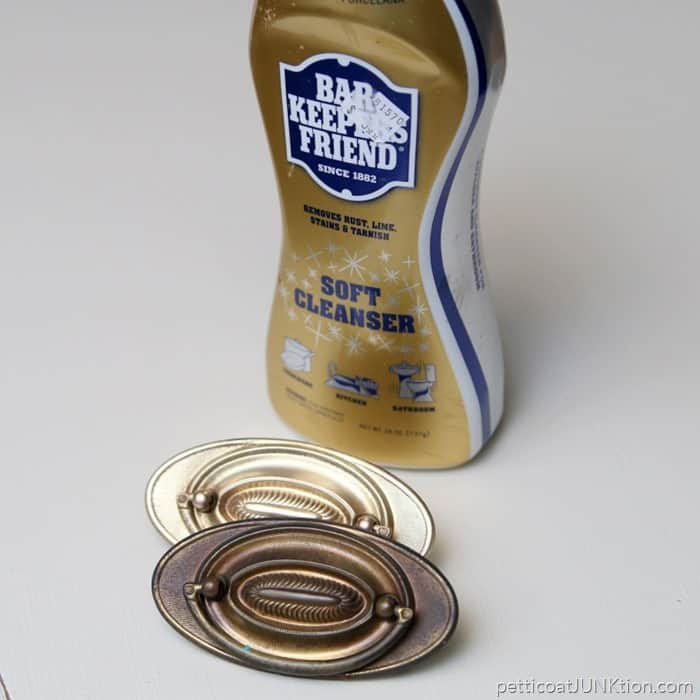 It's called Bar Keepers Friend and you can see how well it works. Now it did take a bit of rubbing with a rag and a toothbrush. The chest has 15 drawer pulls! I didn't get all of the tarnish off  but I did pretty good. It took a good two hours to clean those things.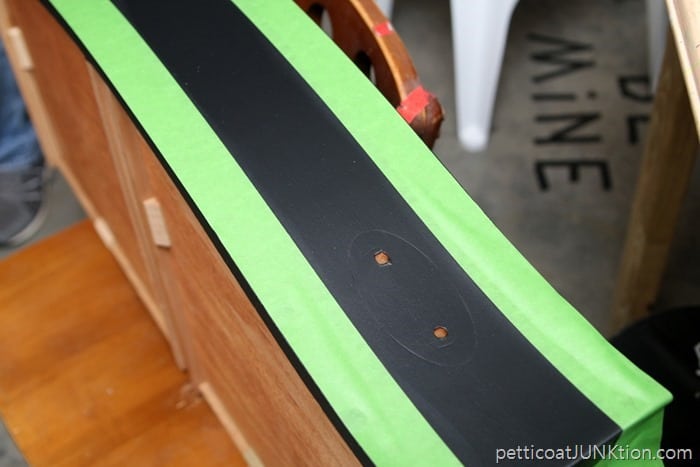 I let the paint dry overnight then applied FrogTape to the number two drawer from the top.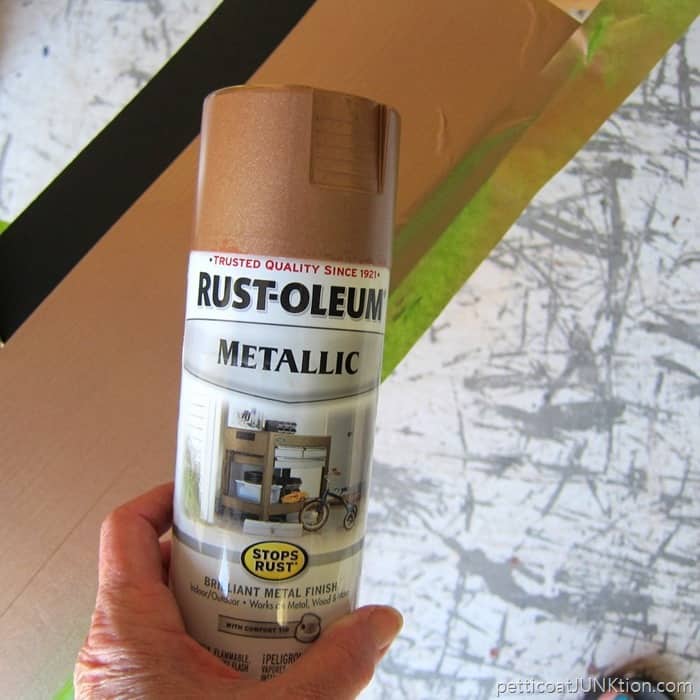 Next I sprayed the taped off area with RustOleum Metallic Spray Paint in Rose Gold.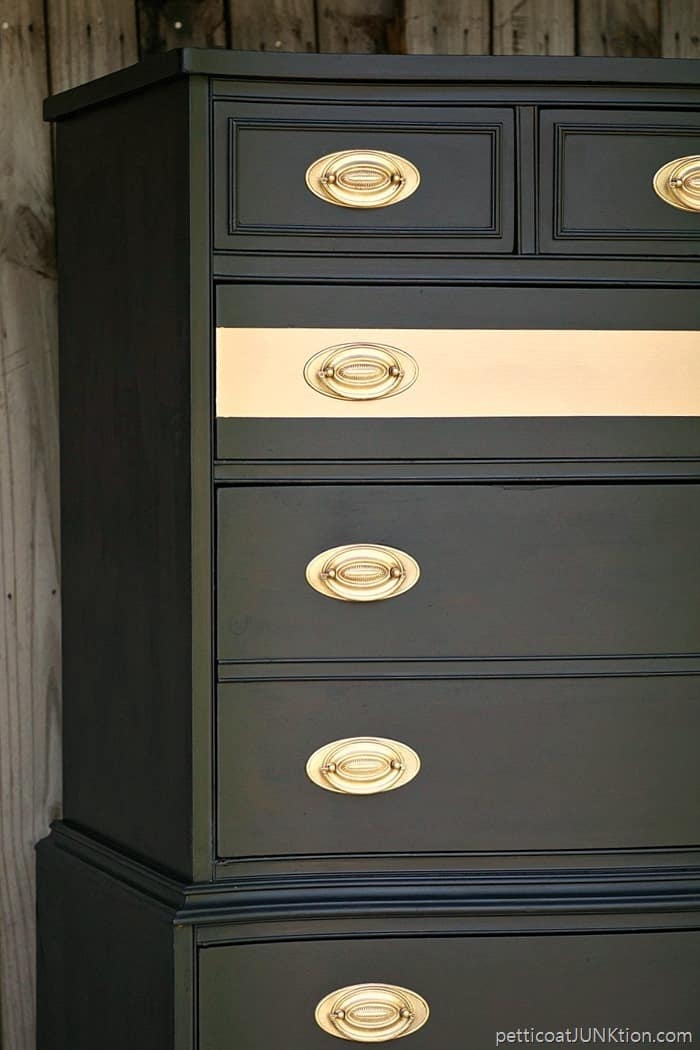 How easy was that. The most time consuming part of this project was the hardware. Removing the 15 drawer pulls, cleaning them, and putting them all back on took some time. But I'm glad I shined them up. Do you like the shiny pulls or do you prefer the aged patina? How about the metallic gold stripe?
update June 9, 2017. I decided to keep the glamorous gold stripe chest and we moved it into our bedroom.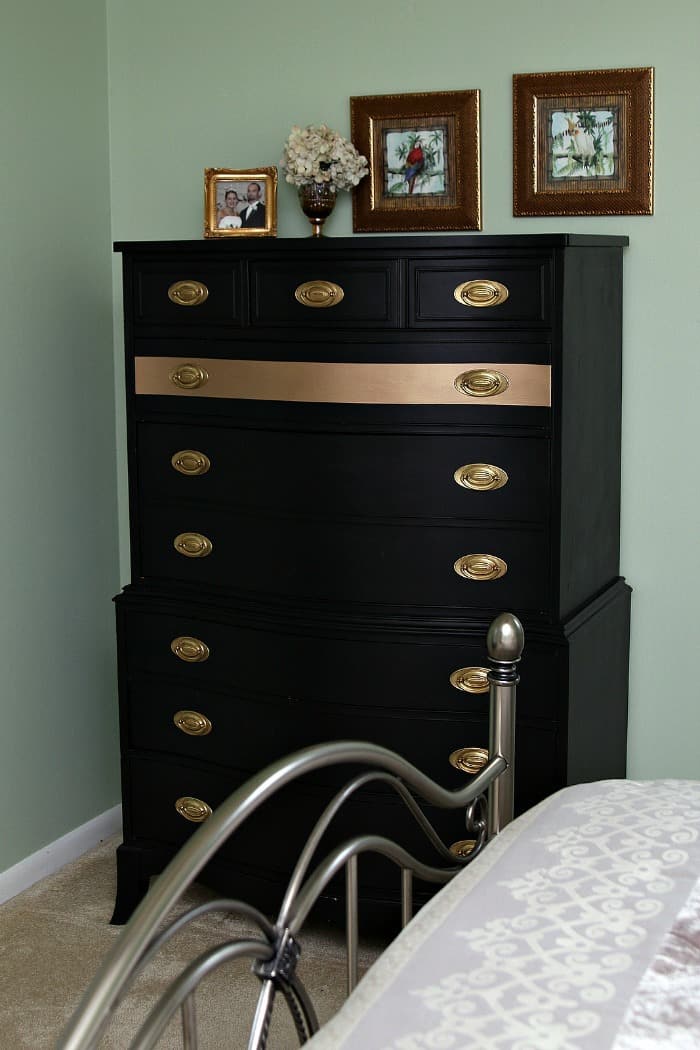 It makes me smile. Something else that makes me smile......the coral chest .....see it here.....Coral Washed Chest of Drawers.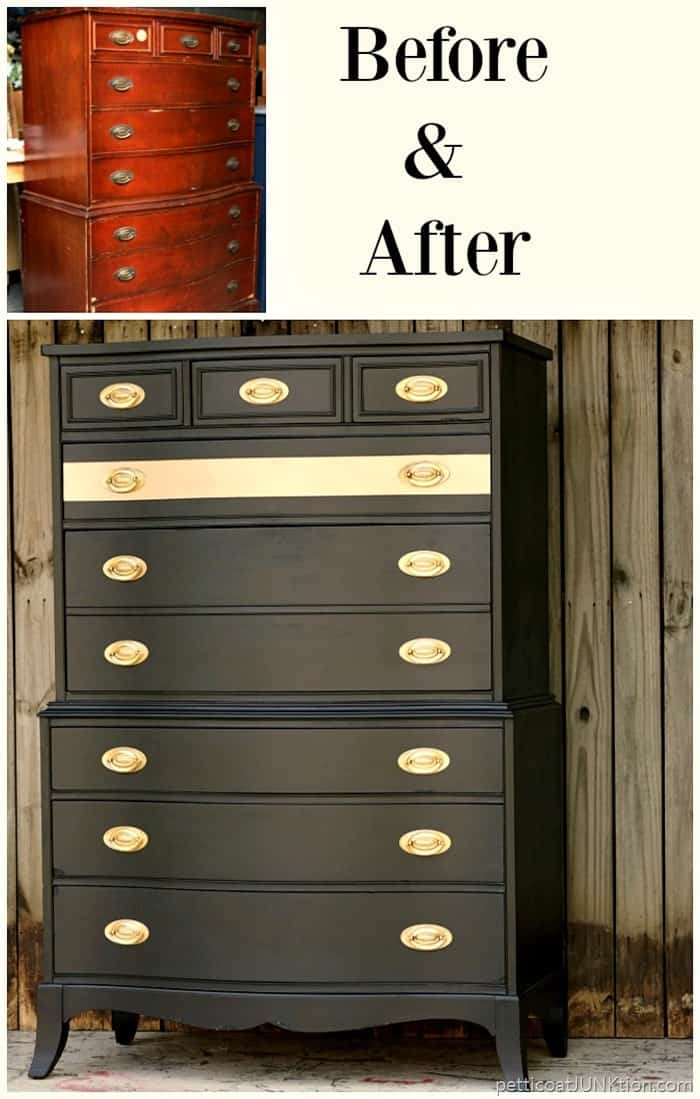 Before and After| Metallic Gold Stripe Furniture Makeover
Time to visit my friends. Just click the pink text links below.
1. Prodigal Pieces
2. Girl In The Garage
3. Confessions Of A Serial Diy'er
4. The Interior Frugalista
5. Just The Woods
Leave a comment before you go. See you next week!