It's easy to paint a metallic gold stripe on furniture and I'm going to show you how to do it. The little metallic gold stripe took this chest of drawers from being just another black piece of furniture to a statement piece. I wasn't sure how the spray paint would work for painting the stripe but it worked perfectly!
I love black furniture. Black adds drama to just about anything and definitely draws your eye. But I get tired of doing the usual stuff, so decided to experiment. How about painting a stripe on one of the drawers?
You guys will remember this piece I bought at a local used furniture store. It was $85, a bit over what I normally pay. I couldn't pass on that curvy front or the legs and I love the look of chest-on-chest pieces. You can see it needed some work......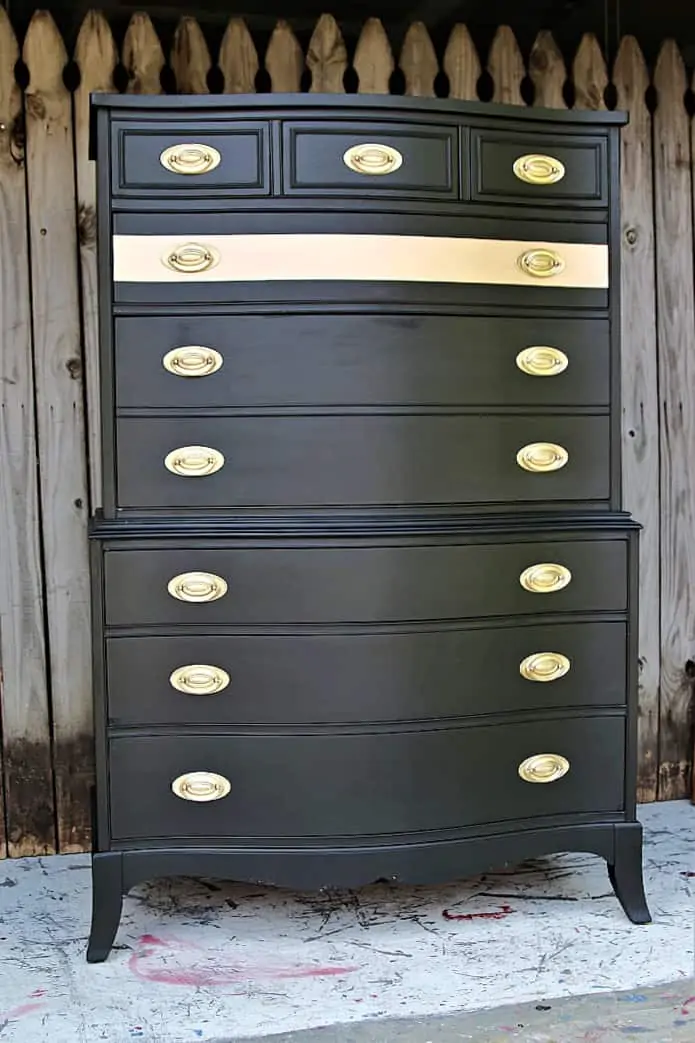 And this is how it looked after a little love. Today is the Furniture Fixer Uppers tour and my friends have some beautiful projects to share. All the links are at the bottom of the post. Now for the details on the paint and the stripe and how I cleaned and shined those grungy drawer pulls…..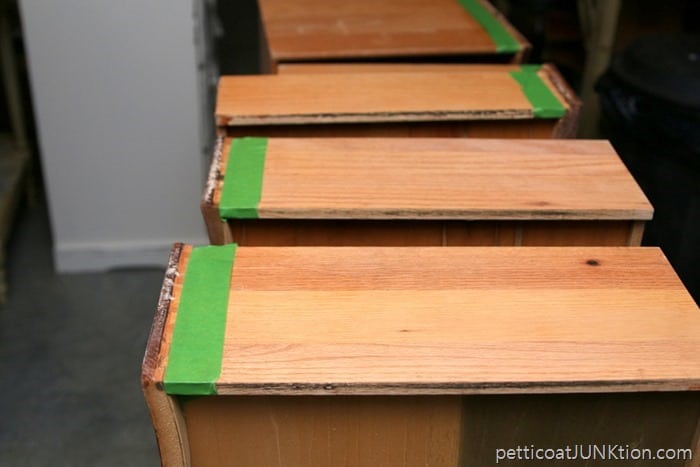 One thing I like to do before painting the drawers is to tape off the sides so I have a nice neat paint line. Looks much more professional. I also cover the hardware screw holes on the inside of the drawer with painter's tape. That keeps the paint from leaking into the drawer.
Products used in this project:
Beyond Paint - Licorice
RustOleum Metallic Rose Gold Spray Paint
FrogTape
Bar Keepers Friend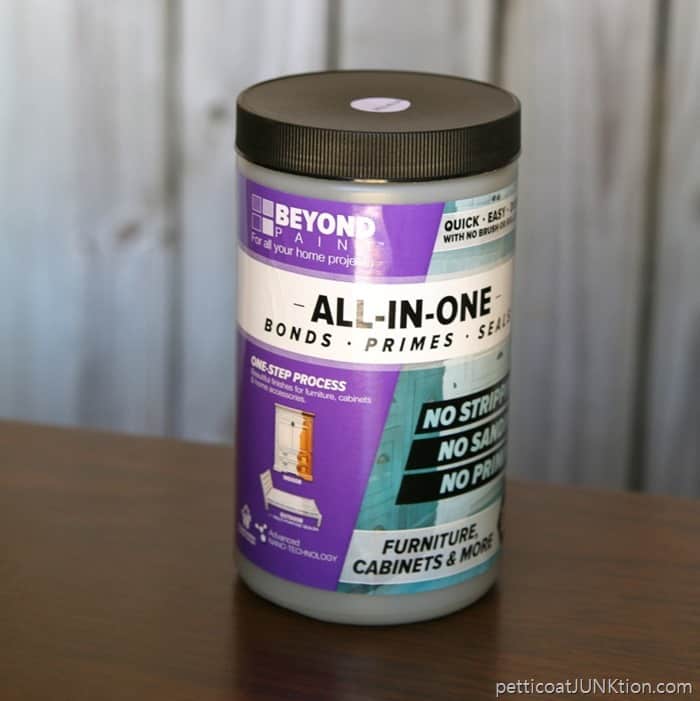 I chose Beyond Paint for this project. The paint is a primer, paint, and sealer all in one. I love the sheen…not flat….and not shiny. The color is Licorice, a rich black. I have to say this paint is my go-to when black is the color choice. For whites, reds, and blues, I use latex paint or special furniture paints but for black, I always go with Beyond Paint.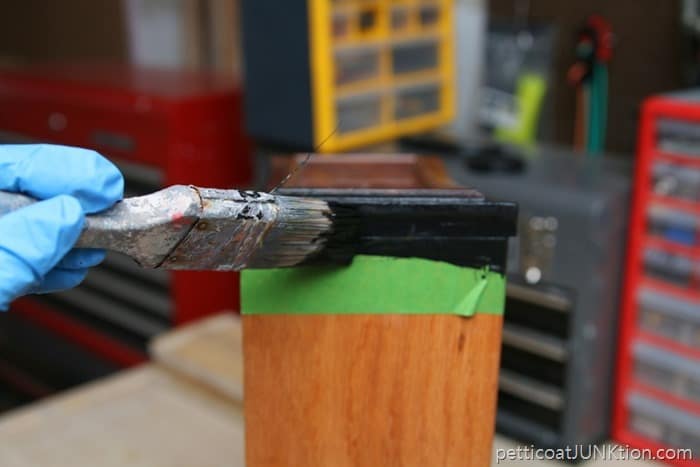 I applied two coats of paint. The first coat covered really well but I always miss spots here and there and the second coat catches those missed areas.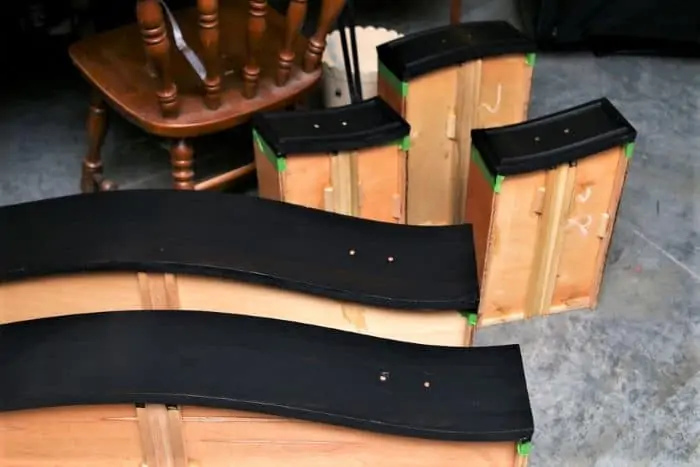 While the paint was drying, I went to work on the drawer pulls. My first plan was to leave the original hardware with the aged patina. But then I remembered everyone talking about a product that takes all that tarnish off.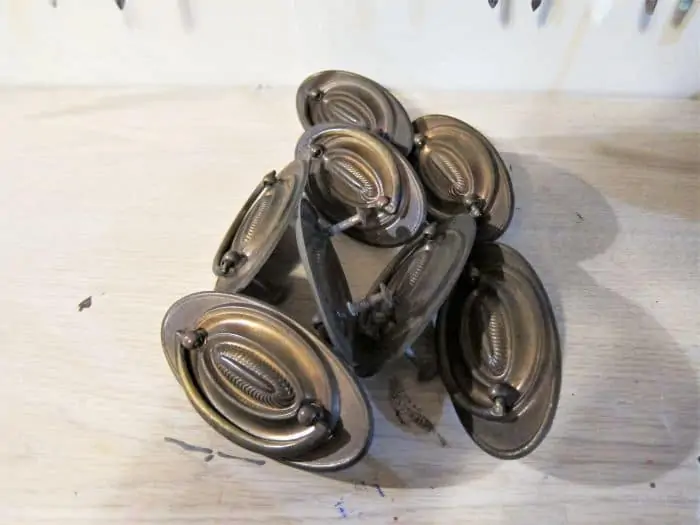 And if I were going to paint a bright metallic gold stripe on the chest of drawers, the furniture pulls would not look very good at all.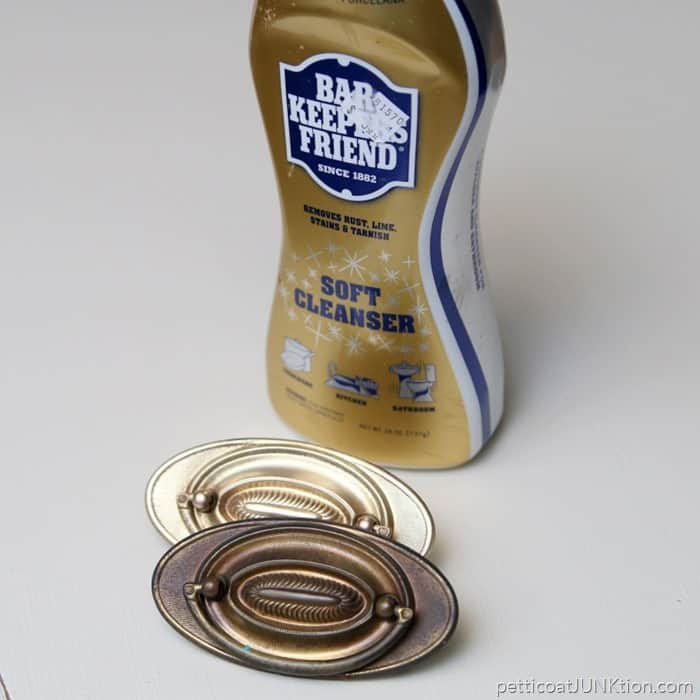 The product I used to clean and shine the drawer pulls is called Bar Keepers Friend. It did take a bit of rubbing with a rag and a toothbrush to make the pulls look like new again.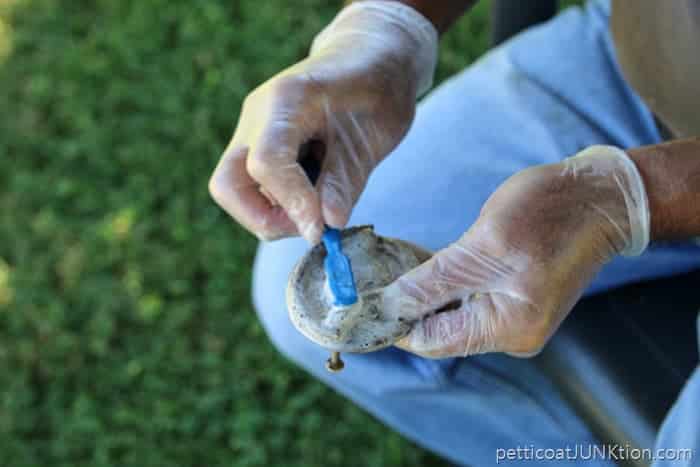 The chest has 15 drawer pulls! It took a good two hours to clean those things but it was worth it. I even got the JTS to help me clean the pulls. He never minds helping me out. There might be just a bit of tarnish remaining here and there but not enough to notice.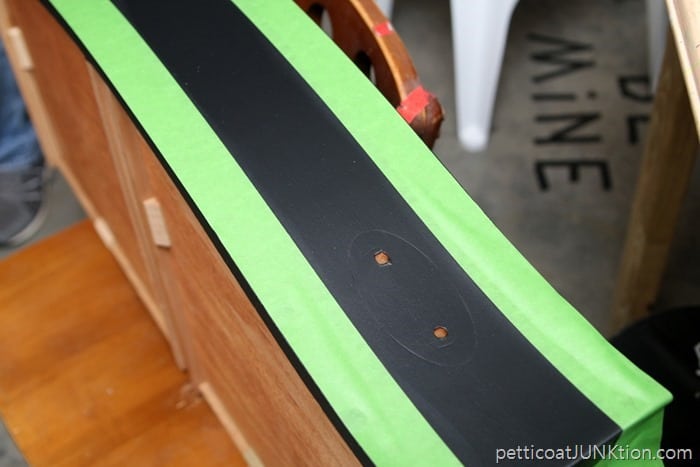 I let the black paint dry overnight then applied FrogTape to the second drawer of the chest. I put two strips of tape on the top edge and two on the bottom edge of the drawer. I didn't want to worry about getting spray paint on any of the black paint, so the drawer front was completely covered with painters tape except for where the stripe was going to be.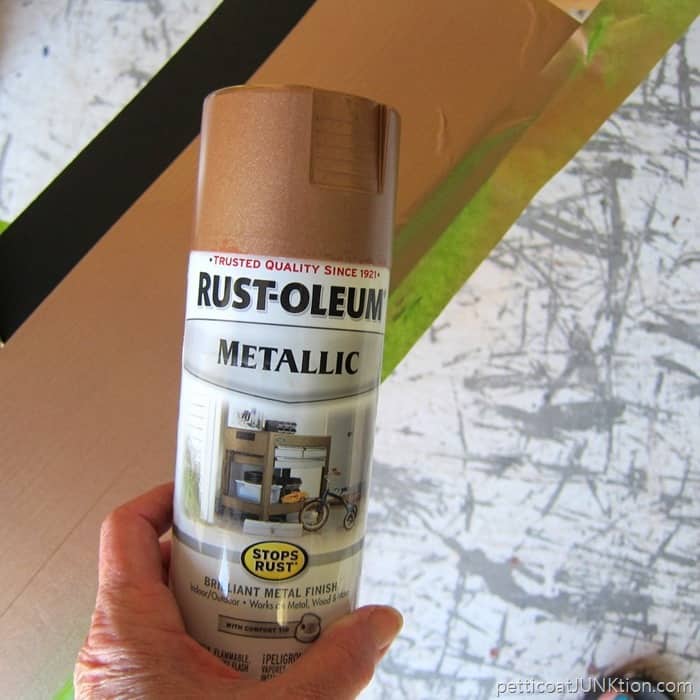 Next, I sprayed the taped-off area for the stripe with Rust-Oleum Metallic Spray Paint in Rose Gold. I applied three light coats, waiting a few minutes between each coat of paint. The metallic paint has maybe just a hint of rose but not much. It's just a pretty shiny gold color.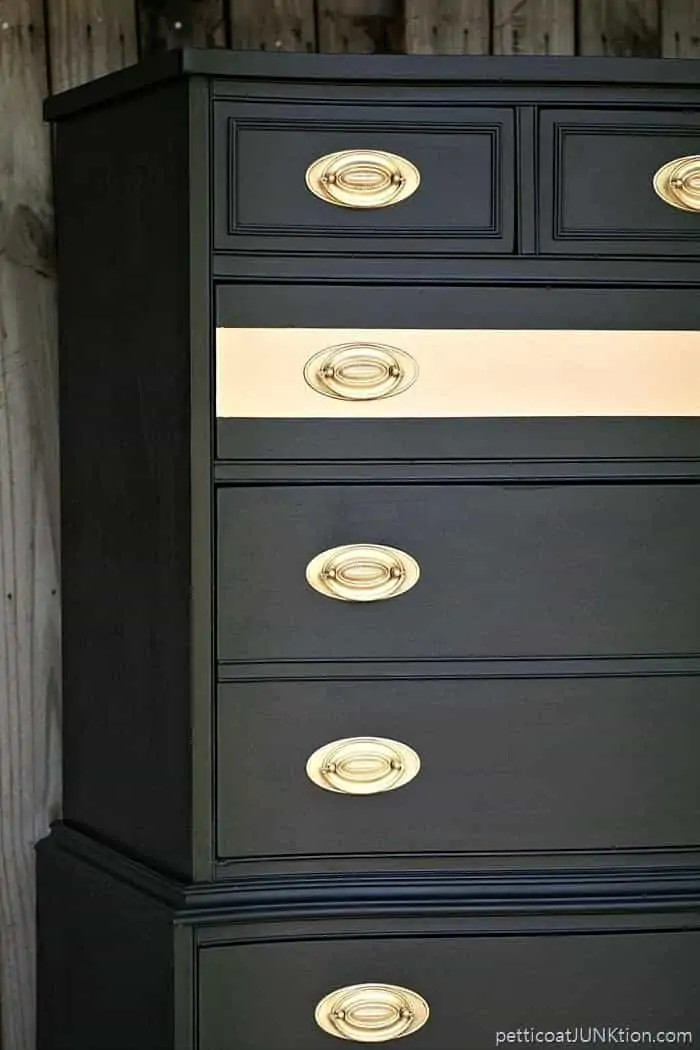 How easy was that? The most time-consuming part of this project was the hardware. Removing the 15 drawer pulls, cleaning them, and putting them all back on took some time. But I'm glad I shined them up.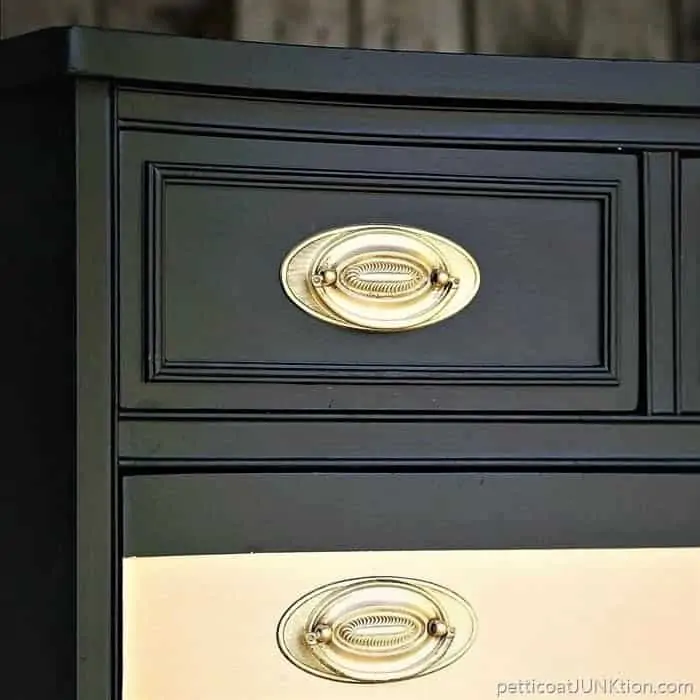 Do you like the shiny pulls or do you prefer the aged patina? Do you think I should have painted stripes on all the drawers?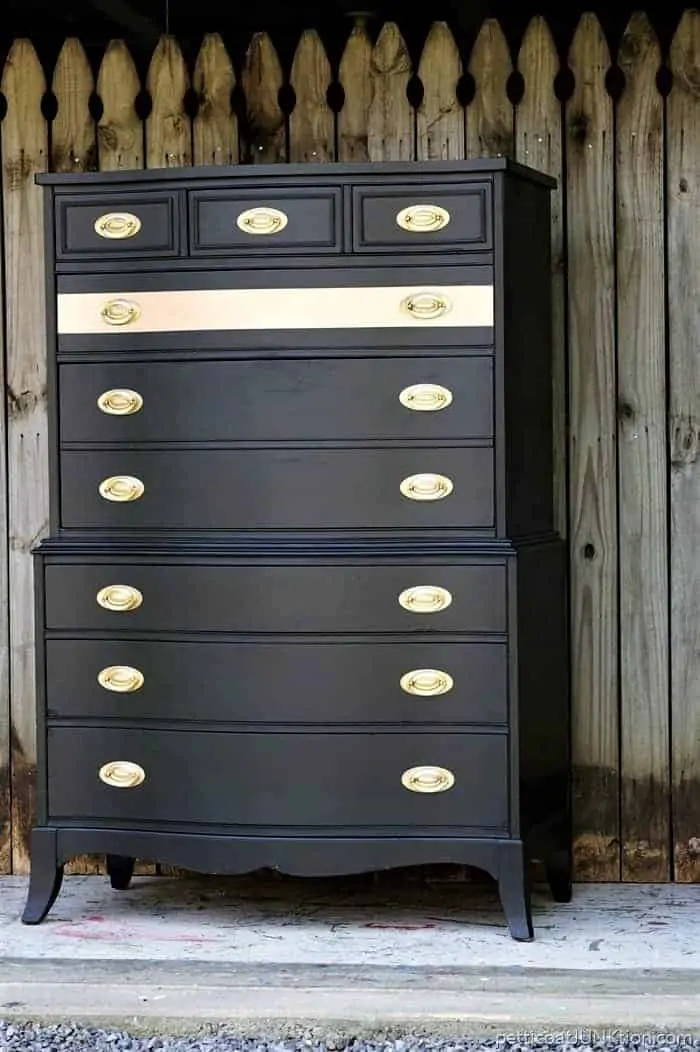 I have to say I'm patting myself on the back over this project. I liked the chest of drawers and so did the JTS. We decided to keep it and move it into our bedroom to replace an old chest of drawers.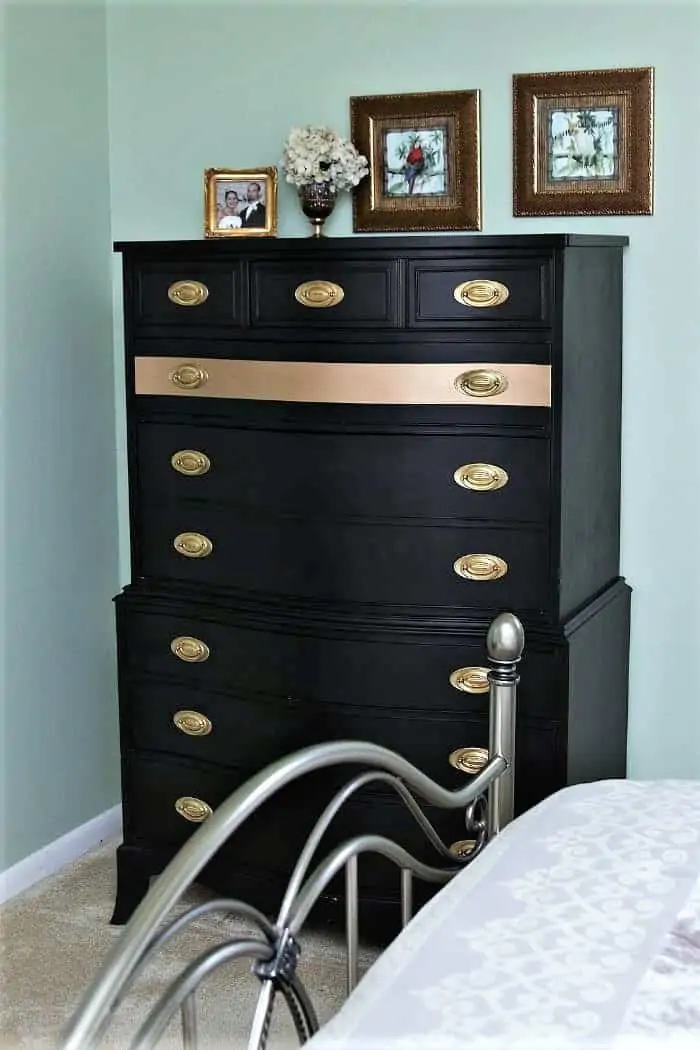 This is how the chest of drawers looks in the bedroom. Using metallic gold accents in the decor really makes that gold stripe pop as does the black paint. Since I painted this chest almost five years ago we have updated our bedroom completely....new paint for walls, new curtains, newly painted furniture, new padded headboard, new ceiling fan......the works. You can see the new look here.....Brown Master Bedroom Paint And Decor Ideas Before And After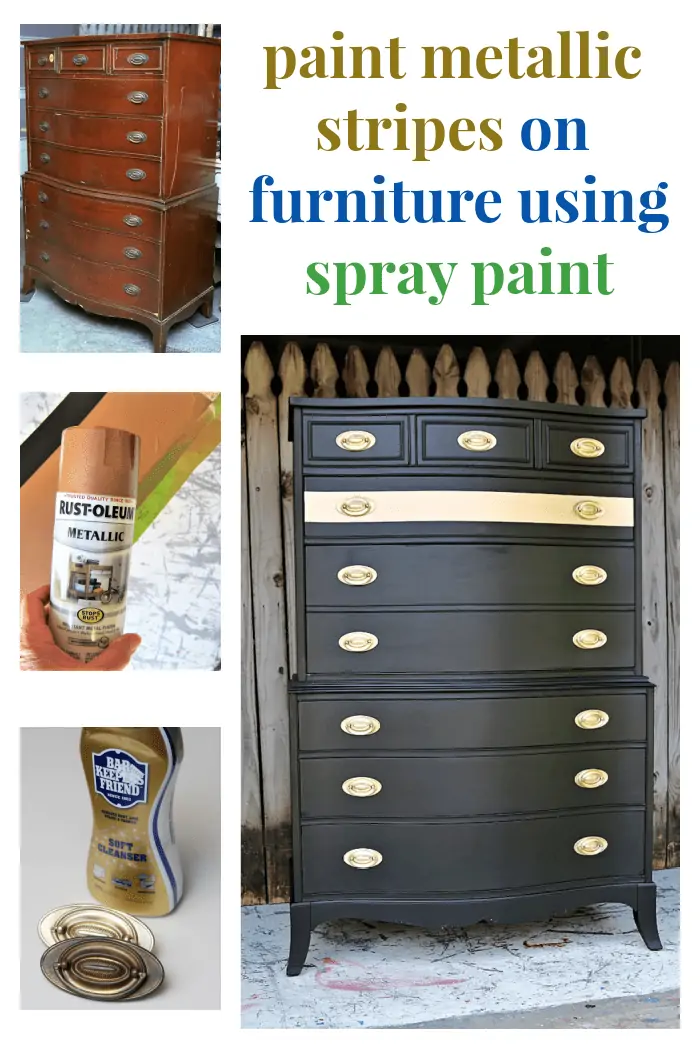 Time to visit my friends on tour and check out their fantastic makeovers. Just click the pink text links below.
1. Prodigal Pieces
2. Girl In The Garage
3. Confessions Of A Serial Diy'er
4. The Interior Frugalista
5. Just The Woods
I'm working on a new paint project, a table and chairs, post coming soon. As always, thanks for being here, Kathy
Author: Kathy Owen (Petticoat Junktion)
Kathy is the founder of PetticoatJunktion.com, a home décor blog focused on repurposing and upcycling furniture, old hardware, rusty stuff, and thrifty finds into unique home décor. Kathy's projects have been featured on the Home Depot Blog, Plaid Crafts, Behr Designer Series, and in numerous magazines. Read more about Kathy here.