How do you feel about distressed painted furniture? Is it a definite yes, a no, or does it depend on the piece? I love it myself but you already know that. Furniture with a distressed paint finish has so much character. Distressing can hide flaws or play them up. Even if you are not a big fan of distressed paint there is something here for you.....I promise.
The whole distressed paint thing may not be your cup of tea but you might spot a piece or two you like in this list of distressed furniture projects from my early painting years.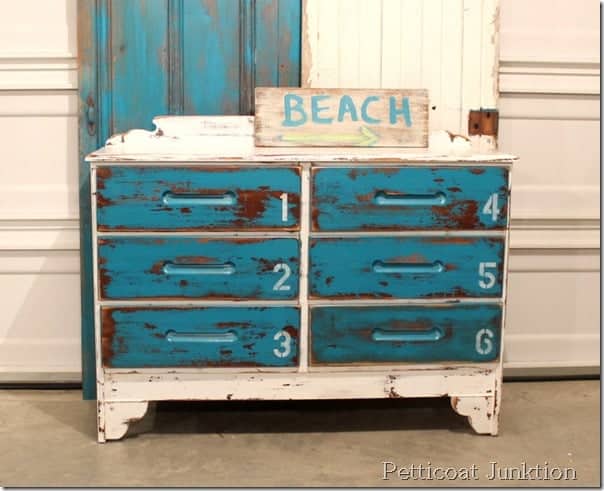 1. Beach Inspired Dresser With Distressed Blue Paint
The numbered dresser is one of my favorite projects I just wish this photo was better. I was taking photos for the blog in the shop at that time and the photos are not the best. The dresser was pretty cool though and I enjoyed painting it. The heavy distressing and stenciled numbers scream beach to me. I love beachy stuff.
(click on any pink text links for makeover details)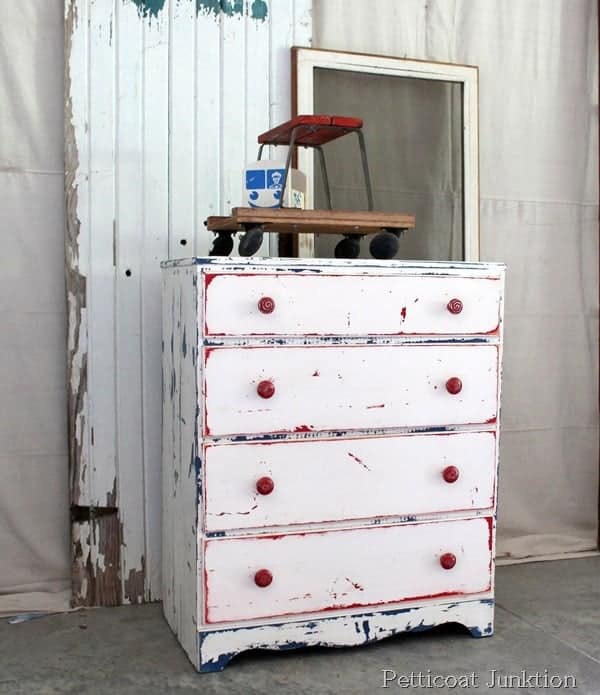 The red, white, and blue chest didn't need painting at all. Just distressing. I bought the chest at the Nashville Flea Market for a little bit of nothing. The chest was white and there were places where the paint was chipped and I saw red paint in spots and blue paint in spots. I grabbed my sander and went to work. I distressed the paint until the red and blue colors were revealed in just the perfect ratio. The original knobs were a dull pink. I found new ones in my stash and spray painted them red. Perfect.
The blue dresser with red knobs is kind of the same story. It was blue when I purchased it so a little distressing love and new knobs made it beautiful. I distressed the drawers really heavily then wiped the entire piece with dark wax.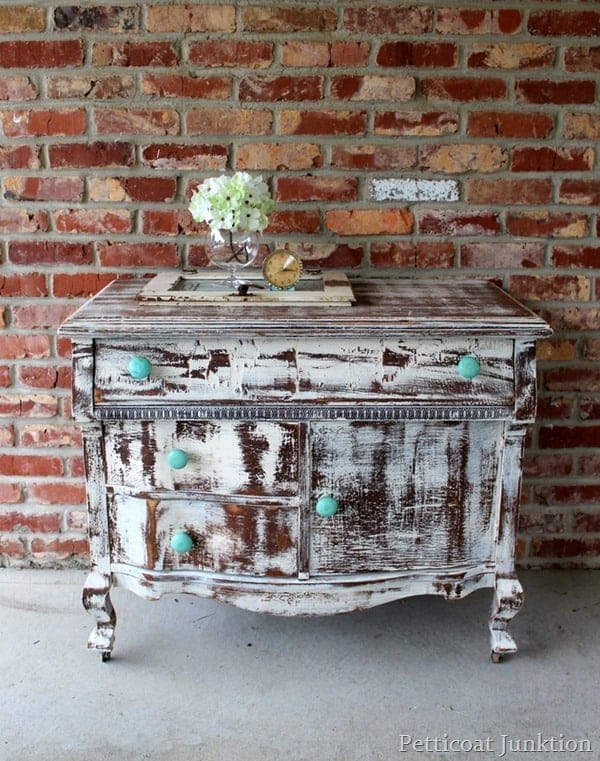 This piece is my most controversial piece ever! You can read the story here...Shabby White Dresser.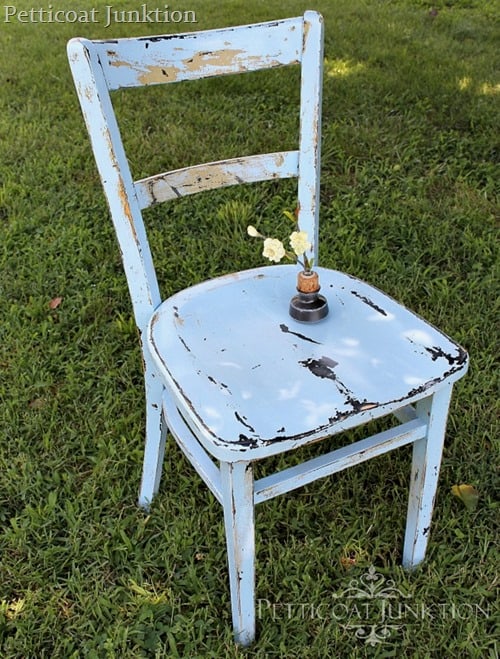 5. Shabby Chair Love
The chair was also originally painted blue. I didn't realize how many projects I bought painted and just distressed. I tell you guys I'm lazy. You might believe me now. But really, why do extra work when you have the basic stuff to work with.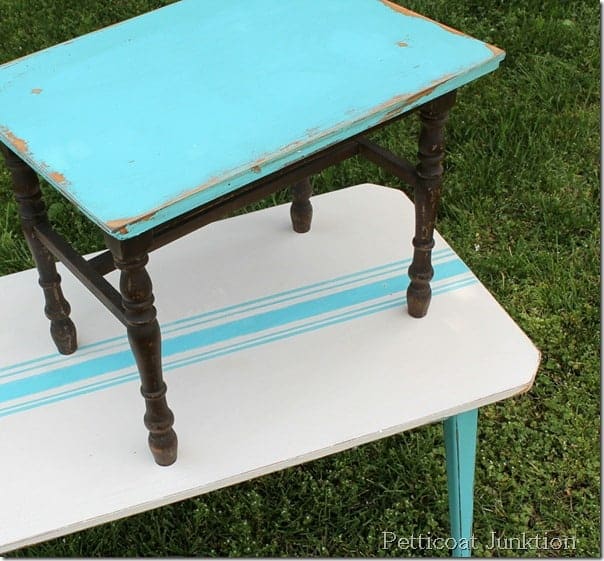 The grain sack table is one of my favorite projects. The table on top is one the JTS and I pieced together. The turquoise paint was too blah and needed roughing up a bit.
The simplicity of the heavily distressed white paint and the plain brown knobs says shabby chic in the best way. You really need to use an electric sander to distress paint this heavily.
I tried a new technique (at least new to me) on the chest to show layers of paint. It turned out pretty darn good.
9. Black Distressed Table and Chairs with Drop Cloth Seats
I still say there is nothing better than black paint lightly distressed. The table and chairs were a custom project for a favorite client. The seats are covered with drop cloths.....inexpensive and the neutral color can be used anywhere.
More white shabby chic goodness for this drop leaf table. Next best thing to black distressed paint is white distressed paint. How about an extra furniture makeover thrown in?? You will love this knock-off Pottery Barn piece...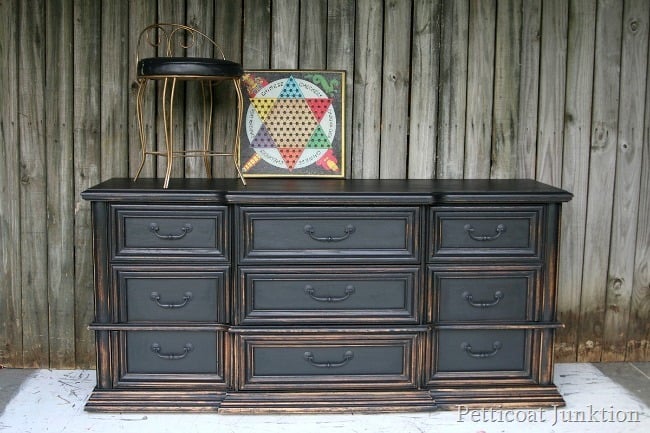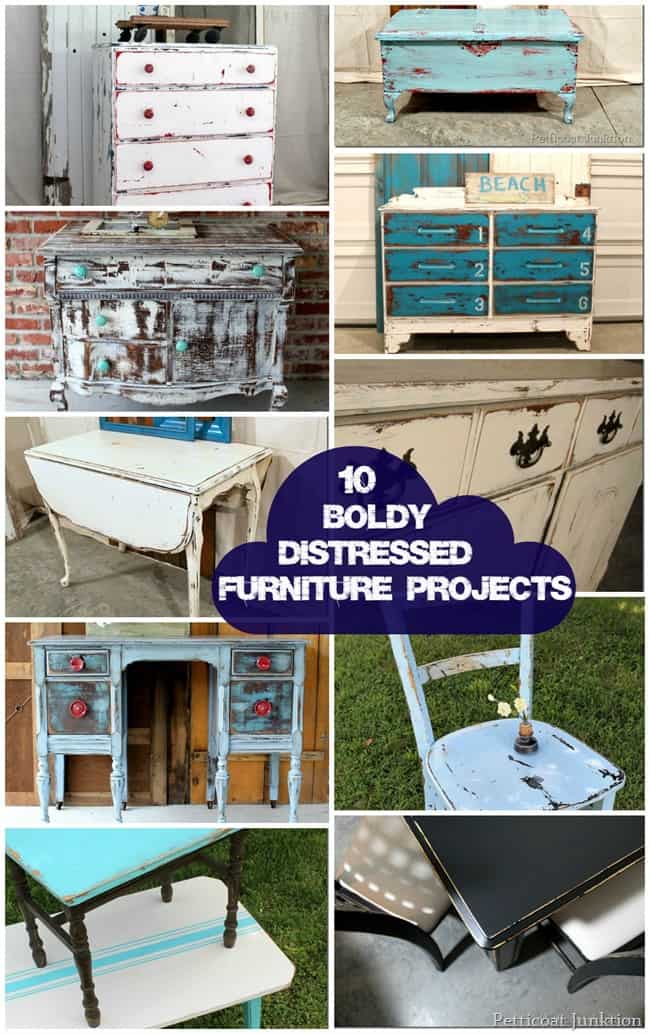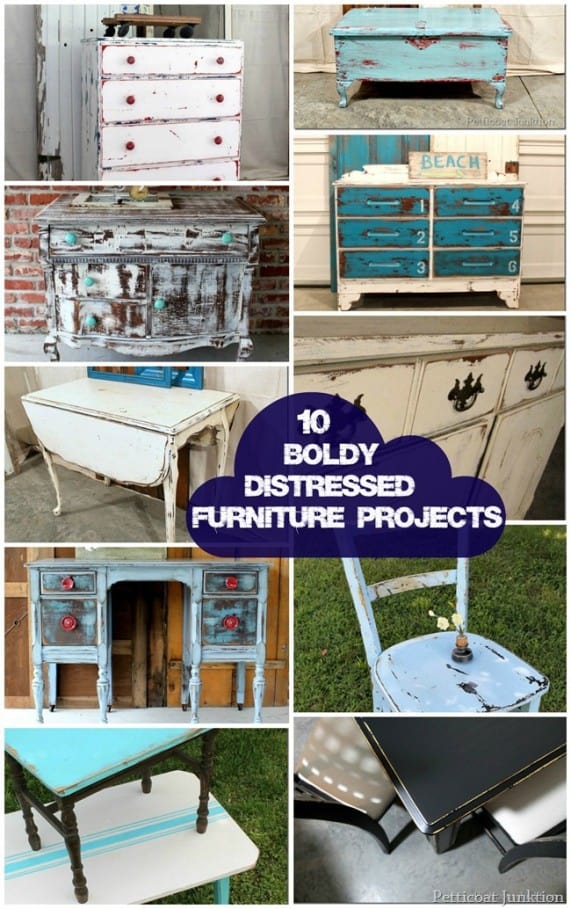 I hope you guys enjoyed the tour of distressed furniture projects. Most of these are older projects and if you're new here you may have missed them. Did any project in particular catch your eye? How do you feel about distressed furniture? Thanks for stopping by and have a great week. Kathy
Author: Kathy Owen (Petticoat Junktion)
Kathy is the founder of PetticoatJunktion.com, a home décor blog focused on repurposing and upcycling furniture, old hardware, rusty stuff, and thrifty finds into unique home décor. Kathy's projects have been featured on the Home Depot Blog, Plaid Crafts, Behr Designer Series, and in numerous magazines. Read more about Kathy here.