Got Trashed Furniture? You can work with it! I've transformed a lot of damaged falling apart pieces into things of beauty. Look at the before and after photos of these 6 pieces and tell me what you think of the makeovers.
You must be wondering what I was thinking when I bought this chest of drawers! Once I got it home I was wondering too. I paid $20 for the piece.
And I turned it into a shabby chic beauty after a bit of work. I was totally in love with the finished look.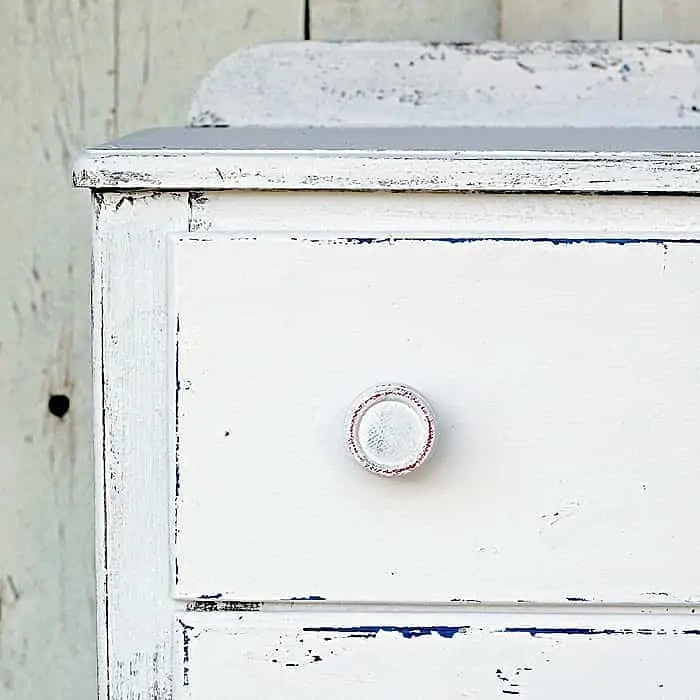 And I think the wood knobs I painted for he chest are my favorite part. You can see this complete makeover here......Trashed Furniture Gets A Coastal Style Paint Makeover.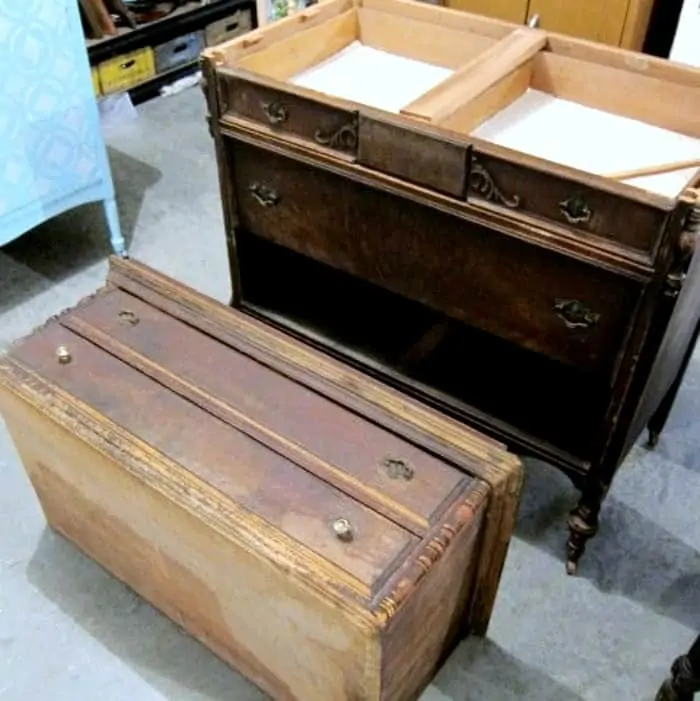 Can you believe I paid $95 for the chest of drawers in pieces?? Me neither. All I can say is the beautiful details were speaking too me and they weren't saying "Run".
I gave it a two tone or three tone finish because after using two gray colors to paint the chest I then whitewashed or......frosted the pretty details. I painted the chest of drawers back in 2013 and the photos are not the best. See this piece here...... Total Trash To Treasure Furniture Transformation
I found this sad-looking chest of drawers at the Nashville Flea Market and the price was $30. It had three or more layers of paint so guess what? I didn't paint it at all.
It's amazing what a good cleaning and sanding job can accomplish. The shiny bright white paint appeared after I cleaned and cleaned and then sanded all the filth away.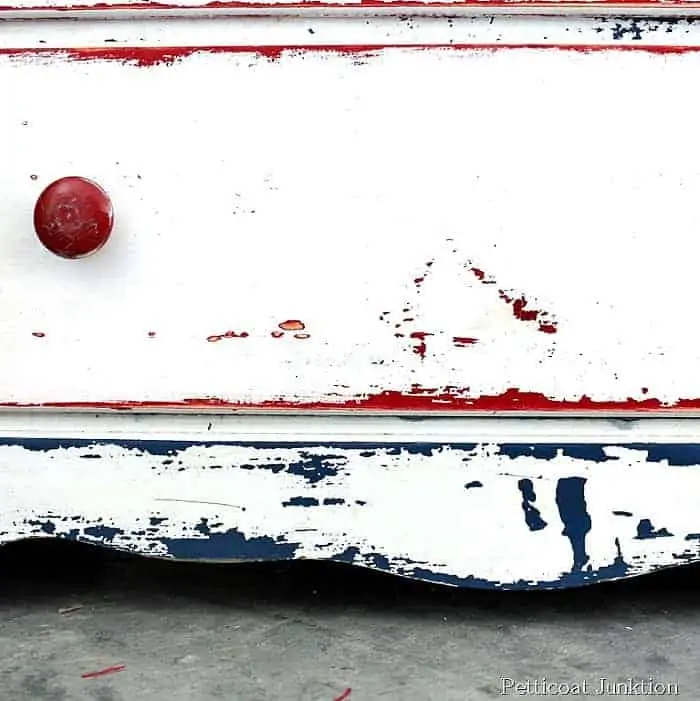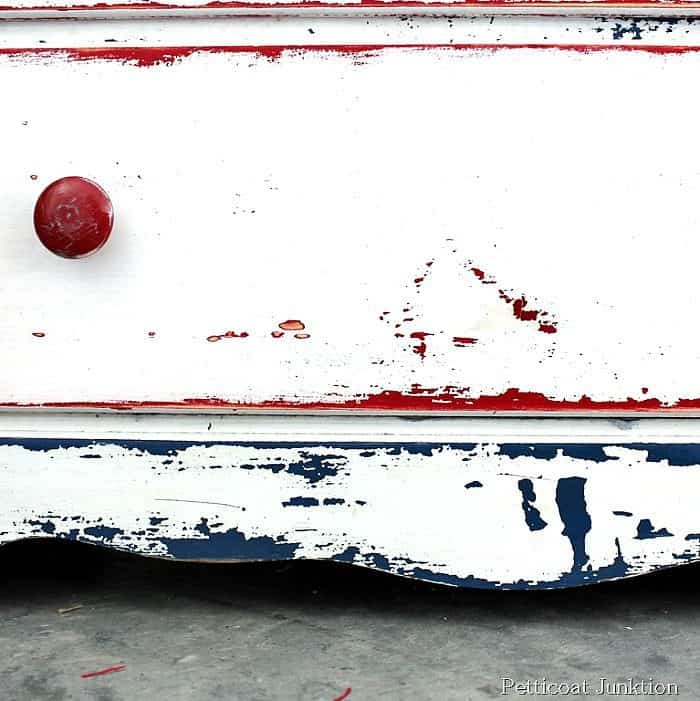 I added new wood knobs I painted red and then distressed. There was no need for me to paint this piece when I could showcase the beautiful red and blue colors beneath the white. This makeover is also from 2013. See this project here......Flipping Furniture: Red White and Blue Painted Furniture
If you've been around here for a while you know how much I love old radio cabinets. The details are so pretty and the shape with the base and the legs just grabs me. This one as you can see was more than a total mess. It was a disaster. When I first spotted it I passed it up but went back the next week and bought it.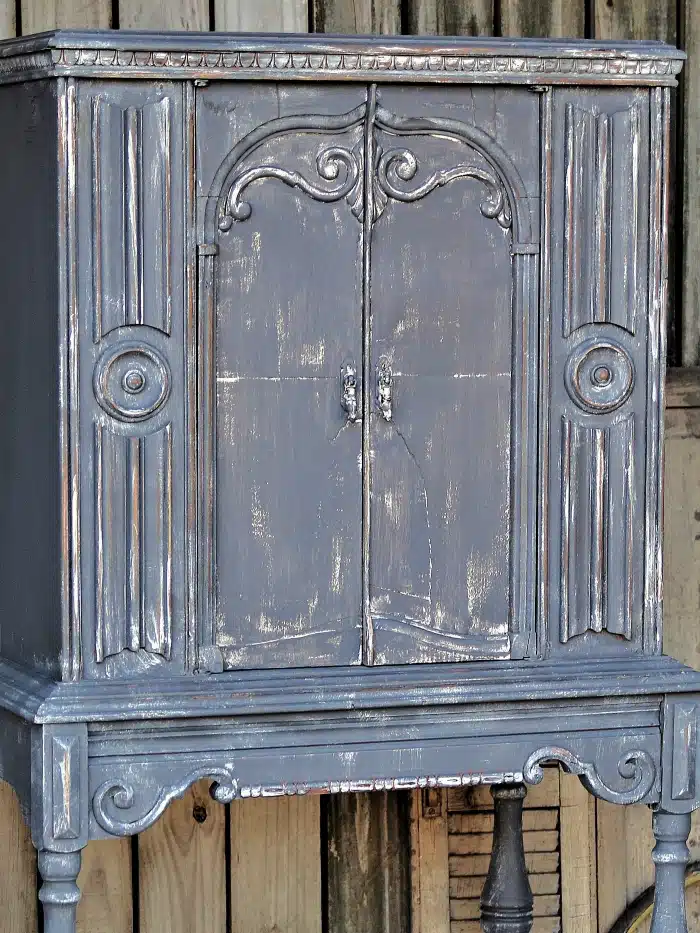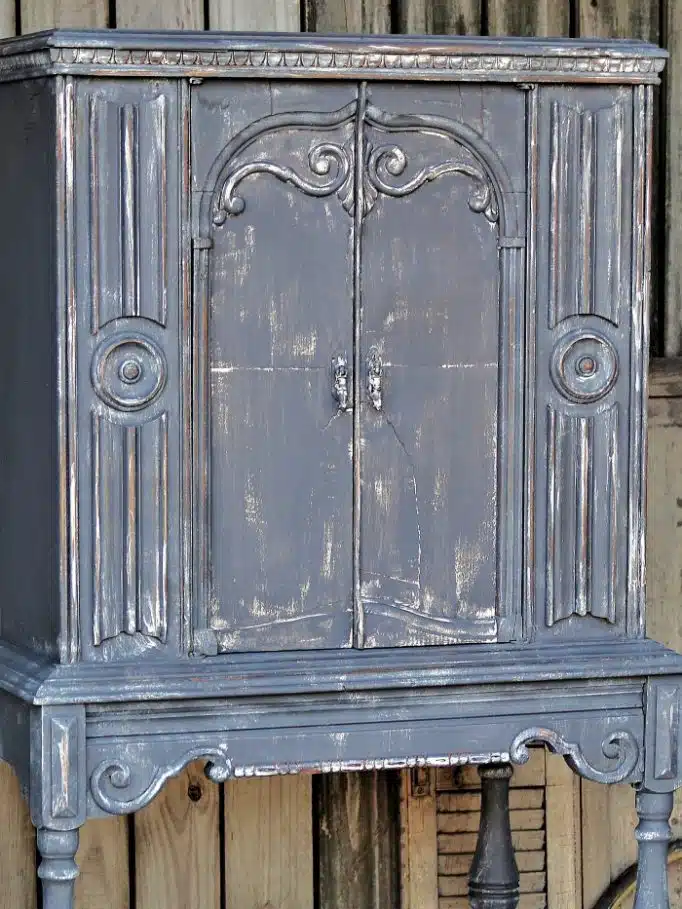 We had to remove the radio from the cabinet, add shelves and do all kinds of repairs but it was worth it. See this makeover here.....Transform A Vintage Radio Cabinet: Remove Radio, Add Shelves, Paint Cabinet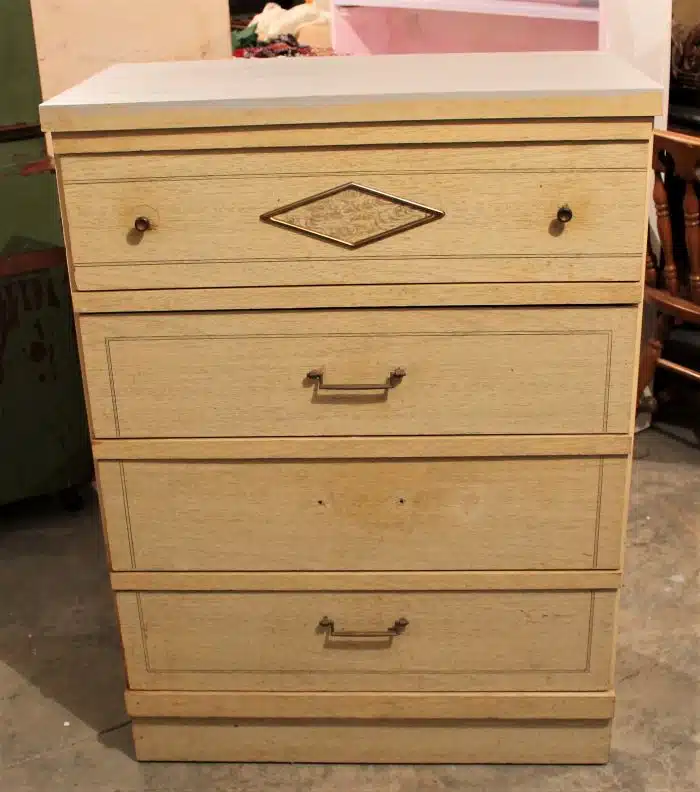 You know, I can't even say this chest of drawers was pretty when it was new. And it certainly was not much to look at when I spotted it at My Favorite Junk Shop.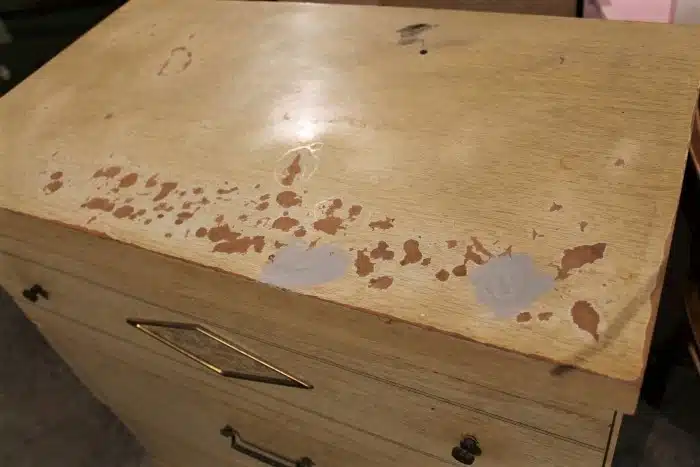 The chest was made of MDF or fake wood. At some point, it had gotten wet and that fake wood puffed up.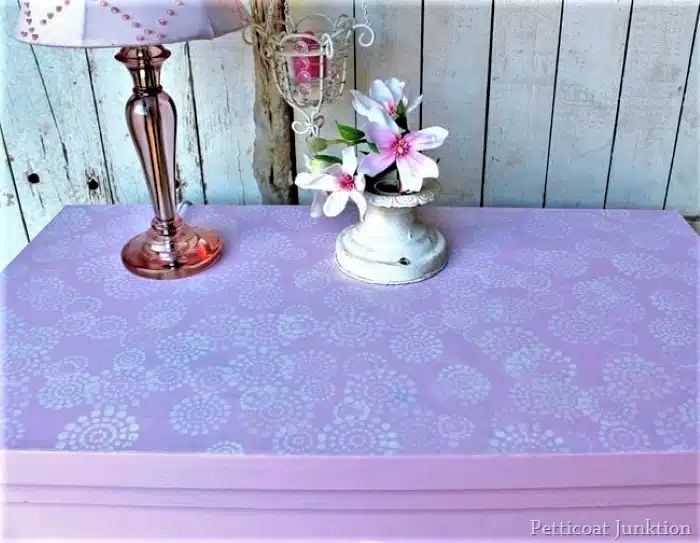 I found a way to sand those areas down and make the chest pretty. See it here.....How to Paint Damaged MDF Furniture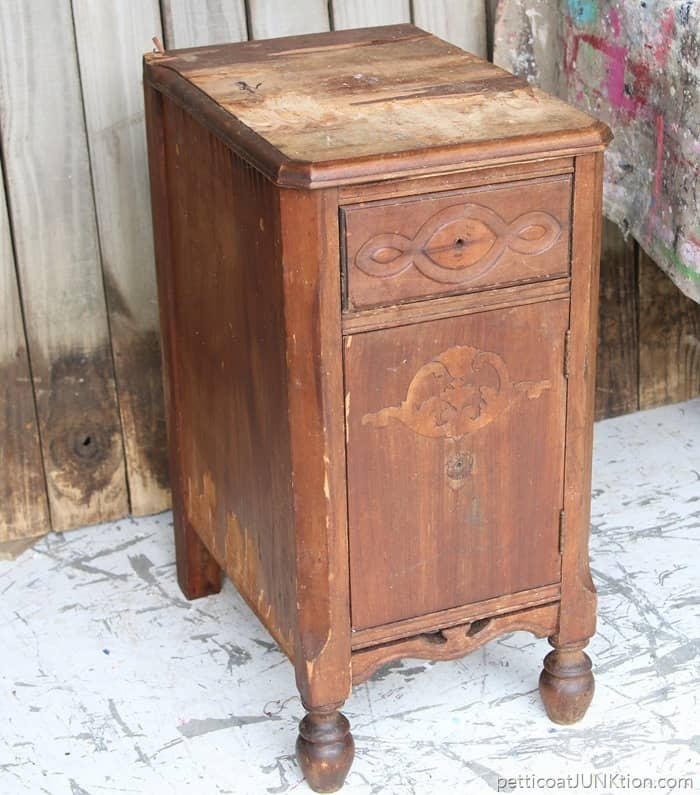 This last piece is part of an old vanity dresser. I didn't cut the dresser apart. this is the way I found it at My Favorite Junk Shop for $10. I really liked the pretty details and the shape of the little table or nightstand.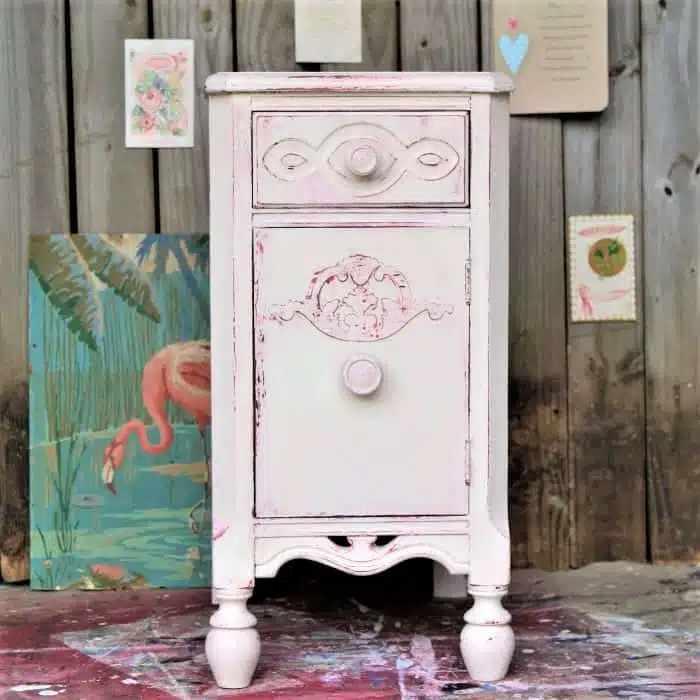 I did a Vaseline distress paint technique on it and there is also a video. See it here....How To Layer Paint Using Vaseline | Furniture Makeover
The video for the Vaseline paint finish for the little half-dresser piece is below...
Vaseline Paint Finish
Please leave a note and tell me what you think about these trashed furniture transformations. Which one did you like the best? Any other observations? Thanks for being here, Kathy
Author: Kathy Owen (Petticoat Junktion)
Kathy is the founder of PetticoatJunktion.com, a home décor blog focused on repurposing and upcycling furniture, old hardware, rusty stuff, and thrifty finds into unique home décor. Kathy's projects have been featured on the Home Depot Blog, Plaid Crafts, Behr Designer Series, and in numerous magazines. Read more about Kathy here.